Flying for Christmas or New Year's is almost always a recipe for overpaying for flights. But COVID-19 has flipped the travel world on its head. So as we look ahead to the winter holidays, flights are looking cheap … like, really cheap.
It's an unexpected but welcome change: We're seeing cheap flights – especially to Europe – over Christmas, New Year's, and other holidays at the same low prices we've been seeing for summer and fall. That's a big change, as airlines typically jack up prices during these high-demand holidays when they know travelers will fork over more.
So just how cheap are flights over to Europe for the holidays? Take a look and see for yourself.
Thrifty Traveler Premium members get the cheapest domestic and international fares – try it for just $7.99 a month!
Record-Low Flights for Winter Holiday Travel
Don't just take our word for it. Here are some recent examples of flight deals we've found and sent to our Thrifty Traveler Premium members in the past month. Most of these deals are no longer live – the hotter the deal, the shorter it lasts. But here's a look at the cheap holiday travel flight deals Premium members were able to book for this year.
A $300 roundtrip flight to Europe is a steal for any time of year. But for peak summer, Christmas and New Year's? That's unbeatable…

This particular deal was available into almost every European airport – even rare fares to Scandinavia and Eastern Europe!
These European cities are home to many of the most well-known Christmas markets in the world, major tourist attractions and bucket-list items for many travelers. Get hot cider and a warm treat while you stroll through the market shops under the twinkling holiday lights – without breaking the budget. The festivities often last from late November to the end of December, so you'll have plenty of time to take in the attractions in Austria, Germany, Finland, or even Croatia.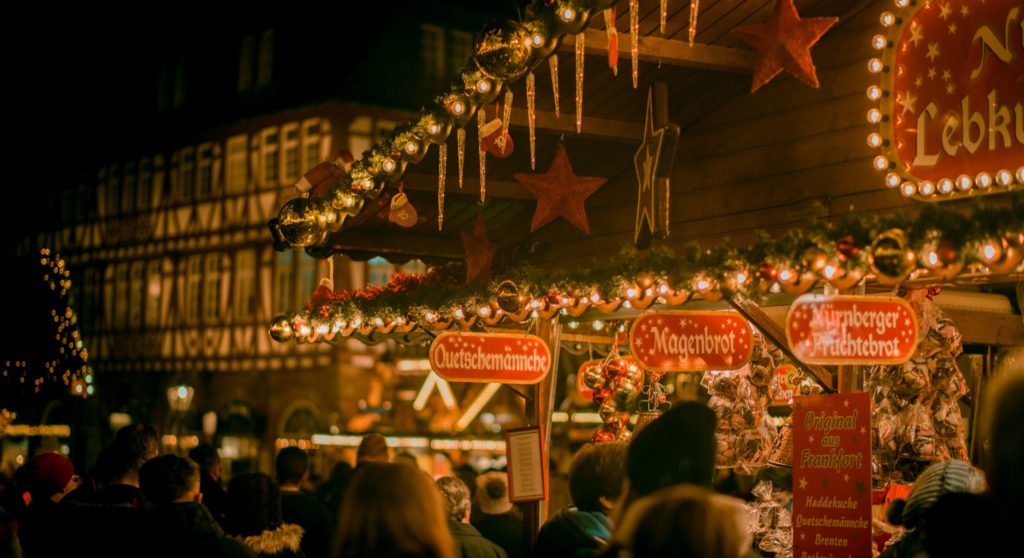 Here's a price to Europe over Christmas we thought we'd never see: $271 to fly to Dublin (DUB) and back?

These cheap fares extend to nonstop flight deals as well. Getting to Europe with no connections either way during the holidays is a gift that keeps on giving!

No, these aren't deals on budget carriers. These cheap flights to Europe under $500 (and often under $400) roundtrip are on major U.S. carriers and their European partner airlines. Ringing in the New Year in Dublin sounds magical – especially at this price.

Want alerts when prices drop this low? Sign up for Thrifty Traveler Premium and we'll send the deals straight to you!
Not Just from Major Hub Airports
Some of the cheapest flights we've ever seen are from big U.S. cities on the East Coast, but the flight deals have spread even to smaller cities across the country.
In the past month, we've found several nationwide fare wars, with airlines battling for the lowest fares to Europe over the holidays. The battleground? Nearly every U.S. airport in the country.
This recent flight deal to Italy we sent to Thrifty Traveler Premium members was live for around $500 roundtrip from 170+ U.S. departure cities – including travel for Thanksgiving, Christmas, and New Year's Eve.

…and the list goes on all the way down to Wichita (ICT), Williston (XWA), and Wilmington (ILM). You can't say there aren't any cheap flights from your hometown, no matter how small.
Here's another example of a recent nationwide deal we found to France with availability during summer and the winter holidays. Just $550 (or less) roundtrip to Paris and our other favorite French cities? Yes, please.

Again, the list of cities with cheap holiday fares to France is so long, it wouldn't even fit here. But here's a look at a few of the other deals we found to France:
Des Moines (DSM) – $548
Dubuque (DBQ) – $592
Duluth (DLH) – $552
Eau Claire (EAU) – $548
Fargo (FAR) – $548
Grand Forks (GFK) – $548
Grand Rapids (GRR) – $548
Hibbing (HIB) – $548
International Falls (INL) – $547
Minot (MOT) – $548
Moline (MLI) – $543
Oklahoma City (OKC) – $548
Omaha (OMA) – $543
Peoria (PIA) – $543
Pocatello (PIH) – $548
Rochester (RST) – $548
San Luis Obispo (SBP) – $543
Sioux City (SUX) – $538
Sioux Falls (FSD) – $543
South Bend (SBN) – $543
Toledo (TOL) – $579
Waco (ACT) – $535
Watertown (ATY) – $560
Wausau (CWA) – $543
Westchester County (HPN) – $548
You don't have to spend thousands of dollars to travel internationally from a smaller U.S. airport – even on the holidays.
Half-Off Holiday Flights in Lie-Flat Seats
This might be the biggest shock of all. These rare cheap flights to Europe over the holidays have extended even into deeply discounted business class flights, too.
Several times over the past month, airlines have slashed business class fares to Europe in half – or more. Instead of paying $3,500- plus for a lie-flat seat over Christmas or New Year's, you could have made this bucket list flight happen for under $1,500 roundtrip.
Is there any better way to ring in the holidays than a flight with lounge access, a lie-flat seat, top-tier meals, champagne, and other perks?

That's hard to beat. Business class fares to Europe are usually sky-high over the holidays, so this really got Thrifty Traveler Premium members excited!


This flight deal is already gone! Get Thrifty Traveler Premium to get instant alerts for the next deals we find.
Bottom Line
Normally, the winter holiday season is the most expensive time to travel the entire year. But these aren't normal times.
This is one of the first times in flight deal history that we've seen flights over Christmas, New Year's, and other winter holidays drop to these jaw-dropping lows. It's clear that the airlines are targeting these cheap flights in Europe.
And that makes it a great excuse to check out the Christmas markets and celebrate these holidays in some of the most magical cities.