Between extra connections and higher prices, booking cheap travel from smaller cities across the U.S. can be frustrating. We get it. But fear not: There is relief.
Over the last month, we've seen the cheap fares under $300 round-trip to Europe that started on the East Coast spread to the Midwest and beyond. And it's not just big airports like Chicago-O'Hare (ORD) or Minneapolis-St. Paul (MSP) that are reaping the benefits.
We have started finding fares under $300 round trip to Europe from even tiny, two-gate regional airports across the U.S.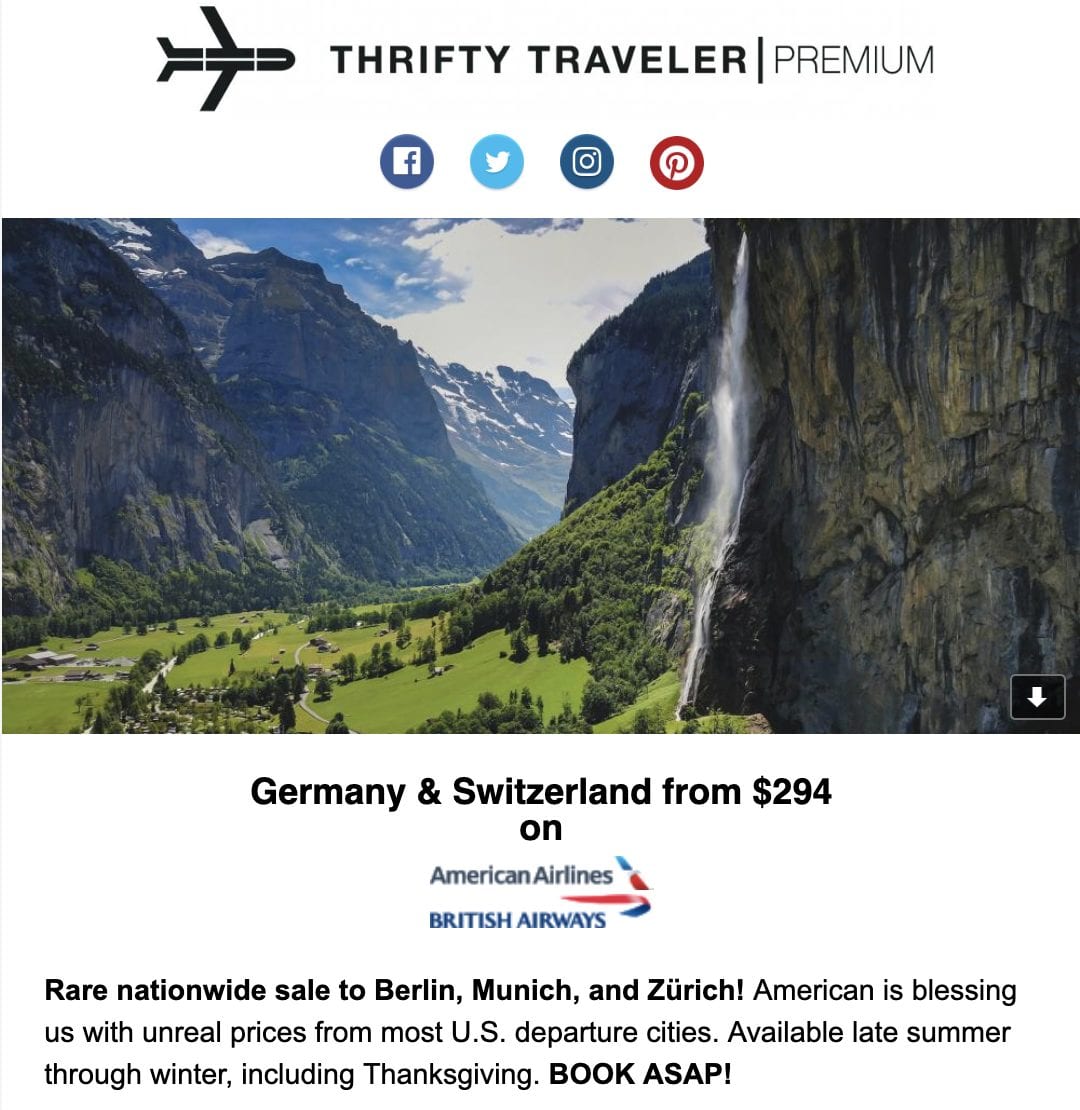 Welcome to the world of nationwide fare sales. Major airlines like United, American, and Delta are blessing cities large and small with flight deals as the battle for more business heats up. So from Fargo to Frankfurt and Montgomery to Munich, it's cheaper than ever to get to Europe … no matter where you live.
Here's just a fraction of the deals we've found in the last month alone…
Appleton, Wisconsin (ATW) to Vienna (VIE) for $291 roundtrip
Birmingham, Alabama (BHM) to Zürich (ZRH) for $366 roundtrip
Eugene, Oregon (EUG) to Vienna (VIE) for $281 roundtrip
Santa Fe, New Mexico (SAF) to Vienna (VIE) for $289 roundtrip
Sioux Falls, South Dakota (FSD) to Munich (MUC) for $384 roundtrip
Lubbock, Texas (LBB) to Zürich (ZRH) for $304 roundtrip
Wilmington, Delaware (ILM) to Vienna (VIE) for $293 roundtrip

And 100 more U.S. airports!
You won't be able to snag dirt-cheap tickets from every U.S. city to anywhere in Europe at all times. But these big nationwide sales are popping up again and again, and we keep finding them and alerting our Thrifty Traveler Premium subscribers.
Thrifty Tip: Want to know about the best flight deals from your home airport? Learn how Thrifty Traveler Premium works.
Our Analysis
Budget airlines like WOW air and Norwegian have helped bring flight prices to Europe to record lows. But those ultra-low-cost airlines are struggling or have collapsed, and they don't have the resources to cater to smaller regional airports in the U.S.
But now major airlines in the U.S. and Europe alike are going back to battle. And that cutthroat competition is paying off with big savings, even in rural areas of the country. Many of these fares to Europe are less than the average domestic flight! Competition is always good for consumers.
Forget booking a positioning flight to get on a hot deal out of Boston or NYC. We're seeing deal after deal heading straight from nearly 100 airports big and small, nationwide.
This slew of flight deals from dozens of U.S. airports big and small marks a change in tactics for airlines. For more than a year, the big U.S. carriers have undercut each other on just a few specific routes. Think American targeting Delta's hub in Atlanta (ATL) with a $275 fare to Amsterdam (AMS) that stops through JFK.
Those deals were quick and dirty, offering big savings to just one or two cities at a time. But now, these carriers are casting a much wider net to fill up more planes with from travelers across the U.S. That's why smaller airports are getting the flight deal love.
How Long Will the Deals Last?
With the combination of low oil prices, a strong U.S. economy, and heavy airline competition, these are exciting times for any traveler.
These rock-bottom prices from regional airports used to be rare. Nationwide fare sales that touched even small airports used to happen just a few times a year – at prices around $600. Now, they're more frequent, and the prices are as low as $250.
But things change fast in the travel world, and there's no telling how many more of these nutty nationwide fare sales we'll see. So don't sleep on the next cheap fare from your hometown airport. And remember all airfare booked directly with the airline can be canceled within 24 hours for free.
Bottom Line
Dirt-cheap flights to Europe aren't just for big cities anymore. These massive nationwide fare sales mean that even rural residents can cash in. Don't miss out on these incredibly cheap fares. Try Thrifty Traveler Premium today!
So when you see it, book it! The amazing value (and convenience) of these flights to Europe from our nation's smallest airports won't last forever.