It seems there's only one constant in the travel world these days: great flight deals. And we mean really great.
Through shifting COVID-19-related travel restrictions, changing airline fare rules, and a flood of daily travel news, our flight deal analysts at Thrifty Traveler Premium have continually found incredibly cheap flights all over the world … from more than 175 U.S. airports. So as we look toward more travel in the New Year, we're looking back at some of the best flight deals we found in 2021 – including for trips in 2022!
Whether it's a trip to the U.S. Virgin Islands for under $100 roundtrip, a sub-$200 fare to any of your favorite Hawaiian islands, or nationwide flights to Europe in the $200s, the last year has brought a bevy of incredible bargains on flights – and we can't wait for what 2022 has in store.

Hawaii & Back for $123
Nothing gets travelers more excited than a cheap flight to Hawaii. And it doesn't get much cheaper than this.
Hawaii flight deals are popular for good reason: It's an incredible place to visit with plenty to do for everyone. And with prices this low, the hardest choice you'll have to make is deciding the best island to visit in Hawaii.

That's right: Earlier this month, flights from the West Coast to Hawaii dropped to just $123 roundtrip for a 2022 trip. That's the lowest price we've ever seen.


Want flight deals this cheap to Hawaii & elsewhere sent straight to your inbox? Sign up for Thrifty Traveler Premium for just $7.99 a month!
And that wasn't the only Hawaii deal we sent out this year, either. Some non-West Coast cities also got in on the action over the course of the year, including some remarkable fares like these.

All these record-setting fares capped off an incredible year of flight deals to Hawaii.
Puerto Rico for $97
Do you know what we love at Thrifty Traveler? Fare wars. And travelers should love them too, because when the airlines compete against each other, travelers win … with incredibly cheap flights like these ultra-low fares in 2021.
Fare wars are exactly why American Airlines ran this sale from five Delta hubs like Minneapolis-St. Paul (MSP), Atlanta (ATL), and Detroit (DTW) down to San Juan (SJU) in Puerto Rico this past September with flights under $100 roundtrip!

Our Thrifty Traveler Premium members went even crazier about this deal than we did. Plenty booked an incredibly cheap trip vacation to the Caribbean out of it. And if you thought this kind of deal was a one-off, American Airlines did it again in November with flights from the same Delta hubs for just $120 roundtrip.
Puerto Rico is increasing in popularity because it is a passport-free destination where you don't need to test negative in order to fly home. You can get the beach and a Caribbean vibe with flights that cost less than your annual Netflix bill.
Alaska for 5K SkyMiles RT!
After more than a year of racking up Delta SkyMiles you couldn't use during the pandemic, we don't blame you for getting excited about the fantastic Delta SkyMiles deals we sent out in 2021.
We're the only flight deal subscription service that sends both cheap cash fares and award alerts to our members. And while we found plenty of amazing Delta SkyMiles flash sales with deeply discounted rates to Las Vegas (LAS), Miami (MIA), Mexico, and Europe, this one took the cake.
Back in May, we alerted our Thrifty Traveler Premium members to roundtrip flights to Alaska for just 5,000 to 10,000 SkyMiles … roundtrip. Those flights are typically 40,000 SkyMiles or more!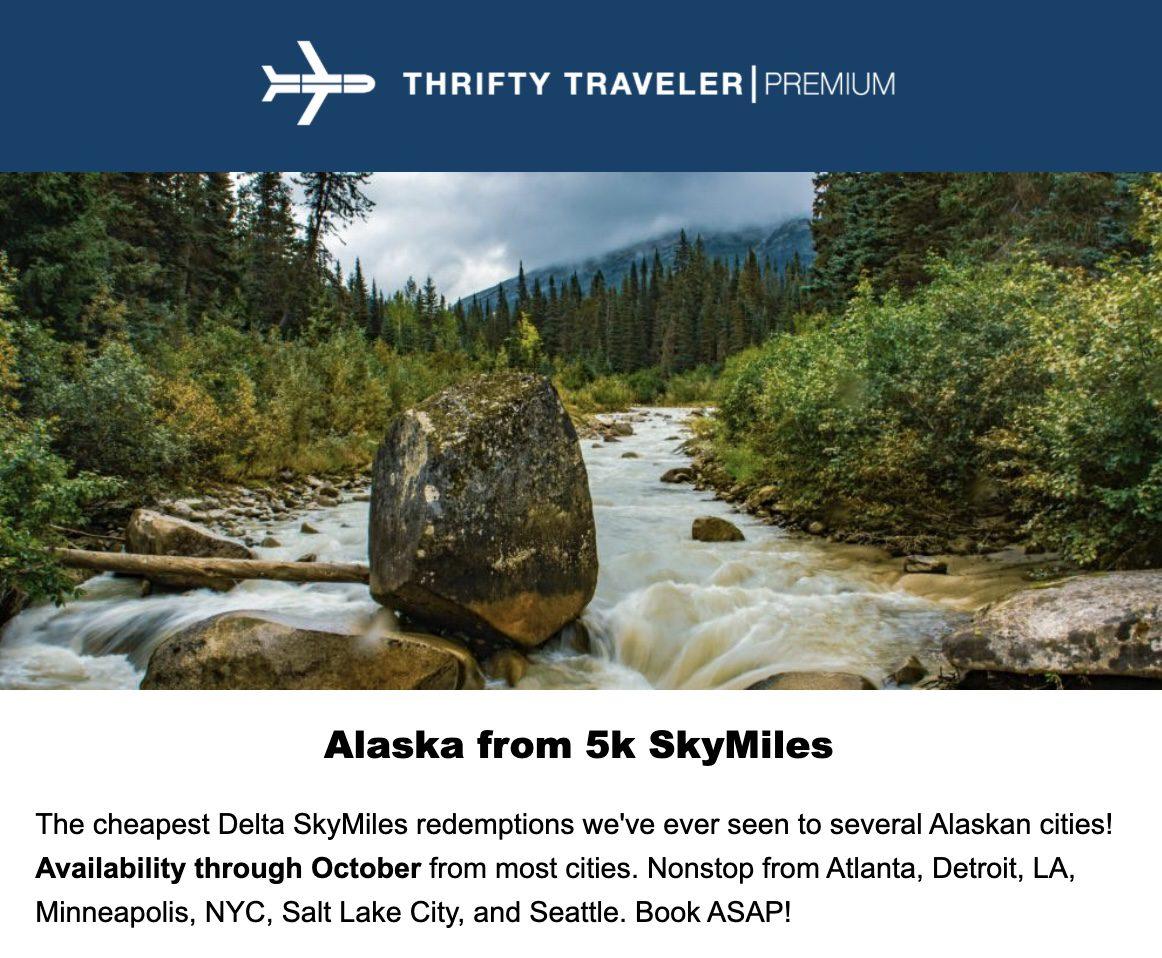 That's just the cherry on top of an amazing year of Delta flash sales, including…
Head to Italy for $260
Hmmm … I wonder why this deal was so popular?
No, you're not seeing things. That's a roundtrip flight to Italy for just $260 total.

American Airlines and its partners really lost their minds on this one! These were some of the lowest fares we've ever seen to one of our favorite European countries. We sent subscribers this mind-blowing deal in September, featuring more than 100 U.S. departure cities and coveted destinations like Florence, Milan, Naples, Rome, and Venice.
U.S. Virgin Islands for $98
Two of our most popular deals this year were to the U.S. Virgin Islands of St. Thomas (STT) and St. Croix (STX). And these prices were clearly part of the reason why.
These destinations are popular at almost any price because of their exquisite beaches, beautiful weather, no passport requirement and no need to test to return home.
But when fares tumble below $100 roundtrip, travelers clearly couldn't help themselves.


In addition to Chicago (ORD), this deal featured incredibly cheap fares from New Orleans (MSY), New York (LGA, JFK, and EWR), Philadelphia (PHL), and Tampa (TPA).
A Mistake Fare to Iceland from $224
Ahhh yes, the mistake fare – the holy grail of flight deals, the key to saving hundreds, if not thousands, of dollars. They're rare, but Thrifty Traveler Premium members got a doozy of a mistake fare last spring with a chance at nonstop flights to Iceland for a fraction of the normal price.

For Delta fliers, fares to Reykjavik in the $200s like these are impossible to find – heck, even in the $400s. But Premium subscribers were alerted to this one by email and a special text message alert, too.

Get every mistake fare with Thrifty Traveler Premium!
Another Mistake Fare to Japan from… $197?!
That wasn't the only mistake fare of 2021.
Jaws dropped when we found these flight deals way back in April to Tokyo and Osaka in Japan for under $300 roundtrip – and some fares even under $200 total. While Japan likely won't open in time for travelers to take advantage, it's still an unforgettable deal.

Cleveland (CLE) to Tokyo (TYO) for $197?! It was one of the craziest mistakes we've ever seen. But as you can see, the unbelievable prices were available from more than just one city, with both United and American selling fares in the $200s from many U.S. cities.
Fly Business Class to Brazil from $502
There's no better way to snag a cheap business class flight than a mistake fare. And we found just the ticket to get you to Brazil and back in a lie-flat bed in 2021.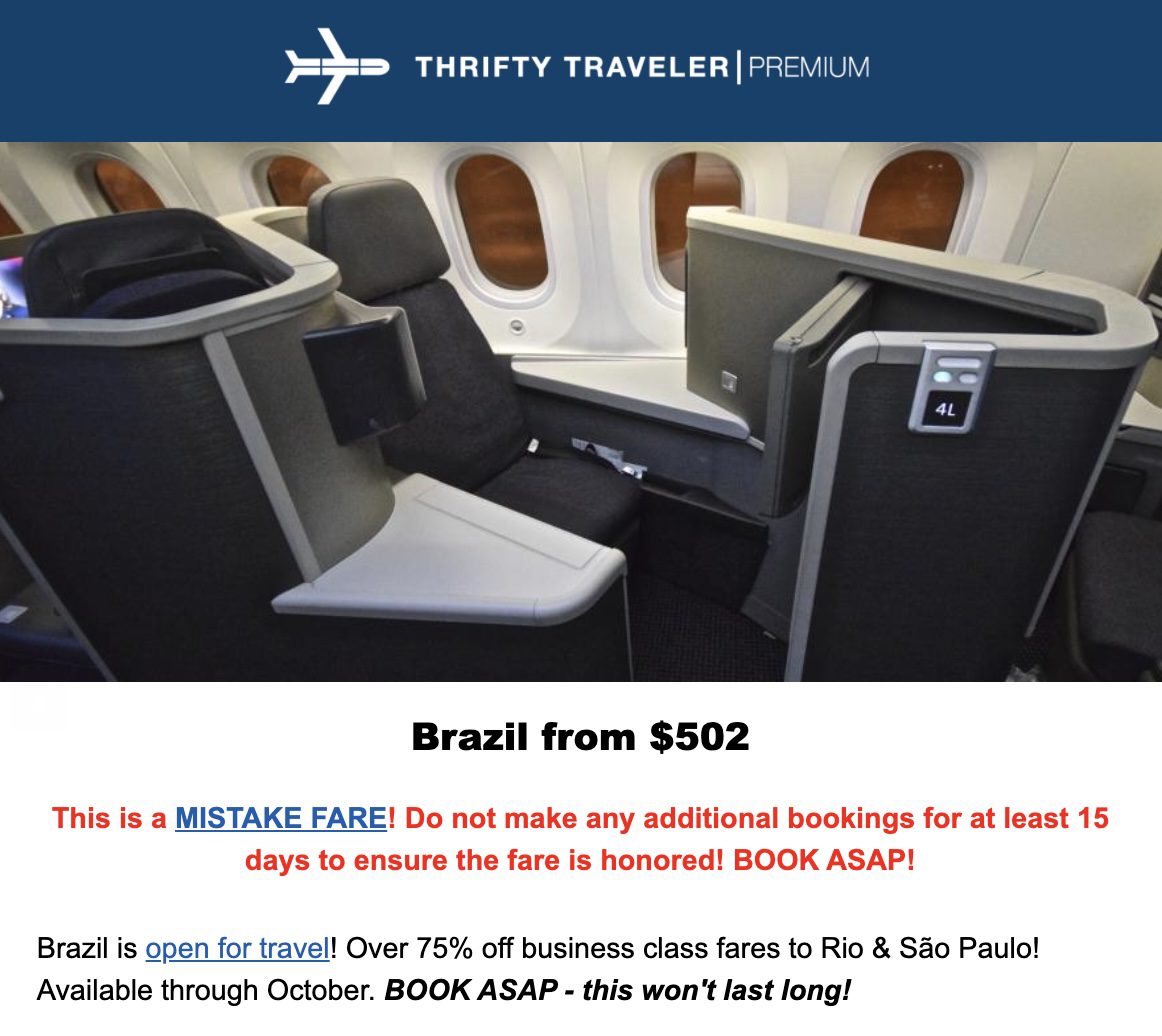 Believe it or not, that wasn't the only mistake airlines made this past year, selling business class flights for the price of economy. We also found …
Brazil from $502 from 11 East Coast U.S. cities
Scotland from $1,042 flying Delta and SkyTeam partners from New York City (JFK)
Santiago, Chile (SCL) for $694 flying Delta One Suites from Los Angeles (LAX)
Hong Kong from $235
They may not have been mistake fares, but we can't blame you for thinking an airline had messed up with these record-low fares to Hong Kong we found in 2021.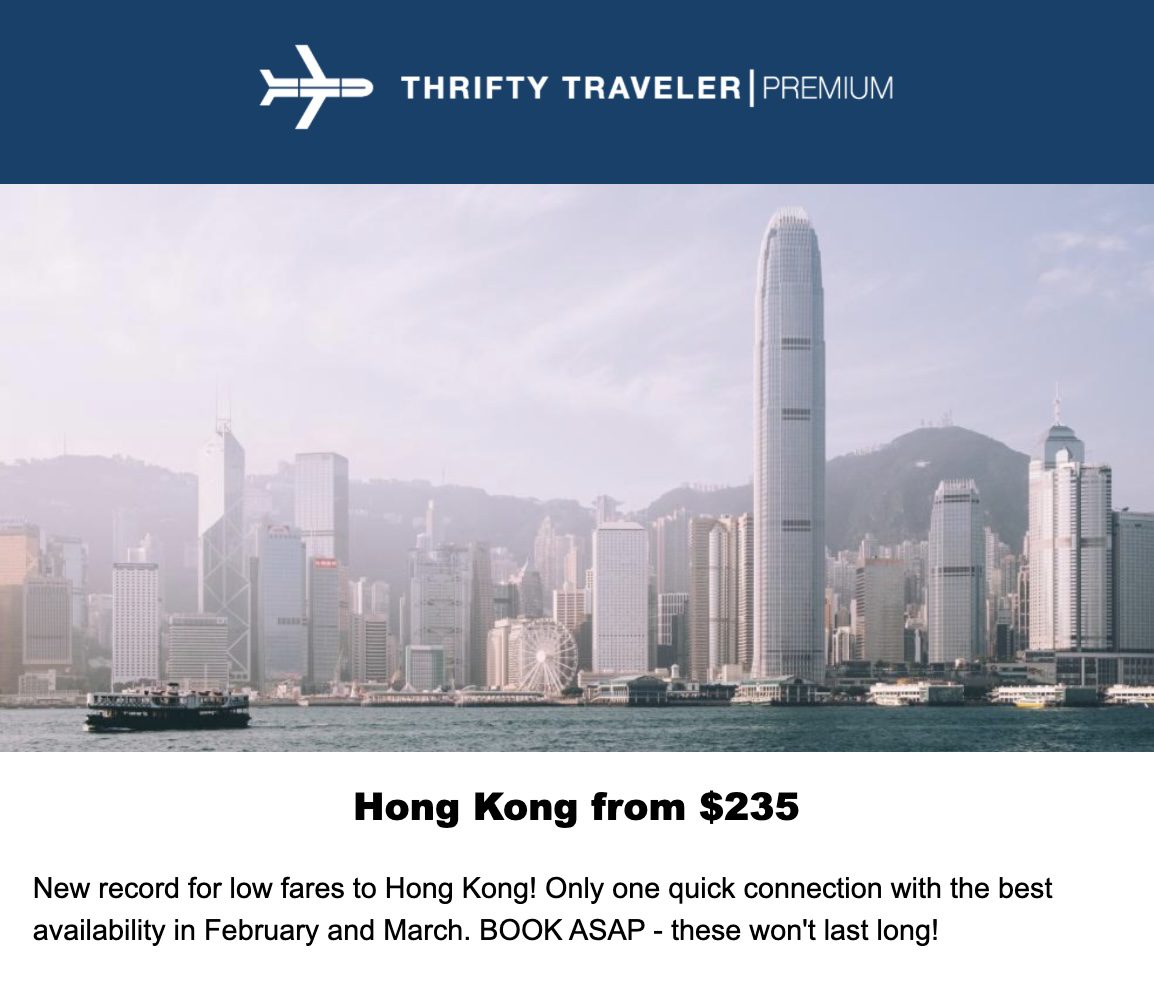 American Airlines hubs Charlotte (CLT), Miami (MIA), Philadelphia (PHL), and Phoenix (PHX) were all included in this deal flying both American and United. Like Japan, the outlook for traveling to Hong Kong anytime soon is grim. Still, deals like these don't happen often.
Minneapolis to Colombia from $206
The fare wars struck again with this wild pricing to Bogota (BOG) we unearthed just a few weeks ago. Our Thrifty Traveler Premium members loved the record-low fares on this one – especially travelers in Minneapolis-St. Paul (MSP), which benefited from record-low prices like this.


United targeted all of Delta's U.S. hubs with this huge sale to Colombia, which has grown into a bonafide tourist magnet in recent years.
Florida from $78
Flight deals to Florida pop up nearly every month, and Premium subscribers are always first to get them. But two of them really blew us away this year.
Miami (MIA) is always a popular destination, and with lots of competition and two major airports, it's no wonder Premium subscribers were loving the fares we found for them.


If something a little further flung is more your speed, we also dug into destinations like Key West (EYW), Tampa (TPA), Orlando (MCO), West Palm Beach (PBI), Jacksonville (JAX), the Panhandle and more! Florida was home to so many flight deals last year that we thought they needed their own breakdown.
Bottom Line
We find cheap flight deals every single day. But among the thousands of flight deals we found in 2021, these stick out. We've loved seeing which alerts our Thrifty Traveler Premium members love most.
Whether you wanted a business class flight to South America for the price of economy, a SkyMiles deal to Europe, or a flight in the $200s to Italy, there was a little something for everyone in 2021. And we're already finding flight deals for 2022 travel that put some of these fares to shame.