America's Playground, The City of Lights, The City of Lost Wages. The Gambling and Entertainment Capital of the World, or Sin City.
Yes, Las Vegas. Some love it, some hate it, and many experience both emotions simultaneously but can't explain why they keep going back. It's the city with something for everyone, whether you're a gambler, a foodie, or an outdoors aficionado who wants to make a road trip out to amazing national parks.
But no matter your motivation, you need to first find cheap flights to Las Vegas (LAS). It's not always a slam dunk, but the right strategies and tools can help you easily snag a bargain to fly to Vegas. Over the last two years, we've seen roundtrip airfare to Las Vegas drop to unthinkably cheap prices – for travel all the way through the end of this year.
Whenever you're ready to visit, here's your guide to booking cheap flights to Las Vegas.
Curious what Las Vegas is like during the pandemic?
How to Find Cheap Las Vegas Flights
After major metropolitan hubs like New York, Los Angeles, or Washington, D.C., Las Vegas has among the most flight options of any airport in the country. And that's a recipe for cheap flights.
More than two dozen airlines fly in and out of Las Vegas (LAS) Harry Reid International airport, with direct flights to more than 100 cities in the U.S. and abroad. Budget airlines like Allegiant, Spirit, Frontier, and Sun Country are big players when it comes to flying to Las Vegas.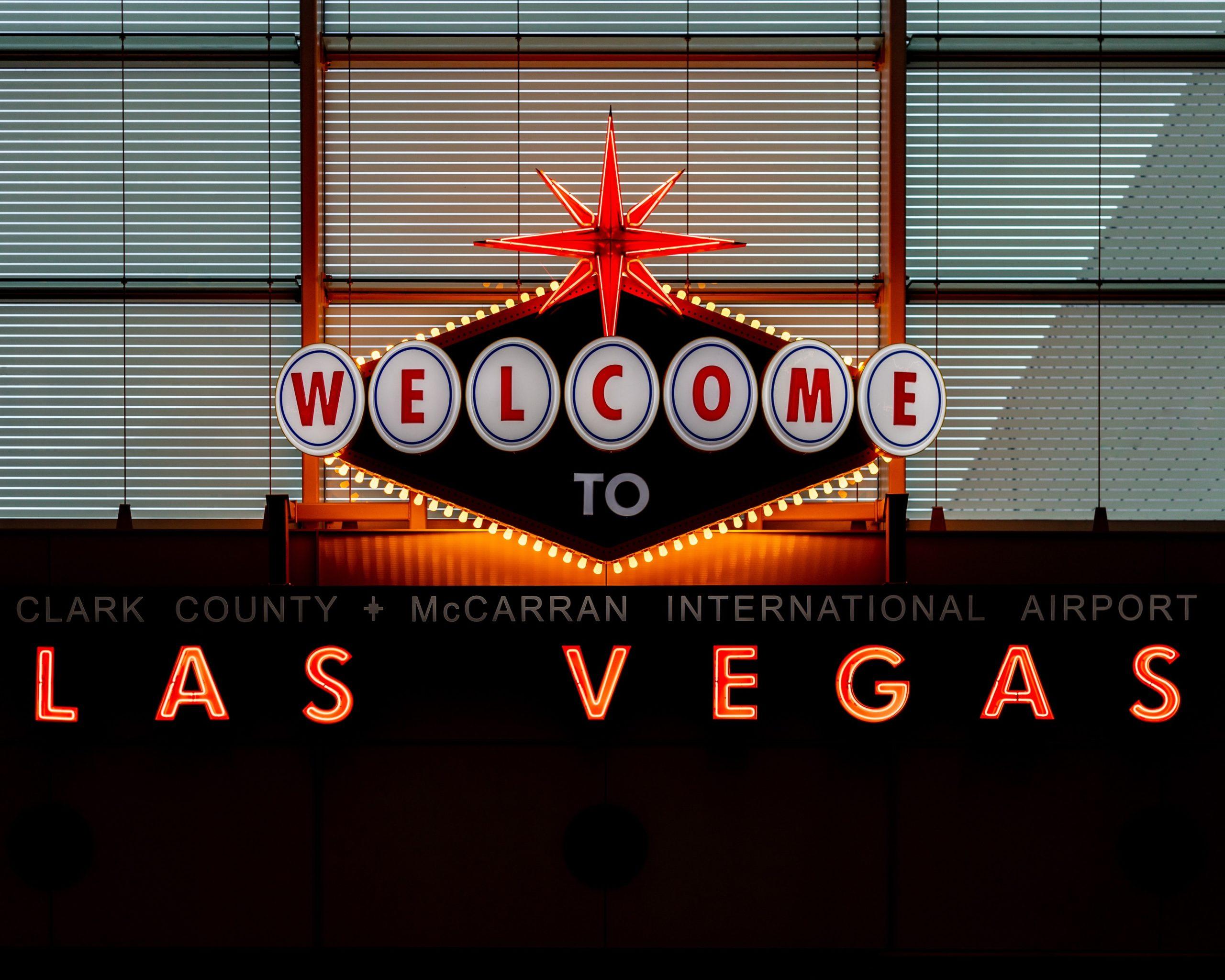 But it doesn't matter if you're not interested in flying a no-frills, ultra-low-cost carrier to Las Vegas. No matter what, that competition helps keep fares into the city low. How low? Well, we'll show you that soon.
Las Vegas may be a place unlike any other, but the rules governing how to find the cheapest flights still apply when it comes to flying to Sin City. Here's how you can be sure to snag a cheap fare:
Be flexible. All travelers would love to fly into Las Vegas on a Friday and return on a Sunday. Airlines know it, and they'll typically jack up rates on those two travel days. If you can stretch it out into a long weekend or depart Vegas on Saturday instead, you'll not only get cheaper airfare – you may pay less for your hotel, too. 
Start your search with Google Flights, the most powerful search engine to find cheap fares, period. Google Flights will easily show you if you can score a much bigger deal by changing your dates by just a day or two. For example, you can drop these weekend flights from Minneapolis-St. Paul (MSP) to Las Vegas (LAS) from $281 down to $237 by departing on a Thursday instead – or all the way down to $97 roundtrip by making it a Tuesday-to-Tuesday trip.
Book directly with the airline using Google Flights rather than using OTAs like Expedia. Unless the savings of booking through those third-party sites are massive, it's not worth the trouble – you're much better off booking with the airline.
Always book your flights first! The biggest mistake travelers make, whether they're going to Las Vegas or anywhere else in the world, is setting their dates, requesting their PTO, booking a hotel, and then turning to airfare. Maybe you'll get lucky and score a deal on the dates you need. But odds are you've just boxed yourself into paying a fortune.
Time it right by booking your airfare no sooner than six months before departure, but at least a month or so before your trip. That's the sweet spot for getting cheap flights to Las Vegas.
Avoid peak travel periods when high demand drives the cost of airfare sky-high. Flights around Christmas and New Years always tend to be expensive, but there's more to it than that. Late March and early April always seem to be expensive for flying to Las Vegas. And the convention and trade show circuit in Las Vegas can drive up prices too – especially during mega-events like CES in early January and the Specialty Equipment Market Association in early November each year.
Use flight deal alert services like our Thrifty Traveler Premium service, which sends the best

Las Vegas flight

deals from your home airport directly to your email inbox. We're constantly looking for cheap airfare within the U.S. and internationally. Try it out for just $7.99 a month!
Want to stay in Las Vegas for cheaper, too? If room rates are expensive, check our guide with the best Las Vegas properties you can book free using points!
How Cheap is Cheap?
"What's a deal and what's not? Am I really scoring the cheapest flight to Las Vegas?"
That's the $1 million question when it comes to booking any airfare: What's the standard price? That bar is always shifting with flights into Las Vegas (LAS), especially depending upon where you live – airfare is constantly changing. But we've got good news: It's been going down lately.
Not too long ago, a roundtrip flight under $300 dollars seemed like a deal to Las Vegas. Lately, somewhere around $200 has become closer to the norm for most airports across the country. 
But when we recently alerted our Thrifty Traveler Premium members about fares under $100 from several cities, jaws dropped. Jackpot.
Even as travel picked back up in 2021, airlines continue to battle for your business. Slashing airfare on popular leisure destinations seems to be their main focus – and Las Vegas is one of the few domestic destinations accepting travelers with open arms throughout much of the pandemic. Business travelers used to be a reliable source of revenue for airlines (especially to Vegas), but that group remains mostly idle. That's a recipe for Las Vegas cheap flights.
Scan the list of cities available in this deal from earlier this year, and you'll see it's not just the massive hubs that can score a great deal on flights to Las Vegas. Even residents of Omaha (OMA) and Des Moines (DSM) could get to Sin City for under $200 roundtrip.
Albuquerque (ABQ) – $154
Atlanta (ATL) – $176
Austin (AUS) – $136
Boise (BOI) – $154
Chicago (ORD) – $136
Cincinnati (CVG) – $198
Dallas (DFW) – $136
Denver (DEN) – $146
Des Moines (DSM) – $172
Detroit (DTW) – $138
Ft. Lauderdale (FLL) – $194
Fresno (FAT) – $134
Idaho Falls (IDA) – $176
Los Angeles (LAX) – $76
Minneapolis (MSP) – $96
Oakland (OAK) – $134
Oklahoma City (OKC) – $154
Omaha (OMA) – $174
Orlando (MCO) – $192
Philadelphia (PHL) – $136
Portland (PDX) – $196
Sacramento (SMF) – $154
Salt Lake City (SLC) – $96
San Francisco (SFO) – $116
Santa Fe (SAF) – $149
Seattle (SEA) – $116
Spokane (GEG) – $154
Tucson (TUS) – $134
American Airlines and United have pushed it even further by pricing most of their domestic fares as Main Cabin economy, allowing travelers to skip pesky basic economy fares. Rather than paying an extra $70 to pick your seat and bring a carry-on bag, that's included in the price of many of these fares. 
And these Las Vegas flight deals are not just regional, short flights to Las Vegas and back. The pricing we're seeing from beyond the Lower 48 is just as remarkable. Flights from Hawaii and Alaska to Sin City are in the $200s. Even flights from Puerto Rico and the U.S. Virgin Islands are regularly less than $300!
Want these Las Vegas flight deals delivered straight to you? Give Thrifty Traveler Premium a try for $7.99 a month!
Save Your Cash, Use Your Miles
Want to save your hard-earned cash for entertainment or hotels? Put your airline miles to use.
We've noticed some unbeatable miles redemptions for flights to Las Vegas. If you've got Delta SkyMiles, it won't cost you much for your voyage. We found several cities with roundtrip fares under 10,000 SkyMiles roundtrip with an incredible Delta SkyMiles flash sale – with some fares as low as just 6,000 SkyMiles roundtrip!
With hundreds of routes in and out of Las Vegas, Southwest is another smart option. And don't forget about Southwest's generous two free bags checked with any flight (yes that includes golf clubs). Cash rates may be cheap, but you can also use Southwest Rapid Rewards points to score a massive bargain.
If you don't have any points in your account, keep in mind you can transfer points to Southwest Airlines from Chase Ultimate Rewards with cards like the Chase Sapphire Preferred® Card.
There's no easier way to book free airfare than booking flights through the Chase travel portal.
Bottom Line About Finding Las Vegas Flight Deals
Whether you're looking to head for Las Vegas in the near future or not until later this year, it's one of the best times to book future travel. Scoring Las Vegas cheap flights isn't hard.
In fact, we'd argue it's never been easier.