For the mileage that most airlines charge to fly in economy, Iberia business class is one of the cheapest ways to get to Europe using miles … in style. This is your ticket to do it for even cheaper.
We alerted Thrifty Traveler Premium members to a great block of award availability to fly Iberia business class from the East Coast or Chicago-O'Hare (ORD) to Madrid (MAD) later this year and through spring 2022. You can currently book at least two seats (and sometimes four!) many days from November all the way through May 2022 on the Iberia flights from Chicago, New York City (JFK), Boston (BOS), and Miami (MIA).
These flights typically start at just 34,000 miles each way, which is a steal – but it gets better. A 30% transfer bonus from Chase Ultimate Rewards to Iberia means you can book business class to Madrid and back using just 53,000 Chase points. With a 40% transfer bonus from American Express Membership Rewards, that's just 49,000 Amex points!
Here's a look at award availability from JFK. Dates in green are bookable through Iberia.

Thrifty Traveler Premium members get award space alerts like this one first, along with cheap domestic and international flights. Try Thrifty Traveler Premium for just $7.99 a month!
Even at 34,000 Iberia Avios each way – or 68,000 Avios roundtrip – it's cheaper than what most airlines charge for economy, making it one of the best deals in points and miles. Getting a 30% to 40% bonus when transferring Chase points or Amex points, respectively, just makes it even better.
Some of the best availability has dried up since we first sent this to Thrifty Traveler Premium members last week, but there are still plenty of flights available. Flights from New York are the easiest to grab along with Miami, where Iberia's distance-based award pricing pushes the final cost a tad higher.
There's decent availability from both Chicago and Boston. And you should find similar availability for the trip home to make a roundtrip booking using your points.
If you're planning a trip around Christmas or New Year's, you'll pay a bit more thanks to Iberia's peak pricing rates. The same is true once you reach mid-June.
Thrifty Tip #1: Don't live in Chicago, New York, or Boston? Consider booking a positioning flight using cash – or miles – to get there and hop on your business class flight.

Of course, travel to Spain could be a bit more stressful now than just a few years ago. Spain has been open to American travelers since June 2021. Recently, Spain tightened the entry requirements while remaining open to Americans.
Luckily, Iberia makes it cheap and easy to change plans if need be. The airline charges a flat $40 fee to change the dates of your flight or cancel to get your miles back. So you could lock in a trip with this amazing glut of award space then reconsider later on if necessary.
Booking with Iberia can sometimes be a bit of a pain, as its website is a bit wonky and its customer support call center in the U.S. is hit or miss. But at these prices, it's worth some extra legwork.
Thrifty Tip #2: Can't get your Iberia award to go through? Try again using a different internet browser. Keep reading for more instructions, or just read our complete guide to booking business class flights using Iberia Avios.

Iberia business class won't win awards for the world's best business class. But you'll get a comfortable lie-flat bed for the seven-plus hour flight, and good meals … all for the typical price of flying economy. And at just 53,000 points for a round-trip, that's unparalleled.

Read our full review of Iberia business class from Chicago to Madrid.
Flying out of Chicago, New York City, or Miami, you'll have access to American's Flagship lounges, which are among the best business class lounges in the U.S. And Iberia has its own lovely lounge in Madrid for international business class departures.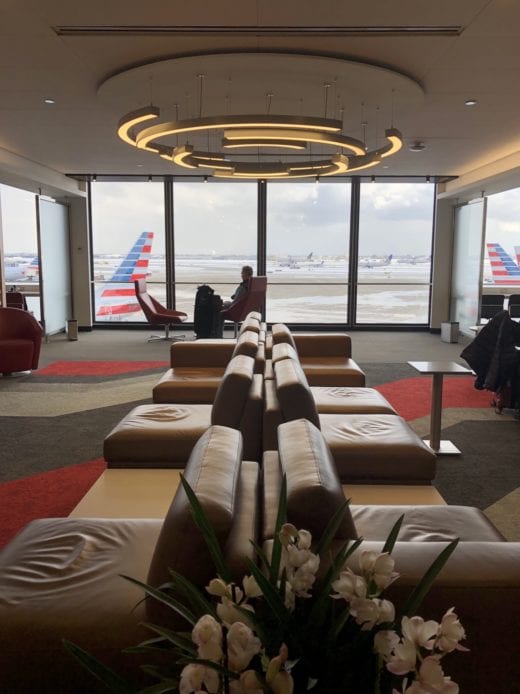 How to Book
Iberia is a member of the Oneworld alliance, so there are a number of ways you could book.
One option is using American AAdvantage miles. But the airline charges 57,500 miles each way, so you'll use up a bigger part of your balance as well as some extra fees. British Airways is another option, as these nonstop flights across the Atlantic would also cost 34,000 miles each way. But with atrocious cash fees on these bookings, forget about it.

So that leaves us with Iberia Avios: with low mileage rates and moderate fees, it's easily the best option. Critically, you can book Iberia awards up to 361 days in advance – which brings us to all the way to early August 2022.
Iberia's site isn't the easiest to navigate, but it's worth the work.
You'll want to scope out the award availability to ensure the dates you want to fly to or from Europe are still available – but with this much availability, that shouldn't be a challenge. Head to Iberia.com and log in to your Iberia Plus account – or register if you don't already have one.
From there, follow the link to Iberia's award search tool. Other search platforms on Iberia's site will not function correctly. Iberia doesn't always play nice with airport codes, so you may want to type in the city name ("Chicago") rather than ORD. And be sure you search for as many seats as you need and tick the "My dates are flexible" box.
Get a "restricted access" error? Iberia's award search tool has a nasty habit of logging you out. Log back in and repeat the process – the second time should be the charm. Scroll through the dates and pick the nonstop Iberia business class flight that works!

You'll pay a bit more for the longer flights from Miami (MIA) at 42,500 Iberia Avios each way, but it's still a bargain. That's especially true when you factor in these credit card transfer bonuses, which bring down the final cost as low as 31,000 points – or  61,000 points roundtrip!

Bottom Line
This is a great chance to book a trip this year or next to Europe in some serious style on the cheap. Iberia offers the cheapest way to fly business class to Europe.
With a bonus of up to 40% when transferring credit card points from Chase or Amex to your Iberia account, it's cheaper than ever.