For the last two years, the world's biggest events, festivals, parties, and holidays have been put on pause. But 2022 is looking up: It's time to think big in travel again.
As 2022 continues and the worst of the pandemic fades away, many of the biggest events around the world are back on schedule as countries drop or relax COVID-19 restrictions. That means the Tulip Festival in Amsterdam is back in the cards. The World Cup and Wimbledon are on track. Oktoberfest in Munich later this year or St. Patrick's Day in Dublin in 2023, anyone?
But first, you need to get there – and you aren't the only one looking for flights. We're searching for cheap flights year round for trips to these locations as far out as March 2023 and sending every deal we find to Oktoberfest, the 2023 Super Bowl in Phoenix, and other marquee events to our Thrifty Traveler Premium members.
Here's a look at how airfare is shaping up to some of the biggest gatherings and celebrations around the globe and how you can score a deal to get there.
Tulip Festival in Amsterdam
The month of April in Holland is known for its eye-popping, colorful tulips. The tulip fields of the region near Amsterdam are a sight to be seen and there are too many fields and too many ways to see them.
Whether it's a stroll through a flower farm or a helicopter tour over them, you will find a way to enjoy these sights.
But before you can soak in these beautiful blooms, you need to get to Amsterdam. Lucky for you, spring is a great time to find cheap fares to Amsterdam (AMS) – like this fantastic deal we found a few weeks back flying United Airlines to the Dutch capital through May.
Amsterdam deserves to be seen in the spring, and we hope some Thrifty Traveler Premium members booked this deal to get a full helping of tulips.
Dia de los Muertos in Mexico City or Oaxaca
Our neighbors to the south celebrate a 3,000-year-old tradition every November 1 and 2 called Dia de Los Muertos. And you have to visit Mexico City to experience it at its fullest.
Mexico City's celebration features an enormous afternoon parade with thousands of spectators. Depending on how you wish to celebrate, it also turns into a massive party in the streets and bars of Mexico City. You can read about why we think Mexico City is an underrated foodie city, too.
But Dia de Los Muertos is, first and foremost, a family event, making it the perfect place to bring your own family for as immersive a cultural experience as you can find on this continent.If you plan to bring the whole family, you'll want some family-friendly prices, too. Check out these nonstop fares we found to Mexico City (MEX) a few weeks ago.
South of Mexico City is another hidden gem in Oaxaca. We love Oaxaca, which is known for its tasty food and mezcal. Its Dia de los Muertos celebration is legendary, but was canceled the last two years due to COVID-19. This year, however, the celebration appears to be back on with the people of Oaxaca looking to make up for lost time.
Despite being a lesser-known spot, we also find flight deals to Oaxaca from time to time.
Get flight deals like this one sent straight to your inbox with Thrifty Traveler Premium!
Super Bowl 2023 in Phoenix
It feels like this year's Super Bowl game just ended. The LA Rams beat the Bengals, remember?
But if you want any shot at saving money on a trip to the Super Bowl next year, you'd better get booking early. The 2023 Super Bowl will be held in the Phoenix area – already a sought-after locale to visit in early February.
Super Bowl tickets are going to cost you – big time. But airfare down to the big game doesn't have to break the bank, especially if you lock something in now.
We find great deals like this one to Phoenix all the time. And now you can search for and book flights to the desert in February 2023. Here's a great fare example from Seattle including Super Bowl weekend that we found just this week.
There's so much to do around the Super Bowl that you don't have to attend the game itself to have a good time. This is especially so in Phoenix for so many reasons. The area's hiking, boating, or poolside lounging in the sun is enough to consume your time.
During Super Bowl weekend 2023, however, consider visiting the famed Waste Management Phoenix Open in Scottsdale, Arizona. It could be the most raucous sporting event of the weekend! The best golfers in the world descend on this tournament known for its 17th hole, which is entirely enclosed in a rowdy stadium atmosphere.
It's the confluence of two major sporting events in one metro area in one weekend in February, and it could all be yours starting with a cheap flight.
Wimbledon in London (or Tennis Closer to Home)
Maybe football or the unruliest crowd in golf isn't refined enough for you, so let's look at a few destination tennis tournaments.
The first and most famous is Wimbledon. The All England Club's famed tournament spans two weeks in June and July (June 27 – July 10) … and that's peak travel season to London, one of the hardest times to find cheap flights each year. Those who attend, even to just walk the grounds, say it's worth waiting in line for, but you have to get across the pond first.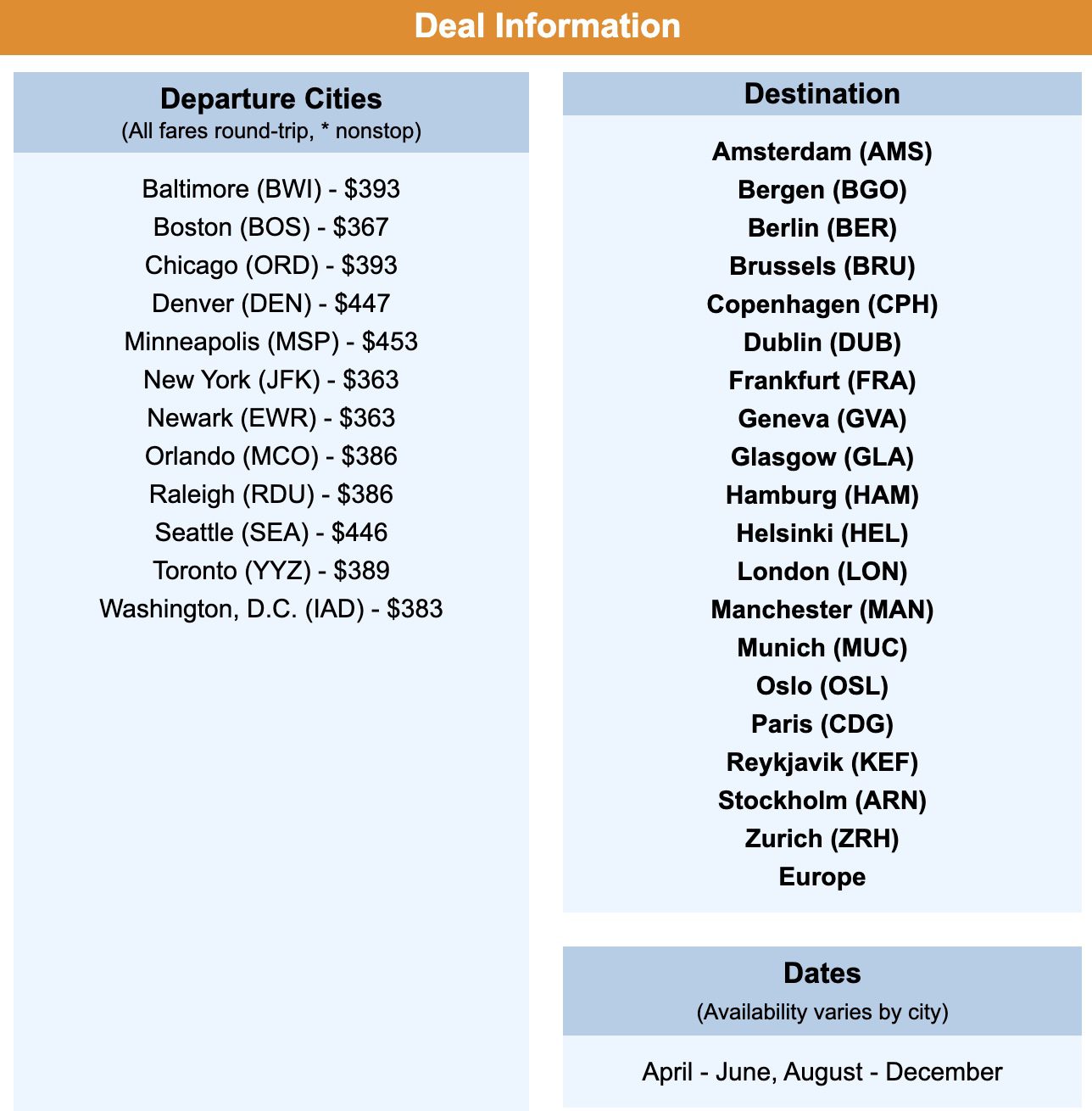 This flight deal we sent our subscribers a few weeks ago included fantastic, low rates on Icelandair to London (and tons of other destinations), including June dates! Normally, flight prices to London are closer to $1,000 during peak summer.
Closer to home, there's another tennis major in the U.S. Open that should be on every sports fan's bucket list. The late summer (Aug. 29 – Sept. 11) cap to the tennis season usually benefits from great weather with the vibrant backdrop of New York City.
A flight into New York City-LaGuardia (LGA) will practically land you in the stands at Arthur Ashe Stadium, and there are still tons of great deals to be found for those two weeks at the end of August and beginning of September.
If you're looking to check one of these destination tennis tournaments off the list this year, start your search with a cheap flight! Or get the deals sent straight to you with Thrifty Traveler Premium!
St. Paddy's Day in Dublin
A Guinness at your local Irish bar can be enough to get into the St. Patrick's Day spirit, but the real celebrating takes place in Dublin every March.
The people of Ireland take their partying seriously, and St. Patrick's Day is their Super Bowl. This celebration isn't clad in leprechauns and shamrocks and they don't dye their rivers green. Instead, this five-day festival is a street party filled with music, lively pubs, and a massive parade.
After a two-year hiatus, this festive affair returned in 2022. With the right flight, you could book this weekend for yourself in 2023.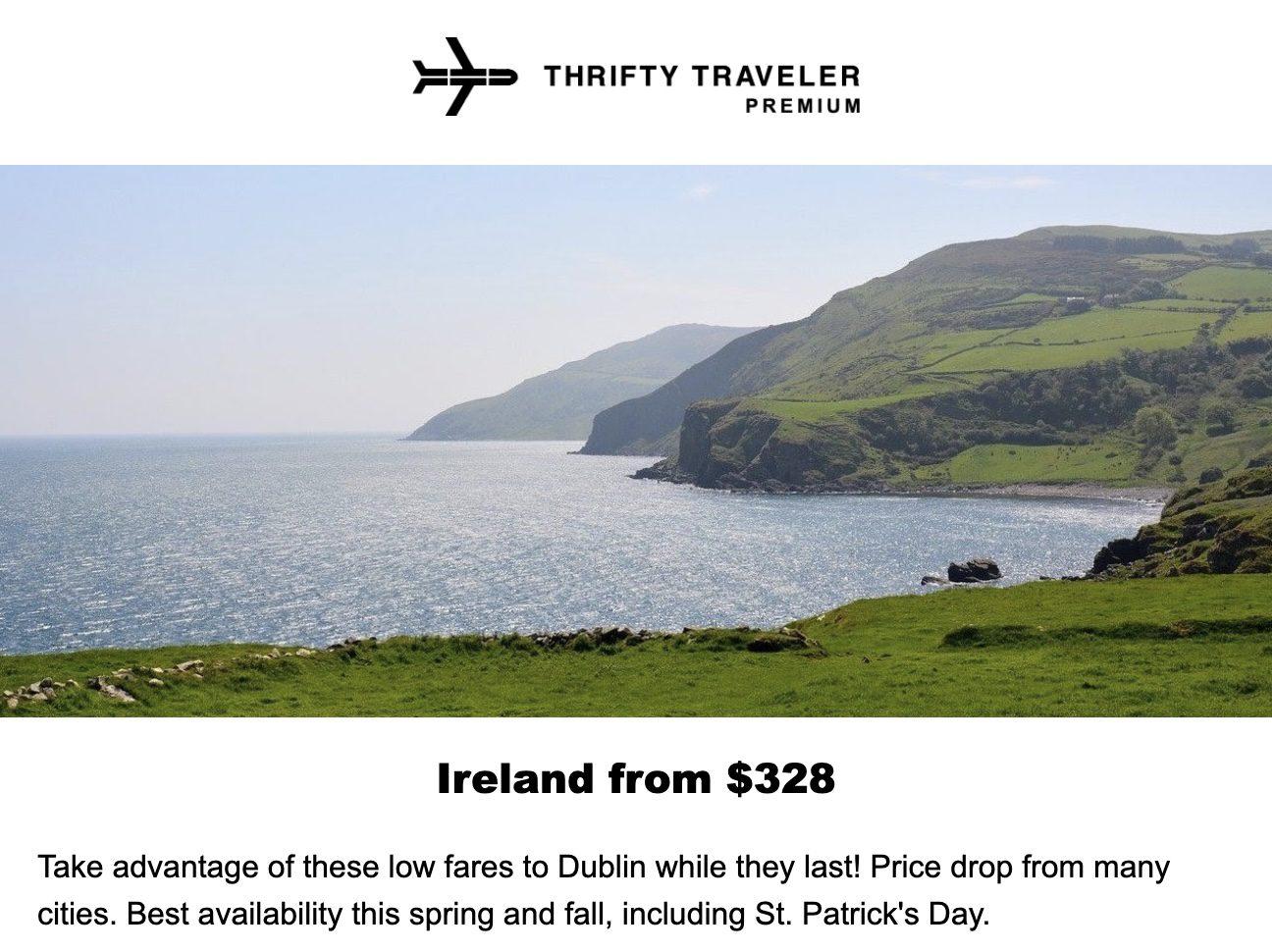 We're not seeing stellar deals to Dublin (DUB) for March 2023 just yet. But we're hopeful: In the lead-up to St. Paddy's Day 2022, we found this fantastic deal to Ireland including tons of availability during the holiday. Thrifty Traveler Premium members got first crack at these sub-$400 fares to Dublin.
Oktoberfest in Germany
Between Sept. 17 and Oct. 3, 2022, Oktoberfest is celebrated all across Germany.
Munich plays home to the brunt of the celebration, but Oktoberfest can be felt in every corner of Germany for the three-week extravaganza. This year is the 187th Oktoberfest and will feature the usual rides, attractions, and cultural celebrations of years past. After getting scrapped for the last two years, Oktoberfest 2022 is officially on.
Rumor has it there might even be a little bit of beer consumed at this event … you know, if you're into that.
Late September in Germany is, therefore, the perfect time to visit the country. The weather is great, it's well past the peak summer travel season, and it's in the midst of the country's biggest annual celebration. That's why we were ecstatic to share this deal with thousands of our subscribers a few months ago, which included availability throughout Oktoberfest.
As you can see, this isn't just a deal for people in New York, Boston, and Washington, D.C., either. From Abilene, Texas (ABI) to Bemidji, Minnesota (BJI), tons of U.S. cities got in on the Oktoberfest action. I don't know what Oktoberfest is like in Bemidji, but I'd bet it's a little more lively in Munich.
But a trip to Oktoberfest is also a great chance to put those points and miles to use, so check out some of our favorite ways to fly to Europe using points and miles. And if you want to get to Germany well-rested in a lie-flat seat before the drinking celebrations begin, you need to check out this sweet spot to fly to Europe in business class for just 88,000 miles … roundtrip!
FIFA World Cup in Qatar, Australia, and New Zealand
For U.S. travelers the next men's and women's World Cups are not exactly convenient trips.
The men's competition will take place this fall in Qatar (Nov. 21 – Dec. 18) and the women will play the following year in Australia and New Zealand (July 20 – August 20, 2023). Neither are exactly a hop, skip, and a jump from home. But both are very accessible for the savvy traveler.
The World Cup is the world's biggest and most popular sporting event. It's a true coming-together of the world through the most popular sport on the planet.
Its popularity is exactly why it can be difficult to find a good deal to attend the tournament, too. It's not impossible, however. While cheap cash fares to Doha, Qatar (DOH) aren't easy to come by, we recommend keeping an eye on the points and miles space to find your flight there.
We sent out this Qatar Airways QSuites deal to our subscribers a few months ago that included flights into Qatar. Availability on this deal may be extremely limited during the World Cup, but the Thrifty Traveler Premium team is checking daily to make sure we send our subscribers the deal as soon as we find it.
Yes, we send Thrifty Traveler Premium members award alerts to use their points and miles, too! 
For fans hoping to attend the Women's World Cup, you still have some time. In a few months, bookings for July and August, 2023 should open up. Hopefully, deals like this stellar Delta SkyMiles flash sale to Sydney will pop up, too.
We loved unearthing this Delta SkyMiles deal to Australia and we will continue to search for fares there during the 2023 World Cup window when it opens later this year.
Cherry Blossoms in Japan (and D.C.)
A visit to Japan is worth it any time of year, but the Cherry Blossom bloom each spring paints the country in stunning pink colors that shouldn't be missed.
The bloom radiates all over the country each spring (mid-March to May), which is why so many love to visit the country during that time. This spring, Japan stayed closed to U.S. travelers, but our fingers are crossed that 2023's Cherry Blossom bloom should be open to travelers once again.
Hoping the border would reopen this spring, we sent this deal to our subscribers in a few Delta hubs for American Airlines fares to Tokyo (TYO) during peak Cherry Blossom season.
We look for deals like this to Tokyo every day and expect to find some value for our subscribers across the Pacific again next spring.
If you're still looking for some peak Cherry Blossoms but closer to home, a visit to Washington, D.C. should tide you over. Between late March and early April, the Cherry Blossoms bloom in the District of Columbia, giving our national monuments a beautiful backdrop.
A spring break trip to D.C. could be exactly what your family needs next year, so jump on one of these flight deals to make it happen. With fares as low as $77 roundtrip, a quick hop to D.C. to see the Cherry Blossoms is too easy to pass up.
Mardi Gras in New Orleans
Mark your calendars: Tuesday, Feb. 21, 2023 is Mardi Gras in New Orleans, Louisiana.
Many know it as a big, rowdy party on Bourbon Street, but that's just the tip of the iceberg. It's a day-long event full of parades, music, picnics, and wild costumes. A few months ago, we found this deal to New Orleans, featuring some fantastic fares with strong February availability.
As of this writing the fares for Mardi Gras week in New Orleans are now bookable on most airlines, meaning you can start your search for Mardi Gras flights for 2023. Of course, as soon as we find them, we'll send them straight to the inboxes of our Thrifty Traveler Premium subscribers.
Carnival in Brazil
In just a few weeks, the "Greatest Show on Earth" will begin in Rio de Janeiro, Brazil. The spectacle that is Rio Carnival runs April 20-23, 2022 and will return around the same time in 2023.
The focal point of the celebration is the Sambodrono, a stadium built specifically for the samba dancers that highlight the festivities. The stadium seats 80,000 spectators and more than 5,000 dancers in the competition. The festival also brings out the best of Rio's street life, all with its famous beaches nearby, too.
If you were subscribed to Thrifty Traveler Premium a few months ago, you would have had a first look at booking one of these dreamy United business class seats down to Rio for the occasion for just over $1,100!
It might be a little soon for you to fly down to Brazil this spring, but make sure you're prepared to take advantage of fares like these to Rio in 2023. Building a Brazilian adventure around the spectacular celebration is bucket list stuff. And if you can do it in style, even better!
Bottom Line
There's a major world event out there that you know you have to be a part of someday, but if you wait another year, you'll be another year older when you finally get there.
Instead, let our team of analysts at Thrifty Traveler Premium send you flight deal alerts to your inbox. That way, when we find that $250 flight to Day of the Dead in Mexico City, that $400 flight to St. Patrick's Day in Dublin or that $500 September flight to Germany's Oktoberfest, you'll be ready to book and have the experience of a lifetime.