Nearly two years into the pandemic and over a month into 2022, we continue to be shocked by what has seemingly become the new normal in flight prices.
Throughout the pandemic, we've seen airlines cut fares again and again (and again) to unthinkable low prices to fill unsold seats. But lately, there's an undeniable trend: From Hawaii to Mexico, we're consistently seeing half-off flights to some of the most popular tourist destinations in North America … and they're staying low. 
Fares that were once $600 or more to these hotspots have tumbled to $200 or less, and it's been that way for months. But how much longer can these deals last?
Make sure you're subscribed to Thrifty Traveler Premium to get the best deals from your home airport sent straight to your inbox in 2022!
Saying 'Aloha' to Fares in the $100s
Catching a flight to the Hawaiian Islands for less than $500 used to be a deal. Less than $400 was a steal. But fares under $200? Those were a rarity – if ever.
These days, travelers are lucking out as airlines are consistently cutting airfare to Hawaii, redefining what the words "cheap flights to Hawaii" really mean. Paying less than $200 for a trip to Hawaii can be easy, especially if you're flying from the West Coast. Thanks to cutthroat competition on most U.S. carriers, fares to Hawaii have never been (and never stayed) this cheap.
Not sure where to go in Hawaii? Read our guide on which is the best island to visit in Hawaii!
But even if you're not a California resident, there are still deals to be had every now and then for less than $200. Here is one of our favorite fares that we stumbled upon last year, all the way from Charlotte (CLT) to Honolulu (HNL).
And even from Minneapolis-St. Paul (MSP), where fares to Hawaii are notoriously expensive, we've seen dirt-cheap flights like this one to Maui (OGG).

Get deals like these sent to your inbox with Thrifty Traveler Premium!
South of the Border, South of $200
Traditionally one of the most popular destinations for sunbirds, Mexico tends to be high on most travelers' agendas year after year. The days of forking over $500 to $600 dollars for a flight south of the border may be gone for now … but there's no telling if (or when) they'll return to that previous price point.
So if you're considering a trip to Mexico this year, there's no better time than right now to lock in a low fare. For less than $200 you can make that getaway happen. 
Interested in Baja California? Week after week, we've seen sub-$200 fares to this always inviting destination. The west coast cities of the U.S. almost always get much of the flight deal love, but we're finding that's not always the case anymore.
Here's one of our favorite deals that involved record low fares to Cabo (SJD) that many Thrifty Traveler Premium members booked.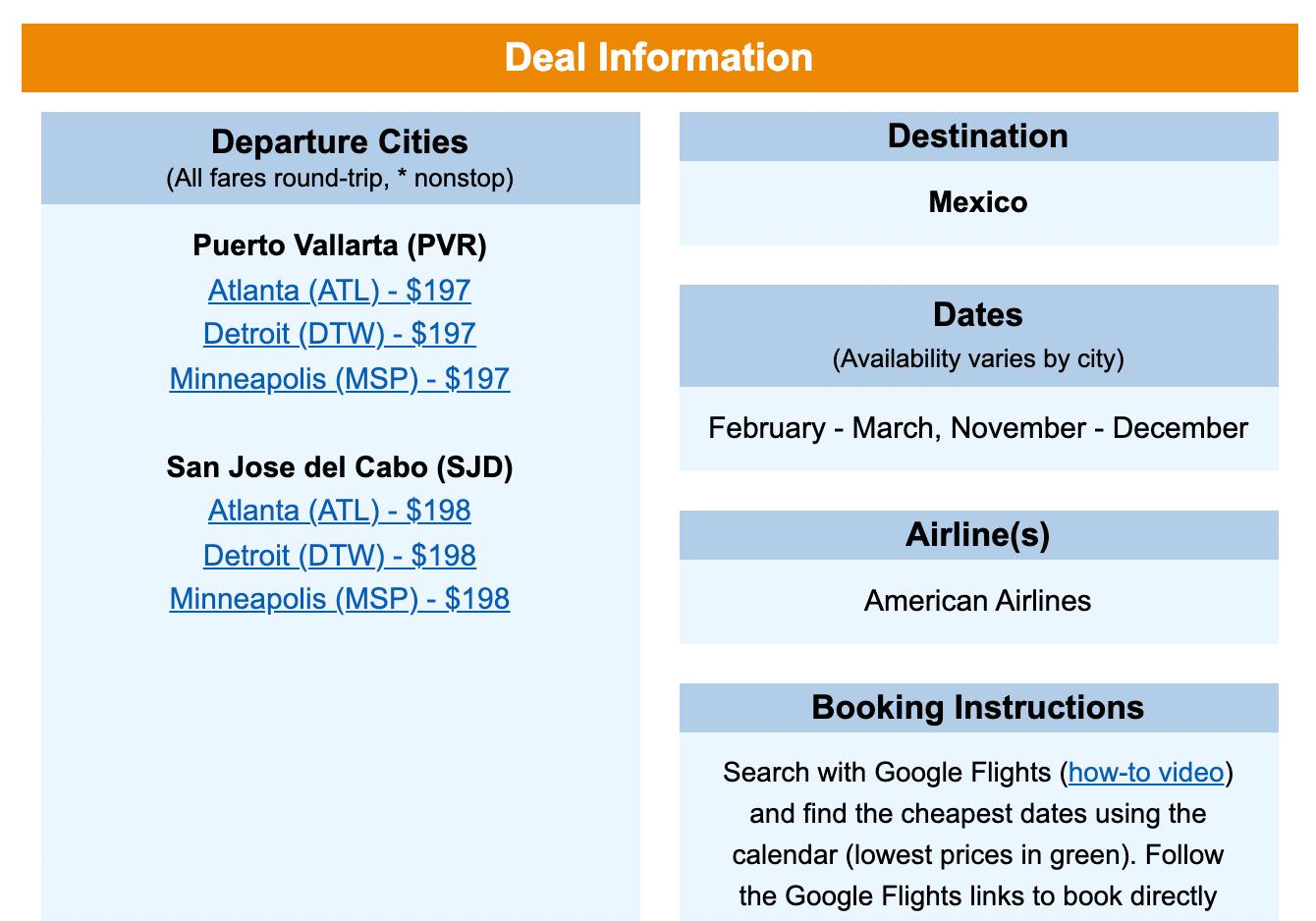 We were even stunned to see some east coast airports involved in this transcontinental sale to Cabo. Miami (MIA), Philadelphia (PHL), and Washington, D.C. (IAD) were all available for only $198 roundtrip!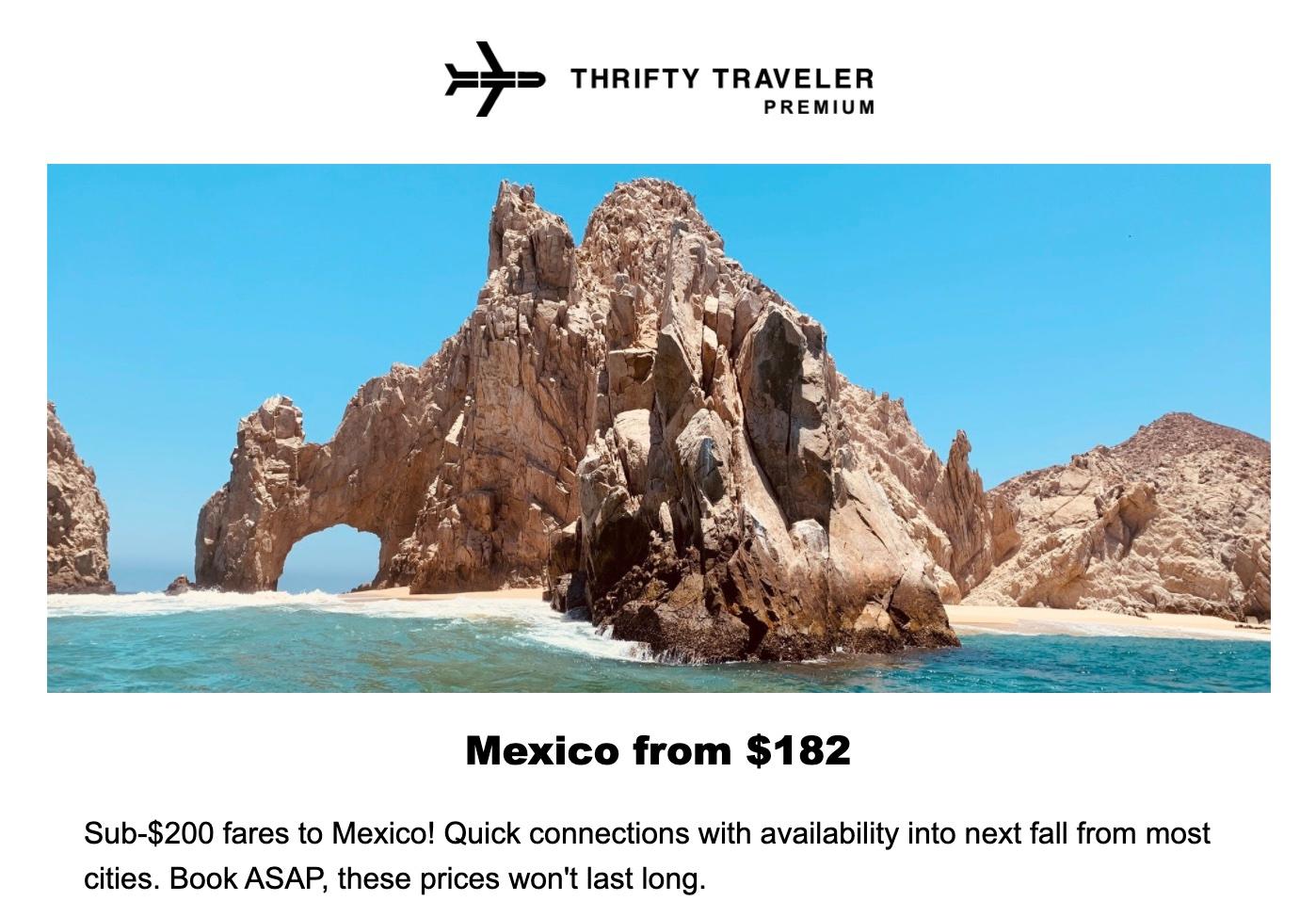 Cancún (CUN) seems to be a front-runner for most travelers when they start dreaming of a warm winter getaway. And the recent fares we've seen to Cancún have proven to be some of the best. We've seen fare sale after fare sale to Cancún, but also seen prices hold around less than $200 for weeks at a time.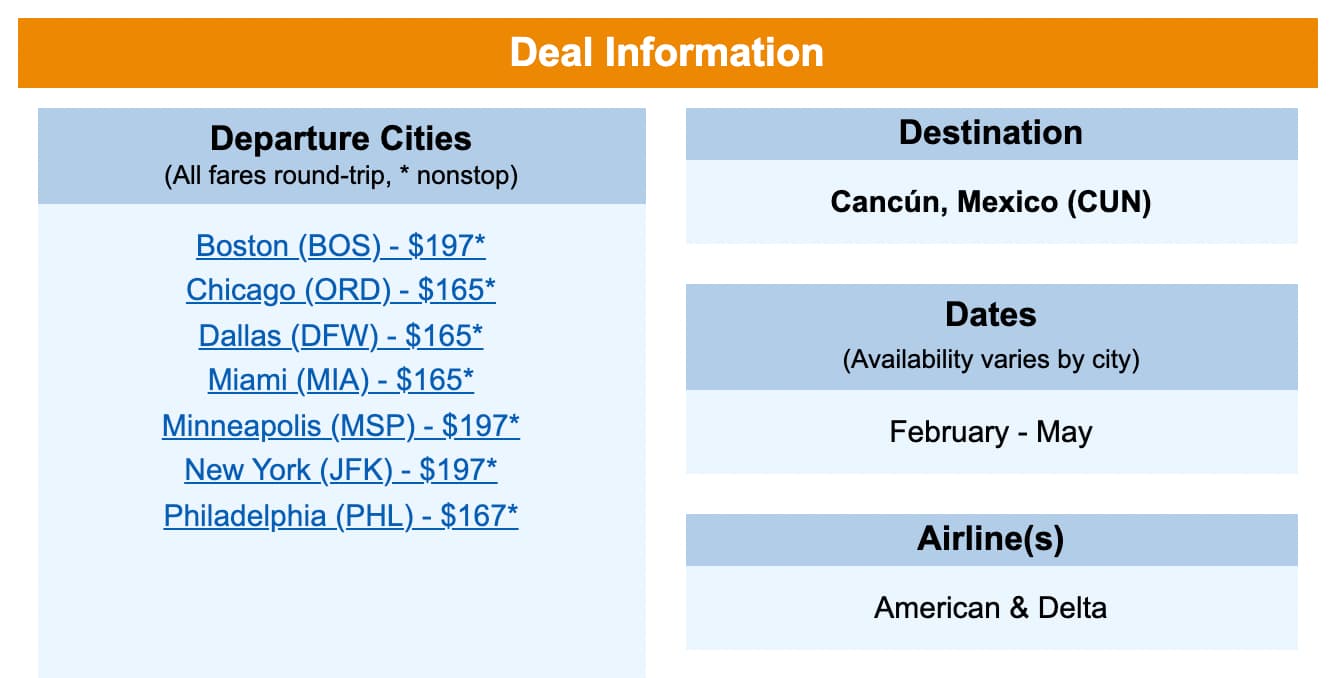 Caribbean Dreaming?
Getting a flight to the Caribbean used to require deep pockets, but that's not always the case anymore.
Over the past few months, we've seen a steady supply of cheap fares to some of the most popular Caribbean islands for less than $200 roundtrip. It's unlikely these fares will remain that low for long. So if a trip to the tropics is on your list for this year, it's time to book!
Puerto Rico is a prime example of one of the cheapest spots to travel to from the U.S. mainland. And the best part is, vaccinated travelers no longer need to take a COVID-19 test to enter – or a test to get back to the mainland, either. Here is one of our recent deals to San Juan (SJU) we sent to Thrifty Traveler Premium members.
Not too far away from Puerto Rico is another U.S. territory that has seen a ton of flight deals. If you're set on visiting the U.S. Virgin Islands, we can't think of a better time to lock in a low fare than now. Normally flights to St. Croix (STX) or St. Thomas (STT) are north of $500. But lately, we're seeing them for half off … or less!
Heading farther south, we've been pleasantly surprised to see several major U.S. airports showcase fares to Costa Rica for less than $200! This country has plenty to offer for all types of travelers, and when fares are this cheap, it's tough not to book a flight to Costa Rica.
Bottom Line
Planning your next vacation doesn't have to be expensive anymore thanks to some new patterns in airfare pricing.
In fact, there may be no better time than right now to take advantage of some of the cheapest fares we've seen to some of the best tourists destinations close to home. We don't know how long all of these sub-$200 fares will last in the end.
Got FOMO? Join Thrifty Traveler Premium for only $7.99 a month so you don't miss the next best deal.