Sorry to be the bearer of bad news, but winter is coming. That means it's time to start planning your trip somewhere warm … and a tropical getaway down to Costa Rica could be more affordable than you think this year.
It's one of the most popular destinations down south, and for good reason. But roundtrip flights to this Central American hotspot can easily run travelers $600 or more. Yet that's been changing over the last few months, with airlines frequently slashing fares down to Costa Rica (as well as Belize) as low as $300 – and sometimes under $200 total.
In just the last month alone, we've sent Thrifty Traveler Premium members roundtrip flights to San Jose (SJO) and Liberia (LIR).

Don't let the beauty of the Arenal volcano take your attention away from the low fare of $207 on this deal! And that's not just from one city – look at how many U.S. cities got in on cheap fares to Costa Rica! Whether you want to fly to Costa Rica this fall, over the winter, or for spring break, you've got options if you live in any one of these U.S. cities.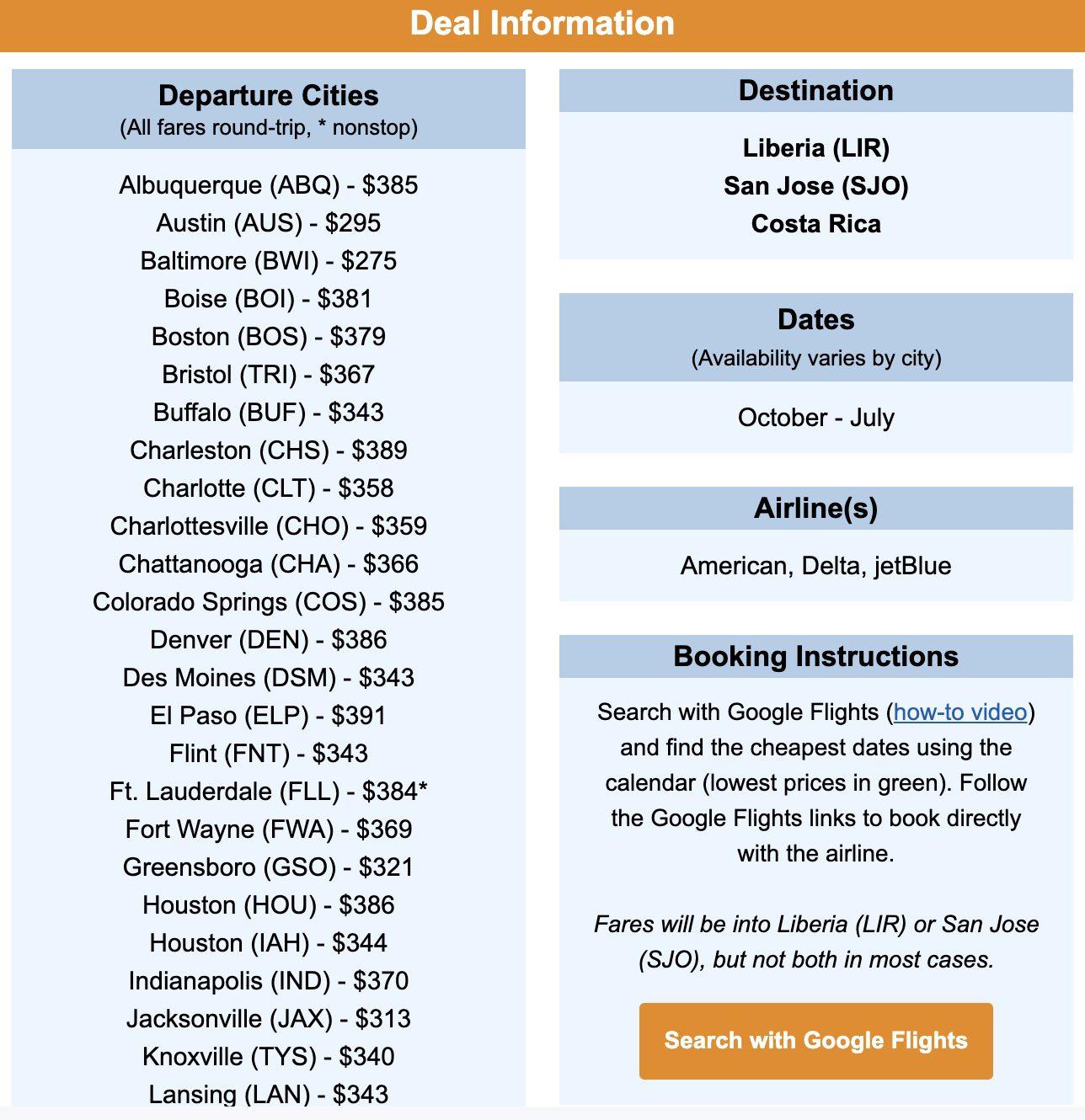 Get deals like this one sent straight to your inbox with Thrifty Traveler Premium! 
So, why are Costa Rica flight deals so prevalent from the U.S.? It's because four major U.S. airlines (American, Delta, jetBlue, and United) all run nonstop routes to Costa Rica's two major airports. That competition is a recipe for lower prices, like these deeply discounted nonstop fares we found a few months back from Minneapolis-St. Paul (MSP), Los Angeles (LAX), Fort Lauderdale (FLL), and even Austin (AUS) – all under $370 roundtrip! Heck, flights from New York City (JFK) dropped as low as nearly $200 total!

That's a ton of nonstop routes. But occasionally, we see even cheaper one-stop fares, too.


We sent all these dirt-cheap flights to Costa Rica to Thrifty Traveler Premium members over just the last few months. From the Canadian border to the bayou, you can find extremely affordable flights down to Costa Rica with one-stop.
Every once in a while, you'll see a great way to get to Costa Rica for even less by using points and miles – none better than Delta SkyMiles flash sales. This latest Delta deal as low as 19,000 SkyMiles roundtrip was a big hit among our subscribers, especially because they were both nonstops!

Why Travel To Costa Rica?
The better question is: When prices are this cheap, why not?
For one, Costa Rica offers a diverse landscape features both dense, wildlife-rich rainforests and pristine beaches. As a bonus, it's in the Central timezone, which means jet lag-free travel. That makes travel relatively easy – and, as Thrifty Traveler Premium members know, inexpensive.


This cheap flight to Costa Rica is gone, but get the next one sent straight to you with Thrifty Traveler Premium!
Nonstop routes from Los Angeles, New York City, Miami, Minneapolis, Fort Lauderdale, and a handful of other cities – plus easy connections from airports big and small nationwide – to Costa Rica's two main airports in San Jose and Liberia have dropped to low, low prices.
How low? How about this?

Once you're there, take those savings and use them on once-in-a-lifetime adventures.
Costa Rica is one of my favorite places to visit because you can really have it all. During a trip a few years ago, I spent three days hiking, zip-lining, and searching for wildlife in the rainforests near Arenal. For the next three days, I was sipping drinks by the pool and soaking up the sun on the beach on the western coast near the town of Nosara.

The sun never stopped shining and the weather was perfect to see a wide swath of the country. My visit started with a flight into Liberia (LIR) in the rainforest-clad Guanacaste Region. I finished near the more central city of San Jose, which offered its own unique flavor and some fun (but occasionally grueling) hikes featuring sweeping views of the region.

Thrifty Tip: If your roundtrip ticket is from either Liberia or San Jose but you want to hop around, take the 45-minute Sansa Airlines flight between these two cities. The short, domestic route flies low, offering incredible views of the Costa Rican countryside, weather permitting.

If a Costa Rican adventure tickles your fancy but seems out of reach, we promise it isn't! And if Costa Rica isn't already on your list … clearly, it should be.
Bottom Line
We keep finding low fares to the Costa Rican cities of San Jose and Liberia. At the prices we're finding, you have no excuse not to cross this beautiful destination off your to-do list this winter!
From rainforest adventures to laid-back beach scenes (or both!), Costa Rica has all the ingredients for a perfect getaway in 2022 or 2023.