'Tis the season when shoppers and travelers are scouring for great deals. And you're in luck: Flights for 2022 are looking cheap – in some cases, cheaper than ever.
No, not because of Black Friday discounts or Cyber Monday promotions. The deals are out there every day: Our team is constantly searching for cheap domestic and international fares to send to Thrifty Traveler Premium members. And the deals just seem to keep getting better even as more Americans prepare to travel again.
That includes flights to Puerto Rico or the U.S. Virgin Islands under $200 roundtrip – and occasionally, even under $100! A return to Europe next year won't break the bank with sub-$400 fares to Italy, Paris, and beyond. We've even found flights to Colombia drop below $250 total for a trip in 2022.
Want fares like these sent straight to you? Sign up for Thrifty Traveler Premium!
After almost two full years of uncertainty, there are lots of reasons to be optimistic about travel in 2022. But these low prices may just take the cake.
Best Flight Deals to the Beach in 2022
Winter may be coming, but this is going to be your year for a beach getaway.
For a trip in 2022, we've found dozens of eye-popping sales to some of our favorite beach locales. Some of these roundtrip fares are cheaper than a fancy dinner downtown! Take a look at this deal we unearthed through fall 2022 to St. Thomas in the U.S. Virgin Islands.

These fares have disappeared, but the next cheap flight to the beach is just around the corner with Thrifty Traveler Premium!
St. Thomas makes for an idyllic beach vacation – and with all the money you'll save on these flights, you can live the life of luxury by the beach once you arrive. Best of all, you don't need a passport to get in or a COVID-19 test to return home.
The same is true for Puerto Rico, where we've seen a slew of incredibly cheap fares for a trip in 2022. These roundtrip fares as low as $97 were cheaper than almost any short domestic flight on the mainland!

For less than $200, some of the deals we've found could get you on the beaches of Mexico in no time. Most of the departure cities on this deal featured nonstop flights, too! Take advantage of Mexico's perfect weather this winter.

A little closer to home, we found tons of great fares to one of the United States' most iconic beach cities.


Pair your beach vacation with the legendary nightlife of Miami for less. This incredible fare connects New Yorkers with Miami (and vice versa) for less than $90! It could cost more to Uber to the airport from Manhattan than to take this flight to South Beach.
From the Florida Keys to the Panhandle, we've found tons of great flight deals all over Florida in 2022.
Best International Flight Deals in 2022
International travel ground to a halt over the last 20 months, but it's coming back. Many countries around the globe have reopened their borders to American travelers – and here in the U.S., we've finally returned the favor for Europeans and other travelers.
And the airlines are going all-in on popular international routes across the Atlantic Ocean, leading to incredibly cheap fares abroad like this one, with flights to dozens of European cities as low as $243 roundtrip. No, that's not a typo: Flight deals for 2022 really can get that cheap.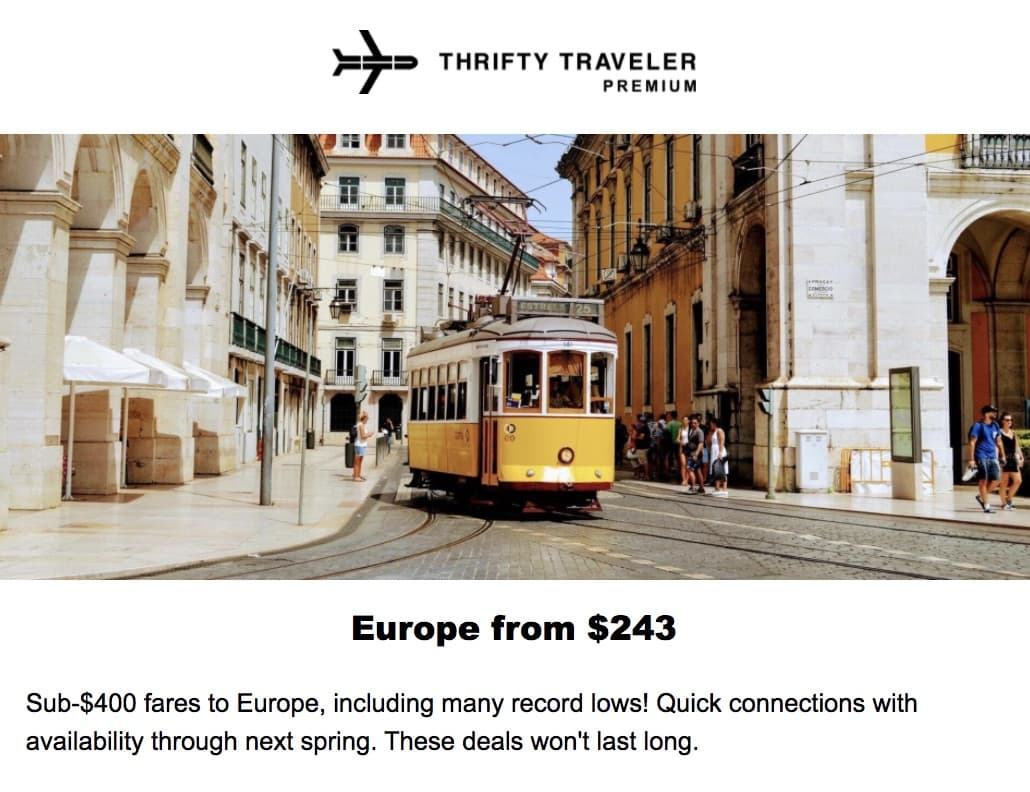 We found these fares just last week from both New York City (JFK) and Newark (EWR) to spots like Lisbon (LIS) and Lyon (LYS) or even Stockholm (ARN) to Sofia (SOF) in Bulgaria. If you can think of a European city, it was probably featured in these massively discounted fares.
We've also found sub-$300 fares to places like Greece, Spain, and Italy. This deal to Italy featured low, low fares into five different Italian airports with many flights flying in January and February 2022!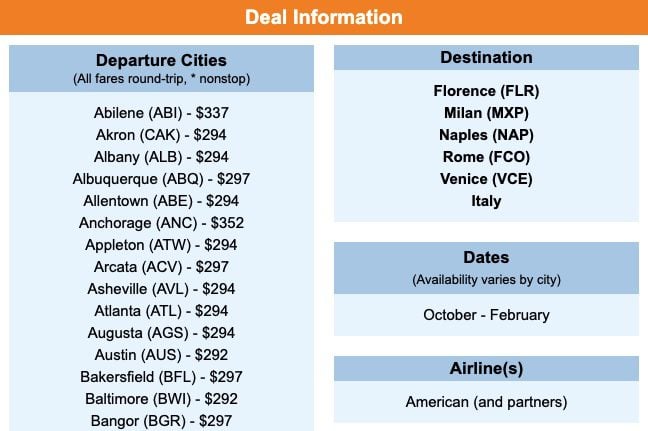 A European excursion could be just what you've been waiting for in 2022. But if you want a totally different kind of international adventure, bump Costa Rica to the top of your list. With these fares through September 2022, you can hardly stop yourself.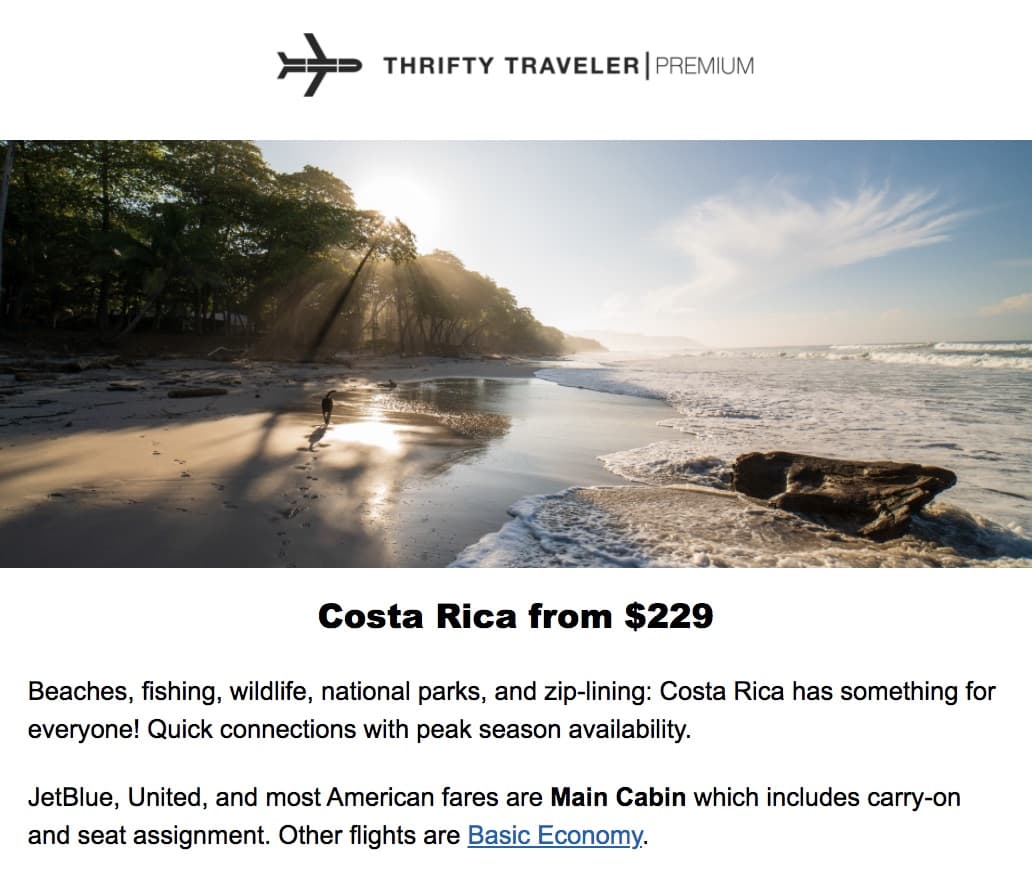 Or how about Colombia? Fare wars between major airlines like Delta, American, and United have led to some of the cheapest fares to South America we've ever seen, like this recent $246 roundtrip flight from Minneapolis-St. Paul (MSP) to Bogota (BOG).

Even bucket list international destinations that typically seem out of reach can be had for a bargain in 2022. That includes the Maldives, where flight prices occasionally drop to lows like these.

Fares under $1,000 to the beaches of the Maldives are tough to find, so this $750 fare left our heads spinning – flying one of the world's best airlines, to boot!
So update that passport and go see the world again in 2022. Your Thrifty Traveler Premium subscription will get you there for less.
Best Domestic Flight Deals in 2022
We're lucky to live in a country that offers a bevy of its own phenomenal destinations. That means, for low, low prices, you can take memorable and revitalizing vacations for less than $100 roundtrip if you find the right deal.
A surefire place for a warm getaway is Arizona. And we continue to find great deals to Phoenix (PHX) and beyond for a trip in 2022.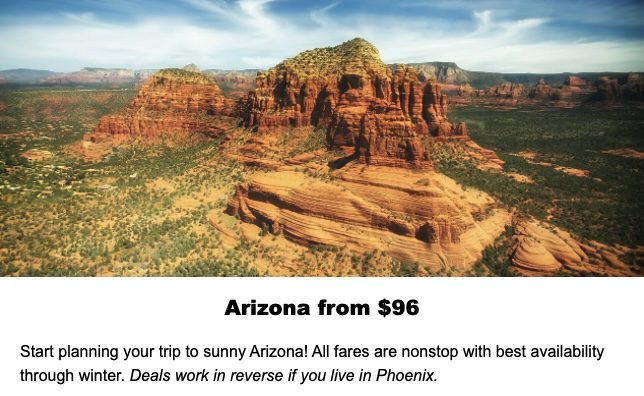 Pack your golf clubs for a weekend on the links, your swim trunks for some "me" time by the pool, or your favorite team's cap for some spring training baseball in this perfect, inexpensive destination in 2022.
Another desert oasis on our list of great 2022 deals is Sin City. There's a little something for everyone in Las Vegas (LAS) – and flight deals for 2022 to the desert just seem to continue.
Not every traveler longs for poolside lounging and blackjack, though. If a mountain adventure is more your calling, we've got you covered there, too. Cheap flights into the Rocky Mountains are popping up from across the country in 2022.

Thrifty Traveler Premium subscribers get great deals to the mountains all the time – and for all seasons!
Into skiing and snowboarding? Some of the best places to go skiing this winter are in Colorado and just a stone's throw from Denver. Just pick between the Epic vs Ikon Pass before you decide on a destination. And Denver is not just a winter destination: Those same mountains have so much to offer hikers, mountain bikers, photographers, and sightseers, too.
Bottom Line
We think 2022 is going to be your year for travel.
Our Thrifty Traveler Premium members have been getting fantastic deals like these for months. And we just keep finding even cheaper fares for 2022 to fly almost anywhere, whether it's across the U.S. or across the pond.
Get the next cheap flight for 2022 sent straight to your inbox! Sign up for Thrifty Traveler Premium today!