Travel is coming back – and on the cheap, too, because the flight deals for trips so far in 2021 have been insane! Flights are currently bookable through May 2022, and all the deals we're finding can be freely changed or canceled for a voucher, if necessary.
Many of these deals are no longer live … but there will be plenty more! Want in on the action? We find flight deals departing from over 160 U.S. and Canadian airports! Check out Thrifty Traveler Premium, our cheap flight alert service.
Our team is on the hunt for the best flight deals, flash sales, and mistake fares. When we find one from your home airport, you'll get an instant email alert. All you have to do? Book directly with the airline! We aren't a travel agency, and we don't make the flight deals – we find them!
Here are the best deals we've found so far for 2021 (and into 2022). Don't miss out on the next one!
Half-Off Flights to Hawaii from $160
Is Hawaii on your bucket list? A recent Thrifty Traveler Premium deal could have gotten you there on the cheap, starting as low as $160 roundtrip to get you there and back. Yes, really!
We know Hawaii is on your bucket list! And if you've ever searched for flights to Hawaii before, you know it can cost a fortune. Flights to Hawaii typically cost $600 – $800… or more. With these cheap flights, you could take a family of four for the price of a normal flight: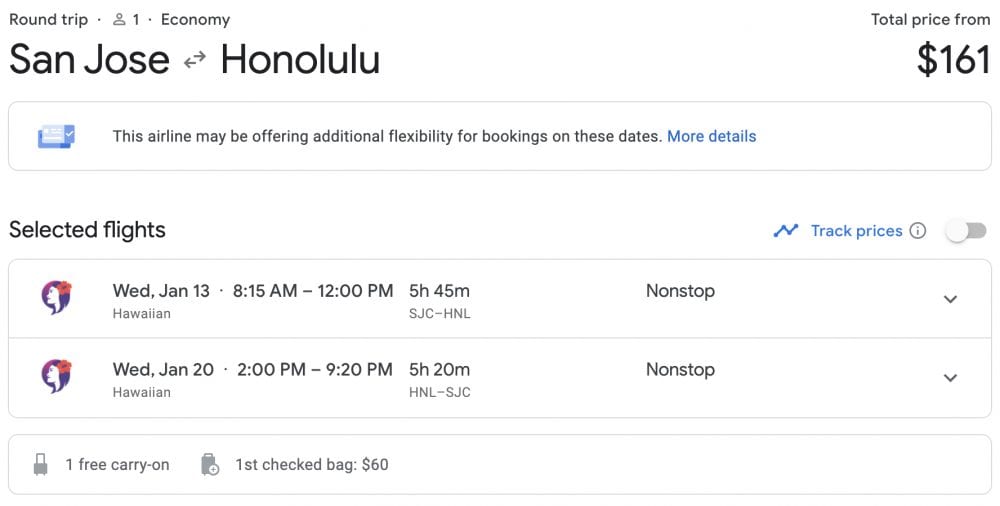 These record-low prices to Hawaii aren't just from major U.S. airports. We're seeing flights hovering around $300 roundtrip from across the country!

Get instant alerts for flight deals like these with Thrifty Traveler Premium!
$63 Mistake Fares to Bucket-List Destinations
Stop dreaming of these places and make it happen in 2021.
If you've ever tried to find cheap flights to bucket-list spots like Machu Picchu or Patagonia, you know they don't come around often. We recently sent our Thrifty Traveler Premium subscribers two back-to-back mistake fares to Lima (LIM), Peru's gateway to Machu Picchu, and Santiago, Chile (SCL) – a great starting point into Patagonia.
The price? As low as $63 roundtrip.  Yes, you're reading that right. $63 roundtrip to fly to Chile, way down in the Southern Hemisphere. Those fares are typically $800 or more!
And this deal wasn't just live from a few major cities. It was bookable for a fraction of the price from almost every U.S. city!
This mistake fare disappeared fast – try Thrifty Traveler Premium and get the next one!
Brazil is bucket-list material for many. Want to fly there in business class? How about for $480 nonstop and roundtrip in this Delta One lie-flat seat?
Those tickets typically cost $2,500 or more, and Thrifty Traveler Premium members once again got first dibs before they disappeared.
Delta briefly sold fares on their new business class seats from New York (JFK) down to Sao Paulo (GRU) for just $480 roundtrip. This one didn't last long!
Japan Under $200…Roundtrip
Tokyo, anyone? Japan is at the top of many traveler's lists, but getting there is notoriously expensive. Not with the right flight deal.
We recently found flights from several U.S. cities for $600+ off normal flight prices through March 2022! Yes, that is Cleveland to Tokyo for under $200 – roundtrip next March.
Premium members were especially excited about these insane Tokyo fares for 2022:
This deal didn't last long! Want to get the cheapest flight deals we find? Try Thrifty Traveler Premium.
U.S. Favorites Under $100…Roundtrip
Not ready to plan an adventure out of the U.S. just yet? We've been finding sub-$100 fares to tons of favorite U.S. destinations like Arizona, Florida, California, and more.
From coast to coast, we've seen domestic deals to your favorite destinations drop to record-low prices. Check out this recent deal to Florida: nonstop and roundtrip under $100, with availability now through February 2022!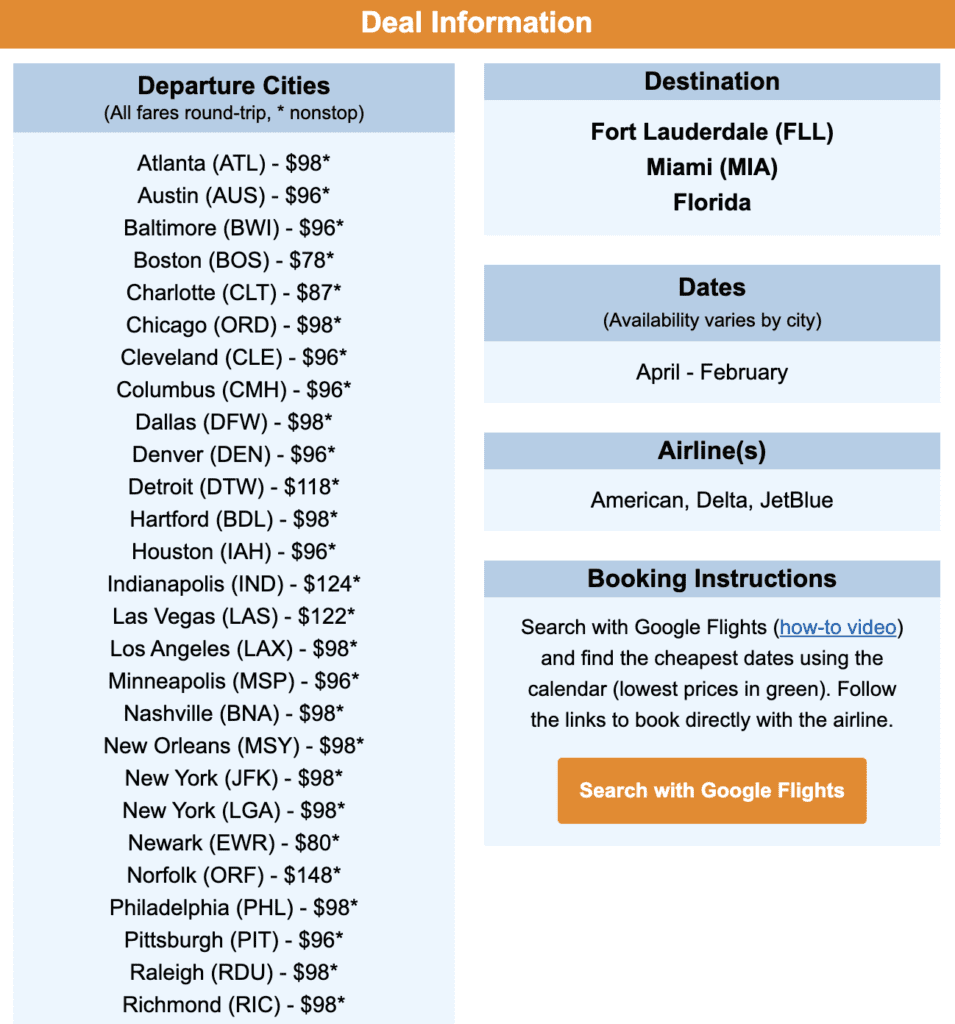 And no, these aren't on budget airlines! Vegas for $76 roundtrip, anyone?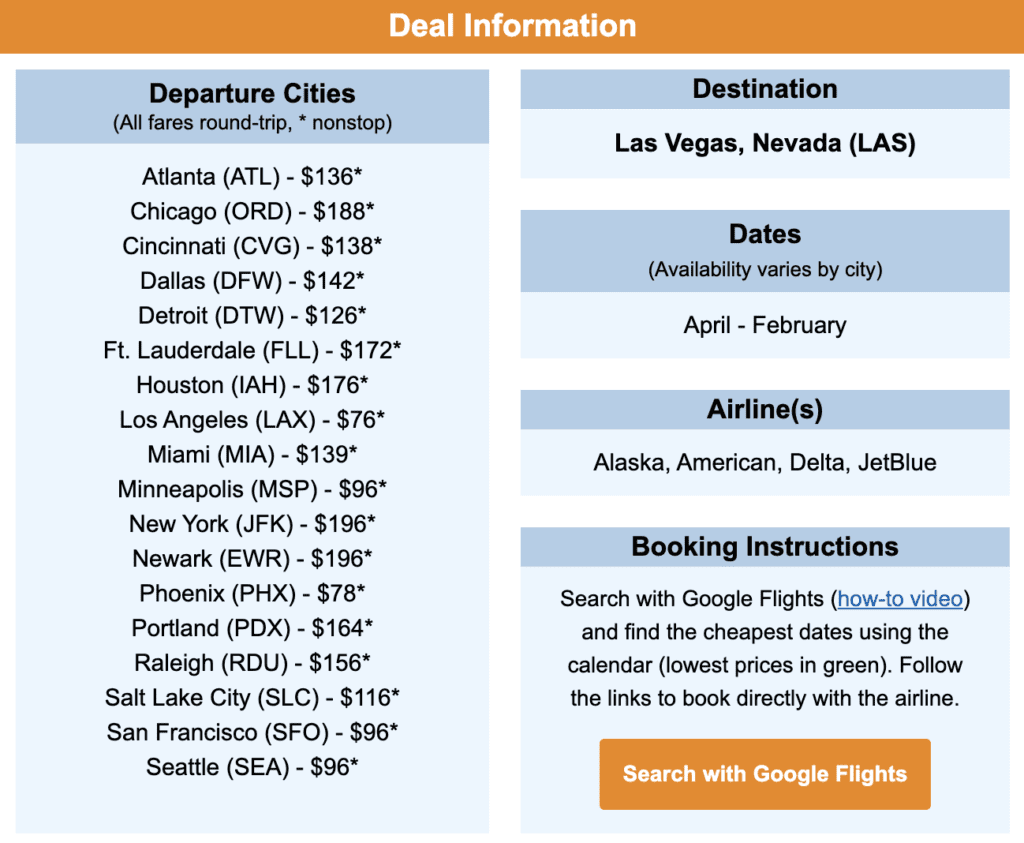 And the best part? Many of these insanely cheap fares are bookable through summer 2021 into winter 2022!
Yep, we've even see major price drops to Alaska. Flights from the lower 48 will typically cost you well over $600 to visit Alaska in peak summer. We recently found summer flights to Anchorage for for $150 roundtrip: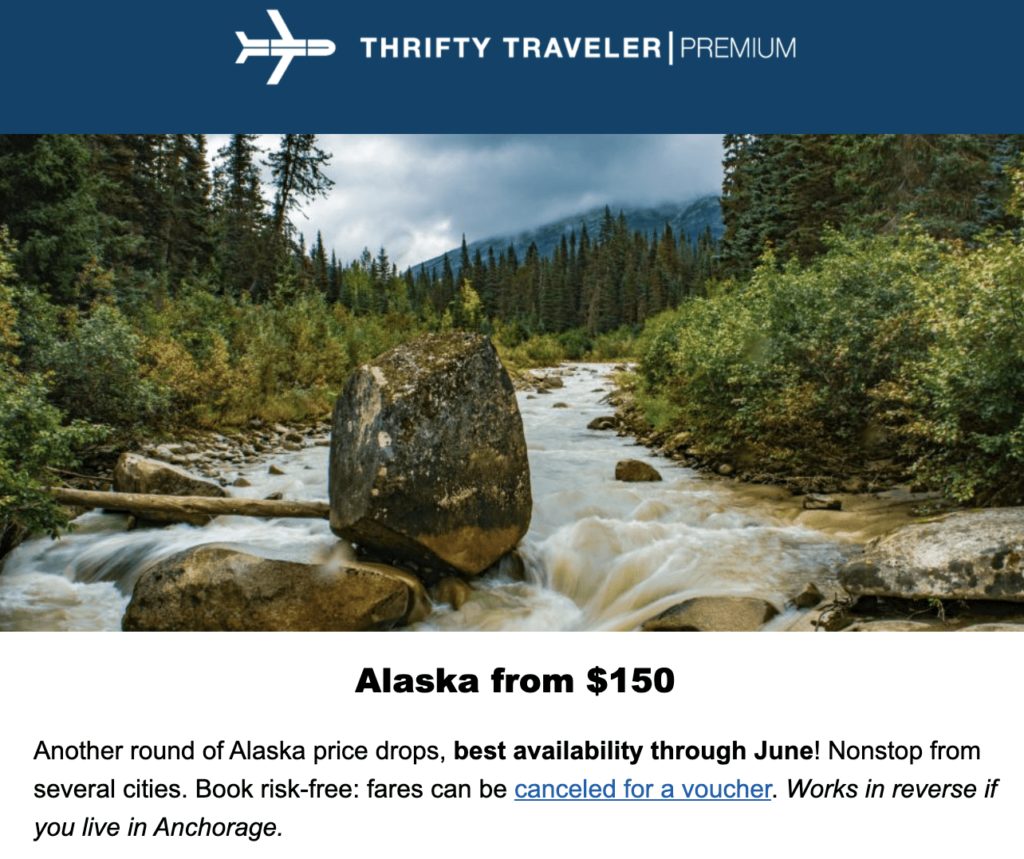 These deals don't last long! Get instant alerts for the flight deals from your home airport.
Europe is Reopening! Flights from $227 RT
Raise your hand if you had a 2020 Europe trip planned. It's time to rebook that dream trip.
Thankfully, Europe is reopening to travelers! Iceland, Croatia, and Greece are already open to travelers, and France will open to tourists for summer. And there's never been a cheaper time to book a trip to Europe for summer and beyond.
We've found some of the cheapest fares we've ever seen to European hotspots like Paris, Amsterdam, Rome, and Madrid for 2021. How cheap? How about flights to Paris, Amsterdam, and London all under $250 roundtrip … for peak summer! Those flights are regularly $950 or more roundtrip!
Thrifty Tip: Don't live in a major U.S. city? Don't worry: we find flight deals from every airport in the United States: 160+ airports in total!
Dreaming of a 2021 trip to Greece now that it's open? We just found this nonstop deal from several cities to Athens and alerted our Thrifty Traveler Premium members. Yep, that's $500+ off typical summer and fall flights to Greece.
Summer or fall in Italy: Yes, please! Typical flights would cost you over $1,000. We recently found fares under $300 roundtrip…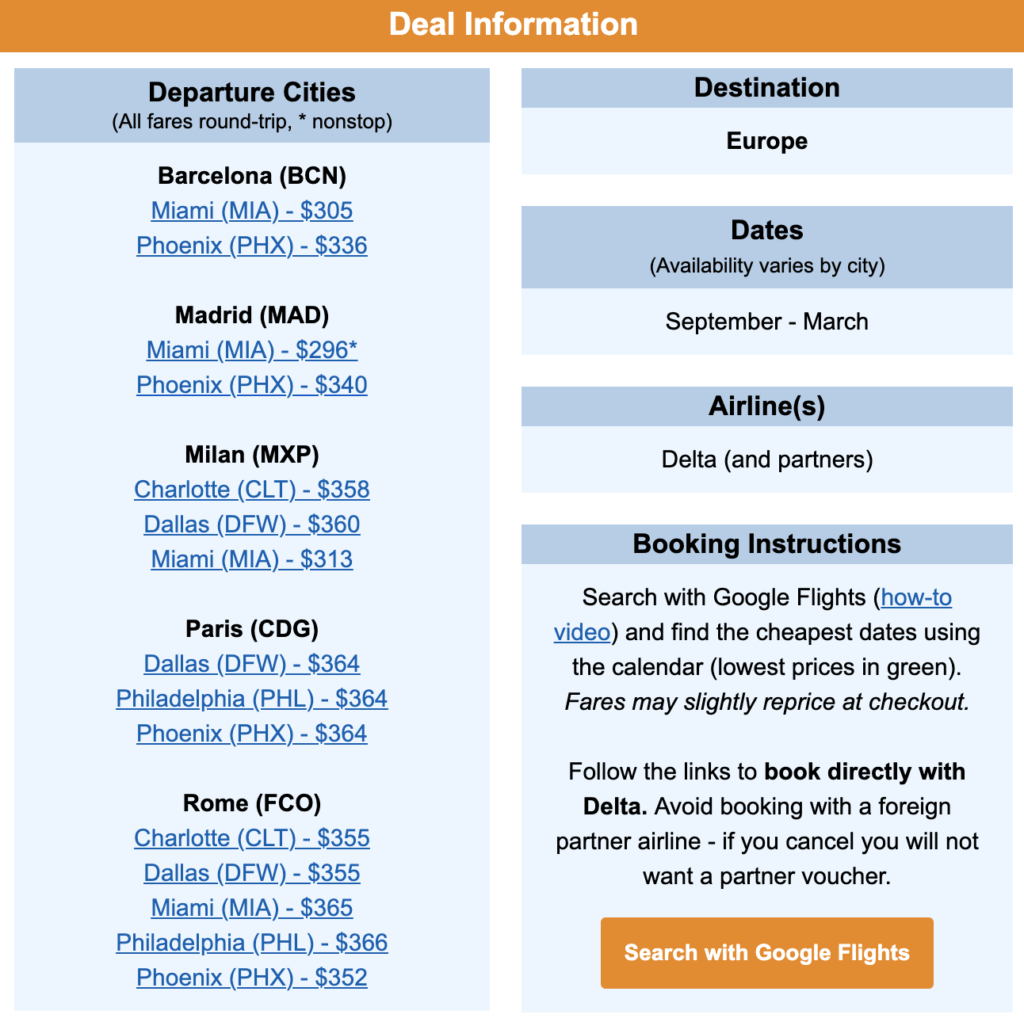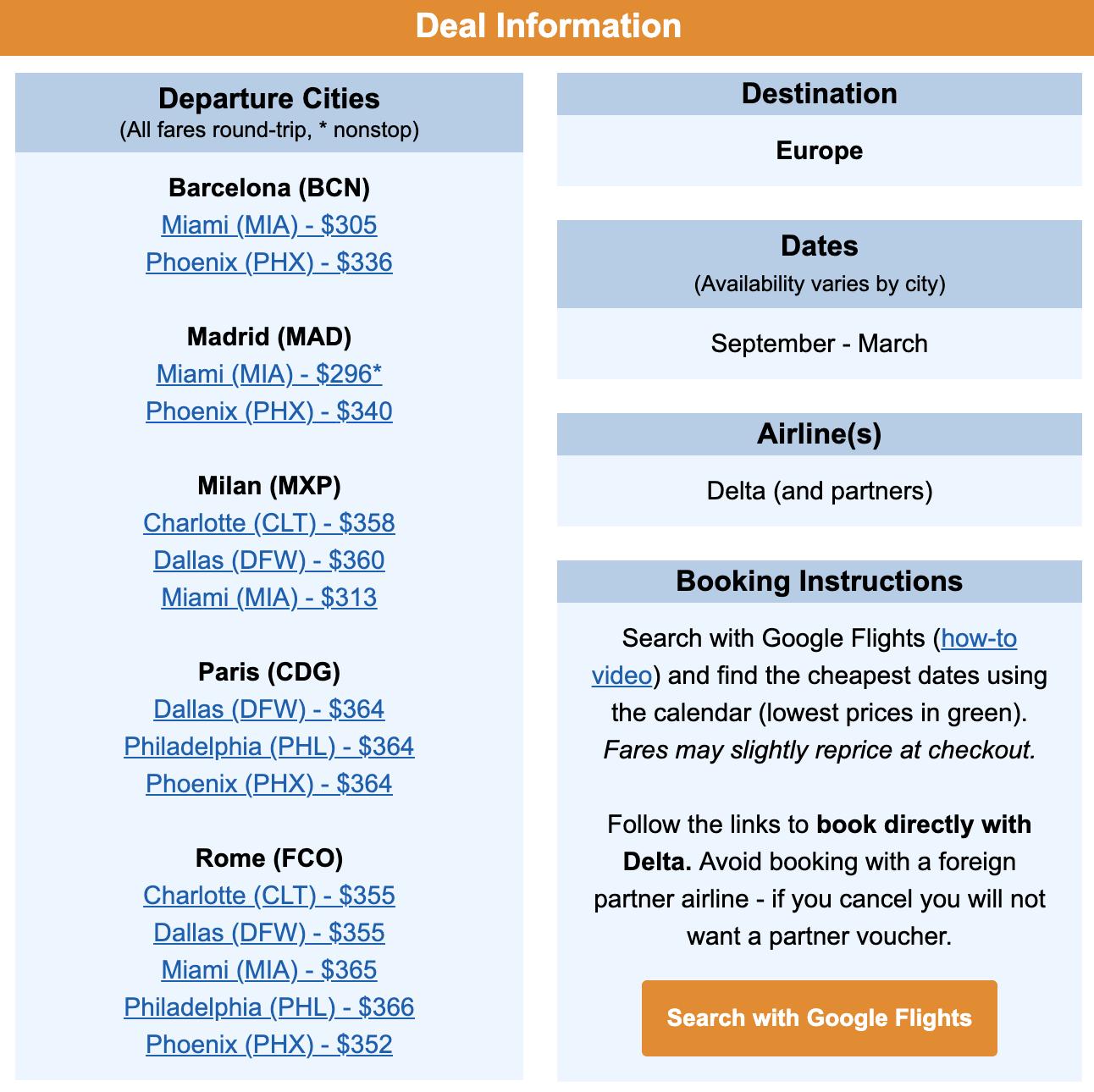 Iceland is open for travel! 24 hours of sunlight in summer, or Northern Lights in winter? For $224 roundtrip, why not both! We recently found this mistake fare to Iceland from several cities: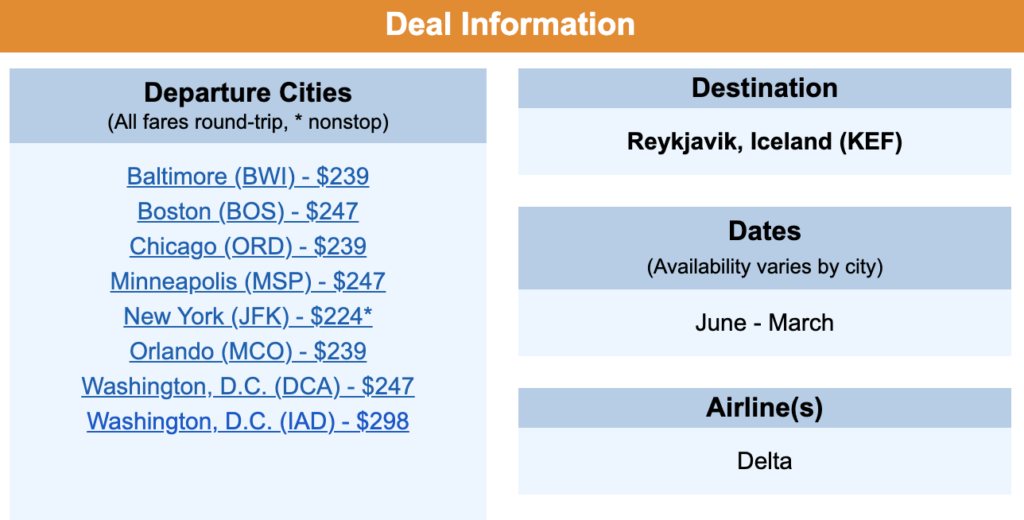 We find flight deals up to 11 months out – already into March 2022! Get flight deal alerts now!
Bottom Line
A return to travel in 2021 is finally within reach – and there are some insane flight deals to get you back out there.
Many of the cheap flights shown here have evaporated, but the next insane flight deal for 2021 is just around the corner. And free change and cancellation policies make booking an incredible deal for 2021 risk-free.
We know we've got your wanderlust and maybe even a little travel envy flowing. Don't miss the next deal we find: join Thrifty Traveler Premium for flight deal email alerts from your home airport(s)! Now let's get back out there and explore the world!