In normal times, flying to Europe in the middle of the summer – or anywhere, really – is crazy expensive. But these aren't normal times.
Coronavirus has flipped the travel and airline industry upside down, and they're doing unthinkable things. For what seems like the first time, we're seeing dirt-cheap flights to Europe during peak summer of 2021. Here's your ticket to make next summer your travel comeback season!
What's dirt-cheap? How about…
Flights to London-Gatwick (LGW) for $250
Paris for $220 … round trip? Oui!
Flights to Rome for under $300!
… and more. We find flight deals up to 11 months (or more) out, so yes, Thrifty Traveler Premium members are getting alerts for the cheapest flights next summer. And while Europe is currently off-limits to U.S. travelers, we have higher hopes for 2021.
A cheap flight to Europe is exactly what you need to whet those quarantine blues. Start planning your 2021 travels now!
The Deals
We had to scrape our jaws off the floor picked our jaws up to instantly notify our Thrifty Traveler Premium members of these insane flight deals to Europe for next summer.
It started with TAP Air Portugal, the Portuguese flag carrier with a reputation for cheap fares to get to Europe and back. But the pandemic has put that in overdrive, as TAP slashed fares lower than we've ever seen … even for the middle of next summer.
Fares from major U.S. departure cities to the hottest European destinations were as low as $219 roundtrip. And you could score those dirt-cheap fares all the way through July 2021!
We found fares to Amsterdam, London, Paris, and Rome for under $300 roundtrip, and to several other cities like the Azores, Barcelona, Brussels, Dublin, Lisbon, Malaga, Manchester, Milan, Madrid, and Valencia for under $400 roundtrip! See some of these deals for yourself!
One of the best parts of this deal? When you book flights with TAP Air Portugal, you can add a free stopover in Lisbon or Porto! That means you could stop in Lisbon or Porto for up to five days before continuing onward (or home), and check out check out two European cities for as low as $220 roundtrip next summer.
Read up on why you NEED to visit Portugal!
This deal last week had another money-saving perk: At checkout, you could get a $24 discount for opening a TAP Miles & Go frequent flyer account, which are free to open.
TAP Air Portugal itself gets mixed reviews thanks to high fees (like for seats and checked bags) and unpredictable customer service, but the flights themselves are on par with what you get on nearly every major carrier. These days, TAP is a hybrid of budget carriers like Norwegian and full-service airlines like Delta or Lufthansa.
But there was a catch to this deal: Unlike most major U.S. airlines, TAP Air Portugal is not offering fee-free change or cancellation waivers. Remember that if TAP eventually cancels your flight, you're owed a cash refund by law.
So while this deal doesn't have the risk-free policies like most we share, the price was definitely right.
Book Current Availability Under $300
Some of the cheapest fares have disappeared since we first found and instantly notified our Thrifty Traveler Premium subscribers of this deal last week.
But if you're pining for a trip to Europe next year, there are still some cheap fares from May through July 2021 available for under $300 roundtrip.
Amsterdam (AMS)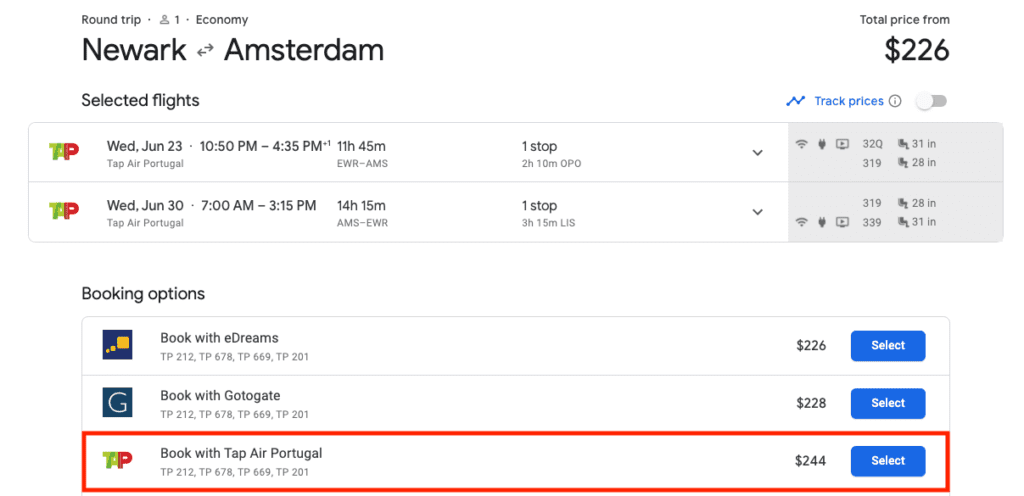 Thrifty Tip #1: Always book directly with the airline – rather than with third-party OTAs – whenever possible.
Thrifty Tip #2: Don't live in one of these cities? Book a cheap positioning flight to get there and hop on one of these deals.
Paris (ORY)
Rome (FCO)
Read more: 6 of the Best Ways to Fly to Europe (Nearly) Free on Points and Miles
Our Analysis
This deal was just too good to pass up. Despite all the uncertainty about travel and any misgivings you may have about flying TAP, there may be no cheaper way to book flights to Europe for next summer.
And we're hopeful this is just the start of a trend as airlines try to get travelers to think ahead and keep booking flights with more dirt-cheap fares to Europe and beyond for 2021.
Sign up for Thrifty Traveler Premium today to get the next great flight deal for 2021!