Whether you're chasing a glimpse of the Northern Lights, some powder turns on your skis or snowboard, or just a winter wonderland, there are cheap, easy ways you can embrace winter this year. Yes, I said it: Embrace winter.
I'm a flight deal analyst and travel reporter here at Thrifty Traveler, but perhaps my most important position is being the staunchest defender of winter. When temperatures drop and flakes start to fall, I'm not dreaming of sipping a drink on a sandy beach. Instead, I'm the kind of person who likes to lean into winter and embrace the season in some of the most beautiful places on earth.
I'm here to change your mind about winter. If you're locking yourself inside to avoid the cold, ice, and snow, you're doing it wrong. The winter outside your front door isn't the only winter out there. Go somewhere where winter is truly spectacular.

Here are some destinations that will help you embrace winter this year just like I do.
See the Northern Lights
Alaska's popularity among summer adventurers surged this summer as Americans sought a wild excursion closer to home. For all that Alaska offers in the summer, it can be an equally beautiful visit during the winter months.
Recently, Thrifty Traveler Premium members received deals to both Anchorage (ANC) and Fairbanks (FAI), Alaska that included availability through winter from many cities. Both cities have extremely northern latitudes and routinely fall within the range of the Aurora Borealis – the Northern Lights.

Fairbanks is the best bet, as it is much further north than Anchorage. As you can see in the Aurora Borealis forecast from the University of Alaska-Fairbanks, even on a day labeled "moderate" for Northern Lights activity, Fairbanks is directly in the center of the most activity.
While cheap flights to Fairbanks pop up from time to time, flying into Anchorage typically has much more availability. Just a few weeks ago, we sent Thrifty Traveler Premium members this deal flying Alaska or Delta through the fall and winter for less than $300 roundtrip.
We visited Anchorage this summer and have some recommendations for you.

Check out our guide on things to do in Anchorage!
Thrifty Tip: No matter where you are hoping to see the Northern Lights, the Aurora Borealis forecasting service from the University of Alaska-Fairbanks is one of the best in the world. Check their website to see forecasts up to a month ahead of time.
Another place where the Northern Lights often shine is Finland. And while it may be much further away than Alaska, it won't cost that much more to get there. No joke: Look at these prices.


These flights to Helsinki put Northern Lights seekers well within range of seeing some Aurora Borealis activity, but you can connect on to the famous Lapland region for less than $100 roundtrip by searching through Google Flights.
In Lapland, you'll find a setting that resembles nature's best guess at what Santa's North Pole looks like, with snowy landscapes and reindeer all about.

Next door to Finland are Sweden, Norway, and Denmark, more prime Northern Lights-viewing spots that can also be reached with cheap flights from the United States.

This deal from Scandinavian Airlines first sent to Thrifty Traveler Premium members last week helped travelers get all over Europe starting at just $342 roundtrip, including nonstop flights into Copenhagen (CPH), Oslo (OSL), and Stockholm (ARN). They're all winter wonderland when the snow flies, offering both the charm and intimacy of European cities you love with a wild wilderness escape nearby if soaking in the Northern Lights is on your bucket list.
Speaking of bucket lists, you should bump a winter trip to Iceland up a few notches on yours. Trust me: You won't regret it.
A few years ago, my now-fiancee and I were visiting Iceland in October when, on the final night of our trip, the wait staff stopped dinner service to alert everyone that the Northern Lights were visible outside. We all scurried out the door to witness the unspeakably beautiful and mesmerizing lights.
And that was in October! Iceland is a perfect place to witness the Aurora Borealis all winter long. Plus, winter is a perfect time to witness all of the country's beauty without the crush of crowds that flock there during the popular summer months.
Read more: What It's Like to Travel to Iceland in 2021
Best of all, Reykjavik is a reliable European destination if you want to get there on the cheap. Just last week, we sent out a deal that could send travelers to Reykjavik (KEF) and back for as little as $308 nonstop flying economy!

These prices are gone, but get alerted to the next cheap international flight deal with Thrifty Traveler Premium!
Standing under the Aurora Borealis is a special experience – I think everyone should do it at least once. I promise you it will help change your mind about winter.
Head to Ski Destinations
Perhaps the most tried-and-true winter vacation is a ski or snowboard trip. It's popular for a reason: There's perhaps no better way to embrace winter than hitting the slopes.
Need some help picking a spot? Read our guide to the best ski resorts for a trip this winter!
Ski resorts around the country are bracing for the busiest season yet. That popularity has led airlines to expand service to many of these places so skiers and riders can get to the slopes easier. And we're not just talking about flying into Denver (DEN) to start off your skiing trip.
The best, most recent example of this is Steamboat Springs (HDN) in Colorado. The small, northern Colorado ski destination now has cheap, nonstop service from seven major airports, including a new nonstop route from Minneapolis (MSP) … with cheap flights!

We found this deal and a few more like it this fall, helping skiers and riders get to Steamboat for less. Steamboat is a fantastic spot, making our list for the best resorts for beginners or novices. It offers a laid-back, western vibe and features its namesake hot spring, which is perhaps the single best apres-ski activity I can think of.
Hitting several mountains? Consider a ski pass – but make sure you choose wisely between the Epic vs Ikon Pass!
North of Steamboat is the iconic ski destination of Jackson Hole (JAC), Wyoming. Jackson made our list of best ski areas for advanced skiers, but has much more to offer than just steep chutes. Sure, you can ride the Aerial Tram that takes you up 4,139 vertical feet into the expert terrain at the top of Rendezvous Mountain, but you can also rest and relax over a Moose Drool Brown Ale or a hot cocoa at the Mangy Moose Saloon in front of some live music.

The Tetons are magnificent to look at in all seasons from Grand Teton National Park. While some of the park is only seasonally open, tack on a day to snowshoe around or to at least drive through it for the best views of the Tetons.
Big Sky, Montana is also home to some world-class skiing, and flight deals into nearby Bozeman (BZN) aren't hard to come by if you're a Thrifty Traveler Premium subscriber.

If skiing isn't your aim this winter, take a good hard look at this destination, too. Ever wondered what it would be like to visit Yellowstone with zero crowds? Explore the park via snowmobile or snowcoach. The National Park Service suggests many tour operators that will take you into the park to see its famous thermal pools when they are maybe the prettiest: the dead of winter.
While not as massive as the Rockies, you'll find some great ski towns and destinations in the American northeast, especially out of a destination like Portland (PWM) in Maine.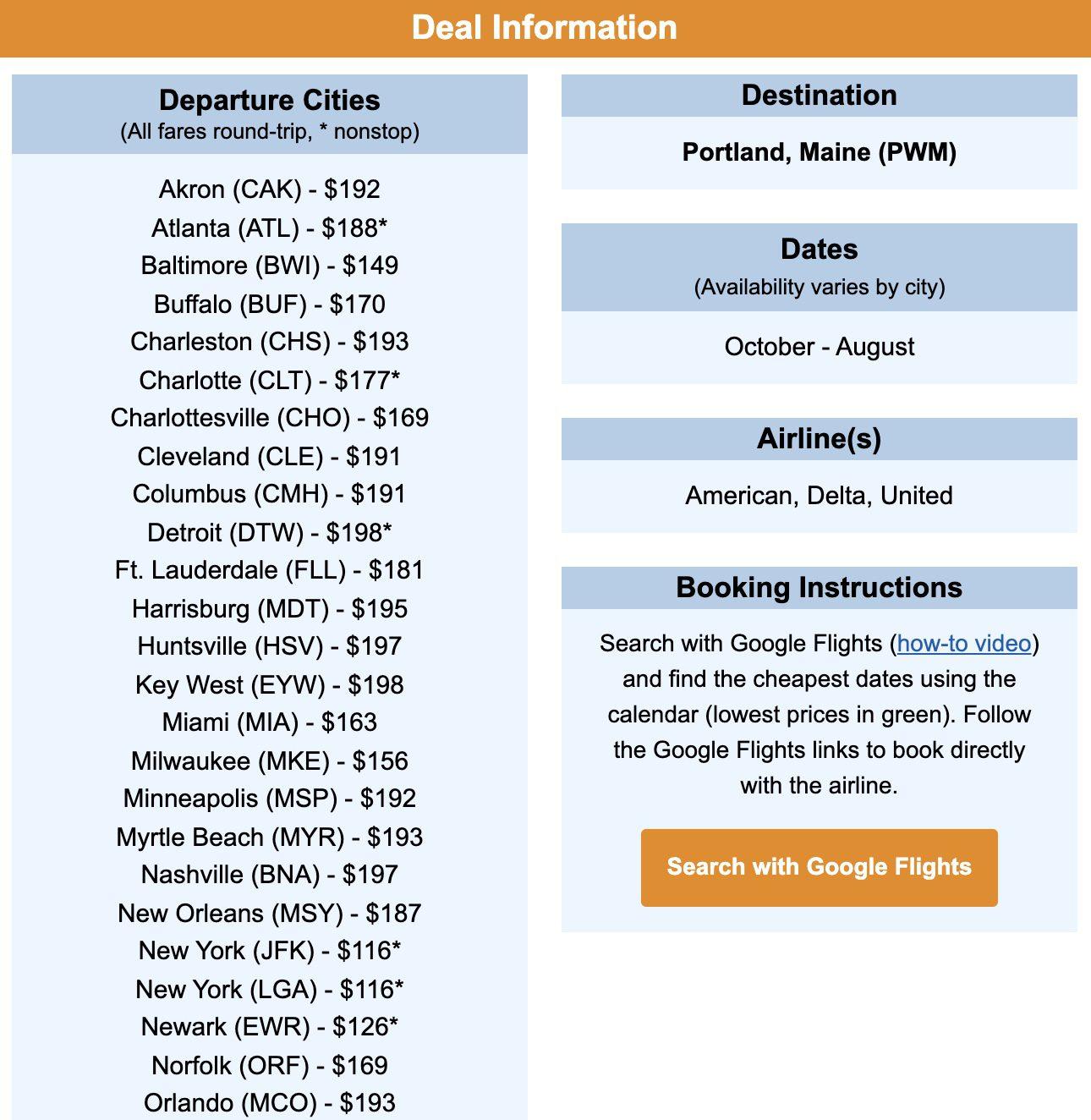 For our friends on the east coast, a trip across the continent to embrace winter might be a little much. If you're based out east and want to get away for a wintry weekend, consider the mountains of Maine, New Hampshire, and Vermont, too.
Leave the States Behind
There are plenty of other great winter destinations beyond the 50 states – especially if you're looking to ski or snowboard.
Like Yellowstone, Banff National Park in Alberta, Canada is also a world-renowned summer spot – but you shouldn't sleep on it as a winter destination.
Calgary (YYC) is the perfect jumping-off point for some of the continent's best skiing. Known as the "Powder Highway," destinations like Banff Sunshine, Revelstoke, and Kicking Horse boast hundreds and hundreds of inches of annual snowfall in some of the most gorgeous, remote mountains on the planet.

The interior of British Columbia is growing in popularity as the secret is out about the mountains and snow there, but it's still wild enough to keep any skier, rider, or any other winter enthusiast enjoying the mountains in peace.
There's nothing quite like the jagged peaks of the Alps, but flights to some of these iconic European destinations come at "weekend in Vermont" prices!

This deal to Switzerland through winter still has my head spinning. It featured flights into Zurich (ZRH) and Geneva (GVA), the latter of which is right at the doorstep of the French Alps as well. The Alps are a mountain experience unlike any other.
Steeped in alpine history, these tiny Swiss, French, and Austrian villages are sometimes only accessible by ski lift and have become synonymous with the mountains to which they are attached. As far as winter destinations go, the Alps are hard to beat, no matter what village you end up in.

While Switzerland, France, and Austria are more synonymous with the mountains, don't sleep on northern Italy. The Dolomites are a unique and stunning mountain range that also feature some incredible skiing.
Plus, some of the northern Italian airports also serve as a great gateway to the Alps – often at a fraction of the cost of the pricier mountain town airports.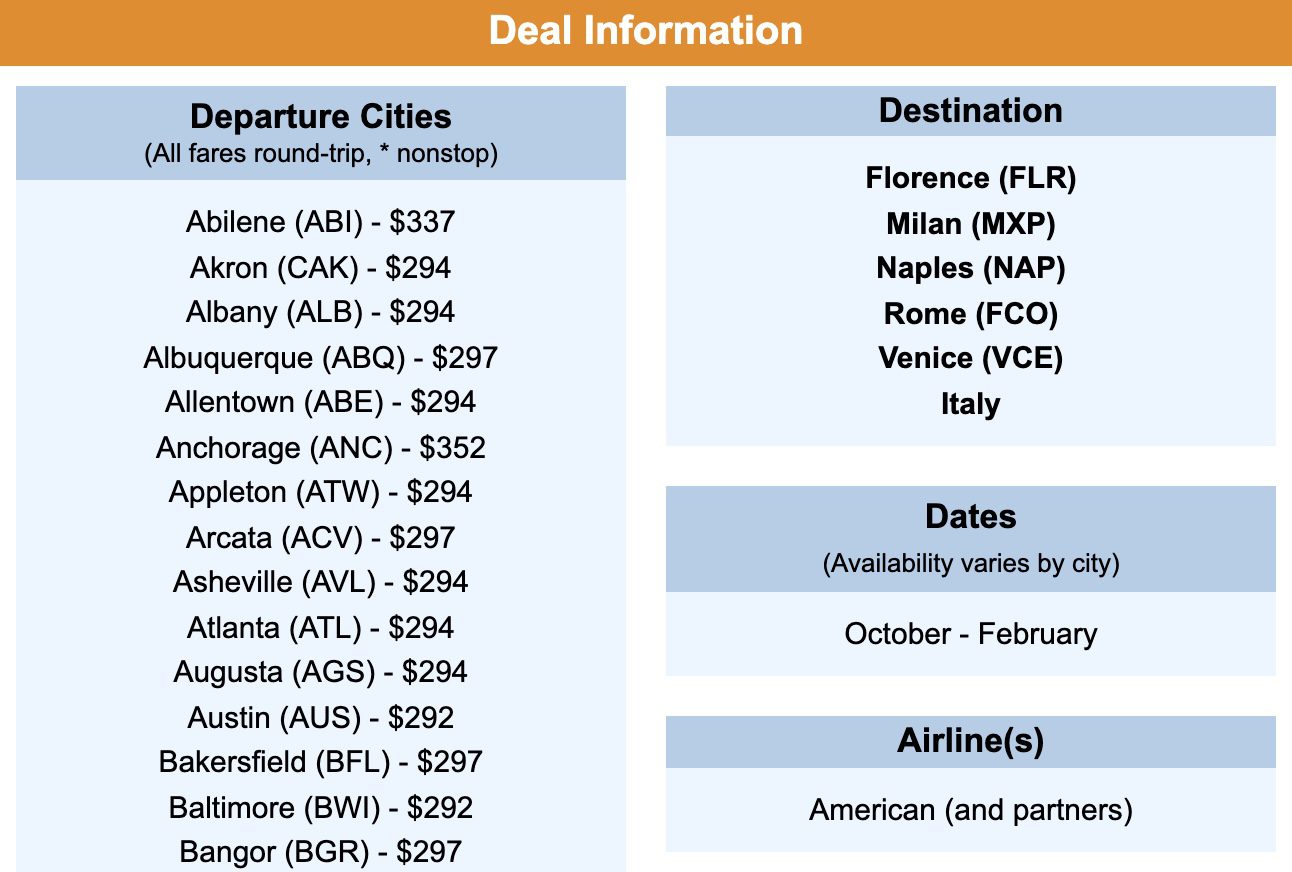 From Innsbruck, Austria to Steamboat Springs, Colorado, there are no shortage of places to go skiing as a way to embrace winter this year. Jump into a hot springs or a hot tub after a day of skiing powder and then let's talk about why you hate winter.
Bottom Line
As Thrifty Traveler's Chief Winter Correspondent, it is my duty to show you that your perfect winter vacation doesn't have to include a cocktail and a beach. A night under the Northern Lights or a day skiing and riding in the mountains can make for lasting memories that just might change your mind about winter.