The insane Icelandair flight deal promotion from earlier this year is back! Want to visit Iceland during peak summer and see Ed Sheeran in concert? Well, this is your chance to see Ed Sheeran in Iceland. And it's not a giveaway or unattainable promotion; anyone can book this unique flight deal through Icelandair.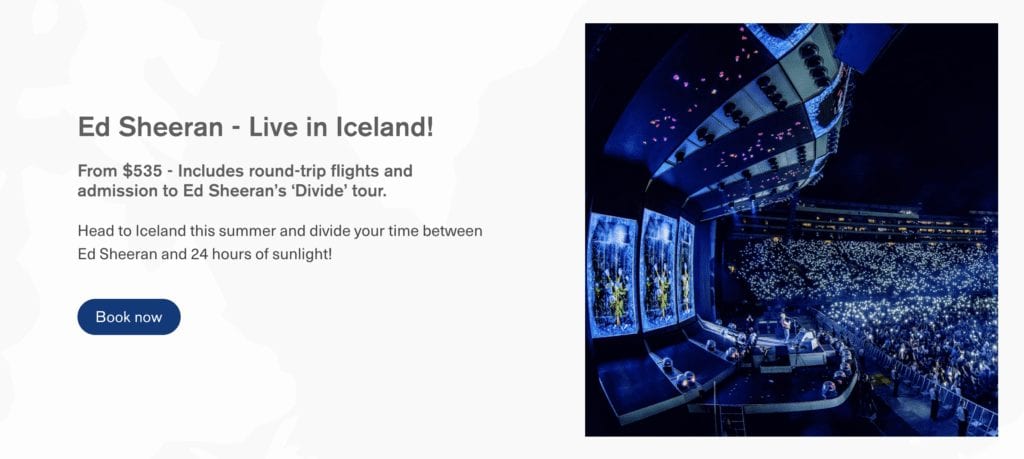 The Details
This fun package deal from Icelandair includes a nonstop, round-trip flight to Reykjavik, Iceland in early August, AND a ticket to see Ed Sheeran live in Reykjavik!
Did you know that there are 24 hours of sunlight during Icelandic summers? That's right: You could watch an outdoor Ed Sheeran concert at night in total daylight!
Icelandair isn't skimping on the flight, either. The Icelandair ticket includes advanced seat assignment and a checked bag (and a free carry-on of up to 21 lbs). Non-alcoholic drinks are included but meals are extra.
Let's Crunch the Numbers
Fares during early August — peak summer in Iceland — can be more than $850.
In addition, you get a $170 concert ticket included.
The normal cost of this fare and concert ticket exceeds $1,000 from most U.S. departure cities.
Book this roundtrip flight and get a concert ticket from less than $540. That's a steal!
Departure Cities Available
Below are the cities that are available through this deal. All flights are nonstop and round-trip. Flight prices range between $535 and $595 for different departure cities; prices are subject to change based on availability. Book ASAP!
Boston (BOS) – $595
Chicago (ORD) – $547
Denver (DEN) – $563
Kansas City (MCI) – $563
Minneapolis (MSP) – $548
Newark (EWR) – $595
New York (JFK) – $595
Philadelphia (PHL) – $535
Portland (PDX) – $740
Seattle (SEA) – $563
Washington DC (IAD) – $535
How to Book
You can book this deal directly through Icelandair. Head to the offer page on the Icelandair website, choose your departure city and choose "Iceland City Break" as the travel type.
From here, choose "Ed Sheeran: Live in Iceland!" as the package name. You also must select your departure date, the number of nights you wish to stay in Iceland and the number of travelers on your itinerary.
Flight departure date options are available from August 5-10, 2019. The concert is on Sunday, August 11th. Fly out closer to the concert to stay fewer days in Iceland.
This deal requires a minimum stay of 2 days, and you can stay a maximum of 14 days on this trip.
What's Included in Your Ticket
Round-trip flights in Icelandair Economy Standard Class
One general admission standing ticket to the Ed Sheeran concert at 8 p.m., Sunday, August 11, 2019, at Laugardalsvöllur
All taxes, fees and fuel surcharges
A checked bag 23kg (50 lbs) and hand luggage 10kg (22 lbs)
For the full terms and conditions of the offer, visit the deal's landing page
Need a few suggestions for what to see and do in Iceland? Check out our articles:
Bottom Line
If you are dying to see Iceland, Ed Sheeran, or both, this is an absolutely killer deal. This promotion not only includes a discounted peak summer nonstop and roundtrip flight to Iceland but a ticket to see Ed Sheeran live in concert (in bright daylight at night!).
This would normally cost $1,000 or much more, but Icelandair is offering tickets for just over $500. Don't miss out on this unique opportunity to cross two items off your bucket list this summer! The promotion ends July 12, 2019, but these tickets may go fast so don't wait to book!