You aren't alone if the ever-changing COVID-19 travel restrictions have kept you closer to home these last few years. But that time may be ending: Some of the best destinations around the world have been making it easier to get in by dropping testing requirements – especially for fully vaccinated travelers.
Heading for the beaches or buzzing cities of Mexico has been easy throughout the pandemic, as it's never had entry requirements for Americans. Further south, Colombia was among the first to drop a testing requirement for fully vaccinated travelers. All across Europe, heavily restricted hotspots like Italy, France, and the United Kingdom have dropped pre-travel testing requirements if you're vaccinated. And now Iceland is dropping all entry requirements, period.
The U.S. still requires a COVID-19 test for your flight home from abroad – at least for now. But the overall trend is clear: The world is reopening quickly.
And it's not just testing requirements that are dropping: We're seeing flight prices drop significantly to many of these destinations, too. Thrifty Traveler Premium subscribers have been getting some incredible value thanks to the flight deal alerts they get in their inboxes every day for cheaper (and easier) trips in 2022.
Remember: For all of these international destinations, all travelers will need a negative COVID-19 test taken no more than one day prior to their return flight to the U.S.
Mexico
Entry requirements: None. Mexico is open to travelers with no vaccine or testing requirements.
So close to home, some of the best service in the world, and full of diverse and gorgeous destinations, Mexico doesn't get very far under the radar as an easy destination in normal times. But the country's COVID-19 restrictions have been lax throughout the pandemic. Now is no different.

Plus, we keep finding fantastic flight deals to Mexican destinations like Puerto Vallarta (PVR) and San Jose del Cabo (SJD) to make your easy trip even easier on your wallet.

The west coast isn't the only place getting some flight deal love, either. How about this fare we found as part of a sub-$200 nonstop deal to Cancún (CUN) earlier this year! That's spring break flights to Cancún for less than the cost of a night out in Chicago.


Get deals like this one in your inbox with Thrifty Traveler Premium!
It's the closest, easiest international trip you can take during pandemic times – and there are no shortage of cheap flights to get you there.
United Kingdom
Entry requirements: Vaccinated travelers can enter the U.K. without any COVID-19 testing.
London and other locales in the U.K. are popular spots for many U.S. travelers, and recent changes to its entry testing policy mean it's as easy as ever for vaccinated Americans to get there. The days of taking several tests and quarantining for a trip to England are long gone.
Oh, and did we mention that it's also been incredibly cheap to fly there, too?

Usually, hefty taxes and fees flying out of London combined with high demand means fares can get pretty high. But over the last few months, Thrifty Traveler Premium subscribers have been treated to a handful of great deals across the pond. We even found something for those of you who are looking for a little luxury, too.

This JetBlue Mint deal we unearthed can get you a lie-flat seat to Heathrow (LHR) or Gatwick (LGW) for less than $2,000! With loosened entry requirements and deals like these, you shouldn't wait to book your U.K. adventure.
Ireland
Entry requirements: Vaccinated travelers can enter Ireland without any COVID-19 testing.
St. Patrick's Day is right around the corner, and it's easier to go celebrate with the Irish than it has been in years.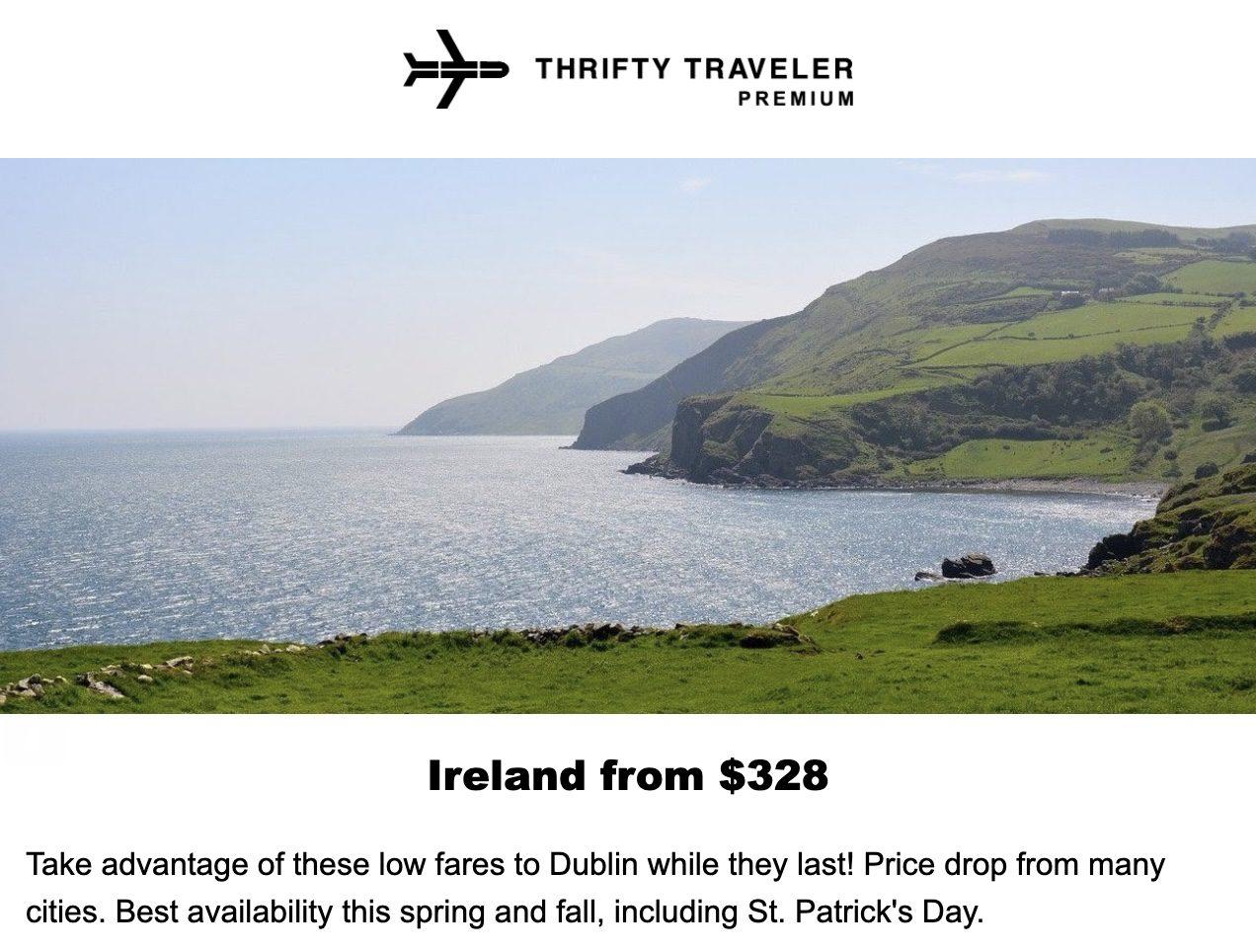 This deal that we sent to Premium subscribers last month featured St. Patrick's Day availability on tons of great flights into Ireland. Just a few days later, we found another great Ireland deal flying Aer Lingus nonstop into Dublin (DUB), too.
Read our guide to Dublin, laminate that vaccine card, and book your trip.
Italy
Entry requirements: Starting March 1, vaccinated travelers can enter Italy without additional COVID-19 testing.
The Italian Health Minister made the announcement this week that Italy will toss out its entry testing requirements for vaccinated travelers, throwing the doors back open for an easier trip to one of our favorite countries. And with some of the fares we've been finding, we think you're going to want to book soon.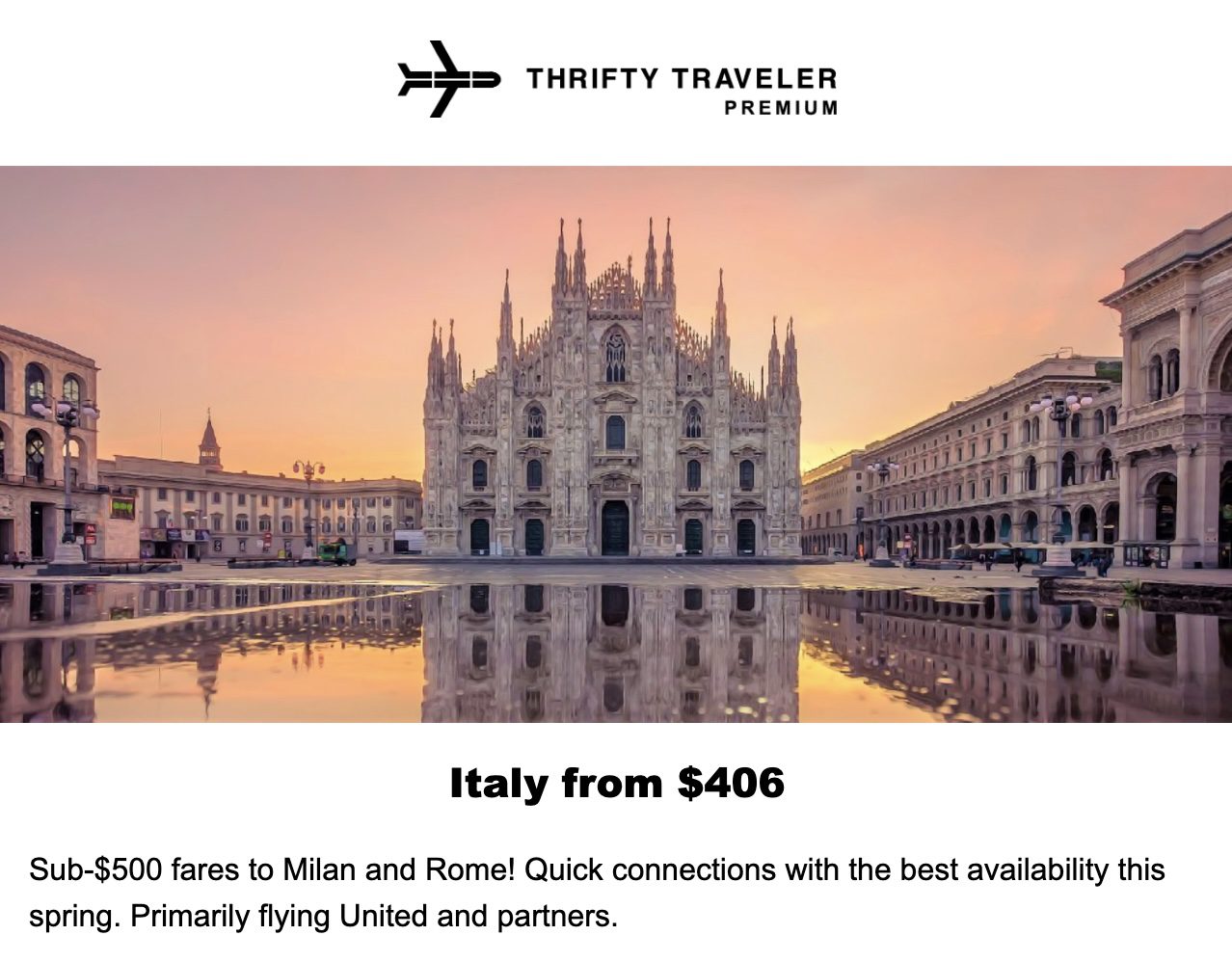 We were just in Italy last year and can give you a glimpse into what it's like to travel there during the pandemic. Spoiler alert: It's still awesome.
Aruba
Entry requirements: Vaccinated and boosted travelers can enter Aruba without COVID-19 testing.
Aruba is one of those places that always sounds nice, doesn't it? The beaches on this island would make the Bahamas blush, but it also can cost you to get there without someone looking out for you. Luckily, our flight deal analysts search for Aruba flight deals every single day, so when prices finally dropped, we sent them out to our subscribers the minute we found them.

With these relaxed entry restrictions and cheap flights, Aruba might be the perfect Caribbean getaway in 2022.

Colombia
Entry requirements: Vaccinated travelers can enter Colombia without any COVID-19 testing.
Colombia was very early to drop its COVID-19 testing requirements and allow vaccinated travelers in without restrictions. As a result, many Americans are getting to know the beauty of this underrated South American country.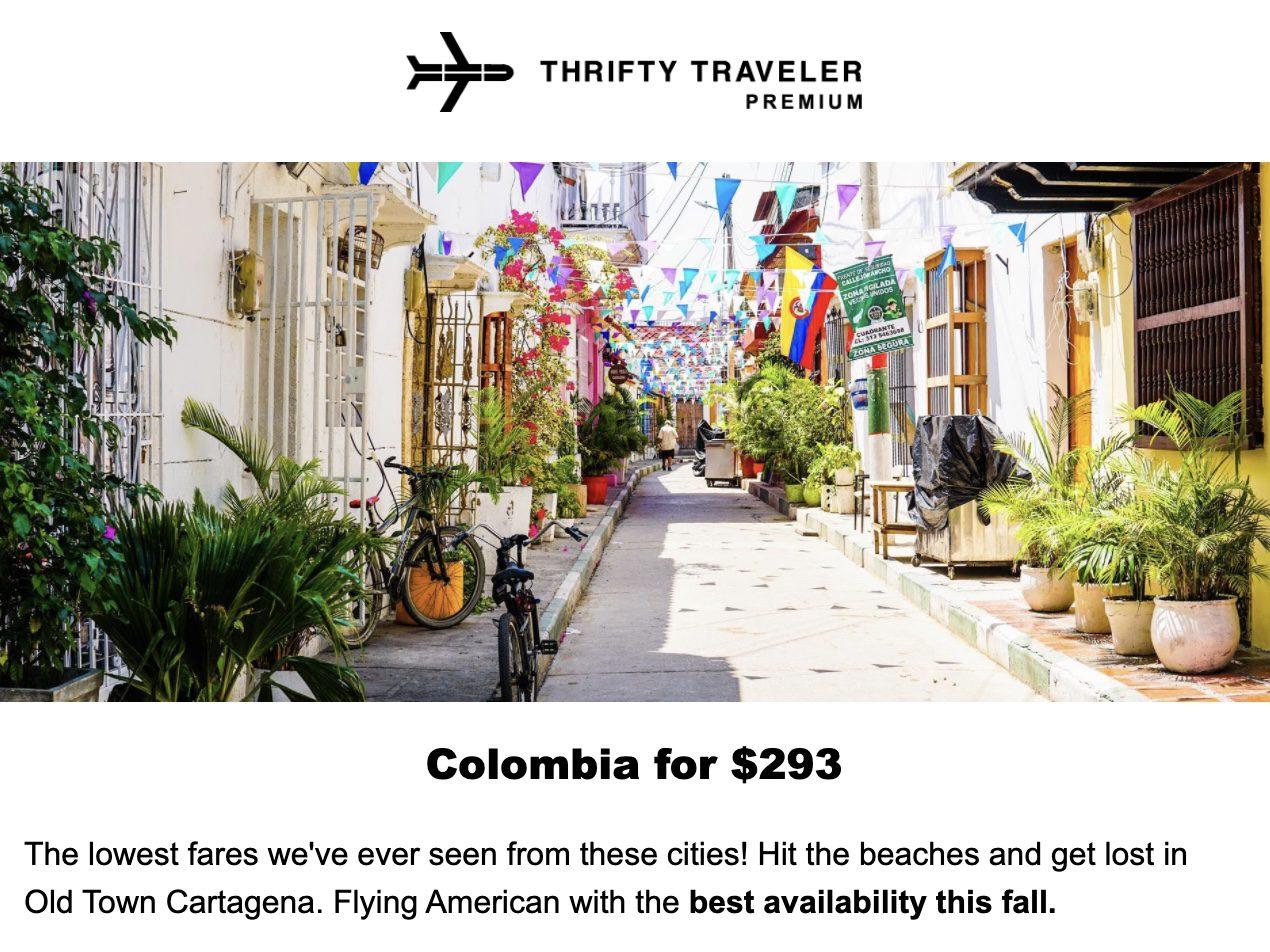 Over the past few months, we've found some incredible flight deals to both Bogotá (BOG) and Cartagena, (CTG) Colombia to fuel your journey to either the city or the beach. Just take a look at this phenomenal fare we found thanks to a fare war between American Airlines and Delta.

It's the kind of destination that deserves your attention, no matter the entry restrictions. But being able to get in easily is a great selling point for this underrated spot.
Check out our full guide to traveling to Colombia to help you plan your trip.
Spain
Entry requirements: Vaccinated and boosted (within 9 months) travelers can enter Spain without COVID-19 testing.
Spain is always one of our favorite places to visit. It's known for its beautiful weather and vivacious cities, but also for being one of the cheapest European destinations you can visit.

That goes for flight deals, food, drinks, and anything else you could dream of during your trip. Read our guides to Madrid and to Barcelona so you can optimize your Spanish getaway.
Just make sure your booster shot was administered within 9 months of travel so you can be sure you qualify to skip the testing requirements.
Dominican Republic
Entry requirements: There are no COVID-19 testing requirements to enter the Dominican Republic for any travelers, regardless of vaccination status.
The Dominican Republic is a favorite of ours for a few reasons. For one, the weather, beaches, and Caribbean vibe are abundant in the DR. But it also has tons of nonstop routes to all over the U.S. and Canada, making it fertile ground for flight deals.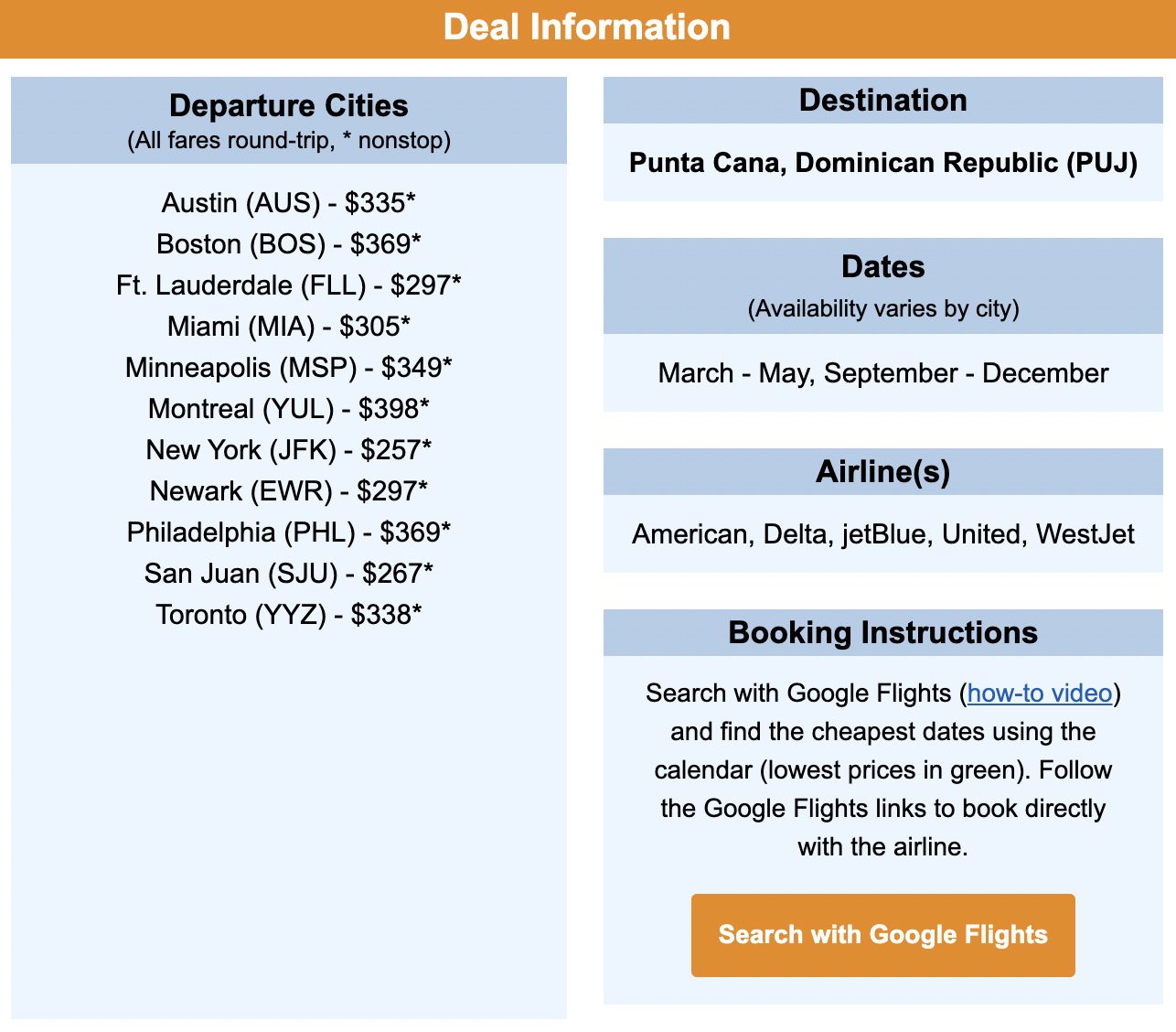 Our Thrifty Traveler Premium subscribers gobbled up these nonstop fares for spring and fall travel in 2022. Make sure you're signed up for the next great deal!
All you need are your swim trunks to make this journey, making the DR one of the easiest international destinations to visit this year.
Costa Rica
Entry requirements: There are no COVID-19 testing requirements to enter Costa Rica for any travelers, regardless of vaccination status.
While travelers will need proof of vaccination to enter bars, restaurants, casinos, hotels, and shops in Costa Rica, there are virtually no requirements to get into the country. Like with all the countries on this list, being vaccinated makes everything significantly easier in Costa Rica.

Those lax entry restrictions, as well as a bevy of cheap flights, means your next trip to either the rainforest or the beach can be both cheap and stress-free.
Bottom Line
If you're looking for a relatively easy international trip in 2022, you still have tons of great options. If entry testing requirements are keeping you at home, use this list to book a less stressful travel experience and use our Thrifty Traveler Premium flight deal alerts to get you there for cheap.
Plus, entry COVID-19 testing requirements are dropping like flies all over the world, this list is only expected to grow … and soon, the requirement to get a test to fly home could fade, too.