There are cheap flights, and then there are dirt-cheap flights. This is the latter.
As a Minnesota-based company, we are constantly scouring for flights in and out of Minneapolis-St. Paul (MSP) – along with other, smaller Midwestern towns and cities across the country. Over 10,000+ Thrifty Traveler Premium members in Minnesota have gotten alerts for the hottest deals we've found over the years, and the cheap flights just keep coming.
And no, that doesn't mean you have to fly on a budget carrier to score a great deal. Every fare we find is flying a major, full-service airline like Delta, American, United, or their international partners. And they're never for last-minute travel: Most deals we find are bookable up to 11 months out.
So over the years, we've uncovered hundreds of that "No way, is this real?!" kind of cheap flights flying from Minneapolis. These are the most popular deals we've found from MSP airport, but sadly many of these fares are no longer live. To make sure you never miss an incredible deal, get Thrifty Traveler Premium flight deal alerts straight to your inbox the moment we find them.

1. $267 RT to Honolulu, Hawaii (HNL)
Hawaii is at the top of many travelers' bucket lists, and for good reason. But flights to Hawaii from Minneapolis are typically $800 or more roundtrip.
The cheapest fare we've ever found flying from Minneapolis to Hawaii? Just $267 roundtrip, with a quick stop on the West Coast en route to paradise. But we've also found flights on Delta's nonstop route to Honolulu as low as $301. Not bad for flights that typically cost closer to $1,000, right?


2. $289 RT to Paris, France (CDG)
This deal was found last week! Most flights from Minneapolis to Paris cost at least $800 – so this one-stop flight to France flying United easily cracks the top flight deals ever. With prices this low, how could you say no to Paris?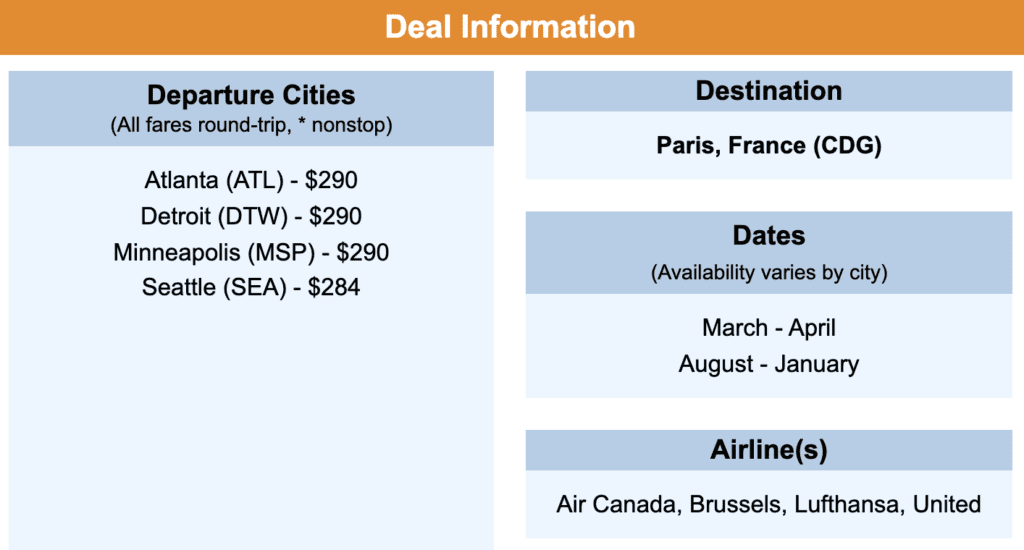 3. $143 RT to St. Thomas, U.S. Virgin Islands (STT)
Louder for the people in the back: your tropical winter getaway doesn't have to break the bank! Oh, and for a trip to the U.S. Virgin Islands, you don't even need a passport or a COVID-19 test to fly home.
That's why this insane deal to St. Thomas in the Caribbean rocked Thrifty Traveler Premium members' worlds when we found it:

Tons of Premium members booked this deal from Minneapolis:


4. $290 RT to Madrid, Spain (MAD)
Savvy travelers know this: Get a cheap flight across the pond to Europe, and the rest of your inter-Europe travel by plane or train is cheap. And it doesn't get much cheaper than a roundtrip flight to Spain under $300!


Want cheap flights like this one sent straight to you? Try Thrifty Traveler Premium for just $7.99 a month!
5. $365 RT to Athens, Greece (ATH)
If you've ever looked for cheap flights to Greece, you know these fares often cost $800 – if not much more. But $365 roundtrip from Minnesota all the way to Athens? That's too good to pass up.

6. $187 RT to Santiago, Chile (SCL)
Under $200 roundtrip to South America? For a peak season (summer in Chile) flight that normally costs over $1,000?!
At more than $900 off normal prices, this was one of a two-part Delta mistake fare in November 2020 that was a major highlight for Minnesotan Premium members.



7. $332 RT to Tokyo, Japan (HND)
If visiting Tokyo is on your list, it doesn't get any cheaper than this. Normally well over $1,000 roundtrip, this record-low fare we found in early 2020 flying Air Canada from Minneapolis to Tokyo was a jaw-dropper.

8. $58 RT to Boston, Massachusetts (BOS)
Yes, you read that right.
You could get to Boston and back for less than the Uber ride to the airport. These shockingly low fares started as the byproduct of a fare war between JetBlue and Delta after JetBlue launched nonstop service between the two cities. Since then, we've seen fares drop that low a few other times.

9. $167 RT to San Juan, Puerto Rico (SJU)
Coronavirus has caused airlines to do some wild things with flight pricing, like sell roundtrip flights from Minneapolis to Puerto Rico in the Caribbean and other islands for as low as $167 roundtrip during peak season.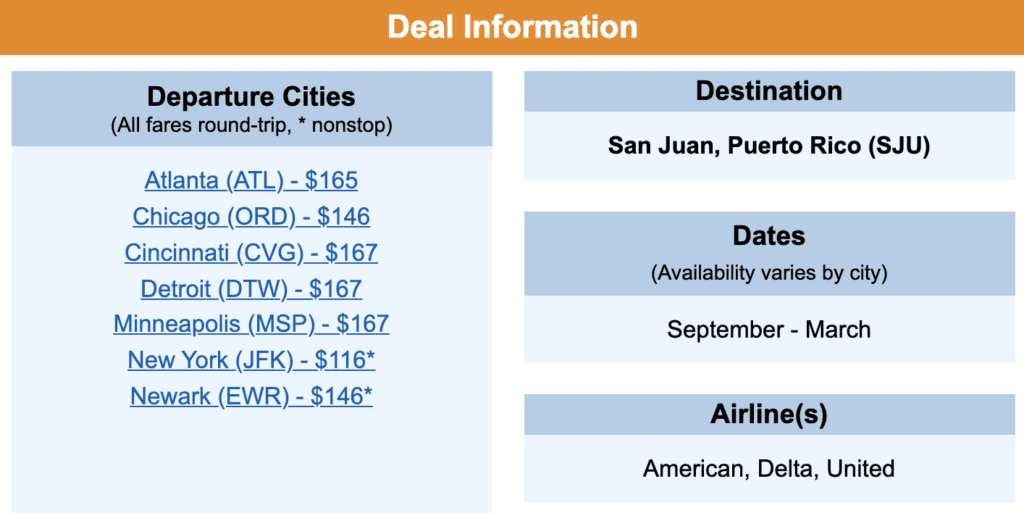 Don't miss the next deal we find: Get Thrifty Traveler Premium flight deal email alerts!
10. $274 RT to Zurich, Switzerland (ZRH)
Flying to Europe can be expensive from MSP. Typically, flights to Switzerland are the most expensive of all.
That's why this sub-$300 flight deal from Minneapolis to Zurich from last year immediately earned a spot in our Flight Deal Hall of Fame.

11. $196 RT to Anchorage, Alaska (ANC)
Yes, even Delta sometimes offers insane fares on their flights out of Minneapolis. In this case, getting to Alaska nonstop dropped to record lows last year. Many Minnesota-based Premium members took advantage of this deal to Alaska to finally explore The Last Frontier, see Denali National Park, and more.

12. $92 RT to Las Vegas, Nevada (LAS)
More than half-off flights to Sin City flying Delta nonstop? Most one-way flights on budget airlines aren't even this cheap!

13. $184 RT to Calgary (YYC) and Montreal (YUL), Canada
Flying to the home of Banff National Park in Calgary, or getting a French experience in Montreal usually costs well over $500. Easy one-stop trip to some of the best cities north of the border for under $200? Sign us up!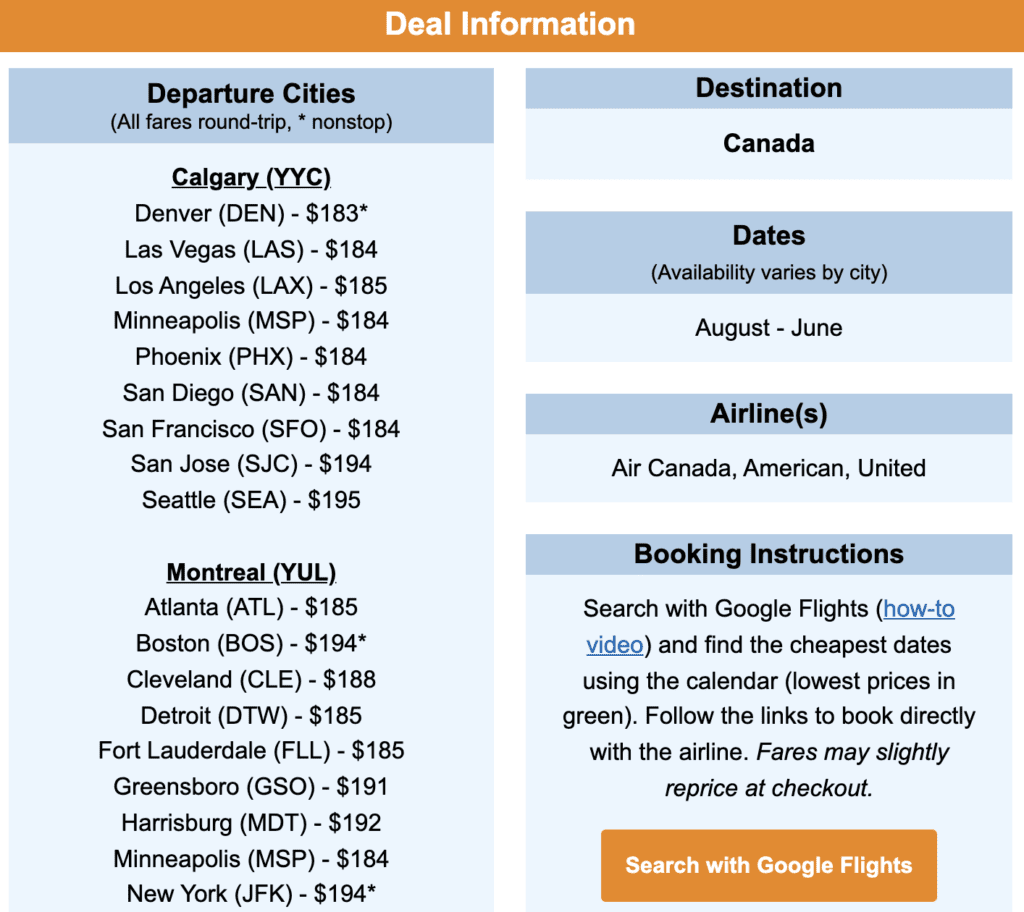 14. $77 RT to Denver, Colorado (DEN)
Colorado is one of the most popular destinations for Minnesota travelers. And when flight prices drop under $100 nonstop and roundtrip from Minneapolis, the price is too good not to go!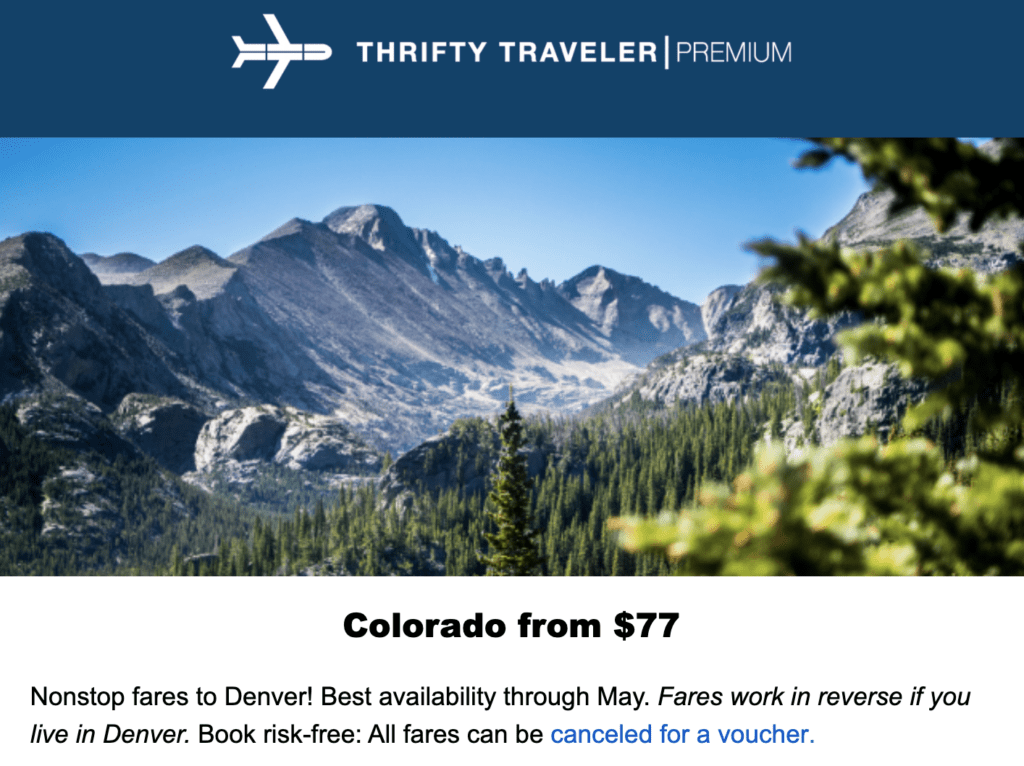 These deals are no longer live: Join Thrifty Traveler Premium for future flight deal alerts the moment we find them!
Bottom Line
From Las Vegas to the Colorado mountains, Europe to Asia, and everywhere in between, we find flight deals at up to 90% off. And as a Minneapolis-based team, nobody finds cheaper fares out of MSP than Thrifty Traveler.
Our team is constantly searching for the best deals we can find out of MSP – and sharing them with our Minnesota-based members. These are just a few of the most popular deals we've found recently from MSP, but we're finding more each day.
Don't miss out on the next deals we find from MSP and other Midwestern cities: join Thrifty Traveler Premium for instant alerts!