After a year stuck at home, millions of Americans are itching to get out of the house and travel this spring. And with the recent news that there should be enough vaccines for all Americans by the end of May, travel is finally starting to look up. If you're looking to travel for spring break or later this spring, you may be in luck.
In normal times, booking flight less than a month or two before departure is a recipe to pay much more. But these aren't normal times, and we're seeing airlines still selling dirt-cheap flights last-minute – in some cases offering rock-bottom prices just two to seven days before departure. We're finding insanely cheap flights across the U.S., to Hawaii and back, and down to the Caribbean through the spring.
Just how cheap are we talking? Let's take a look.
Torn about traveling and whether it can be done safely? Here's some food for thought.
Last-Minute Flights are Cheaper Than Ever
These are strange times, travelers. last-minute flights booked for travel within the next month are cheaper than booking many months out, in many cases. Take these recent flight deals we found and sent to Thrifty Traveler Premium members, for example.
Typically, we don't share last-minute flight deals: We know it often takes a few months to plan a trip, and we find flight deals up to 11 months out (through January 2022 already!). But these insane flight deals are just too good not to share. Flights to Hawaii under $200 roundtrip through May?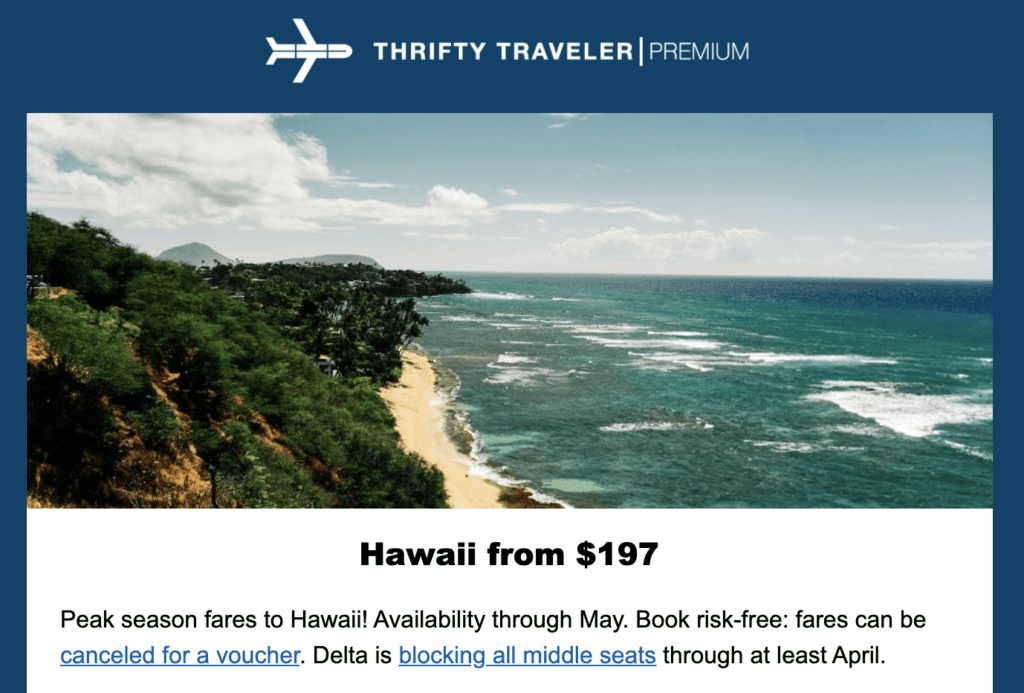 Want to get instant alerts for the best flight deals from your home airport? Join Thrifty Traveler Premium for $5.99/month!
Need a beach getaway this spring? Flights to Mexico have hit rock-bottom prices, as low as $200 roundtrip, or just 5,000 SkyMiles… roundtrip! That's less than what you'd need to fly to any neighboring city. These low prices are concentrated in the spring and prime for booking a cheap last-minute getaway, as airlines try to drum up much-needed ticket sales before travel truly recovers later this year.

Destinations like Mexico, the Dominican Republic, and Costa Rica – all of which do not require COVID-19 tests to enter – have seen crazy cheap price drops for spring. That's a massive change: Airlines are offering steep discounts on the places people actually want to travel to. 

Thrifty Tip: Wondering which countries are open? Check our country-by-country guide.
Looking to stay a little closer to home, but want a change of scenery and warm temps? Flight prices to top U.S. destinations like Arizona, Colorado, Florida and beyond have been under $100 – and sometimes under $50 – roundtrip through spring! Here's a look at a recent deal to Florida we found and sent to Premium members for travel through May.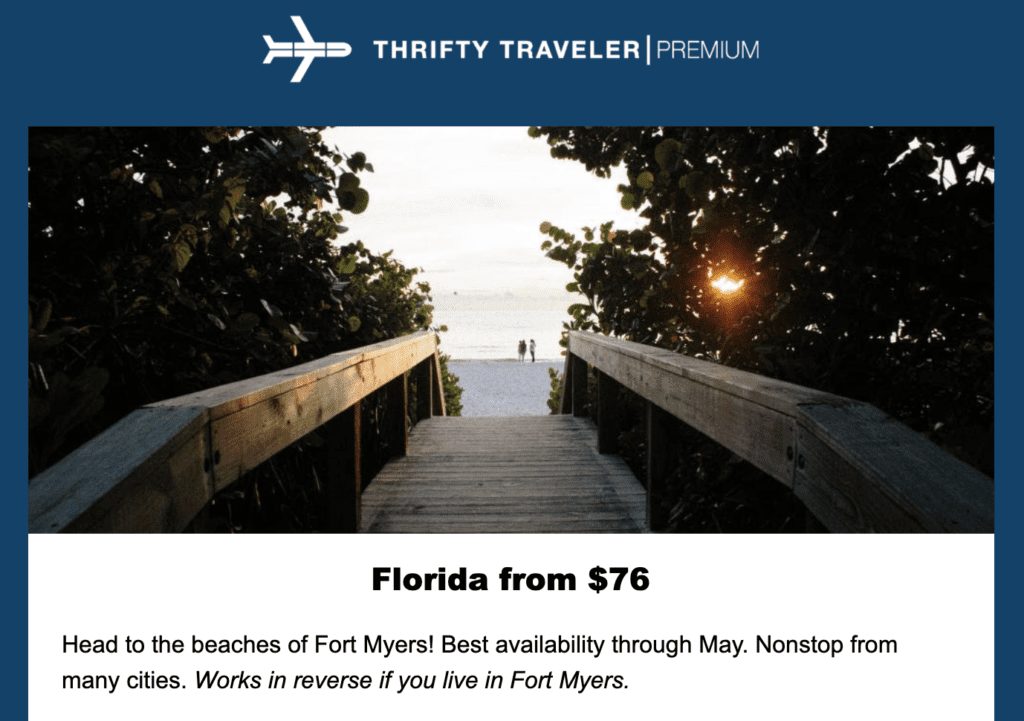 Many of these rock-bottom prices are no longer live. To get instant alerts of the next flight deals we find from your home airport, join Thrifty Traveler Premium. We'll do the work of finding flash sales, price drops, and mistake fares for you!
Search with Google Flights Explore
Want to do some searching on your own, but not sure where you want to go? Google Flights is the best travel search engine out there, and it should be your starting point when searching for any flight.
And one of the coolest features it offers is Google Flights Explore. This is tailor-made for those moments when you need to get away for cheap and don't care where you go. You can view an entire state, country, or continent and bam: It will pull up a map of some of the cheapest airfare possible.
First, be sure to read our guide on how to use Google Flights to find the cheapest flights, including a deep dive into Google Flights Explore. But here's the quick-and-dirty guide to using the Explore feature to find a cheap last-minute getaway.
To begin your hunt, head straight to www.google.com/travel/explore. Start by typing in your home airport if it hasn't auto-populated for you. From there, decide how narrow – or wide – to make your time frame search. If you're not sure, just leave it blank and you can pull the map to explore!

Let's say you're looking for a weekend getaway anytime in the next month. Simply search for the best deals available in the next few weeks by clicking on the date field. Then, select "Flexible dates," "March", and "Weekend." The results will show you the cheapest destinations you can fly to in March for a weekend.

If you're up for a spontaneous trip anywhere, simply drag the map to see all parts of the world and flight prices to get there. If you have somewhere particular in mind, drag the map to that area or type it into the destination bar. It can be as broad as "The Caribbean" or as specific as a U.S. state.
For example, here are the cheapest destinations in Florida and the Caribbean from our home airport of Minneapolis-St. Paul (MSP) for a weekend getaway in March:

The flight results move with you as you explore Google's map. Let's say you want some sun but don't care where you go. Zoom in on that part of the map and see what destinations have cheap flight prices.
And don't forget: You can filter your search for the most comfortable flight. At the top, choose to only see nonstop flights or filter out budget carriers like Spirit or Frontier.
Once you've found a cheap flight that suits you, click on the price bubble to see flight details. You can select specific flights and even play around with the schedule to see if there are better dates at the same or similar prices.
Bottom Line
Cheap last-minute flights are not the norm, but neither was this past year. If you're looking for a change of scenery and escape over the coming weeks or months, these insane last-minute spring flight deals are worth your attention.
Use Google Flights Explore to see which destinations are cheapest from your home airport, and sign up for flight deal alerts with Thrifty Traveler Premium.