You love sunny beaches, beautiful resorts, tasty food, and world-class service just a few short hours from home. That's why you love Mexico.
Mexico is a perennially popular destination each year when temperatures drop up north. But here's the best part: Cheap flights to Mexico aren't hard to come by even as flight prices are rising elsewhere. In the last few months alone, we've sent our Thrifty Traveler Premium members nearly a dozen different flight deals to Mexico, with prices as low as just $165 … roundtrip! 
If you're looking for a summer trip, planning ahead for next winter, or you're looking for a getaway pretty much any time of year, Mexico is a great option. Whether you're aiming for the beaches of Cancún or Puerto Vallarta, want a cultural escape to the metropolis of Mexico City, or want to explore somewhere off-the-beaten path, there's a cheap fare to get you somewhere in Mexico this year.
Mexico has no testing or vaccination requirements for entry, but you'll still need a negative COVID-19 test to fly back to the U.S. – read our guide for tips to find a test!
Cancún
Cancún is practically synonymous with a trip south of the border, and for good reason. It boasts endless sunny beaches and beautiful resorts that will make you feel pampered on your visit. You can go beyond Cancún itself and explore great cities nearby like Puerto Morelos, Playa del Carmen, Tulúm, or even Isla Mujeres.
Plus, when it comes to cheap fares, Cancún (CUN) reigns supreme in Mexico. Just look at this….

This was a record-breaking fare we sent out earlier this year to our Thrifty Traveler Premium members with some eye-popping nonstop fares down to Cancún through May. We've never seen fares on the Delta nonstop from Minneapolis-St. Paul (MSP) this low.

This unbelievable fare is gone now – get the next amazingly cheap flight to Mexico sent straight to your inbox with Thrifty Traveler Premium!
But the deals go beyond nonstop fares from major cities… and the low fares keep popping up. Recently, we unearthed a Cancún deal from dozens of U.S. cities big and small as low as $170 roundtrip, including the likes of Appleton, Wisconsin (ATW), Kalispell, Montana (FCA), and Scranton, Pennsylvania (AVP), among others.

And as we've seen fares to Cancún tumble, we've also seen some astonishing deals using your SkyMiles to get there for nearly free. This unbelievable Delta SkyMiles flash sale could get you to the beach and back this winter for just 11,000 SkyMiles roundtrip! 

Once you get there, we think you'd love a stay at the new Hyatt Ziva Riviera Cancún, too. What's better than pairing a dirt-cheap flight with an all-inclusive resort you can book using points? Nothing.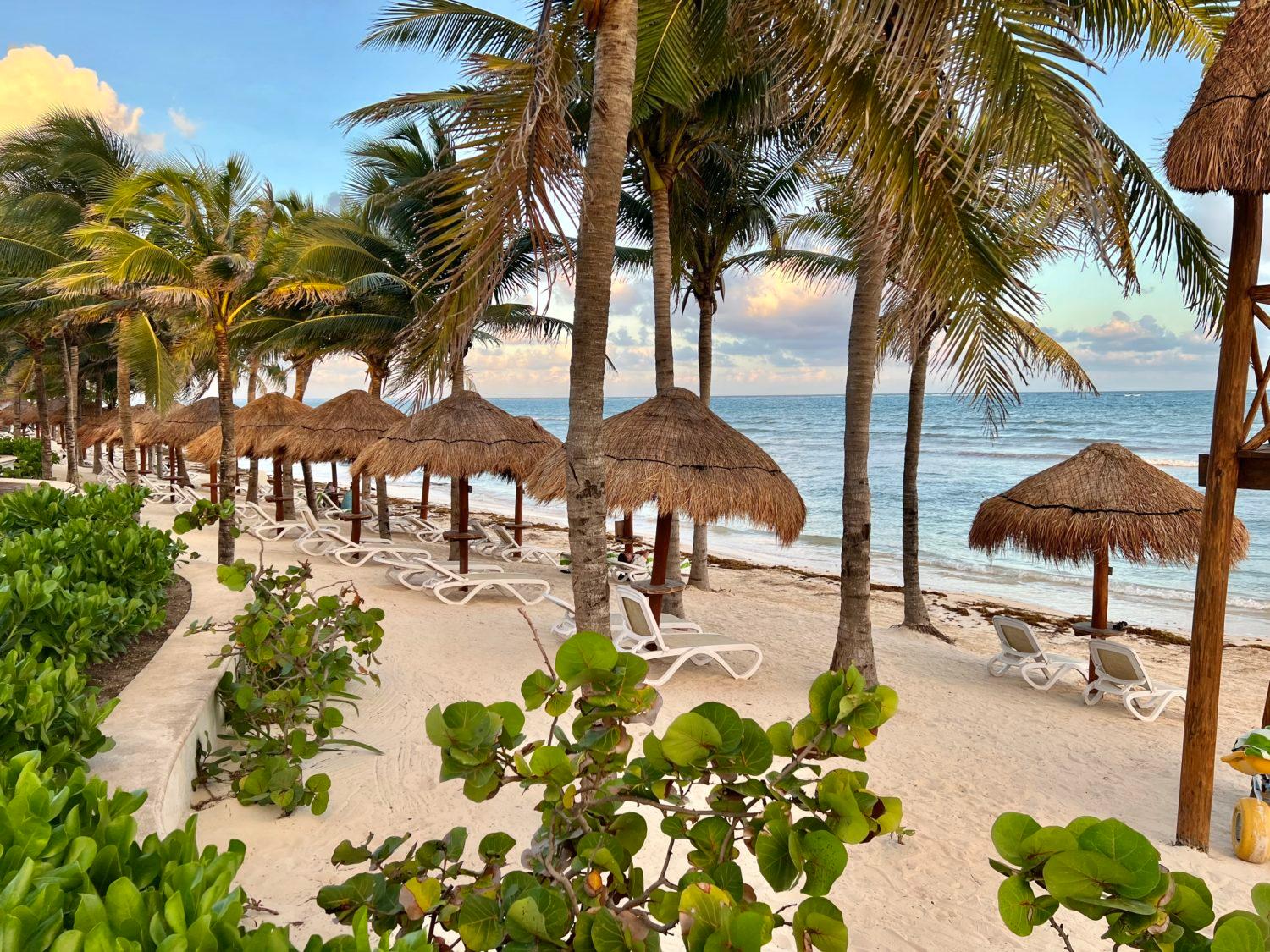 Puerto Vallarta and Cabo San Lucas
The Pacific Coast cities of Puerto Vallarta and Cabo San Lucas are popular for a reason. They're very different from the cities around the Gulf of Mexico, featuring a scenic, coastal environment that suits adventurers and beach-goers alike.
But like Cancún, you can find your way to Puerto Vallarta (PVR) or Cabo (SJD) for cheap if you play your cards right. In this case, we're talking about just the cost of the taxes and fees!

We sent out this deal to our subscribers this month as a perfect use of their hoarded SkyMiles. It followed one of our rules: Once flight prices start getting high, it's time to use those miles! And with rates this low, you can either bring the whole family, or have a bunch of SkyMiles leftover after booking.
If you're still looking to use cash to fly to Puerto Vallarta, we also found a deal earlier this year featuring 50 cities below $389 roundtrip – and often under $300 total! Located on the southern tip of the Baja California peninsula, Cabo may seem far-flung and hard to reach – and therefore more expensive. But Thrifty Traveler Premium members have received a few Cabo deals over the last few months, including this one with flights starting at just $184 roundtrip!

Get deals like this one in your inbox with Thrifty Traveler Premium!
No, we're not joking. You could really fly to San Jose del Cabo (SJD) from Missoula, Montana (MSO) for $302. Or from Baltimore (BWI) for just $236. Or get on a nonstop flight from Chicago-O'Hare (ORD) for $378 nonstop … all through November 2022.
Mexico City
If the resort towns or the places you always see on Instagram don't interest you, there's plenty more to see and do throughout Mexico. Why not start with the biggest city in North America?
Our team has a pretty convincing argument about why you need to see this great world city. For starters, it's a true foodie's paradise. Another good reason? Cheap flights like this one.

This deal featured a ton of great nonstop fares between $226 and $382 to the Mexican capital from Seattle (SEA), Denver (DEN), Orlando (MCO), Chicago (ORD) and everywhere in between for a trip in fall or winter 2022.

Smaller Mexican Cities Get Cheap Flights, Too
Alright, I'll admit that Mazatlán wasn't on my radar until Thrifty Traveler flight deal guru Jon dug up these fantastic fares, but it's rocketing to the top of my list now.
This Pacific beach town has all of the beautiful, coastal trappings of Puerto Vallarta … but without the major resorts that draw big crowds. It's a nearly perfect beach getaway with picture perfect sunsets. And, thanks to Jon's keen eye, cheap flights…

Just look at that list of departure cities! This is not small deal. From New York City to Fresno, you could book your trip to Mazatlán for less than $384 with this deal.
Raise your hand if you also hadn't heard of Mérida, Mexico. I knew nothing about this place until we found this great flight deal, and it turns out Mérida is the perfect jumping-off point for just about anything you'd want to do in Mexico. For history buffs, Mérida is famous for its Mayan archeological history. But for those looking for some sun and a cold drink, Mérida is also just 45 minutes from the beach town of Progreso.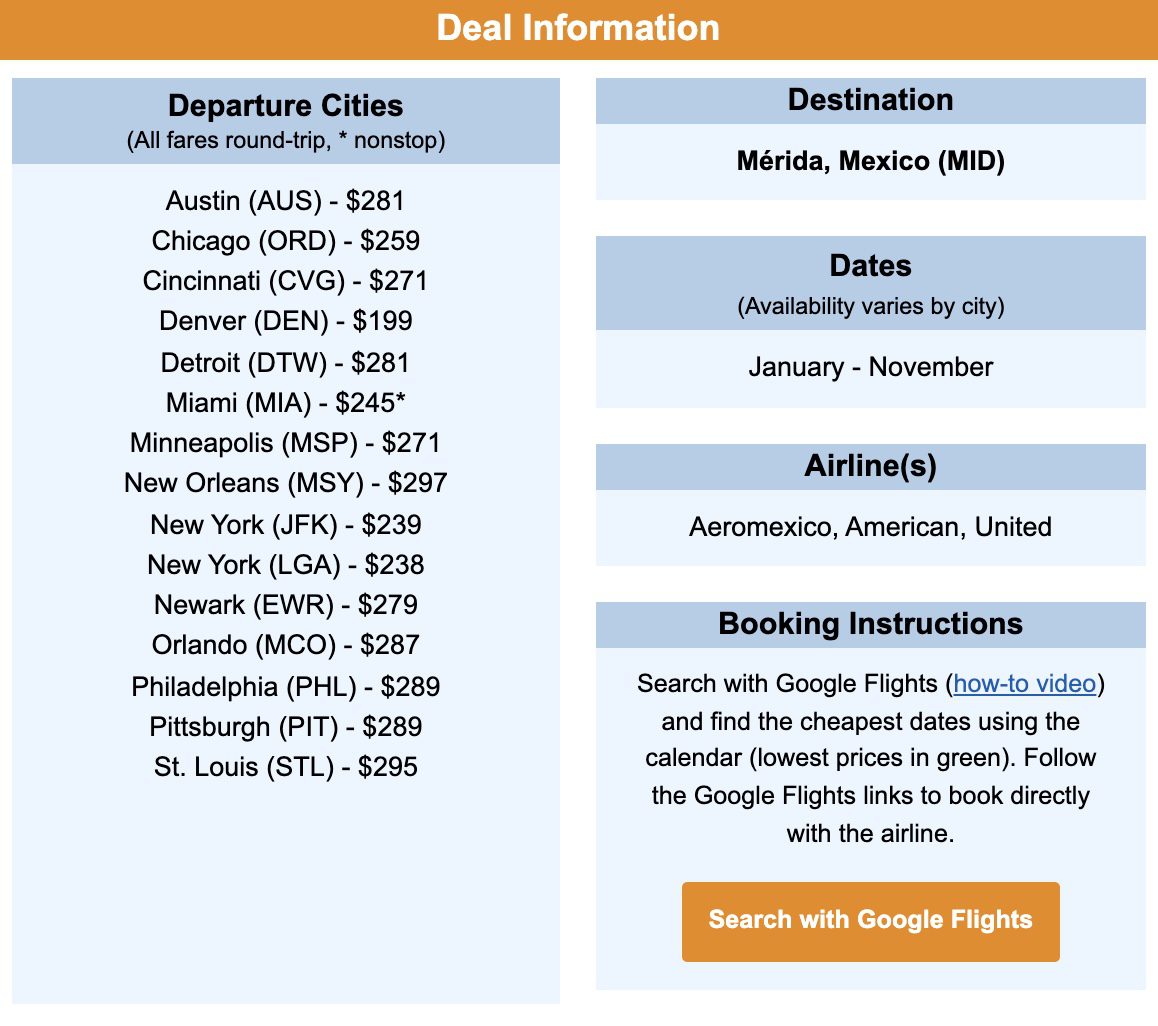 As you can see, it's also pretty cheap to get there if you time it right. Getting somewhere new in Mexico doesn't have to cost more than a flight to Cancún or Puerto Vallarta.
La Paz is also not the kind of place you've already seen on Instagram, but it looks like it probably should be. Just north of Cabo San Lucas, La Paz is a great airport to fly into if you want to explore the Baja California peninsula.

After you land, make the 30-minute drive to Balandra Beach (pictured above), which some argue is the most beautiful beach in Mexico. Don't tell the others in Cancún, though! It'll be our secret.
Oaxaca
We think you need to know about Oaxaca. It's a Mexican destination that is dripping in culture and has a thriving food and mezcal scene that would make any foodie blush.

But what's a superb, off-the-beaten-path destination if it's too expensive to get there?

Mexico is not just all-inclusives and resorts. Oaxaca is maybe the best proof of that.
Cozumel
Cozumel is also overlooked as a phenomenal Mexican destination, but that might be changing. Scuba and snorkeling fanatics have known about the island off the Yucatan Peninsula in the Gulf of Mexico for years, but it's just as attractive as a destination for everyday beach-goers and sun-seekers, too. Plus, the flight deals to get you there are plentiful!

This fare from Minneapolis (MSP) to Cozumel (CZM) for just $289 roundtrip was sent to Thrifty Traveler Premium subscribers last week, so it's gone now. Make sure you're prepared to book the next one!
Bottom Line
If you want an inexpensive tropical getaway without the long flights and jet lag, Mexico is your best bet. We just keep finding dirt-cheap fares down south for fall, winter, and spring.
Whether it's a food and architecture tour in Mexico City or a scuba diving trip to Cozumel, Mexico has something for you this winter and beyond. And with the recent trend of airfare down south as low as $200 roundtrip, it doesn't have to break the bank, either.