Here's the bad news: The chill of fall and the beginning of the school year have descended on much of the country. And yes, winter is coming.
OK, now the good news: Finding a cheap getaway to the beaches of Mexico is easier than you think. Time and time again, we're finding cheap flights to Mexico for a trip this winter or far into 2022. Mexico still has no vaccination or COVID-19 testing requirements for entry, though you'll need a COVID-19 test to fly back home.
Over the past two months, our Thrifty Traveler Premium service has found more than a dozen deeply discounted fares to Mexico, with flights nearly nationwide as low as $200 roundtrip – and sometimes even less. From the cultural epicenter of Mexico City to the gulf beaches of Cancun and Cozumel, there are plenty of options for travelers with Mexico on the mind.
This is how it's done.
How to Find Cheap Flights to Mexico
There are some easy ways to make sure you don't miss out on a good deal to Mexico this fall and winter. While flights to Mexico can certainly be high, don't settle for an expensive ticket – fares across our southern border go on sale all the time.
The trick for finding cheap fares down to Mexico is the same as any other flight: Follow The Flight First Rule. By starting your travel planning by searching for flights, you can zero in on the cheapest dates to get down south. That's much better than locking in your dates in advance by booking your hotel or accommodations first – picking the wrong dates could mean paying $600 or more for flights rather than just $300 a ticket.
And start every search with Google Flights, the #1 search engine for finding cheap flights – to Mexico or anywhere else. It's got so many powerful features that help you find the best deals on the best dates to travel, filtering only for the flights that fit your preferences.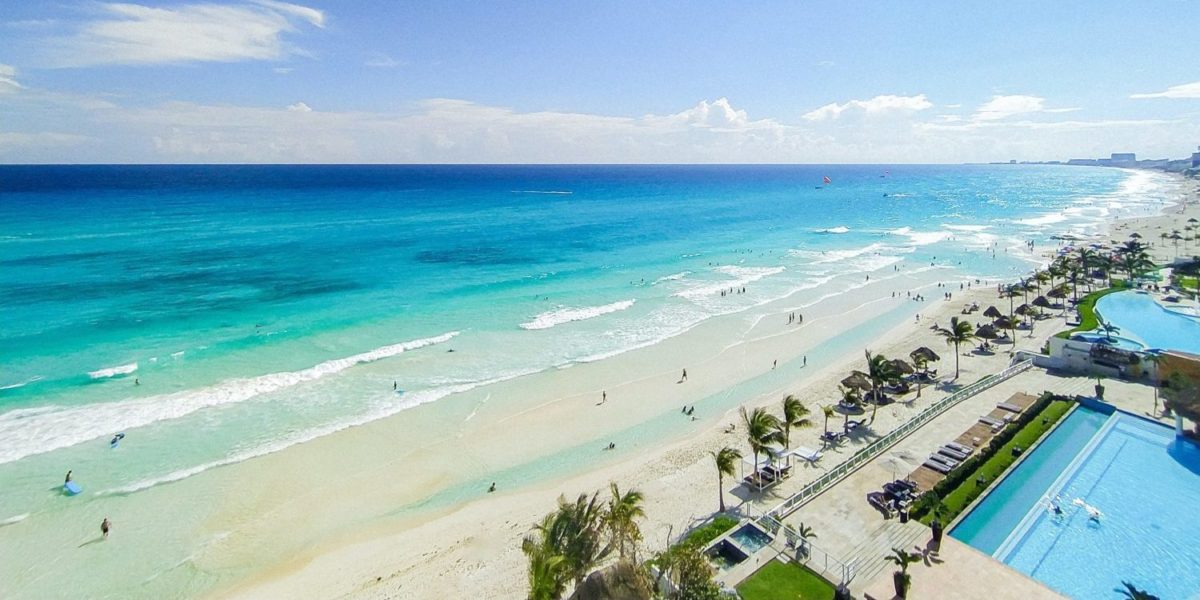 Speaking of dates, timing is important. Flight prices down to Mexico generally peak during high-travel periods like around the winter holidays of Christmas and New Year's as well as stretches of March and April, when spring breakers flock for the beach. If you can avoid those peak travel times, it could help you score a bargain. 
But the best way to find a cheap flight to Mexico is by waiting for the deal to come to you, and that's where our Thrifty Traveler Premium service comes in. We send the cheapest domestic and international fares straight from your home airport straight to your inbox. And over the past two months, we've found 12 different sales to Mexico featuring destinations like Cabo (SJD), Cancun (CUN), Cozumel (CZM), Mexico City (MEX), and Puerto Vallarta (PVR).
How cheap can it get? We've found fares as low as $179 roundtrip recently, for a trip through the winter and into 2022. Looking to use miles and save even more? We've stumbled on mileage sales with redemptions and miles redemptions as low as 10,000 points roundtrip.
If you think these deals are only from big cities and major hubs, think again! Just look at this deal we sent out recently with dozens of American cities included.

But it doesn't just matter where you're flying from – it also matters where you're heading within Mexico. Fortunately, plenty of the most popular Mexican destinations are seeing steeply discounted fares lately.
Take a look and see just how cheap some of these flights can get.
Cancun
Thrifty Traveler Premium subscribers are used to seeing low, low fares to Cancun (CUN) sent straight to their inboxes throughout the year.
On its own, Cancun offers tons of great lodging options and all-inclusive resorts, if that's your style. The Hyatt Ziva Riviera Cancun is one of our favorites, bookable for just 25,000 Chase Ultimate Rewards Points per night. And even more incredible Hyatt all-inclusive resorts are opening soon in the Cancun region.
With a free stay booked using points and flights this cheap, you could do Cancun on a serious budget. Recently, we found nonstop fares from Chicago-O'Hare (ORD) to Cancun for just $159 roundtrip – and another fare from Minneapolis-St. Paul (MSP) for under $200.

If you're looking to go beyond Cancun, it's a great jumping-off point for nearby destinations like Playa del Carmen and Tulum, as well as smaller towns like Puerto Morelos and islands like Isla Holbox.
Cozumel
Just off the coast of the Yucatan Peninsula is another beautiful Mexican destination: Cozumel.
Cozumel deals are rarer than popular destinations like Cancun, where seemingly every airline flies. But that doesn't mean dirt-cheap fares to Cozumel are out of the question.
Recently, we found some eye-poppingly low fares, including a $166 roundtrip fare from Chicago! That's even cheaper than even some of the best fares straight into Cancun!

Cozumel offers the weather and beaches that have made Mexico famous, but its claim to fame is that it's one of the world's premier scuba diving destinations. It's known for its diversity of undersea wildlife and the tourism economy has taken note. Travelers can stay at diving-specific resorts on the island and really soak it all in.
While rarer, we find great deals to Cozumel throughout the year. So if you're looking for something a little more private, or you need to scratch your diving itch, consider Cozumel this year.
Puerto Vallarta
If the Pacific Coast of Mexico is more your speed, take a good look at Puerto Vallarta. Low fares to this beautiful coastal destination go on sale from time-to-time, too.
Thrifty Traveler Premium subscribers get them sent to their inbox all the time!
Check out this deal that featured some incredible nonstop fares to Puerto Vallarta (PVR) and nearby San Jose del Cabo (SJD).

The most recent Puerto Vallarta deal had fares starting at just $181 roundtrip, making for an inexpensive start to your sunny vacation.
Puerto Vallarta is known for its beaches like most Mexican destinations, but its vibrant nightlife helps set it apart from other locales.
Cabo San Lucas
For some more west coast fun, consider Los Cabos. Situated at the southern tip of the Baja California Peninsula, this beachy resort town is a Mexican favorite.
We find great deals to Los Cabos most often from the western United States, but with many airlines flying there, good deals pop up from all over the U.S. from time to time.
Here are the cities and fares for the Puerto Vallarta and Cabo deal Thrifty Traveler Premium members received with nonstop flights available for a bargain all the way through next August!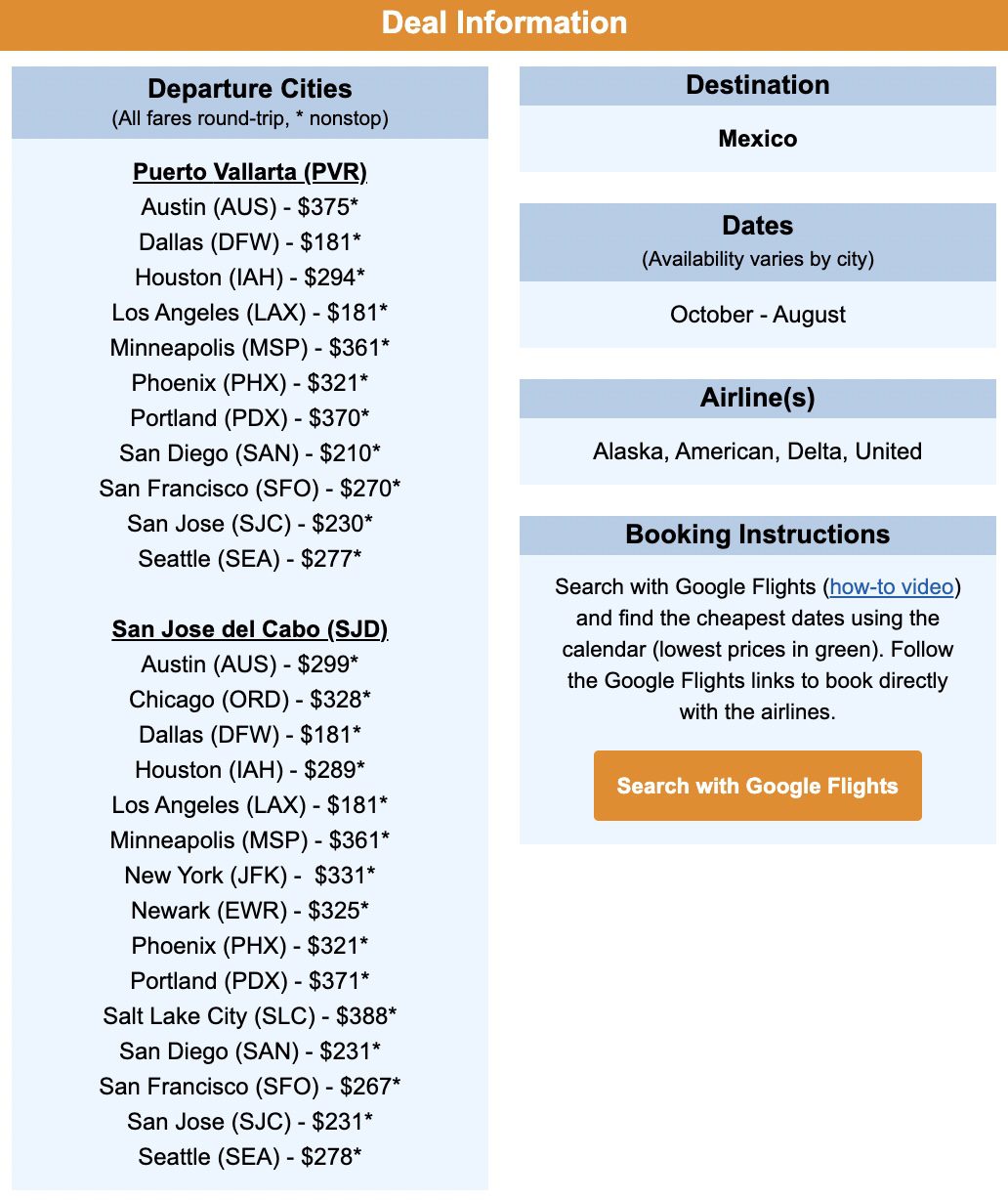 If those fares aren't enough, the Sea of Cortez's pristine blue waters help Los Cabos shine as a Mexican destination.
Mexico City
People think of the beach towns when they think about flying to Mexico, but sleep on Mexico City at your own peril. This inexpensive gem should be high on your list. We went there in 2019 and think you should, too!

What sets Mexico City apart is its diversity and vastness. With dozens of neighborhoods around the city, you could spend days exploring just one small area. But everyone eventually ends up at the Centro Historico, where visitors can take in the stunning architecture and all of the city's Mesoamerican history.
When you're packing your bags for Mexico City, make sure you leave your diet behind, because here you'll find some of the best food on the continent.

How to Fly to Mexico on Points
Have some points saved up from the pandemic? Use them to get to Mexico by keeping an eye out for flash sales like this one.
This summer, we alerted Thrifty Traveler Premium subscribers to an incredible Delta SkyMiles flash sale to get you to the beach for just 10,000 SkyMiles roundtrip. That's a fraction of the mileage that most airlines typically charge for roundtrip flights to Mexico.

This amazing sale included Cabo, Cancun, and Puerto Vallarta from dozens of cities across the U.S., including nonstop flights from Detroit (DTW), Minneapolis-St. Paul (MSP), Los Angeles (LAX), and other Delta hubs.
Bottom Line
If you want an inexpensive tropical getaway without the long flights and jet lag, Mexico is a safer bet than ever before.
Whether it's a food and architecture tour in Mexico City or a scuba diving trip to Cozumel, Mexico has something for you this winter. And with the recent trend of airfare down south as low as $200 roundtrip, it doesn't have to break the bank, either.