As summer comes to an end, it's time to start thinking about a warm getaway this fall, winter, or into early 2022. There is no better time than now to book your future tropical escape. And the flight prices we're seeing to the U.S. territories are almost too good to pass up!
Traveling to Puerto Rico or the U.S. Virgin Islands would normally cost you at least $500 from most of the U.S. mainland. But with the record low prices we're seeing as of late, this can be done for much, much less.
One of the best parts of traveling to the U.S. territories? The simplicity of travel requirements. You won't need a passport to get in, or a COVID-19 test to travel back home from these Caribbean hotspots.
Keep reading to see how you can get to a tropical paradise for less.
Puerto Rico from $100 RT
Yes, a roundtrip flight to the Caribbean for $100. We recently alerted Thrifty Traveler Premium members on jaw-dropping fares to Puerto Rico. With peak season availability into this winter, this deal was one of our favorites we've seen to San Juan (SJU).
This deal included several fares we've never seen, with especially cheap price tags from smaller regional airports. Here are some of the cities that were included in this deal:
Akron (CAK) – $171
Appleton (ATW) – $170
Columbus (CMH) – $133
Indianapolis (IND) – $168
Kansas City (MCI) – $132
Nashville (BNA) – $132
New Orleans (MSY) – $132
Philadelphia (PHL) – $100*
Wausau (CWA) – $171
Up next, our Premium members were treated to record low fares to San Juan (SJU) from Delta Air Lines hubs. Typically these fares would cost you at least $400 roundtrip, but American Airlines decided to make waves with the cheapest prices we've seen from these cities.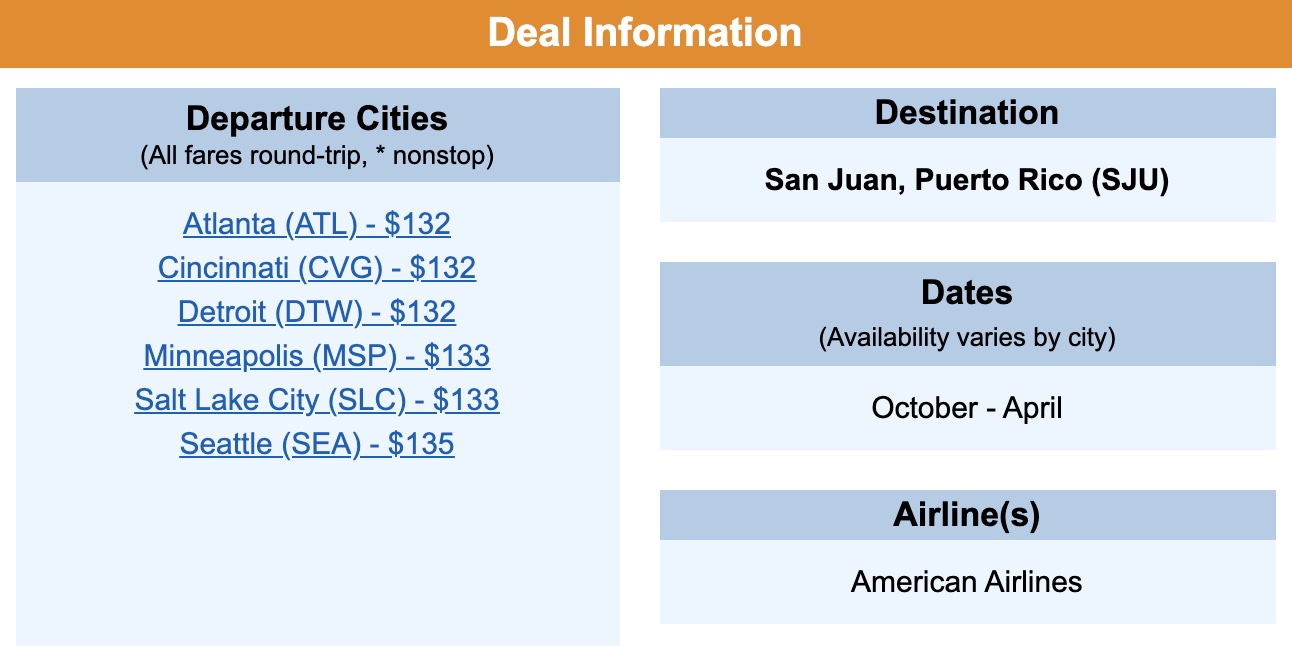 Thrifty Traveler Premium members were big fans of this one:
If Puerto Rico is on your radar and you'd like to visit this beautiful island, you're in luck. It is one of the easier destinations for American travelers to visit right now.
Vaccinated travelers are welcome with no arrival testing required. Unvaccinated travelers need a negative COVID-19 test result within 72 hours of travel. But the best part is, there's no need to get a test before flying home since Puerto Rico is a U.S. territory and not an international destination.
The U.S. Virgin Islands from $97 RT!
Puerto Rico isn't the only Caribbean territory that has gotten some flight deal love recently. We notified our Thrifty Traveler Premium members about some of the cheapest flights we've ever seen to the U.S. Virgin Islands. We're talking under $200 – and, in some cases, even $100 – roundtrip!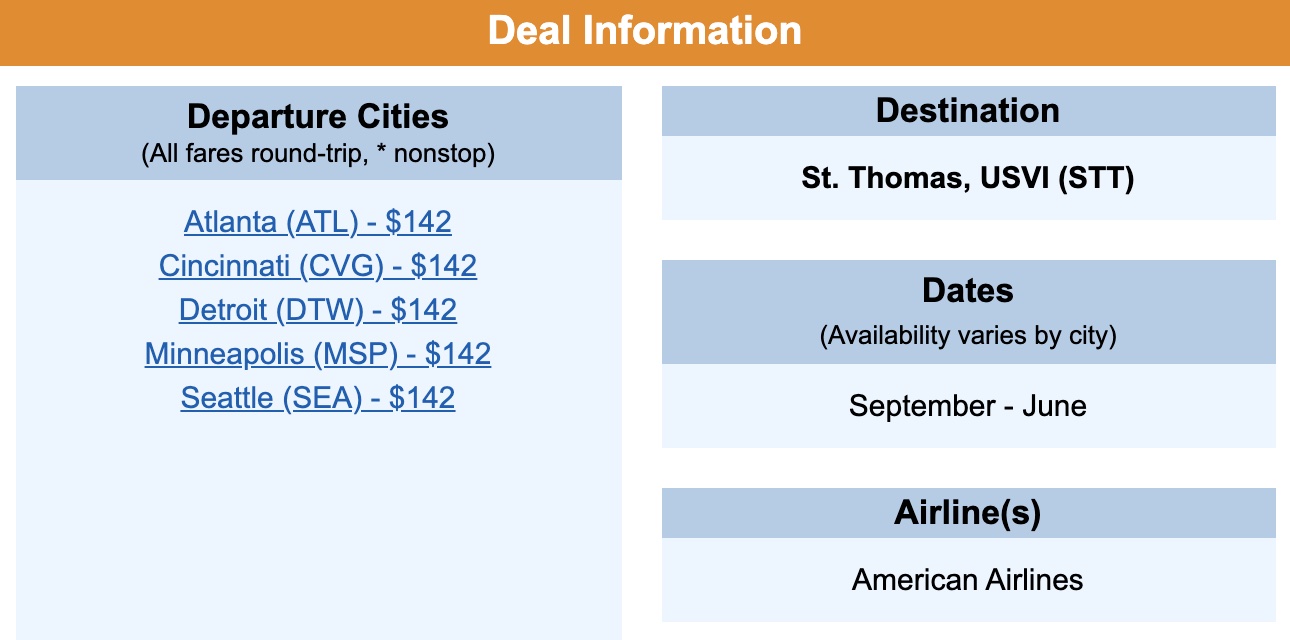 Yes, those prices are roundtrip flights to St. Thomas (STT). This sale only lasted for less than an hour, but many of our Premium members took advantage of this flash sale and booked the deal of a lifetime. As we often say, the hotter the deal, the shorter it lasts.
With American Airlines targeting Delta hubs again, this sale was too hot to last. But when you can fly to St. Thomas (STT) for the price of an average domestic flight, you don't think twice.

Earlier this year we saw one of our favorite sales to the USVI's that involved unbelievable bargains thanks to Delta. It's hard not to book one of the deals when the prices are that good!
Last but not least, this unforgettable sale to St. Croix a few months ago left us speechless. Normally, flights to the largest U.S. Virgin Island will run you at least $500. The playbook was out the window with this deal: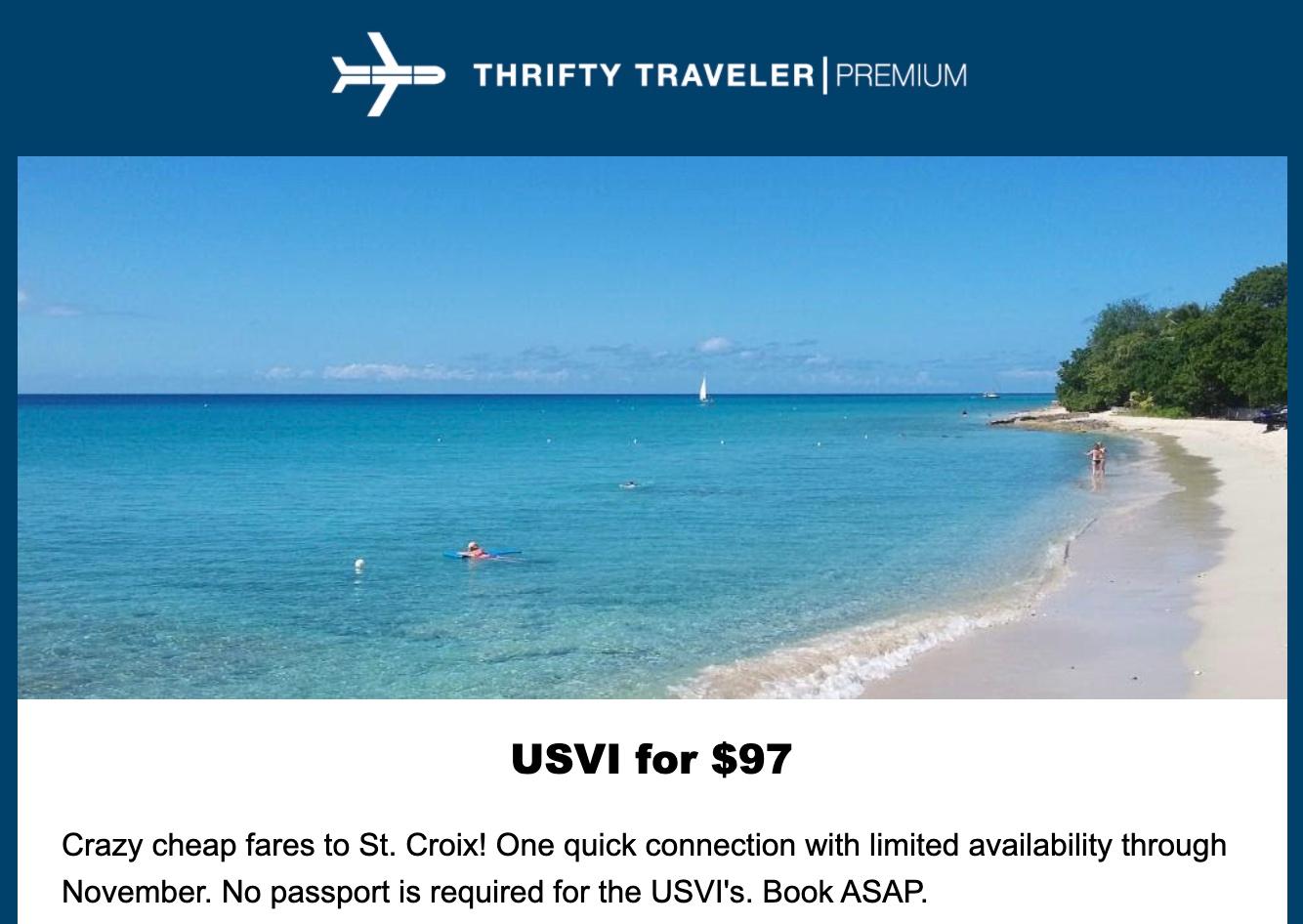 Like Puerto Rico, traveling to the U.S. Virgin Islands is a very easy destination if you're looking for a Caribbean vacation without a passport or a negative test to return back to the U.S. However, you will need a negative COVID-19 test result within five days prior to travel.
Bottom Line
If you're itching for a tropical vacation, it's time to start thinking about locking in a low fare to the U.S. territories in the Caribbean. No one knows how long these deals will stick around so take advantage of these insane prices while you can.
Sign up for Thrifty Traveler Premium and don't miss out on the next cheap flight to Puerto Rico or the U.S. Virgin Islands!