Year in and year out, Arizona is a popular destination – especially when temperatures drop. And the constant stream of cheap flights to Arizona sure doesn't hurt, either.
But Arizona is not for everyone. It's only for you if you like to hike, play golf, sit by the pool, go boating, go fishing, watch spring training baseball, visit national parks, indulge in fine cuisine, go skiing (yeah, that's right, skiing in Arizona), go mountain biking, go cycling, see some caves, visit the Grand Canyon, see ancient art, or see modern art. OK, so maybe Arizona is for everyone after all…
No matter what brings you to the desert, the common activity we can all share is flying there without breaking the bank. Over the last few months, we've sent our Thrifty Traveler Premium subscribers tons of great flight deals to the airports across Arizona for as low as $79 roundtrip! And while flying to Phoenix (PHX) is almost always cheapest, you can fly elsewhere in Arizona for cheap, too.
Whether you're eyeing a spring break getaway or already planning for next winter, here's a look at what flight deals to Arizona look like lately.
Cheap Flights to Phoenix Are Constant
As the largest city in the state, Phoenix's Sky Harbor Airport (PHX) is a logical, central hub to start your search for cheap flights to Arizona.
As a hub for American Airlines flights, it's not too difficult to find good fares to the Valley of the Sun. But almost every airline in the country regularly operates flights in and out of Phoenix, and that competition creates a steady stream of flight deals no matter whether you're flying Delta, Southwest, United, or others.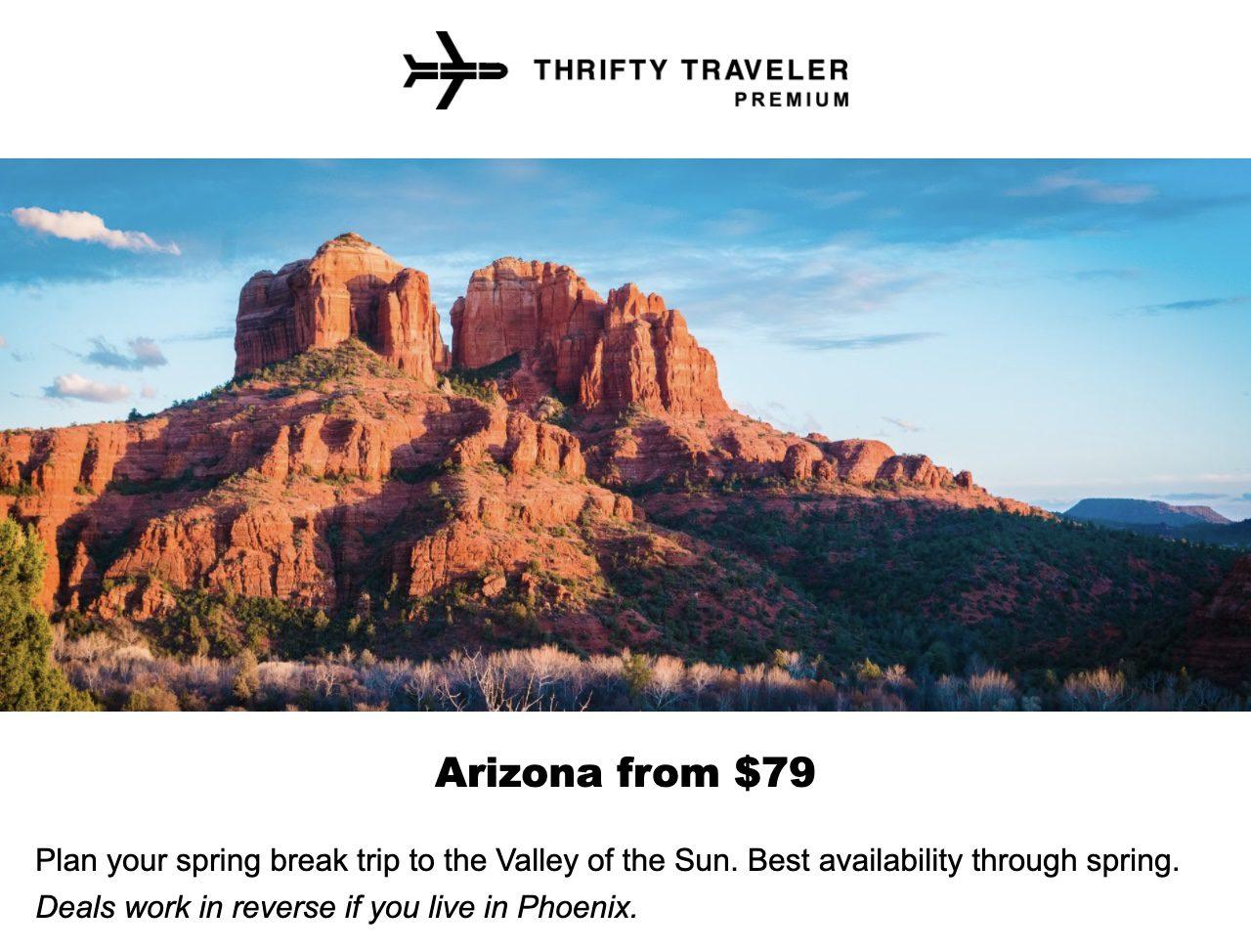 This deal we recently found to Phoenix included wide open availability through March and April, making for a fantastic spring break getaway. Dozens of U.S. cities were included on the deal with nonstop service into Phoenix. And that was just one of the deals we found over the last few months.
Read more: A Thrifty Traveler's Guide to Phoenix
The prices that we found for our Minneapolis-St. Paul (MSP) subscribers was a doozy.


Thrifty Traveler Premium members get these deals sent to their inbox – try it for just $7.99 a month!
Facing some competition from Delta, American fired back with these $87 roundtrip fares to the desert in February. If you've ever experienced Minneapolis in February, you'll understand why we were so excited about this one.
But these flight deals to Phoenix aren't limited to just a few cities.

We found this deal a few months back that would help get our friends in Chicago to Arizona for under $100 as well. Live on the west coast? We found something for you, too.

There is so much to do in the Phoenix area, especially during the winter and spring. So take the hundreds of dollars you're saving on flights and put them toward a spring training baseball game, a boat rental on Lake Pleasant, or a round of golf in Scottsdale!
Cheap Flights to Flagstaff, Tucson, and Yuma
There's so much more to Arizona than just the valley, though.
While we find the most consistently low fares into Phoenix, Arizona's other airports have surprised us a few times over the last few months, leading to some crazy good deals to these locales.
Ever wanted to visit the Grand Canyon, go skiing at Arizona Snowbowl, or spend a few days in Sedona? Flagstaff airport (FLG) is the best way to get there.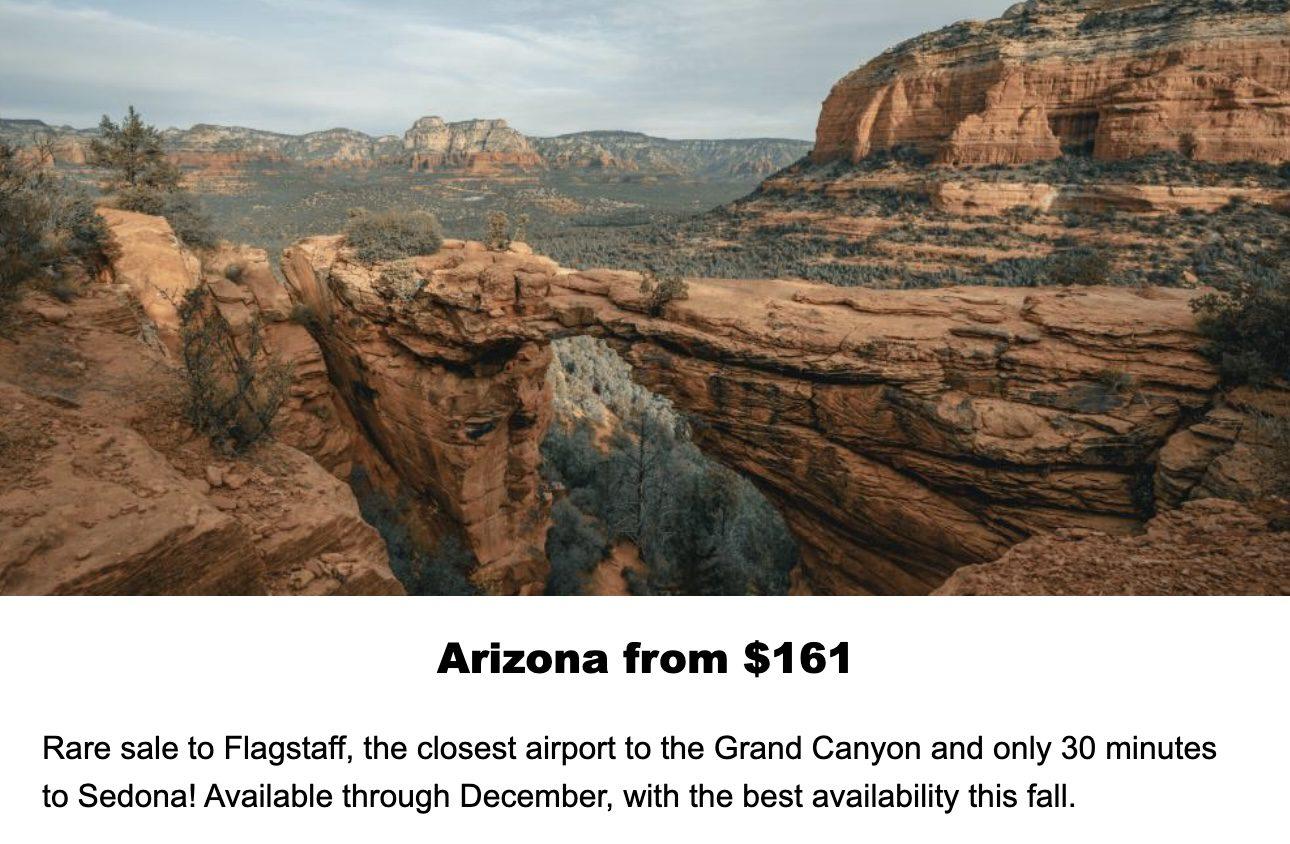 Read next: A Thrifty Traveler's Guide to Sedona
This rare deal included low fares from all over the western U.S., and even included Minneapolis! Northern Arizona is a spectacular mix of mountains and desert and is one of the most unique landscapes on the planet. Whether it's a weekend or a month, you won't regret seeing this part of the country any time of year.
Similarly stunning are the landscapes around Tucson, Arizona, which was also featured in a few Thrifty Traveler Premium deals over the last few months.

For all the National Parks fanatics out there, Saguaro National Park is a must-see thanks to its iconic Saguaro cacti. Otherwise, Tucson is one of the best places in the country to soak up the sun, which sounds pretty nice to this writer on a blustery February day in the north.
But there's one Arizona destination that's sunnier than the rest: Yuma.
This U.S.-Mexico border town is the sunniest place on earth, according to the Guinness Book of World Records. The city has sunny weather 91% of the year!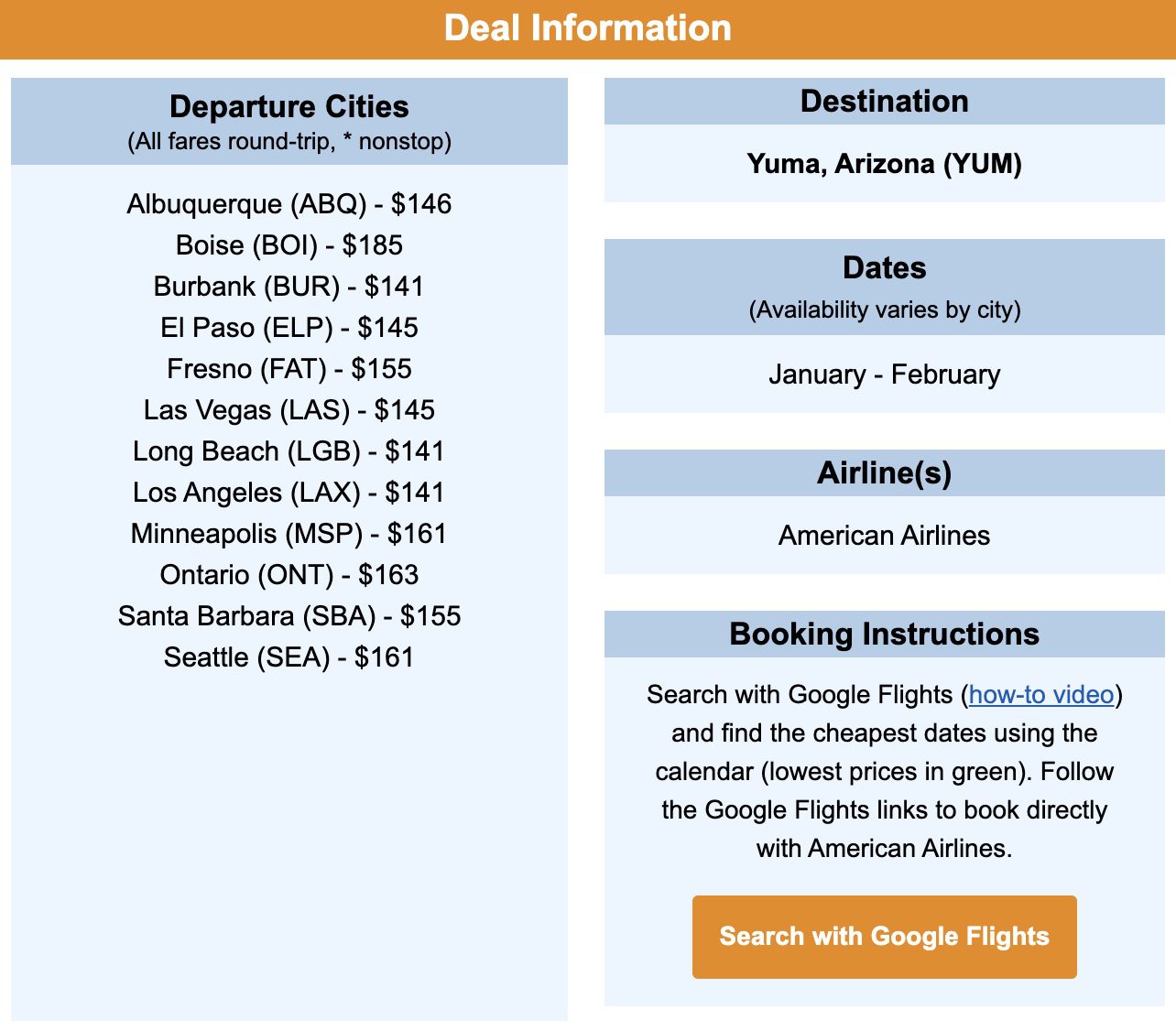 Flight deals down to Yuma  are incredibly rare, so this one with fares under $200 roundtrip from cities across the country really caught our interest!
Bottom Line
Arizona might just be the perfect place for anyone to go visit. It has a little bit of everything and the cheap flights to get you there.
Whether you're looking for a weekend in the sunniest city on earth, a National Parks excursion, or a simple, relaxing getaway in the sun, make sure you're signed up for Thrifty Traveler Premium to get the next deal sent straight to you as soon as we find it.