Thinking of a summer trip to make up for last year? It's time to start planning now.
We're all shaking off the cobwebs and getting our trip-planning muscles moving again as travel rebounds for the summer. And you're in luck: Even as more people return to the skies, the cheap flights haven't disappeared. Flight prices for peak summer are lower than they've ever been, and they're on sale now.
Here's why you should start planning ASAP – and how you can start your return to travel with a cheap flight.
Summer Trip? Start Planning Now
If you're planning a summer trip this year, it's time to start planning now. And there are a few good reasons why.
1. Start your search 2-6 months in advance. At a minimum, start keeping an eye out for cheap flights a few months before you're planning to travel. Yes, that means right now. You don't want to get stuck with sky-high prices a few weeks before you're set to leave!
2. Cheap flights are happening now! We've got a rule when it comes to traveling for less: Find Flights First. Find and book your flights on the cheapest dates that work for you, then plan the rest of your trip around that. Planning out your trip and then booking flights is the single most costly mistake travelers make. And as you'll see below, we're seeing record-breaking low prices for flights this summer.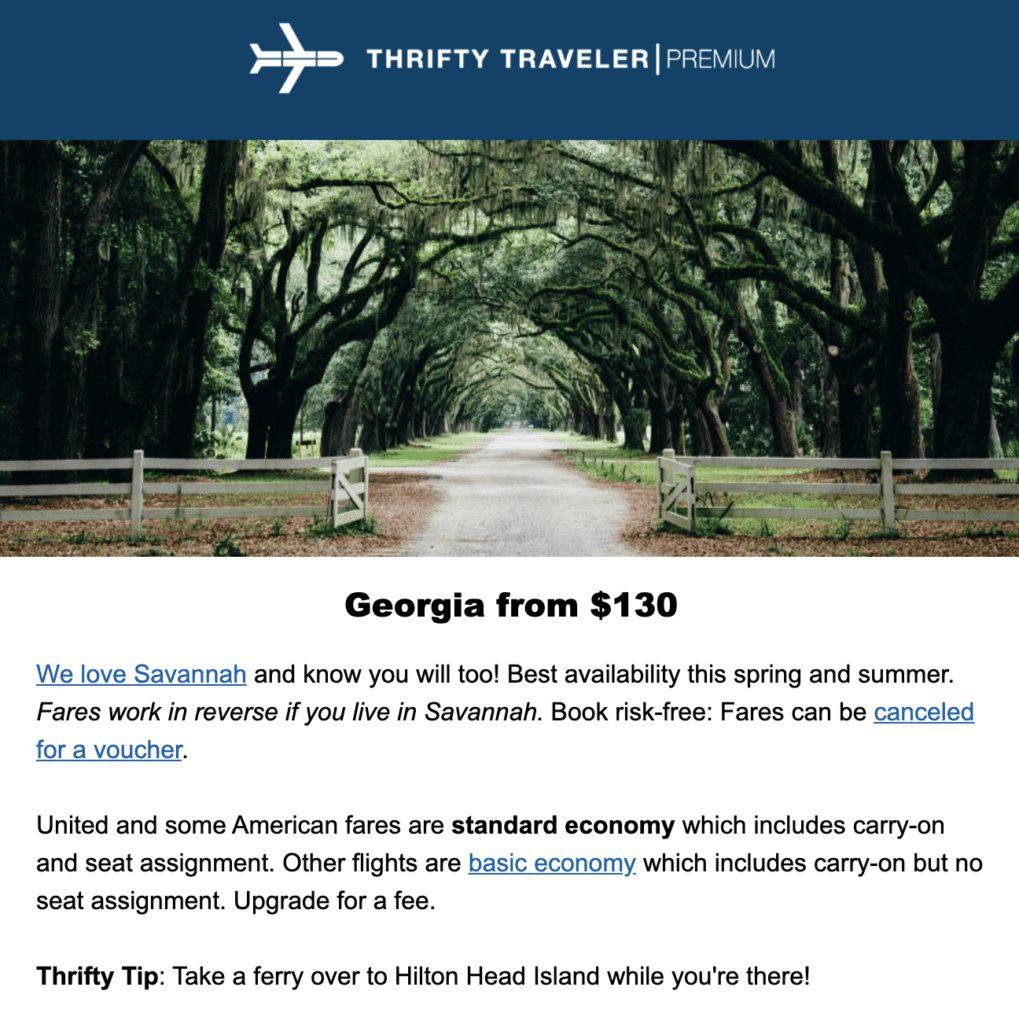 Don't miss the summer deals we're finding! Many of the flight deals we show as recent examples below are no longer live – the hotter the deal, the shorter they last. Get instant flight deal email alerts from your home airport with Thrifty Traveler Premium.
3. Other travelers are returning to travel, too. As travel ramps back up, destinations and travel services around the country are seeing its effects – in both good ways and bad. Take rental cars, for example: Prices have skyrocketed, and rental car availability is shockingly low. Use this a good reason to book early!
4. Booking flexibility could end soon. Most major U.S. airlines have extended their fee-free change and cancellation policies to all tickets booked by the end of April. This gives travelers extra flexibility to change their flight if something comes up. But this byproduct of the pandemic likely won't last much longer, so take advantage of the free flexibility while you can!
Domestic Destinations from $50 RT
Looking for a summer getaway, but don't want to break the bank? We've got good news. Flight prices continue to drop to all-time lows for domestic travel, with flights top destinations as low as $50…roundtrip.
Take this recent flight deal to Boston we sent to Thrifty Traveler Premium members. It typically costs over $200 roundtrip to get to Boston! This deal was live from 40+ U.S. cities.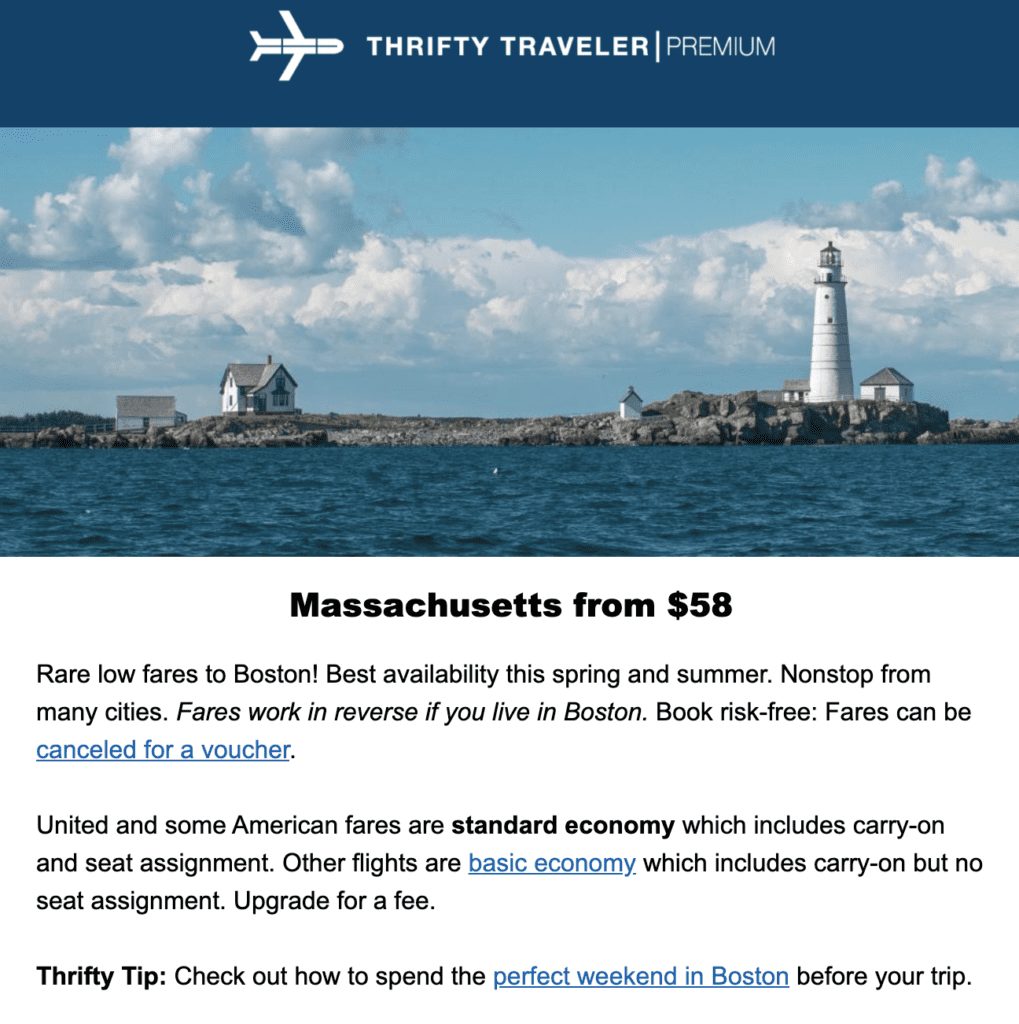 Many of these cheap fares to Boston are still available, though some have disappeared since we first found this deal. As we always say: The hotter the deal, the shorter it lasts! That's why it's so important to get these deals fast and book ASAP.
Speaking of the East Coast, anyone have Maine on their summer wish list? Flights to Maine during peak summer are often $400 or more, so we were thrilled to find this rare deal to Maine for under $200 – and in some cases, under $150 roundtrip!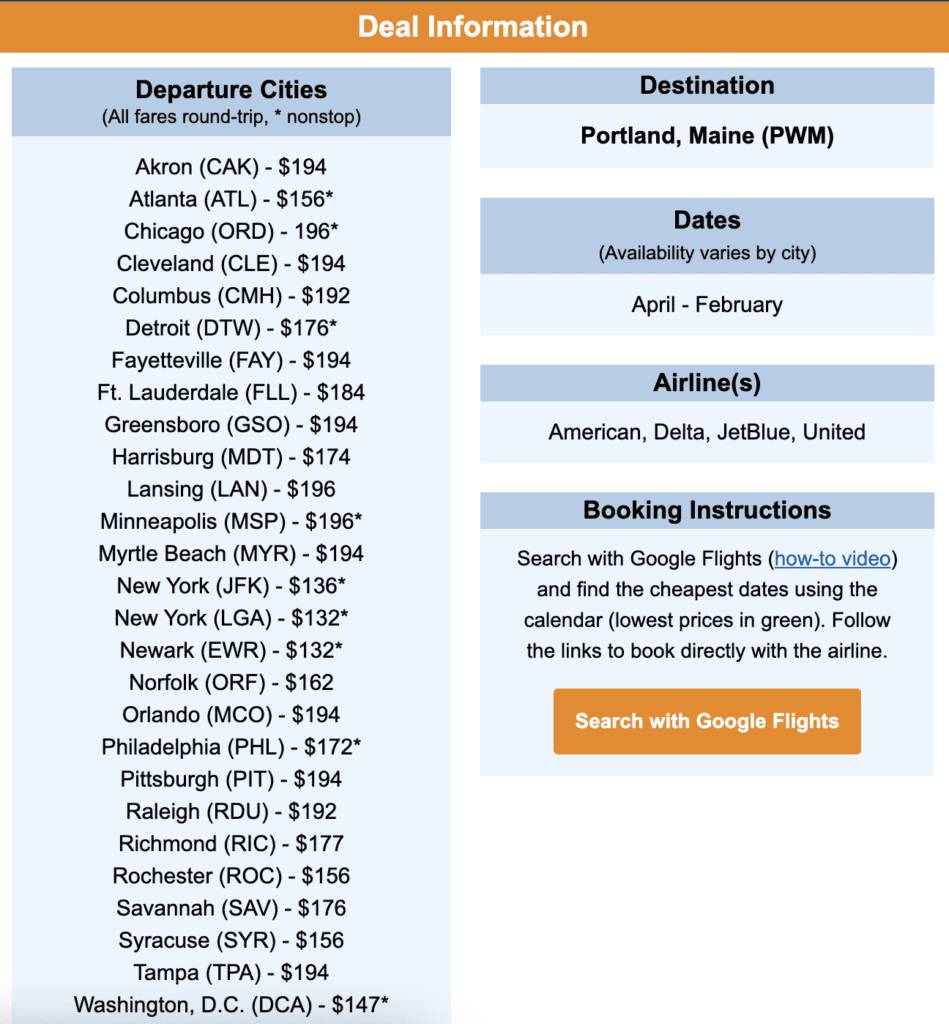 Be honest: Have you ever seen flights to New York this cheap?!
And no, this isn't flying budget airlines like Spirit or Frontier. We found flights as low as $57 roundtrip on Delta, United, and American to the Big Apple this summer!
This flight deal is no longer live, but a few of the departure cities included on this deal with fares under $100 were:
Atlanta (ATL) – $96
Austin (AUS) – $96
Charlotte (CLT) – $57
Chicago (ORD) – $84
Dallas (DFW) – $58
Detroit (DTW) – $84
Ft. Lauderdale (FLL) – $78
Fort Myers (RSW) – $96
Las Vegas (LAS) – $96
Miami (MIA) – $60
Orlando (MCO) – $95
Raleigh (RDU) – $96
Tampa (TPA) – $96
West Palm Beach (PBI) – $96
Summer Beach Spots for Less
Need a beach getaway this summer? You're not alone. And the flight to get you there doesn't have to break the bank.
Take this past Thrifty Traveler Premium flight deal alert for Myrtle Beach, for example. An average flight to Myrtle Beach during peak summer would generally cost you well over $300. A roundtrip flight from as low as $112 sounds much better!
West Coast, best coast? If you've ever looked for cheap flights to San Francisco (SFO), you know it can be a challenge to find anything under $300. That's why we were floored by these nonstop, roundtrip fares as low as $96!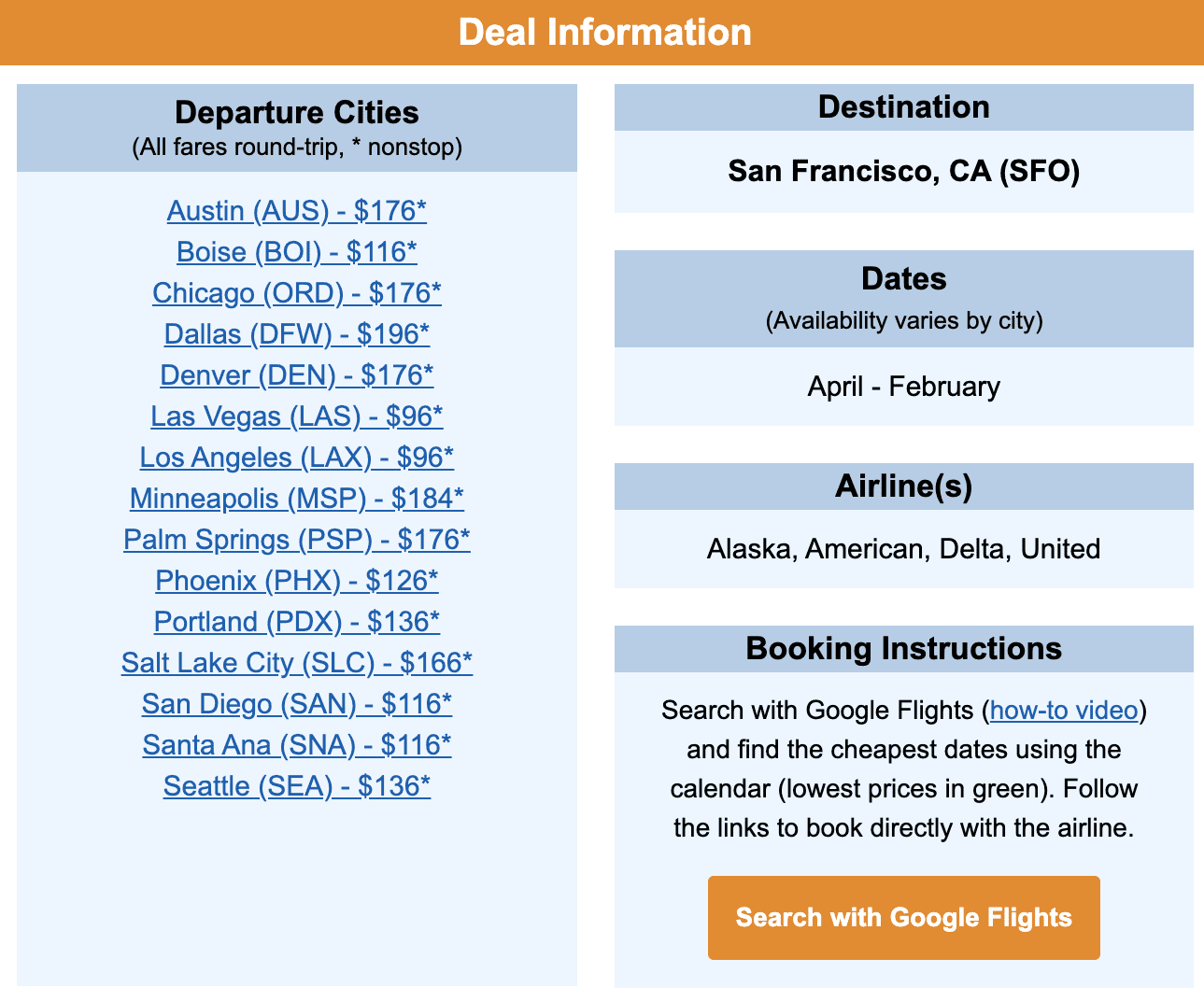 This flight deal is no longer live, but get instant alerts for the next deals we find: Try Thrifty Traveler Premium for just $5.99 a month!
Want to go further south? Yes, those are nonstop, roundtrip flights to Los Angeles (LAX) for as low as $58. We're not kidding.
Some of these fares are still live: Search for yourself using Google Flights!
National Parks This Summer
A trip to national parks is at the top of every traveler's mind for this summer. And the good news is, there are plenty of cheap flights to get you there.
Want to save on your national parks trip this year? Grab a national parks pass!
Yellowstone National Park
Want to finally cross Yellowstone National Park off your bucket list? You'll want to fly into Bozeman, Montana (BZN). And while in years past flights to Bozeman could easily exceed $500 over the summer, we recently found flights under $200 roundtrip – that's savings of $300 or more!
And no, this wasn't just from major hubs. These sub-$200 fares to the Yellowstone gateway were live from over 80+ U.S. airports, including many of the smaller cities we cover from our list of 160 airports and counting across the U.S. and Canada.
Zion, Bryce Canyon, Arches & More in Utah
Are the "Mighty Five" U.S. National Parks on your summer to-do list? If not, they should be. You can visit Zion, Bryce Canyon, Arches National Parks (and more!) in a single road trip across Utah. The cheapest way to get there? Fly into Las Vegas (LAS), and rent a car to drive between the national parks from there.
Best of all, these past few months we've seen flights to Las Vegas under $100 – nonstop and roundtrip. Some cities got blessed with cheap flights as low as $58!
Head up to Alaska
There's probably never been a better time to visit Alaska – or cheaper. Denali National Park is calling! It's typically quite expensive to fly up to Alaska. But as interest in exploring Alaska ramps up this summer, competition between airlines is heating up – and prices are dropping.
Take this recent deal, for example: Prices dropped as low as $178 roundtrip for peak summer travel!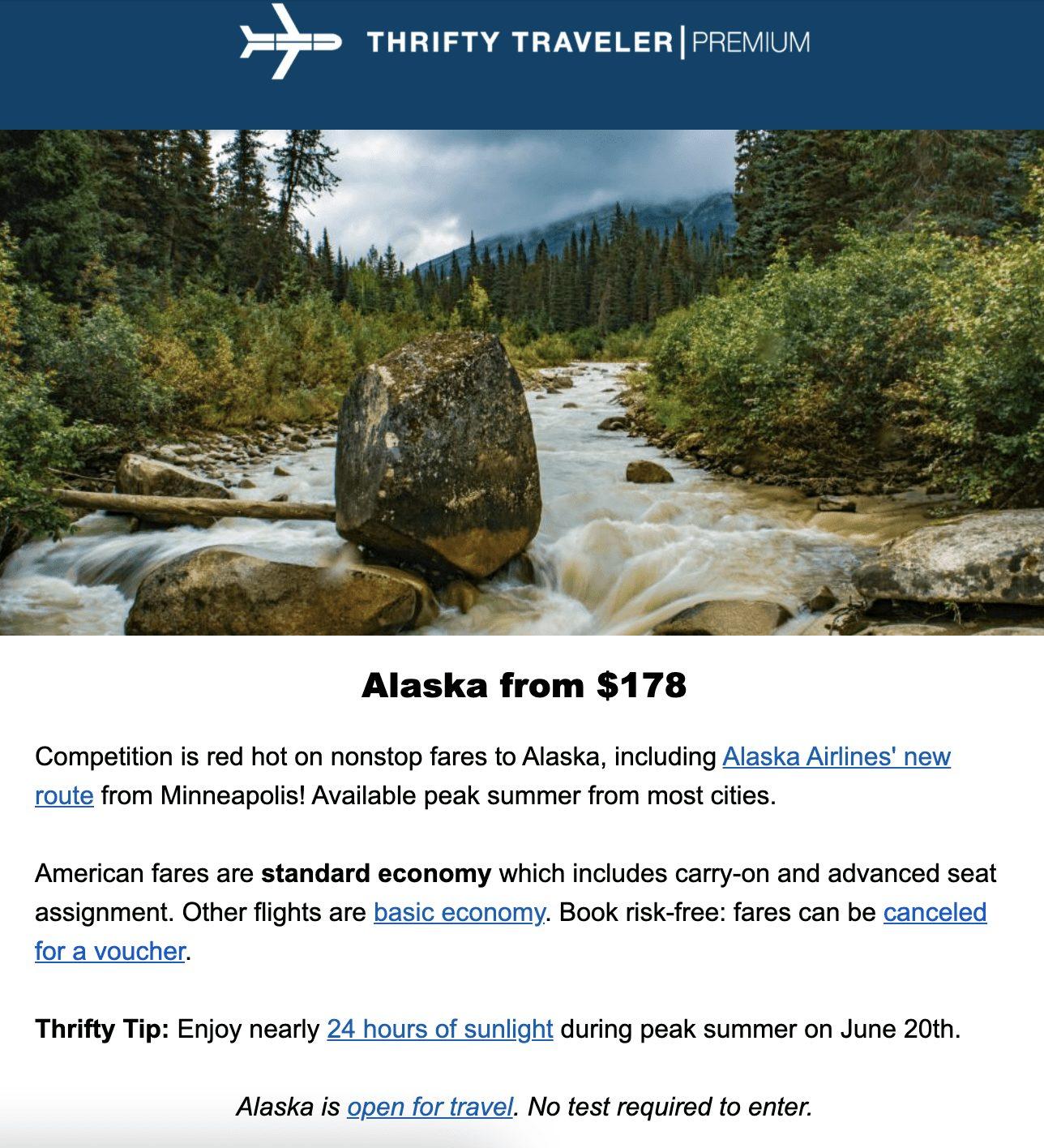 International Deals for Summer…and Beyond
While Europe is currently closed to travelers, we know hopes for reopening for summer travel are high. And with fee-free changes and cancellations for flights booked now, there's never been a better time to plan ahead.
The uncertainty around Europe summer travel has been paired with some truly insane flight deals. Take a look.
We're talking flights to Norway – with a free stopover of up to seven days in Iceland – for $400 roundtrip! That's easily savings of $500+ on peak summer fares visiting two countries.
Missing Paris? Us, too. We've been loving these massive flash sales from nearly every U.S. airport to Europe for late summer into early 2022!
One of the most popular recent flight deal email alerts we sent Thrifty Traveler Premium members included flights to several Italian cities for $500 roundtrip this summer and fall!
Get instant alerts for flight deals like these with Thrifty Traveler Premium, just $5.99 a month!
Bottom Line
If you're dreaming of a summer getaway, the time to start planning is now. And the best place to start is with a cheap flight.
Whether you're ready to check out a new city, visit an old favorite, explore national parks, or go abroad – we've got you covered with flight deals. Get instant alerts for all the flight deals we find from your home airport with Thrifty Traveler Premium!