After a year stuck at home, travel is back in the cards for this year and next. And lucky you: Cheap flights for 2021 and 2022 are here, too.
Whether you're ready to return to the skies next month or not until next week, you're set: Flights are bookable all the way into May 2022. And while some flight prices may have increased, we're still finding some of the lowest fares we've ever seen. That includes flights to Europe regularly under $300 roundtrip, trips to Japan in 2022 for $250 or less, or flights to Hawaii or the Caribbean under $200 total.
Want in on the action? Sign up for Thrifty Traveler Premium before prices increase next week and get these deals sent straight to you!
Speaking of deals, take a look at what we're finding…
Bucket-List Cities for Half-Off (Or Less)
Got your heart set on Iceland? This island is at the top of travel wish lists for many, especially after opening to vaccinated travelers in March! Getting there doesn't have to break the bank.
Earlier this year, we found a smoking hot mistake fare to Iceland, with $600 off flights over the summer and into spring 2022!

Get instant alerts for mistake fares like this with Thrifty Traveler Premium.
Hawaii, anyone? We're always searching for cheap flights for your winter getaway or 2022 spring break trip. Flights to Hawaii during peak season are usually $500 or more, so getting a deal under $200 roundtrip can go a long, long ways.

If you've ever searched for "cheap flights to the Maldives," you know it's a tough one. Roundtrip flights to the Maldives will usually run you well over $1,200. We recently found some of the cheapest flights to the Maldives we've ever seen, flying the #1 airline in the world with tickets that are fully refundable.

The hotter the deal, the shorter it lasts! This deal is no longer live. Get instant alerts of great deals like this with Thrifty Traveler Premium before prices go up!
Back to Europe for $300 or Less
This happened fast: Much of Europe is already open to American travelers again.
Iceland has been open for months, as have Greece and Croatia. Spain, France, Germany, and the Netherlands recently joined the fold. And Italy recently made it even easier for Americans to visit. No matter where you're heading when, it doesn't hurt to plan ahead – especially at these prices.
Cheap flights to Europe are back, with some of the lowest fares we've ever seen to many popular European destinations for this fall, winter, and into spring 2022. Check out these flights to Spain, Italy, and France for as little as $296…roundtrip.

We're talking rock-bottom prices to Spain, Italy, France, and beyond later this summer and well into next year!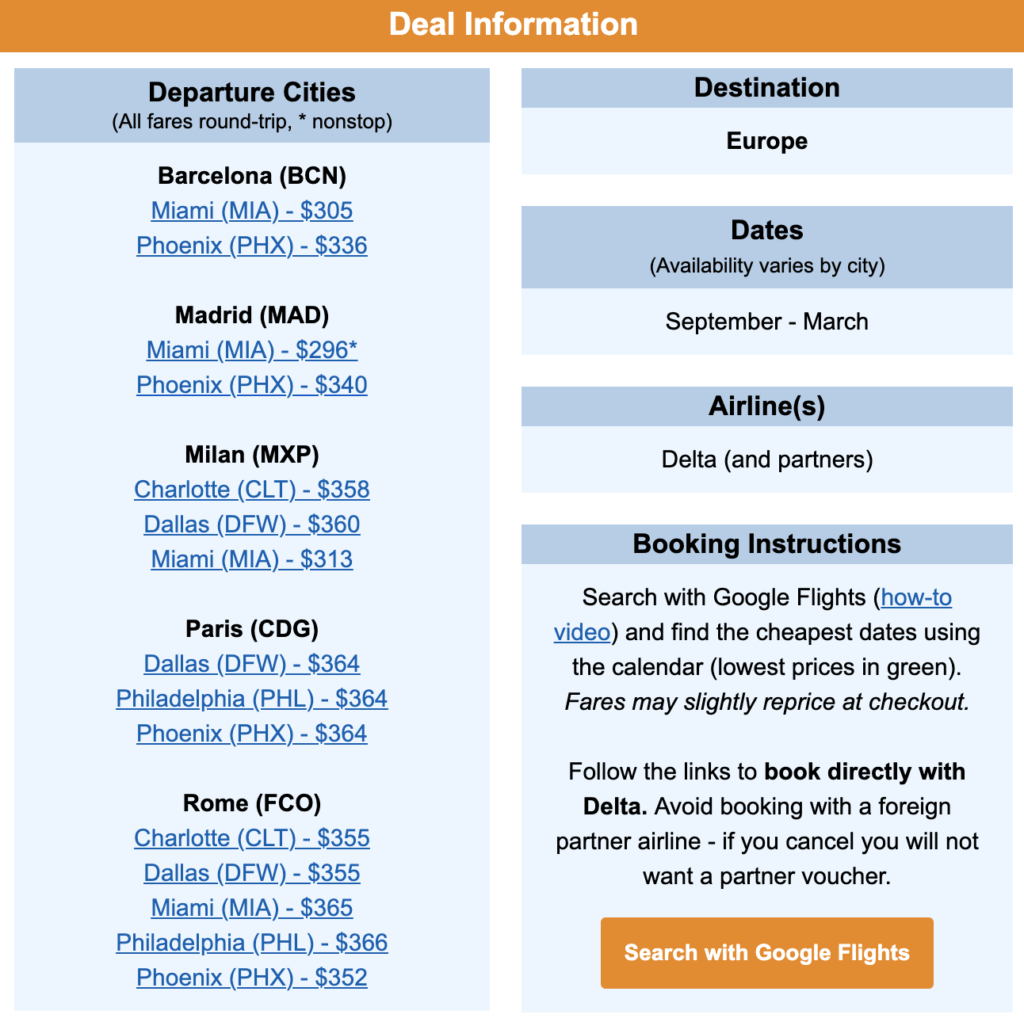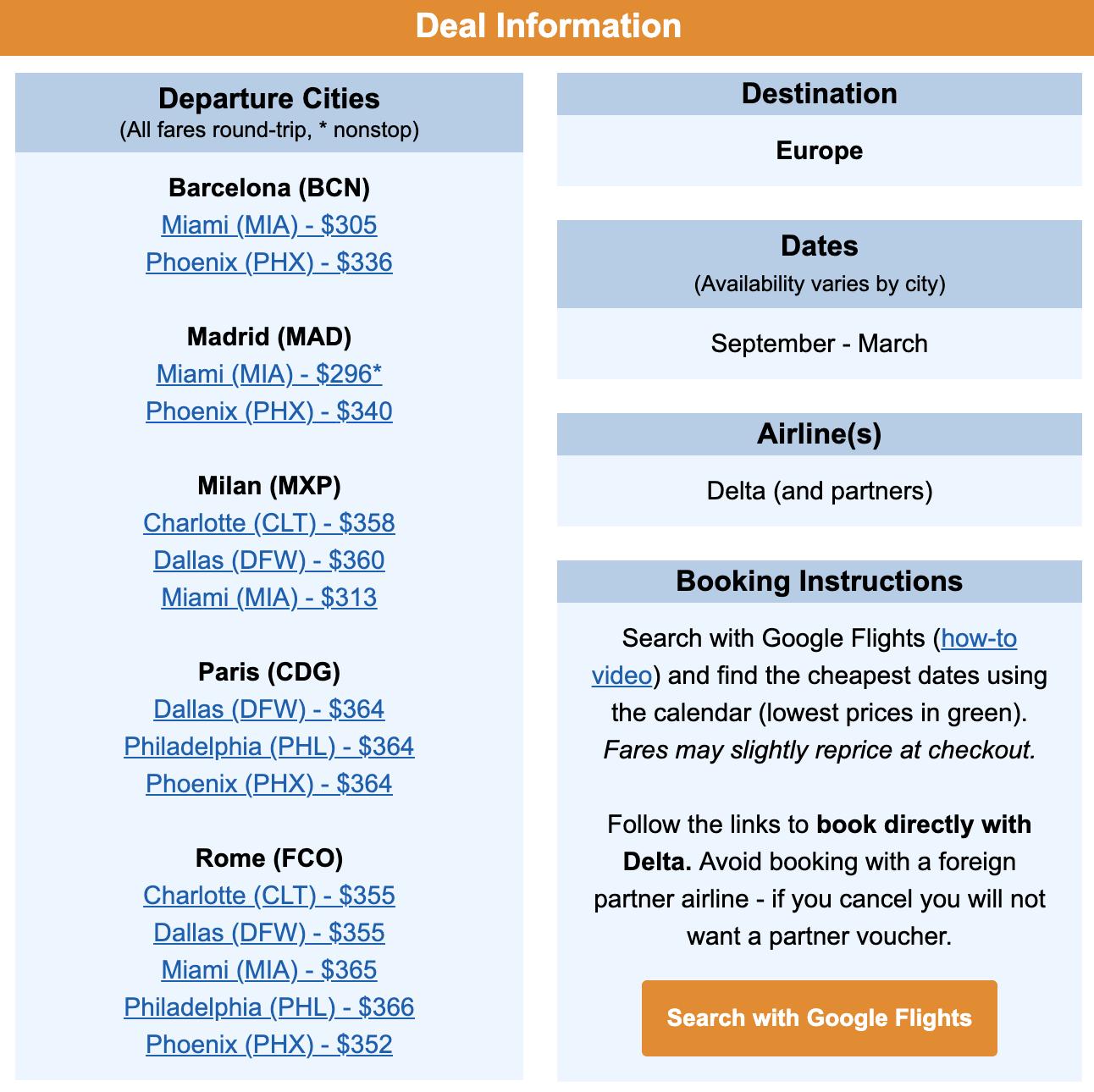 Most of these low fares have since disappeared – the hotter the deal, the shorter it lasts! – but there will be plenty more.
St. Paddy's Day 2022 in Ireland doesn't have to cost a fortune. In fact, it could cost $287 nonstop and roundtrip! This recent deal was a huge hit with our Premium members:

Flight deals this hot never last long. Make sure you get our instant email alerts so you don't miss the next one! Sign up today and lock in your membership price for life before rates increase!
Islands for $132: Beach Getaways for Winter & Spring
Already dreading winter? It pays to plan ahead.
Yep, we're already finding flight deal alerts for the dreaded months of January, February, and even March and spring break 2022! Instead of panicking when the first snow falls, snag a cheap flight now and rest easy knowing you have a sunny escape to look forward to.
So, what kind of deals are we talking about? Oh, just $130 roundtrip flights to the U.S. Virgin Islands:

Yep, that's a cool $700 off normal peak season fares to the Virgin Islands, a perfect Caribbean getaway with no passport required.



We found this deal recently, but it's no longer available. Get our flight deal email alerts so you don't miss the next one!
Looking for a tropical winter getaway in the continental U.S.? We're already seeing price drops to favorite destinations through April 2022, like this smoking-hot nationwide flash sale to Key West:

…and the list goes on. This deal was live from over 70 U.S. cities under $276 roundtrip!
Japan for $197 RT? Asia in 2022 under $250
There's no question: As countries reopen to travelers, bucket list destinations are going to be at the top of to-do lists. Japan isn't open to travelers just yet – but when it is, travelers will flock there.
And if these fares are any indication, airlines are all too eager to help you get there for less. We've found a slew of fares to Japan recently for less than $300 roundtrip. That's $1,000 or more off normal prices!

This deal was available from several cities in just the latest in a string of rock-bottom fares we've found to Tokyo for 2022. Yes, that's Chicago, San Francisco, and NYC to Tokyo for just $201 roundtrip.

Even Hong Kong got in on cheap flights. Did you think you could fly from North Carolina to Asia for $200?


Bottom Line
Travel is bouncing back fast. And the flight deals to get you back out into the world, near or far, are plentiful.
If you're already dreaming of where you'll go later this year or next, join us for cheap flights to get you there for less. Give our flight deal alerts a try. It's time to use up that PTO you saved in quarantine!