It's a place where you can ski and surf on the same day. It boasts both the lowest point and the highest point in the continental U.S. It's home to the country's finest wine scene and some of the best street food.
The state of California offers a diversity of experiences that arguably tops any country in the world. It truly has something for everyone.
To top it all off, California's major airports are home to some incredible flight deals, too. You won't find a cheap flight to every single city scattered across California – some places are cheaper to get to than others. But over the last few months, we've sent tons of great deals to Thrifty Traveler Premium members from Lake Tahoe to San Diego and everything in between.
Southern California
The palm trees, the sun, the boardwalks, and that typical California weather are exactly what you'll find in the southern half of the state. Luckily for budget-conscious travelers, it's chock full of great destinations that make finding a cheap flight easy for Premium subscribers., too.
Los Angeles
Venice Beach, L.A. Live, Hollywood, and dozens of other neighborhoods and regions of L.A. have so much to offer. It's a country's worth of culture and excitement all jammed into one American city.
And your gateway to see it all is LAX.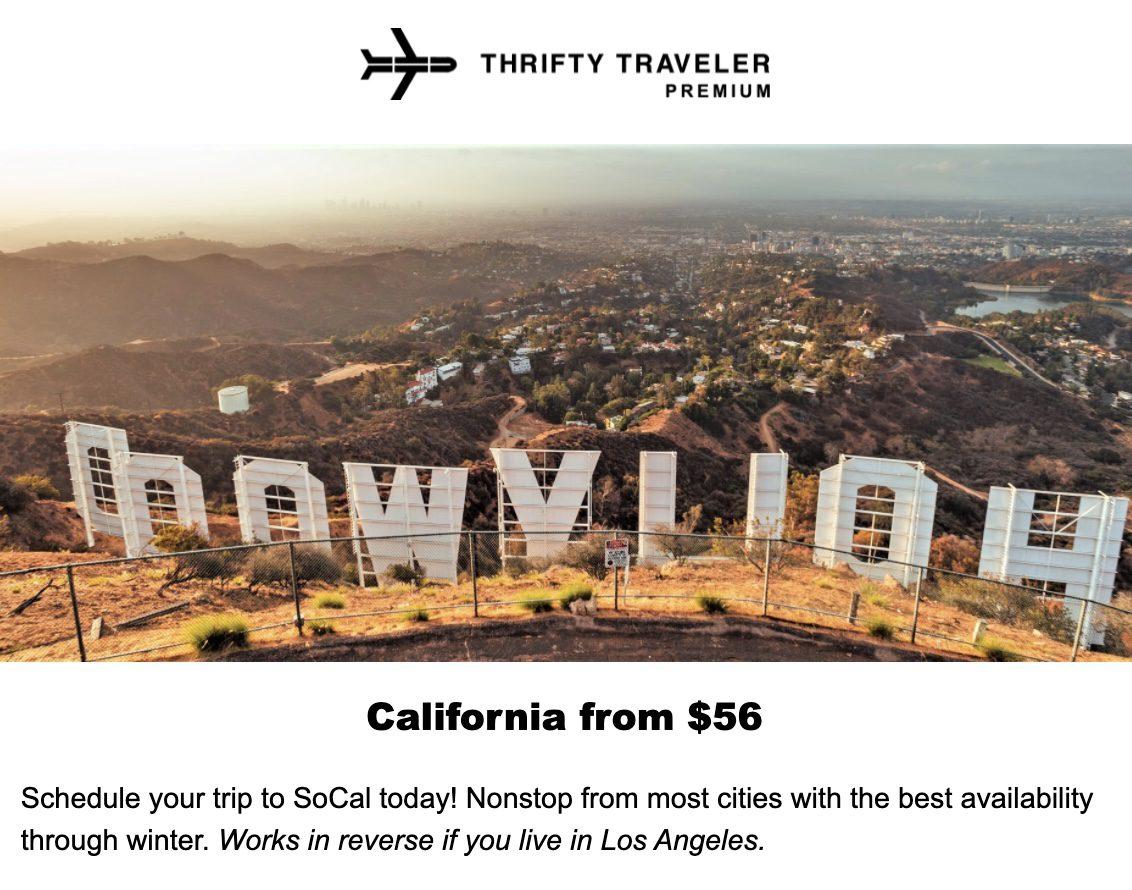 We sent this deal to our subscribers recently, getting some L.A. travelers there for less than $60 from other west coast cities, from as low as $138 nonstop from Minneapolis-St. Paul (MSP) and $136 nonstop from New York City (JFK).
Your trip could be even cheaper, though. Why use cash when you can use just a few thousand Delta SkyMiles, thanks to this Delta SkyMiles flash sale?
This Delta SkyMiles deal to LA featured fares from Seattle (SEA) for 5,000 SkyMiles roundtrip, from Washington, D.C.-Reagan (DCA) for 15,000 SkyMiles, and tons of other cities in between. It's a great way to get to southern California for next to nothing so you can spend your dollars on street tacos and sunscreen!
Orange County & Disneyland
Maybe there are members of your family who lack the focus for a beach and boardwalk day in Santa Monica, but they would light up over a pair of mouse ears. Luckily, we unearthed this fantastic nonstop deal to Orange County (SNA) which is just a 20-minute drive from Disneyland!
If you've heard anything about Los Angeles is that it's not always so easy to get around because of the traffic, so landing close to your destination can save you tons of time and a big headache.
San Diego
A little less bustling than L.A., the far-southern California city of San Diego has a more scenic bent to its beach town vibe.
That's especially true if you stay at the renowned Hotel del Coronado, a historic beachfront property which our team stayed at just a few weeks ago!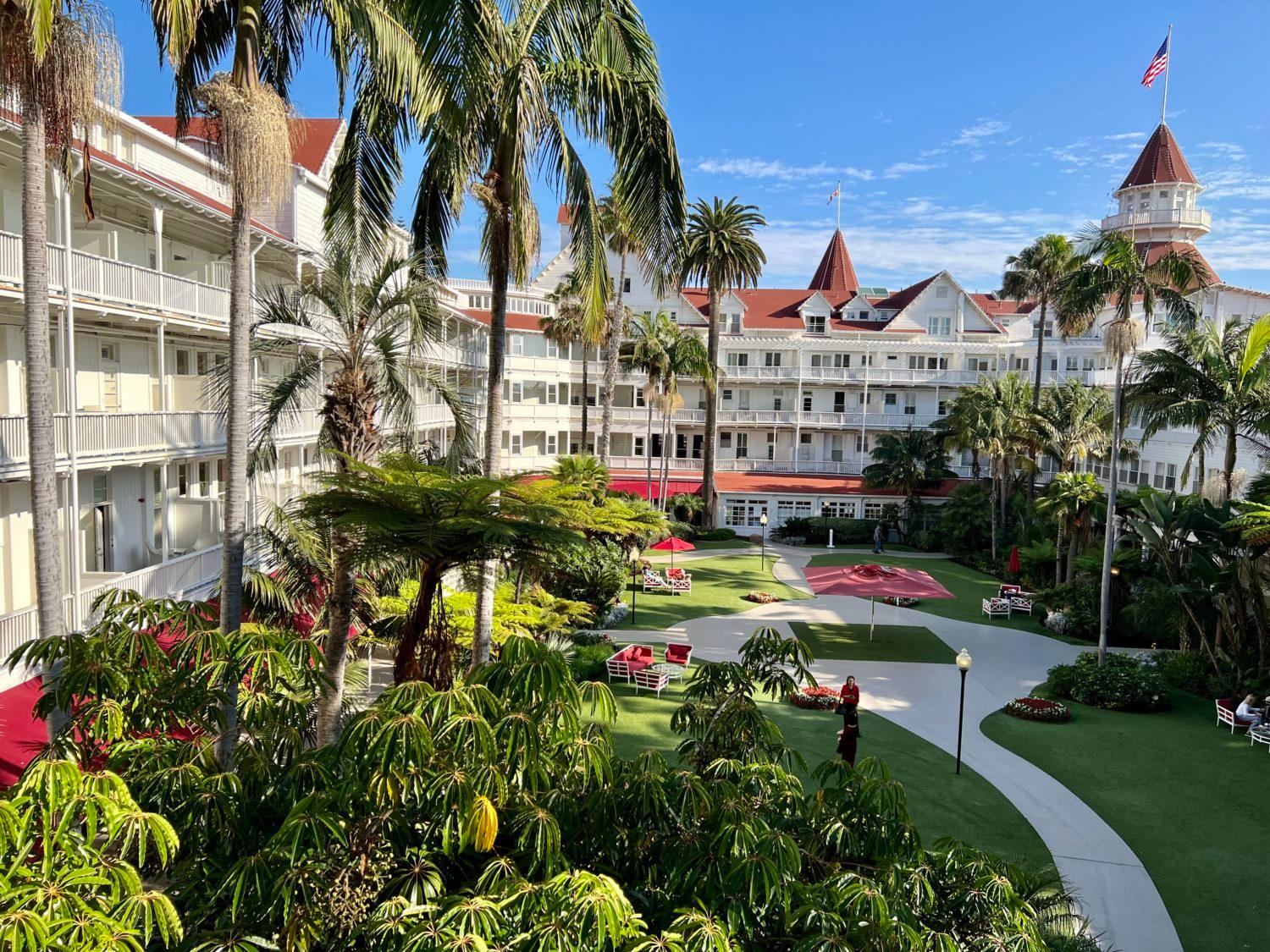 We walk you through exactly what you need to do to book the Hotel del Coronado on points and miles. From there, all you need to find is a cheap flight.

Flights to San Diego (SAN) go on sale pretty routinely, and Thrifty Traveler Premium members always get alerted to them first.
Northern California
Northern California is a world away from the palm trees of southern California. It is home to the country's best wine regions, one of its most vibrant cities, one of the most popular national parks in the country, and a world-class mountain range for skiers, climbers, and hikers to enjoy.
San Francisco
On the west side of the San Francisco Bay sits the city of San Francisco. It's one of the most historic yet trendiest American cities. It's the kind of place you can spend a week exploring and barely scratch the surface.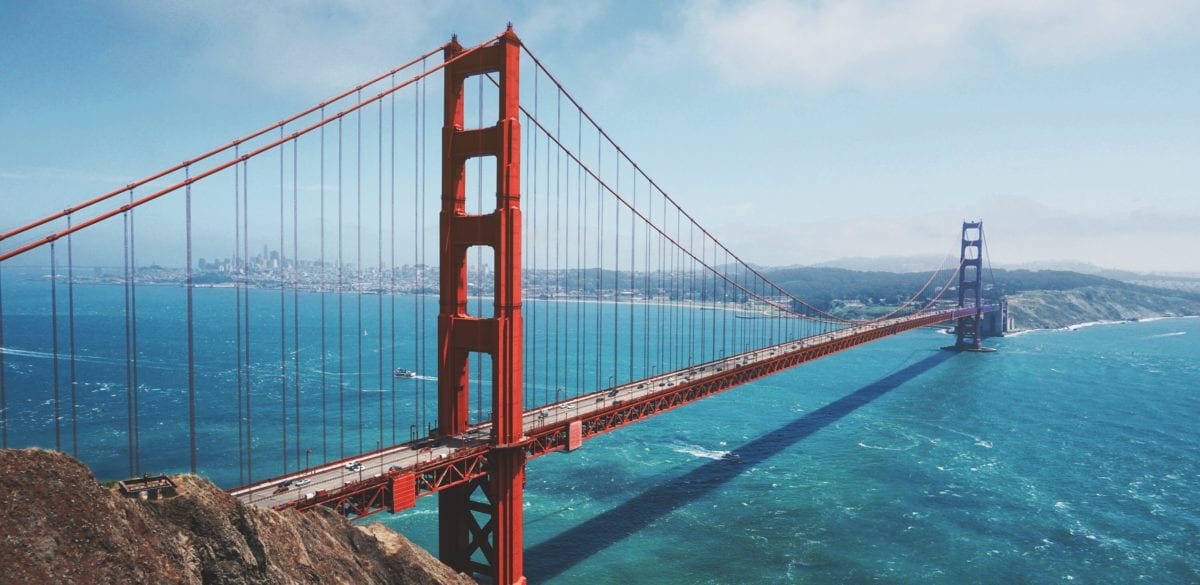 And with the massive San Francisco Airport (SFO) right there, plus a handful of surrounding airports like Oakland (OAK), San Jose (SJC) nearby, the airlines compete to bring you great fares.
This San Francisco (SFO) deal featured tons of American cities with nonstop flights into the major gateway airport. Whether you prefer Alaska, American, Delta, or United, chances are you could have booked this deal for cheap for your 2022 trip.
But if Delta is more your speed, you could also get there for as low as 5,000 SkyMiles roundtrip!
This was a fantastic SkyMiles deal we discovered, including just 16,000 SkyMiles roundtrip from Minneapolis and 16,000 roundtrip from Boston (BOS) – or far less from closer cities.
Lake Tahoe
When they say you can ski and surf on the same day in California, they were probably doing both at Lake Tahoe.
The Sierra Nevada Mountains are home to some of the best skiing in the world, and we broke down exactly what ski passes you need to buy to ski there: the Epic vs Ikon Pass.
Better yet, we found this fantastic flight deal to get you there for less.
This flight deal is gone now – get the next one sent straight to your inbox with Thrifty Traveler Premium!
OK, OK, I know. Reno is not in California – it's in Nevada. California is nice enough to share Lake Tahoe with its neighbor to the east, and the best airport to fly to Lake Tahoe happens to be in Reno. It's less than an hour into the Sierra Nevada from Reno, as opposed to Sacramento (SMF) and San Francisco to the west which are both hours away.
Bottom Line
Whether you're a film history buff or a wine connoisseur, a skier or a surfer, a beach bum or an audiophile, a hiker or a biker…you get the picture: California has almost anything you could want to do on vacation.
With so many great cities and airports across the state, it's ripe for great flight deals, which we hunt down and send to our Thrifty Traveler Premium subscribers all the time.