We don't know when, but one thing is certain as 2021 trudges on: Travel is coming back. And even if you're not ready to travel yet, there's one thing you should do: Book now, travel later. Book now, travel later. Book now, travel later.
That's been our mantra for months. So why the urgency?
There's one main reason for that: Flight prices have never been cheaper. COVID-19 has forced airlines to cut airfare down to rock-bottom lows – and not just for a flight next week or next month, but all the into the summer and, in some cases, as far as January 2022. From $50 domestic roundtrip flights to $63 roundtrip flights to Chile or sub-$300 flights to Hawaii and even cheap flights to Europe through the summer and fall of 2021, we are continually seeing unthinkable prices on select routes for future travel.
As travel slowly but surely resumes, these ultra-low prices can't last forever. And buying a dirt-cheap flight deal doesn't have to be a gamble, as most airlines are offering free change and cancellation to any fare booked by the end of March. That means you can book a great deal now for the summer or fall of 2021 and hope for the best, then change or cancel (for a voucher) your flight if need be.
The Cheapest Flights of All Time
Think back to the early stages of the pandemic, when airlines offered sale after sale to get whatever sales they could before travel ground to a halt. It feels like a lifetime ago, but that attitude hasn't changed. In fact, we've seen airlines offer even steeper sales.
That doesn't mean every single flight you look at will be cheap right now, but the scope and depth of flight deals we're finding and sending to Thrifty Traveler Premium members is unbelievable. After half a decade of searching for cheap flights, we can confidently say this: Flight prices have never been cheaper.
There's no other explanation for $69 roundtrip flights to the U.S. Virgin Islands – a flight that typically costs $500 or more.
This fare has already sold out, but get the next unbelievable flight deal by trying out Thrifty Traveler Premium for just $5.99 a month.
Flight prices to South America are typically quite expensive – especially down to the likes of Argentina, Brazil, and Chile. But again and again (and again), we're seeing record-setting cheap fares way down to South America for a trip all the way through late 2021.
Flights to Chile that are typically $1,000 or more have reliably dropped below $500 roundtrip. And thanks to a pair of mistake fares, we've even seen flights to Lima, Peru (LIM) go down as low as $111 roundtrip – or Santiago, Chile (SCL) for just $63. No, those aren't typos.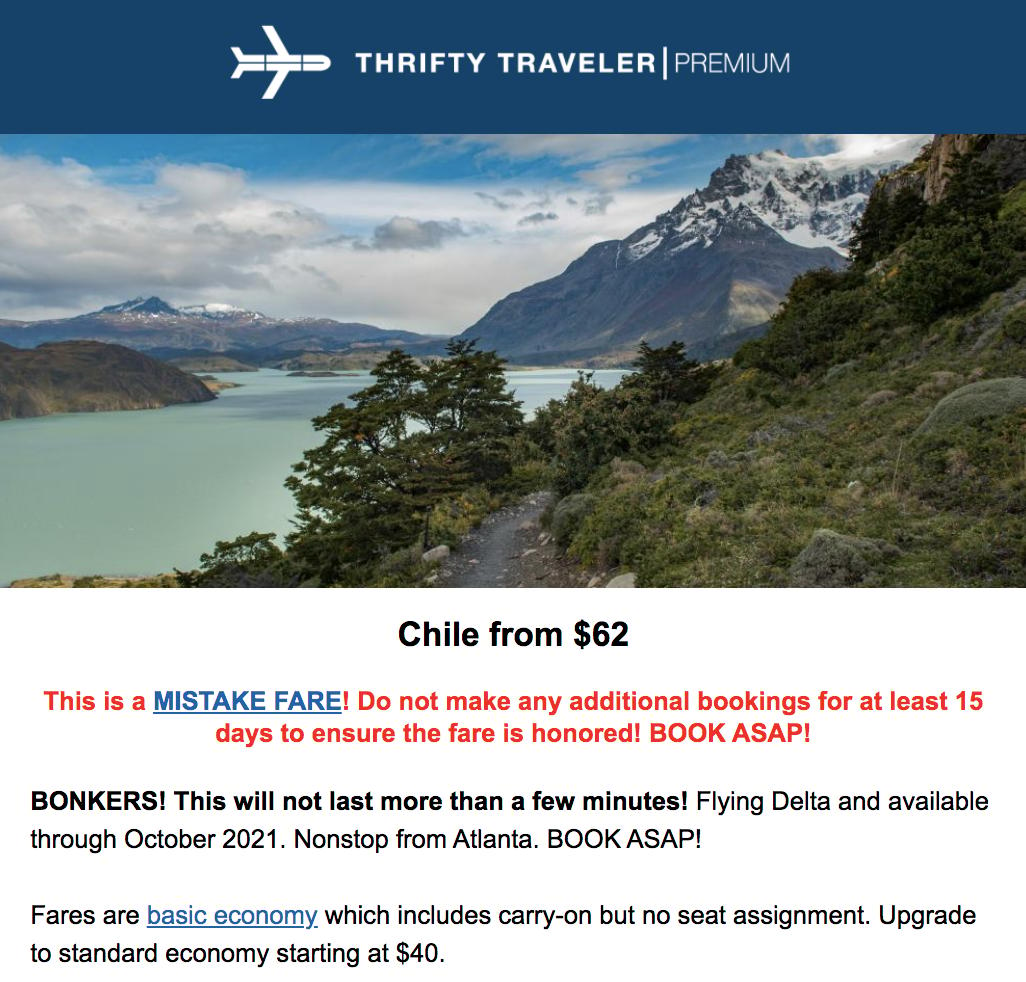 In fact, we've even seen a slew of recent fares down to Chile or Brazil flying business class or premium economy for half the price the usual price of flying back in economy. Fares like this one disappear fast, but the onslaught of dirt-cheap flights to South America continues.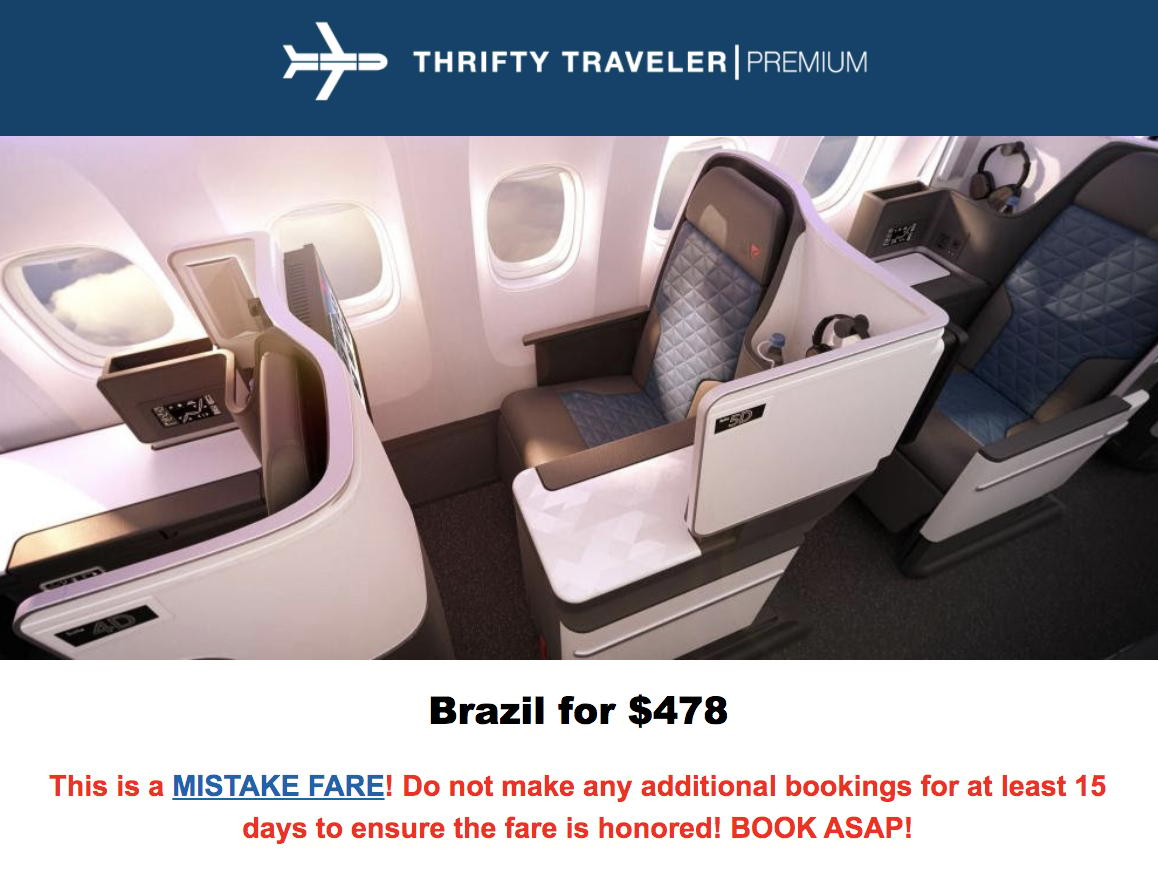 Looking to stay closer to home, given all the uncertainty around international travel? You're not alone. And you're in luck, as domestic fares have plummeted, too. We're regularly finding domestic flights under $100 roundtrip – and often closer to $50!
American Airlines has led the way by slashing domestic flight prices, but other carriers have responded by lowering fares across the board, too. From sunny destinations in Phoenix (PHX), Las Vegas (LAS), Florida, and Southern California to outdoor getaways like Glacier National Park or the Grand Canyon, we have never seen domestic flight prices this low. And again, these short-lived flash sales often run through the summer or into the fall of 2021.
Want more cheap domestic and international flights like this one? Try Thrifty Traveler Premium today!
Another shocking find? A round-trip flight to Europe during peak summer typically costs $1,000  or more. We've sent Thrifty Traveler Premium members an alert with fares to several European cities for under $400 roundtrip – including availability this summer, for Thanksgiving, and even over New Year's Eve!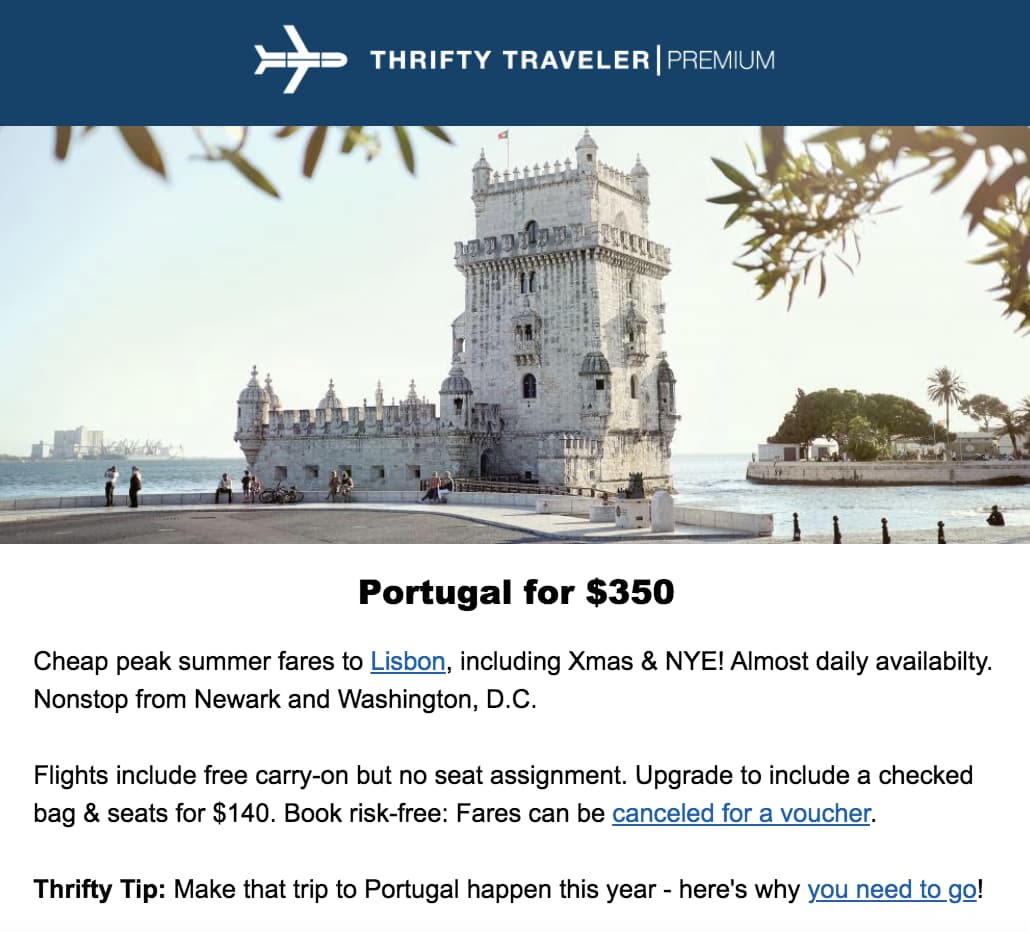 Book Now, Travel Later for Free Change & Cancellation
Booking a trip for the summer, fall, or winter doesn't have to be a gamble.
There isn't much good news behind the pandemic and the way it has decimated travel, but this one of them. Major U.S. airlines -and even many foreign carriers – will allow you to change most flights for free, or cancel it for a voucher worth the value of your ticket.
That applies to upcoming flights as well as most new tickets booked by late March 2021 … for any future travel date. These special coronavirus waiver policies even apply to basic economy fares. Read up on how all major U.S. carriers are allowing free change and cancellation during the pandemic.
So what does this all mean for you? Here's what your mindset should look like:
Hop on a cheap flight you find via Google Flights, a deal you see here at Thriftytraveler.com, or delivered to your inbox thanks to your Thrifty Traveler Premium membership
Book directly with the airline to ensure you can easily change or cancel your trip, if need be.
Wait. Monitor the situation as your trip draws closer – and don't book a bunch of other, non-refundable expenses.
Trip not panning out? Change the dates of your travel (you'll need to pay the fare difference if your new flight is more expensive) or cancel it for a voucher to use on your airline down the road.
This is some unprecedented flexibility. The ability to easily change or cancel your flight without paying hefty fees makes is the antidote to all the uncertainty clouding travel. Add in the cheap prices we're seeing for future airfare, and it's enough reason to book now for travel later. While it's possible airlines will extend that beyond March, it's no guarantee.
Bottom Line
Even after a year of the pandemic, it's still an uneasy time booking travel. But there's hope on the horizon with vaccinations underway and picking up steam. And we all need something to look forward to.
But it goes beyond that. Flight deals for travel throughout 2021 are as cheap and prevalent as we've ever seen, whether you want to stay close to home this spring or go big later in 2021. And the ability to change or cancel any new fare makes locking in a cheap flight relatively risk-free.
Have we convinced you? We're already seeing flight deals for travel through January 2022. Join Thrifty Traveler Premium for instant deal alerts – don't miss the next one we find!