Heading somewhere in summer 2021 sounds pretty nice right now, doesn't it?
The last year has been a rough one for countless reasons, including for anyone stuck at home when they'd rather be traveling. But for the first time in what feels like ages, there is a light at the end of the tunnel. The days of roaming the globe worry-free will return – and with any luck, those days aren't too far away. 
But booking travel now for a trip next year isn't just about luck or hope. With some amazing deals on airfare as far out as November 2021 and extra flexibility from the airlines to change or cancel if necessary, we're convinced: This may be the best time we've ever seen to book flights. 
Want the cheapest domestic and international flight deals for 2021 sent straight to you? Try out Thrifty Traveler Premium for just $5.99 a month!
Cheapest Airfare … Ever?
Remember in the early days of the pandemic when airlines were slashing flight prices left and right, desperate to sell tickets before travel ground to a halt? It hasn't stopped. 
Day after day, airlines continue to sell fares at unthinkable, sometimes record-low prices. Whether it's a sub-$100 roundtrip flight across the U.S., or maybe even a $69 roundtrip flight to the Virgin Islands or $160 to Hawaii and back, airlines are offering flight deals we simply haven't seen before. This pattern of absurd pricing can't last forever, but it keeps chugging along. How low will they go?
And remember: These deals aren't to get on a plane next week or next month. In many cases, they're for travel next spring, summer, or even through the fall of 2021.
And it's not just domestic hops or Caribbean getaways seeing big price drops. The same holds true for international airfare.
Hundreds of Thrifty Traveler Premium members were lucky enough to snag roundtrip flights to Santiago, Chile (SCL) for as low as $63 when Delta briefly sold them last month. And Machu Picchu is getting crossed off a lot of travelers' lists in 2021, too, thanks to another mistake fare to Lima with fares as low as $111!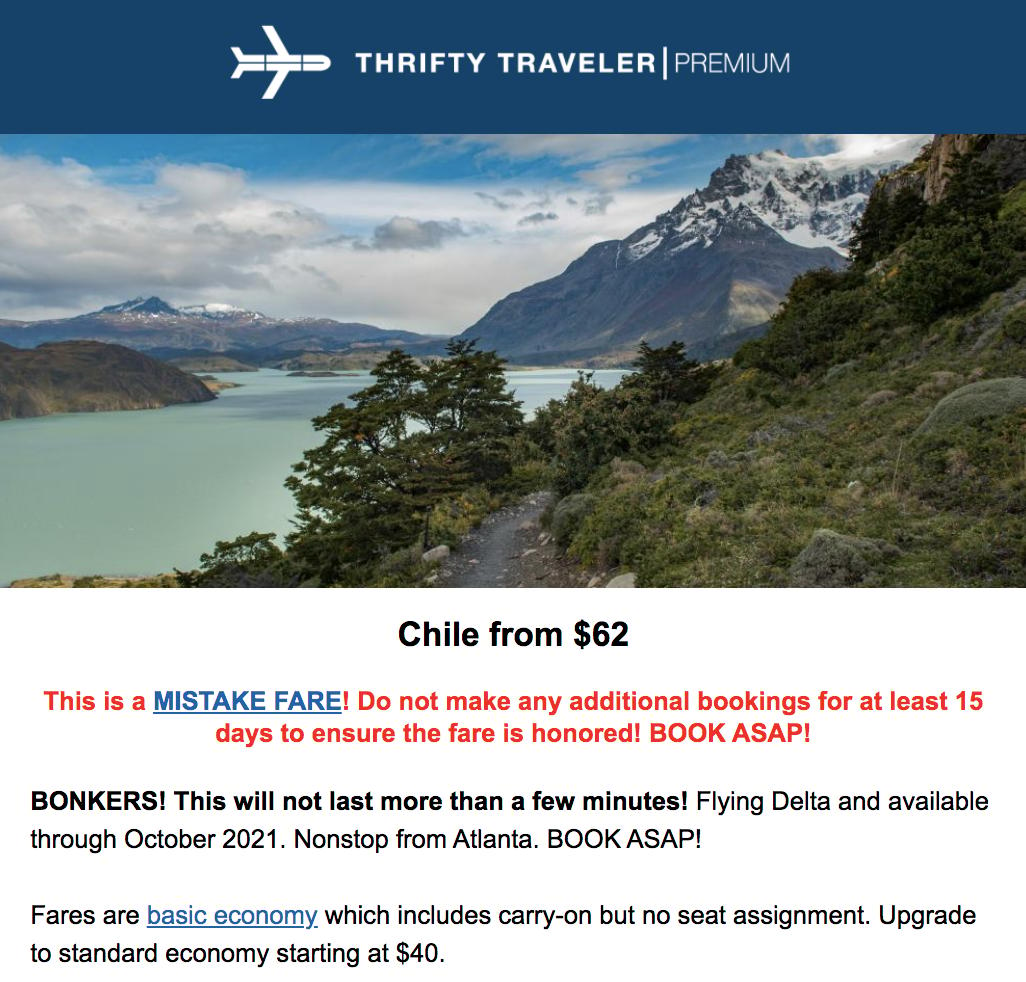 Want more absurdly cheap flights like this one from your home airport? Try Thrifty Traveler Premium!
For those ready to return to Europe next summer, it's cheaper than ever. Getting to Europe in the peak summer travel season typically costs an arm and a leg. But we've found a slew of deals over the last several weeks to get you there and back for as much as  70% off normal pricing!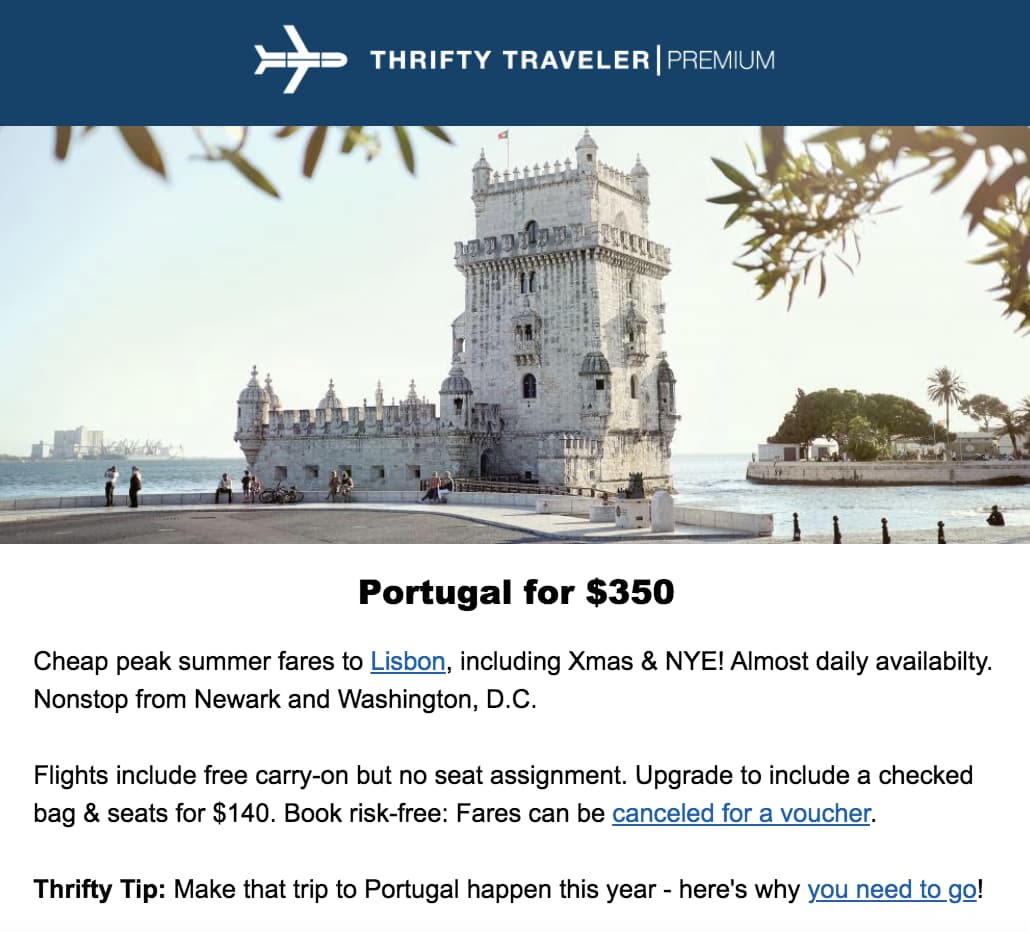 Most of these deals have already disappeared, as the best flight deals are always fleeting. But if what we've seen over the last few months is any indication, the next massive flight deal is just around the corner.
And it's not just the price tag that stands out. The beauty of most of the recent sales we're seeing is the scope of dates available for travel.
Before COVID-19, a flash sale over the peak summer might only include a few days of availability at cheap rates. But many of the cheap deals we're finding feature daily availability, weekends, and even holidays. That gives travelers far more flexibility to pick the dates they want without paying more. 
And the duration of how long these sales last is a huge plus. A year ago, a great flash sale would only be bookable for a few hours – if that – before prices increase. These days, we're seeing sales that last several days, giving wary consumers more time to snag a deal.
This onslaught of flash sales, fare wars, and cash grabs (with an obvious uptick in mistake fares) gives travelers a huge leg up on planning a big trip for 2021 for less. With flight prices this low, it opens up so many more areas you can put your travel funds to use while enjoying your next vacation. 
Ultimate Flexibility to Book Flights for 2021 Worry-Free
The idea of booking travel risk-free, or getting free change and cancellation on almost any fare was a foreign concept before 2020. But the pandemic has forced airlines to be more lenient with travelers. After all: Why would you book a flight for 2021 amid all the uncertainty surrounding travel?
That's why airlines are offering free change and cancellation on nearly every plane ticket. And not just for upcoming flights, but for new tickets you buy today (or tomorrow, or next month) for travel as far out as 2022. Book a flight for 2021 now, and you can change it if need be without paying a fee. Or just cancel and get a voucher for the value of your ticket,
Here's a quick look at how some of the major U.S. airlines are approaching it:
Alaska Airlines: Any flight booked by March 31, 2021, can be changed or canceled free.
American Airlines: Any flight booked by Jan. 31, 2021, can be changed or canceled free.
Delta Air Lines: Any flight booked by March 30, 2021, can be changed or canceled free.
JetBlue: Any new JetBlue flight booked by Feb. 28, 2021, can be changed or canceled without a fee.
Southwest Airlines: Southwest always allows free change and cancellation to all fares.
United Airlines: Any new United flight booked by March 31, 2021, can be changed or canclled without fees.
These policies won't last forever, but airlines are also waiving change fees for good – and for some airlines, even on international flights. But unlike the temporary policies we spelled out above, these longer-term changes don't include the cheapest basic economy fares.
While booking risk-free gives travelers that amazing security blanket protecting them from the unknown, it also gives them the opportunity to hedge. If you see a cheaper deal come along for your same flight, you may be able to cancel for a voucher then rebook at that lower fare.
The Best Use Of Points & Miles
With tumbling cash fares also comes discounts and new opportunities to put your points and miles to use. 
As 2020 nears an end, we keep seeing reason after reason to book with miles, too. Many airline programs offer very easy cancelation policies when you book with miles as well. Typically, you can just cancel your trip for whatever reason, and your miles will be reinstated in your account for a small fee (or free). No need to worry about a voucher. 
Read more: Why Now Might be the Best Time to Use Your Miles
What's more, there have been a ton of great options for a cheap domestic getaway in 2021 using miles. We've seen great deals for domestic trips starting at 10,000 miles roundtrip – including Hawaii at nearly that price!
If you're more prone to put your miles to use on a business class seat, you're in luck. Airlines that were once stingy with award availability have opened the flood gates with wide-open award space to fly business class – whether you're looking to fly to Europe, Asia, or beyond in 2021.
In just the last few months, we've seen unprecedented award space to book flights in Qatar Qsuites, Japan Airlines' awesome business class, Delta One Suites to Tokyo, Iberia business class to Europe through the fall of 2021, and many more.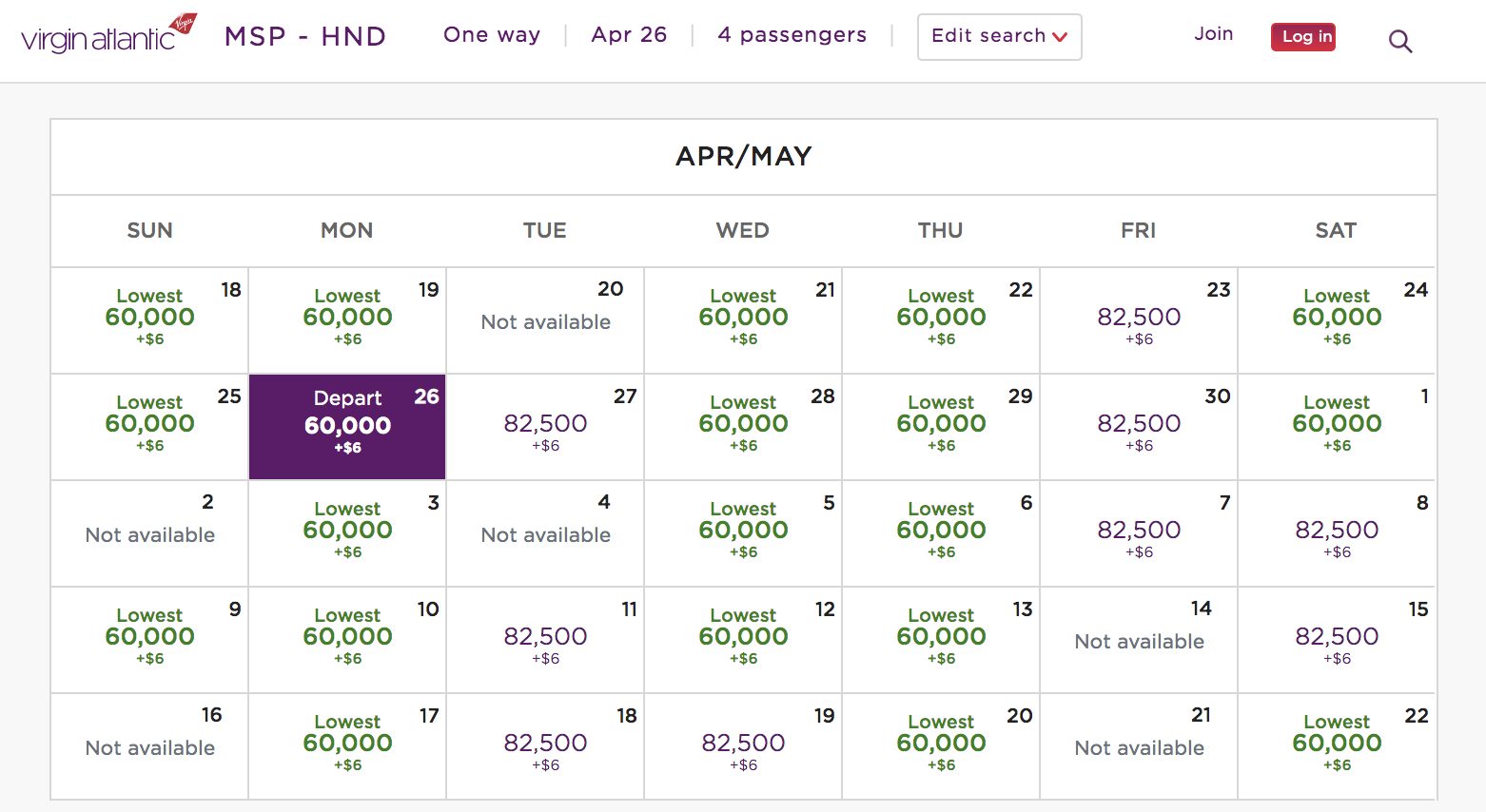 Want award alerts like this one? We also send business and first class award availability alerts (plus Delta SkyMiles flash sales!) to Thrifty Traveler Premium members.
Bottom Line
This won't last. It can't.
While we're still bullish on the future of cheap flights, this is an unparalleled opportunity to lock in an amazing deal for 2021 travel with the flexibility to change or cancel your plans for free. Many of the flight deals we're finding are at unthinkably cheap prices.
If getting back to travel in 2021 is on your wish list, booking your flights soon could be one of the smartest moves you can make.