Finally, 2020 and the horrible, no-good, very bad year is behind us. And while you may not be ready to travel just yet, 2021 should be different.
But one thing that isn't changed? Insanely cheap airfare. Cutthroat competition between the airlines has resulted in an abundance of cheap flights – and not just for travel in the near future. We're seeing unthinkably low prices all the way out through December 2021, with flexible policies to change or cancel your flight for free, if necessary.
And while flight prices seem lower than ever across the board as airlines try to regain their footing, some specific spots stand out as even cheaper heading into 2021 and beyond. Here's a look at the destinations we're seeing the cheapest flights to later this year.

Cold-Weather Escapes: Florida, Arizona & Colorado
Flying south to escape the cold has never been cheaper.
Airlines are doing their best to win back leisure travelers to the skies. And that means they have been slashing prices to some of the highest-demand destinations in the U.S. – for flights that would have cost double or more last year.
Florida stands out for cheap flights throughout 2021, whether it's Disney World with the family or relaxing on the Gulf Shore, or an energetic experience in South Beach. Flights to Florida hotspots have sunk to unthinkable levels – as low as $50 roundtrip!

Want to get flight deals like this from your home airport? Try Thrifty Traveler Premium for just $5.99 a month!
Rather head west? The flash sales to Arizona are a constant, too – finding a fare for under $100 roundtrip has become the norm as airlines compete for snowbirds and vacationers with cheap flights. Grab your golf clubs and swimsuit for a trip later this year.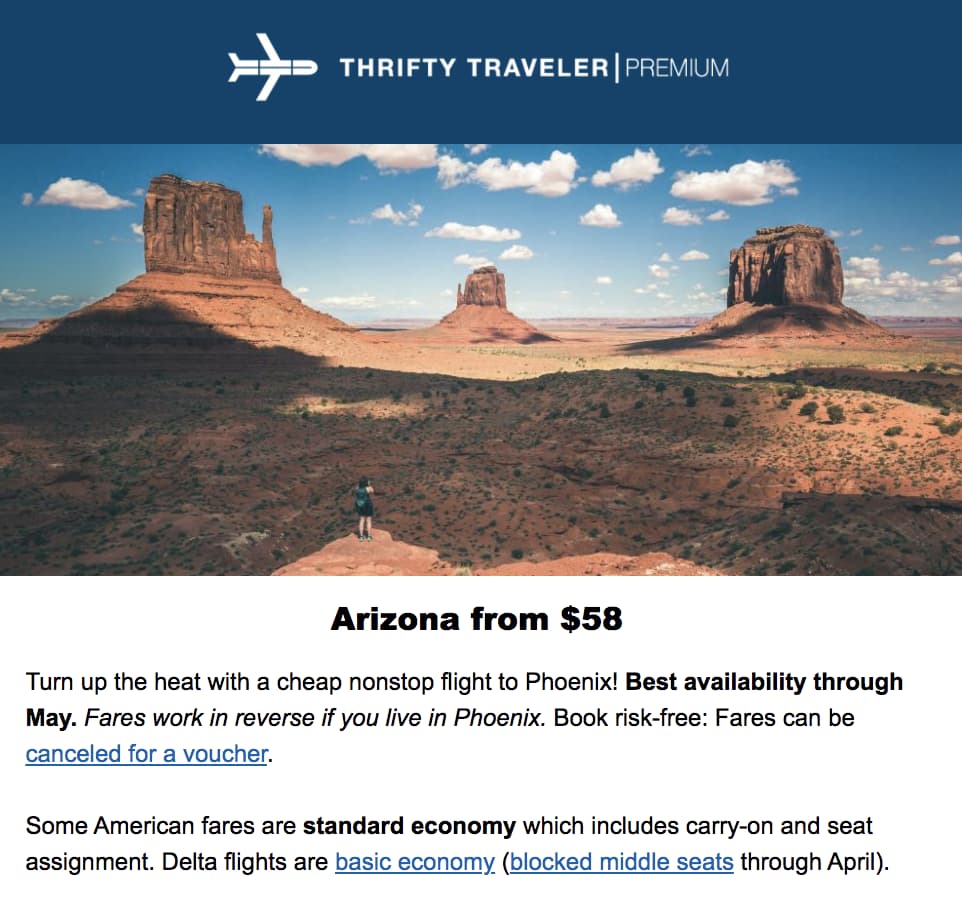 Airlines are rewarding these popular domestic destinations with cheap flights for one reason: It's where people actually want to go. Most domestic destinations don't come with severe travel restrictions. And as budget carriers like Spirit and Sun Country drive down the definition, major airlines like Delta, United, and American have been forced to follow, resulting in remarkable and nearly constant sales.
The Mile High City in Colorado is also driving discounted airfare, and we expect that to continue in 2021. Year-round popularity combined with intense competition from airlines big and small has turned cheap airfare to Colorado from a challenge to a guarantee. And while flights to Denver (Den) are reliably cheap deep into late 2021, you can even find cheap flights straight to the slopes. 

Hawaii
It's not just the lower 48 getting love from airline number crunchers.
Once-rare cheap fares to Hawaii have become a fixture during the pandemic for flights as far out as December 2021. And given the interest in escaping to the islands, we expect that to continue. Planning your trip to beautiful Hawaii could get a lot cheaper this year.
Flights typically start at $500 or more, depending on where you're flying from in the U.S. But we're regularly finding roundtrip airfare for $200 from the West Coast – and just $300 or so from the rest of the country.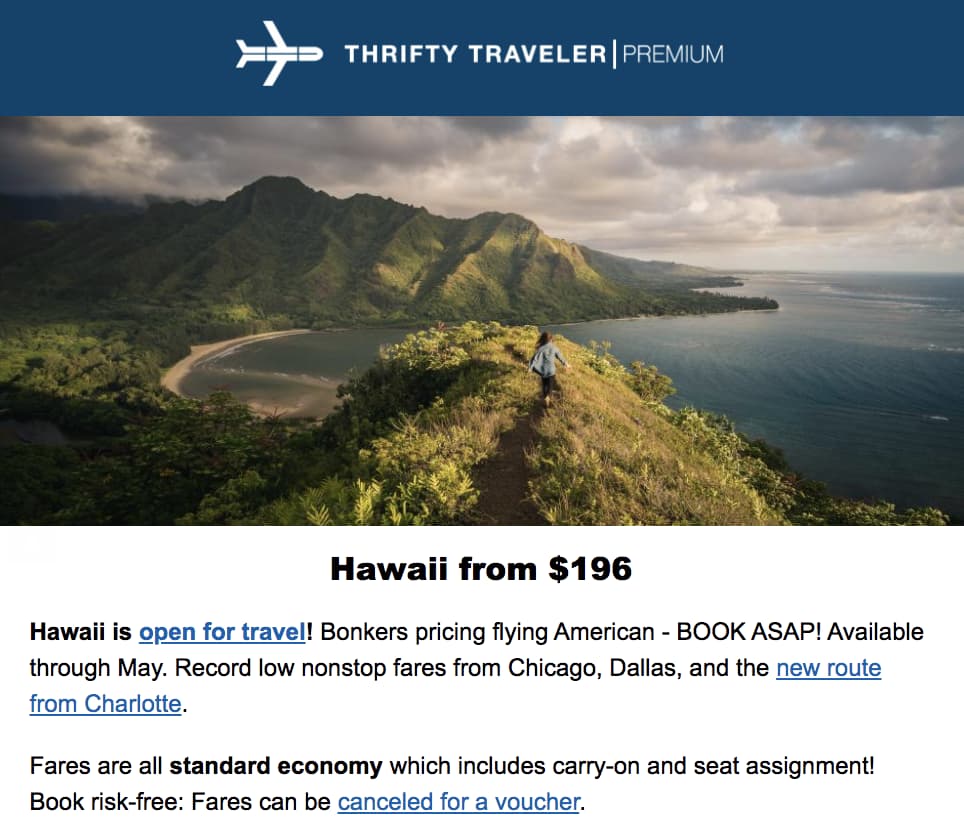 These fares have disappeared, but get the next cheap flight to Hawaii sent to your inbox with Thrifty Traveler Premium!
Puerto Rico and the U.S. Virgin Islands
Heading south to one of the U.S. territories is also cheaper than ever.
We've continually seen record-low fares continue to roll into the U.S. Virgin Islands through 2021. And the same is true for Puerto Rico. Seeing a flight for sale in the $200's used to be stunning. But how about less than $100? 
These dirt-cheap fares keep popping up, and we expect that to continue throughout the year.

Mexico and the Caribbean
Mexico has remained open to air travel and tourists throughout the pandemic. And considering it's one of the few countries accepting U.S. travelers without quarantine or testing restrictions, airlines are leaning heavily on low fares to ferry people south on these popular routes.
Read more: Is Mexico Safe During COVID-19? A Firsthand Look
And that means flash sales with record-low price tags recently. Flights that once cost $600 or more have fallen to $300 roundtrip – sometimes even less. Many of the deals we've sent Thrifty Traveler Premium members lately have availability into the fall. We hope and expect that pattern to continue throughout the year.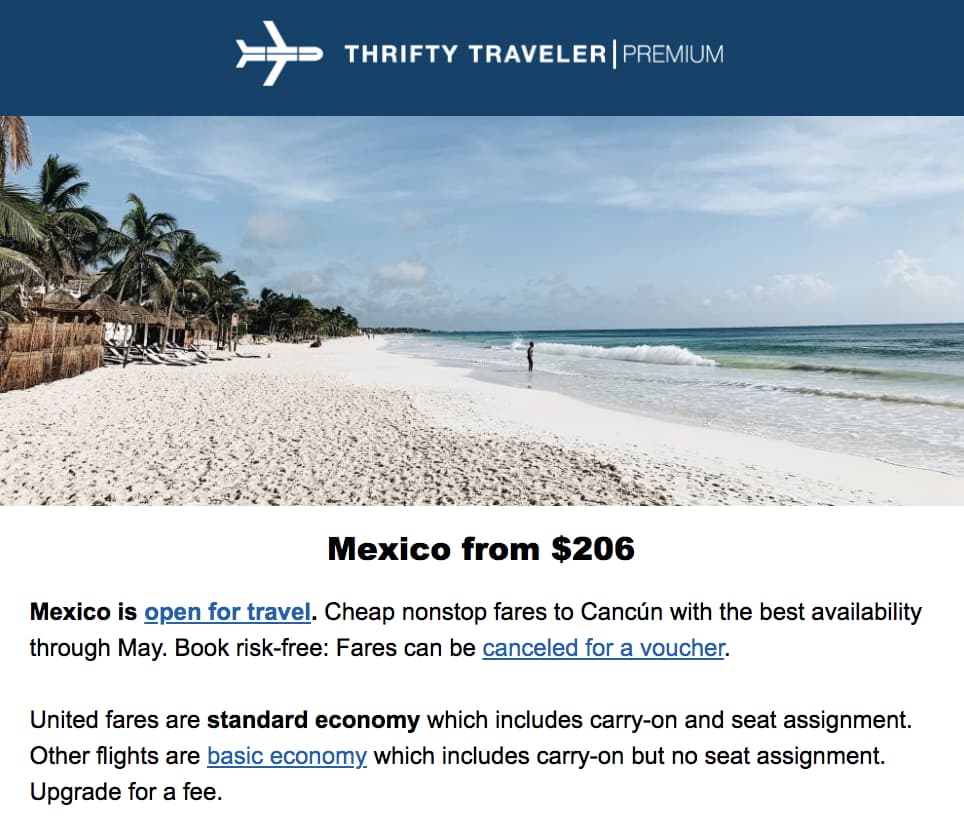 Costa Rica is a tropical getaway with growing popularity. But with fewer flights to choose from, fares have typically come in at about $500 on the low end. But we've seen a slew of recent fares to Liberia (LIR) and San Jose (SJO) deep into 2021, with prices settling around $300 roundtrip – and sometimes closer to $200!
Return to Europe? Iceland & Ireland Stand Out
Nearly all of Europe is currently off-limits to American travelers, and it's unclear when that will change. But whenever it does, you can count on cheap fares to some of the hottest destinations.
We continue seeing dirt-cheap airfare to Iceland, for those adventure seekers ready to soak in some majestic nature overseas. While the nonstop options from the U.S. are more limited than they once were, airfare has sunk from a norm of $700 roundtrip to around $300 total.

And it's not just Iceland where we expect the cheap fares to flow through 2021. We've found flight deal after flight deal to Ireland, where you can explore the historic downtown streets of Dublin or head for the lovely Cliffs of Moher. The flights from the U.S. are fairly quick … but more importantly, we've seen an uptick in increasingly cheap fares from dozens of cities for a trip out into late 2021.

Bottom Line
2021 will be different. We will travel again. And if these deals we're seeing are any indication, we'll do it for less.  
Ready for more dirt-cheap fares to your favorite destinations in 2021? Sign up for Thrifty Traveler Premium today for only $5.99 a month!