Location, location, location. That's what I primarily look for when considering what hotel to stay at when traveling. The Hyatt Regency Tokyo fits that requirement to a T.
Cost is another important factor, and since you can book this hotel with Hyatt points, it's one of the most affordable properties in Tokyo. Normally you're looking at dropping at least $300 a night for similar hotels in the heart of the city, but if you have points from cards like the *chase sapphire preferred* or even the *Bilt Mastercard*, you can book this hotel for as few as 12,000 points per night.
Other than a great price, the hotel features an impressive lobby and a cool speakeasy-style bar, along with several restaurants. The rooms are fairly basic, but they have everything you need for an enjoyable stay. I recently stayed at the Hyatt Regency Tokyo during a quick trip to Japan, and aside from a few minor issues, it was a good experience overall.
Read on for my full review.
Where is the Hyatt Regency Tokyo Located?
For the price, you'll have a hard time finding a better location than the Hyatt Regency Tokyo.
The hotel is located in the Shinjuku neighborhood of Tokyo – an easy 20-minute walk to the intimate bars in Golden Gai or the incredible Shinjuku Gyoen National Garden.
You'll also find Shinjuku Central Park right outside your door and the Tochomae metro station on the Oedo Line is connected to a tunnel underneath the hotel. You can take that train one stop to the massive Shinjuku Station or simply walk there in 10 minutes for an easy train ride anywhere in Tokyo.
Here's a look at the surrounding area on Google Maps.
How to Book the Hyatt Regency Tokyo
Looking at Google Hotels, the cost to book a room at the Hyatt Regency Tokyo varies depending on the time of the year and day of the week, but you can expect to pay around $200 to $300 per night after you add in all taxes and fees. But there's a cheaper way to book with points …
The World of Hyatt loyalty program is by far the best hotel rewards program, allowing you to book all-inclusive resorts for as little as 15,000 to 25,000 points per night. But if you're just looking for a solid hotel in the heart of a city, it's a great way to save as well.
Even after Hyatt made some changes to its award rates last year, the Hyatt Regency Tokyo, a Hyatt Category 4 hotel, can still be booked for as few as 12,000 points per night during off-peak times.
That's less than half the number of points you'd spend to stay at the nearby Park Hyatt Tokyo, a Category 7 property in Hyatt's portfolio.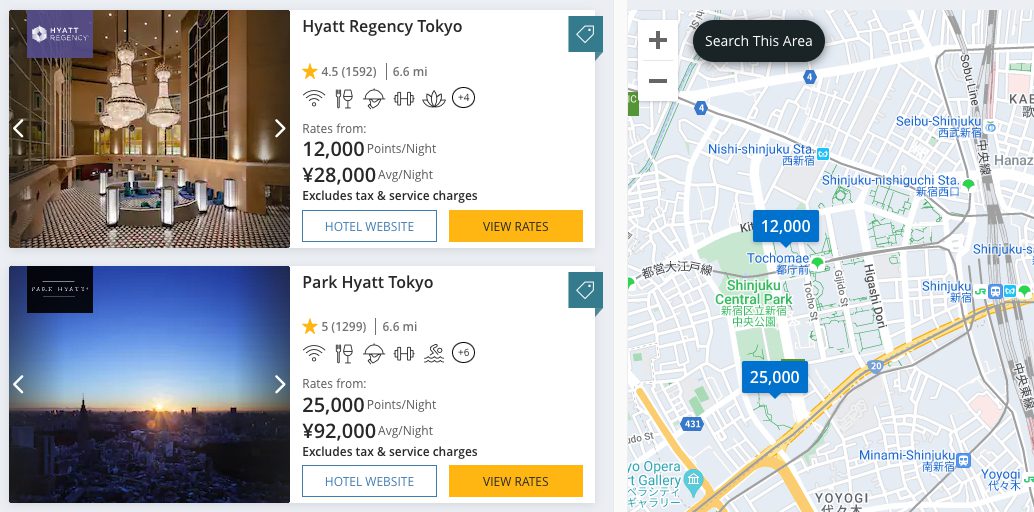 Pulling up the points calendar on Hyatt's website, you can see it's pretty easy to find availability to book with points at the Hyatt Regency Tokyo.
Similar hotels in Tokyo can cost as much as $300 to $500 per night, making this a great way to save on lodging in an expensive city like Tokyo.
Best of all, it's incredibly easy to earn the World of Hyatt points you need to book the Hyatt Regency Tokyo as you can transfer points to Hyatt instantly from Chase or even Bilt Rewards if you're earning points on rent. My short, two-night stay came out to 27,000 points for a standard room with a king-size bed (one off-peak night for 12,000 & one standard night for 15,000). Plus, when booking with points, you'll pay no additional fees to book this property.
At Thrifty Traveler, we don't accept freebies. We use our own points, miles, or cash to pay for every single flight or hotel you see reviewed here – including this one.
Luxurious Lobby & Check-In
The most impressive thing about the Hyatt Regency Tokyo is the lobby. It's a huge space with three enormous chandeliers hanging from the ceiling.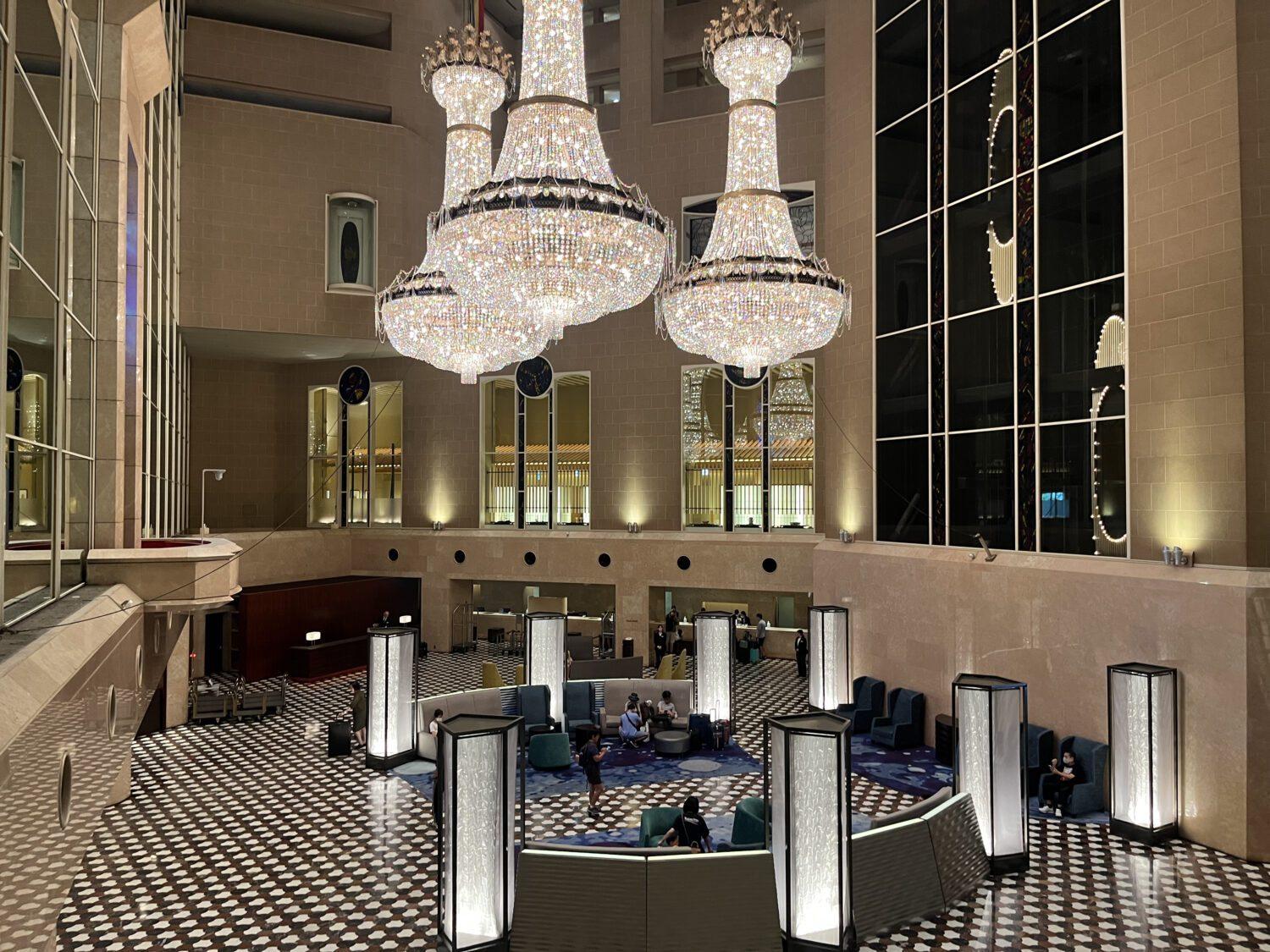 In the middle of the wide open space, you'll find some seating to lounge while waiting to check-in. You can't tell from the photo, but these blue chairs were comically large, so unless you're a professional basketball player, you might look a little odd sitting in them.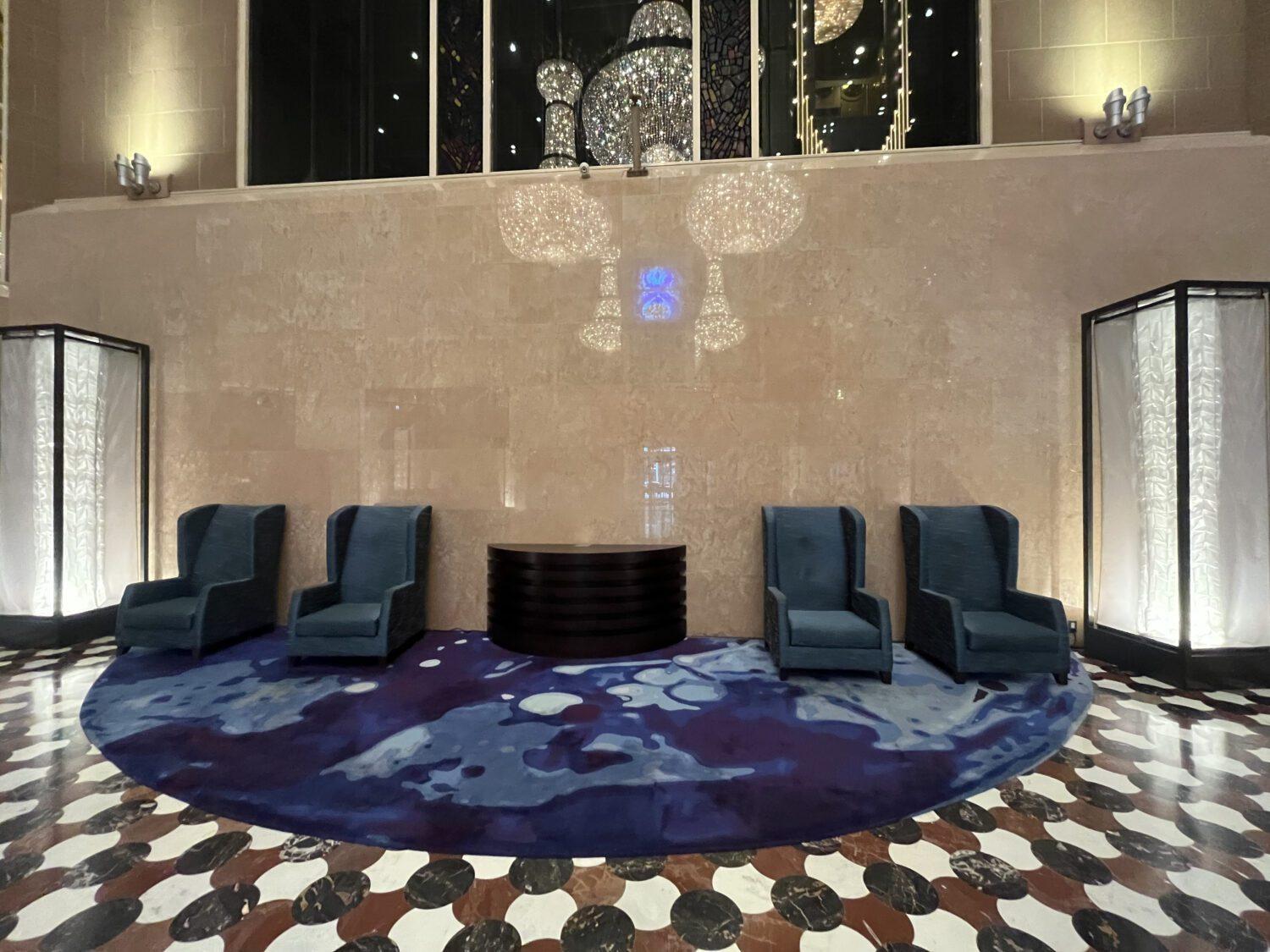 The lobby and the hallways leading to it were more luxurious than I had expected. Given the price compared to other hotels in the area, I figured this would be your basic Hyatt hotel. But the property is impressive the minute you walk in the door.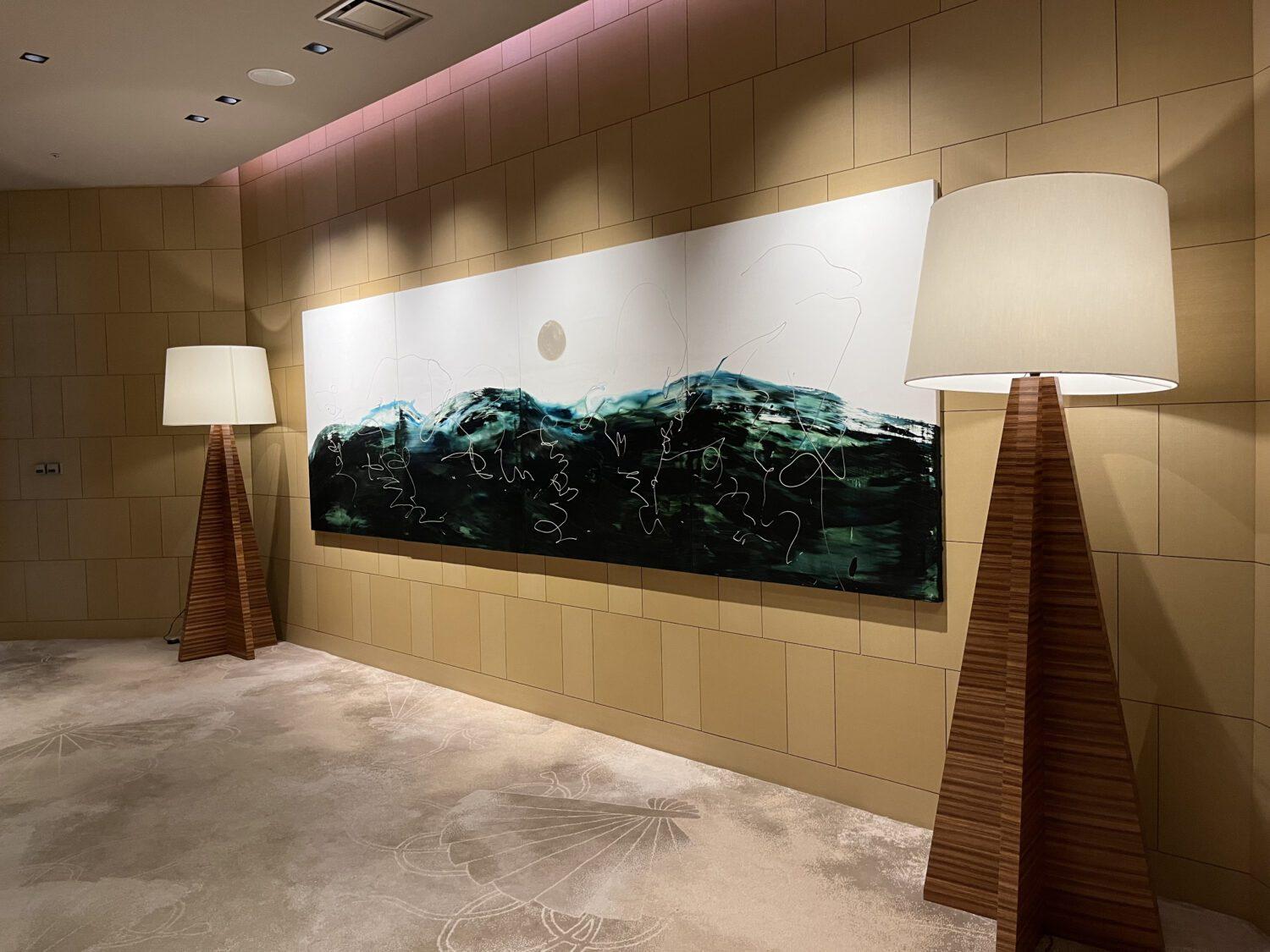 Check-in was quick and easy at the Hyatt Regency Tokyo. The front desk agent was friendly and I had the key to my room in no time. Thrifty Traveler founder and CEO Jared booked the room for me, and thanks to his Hyatt Globalist elite status, I was upgraded to a slightly larger room with a better view and a more luxurious bathroom. Best of all, it meant I also got access to the hotel's Regency Club lounge.
Hyatt Regency Tokyo Rooms
The rooms at the Hyatt Regency were slightly outdated and are on the smaller side. But this is Tokyo … and I'm guessing they are bigger than most other rooms at a similar price and location.
My 375-square-foot room on the 23rd floor was fairly basic but it was clean and had everything I needed for a short stay. After flying 12 hours from the U.S. to Tokyo in Zipair economy, I was happy to see that king-size bed.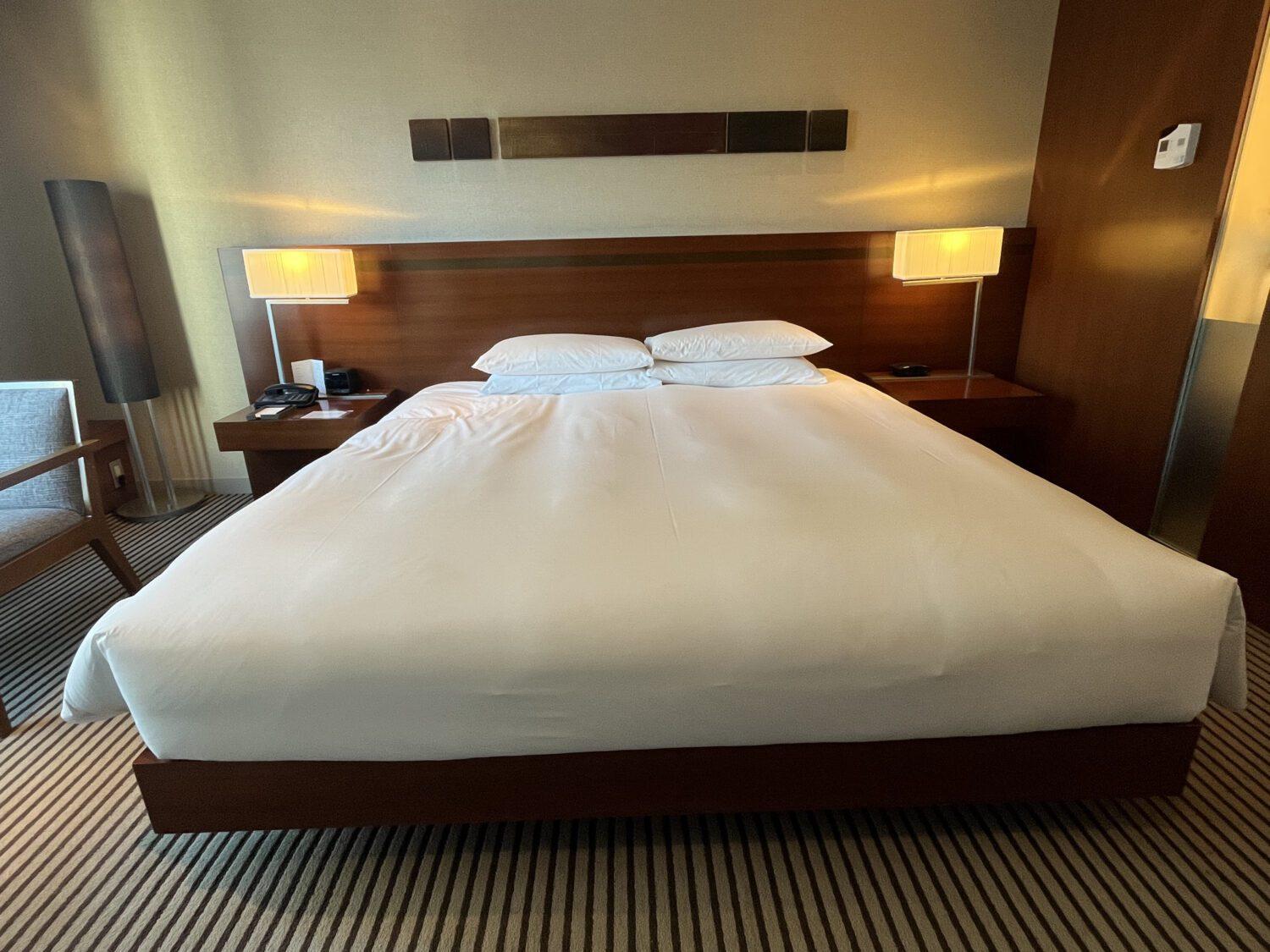 On the nightstand, you'll find a phone and alarm clock. One of the coolest things about these rooms is that you can control all the lights from the nightstand. There's also a blackout window shade you can control – allowing you to sleep in total darkness if you've just arrived on a long flight.
On the other nightstand, there's a charge port with universal outlets and two USB ports so you can easily charge all your devices.
There are light controls in the hallway and apparently a fan control, but nothing happened when I turned that dial. You can also push a button to let the housekeepers know to either make up your room or display a "Do Not Disturb" message.
When you're not sleeping, you'll have a pretty nice view out your window. There's a chair and a small coffee table near the window if you'd like to take in the view while getting some work done or simply relaxing. I did most of my work from here and the Wi-Fi was fast and stable.
There's also an office chair and desk if you want more workspace.
The 50-inch flatscreen TV has channels in both English and Japanese, though I didn't turn it on much at all so I can't really speak to what the programming is like. Here's the list of channels if you're interested.
As you first enter the room, you'll find a single-stall bathroom with a toilet and a sink. It's quite small but serves its purpose and it is nice to have a toilet and sink as a separate bathroom in case someone is showering when you need to go.
In true Japanese style, the toilet includes a bidet. You can control the water pressure, nozzle position, and spray of the bidet from an electronic keypad.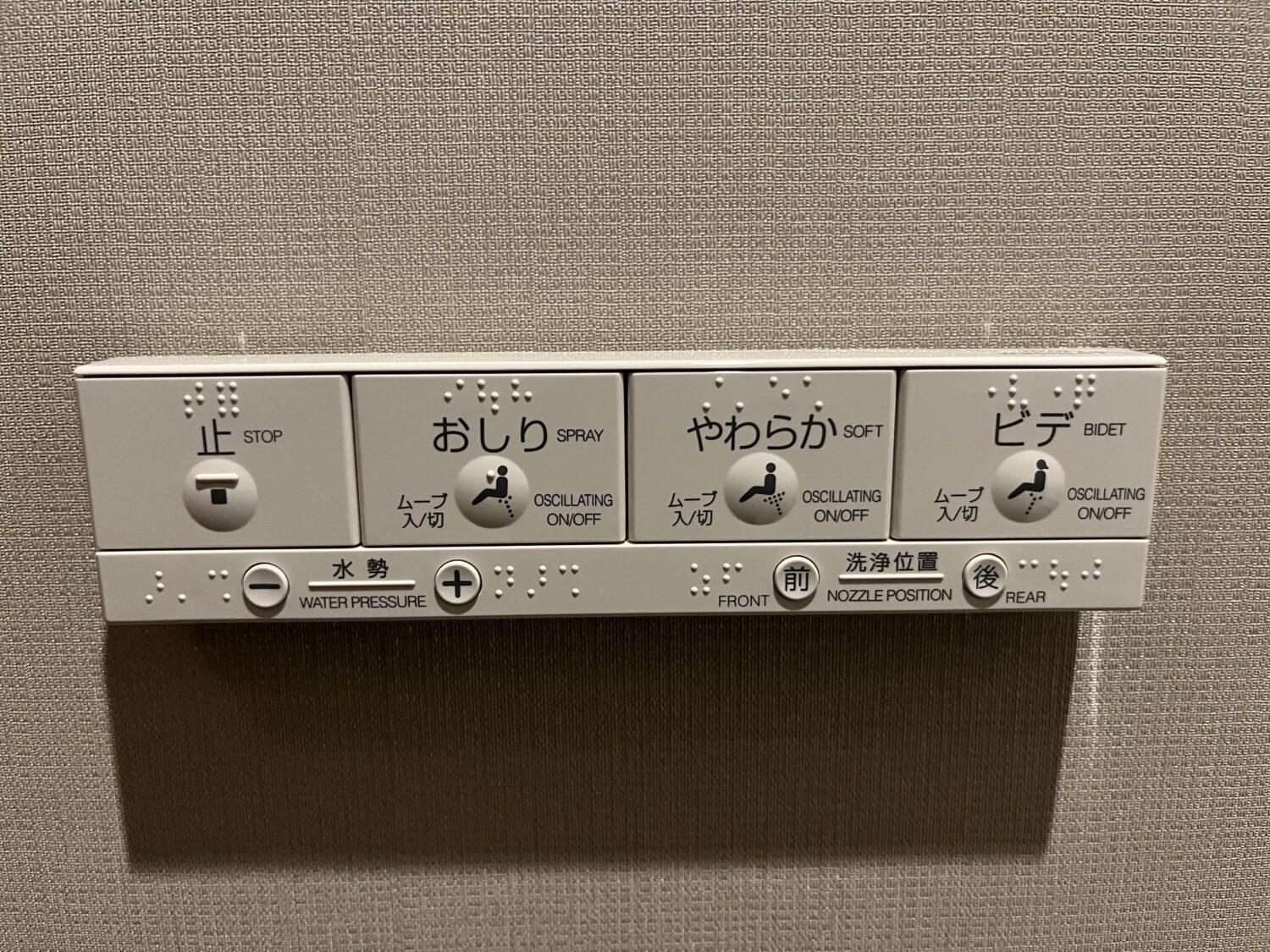 Since I was upgraded to a slightly larger room, there is a separate bathroom where you'll find a full-size tub and and separate shower, something that you won't find in many Tokyo hotels. There's also a large mirror behind the sink.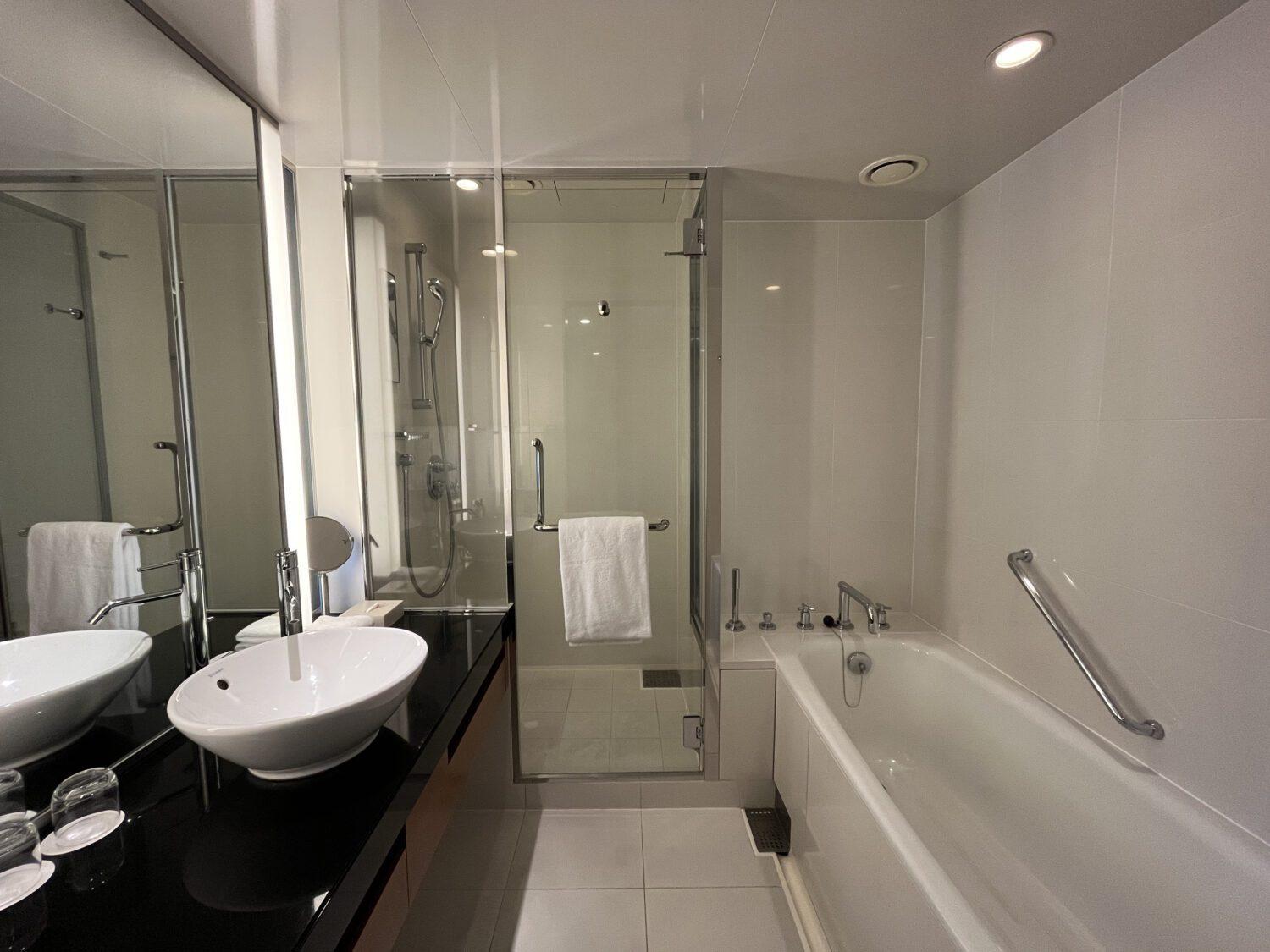 While I didn't use the bathtub at all, it looked like a great place to unwind if you're in the mood for a bath.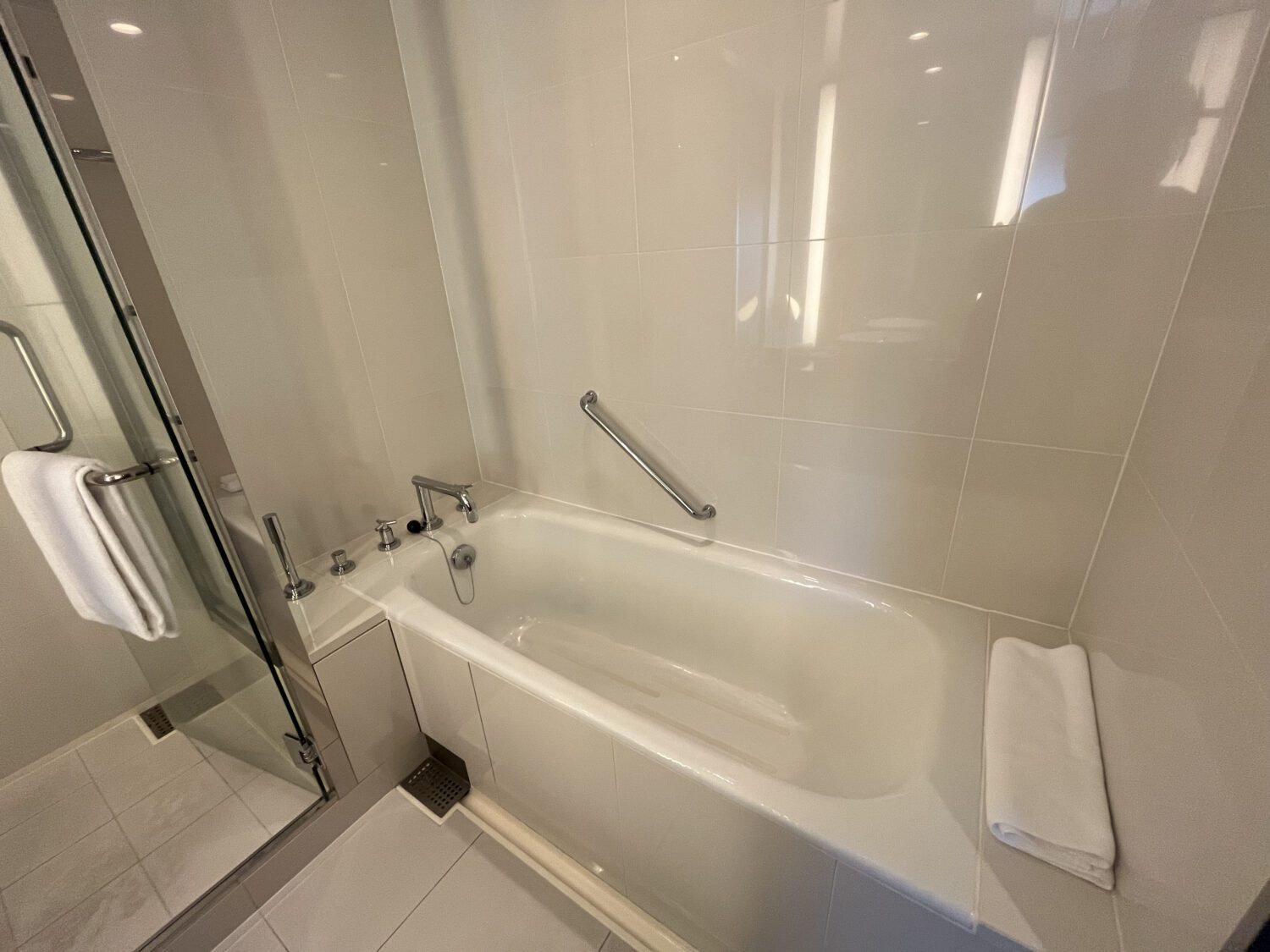 The shower was clean and had excellent water pressure. I couldn't ask for anything more.
There were two complimentary bottles of water next to the sink, which was a nice touch. However, the sink was a bit finicky and I couldn't get it to drain. Along with a non-working phone in the first room I was assigned to, this led me to eventually switch rooms.
In the drawers underneath the sink, you'll find a hairdryer and complimentary packaged toiletry items such as a comb, toothbrush, cue tips, lotion, shampoo, conditioner, soap, and more.
The Hyatt Regency Tokyo provides Pharmacopia body care products. The company is focused on offering natural products and highlights on its labels that it is cruelty-free and vegan.
For coffee and tea, there is an electronic kettle to boil water and an ice bucket if you'd like to make some of your own drinks in the room. The in-room coffee is brewed by steeping a bag of coffee grounds in hot water, similar to how you brew tea.
Underneath the kettle, you'll find a mini fridge. This wasn't stocked with anything so you'll need to purchase your own drinks and bring them back if you want any additional food or drink in your room.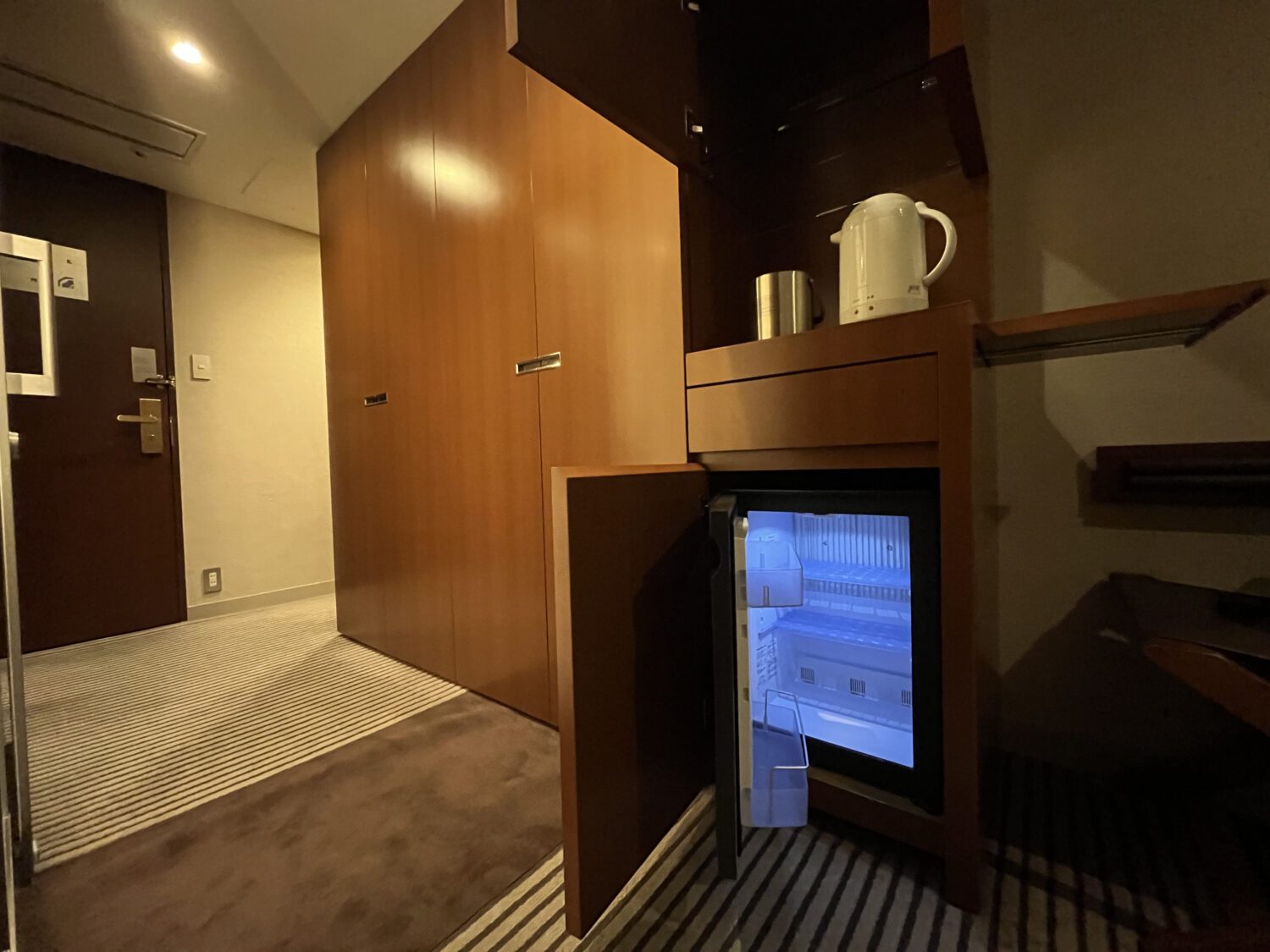 Along with hangers for your clothes, there are bathrobes and slippers for you to use in the closet. I didn't end up using any of these items but they looked to be comfortable.
There's also a safe in a second closet if you want to lock up any valuables. And more hangers if you have shorter items to hang up. There isn't an iron or ironing board, but you can call the front desk to have housekeepign deliver one to your room, if needed.
Overall, the room served its purpose well. I was extremely tired when I arrived in Tokyo and all I wanted to do was sleep. Having to switch rooms due to the sink problems was a bit of drag, because I had to switch rooms after I had unpacked. And since the phone in my room didn't work either, I had to trek down to the lobby to let the staff know about the issue.
When my key to the new room didn't work after I came back from eating dinner in town, I recall being slightly annoyed but the staff was happy to help get me working keys and were apologetic for the minor issues.
All told, it's a solid room for the price and I didn't have any major complaints. Sure, it may be slightly outdated, but if you're planning to explore Tokyo and just want a clean, comfortable, and cheap place to lay your head at night, the Hyatt Regency Tokyo does that well.
Plus, the view from my new room was arguably better than the first.
Breakfast & Happy Hour at the Regency Lounge
If you book a room with club access or if you're a Hyatt Globalist elite status member, you'll be able to enjoy the Regency Club lounge on the ninth floor.
The lounge includes complimentary breakfast, afternoon tea, and an evening cocktail hour.
After a short nap, I enjoyed a few drinks and snacks at the lounge on my first night before heading out for dinner. You'll have your pick from beer, wine, or sake, or you can play bartender and make yourself something stronger.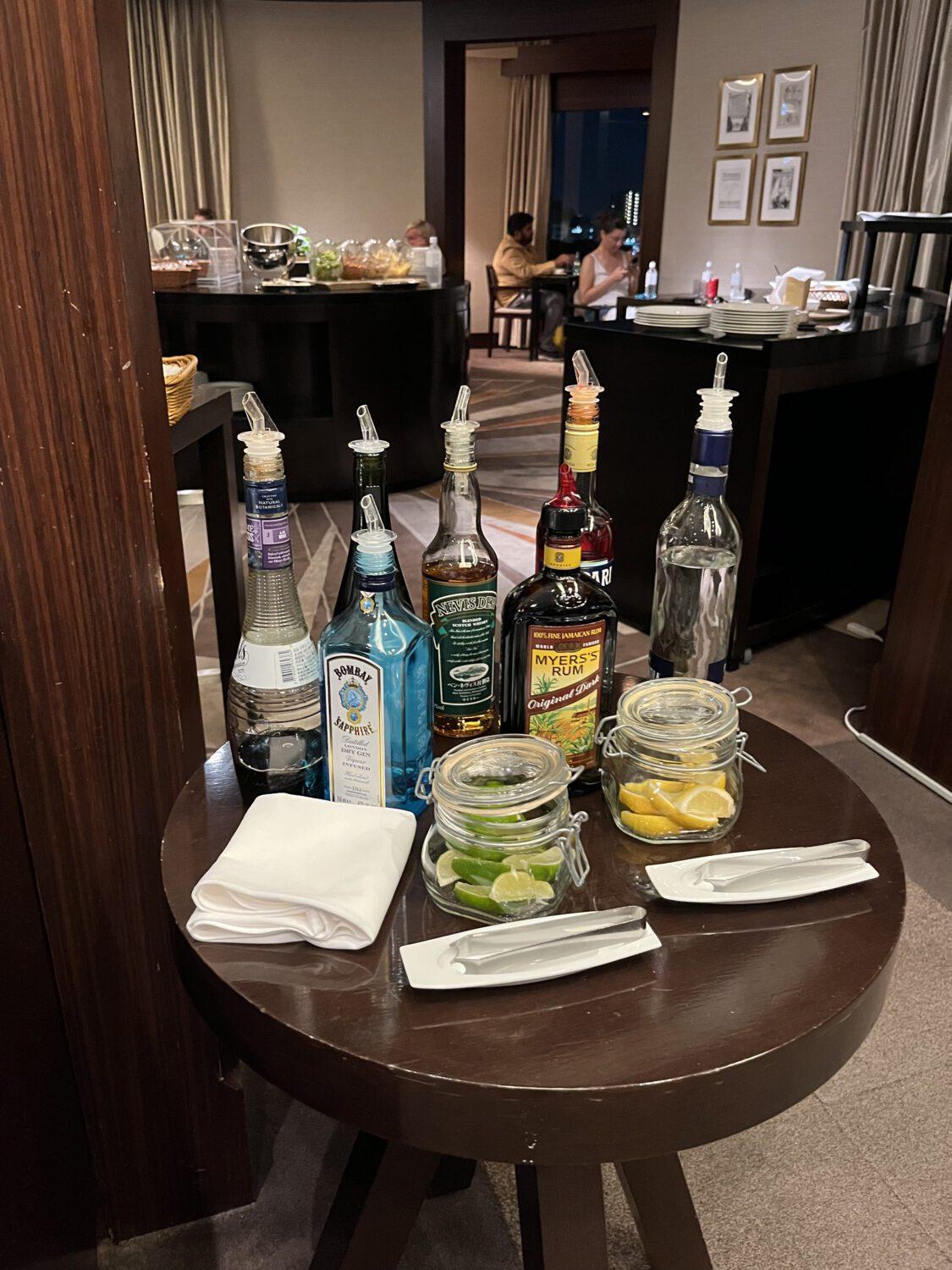 There were also a few hot food options along with lighter appetizers like cheese and crackers.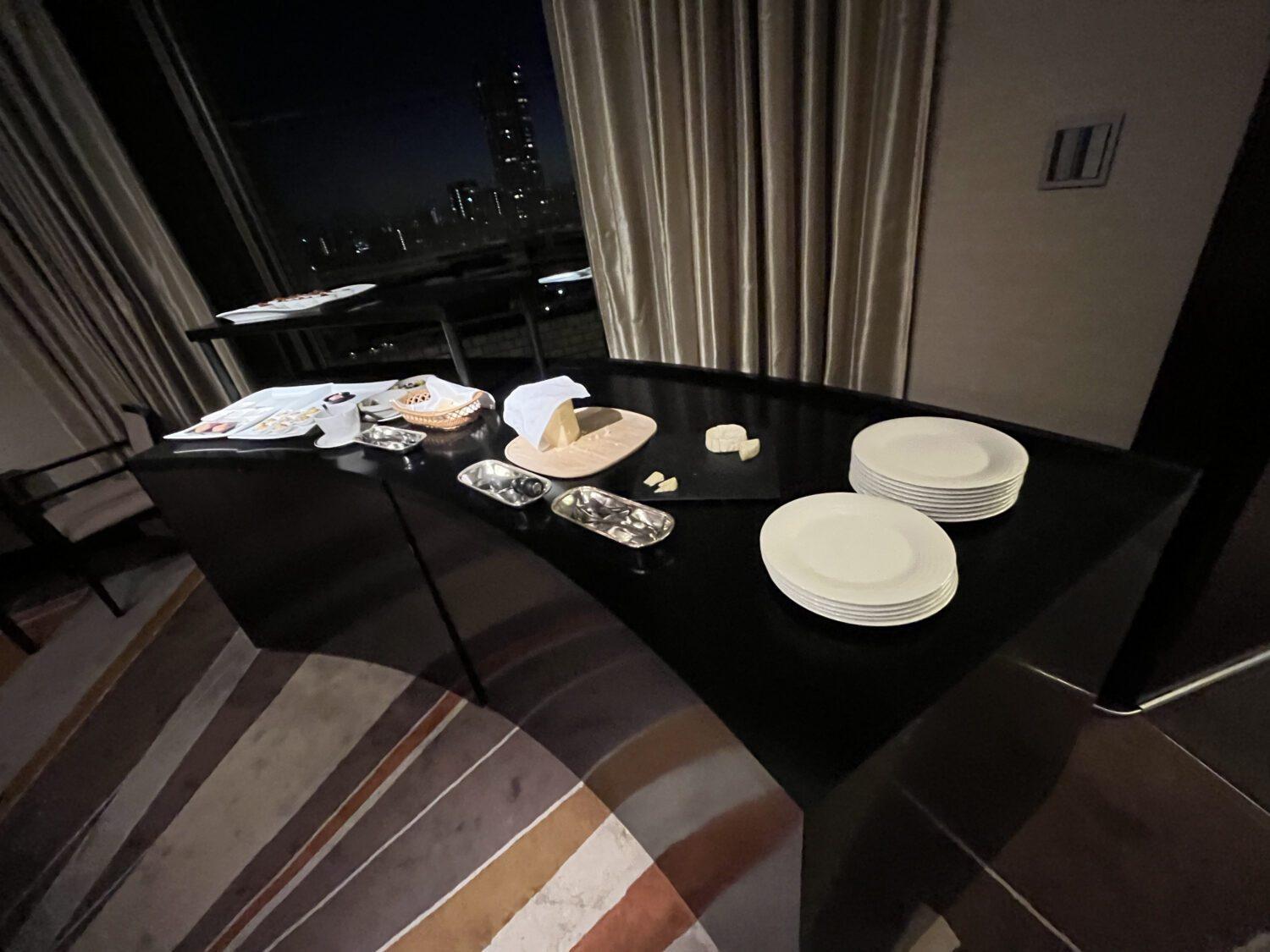 I spent a little more time at the Regency Lounge for breakfast and the spread included a little of everything. There was a nice salad bar along with fruit, yogurt, and granola.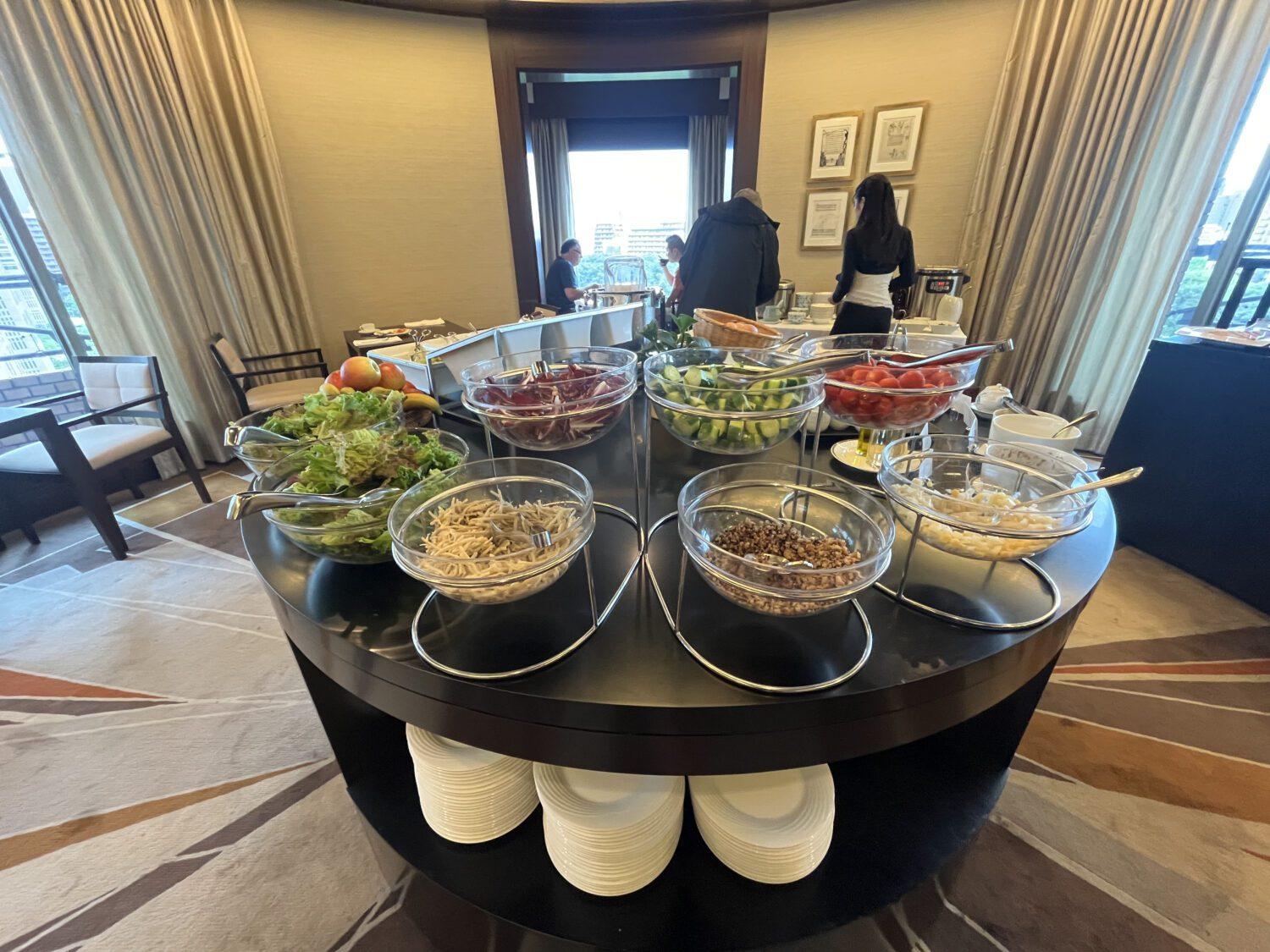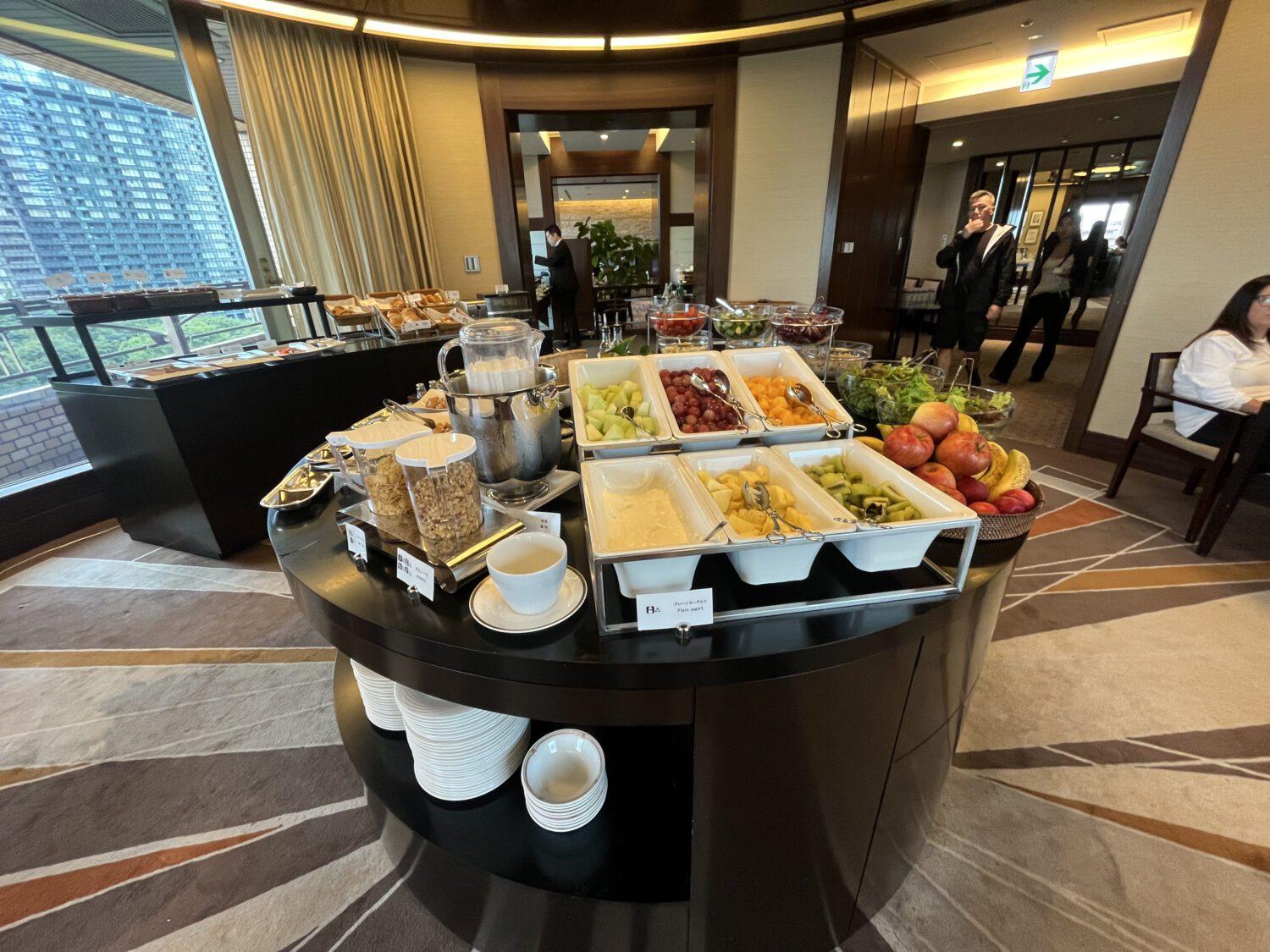 There was plenty of fresh bread and croissants. Or, you could munch on some deli meat, cheese, or smoked salmon.
Of course, there were also some Japanese dishes available, including miso soup, curry, rice, hijiki seaweed, and chopped burdock root.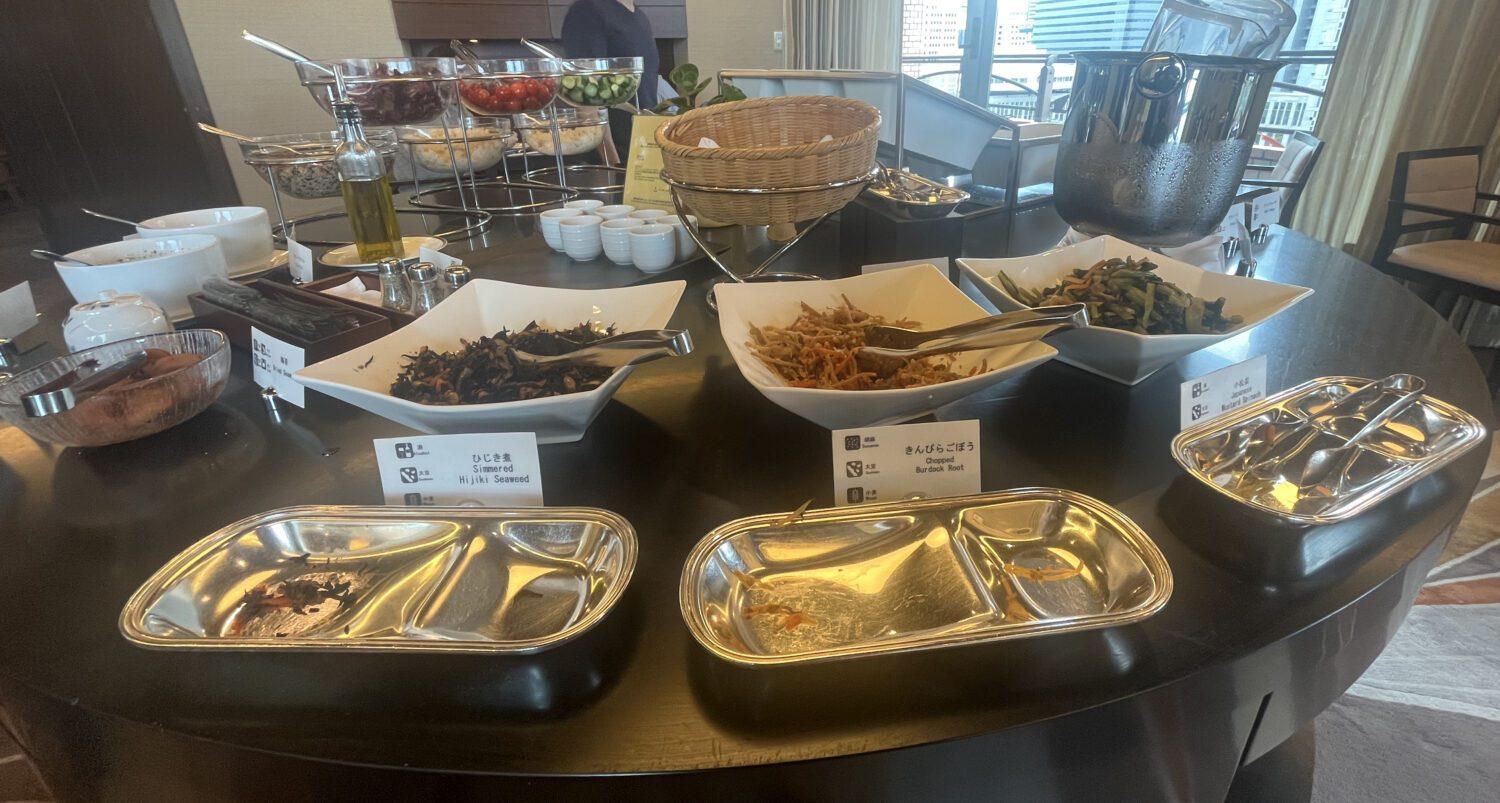 I opted for more of an American breakfast complete with eggs, bacon, sausage, and potatoes. I even managed to fit a few veggies on my plate.
It did get busy during breakfast but you could still find seating as this lounge had a few different rooms to sit and enjoy your breakfast.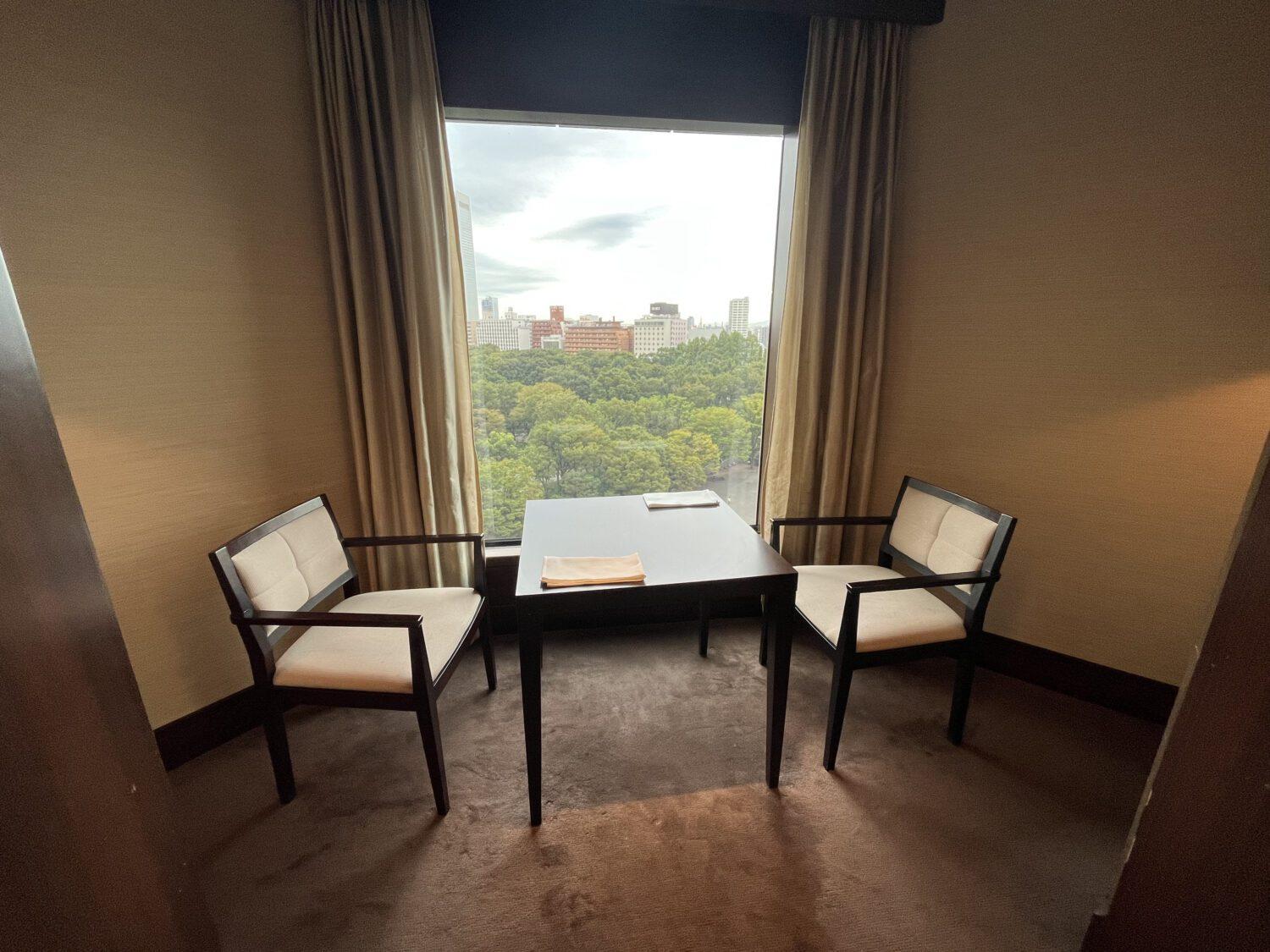 I'd recommend heading to the back room where it's a bit quieter and you get some nice views out the window. There's even an outdoor terrace if you want to get some fresh air.
The food was decent. I wouldn't say it was anything too special but it was definitely a step above any breakfast buffet you'd get at a Hyatt in the U.S. I was really impressed with how many different types of food they had available. I went for a healthier meal the following day.
Gym, Spa, & Facilities
On the top two floors of the Hyatt Regency Tokyo, you'll find banquet rooms, a spa, and a fitness center. Neither floor was particularly busy when I went up to the top to check it out.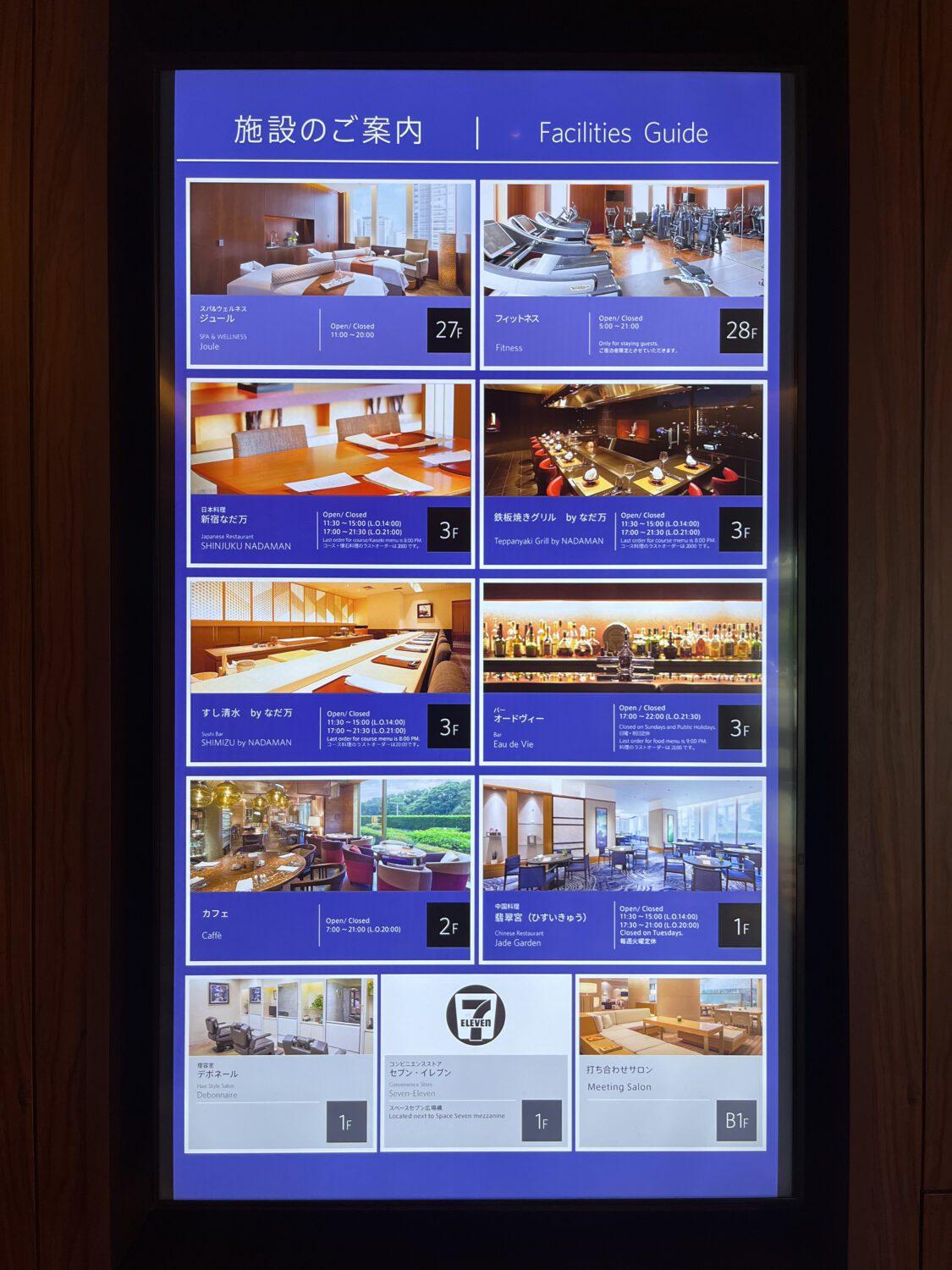 For the spa, you may need to schedule an appointment as the door was locked when I tried to enter. One floor up, you'll find the fitness center which was open and quite empty when I was there.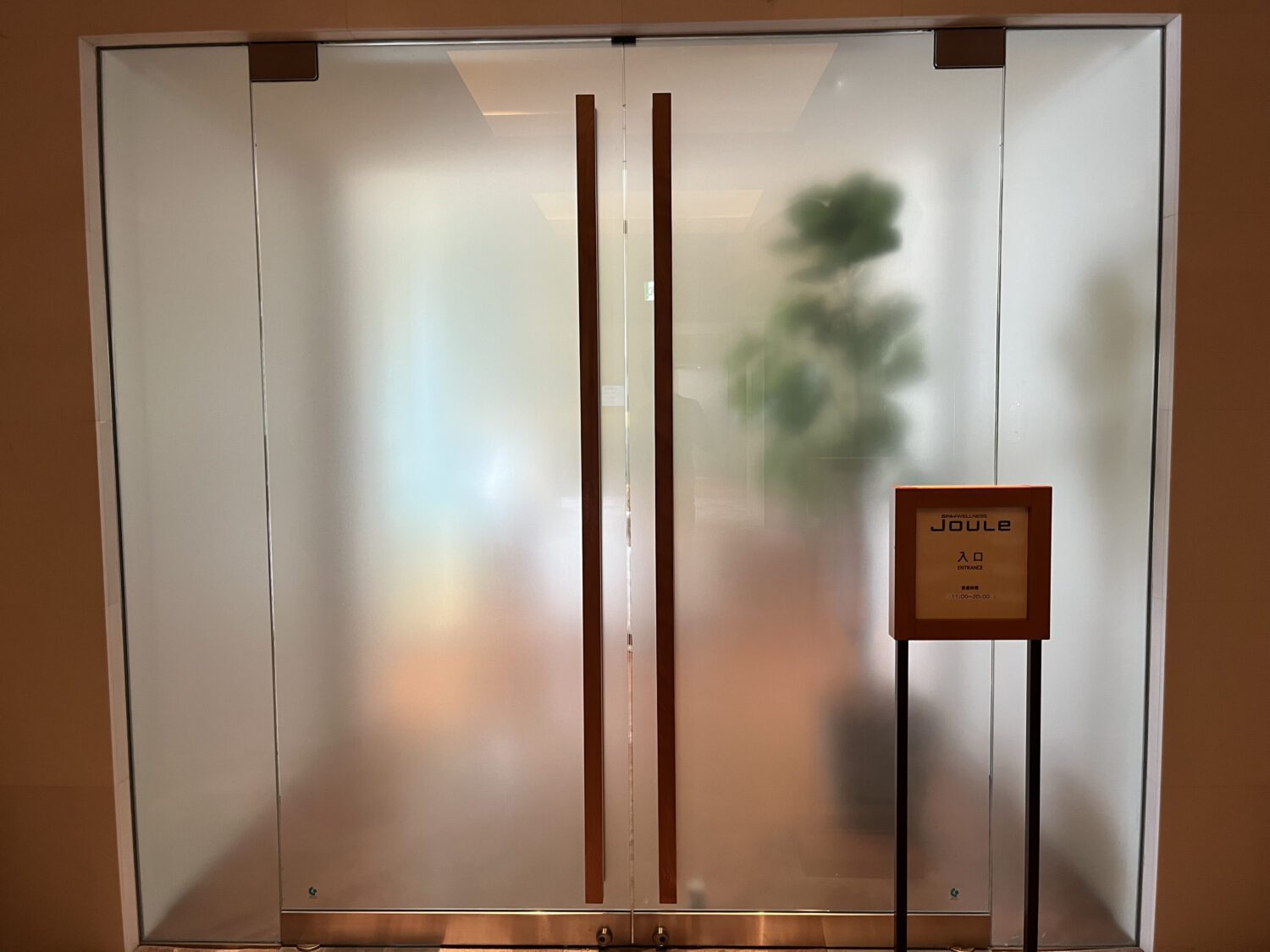 The gym was small, but if it's as empty as it was when I was there, that shouldn't matter too much. You'll find both free weights and machines to get a good workout in during your stay. It's nice that the treadmills face the window so you can have a view of Tokyo while you run.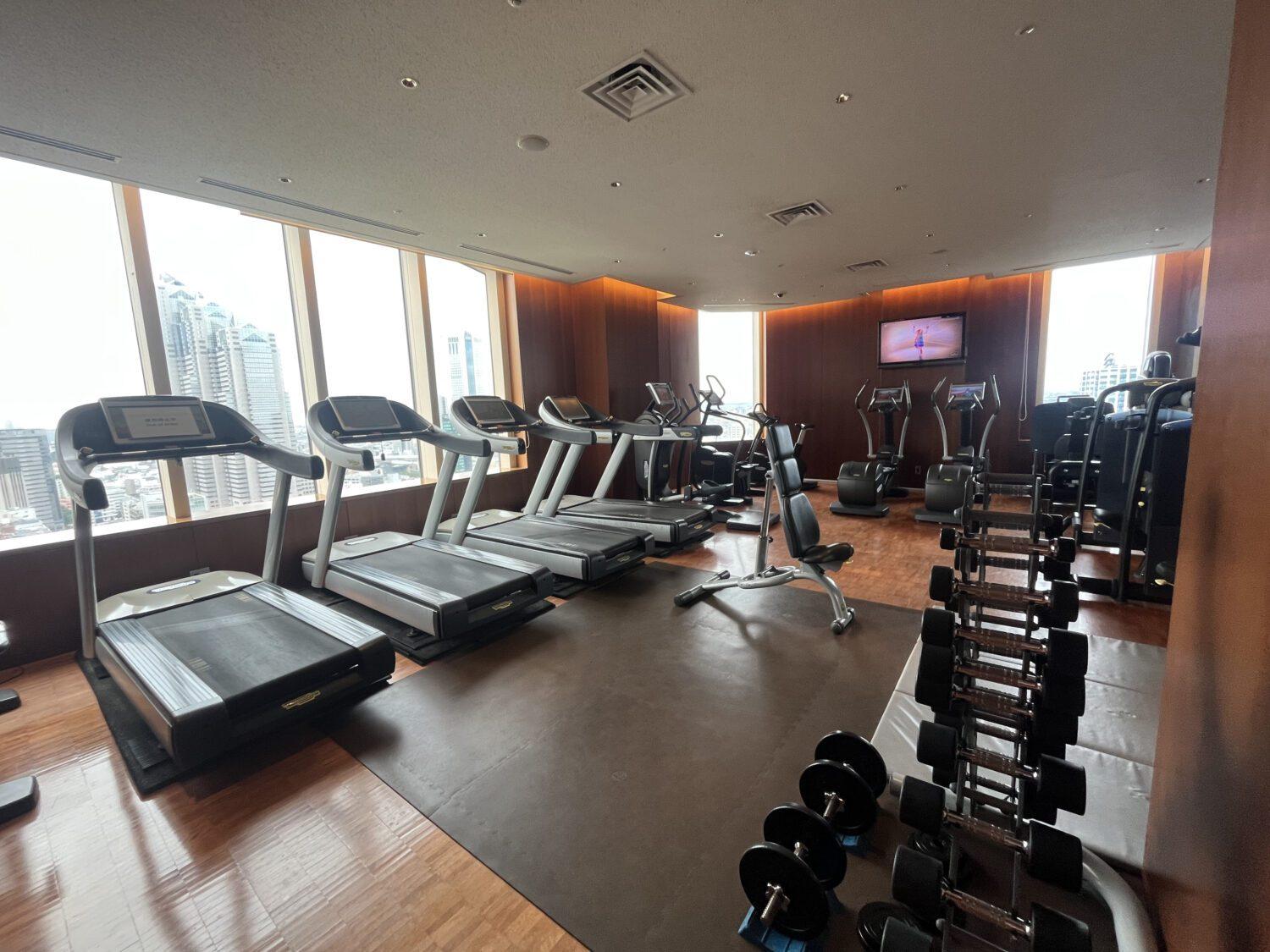 Bars & Restaurants at Hyatt Regency Tokyo
There are a total of five restaurants inside the Hyatt Regency Tokyo as well as a speakeasy-style bar.
Since my stay was short and I ate breakfast in the Regency Club Lounge, I didn't get a chance to try any of the restaurants, but I did have a drink at the fancy Eau de Vie bar.
Like many places in the hotel, the bar was mostly empty when I visited. It was very dark and it seemed like they were trying to mimic a speakeasy (without the secret password).
Drinks aren't cheap here so prepare to pay up. My bottle of Guinness was over $12, which is about double what I paid at the Guinness factory in Ireland last year.
The well-dressed bartender presented it well, complete with a small snack and a hot towel. Even though it is a bit pricey, I'd recommend stopping by the Eau de Vie bar for a drink during your stay.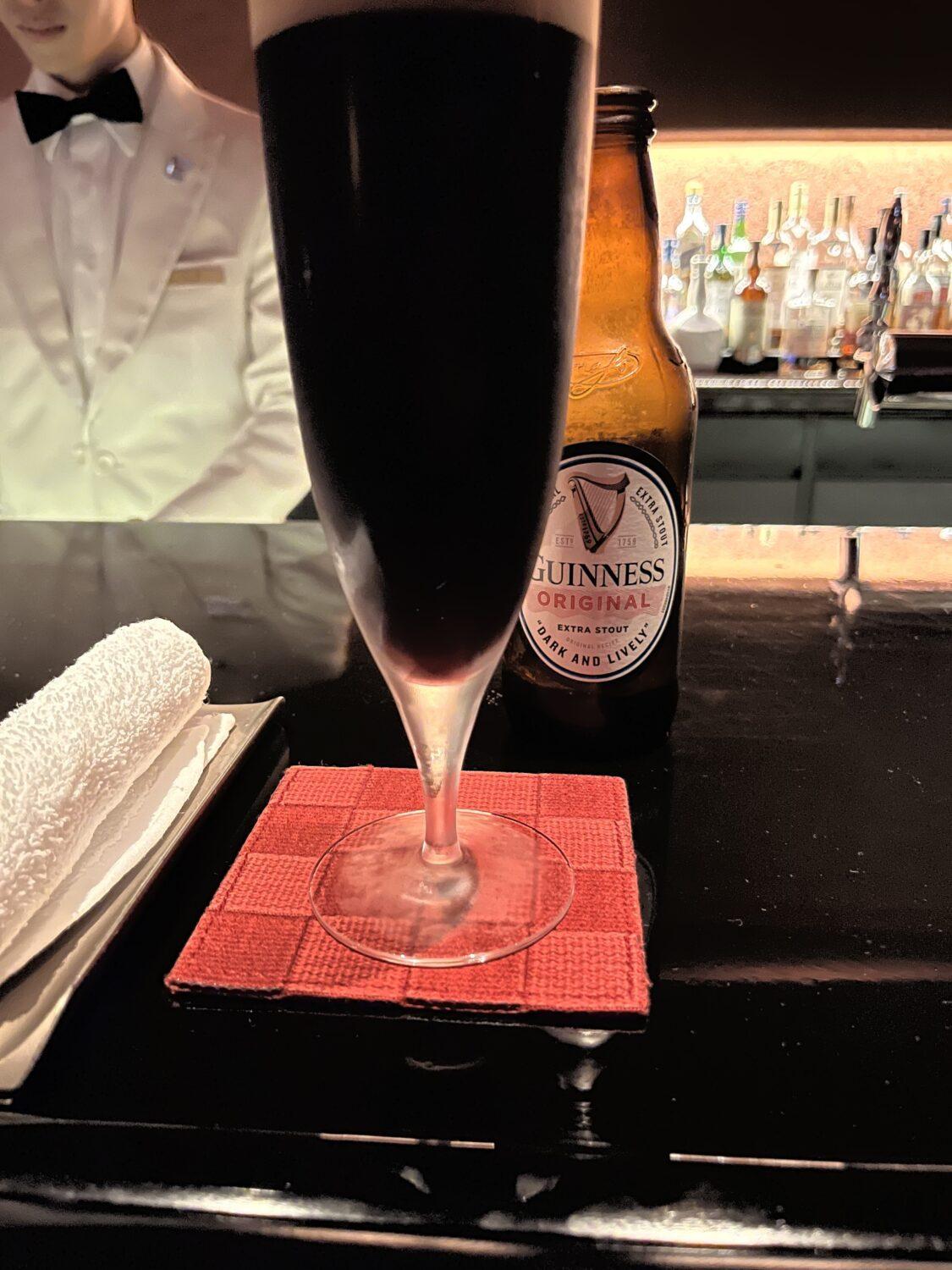 As for restaurants at the hotel, Caffè on the lobby floor looked like a good option for breakfast if you don't have access to the lounge.
There's also a Chinese restaurant, a sushi bar, and a couple of Japanese restaurants on the property if you don't want to venture out again after touring Tokyo all day.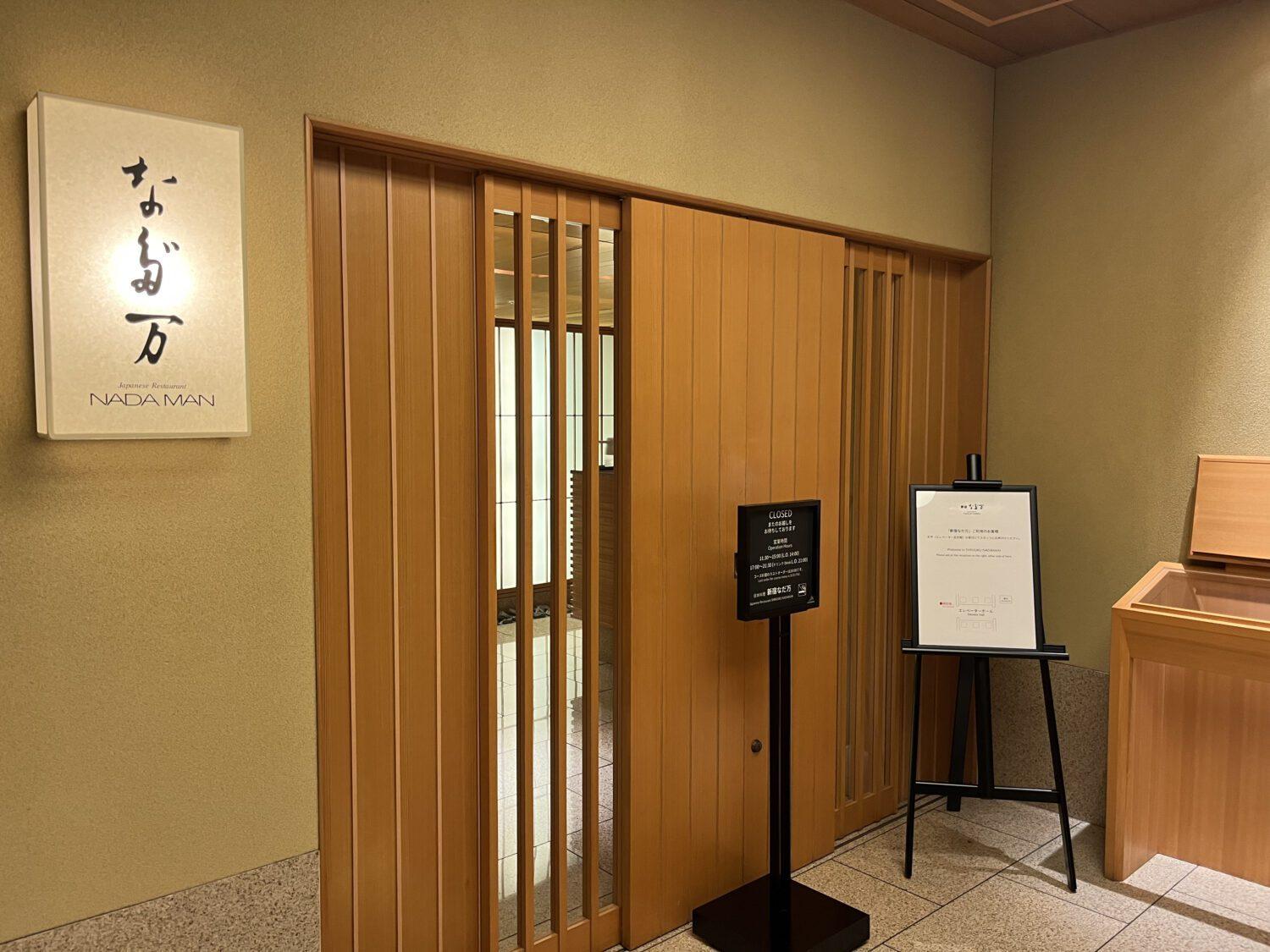 Even with all the options to eat at the hotel itself, I'd recommend going out to eat in town to experience more of the city while you're in Tokyo. I had some amazing curry udon at a small restaurant a short walk away during my stay. And it was probably a lot cheaper than eating at the hotel.
Bottom Line
The Hyatt Regency Tokyo is a great option if you're looking for a quality hotel in the heart of Tokyo without breaking the bank.
The rooms might not live up to the impressive lobby but you can't really argue with the price point for the location. If you have Hyatt points (or Bilt or Chase points) and are looking for an affordable place to stay in Tokyo, I'd consider the Hyatt Regency Tokyo.