I didn't make it past the lobby of Alila Villas Uluwatu before my jaw hit the floor. And that's where it stayed for days.
This resort on the southern coast of Bali in Indonesia is the single most physically stunning place I've been, bar none. From the cliffside cabanas dangling above the Indian Ocean to a marquee infinity pool to the incredibly spacious private villas complete with private pools, every square inch could be a showcase for Instagram. The food and service are excellent to match.
This is a five-star resort with five-star prices that regularly top $1,000 a night – a fortune by Southeast Asia's standards. But with those same nightly rates for a private villa bookable for as few as 25,000 points, it's a phenomenal way to use World of Hyatt points … or even transfer some Chase points from cards like the *chase sapphire preferred*.
Read on for my full review.
Booking Alila Villas Uluwatu
Travelers love Hyatt points because they go much further than the likes of Hilton, Marriott, or IHG, and booking Alila Villas Uluwatu is a prime example of just how valuable World of Hyatt points can be.
Want to book a night at this five-star Bali resort using cash? Prepare to pay up. Seeing nightly rates of $800, $900, or even north of $1,000 is the norm.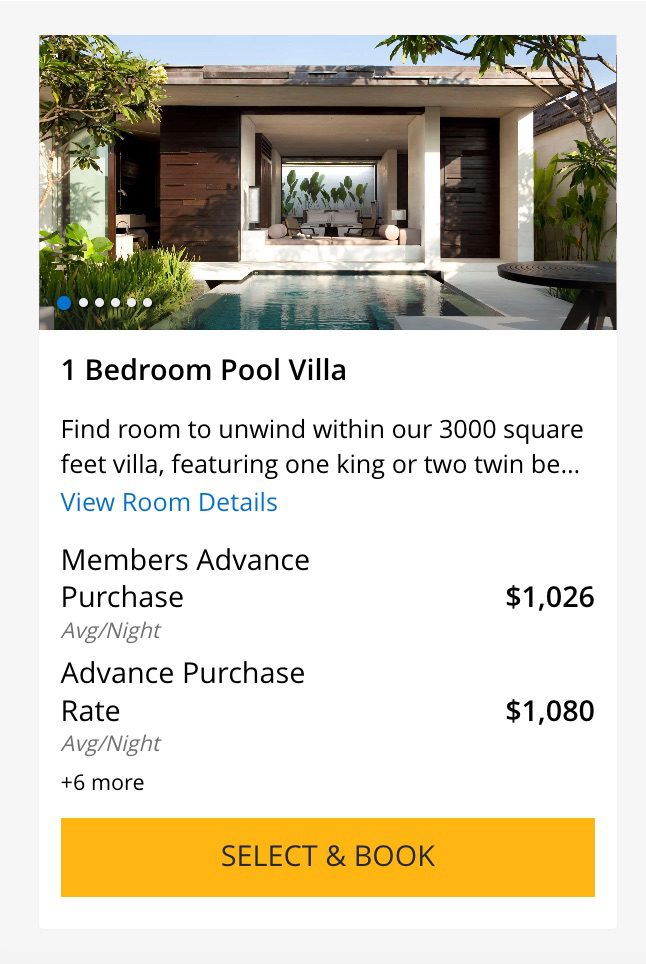 But Alila Villas Uluwatu is a Hyatt Category 7 property. That means you can book these exact same rooms (I mean villas…) for just 30,000 points per night – or as low as 25,000 points during off-peak times. Hilton or Marriott would easily charge 120,000 points a night or more for a property like this.
And unlike some notoriously tough-to-book Hyatt locations like Calala Island in Nicaragua or the Park Hyatt Kyoto, it's relatively easy to book this pricey resort using points. You shouldn't run into many (if any) dates that are blacked out.
Hyatt's transition to peak- and off-peak pricing means that while standard award nights clock in at 30,000 points, you could see nights here as low as 25,000 points or as much as 35,000 points … in theory. But in practice, award pricing at Alila Villas Uluwatu is remarkably stable at 30,000 points no matter when you go. You may see the occasional night at 25,000 points – but aside from a few weeks in August 2024 when Bali tourism is typically busiest, you'll almost never see the higher-priced peak rate.
Regardless, it's a fantastic way to redeem points – not just from a pure dollar value perspective, but also because it's just a cool experience. In the end, we booked three nights at Alila Villas Uluwatu to cap off our fifth-anniversary trip to Bali. And we're both so glad we did.
Earning the World of Hyatt points you need to book this resort is easy even if you rarely stay in Hyatt properties, as Hyatt is one of the best Chase transfer partners. That means a stash of 90,000 Chase points from cards like the *chase sapphire preferred* gets you 90,000 Hyatt points – enough for at least three nights here.
That's exactly what we did: transferred 90,000 points from Chase to Hyatt to book our three-night stay in September.
At Thrifty Traveler, we don't accept freebies. We use our own points, miles, or cash to pay for every single flight or hotel you see reviewed here – including this one.
One quick word of warning, though: This resort is practically notorious for hosting posh weddings, some of which wind up practically (and, in some cases, literally) taking over the whole property. It's not unheard of for travelers who have a confirmed reservation to get an email from the hotel that their stay needs to be rescheduled due to a buyout.
If you can avoid that hiccup, you're in for a treat.
Getting to Alila Villas Uluwatu: Location & Check-In
Alila Villas Uluwatu is nestled along the cliffs of Uluwatu on Bali's southern coastline, famous for its sunsets overlooking the Indian Ocean.
Depending on traffic (which can be awful during peak hours), the ride from the Bali (DPS) airport can take anywhere from just over 40 minutes to as long as two hours.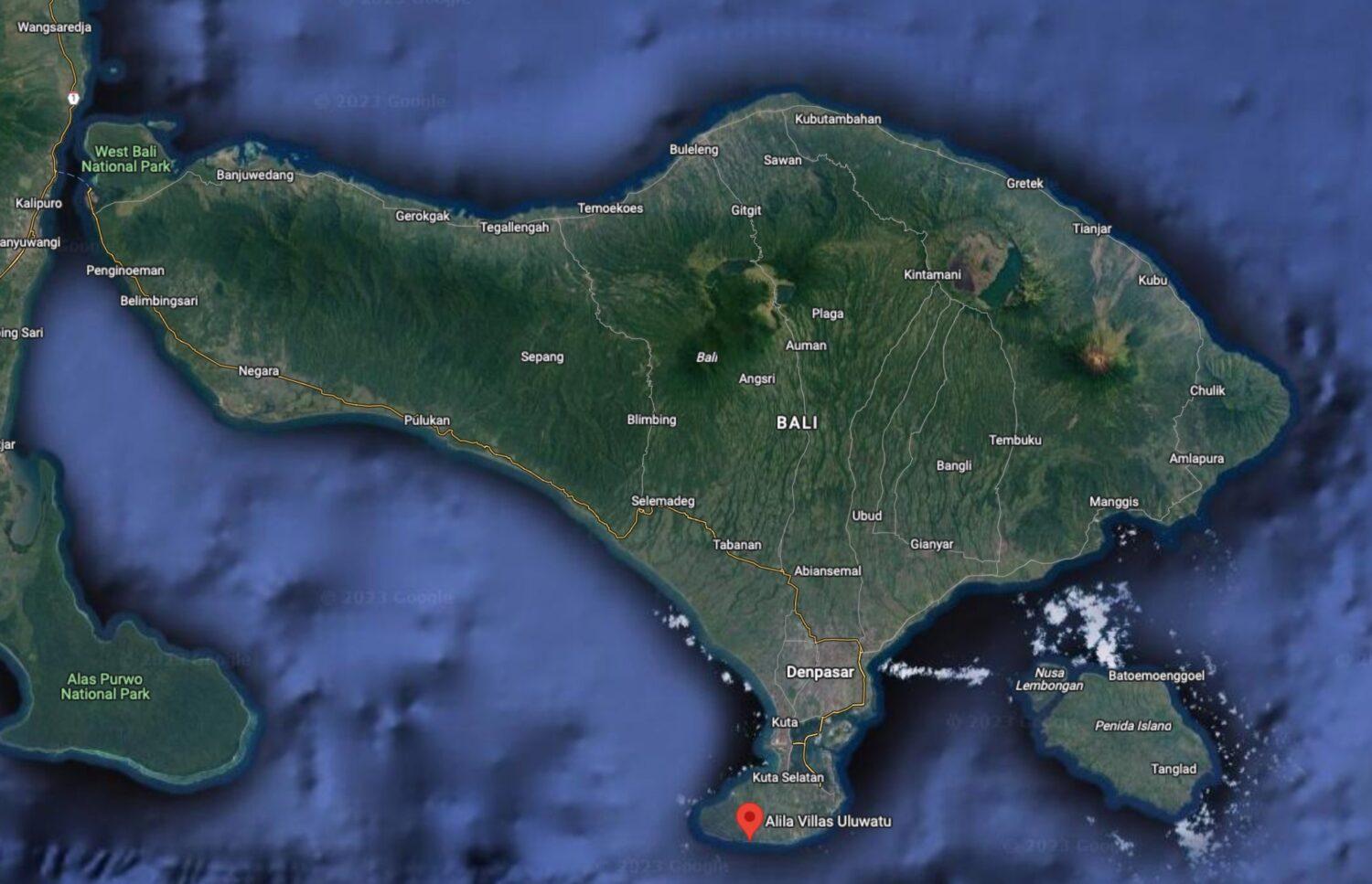 Alila will happily line up transportation for you, but you'll get a drastically cheaper price by arranging a driver on your own. You can even use Grab – Southeast Asia's version of Uber – to get here for even less. Either way, expect to pay somewhere between $20 to $80 or more each way, depending on what kind of ride you choose.
After charting your way through Uluwatu's winding, hilly roads and some beautiful gates outside the property, you'll pull into the reception area. Yes, it's stunning from the start.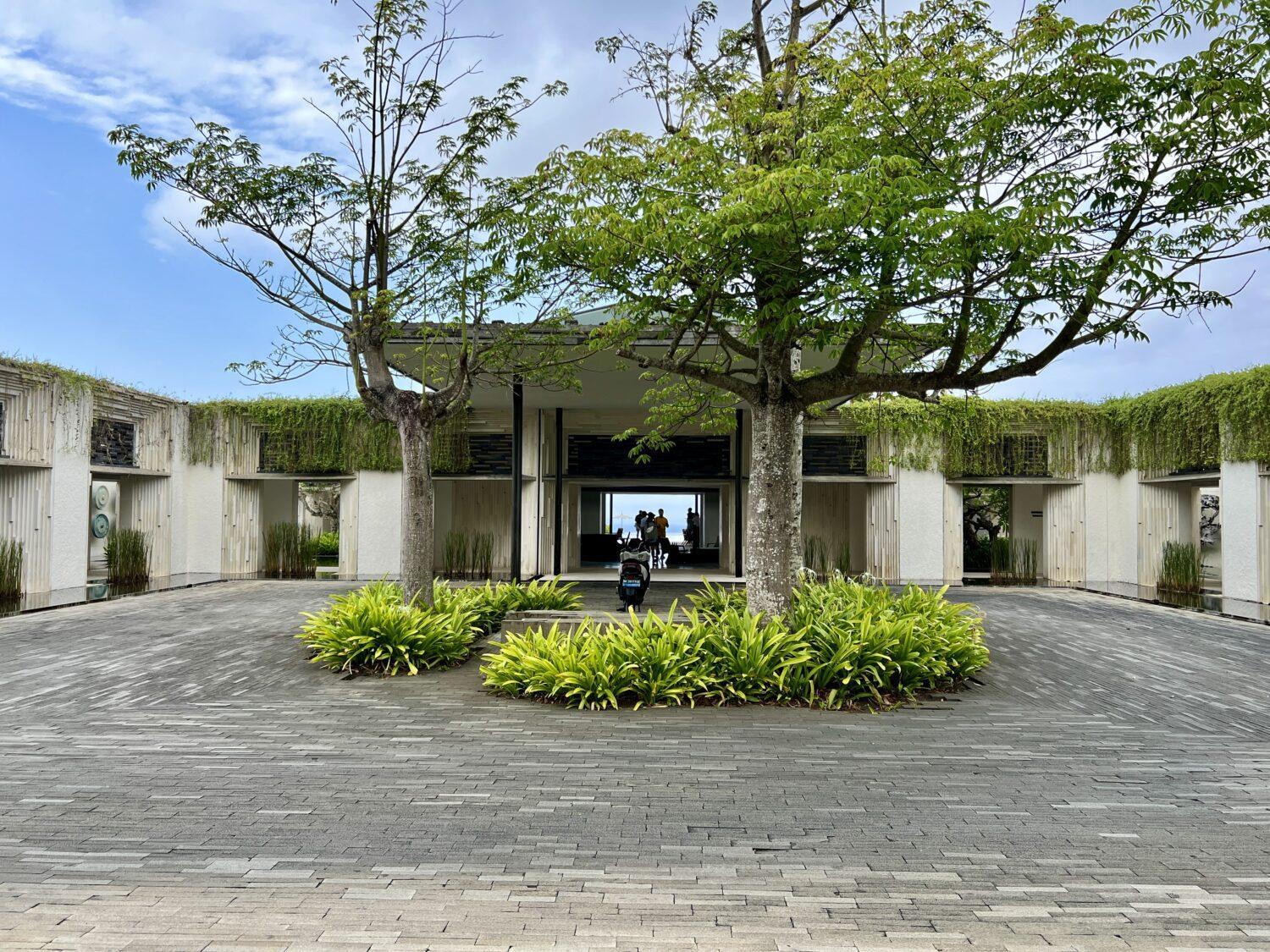 The same goes for the lobby, whose stark white stone is broken up with black tile and a sculpture overhead.
After a warm greeting and getting our luggage taken care of, we were escorted through the lobby into a small seating area to check in. Then came the first of many small touches that make Alila Villas Uluwatu special: A welcome box with cold towels, facial mist, rose water, and snacks.
Oh, and after taking our passports for a quick scan? They were returned tied neatly in a bow.
It didn't take long for our eyes to wander…
The Property
I'll just say it again: Alila Villas Uluwatu is the most physically stunning resort I've ever been to. And it's not even close.
Everywhere you turn there is some new, jaw-droppingly beautiful, "How is this real" type of view. The phrase "photos can't do it justice" might well have been coined here.
I mean, look at this. This is just from the lobby, steps inside the resort.
Much of the common area of the resort is built around a shallow pool in the center, with small (and, in some cases, not-so-small) open-air cabanas scattered throughout.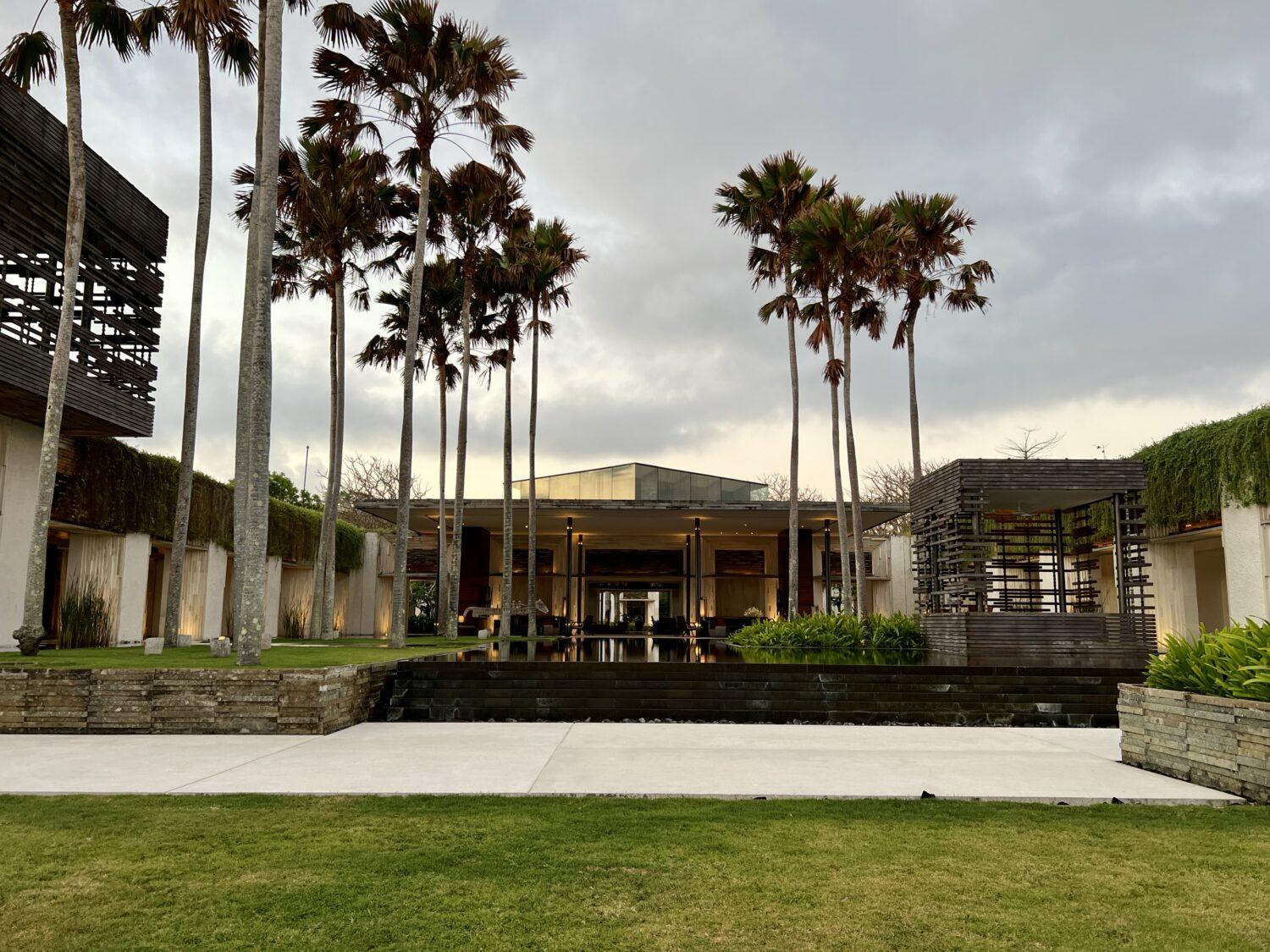 The grandeur continues around practically every corner with stark white stone punctuated by dark wood or black stone and lush greenery – Balinese design to a T. Even the simple corridors and walkways are beautiful.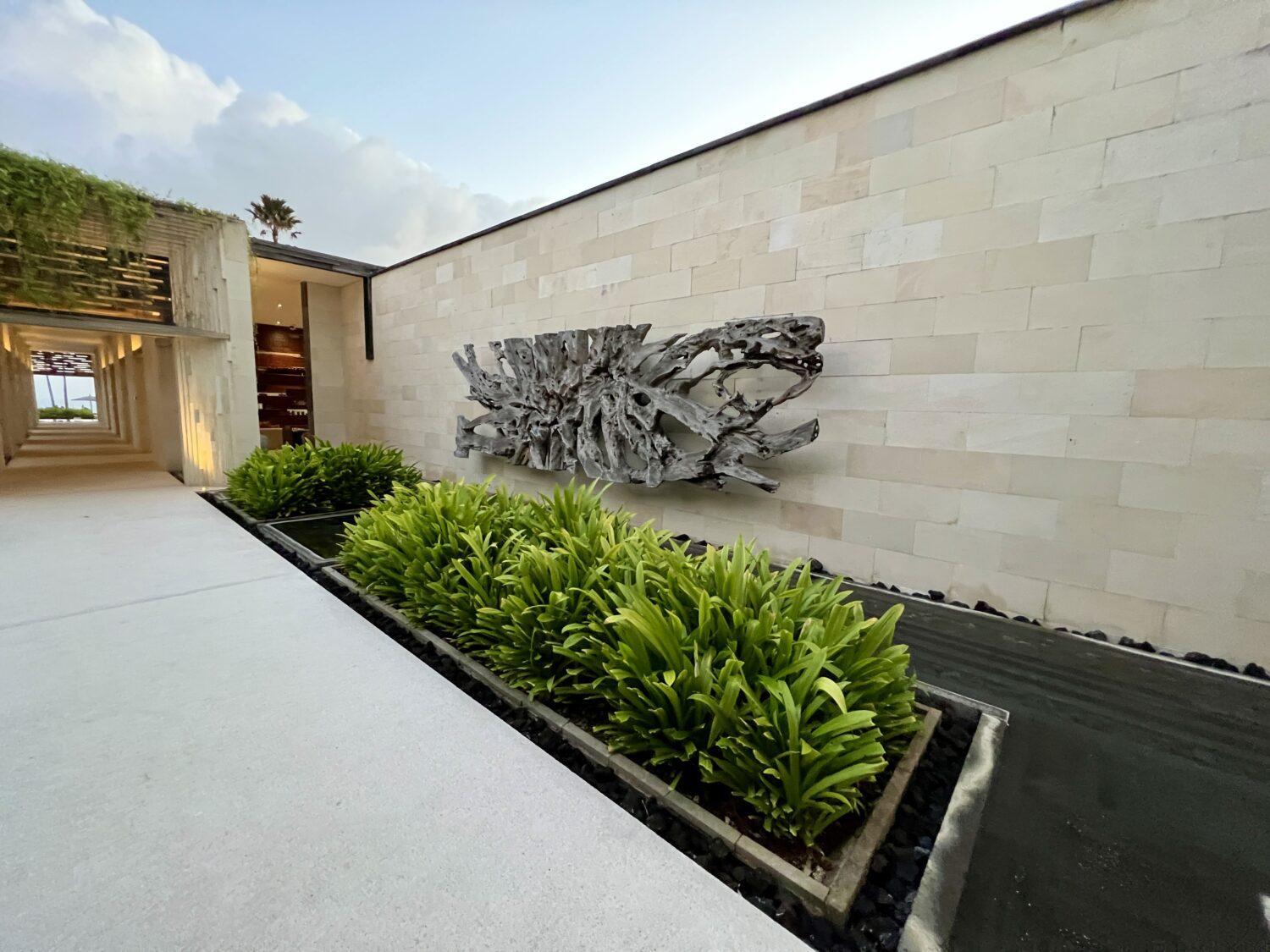 As the sun goes down and the lights come up, it's somehow even prettier.
The grounds seem to sprawl on forever, even including a small shrine perched along the cliffs.
The beauty is undeniable and it truly never got old. But … how else do I say this? Beware of influencers. Just as you can't walk far without encountering another beautiful sight, you're bound to see person after person capturing it all for content.
Look, I can't blame them: I'm guilty of it, too, after all. This just comes with the territory of a place this stunning – it draws a crowd.
But after a while, we started to feel a bit out of place at the Alila – not just among the influencers and wealth, but in a sort of bubble within Bali. Depending on what you're looking for out of a trip to Bali, that may not be a bad thing: I'm not seriously complaining about an obscenely beautiful and luxurious resort, am I?
No, I'm not. I'd gladly go back to Alila Villas Uluwatu again. But this place also felt a world away from the things I love most about Bali – scooters whizzing past cheap street-side warungs with $2 bottles of Bintang beer to wash down $2 plates of food. So plan your trip accordingly.
Alila Villas Uluwatu Pool
If there's one place to congregate, it's here.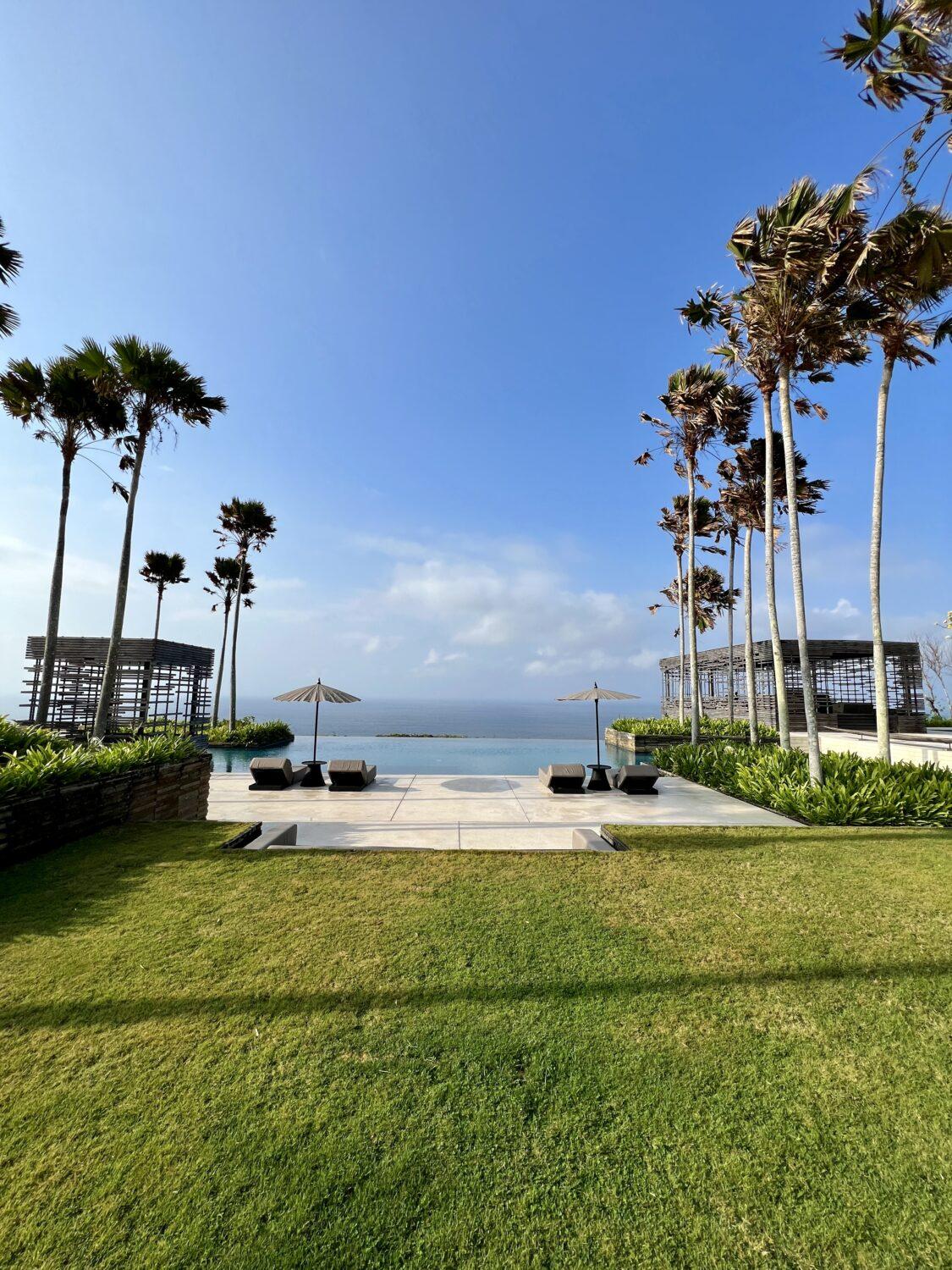 Perched along the cliffs, the Alila Villas Uluwatu's main infinity pool overlooking the ocean is built in the heart of the entire property. It's the focal point and the main attraction.
It's a large pool, with several different entry points, alcoves, and ledges to relax. While the private pools at each villa are incredible, we always found ourselves here relaxing instead. There's something special about hearing the waves crashing hundreds of feet below, the warm pool waters blending seamlessly into the sky.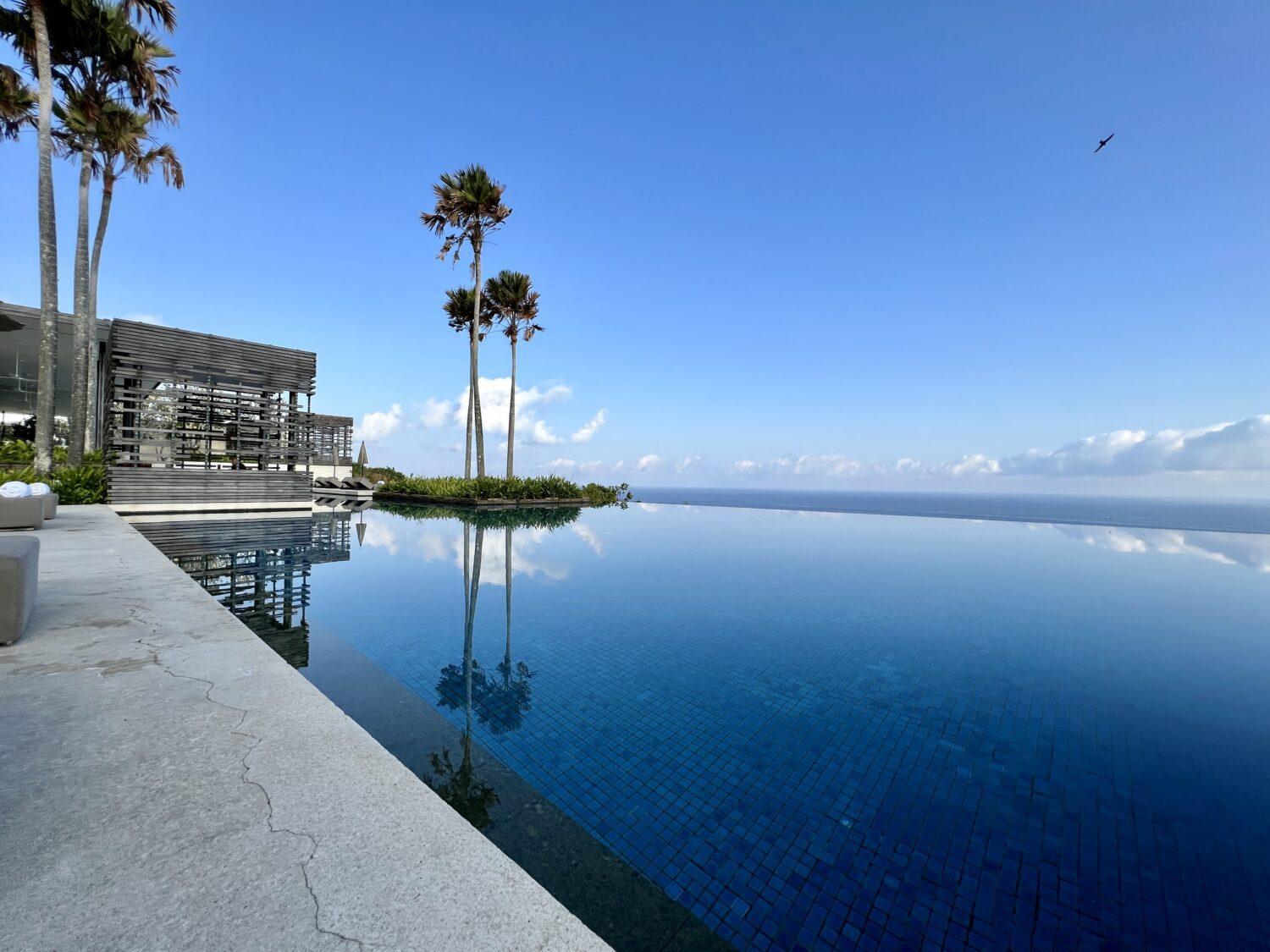 And like every other square foot of the property, it's practically art.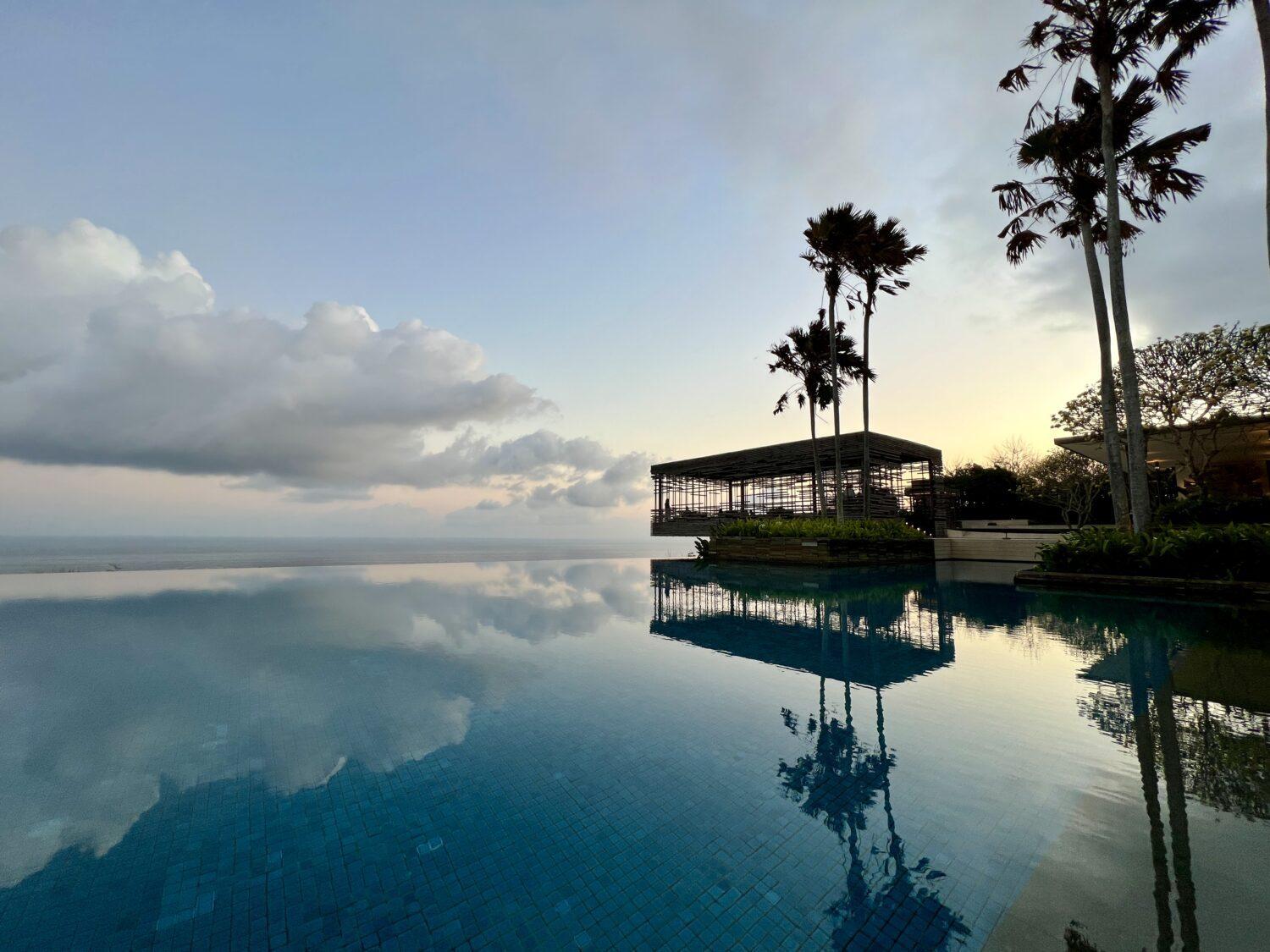 There are several wooden cabanas built around, which are available on a first-come, first-served basis. Otherwise, there are incredibly comfortable lounge chairs scattered along the edges of the pool, always with a massive towel waiting for guests. Personally, I liked that the resort didn't cram these chairs in – they're spaced out well to give guests more privacy, even at a public pool.
At golden hour, the pool area somehow gets even more gorgeous.
Alila Villas Uluwatu Rooms
Rooms is a misnomer. It's in the name of the property: These are villas. And they live up to that name.
Alila Villas Uluwatu has nearly 60 one-bedroom villas in all, built into the hillside of the property across four different levels. You can catch a golf cart ride up to your villa from resort staff, but the walk up two or three flights of stairs never got old during our stay. Every step up the tree- and water-lined walkway felt like art.
The same goes for each level of villas, which are laid out neatly in a long, zig-zagging row.
These villas are all more or less identical, aside from a handful of two- and three-bedroom villas that are located elsewhere. But don't count on an upgrade to those bigger villas – even with top-tier Hyatt Globalist status. The best you'll get is a villa on the prized fourth level, with the best views and the most privacy.
We were originally escorted to a villa on the second level, but they gladly reassigned us due to some quite loud construction noise nearby – though I believe that project has since been finished. One more quick buggy ride up to the third level and we were shown into our villa, #307. From the front and back, these are spectacular.
A heavy door in the entryway swings open into the main living area, which starts off with a substantial desk. On the corner of the desk there's a tablet, which you can use to control in-villa music, lighting, and even message the front desk.
From there the villa opens up with an outrageously comfortable king bed, with excellent linens that always seemed to be immaculately turned down anytime we left the villa for more than 20 minutes or so. While the nearly floor-to-ceiling windows let in plenty of light, there are a series of heavy wooden panels you can slide out (with plenty of effort, mind you) come bedtime to keep the room dark.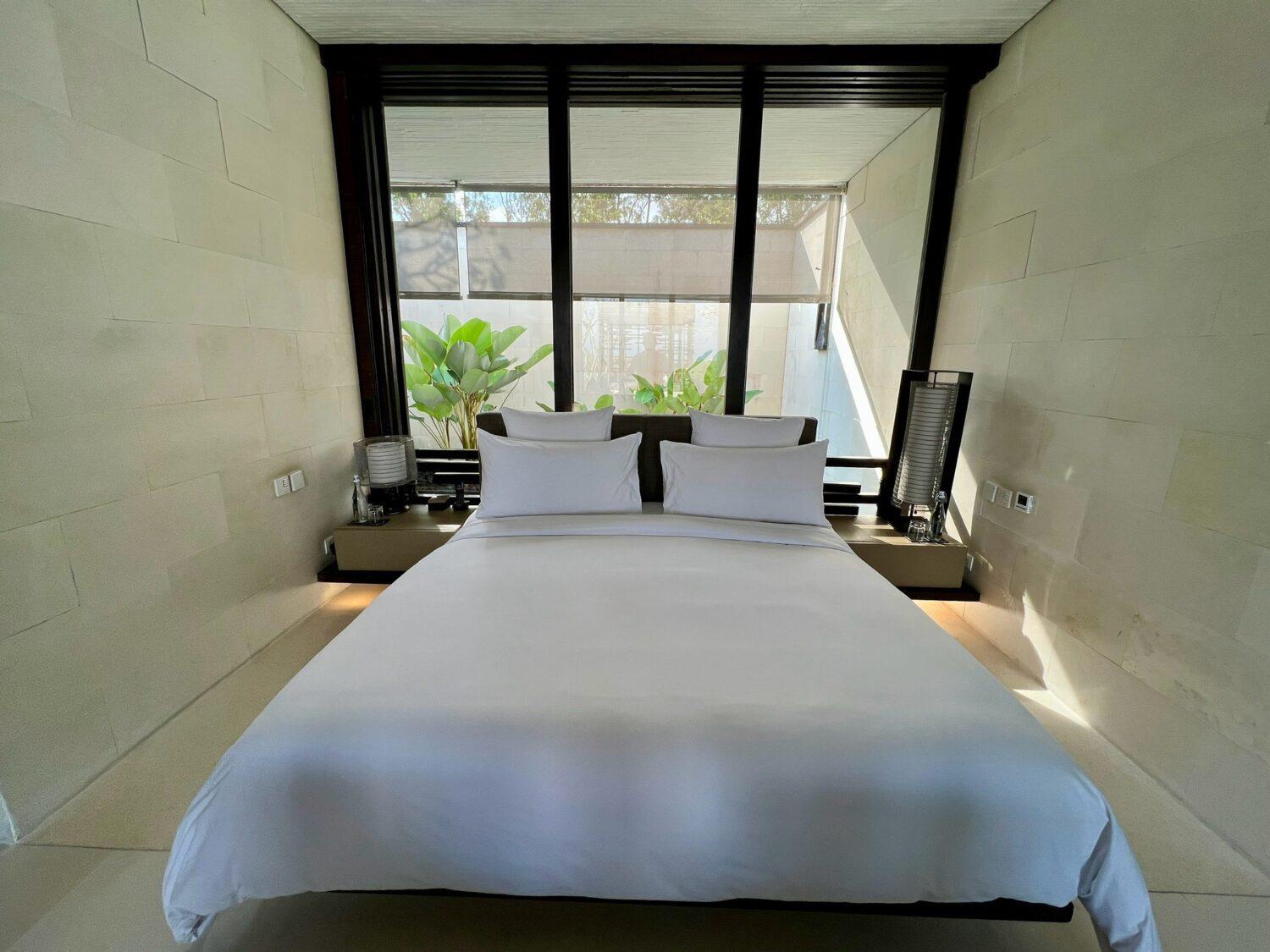 At the side of the bed, there's one of several panels to control the temperature and lighting throughout the villa. I'll be honest, I never quite figured out how the lighting controls worked…
In the center of the main room, there's a small seating area, with two chairs and a table. It's a bit … odd, though certainly nice looking. Best of all, there were some gifts waiting for us to help us celebrate our anniversary: A small cake and a mix-your-own mocktail of tonic water and rose syrup, which was delicious.
There's also a large media console at the center of the room, which is where you'll find a large flatscreen TV. Don't worry, you can easily fold it in and out for easier viewing if you get tired of the view outside – though that's unlikely.
Pull open the doors or drawers on either side to reveal a minibar with a fridge (stocked with pricey snacks and drinks) as well as an espresso machine and coffee, which is (gratefully) complimentary and restocked several times a day. You'll also find a safe in one of the drawers. And there's a steady supply of drinking water available in glass bottles at all times, as Bali's tap water isn't drinkable.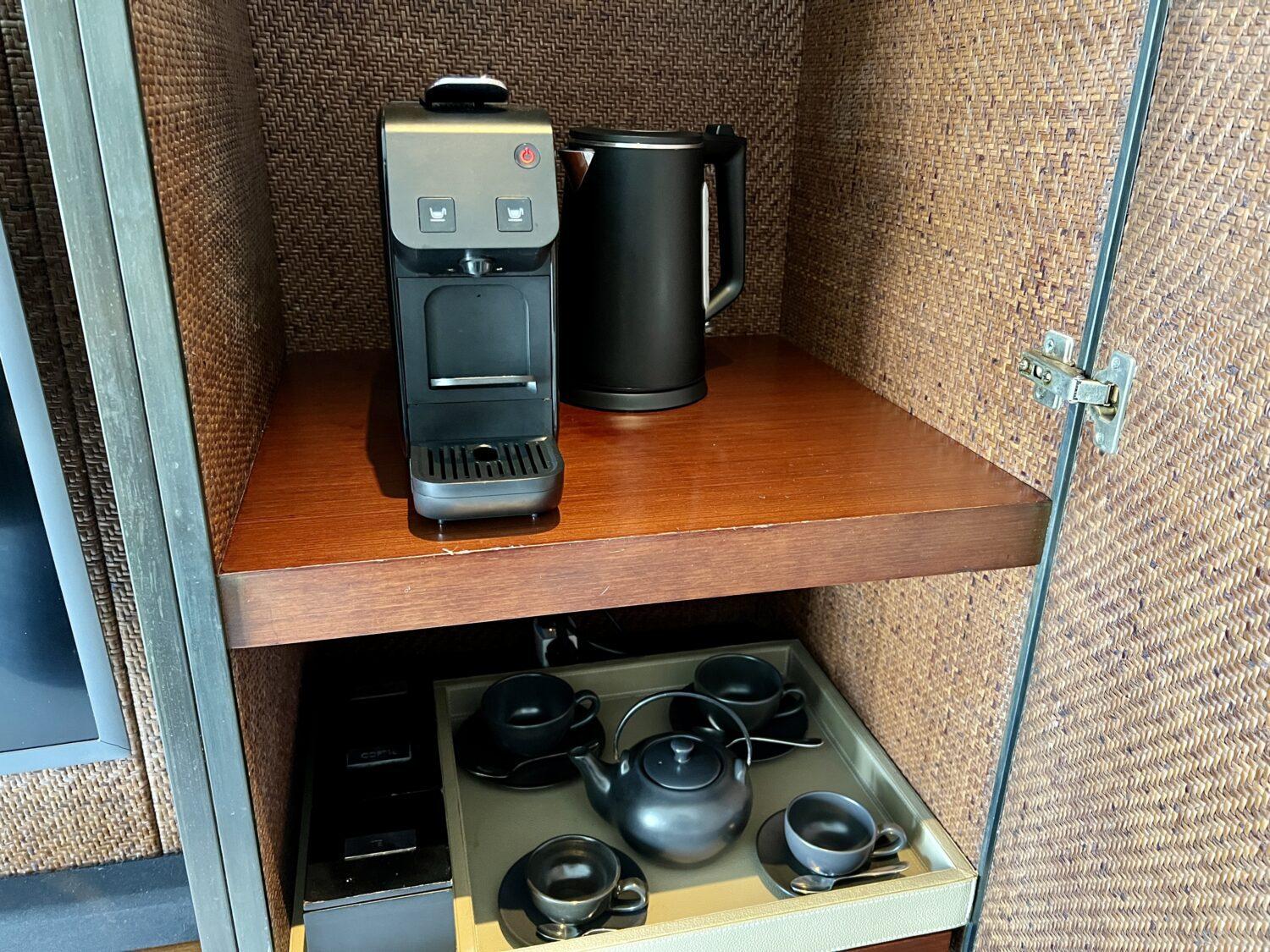 While it's beautiful upon first and even second glance, there were plenty of signs of wear and tear throughout the villa: Broken handles that hadn't been repaired, smudged or cracked mirrors, and a few finicky light fixtures and drawers out of alignment. Really, those are trivial complaints.
Besides, it's the outside space that makes these villas special. We spent an hour or more each day just relaxing on the couch, which you can open up to the outdoors by heaving open the heavy glass doors. At nighttime, you can slide them closed along with another set of wooden panels to block out light. They're heavy and creaky, but they get the job done.
From there, you can fall right into your very own plunge pool: The focal point of hundreds of square feet of private outdoor space. The pool itself isn't too wide but it is fairly long, with plenty of built-in stone ledges to relax with a book or a drink. But then there's also a sitting area with a table (if you decide to order food for your villa), two lounge chairs, and a gorgeous wooden cabana with plenty of cushions.
With Bali's yellow and pink frangipani trees in full bloom, it's absolutely stunning.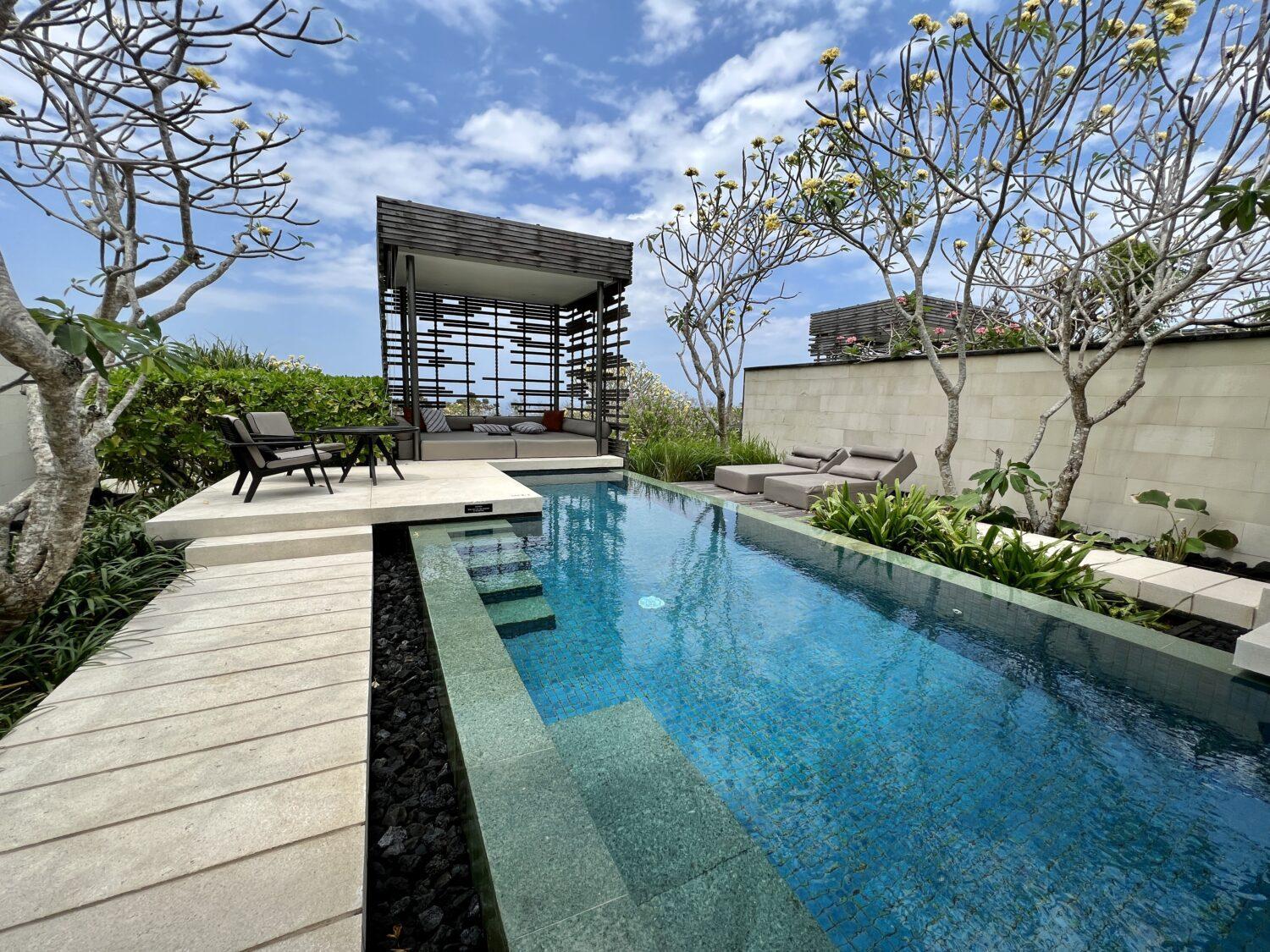 As the sun sets and the outdoor lights flick on, it's a peaceful place to spend an evening.
If the outdoor space is the masterpiece of each villa, the bathroom isn't far behind. It's massive, with plenty of storage and closet space, dual vanities, a stone soaking tub big enough for two, and not one but two showers – including the best outdoor shower you'll ever experience.
Let's start there because this outdoor shower is special: both beautiful and functional. The space is well designed with plenty of privacy from neighbors thanks to high stone walls and privacy curtains, too. I love the look of white stone, black accents, and greenery.
But the shower itself is a marvel. The rainfall shower head must be at least 15 feet high, with excellent water pressure.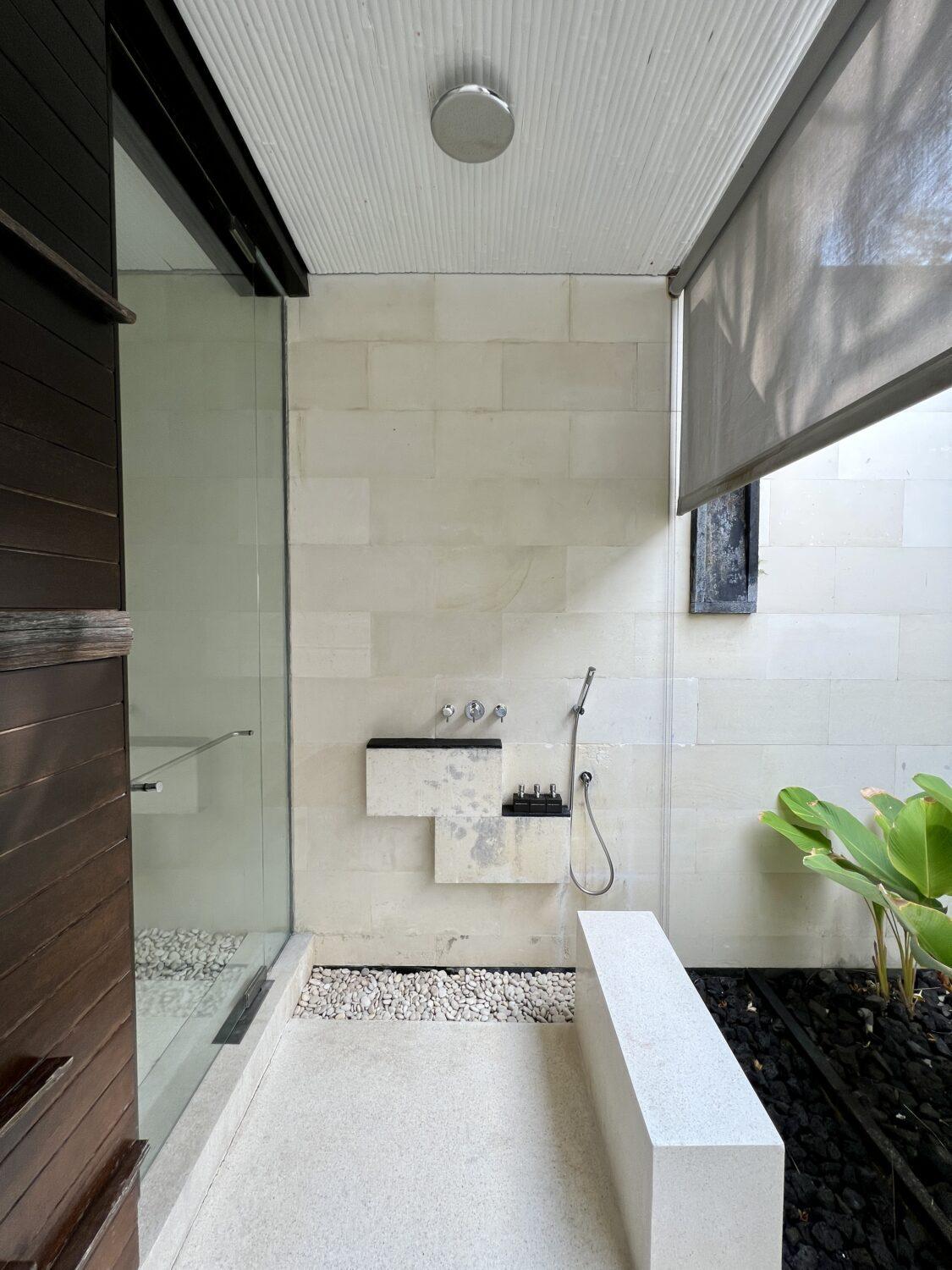 Just inside the glass door from the outdoor shower area, there's a toilet inside its own stall.
You'll also find his-and-hers sinks with a sit-down vanity in between them to get ready. And I mean his and hers: Alila specifically stocks different amenities in each villa based on who's staying, with slightly different scents for lotion, shampoo, body wash, and conditioner. What a nice touch.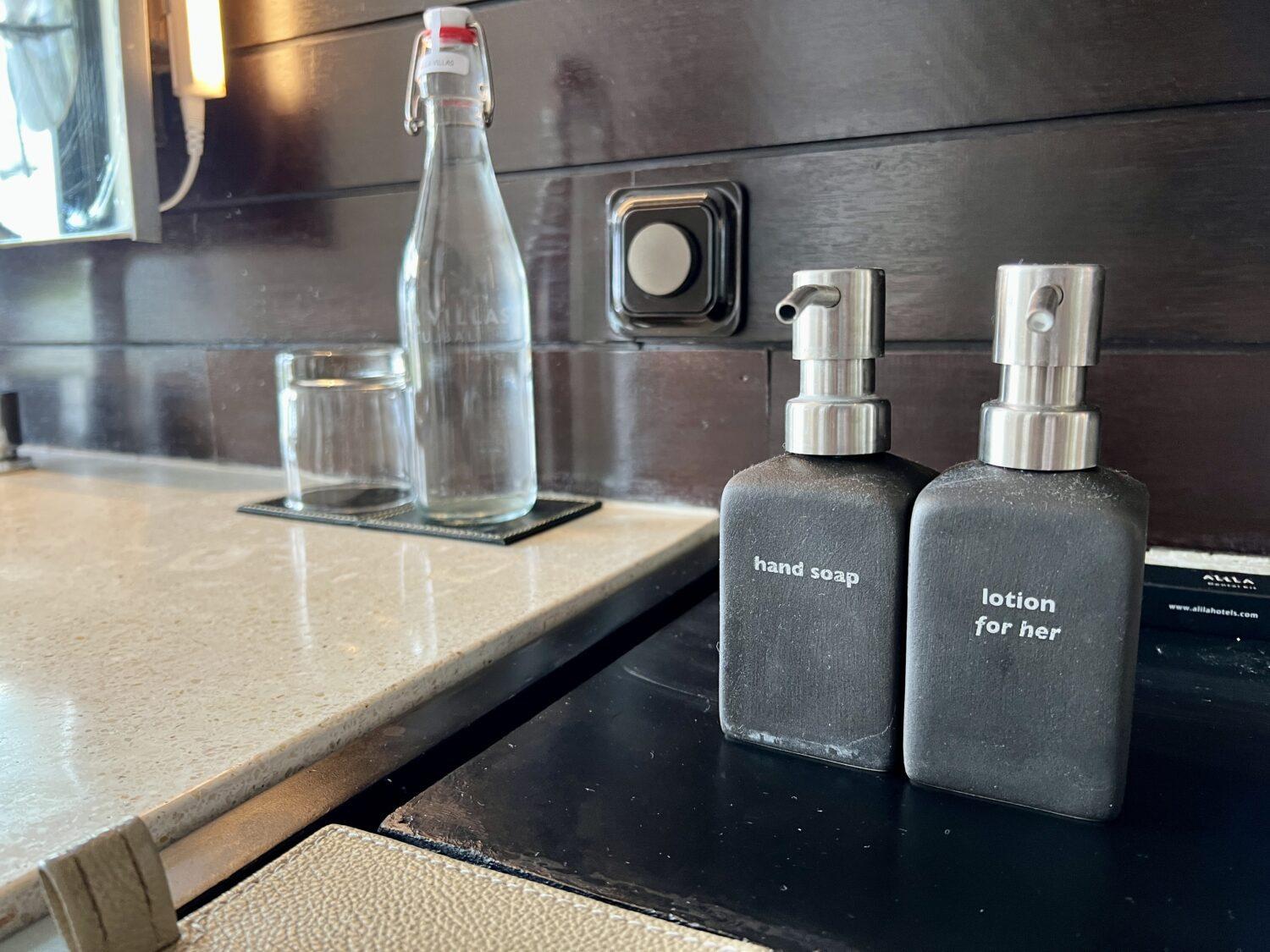 Opposite the vanity is a large closet area, with plenty of room to stow bags, hang clothes, and grab a thick bathrobe, slippers, or hat to use throughout your stay. I love that you can walk in and out of the bathroom on either side of this closet, though I do wish the towels were a bit softer.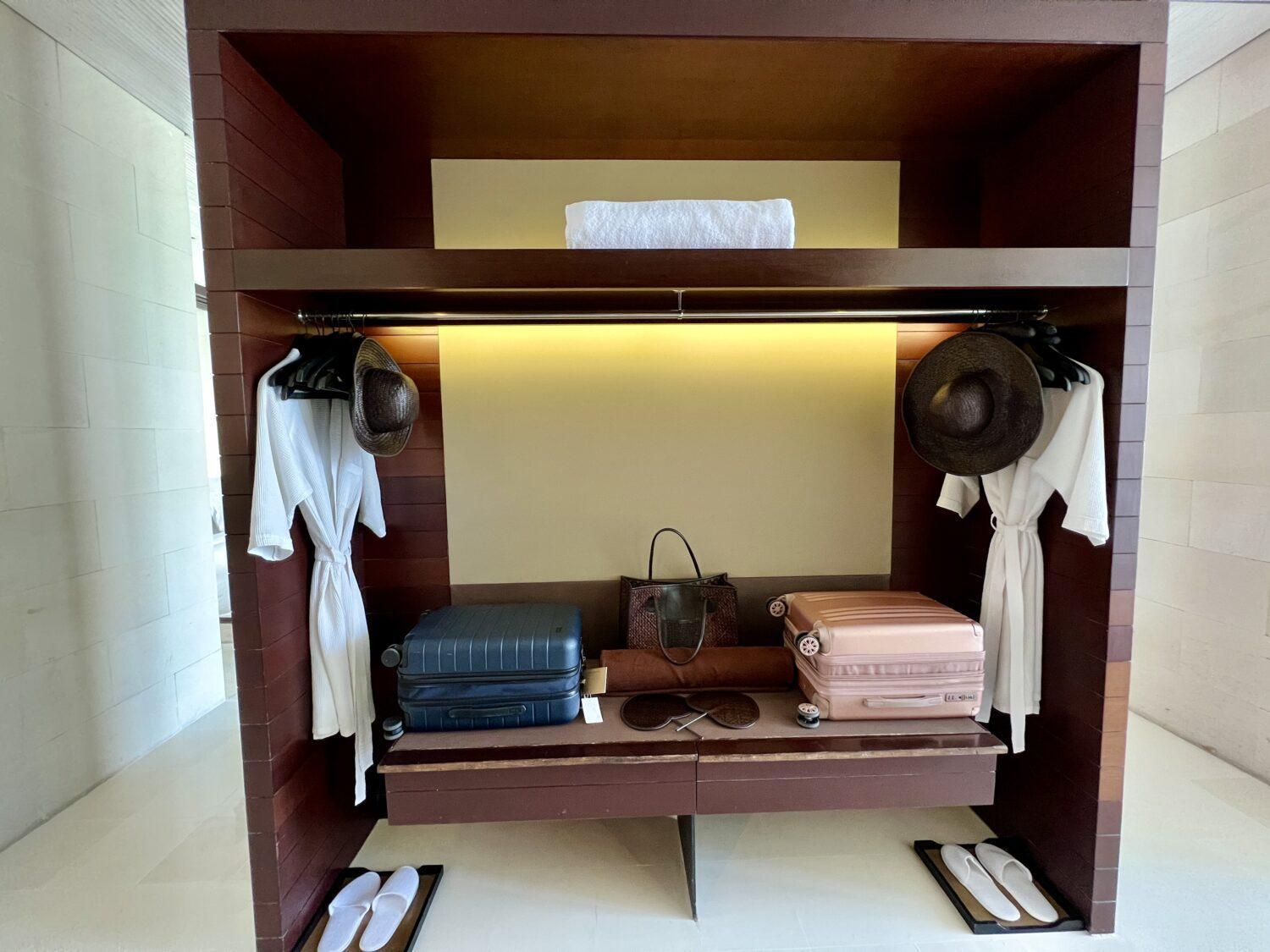 Near one of several doors to the outdoor space, you'll find the gigantic soaking tub, with bath salts and bubble bath at the ready. Just plan ahead if you want to use it: a tub this big takes a while to fill up.
Finally, there's the indoor shower … which is no slouch, either. It's like one beautiful slab of stone, complete with another rainfall shower head, a wand, and several wall-mounted jets.
The villas at Alila Villas Uluwatu may not be perfect … but they're pretty darn close. The private outdoor spaces (and that pool) are practically unparalleled. And while the indoor living space isn't massive, it's well-designed and gorgeous, too.
To me, that easily outweighs any relatively minor upkeep issues.
Amenities at Alila Villas Uluwatu
Gym
Before you head up to the villas, there's a standalone building on the grounds nearby that contains the resort's gym.
It's not very large, but it's got everything you should need to get a good workout in: A few treadmills, bikes, and an elliptical; several weight machines; and a few racks of free weights.
There are towels at the ready as well as water available. Plus, Alila even stocks the gym with some fruit and some homemade granola bars.
Library
On the walk from the villas back toward the center of the resort, there's a small yet beautiful library with some seating, books you can grab, and an Apple computer. There's also a printer, which is free to use should you need it.
Spa Alila
Of course, a high-end resort like this has a spa – and a gorgeous one, at that.
Spas, massages, and treatments aren't my thing, so I didn't scope things out myself beyond poking my head in the spa lobby, located just to the right of the main lobby.
As you might expect, the prices are fairly high compared to the $10 beachside massages you can get elsewhere on the island. Check out the current Spa Alila menu and you'll see that an hour-long Balinese massage will run you 1.5 million Indonesia rupiah – roughly $95 USD – while a facial costs $75 USD and up. There are also plenty of other add-ons available at an extra cost, and you can even schedule a private yoga session starting at 850,000 rupiah ($53 USD).
Whatever you decide on, there are a handful of distinct spa villas. If you really want to splurge, there's something special: the Cliff Edge Spa Cabana, a few steps down the cliffs of Uluwatu, where you can unwind with a massage as the waves crash against the coast below.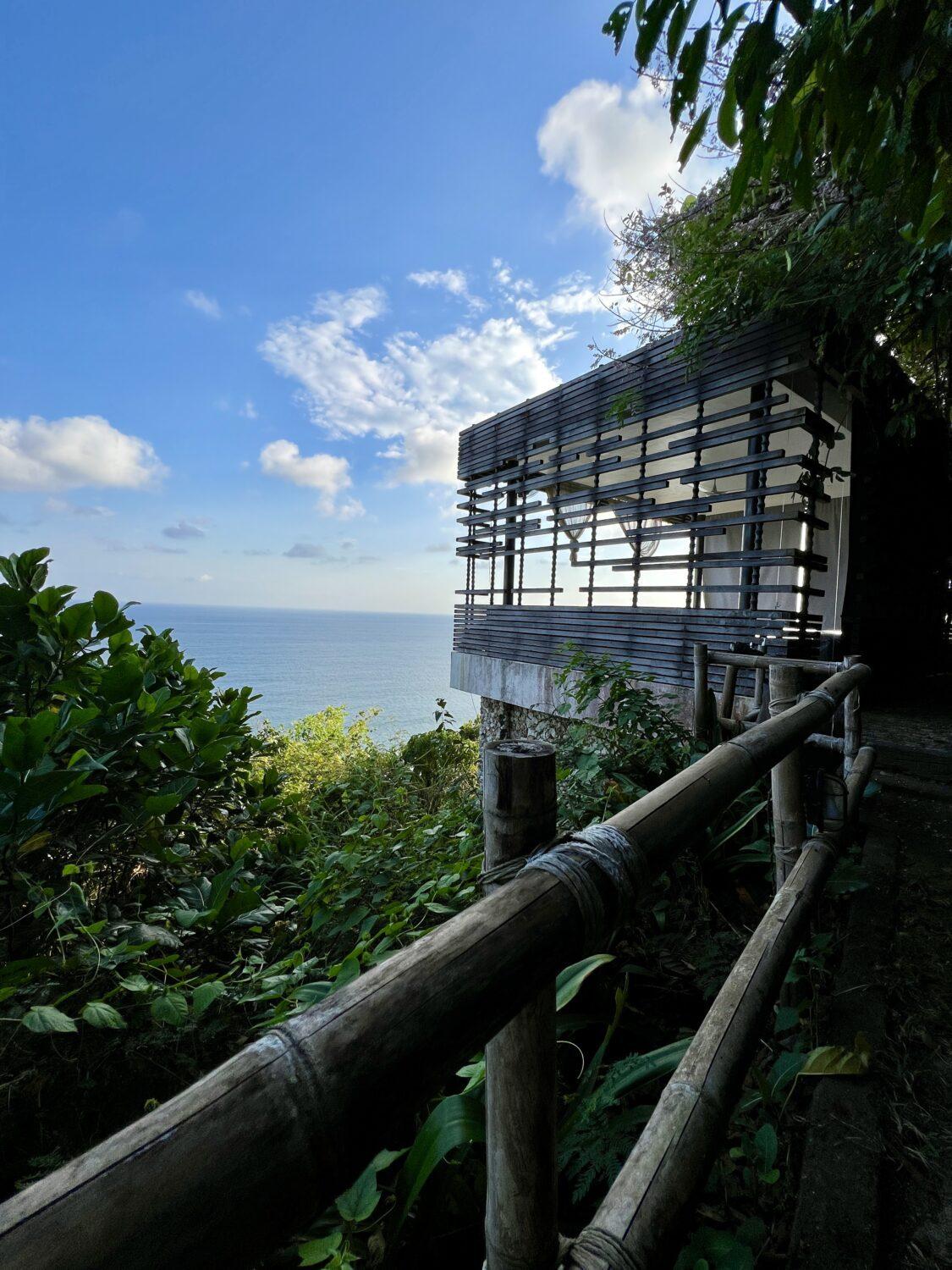 This spot made me reconsider my spa aversion … until I looked at the price. A two-hour treatment clocks in at 2.9 million rupiah, or $182 USD.
Maybe next time…
Hiking to the Beach
Saying Alila Villas Uluwatu has a beach feels inaccurate. Sure, it's along the ocean, but this isn't prime swimming territory.
Betting down and back up the cliffs to reach it is an adventure, but one that's well worth it if you ask me. Hiking down to the beach at Uluwatu was truly one of the highlights of our stay. Here's why.
Soaking in the rugged cliffs and wild, rocky coastline of Uluwatu was a treat. But getting there is a hike – and not an easy one. It's some 600 steps down and 600 or so straight back up to the resort to get back. It's a solid 30 minutes down and probably even more to trek back up. Travelers with bad knees, backs, or any mobility issues will need to steer clear.
Going up and down wasn't just a good workout, though. Walking along the coast, peering in tide pools for small fish and sea urchins, or watching local fishermen at work was a great change of pace. But I definitely wouldn't recommend swimming down here.
If you decide to make the trek, pop into the lobby and ask a staff member when to time your hike during low tide so you can explore. They'll also gladly pack you a small bag with some bottles of water, which are a must.
Food & Drinks at Alila Villas Uluwatu
Compared to luxe resorts in the Maldives or French Polynesia, Alila Villas Uluwatu seems quite reasonable, price-wise.
But by Bali's standards – where you can get a $1.50 beer and a $5 meal at most places – it feels outrageously expensive by comparison: Cocktails are $14 or more, and a good-sized entree might run you $20-plus. If you've already spent time in Ubud or elsewhere on the island, eating and drinking at Alila Villas Uluwatu might give you some sticker shock.
That said, every meal at Alila was top-notch during our stay. There are a few different restaurants and bars to choose from to keep things interesting. But if you need to break things up (or just need to give your wallet a rest), there are some spots close by you can reach by cab for lunch or dinner.
Breakfast
Breakfast is a great way to start off each morning at Alila.
The resort serves breakfast daily at Cire, the "western" restaurant on the left side of the resort as you face the sea. Hyatt Globalists get complimentary breakfast for two each day, but the prices for the rest of us are fairly reasonable: Think $4 to $5 USD for an entree and $3 for a coffee.
The menu rotates slightly each day. Here's a look at one day's menu – add an ",000" to each price tag for the cost in Indonesian rupiah.
No matter your status, everyone gets a complimentary platter of fruit and a basket full of bread and pastries, all of which were always excellent. And in this al fresco setting, the view does not suck, either.
There's a solid selection of both Western breakfast classics and Indonesian specialties … but when in Rome, right? I stuck with Indonesian dishes ("from the Warung") each morning. Bubur ayam – a fragrant rice and chicken porridge – was excellent, as was the nasi goreng with a perfectly fried egg on top. My wife also loved her breakfast dishes like a yogurt parfait and dressed-up french toast each morning.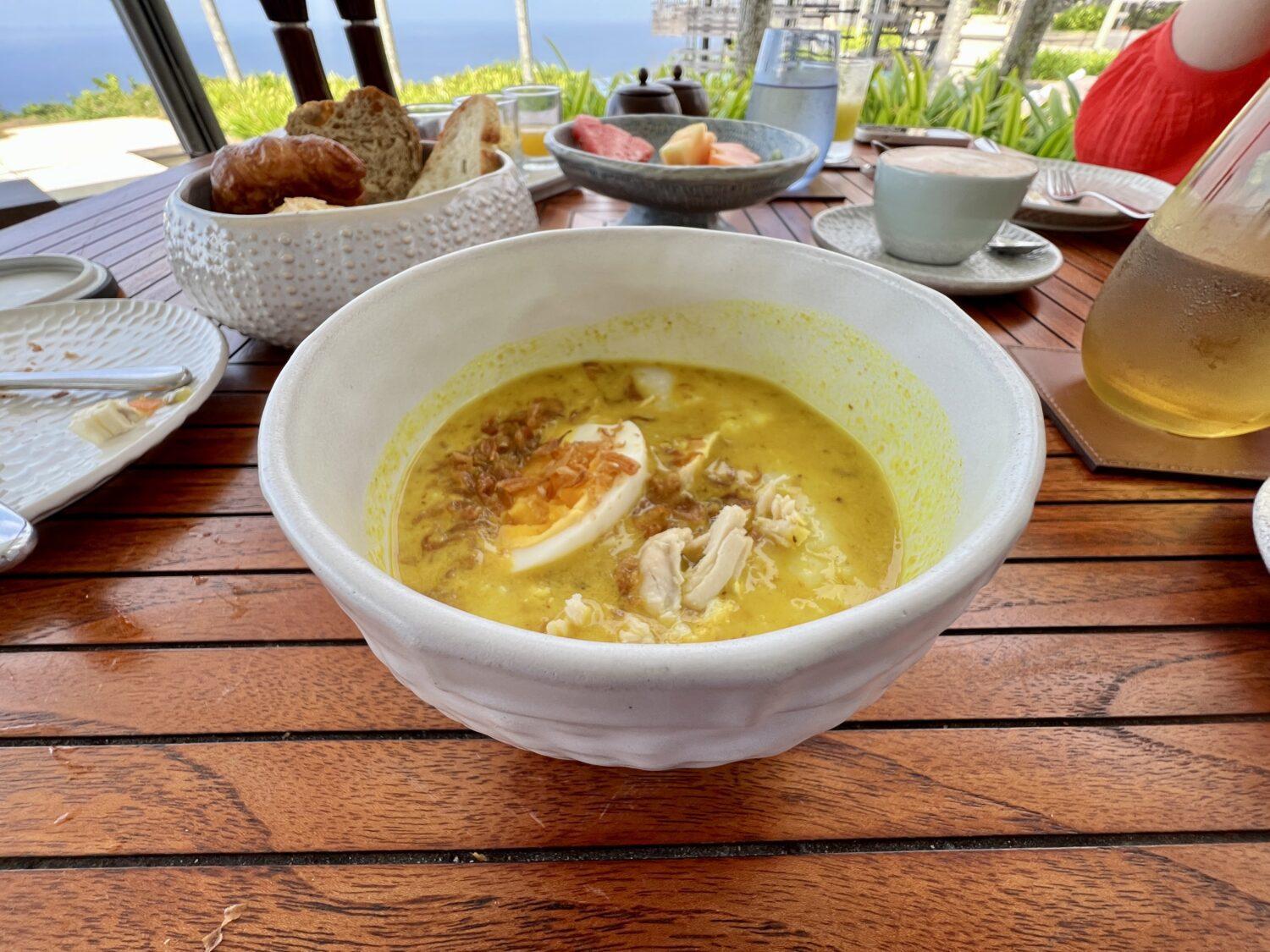 With a few coffees and a juice, each breakfast set us back about $20 to $25 a day.
Warung
Located on the right side of the resort as you face the sea, Warung is Alila's dedicated Indonesian restaurant. And we loved it.
The food was on par with par with some of the best Indonesian food we ate throughout the trip – just with a higher price tag. We grabbed dinner here on two of the three nights at Alila Villas Uluwatu, though it's also open for lunch.
Like Cire across the way, there are plenty of outdoor tables as well as a beautiful, open-air space indoors. There's a signature wooden table in the center of the indoor space available for large groups.
No matter what you order, each dinner at Warung starts the same: With an enormous platter of different sambals and other little snacks and prawn crackers.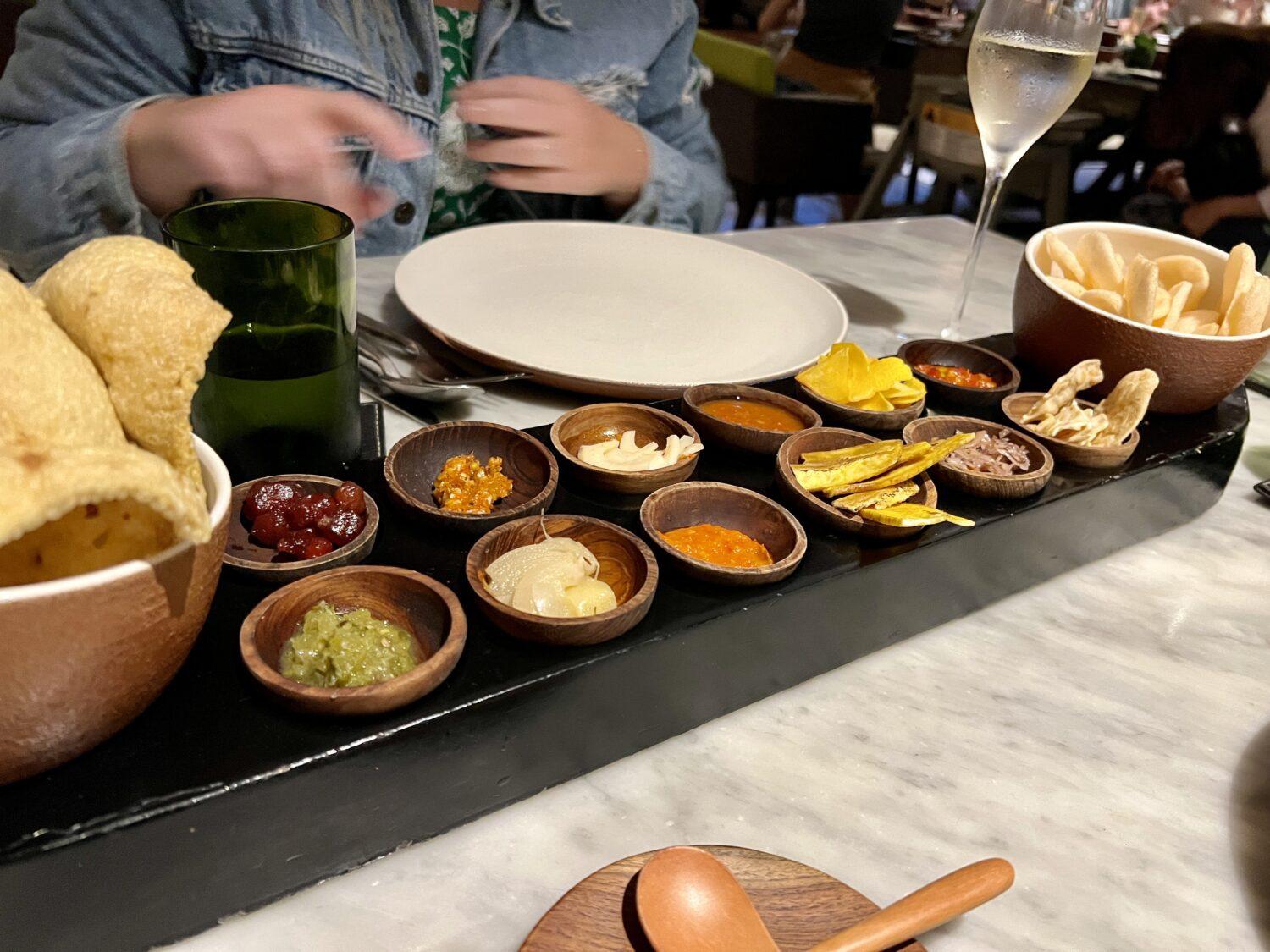 Warung's menu is dialed-in yet expansive, ranging from small plates to share to grilled meats and soups to Indonesian staples. Their mie goreng – a dish you can find at almost any roadside stall or restaurant – was great.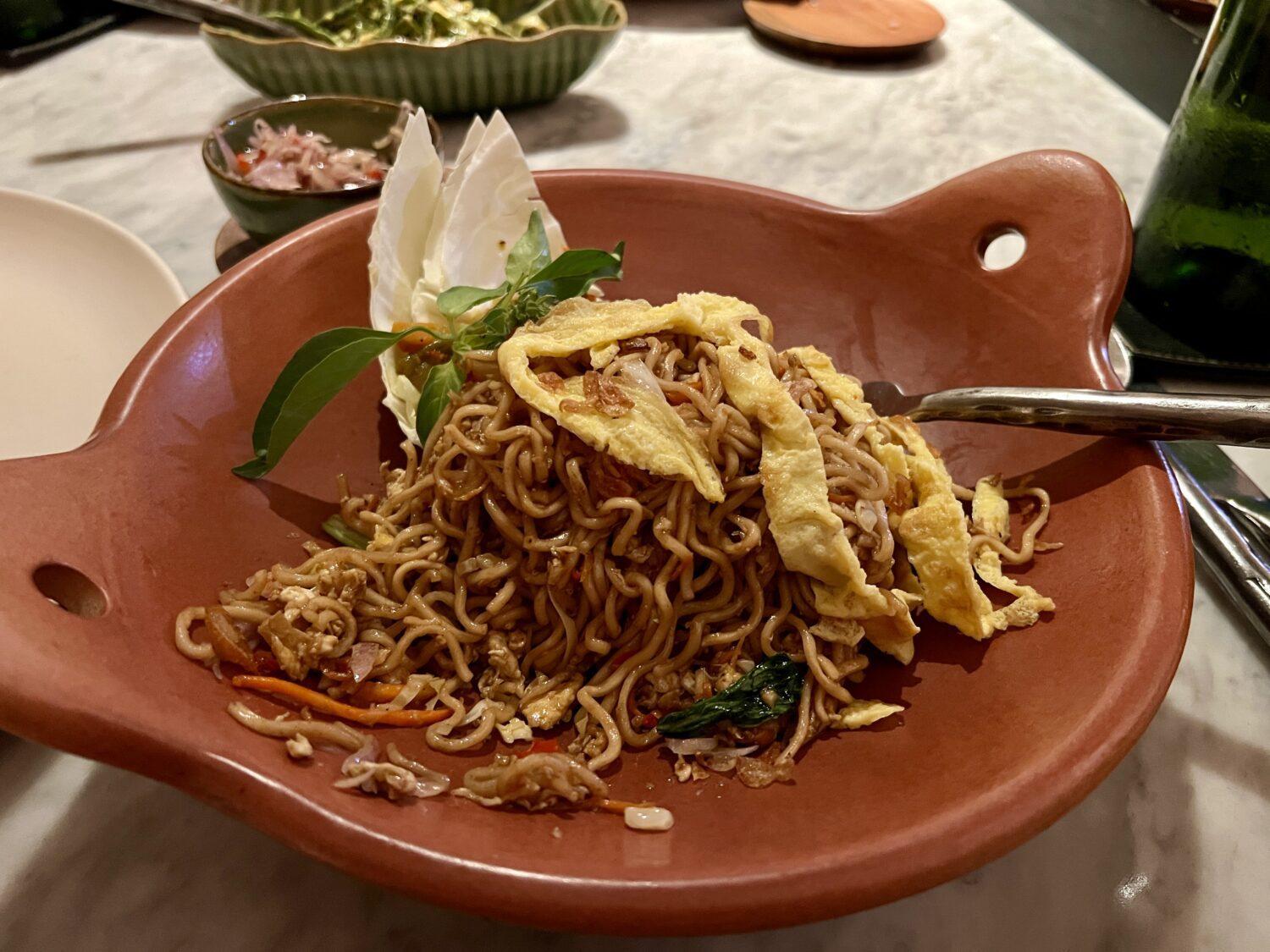 But the highlight was the beef rendang, which we split for our final dinner on the property. It was outrageously tender and rich but flavorful, and plenty big enough for two. The side of "kacang mekalas" – curried green beans – was a must-order.
Cire
After breakfast, Cire transforms into the resort's dedicated Western restaurant – Alila describes it as "Pan-Asian specialties to Mediterranean-inspired dishes."
Whatever it is, a dinner at Cire is a nice way to break things up after one too many plates of nasi goreng. The Cire menu ranges from tabbouleh, hummus, and tuna tartare to grilled lamb shanks or wagyu steaks, pastas, and more.
For our only dinner at Cire, we split an order of truffle pasta, with perfectly al dente penne noodles in a light yet creamy mushroom and truffle sauce. The focaccia was excellent too. And while the grilled asparagus was a tasty side, the portion was almost laughably small – I think we counted seven spears of asparagus in total.
Splash Poolside Dining
For those days when you're lazing away the day at the main pool (note: this was every day), Alila Villas Uluwatu also offers a casual poolside menu of eats and drinks from what it calls Splash Poolside dining.
And it's not just repeats from either restaurant onsite. It's truly a different menu: There are several salads, tasty-sounding snacks, sandwiches and burgers, pizzas, and other entrees.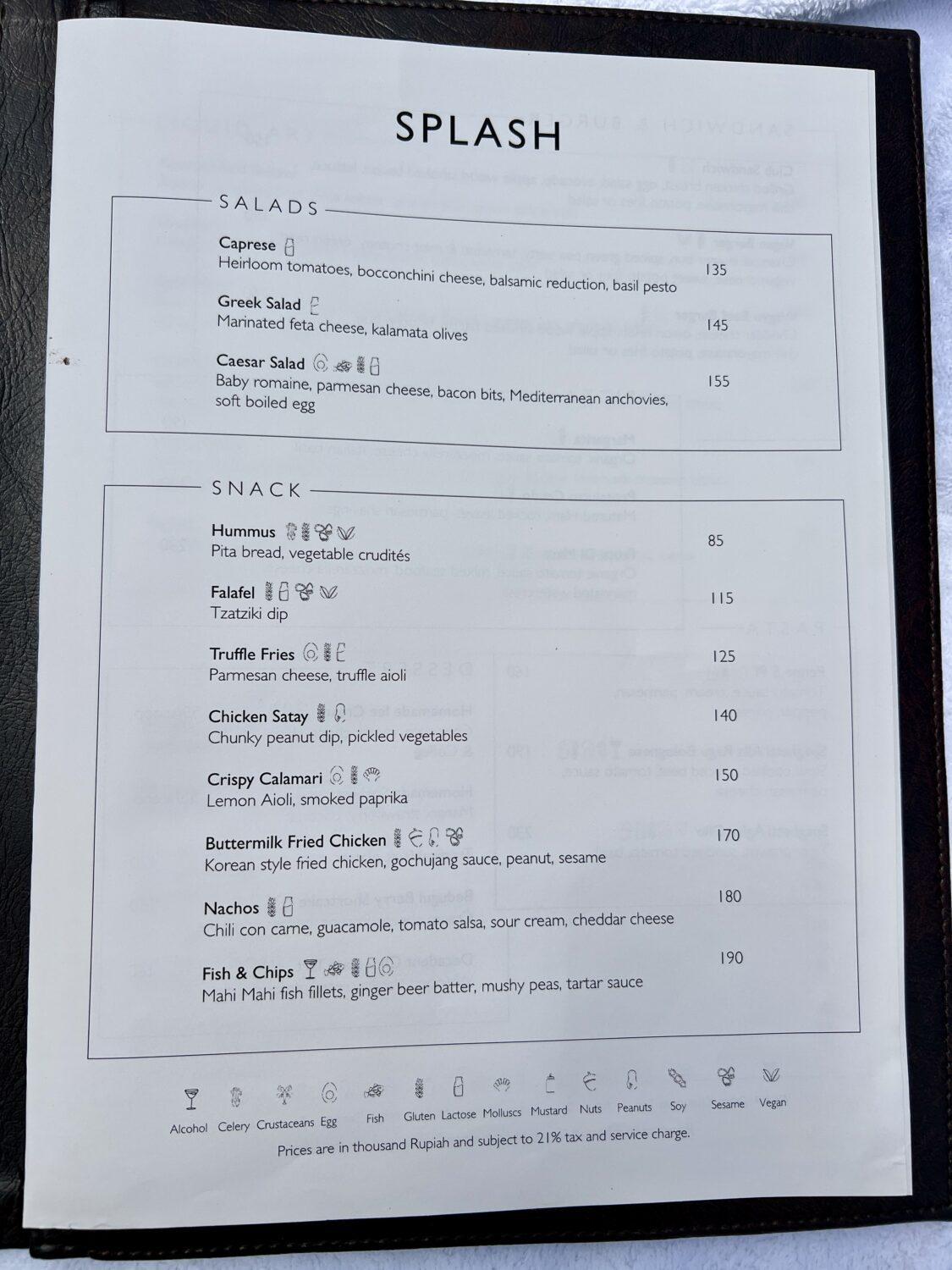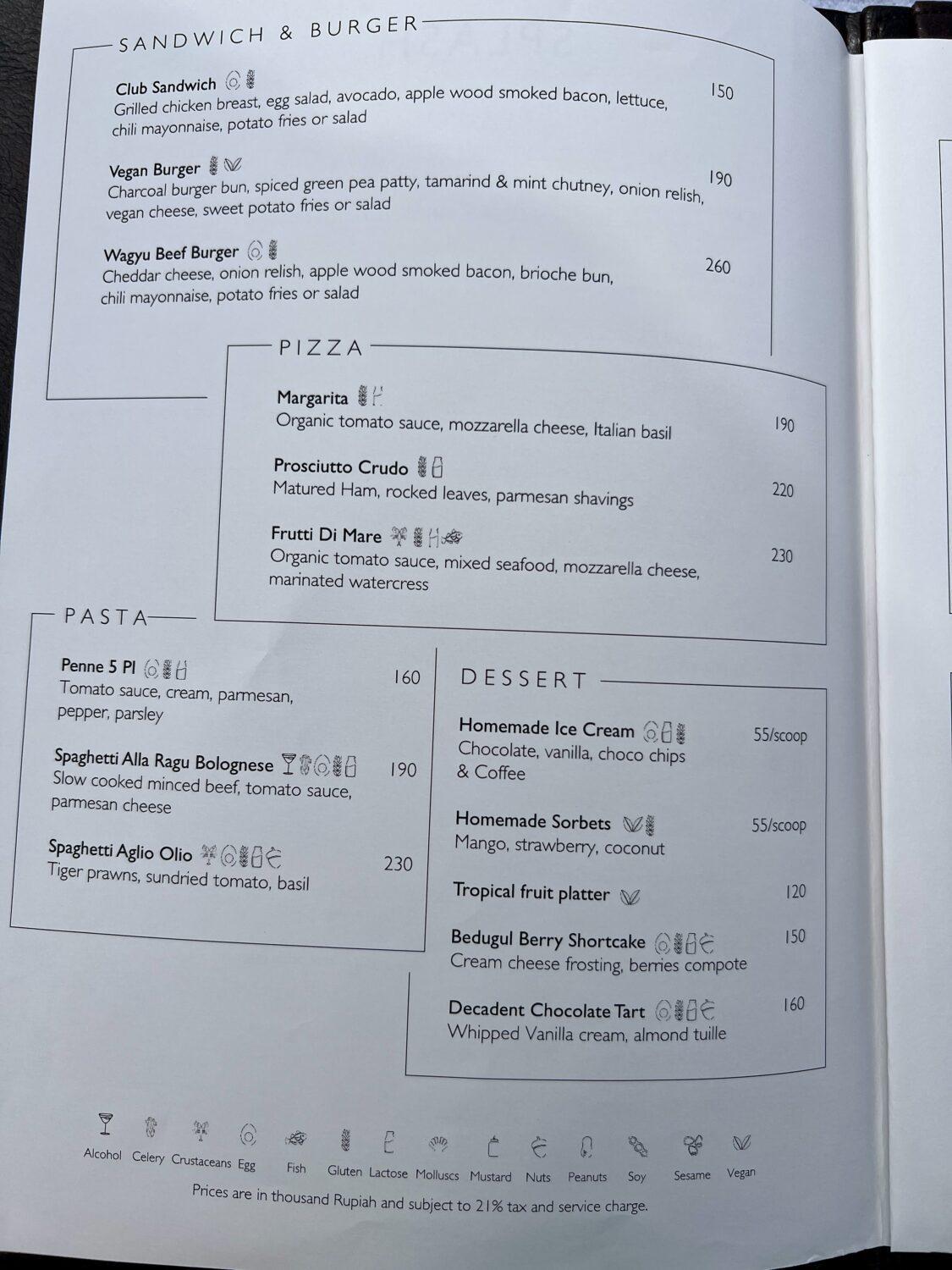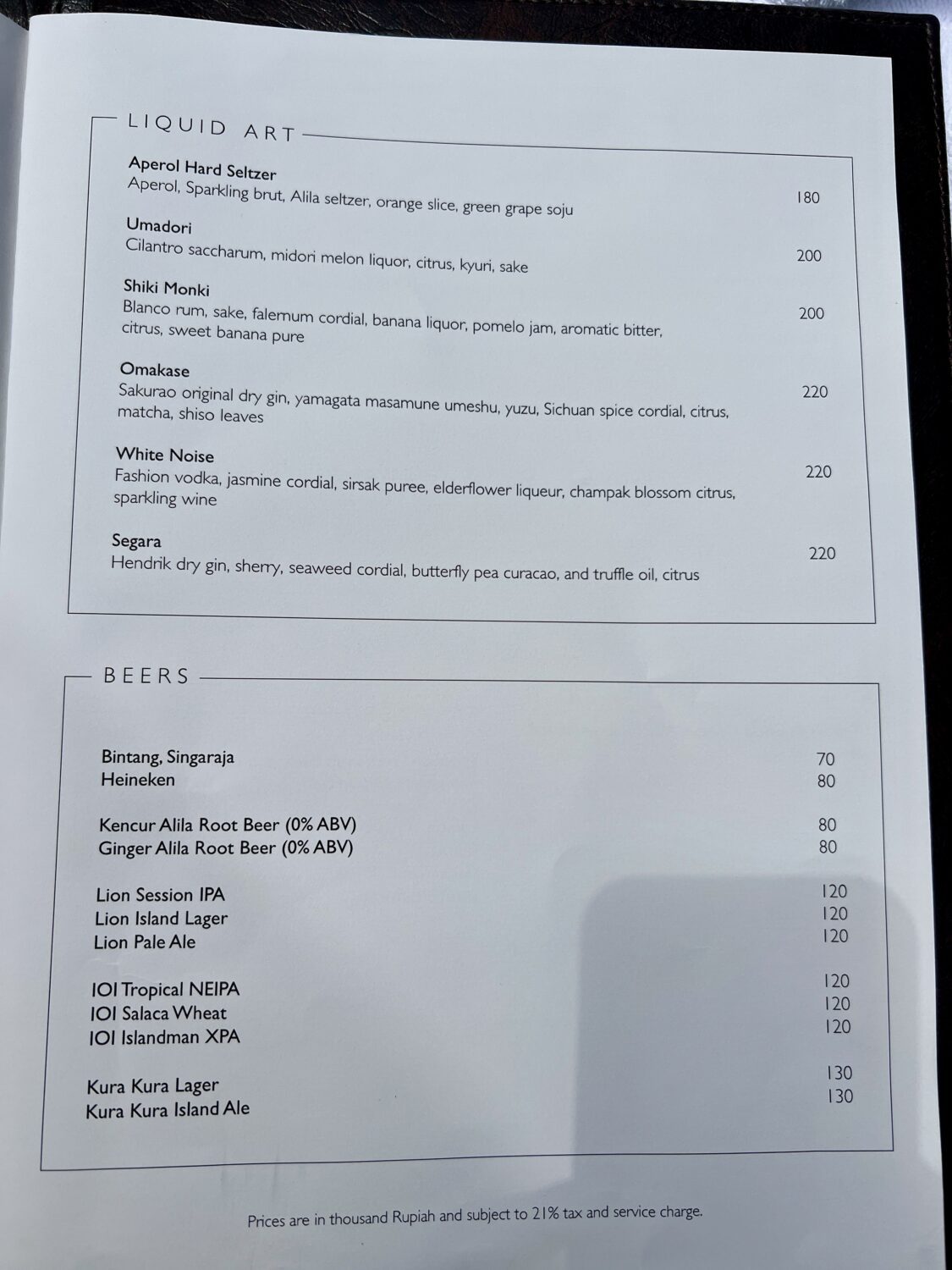 And it's not just pool food…
It's really good pool food. Some of the poolside dishes we tried were more memorable than spendy entrees from either major restaurant. The fish and chips, for example, were truly excellent, with a crisp breading coated on firm, flaky fish. They even came with a dish of mushy peas!
The margherita pizza was surprisingly solid, as well. It might have been a tad too cheesy, but the crust was simultaneously crusty yet chewy.
The one knock against eating poolside at Alila Villas Uluwatu is that the service could be hit or miss. At times, servers would regularly work their way around the pool to take and drop off food or drink orders. At other times, they'd practically disappear, making it difficult to flag anyone down.
Sunset Cabana Bar
Perched in a large cabana over the cliffs, Alila Villas Uluwatu has a signature bar called – you guessed it – Sunset Cabana Bar. And it's extra in every sense of the word.
To see what they serve here, just pull it up on the bar's Instagram feed. Do you want to drink an aqua blue cocktail out of an enormous ceramic sea shell? Of course, you do.
It might come across as a bit gimmicky, but it's a great place to have a drink before or after dinner. The setting is surreal, after all.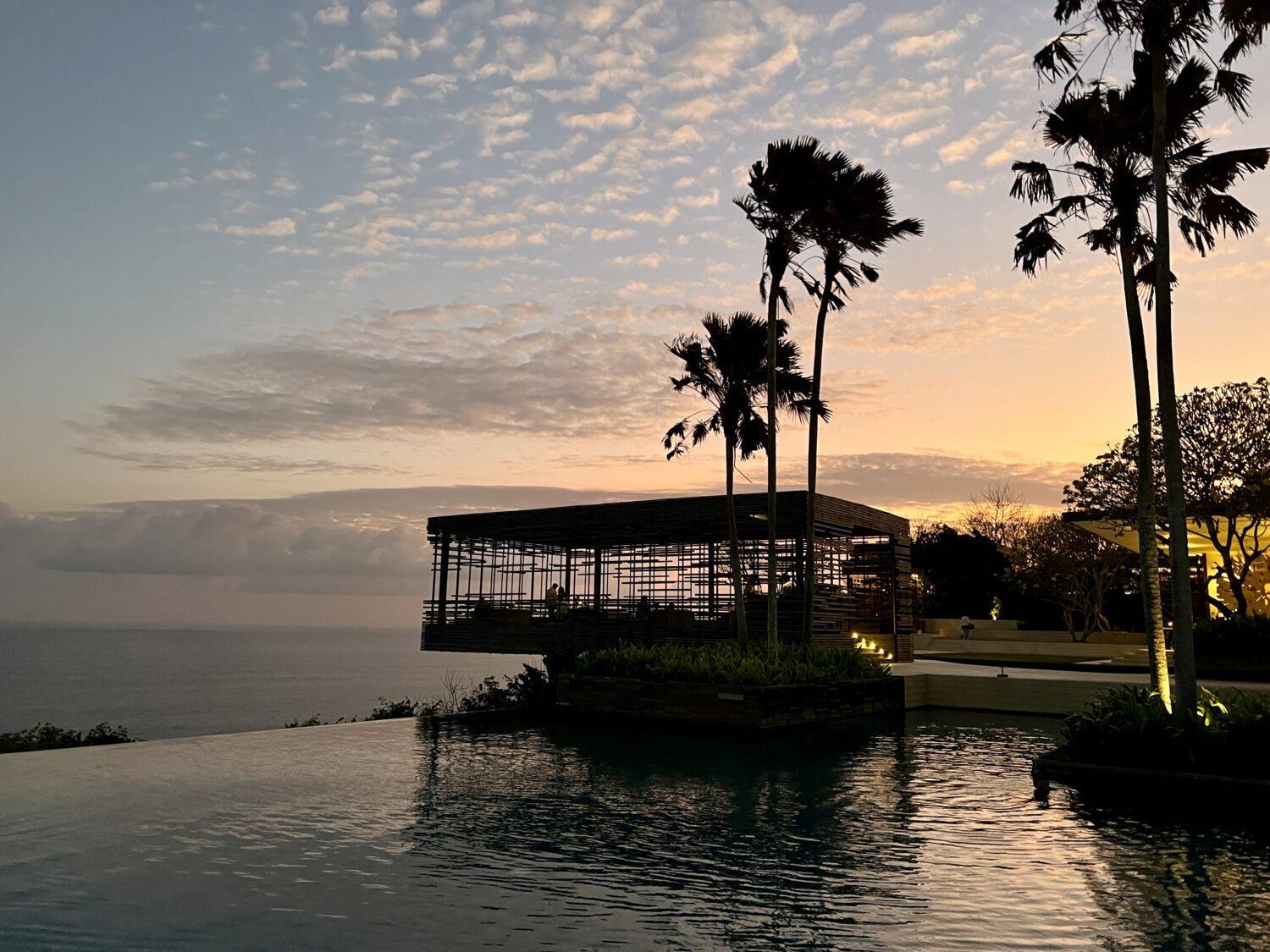 And so are the views inside as the sun goes down.
And it's not as if a beautiful setting is there to cover up bad drinks. The cocktails are quite good – well, most of them, anyway. The smoked old fashioned was a knockout, and not just for the presentation.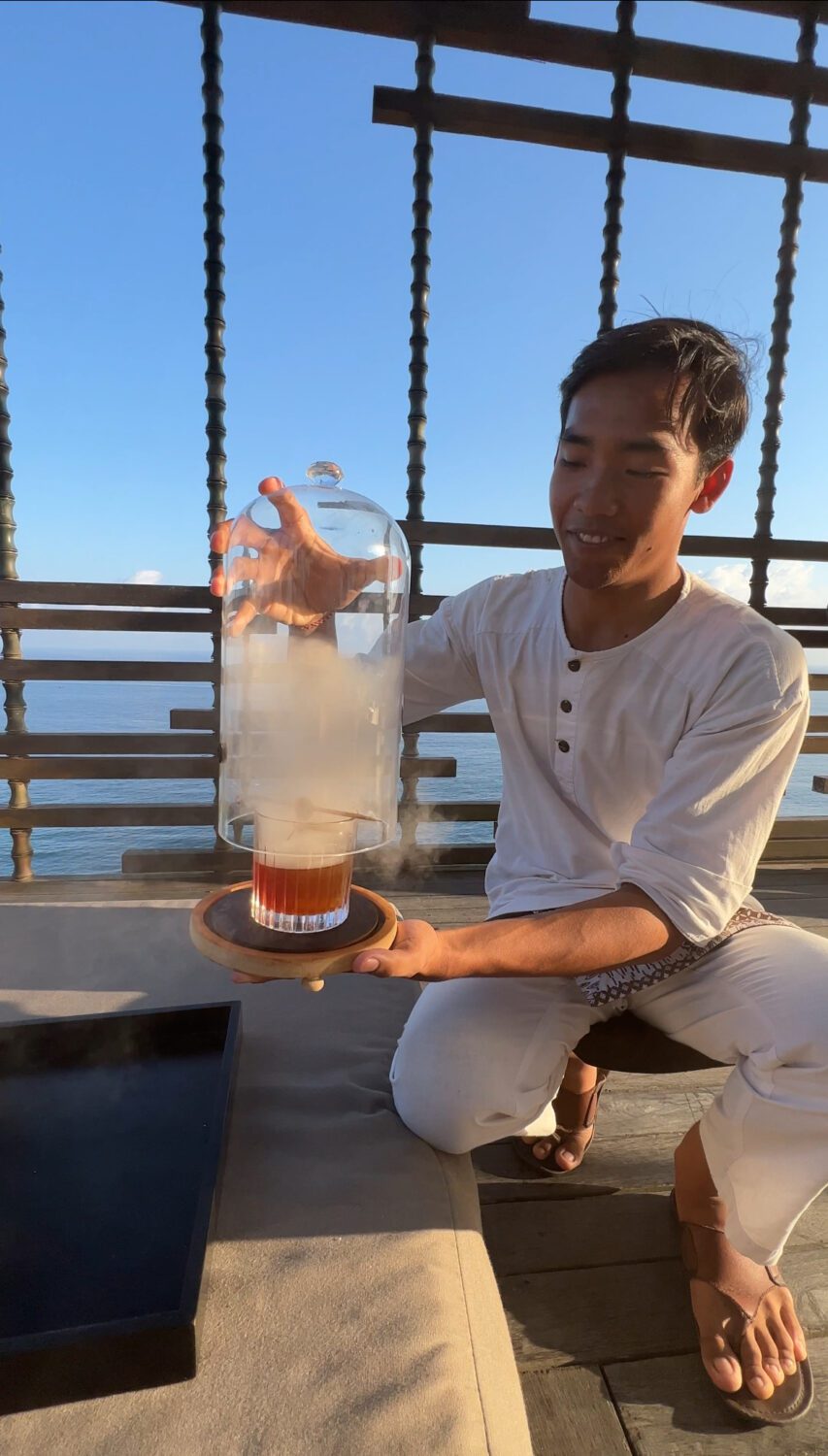 But really, how could I not order that vibrant blue cocktail in a seashell? The menu describes the Segara as a gin-based drink with an "umami sour taste with the delicate aroma of truffle and a hint of sea salt aftertaste."
My tasting notes: "Kool-Aid taste with an aftertaste of more sugar." But I'd be kicking myself if I hadn't tried it. And it was a rare miss in the food and beverage department throughout our entire stay.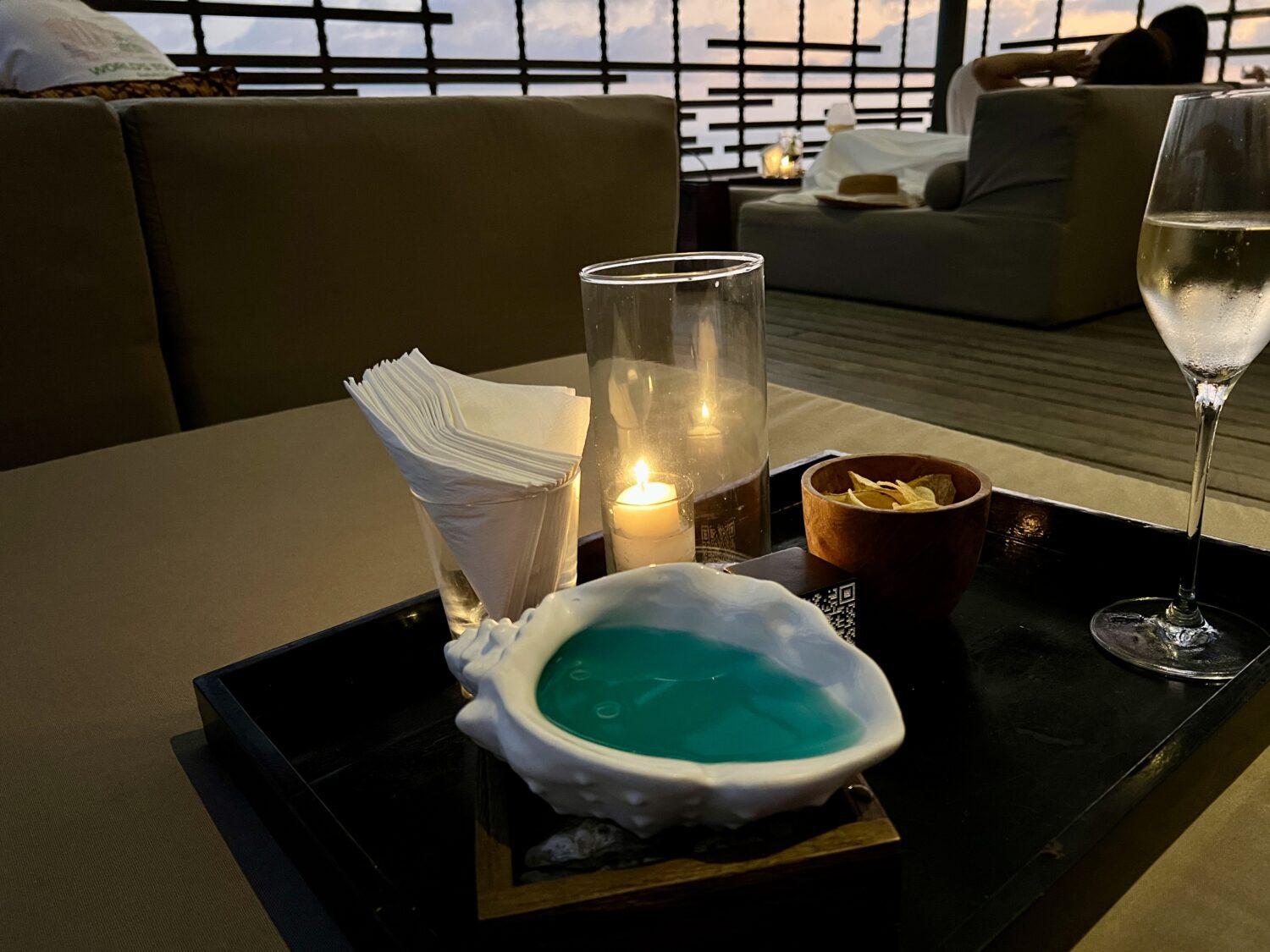 You can also order small bites to eat at Sunset Cabana Bar, though we always saved our appetites for dinner.
Batique Whiskey & Cigar Bar
On top of the outlandishly fun Sunset Cabana Bar, Alila Villas Uluwatu has a second bar: Batique Whiskey & Cigar Bar. And it's exactly what it sounds like.
Batique has an expansive whiskey and scotch menu, with tailored tastings (including one option with chocolate pairings), single pours, and special cocktails. But it's a cigar bar, too, so those are available for purchase. It's fully enclosed in glass behind Cire.
Other than poking my head inside for a quick peek, we skipped visiting. While it's got the laid-back vibe of a smoking room, the resort occasionally hosts live DJs inside.
Service at Alila Villas Uluwatu
Aside from a few long waits for lunch around the pool, the service at Alila Villas Uluwatu was pretty much flawless.
From the check-in process to restaurants to nightly turndown service, the staff was unfailingly warm, kind, and attentive. Many servers at restaurants were quick to crack jokes while also offering a refill or recommendation. Little touches made it more special, like returning our passports tied up in a bow or leaving more of a certain kind of espresso capsule when they clearly noticed it was our favorite.
But I have to give a special shout-out to Andika, who worked at … well, I'm not quite sure. He seemed to float from restaurant to bar to restaurant, greeting us by name, asking about our day, and offering help whenever we saw him.
While certain aspects of our stay at Alila felt out of place in Bali, that kind of warm, caring service brought us right back to the island.
Bottom Line
I'd go back to Alila Villas Uluwatu in a heartbeat. That's the true test, isn't it?
Its unparalleled beauty, warm service, and great food made it an amazing way to cap off a return trip to Bali – even if our wallets felt it more after spending just $20 a day elsewhere on the island. It's widely regarded as one of the best resorts in Bali, and it lives up to that hype.
Yet despite my overwhelmingly glowing praise, I also couldn't shake the feeling that it exists in a sort of bubble. It's a part of the island, of course, but its over-the-top nature means it doesn't quite share the same sense of place.