Update 4/17/18: Read our final response to the Sun Country Mexico fiasco.
Update 4/15/18 @ 2pm CT: Received confirmation from Sun Country that there will be NO recovery flights to re-accommodate the estimated 250 passengers (perhaps more) stranded in Mazatlan (MZT) & San Jose del Cabo (SJD).
Sun Country should have at least chartered two alternative aircraft to pick up these passengers on Sunday or Monday. Instead, Sun Country has created a PR nightmare for themselves.
We understand that winter weather can wreak havoc on an airline, especially a small airline like Sun Country. On Saturday, Minneapolis-St. Paul (MSP) received a foot of snow, which closed the airport for most of the day. This, of course, resulted in a slew of cancelled flights, including some of Sun Country's last flights of the year on a couple seasonal routes, including flights from Mazatlan (MZT) & San Jose del Cabo (SJD). Rather than trying to work out a solution for passengers, Sun Country simply refunded passengers and told them on Facebook to find an alternative way home.
Passengers will be have to book expensive last minute flights home on another airline, and they will be required to pay for any additional lodging expenses on their own. Based on our calculations, Sun Country has abandoned two flights or around 250 of their Minneapolis-bound passengers in Mexico.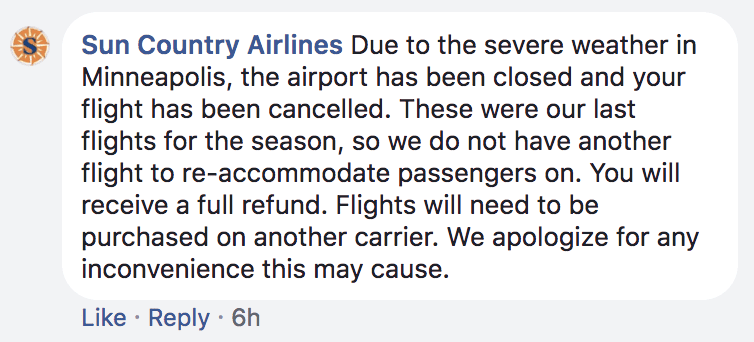 We were first notified by one of the passengers on the cancelled Saturday flight from Cancun to Minneapolis. They received the following cancellation email from Sun Country about four hours before their Saturday night flight. Before the flight was even cancelled, they started calling Sun Country on Saturday morning to reschedule. They were unable to get through to a Sun Country representative almost 24 hours later on Sunday morning.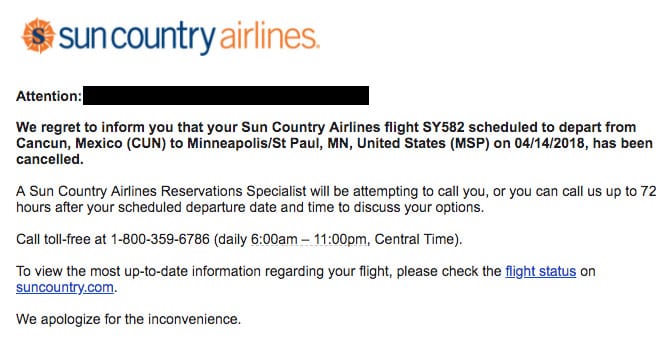 As a result of the cancelled flight and inability to get through to a Sun Country representative, they booked flights on Delta for $600 (one-way) each, flying out on Sunday afternoon. If they would have been able to get through to Sun Country, they would have been accommodated on a later flight. Per a Google Flights search, the next Sun Country flight with open seats is currently Thursday, April 19th. Thankfully for Cancun passengers, these were not the last Sun Country flights of the year, as was the case for Minneapolis passengers flying out of San Jose del Cabo & Mazatlán. The last flights of the year on the San Jose del Cabo and Mazatlan routes is this afternoon (Sunday, April 15th), but those flights were likely already sold out before the weather event.
Bottom Line
While being stranded in Cabo or Mazatlan might not seem like the worst thing, having your airline abandon you in a foreign country is unacceptable. Last minute flights can be incredibly expensive and additional accommodation expenses add up fast. Last minute fares out of MZT & SJD are an insane: $600 – $800 one-way for Sunday afternoon and include one to two stops unlike Sun Country's nonstop route. What Sun Country has done to passengers flying on their April 14th flights from Mazatlan & San Jose del Cabo to Minneapolis is unacceptable. Now that Sun Country is under new ownership, is this what we should expect?