Is it 2022 or 2002? Regardless, it's welcome news: Southwest Airlines will begin outfitting some of its newest jets with in-seat USB power outlets, part of the Texas-based airline's $2 billion program to improve the inflight experience along with faster Wi-Fi, bigger overhead luggage bins, and more.
But it's the long-awaited addition of in-seat charging that's really making headlines for Southwest. Long before barebones budget carriers like Spirit and Frontier took to the skies, Southwest won over flyers decades ago with it's no-frills approach to flying. Fast forward to the 21st century, and clearly travelers expect to be able to keep their devices charged in-flight.
So Southwest announced this week it will bring in-seat USB charging ports – both USB A and high-speed USB C sockets – onboard starting sometime in "early 2023." But you won't see it on every plane: Southwest is currently only planning on installing these on its newest Boeing 737 MAX jets, with no clear commitment to retrofitting older planes for in-seat power.

Southwest officials have said they should have about 250 planes equipped with in-seat power by the end of 2023 – just a third or so of its fleet. And there's no plan to install AC power outlets either, meaning travelers hoping to keep laptops and other larger devices charged will be out of luck.
Still, it's a welcome change – and clearly one that Southwest flyers have been clamoring for … for years. Southwest stressed that it's adding in-seat power to every seat without sacrificing legroom.
"The ability to keep your devices charged while you are connected inflight is a request that we've heard consistently in ongoing conversations with our Customers," said Tony Roach, Southwest's vice president of customer experience and customer relations, said in a statement.
Doing things simply has been one of the hallmarks of flying Southwest since its inception. It's one of the things we love most about Southwest.
The seats are largely identical from plane to plane, sans seatback screens but with plenty of legroom. Southwest doesn't mess around with basic economy or other tricky fare classes, and you still get two free checked bags with every ticket. While controversial, Southwest's "first come, first serve" seating model means you don't have to pay extra for seats.
Other Improvements Underway
The addition of in-seat power is just the tip of the iceberg for what's on tap with Southwest in the years ahead.
Southwest's in-flight Wi-Fi is getting a major upgrade, with more than 300 planes expected to get a new Wi-Fi product by this fall, driving internet speeds and bandwidth up to 10 times faster.
That faster Wi-Fi will usher in live television streaming available via personal devices this fall on select Southwest planes, too. Southwest also plans to double the number of free movies available to stream onboard by year's end
After resuming buy-on-board alcohol sales earlier this year, Southwest will introduce new options like a Bloody Mary mix, canned cocktails, hard seltzer and a rosé wine by this summer.
New Southwest jets being delivered this year will be equipped with larger overhead bins to fit more carry-on bags.
Southwest's new "Wanna Get Away Plus" fares, which will allow travelers to transfer travel credits one time among other benefits, are expected to go on sale later this month.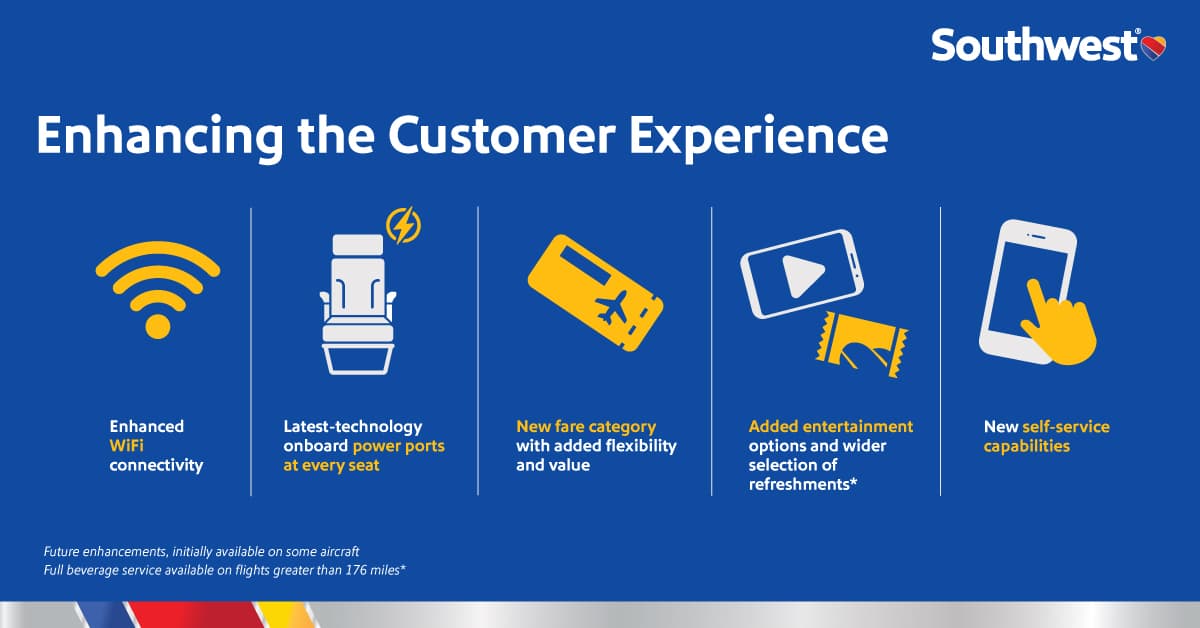 Bottom Line
Change is in the air for Southwest.
Are some of these changes long overdue? Certainly. It's almost hard to fathom that Southwest will only begin offering in-seat charging in the year 2023 … and only for mobile devices. But it's a nice change nonetheless!