When an airline forgets a 0 in its ticket price and accidentally sells a $6,600 business class fare to Southeast Asia and back for $660, you buy it. That's just a life rule.
So when Hong Kong Airlines had this mistake fare last summer, a friend and I jumped on the chance to fly in style for a surprise, 10-day trip to Vietnam. And I know we weren't alone, as many Thrifty Traveler Premium members capitalized on the mistake fare alert, too.
Hong Kong Airlines is the scrappy competitor of renowned Cathay Pacific, though it's fallen on hard financial times in recent months. But what's it like to fly in their business class for a fraction of the normal price? Read on.
One note: Hong Kong Airlines has several different business class cabins, and I flew in two different seats on the way to Hong Kong (HKG) and the way back to Los Angeles (LAX). I'll incorporate some photos of each seat throughout the review.
Booking
When a flight deal is hot, you need to act fast. When it's this hot, you've got minutes to book.
That's how you need to approach mistake fares, when airlines sell plane tickets for far cheaper than they intended. Sometimes these too-good-to-be-true fares are the result of a currency conversion error, and other times it's as simple as an agent hitting the wrong number.
Either way, time is of the essence. In this case, my friend and I bought our tickets, within about 20 minutes of getting the alert. And then we waited.
See, with mistake fares, there's no certainty that the airline will actually honor them. The U.S. government gives airlines great latitude to cancel tickets when they make a mistake in pricing. That makes it critical to hold off on booking hotels, tours, excursions, rental cars, and any other facet of your trip until you know your ticket is confirmed. And that can take anywhere from a few hours to a few weeks.
Luckily, we didn't have to wait long. Hong Kong Airlines confirmed it would honor the tickets the very next day.
No, it wasn't intentional…definitely not a marketing gimmick. We really screwed up.

It hit when I was BBQing at a friend's house on my vacation. We have decided to honor the tickets at our own cost.

We are willing to pay a price to keep our promises as a brand. https://t.co/YKhNtXqxvV

— George Liu (@GeorgeJLiu) August 17, 2018
And because Hong Kong Airlines isn't a part of a major airline alliance, there isn't a feasible way to easily book these flights with miles. So your best bet is going to be a cash fare.
So it was time to figure out what we had gotten ourselves into. Though small, Hong Kong Airlines is a top-notch carrier.
It flies to Hong Kong (HKG) from just three North American cities: Los Angeles (LAX), San Francisco (SFO), and Vancouver (YVR). And it has a new fleet of Airbus A350s to make those flights across the Pacific. These planes are some of the best you can find for these long jaunts, as the additional air moisture and pressure inside the cabin is invaluable when it comes to beating jet lag.
But things aren't so sunny with the airline right now. Its parent company, HNA Group, is hemorrhaging money, and recently sold low-cost offshoot HK Express to Cathay Pacific. Most of Hong Kong Airlines' top executives left in late 2018 or early 2019. And the airline recently announced it would cut flights from the U.S. to Hong Kong and back from their current daily departures to just three or four times weekly from late October through the end of 2019.
Lounge
Between Cathay Pacific's outstanding trio of lounges, a new American Express Centurion lounge, and even some impressive Priority Pass options, Hong Kong (HKG) is one of the best airports in the world when it comes to lounges. And while Hong Kong Airlines' Club Autus lounge may not be among the world's best, it was still an amazing space.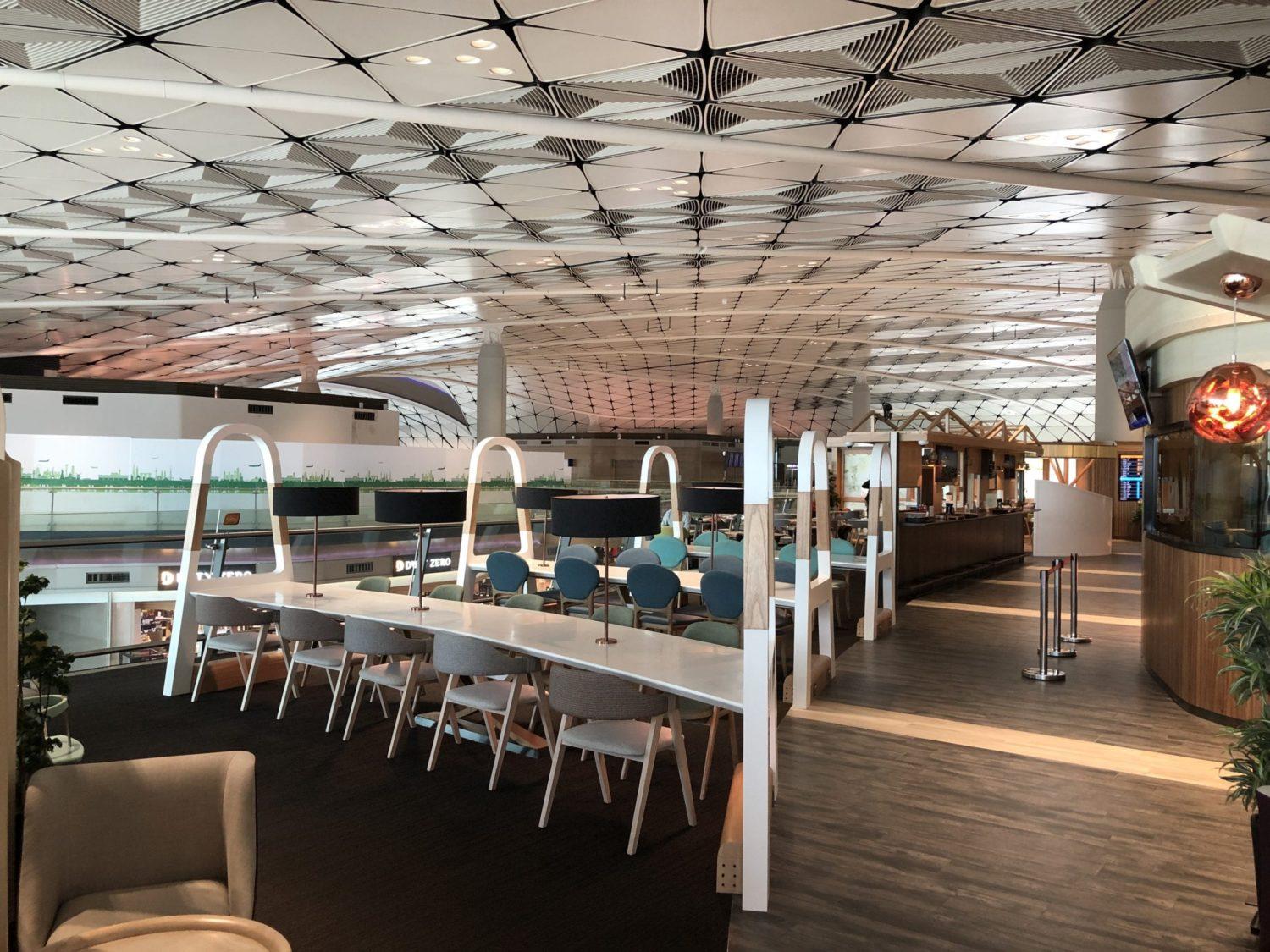 For starters, it's pretty massive, and the whole place plays off the airport's open and airy feel. There are at least seven different seating areas, with a great mix of desks for working, dedicated eating spaces, some good places to relax, a quiet area with loungers to nap, and even a dedicated area with massage chairs. And even mid-morning before our departure, it was fairly empty. That's impressive.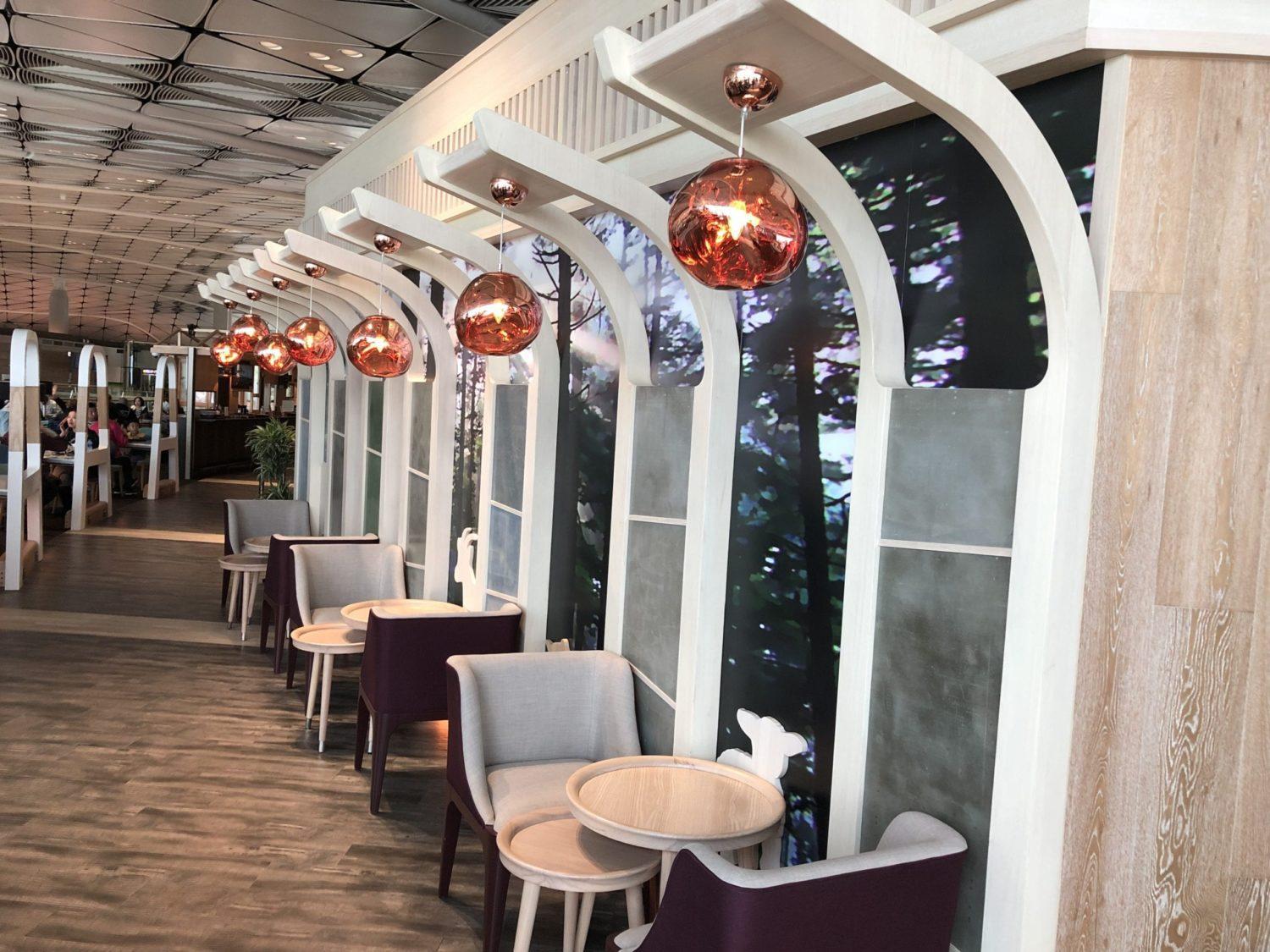 In addition to the standard buffet offerings for every meal, there's a dedicated made-to-order noodle bar. And if you need a refresh before or after a long-haul flight, there are several very nice shower suites that you can reserve from the front desk at the lounge entry. Waits range from anywhere to getting immediately whisked back to your private shower space to 10 or 15 minutes, depending on how busy the lounge is.
Cabin
Hong Kong Airlines flies two different business class cabins to and from the U.S. Just which one you get will depend on which U.S. gateway you're heading to – and a bit of luck.
Generally, the airline flies its newest business class arrangement in and out of Los Angeles (LAX). Laid out 1-2-1, these are equipped with reverse herringbone seats, which means every seat is more or less identical. You'll have direct aisle access, seats are angled away from the aisle to boost privacy, and there's an ultra-crisp, 17-inch screen. These are the exact same seats that you'll find on some American Airlines flights, as well as business class on Air Canada, Virgin Australia, and other popular airlines.
This business class product is outstanding, with a great blend of spaciousness and privacy. And I'm not joking, it's brand new. This plane was less than five months old, and it looked like it.
But every once in a while, LAX flyers will get the older setup, with staggered seats that vary row-by-row. These are also flying between San Francisco (SFO) and Vancouver (YVR) – though both of these flights occasionally get the newer model, too. This is what we flew on the first half of the journey from Los Angeles (LAX) to Hong Kong (HKG). The seats are similar – though substantially wider – to what you'll find in business class on Iberia, Emirates, Asiana, and more.
To be clear: Both business class cabins are excellent, and there are pros and cons to each seat. More on that later.
Thrifty Tip: Want to check which version of business class you'll have on your flight? Type in your flight number at Flightradar24.com and check out the plane registration number assigned to your flight. B-LGA through B-LGD are the older version, while B-LGE and up are the newer cabin.
No matter which setup you've got, there are a total of 33 business class seats spread throughout one single cabin. And really, there's only one seat I'd avoid at all costs: 11G. This is the right-side center seat in the first row of business class. And because of the way the cabin is laid out, it's about three steps away from the lavatory.
Speaking of lavatories, they're nice but basic. And while some airlines put more business class restrooms behind the cabin, Hong Kong Airlines isn't one of them. There are just two lavatories for the entire 33-seat cabin at the front of the plane. They were stocked with L'Occitane handsoap and lotion, which is a nice touch.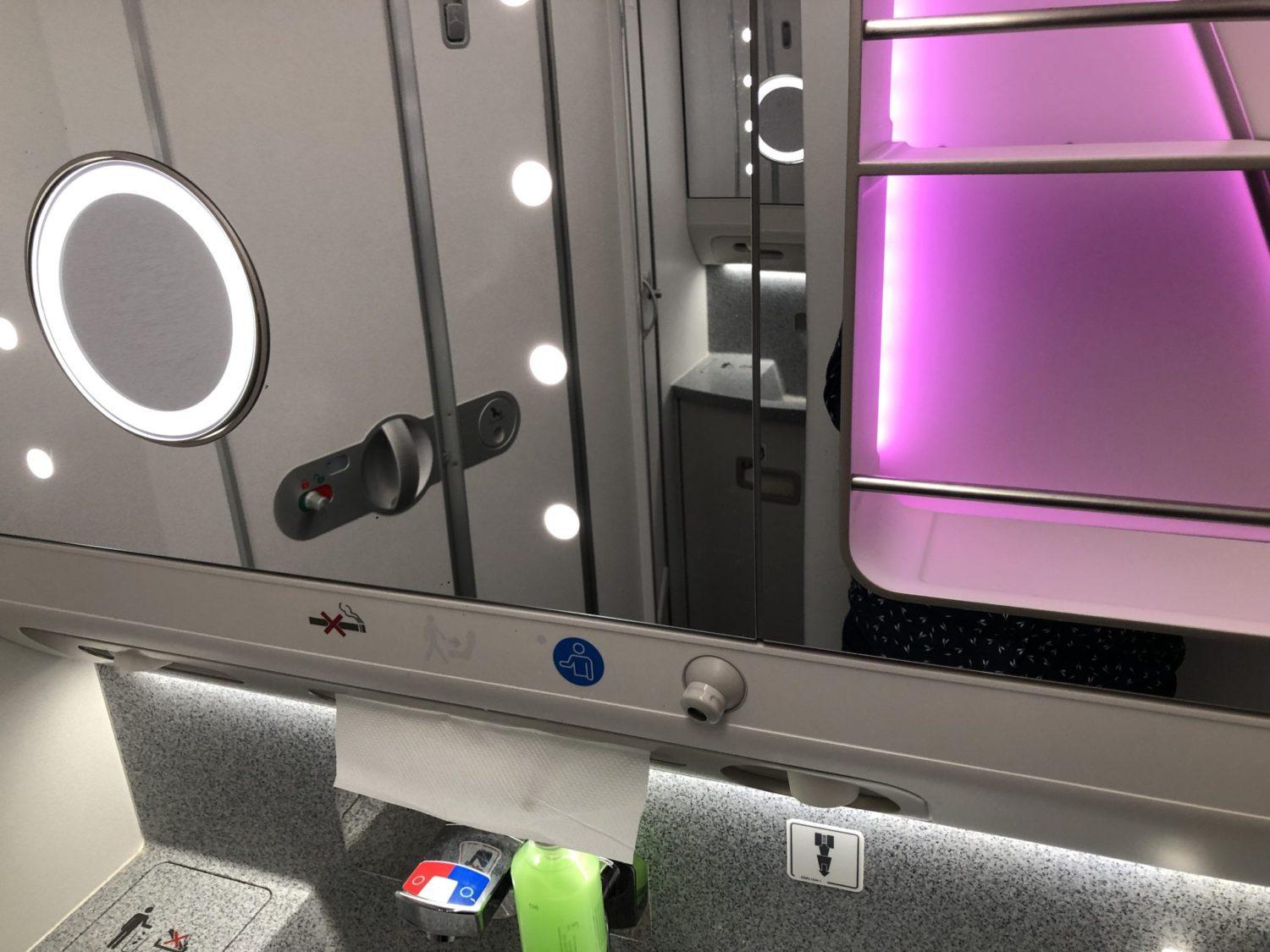 Seats
One of the beauties of these reverse herringbone seats is that they're all more or less identical. And in this case, every seat was great.
Though simple, I love the look of the sharp red seats set against the grays and whites of the seat shell.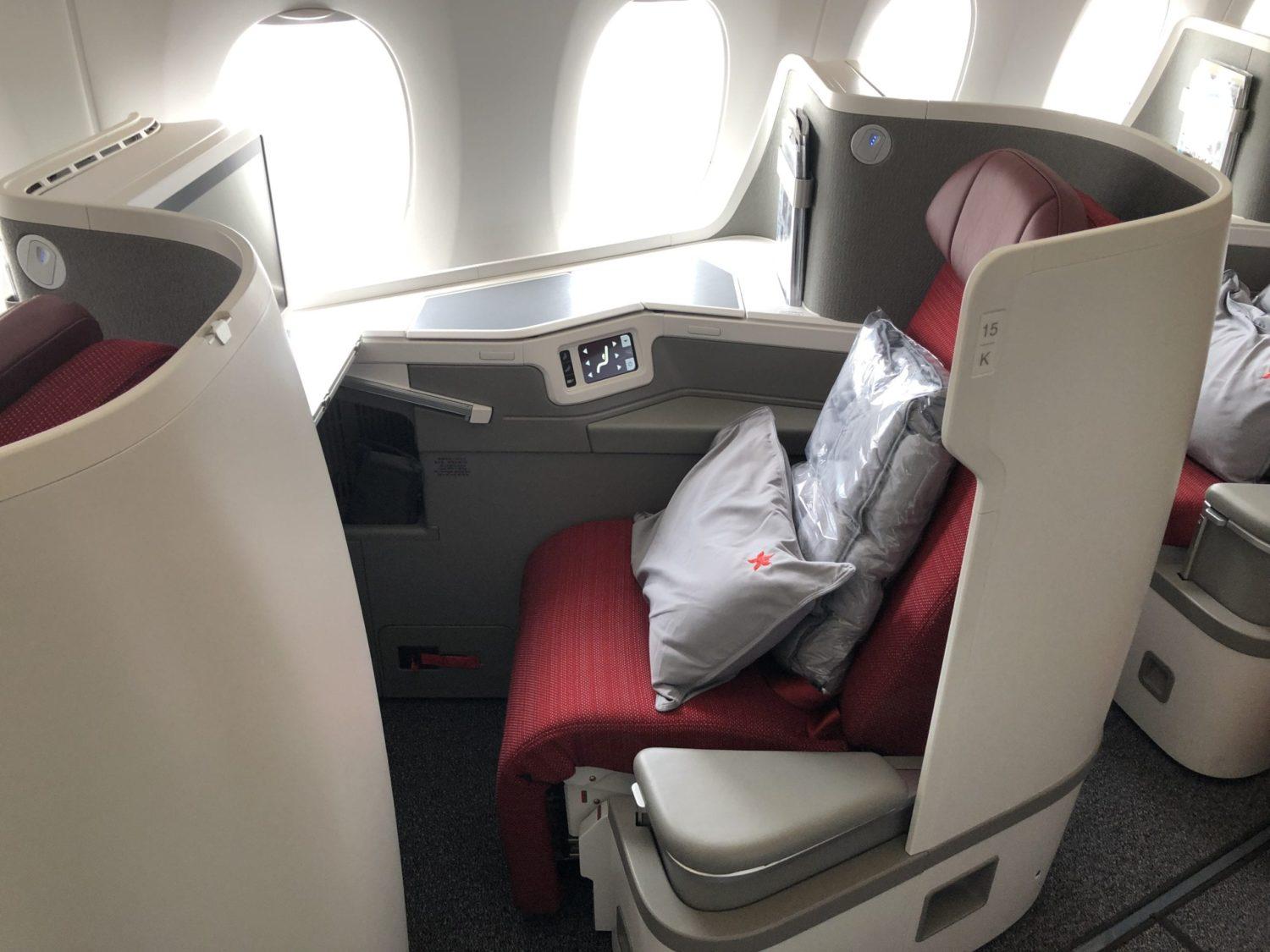 Each seat is about 26 inches wide, and sports nearly 80 inches of legroom. And I'm not joking when I say that it's one of the longest business class seats I've ever sat in. As you start to recline the seat, you'll notice that the legroom seemingly goes on for days.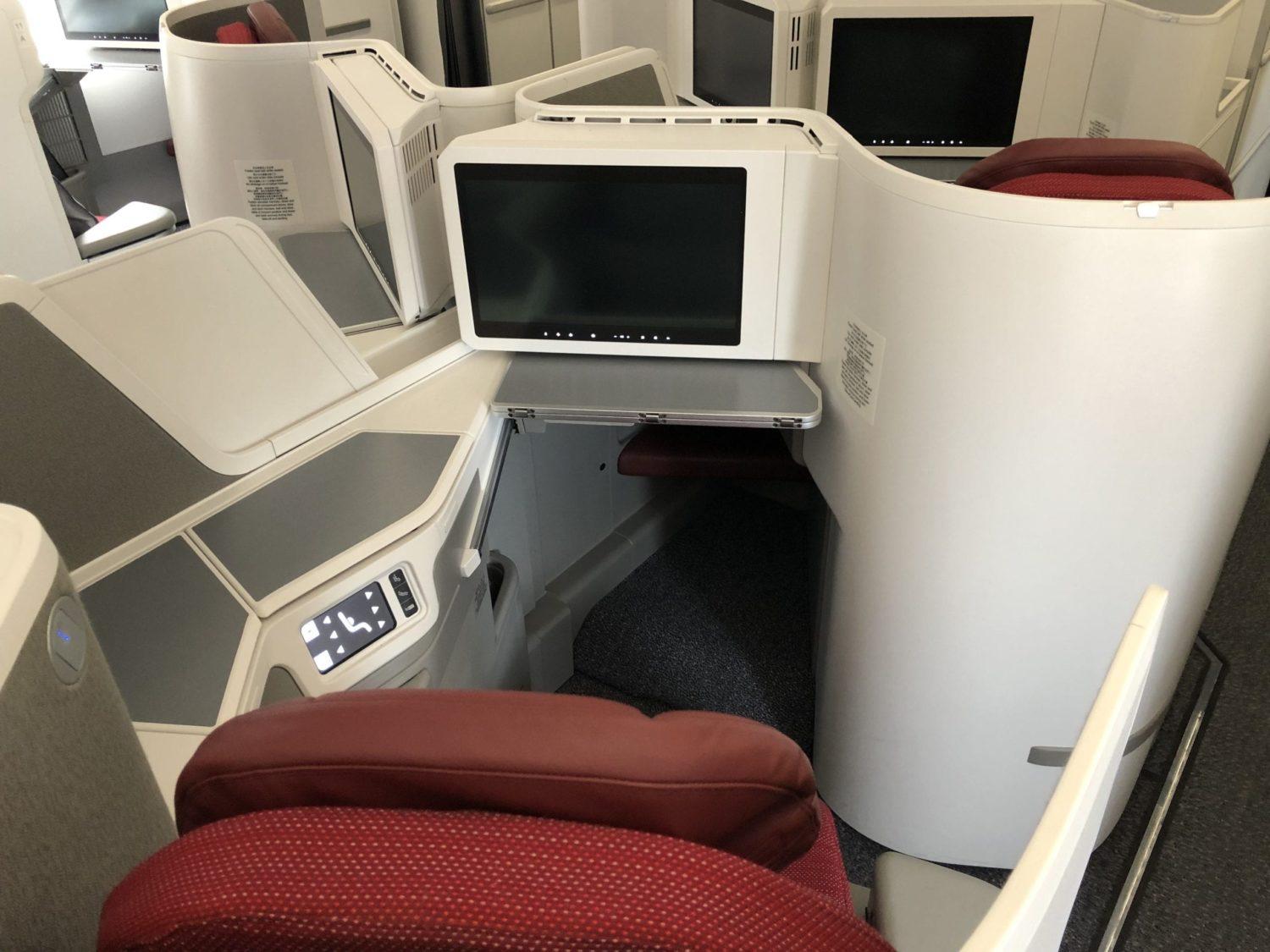 I found the seats to be insanely comfortable, with better padding than almost any other business class seat I've flown. From the back to the ample headrest, it was great for sitting, lounging, and laying down.
These seats are designed near perfectly to maximize space while also remaining private. For starters, seats are angled away from the aisles. The seats themselves are slightly staggered within each row, so a center aisle seat is actually slightly ahead of the wing-side seats. And every seat has a wraparound shell that blocks some sightlines of your neighbors – and vice versa.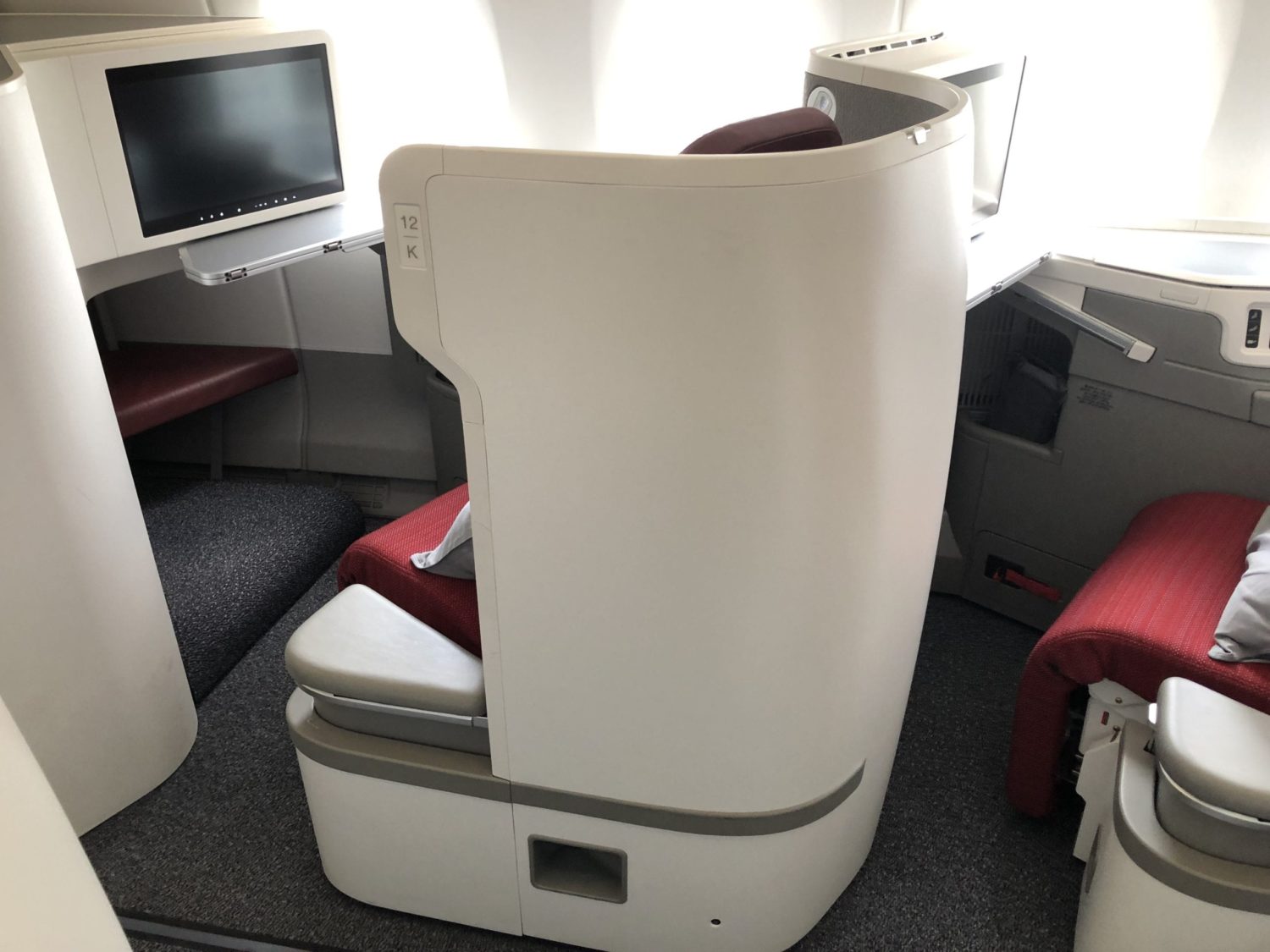 This makes these seats among the best you'll find for solo travelers. But that comes with a downside: Even the center section is not the best arrangement you'll find for couples or friends traveling together.
My friend Jim and I were seated in a pair of center seats in row 15 (which, thanks to Hong Kong Airlines' system that skips rows 13 and 14, is the third row of business class). And while it's still fairly easy to carry on a conversation with your neighbor in these seats, you'll need to lean forward a fair amount thanks to the angle of the seats and the consoles that separate them. If you don't know your neighbor, you can pull out a divider to get even more privacy.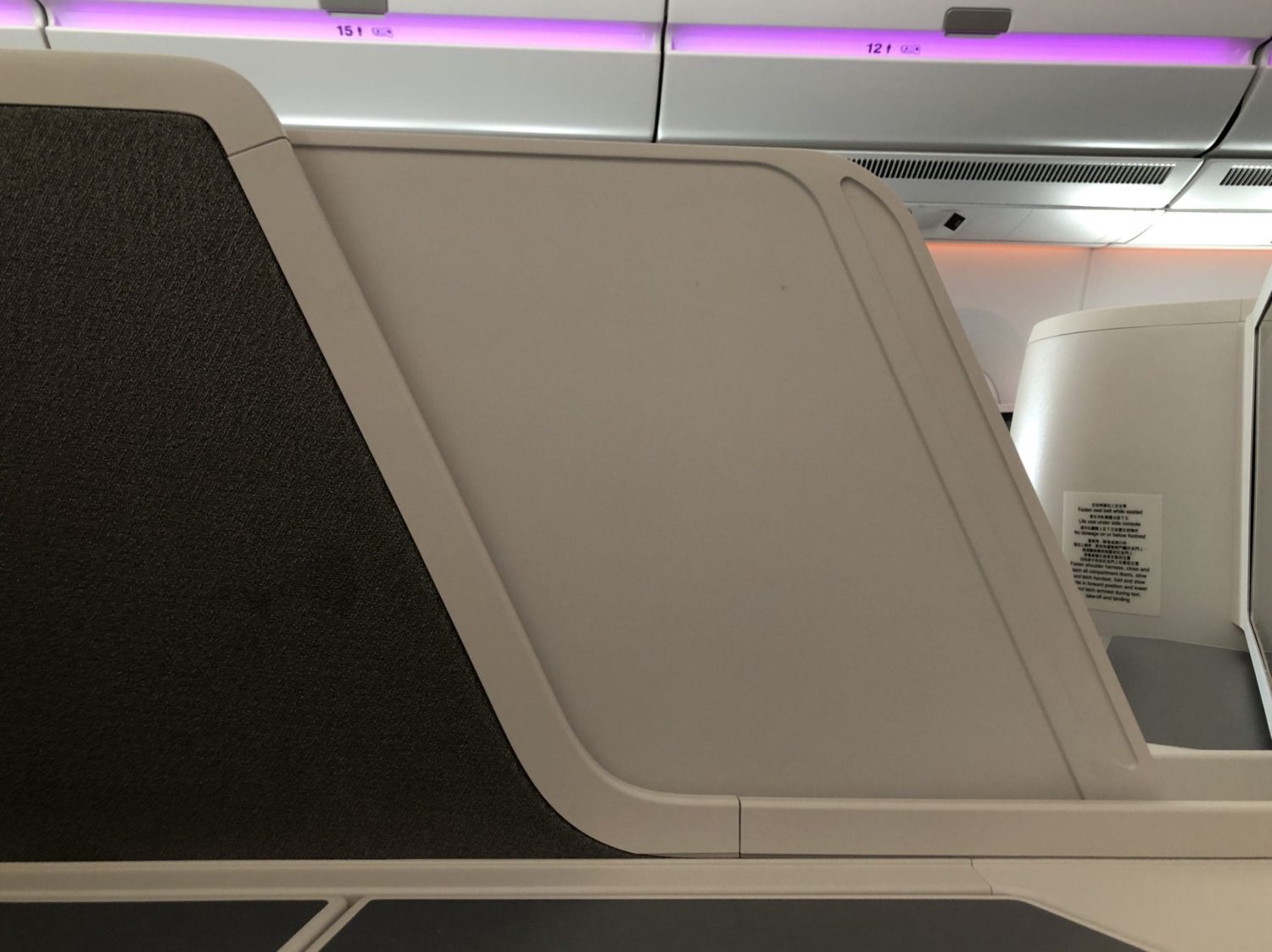 On the flipside, Hong Kong Airline's older business class cabin is one of the best ways for a couple or chatty friends to travel in style. These so-called honeymoon seats are right next to each other, though thanks to the way these seats are staggered, the seats behind them are separated by large consoles and very exposed to the aisle. It's a high risk, high reward situation.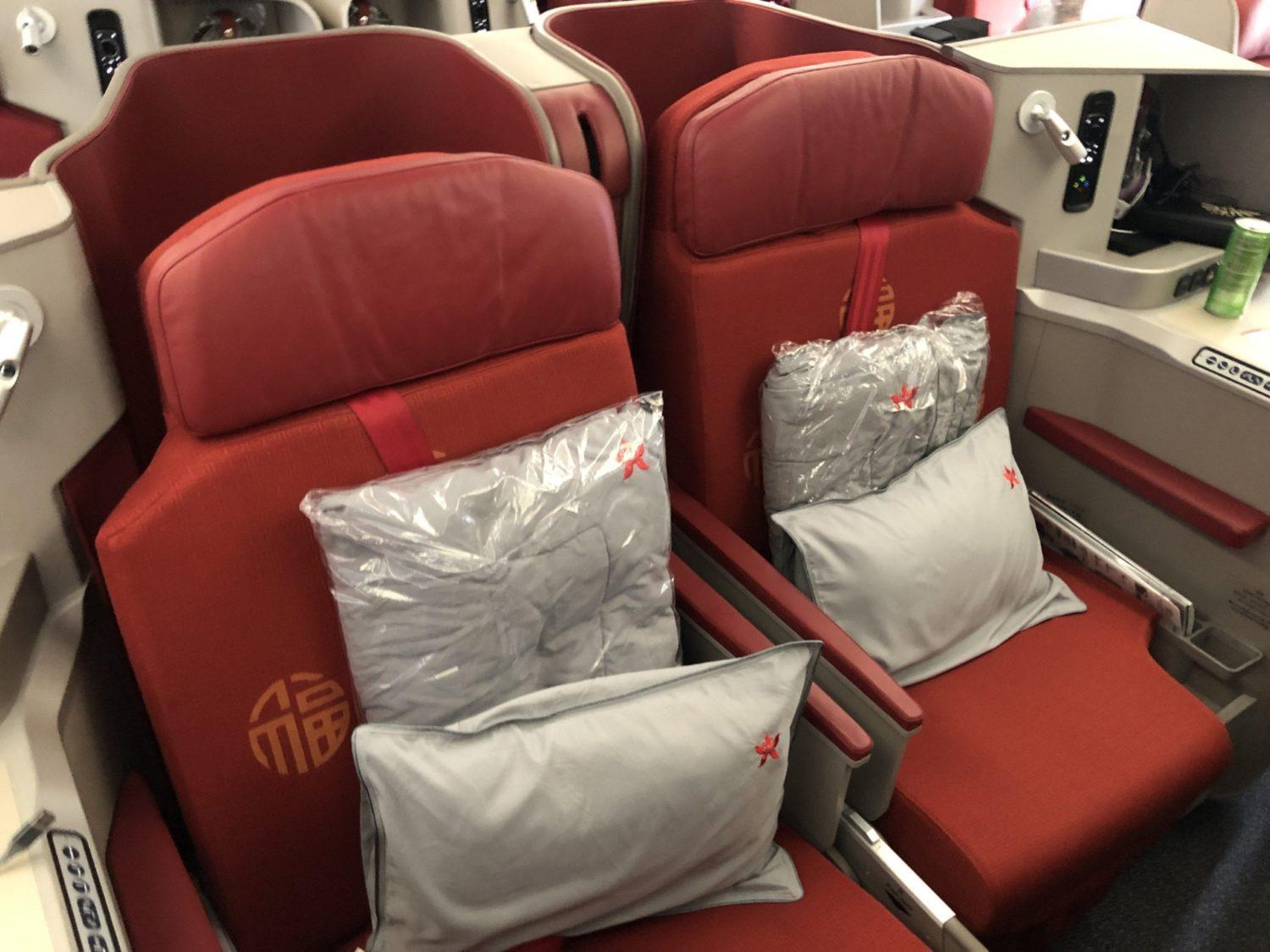 Back to the newer seats, where there's no shortage of storage. For starters, there are two compartments in the console. The first is large enough for almost anything but a laptop. This is also where you'll find the wired remote for in-flight entertainment, USB and universal power ports, and the headphone jack. There's a small gap between the compartment and the lid, so your headphone and charging cables can easily thread through – no need to keep the flap open.
Next to that, there's a much smaller – and shallower – compartment that's perfect for a wallet, passport, or pair of glasses.
Near your head, there's a small storage area, but signage makes clear this is only for the safety card and duty free magazines. This is also where you'll find a small reading light.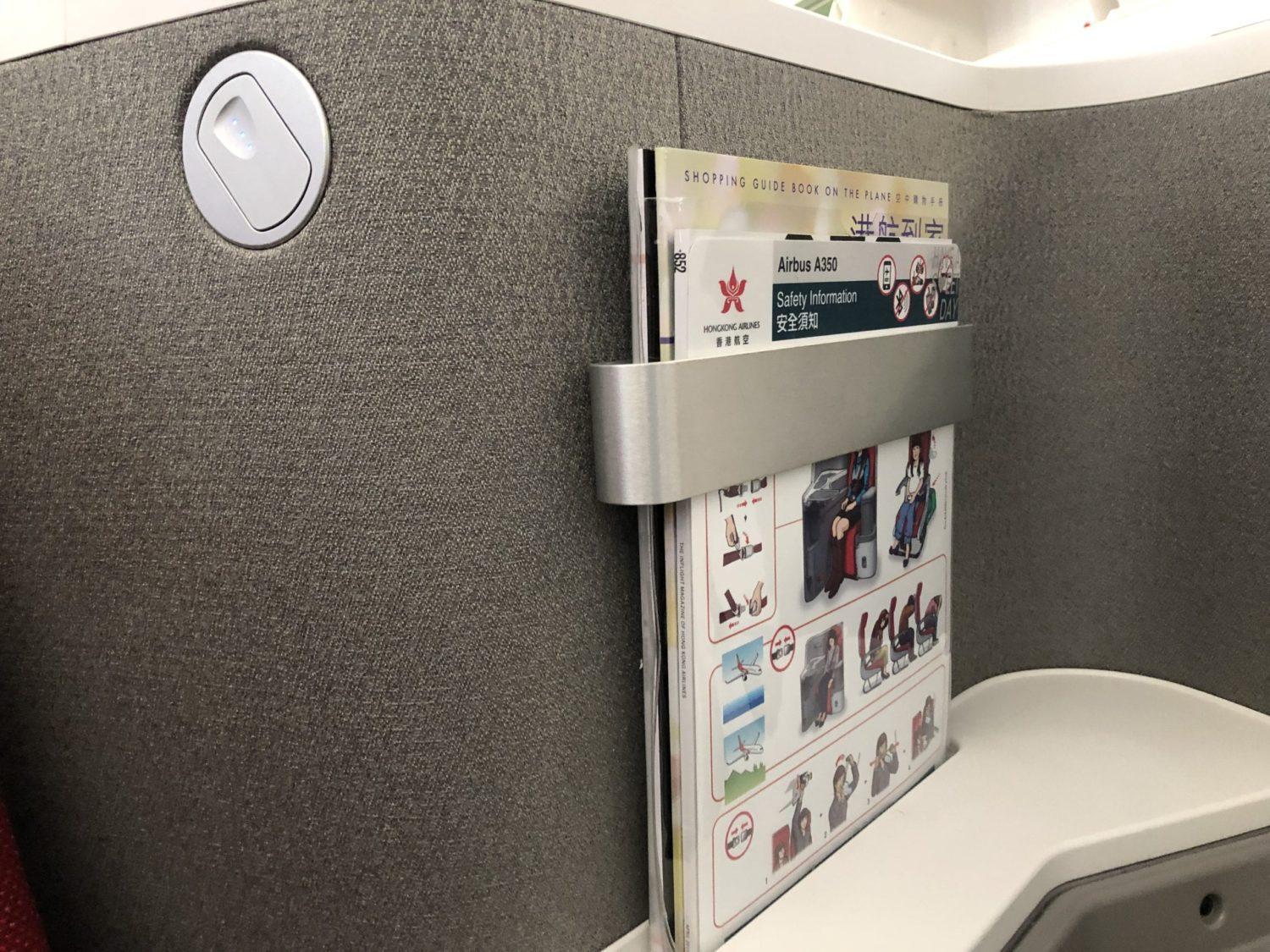 On the aisle side of the seat, there's a well-cushioned armrest that you can manually raise and lower by holding a button. Another button opens up yet one more storage compartment, which is more than deep enough for a water bottle.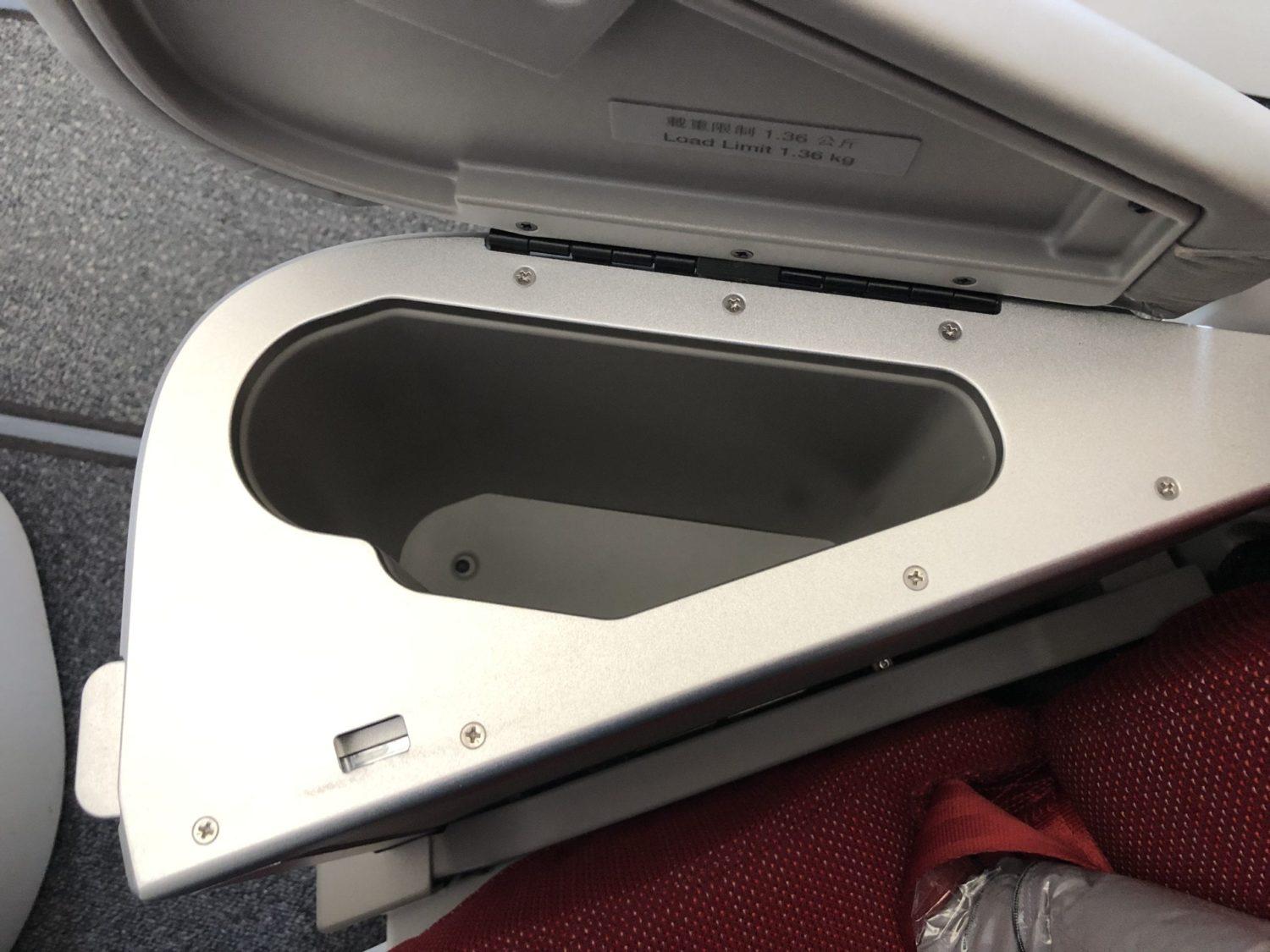 And finally, there's one more open storage cubbby down by your legs. It's a good spot to stow a water bottle and your amenity kit.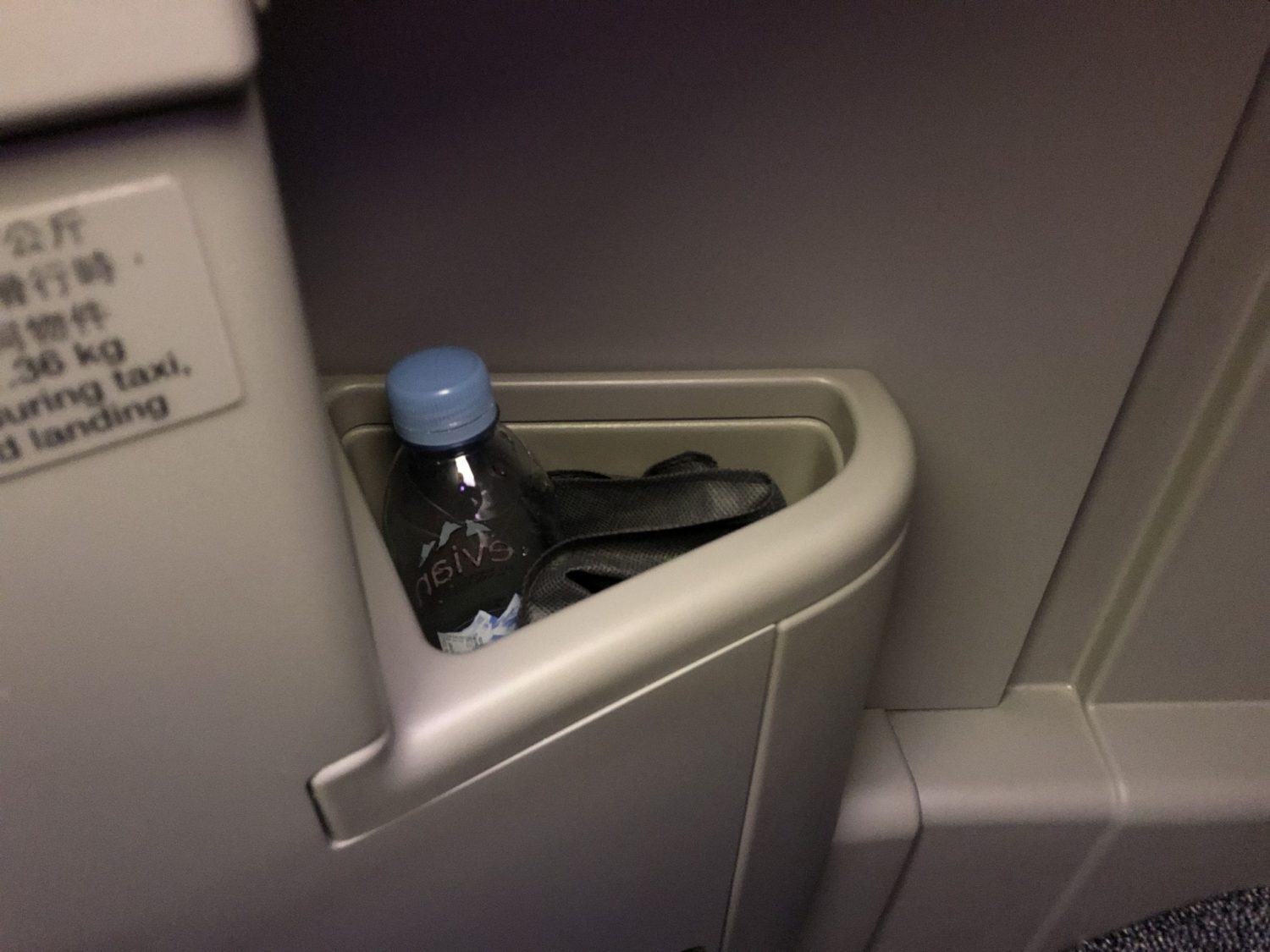 If there's one downside to this seat, it's the footwell. When it comes to storage, neither the space above or underneath the footrest is large enough for a personal item like a backpack. A pair of shoes will fit here, but your personal item will likely need to go in an overhead bin.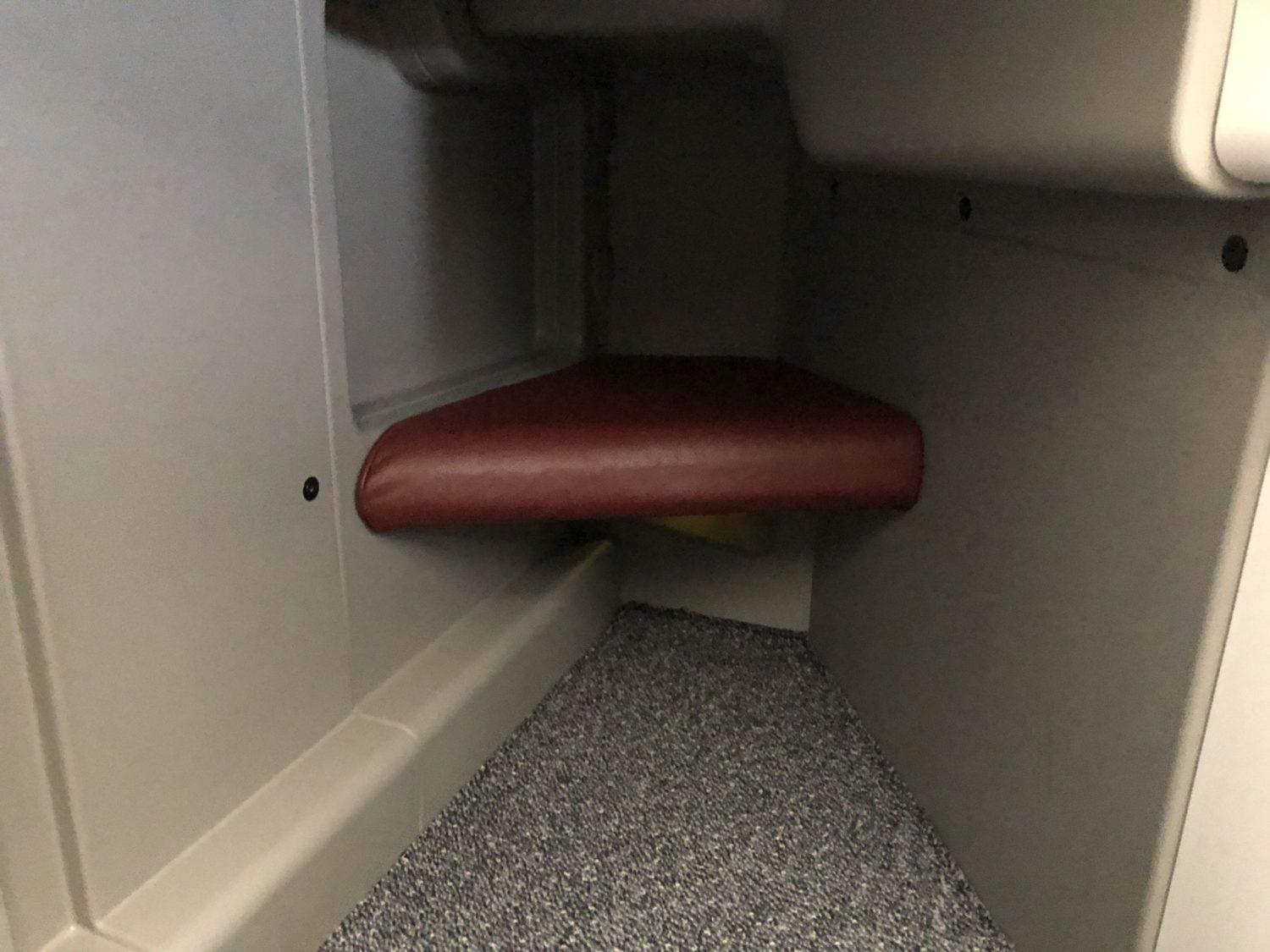 More importantly, the footwell itself is not very large. And while I never found it constraining, it could be a problem for some travelers. That's especially true come bedtime, when the angle of the seat combined with the footwell could make it an issue for some side sleepers.
When it's time to get some rest, there's a straightforward digital set of controls. You can quickly recline into lie-flat mode, though there are also some controls that allow you to fine-tune the support throughout the seat.
In bed mode, the seat isn't the widest you'll ever find. But I found it insanely comfortable. So comfortable, in fact, that I slept like a rock for a solid seven hours. The 2 a.m. wakeup call to catch a connecting flight earlier in the day was likely a factor, but I'm willing to give the seat itself some credit here too.
Amenities
A plush pillow and quality duvet were waiting at each seat during boarding. I thought the pillow was great. And while the duvet wasn't the puffiest in the world, it was perfect for a slightly warm cabin.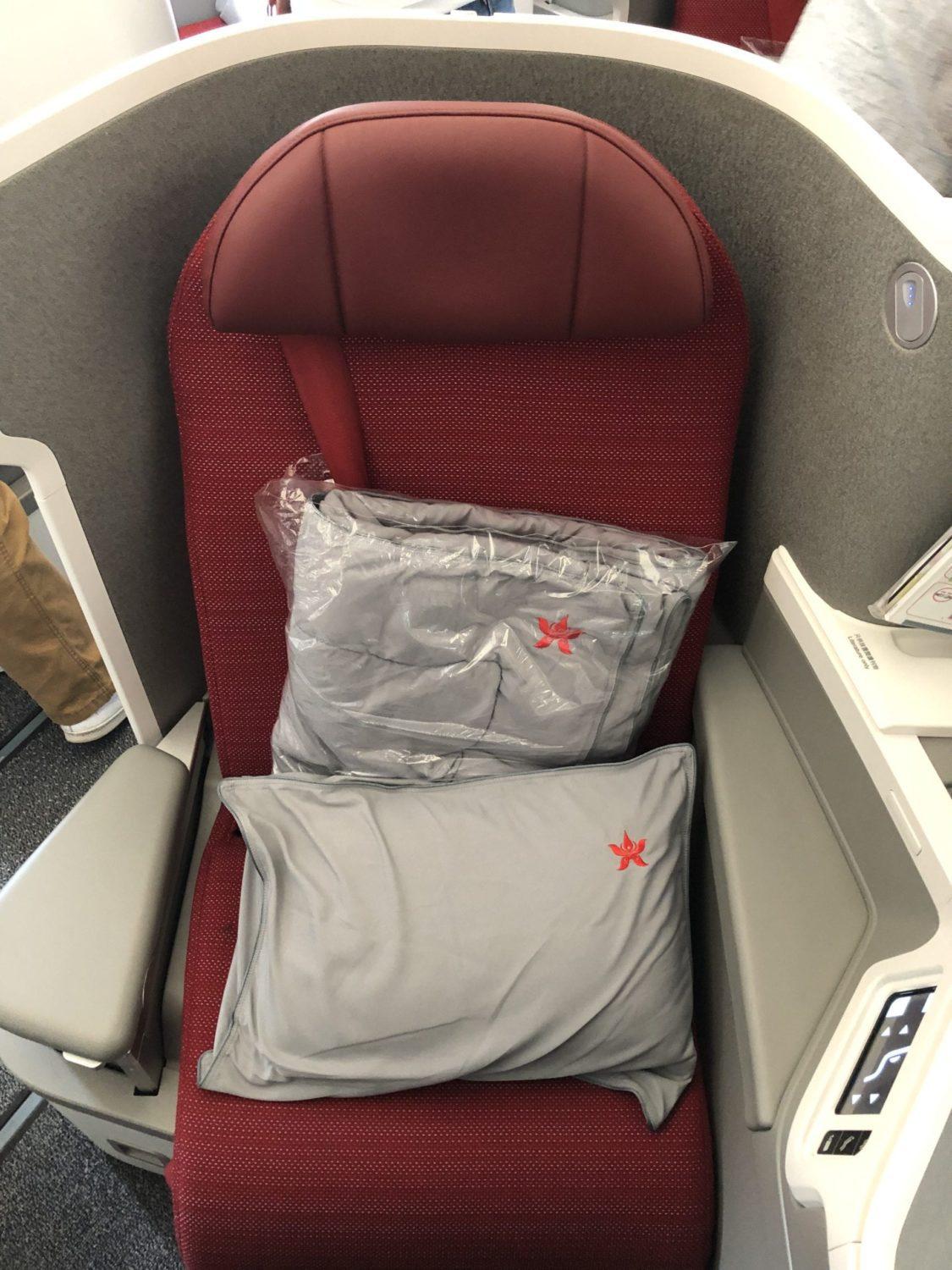 There was also a pair of branded, noise canceling headphone inside one of the storage compartments. These were passable, but nothing special.
As boarding wrapped up and we prepared to push back, flight attendants came through the cabin and passed out amenity kits. Can we talk about how cute these kits are?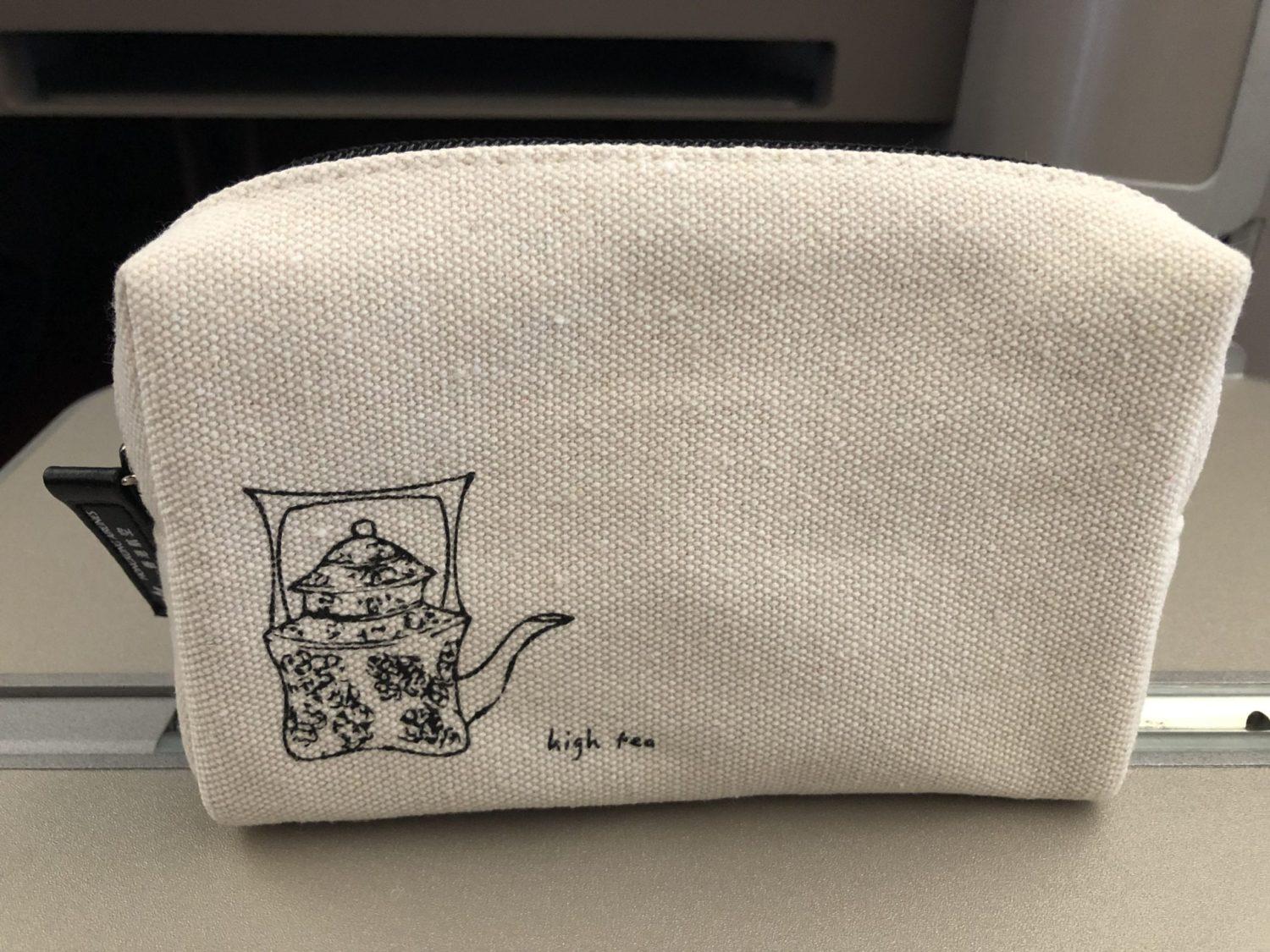 And they weren't just looks, as the contents were also fantastic. The kits contained a facemask, pair of socks, a toothbrush with a small tube of toothpaste, and a pair of earplugs. There was also a tube of lip balm and hand lotion from L'Occitane.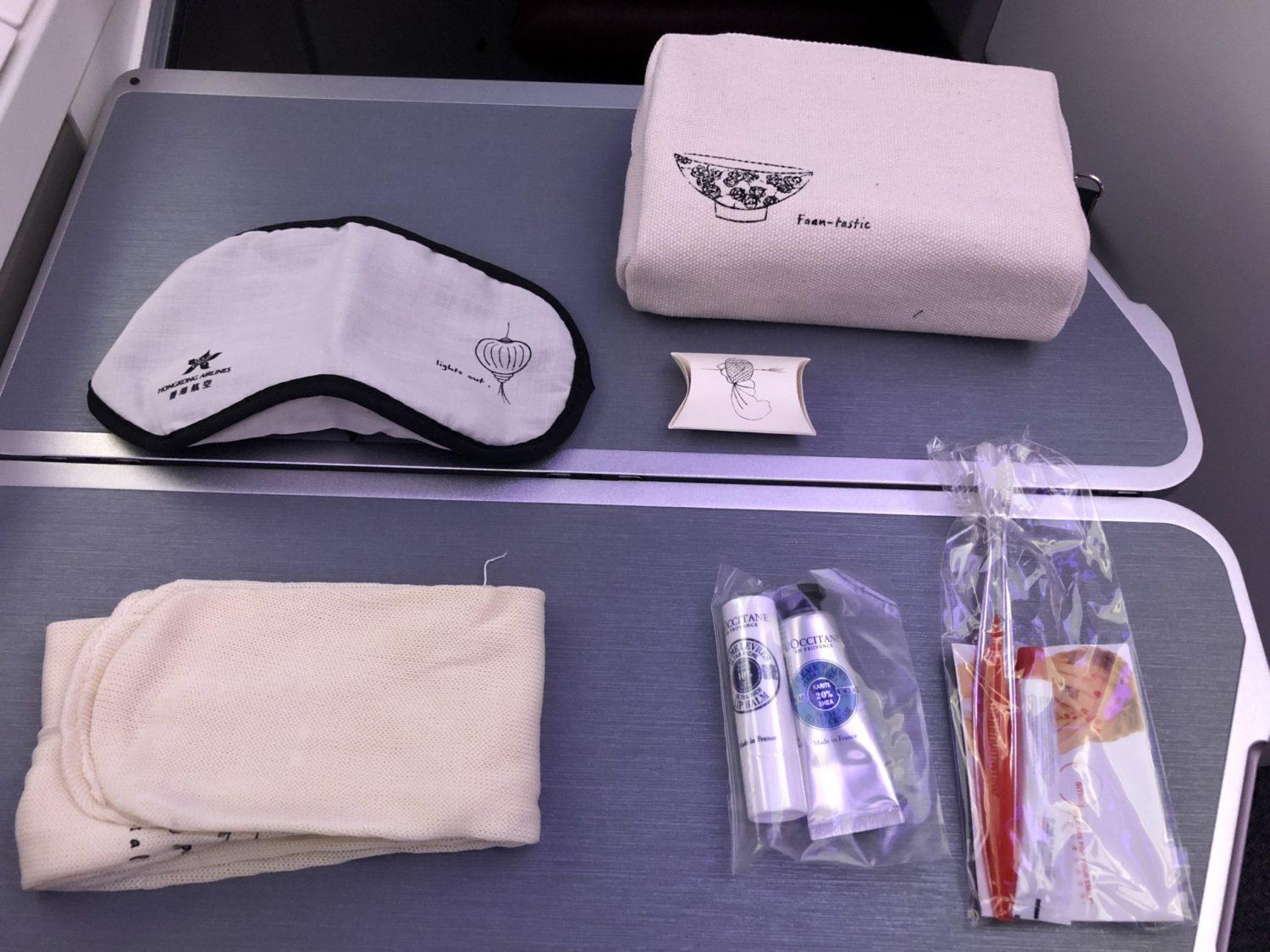 And finally, there was a pair of sturdy and comfortable slippers waiting in a small cloth bag at each seat.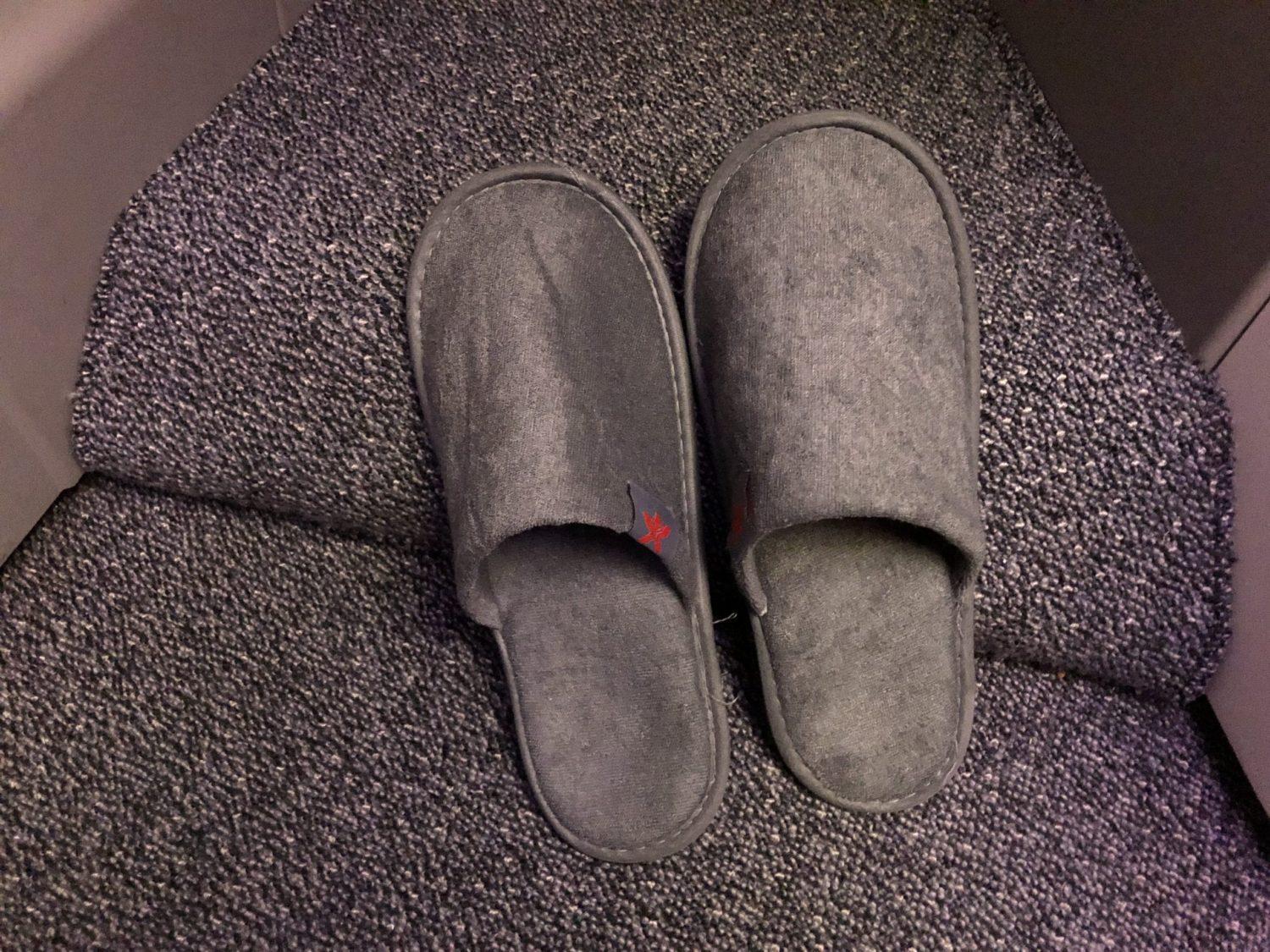 Service and Dining
The service throughout the flight was on par with what you would expect for these long flights across the Pacific Ocean on an Asian-based airline. That is to say, it was great – and certainly a step above what you'll get from all but the best flight attendants on U.S. airlines.
In my experience, business class flight attendants on Asian airlines have mastered the art of being attentive without being overbearing. While there was nothing outstanding about any portion of the service, every flight attendant was prompt and kind. The crew working my aisle constantly cycled through the cabin, proactively offering refills on drinks.
Service began shortly after boarding with a choice between orange juice and water. Like many airlines, Hong Kong didn't serve alcohol on the ground.
About 30 minutes after takeoff, flight attendants came through the cabin; first with tablecloths, and then dropping off a small dish of nuts along with your beverage of choice.
About 15 minutes later, they brought out the starter: fois gras stuffed sachima (a kind of Chinese pastry) with mandarin oranges. Fois gras isn't my favorite, but it tasted quite good. There was also an otherwise simple side salad with a great touch – jelly bobas. Add in some garlic bread from the basket a flight attendant brought through the aisle, and it was a good starter.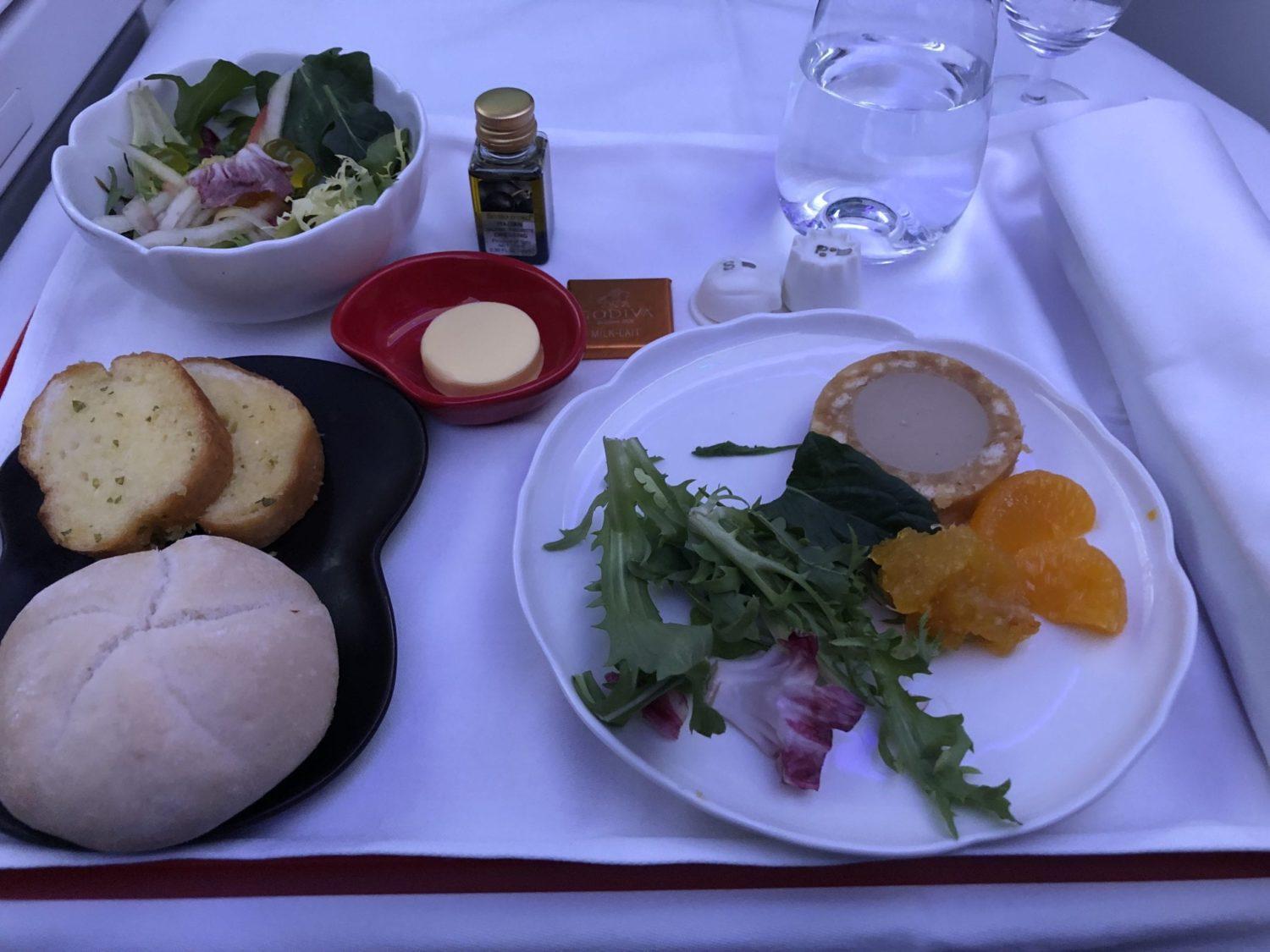 Up next was a bowl of roasted tomato soup, which was maybe the highlight of the meal. It was delicious.
A few minutes after clearing the soup course, a flight attendant delivered the entree. There were three choices on the menu: a black bean tapenade chicken breast with pumpkin gnocchi, dong po pork with rice, and mushroom risotto wellington. I chose the pork.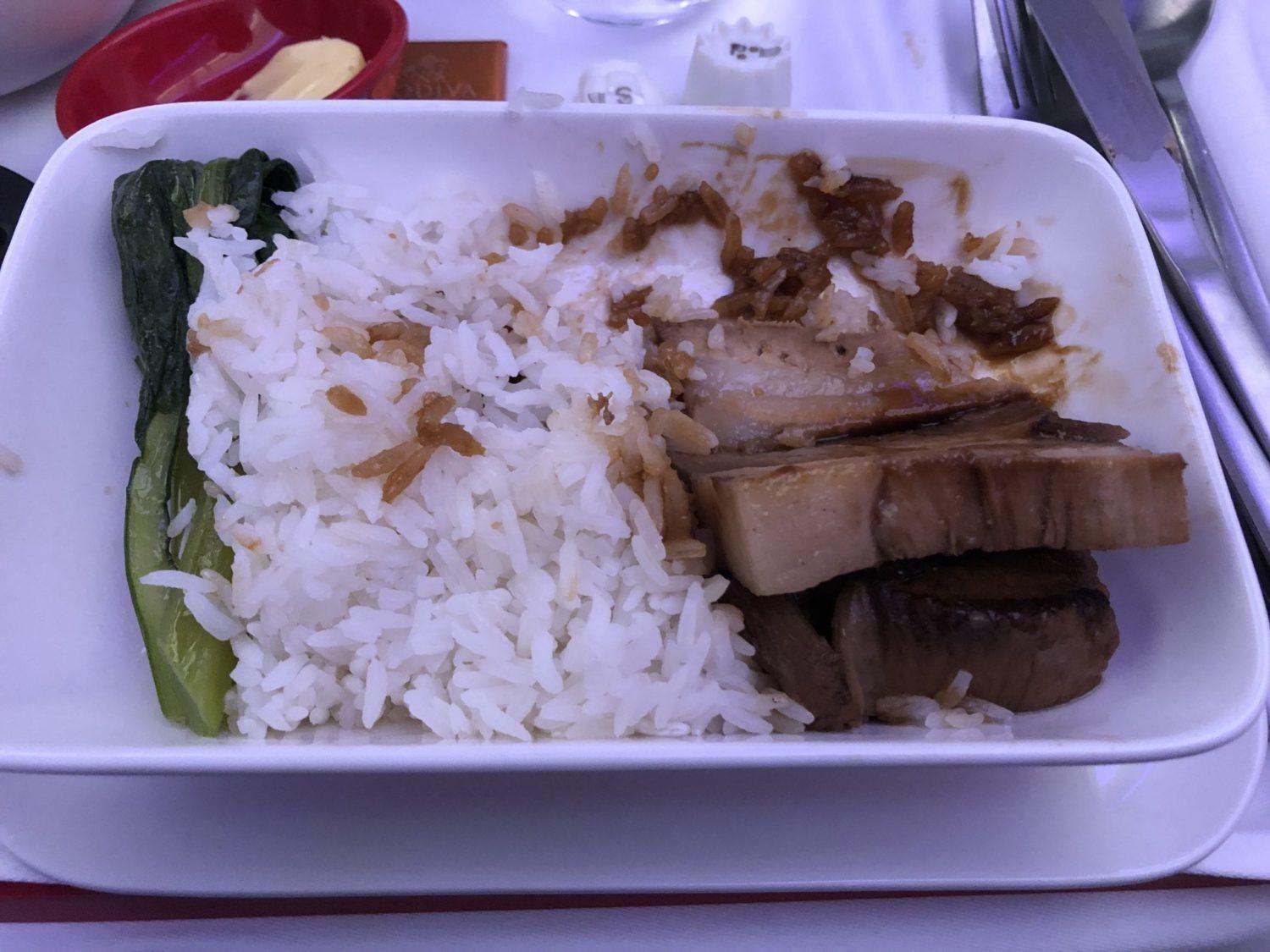 I'd say it was somewhere between "good" and "great." The sauce was tasty, but there wasn't enough of it. The pork itself was good, though certainly on the fatty side. It was definitely a large step above your typical economy meal, but a decent step below restaurant quality.
Finally, there was a dessert course, with a choice between a selection of cheese, ice cream, and blueberry cheesecake. The cheesecake I ordered was quite good. And much like the soup, it was served in a flower-shaped bowl – a cute touch.

In all, this lunch service took about 90 minutes from start to finish – a pretty good pace for the 12-hour flight. But if I had to pick one shortcoming of Hong Kong Airlines' business class, it would be the food. Nothing was disappointing, but nothing was outstanding either.
Hong Kong Airlines has a small snack menu for the long flight. But seeing as I slept for more than seven hours, I missed my chance to try out the cheese, cheese and tomato calzone, or the pan-fried pork loin bun on the menu.
Instead, I woke up about two and a half hours before landing – and about 30 minutes before the breakfast service began with drink and meal orders. Hong Kong had a choice between a selection of Chinese dim sum, a leek and pumpkin frittata, and chocolate pancakes with banana custard cream.
As intriguing as those pancakes sounded, I went for the dim sum with a glass of orange juice – bad comination, I know. Flight attendants first dropped off a tray with fruit, yogurt, and drinks before circling back about two minutes later with the entree.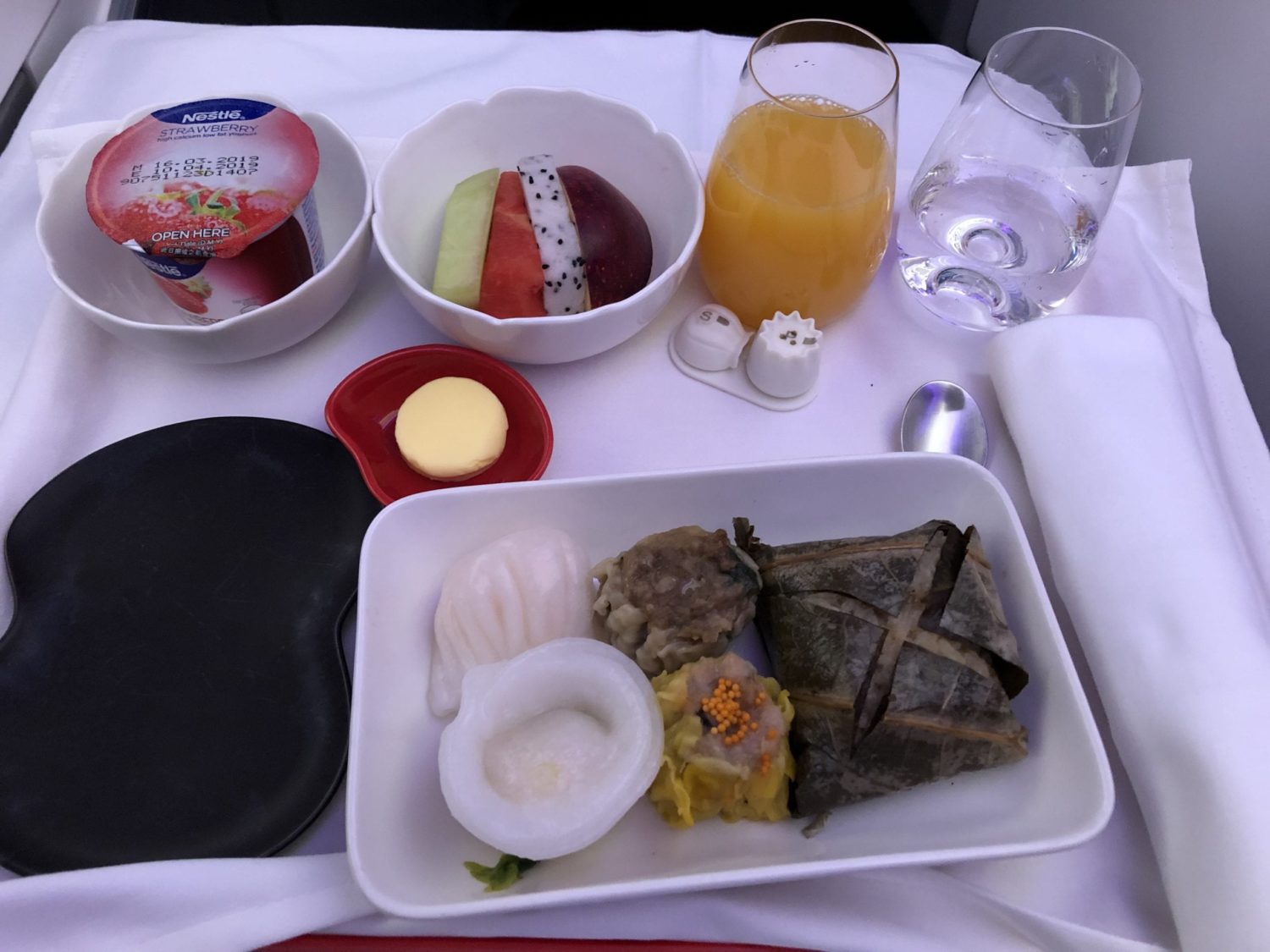 Again, this was somewhere between good and great. And that just underscores why the food was perhaps the biggest shortcoming of Hong Kong Airlines' business class. Nothing was disappointing, but nothing was outstanding either.
Similarly, the drinks served on board were a bit lackluster. While I never went thirsty, other airlines flying between the U.S. and Asia have much better drinks on the menu – from the champagne to the liquor. It's a small but noticeable drawback.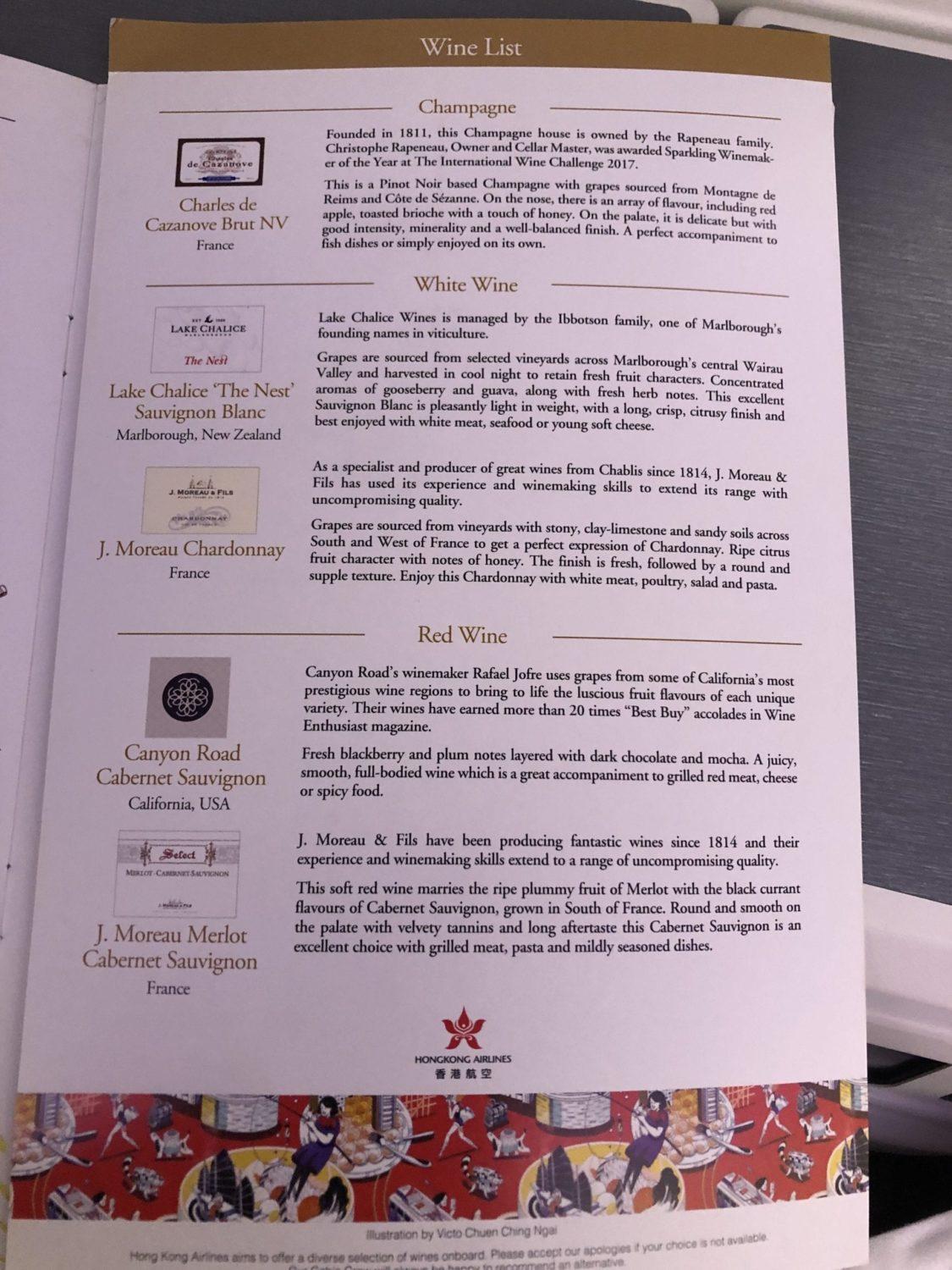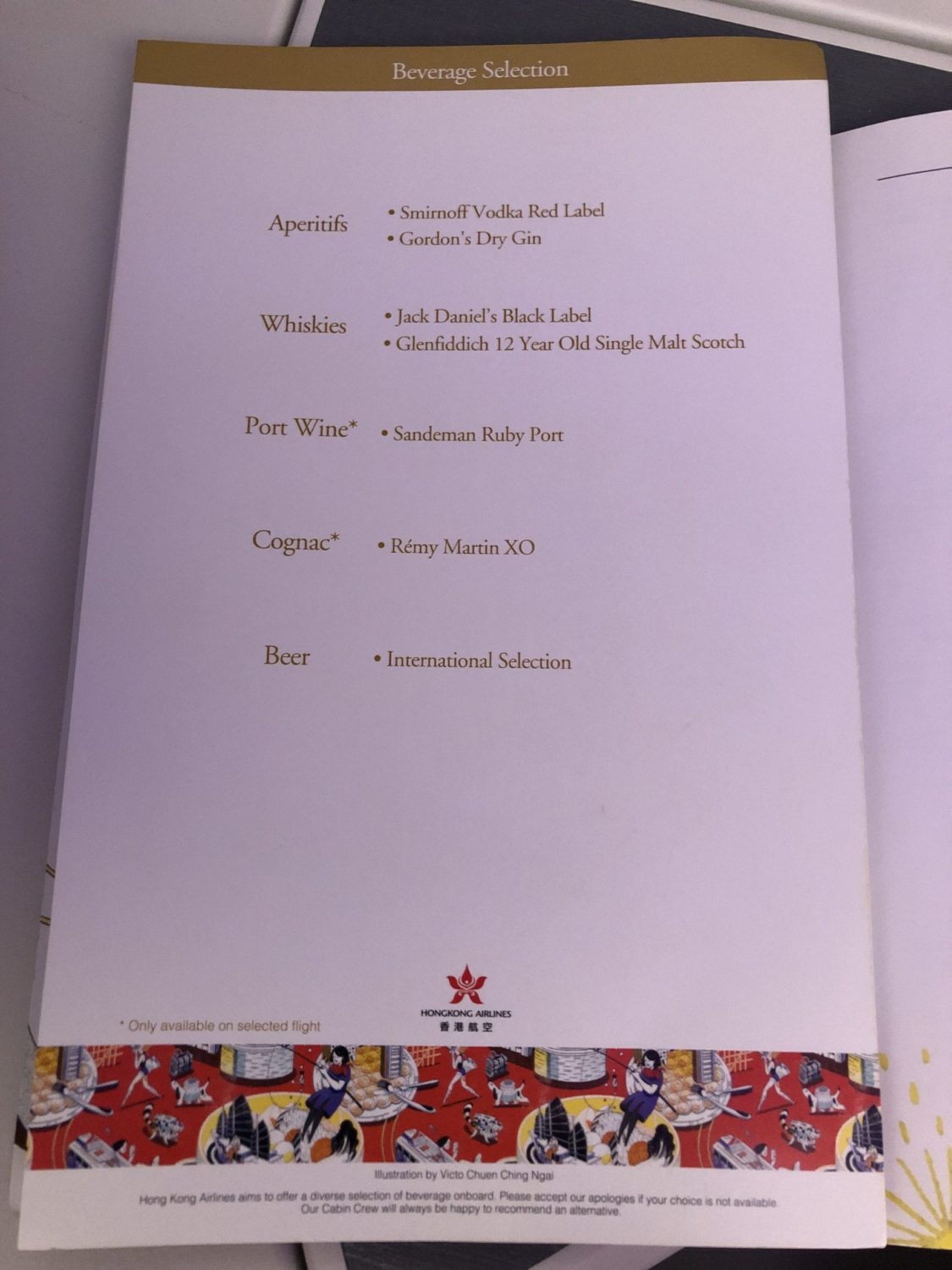 Entertainment
Every seat in the cabin has a high definition 17-inch screen. And while many reverse herringbone seats like these require you to unlatch the screen – and stow it during takeoff and landing – this isn't one of them.
The monitor is fixed squarely in front of you. And can I just reiterate how crisp the display was? You can control the screen by touch, but there's also a handy touchscreen remote as well. Either way, they're both very responsive.
Unfortunately, the entertainment itself doesn't live up to the sterling hardware. There's a pretty decent selection of movies onboard, but it was short on any of the recent Hollywood hit releases other than Crazy Rich Asians and Ant Man and the Wasp. There was, however, a good mix of older classics like Ratatouille, Inception, and Shutter Island.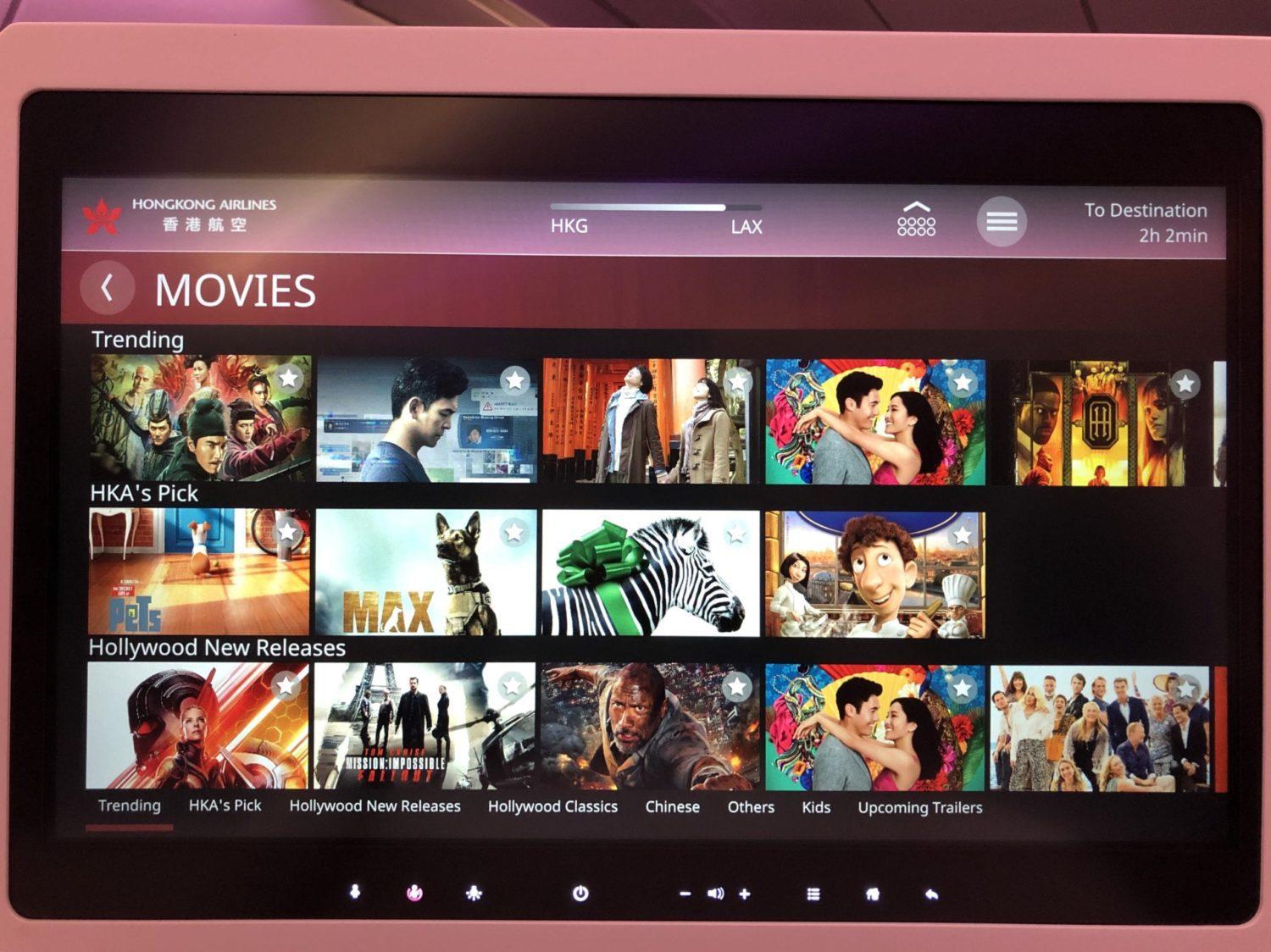 But if you're interested in catching up on American TV shows, you're out of luck. There were two episodes of Friends, two more of Modern Family, and … that was about it.
Hong Kong Airlines has Wi-Fi on board these Airbus A350s, but the pricing is steep, to say the least. At $23 for a 100MB pass, I skipped it altogether.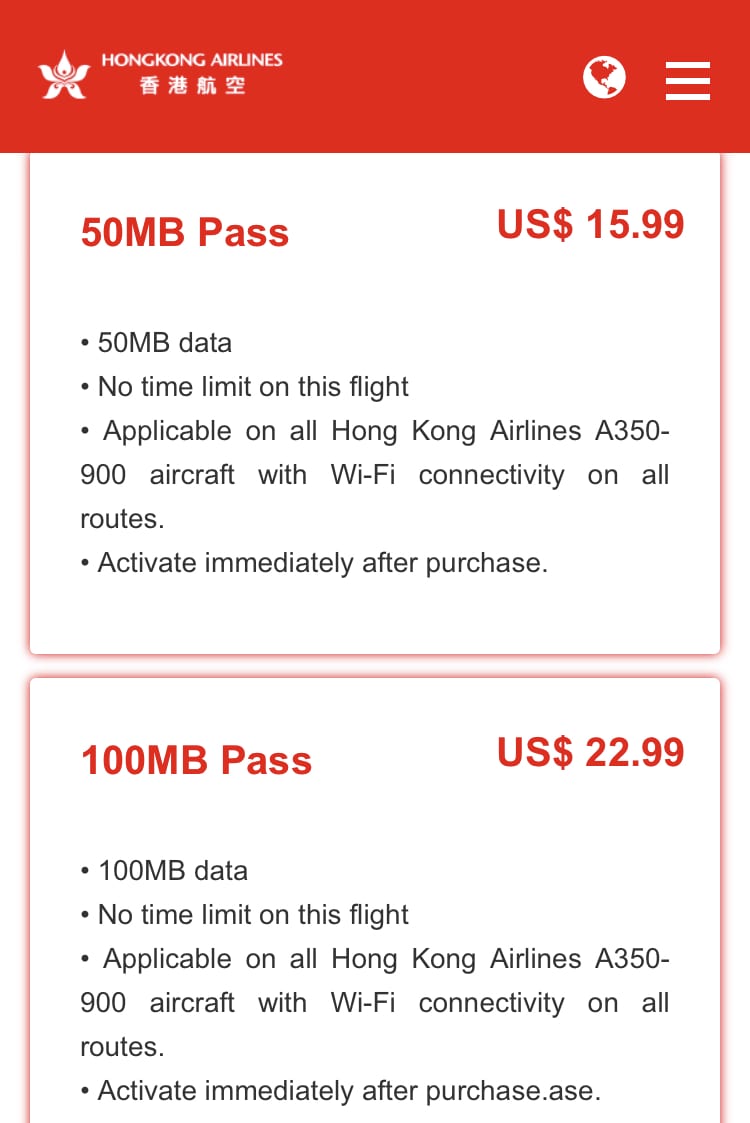 But then there's the best in-flight entertainment of all: the tail cam. You can watch your plane soar through the skies for the entire flight if you'd like. If you've never tried it, switch it on for take-off and landing, at the very least.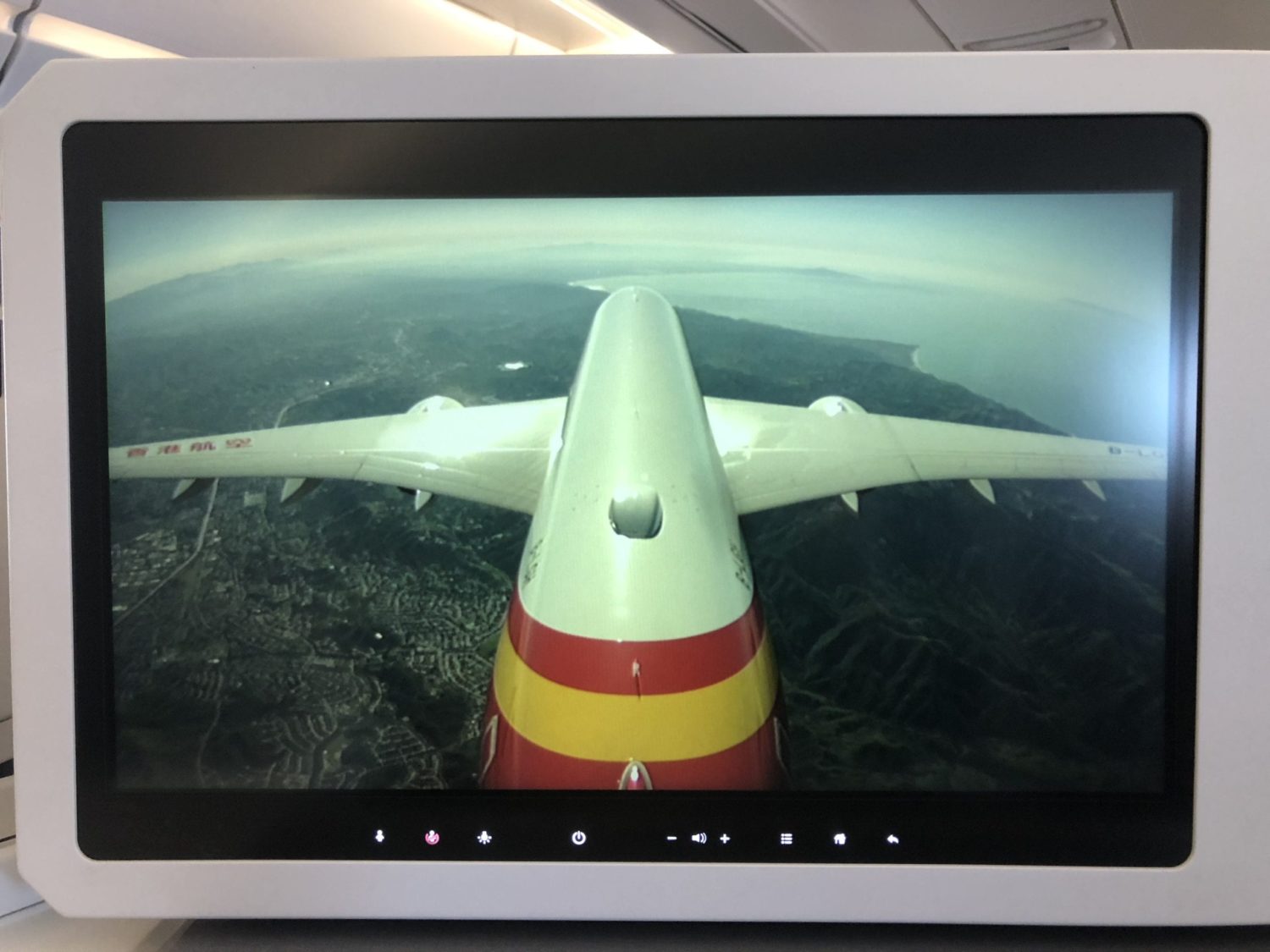 Bottom Line
It almost feels wrong to complain about any aspect of this flight. For the price of a typical economy ticket, I got to fly in a plush seat that turned into a bed, eat better meals and sleep for more than half the flight home.
So I'll say this: At the end of the day, Hong Kong Airlines is a great option if you can snag a cheap fare in business class. The seats and cabin are amazing, while the food, drinks, and entertainment could use some work to catch up to the likes of top-notch Asian airlines like Singapore Airlines and EVA Air.