Unless your only concern is getting the cheapest fare possible, flying Paris-based budget carrier French Bee isn't much to write home about. But its Premium Economy seats at the front of the plane were a pleasant surprise on a recent flight home from Tahiti (PPT) aboard one of the airline's brand-new Airbus A350s.
French Bee flies nonstop between the U.S. and Paris-Orly (ORY) from a handful of U.S. cities …  plus a fun flight to French Polynesia from San Francisco (SFO). Back in a cramped French Bee economy seat, one-way fares start in the $300s – before you start tacking on all the extra fees for seats, bags, meals, and more. But you can also buy a more-spacious premium economy seat or upgrade before the flight.
In my experience, that's worth it. What I found flying French Bee Premium from Tahiti back to San Francisco was a premium economy service closer to the major airlines like Delta Premium Select than that of other bargain brands like Norse Atlantic Premium.
Read next: What is Premium Economy? And How to Fly it For Cheap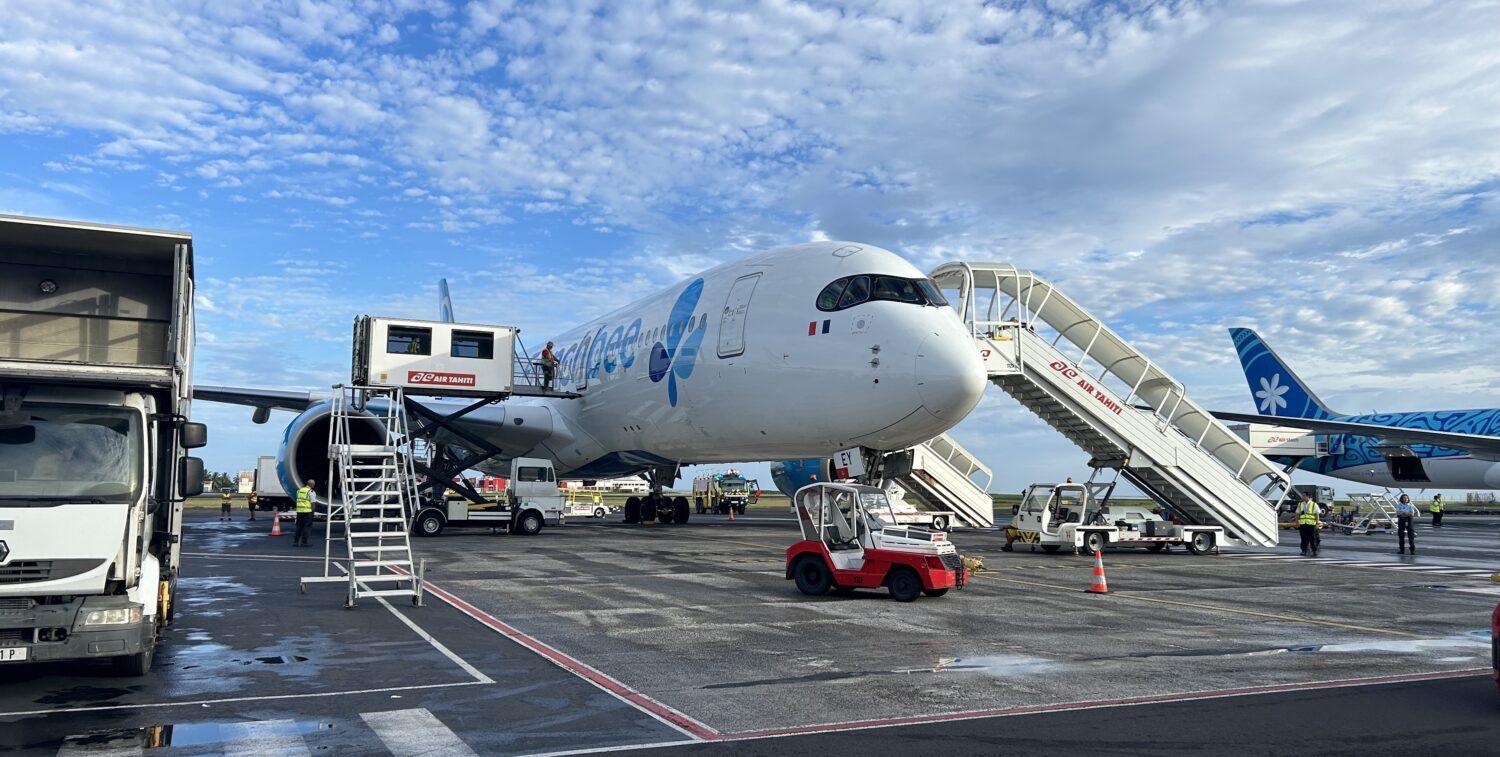 So while I'm not totally sold that French Bee economy is worth the super-low fares, a ride in French Bee Premium – dubbed French Bee Premiumblue – might be worth it if you're looking for a little extra comfort and service on your flight to Paris or Tahiti.
How to Book French Bee Premium
There are two ways to book French Bee Premium: You can either book the seats from the start … or book an economy seat and bid to upgrade before your flight.
You can find French Bee's fares on Google Flights, including the nonstop flight I took last month. When I booked this flight, it was exactly this price, too. I've found that the flight prices on French Bee don't move up or down all that much. They know what they need to charge to make flying these routes worth it.

Roundtrip flights in French Bee Premium are a little more expensive: Flights to Tahiti price out a bit higher than flying back to San Francisco due to some higher fees when landing in French Polynesia.

In this case, I booked a one-way flight from Tahiti to San Francisco for 73,618 XPF, or $659 U.S. dollars.
At Thrifty Traveler, we don't accept freebies. We use our own points, miles, or cash to pay for every single flight or hotel you see reviewed here – including this one!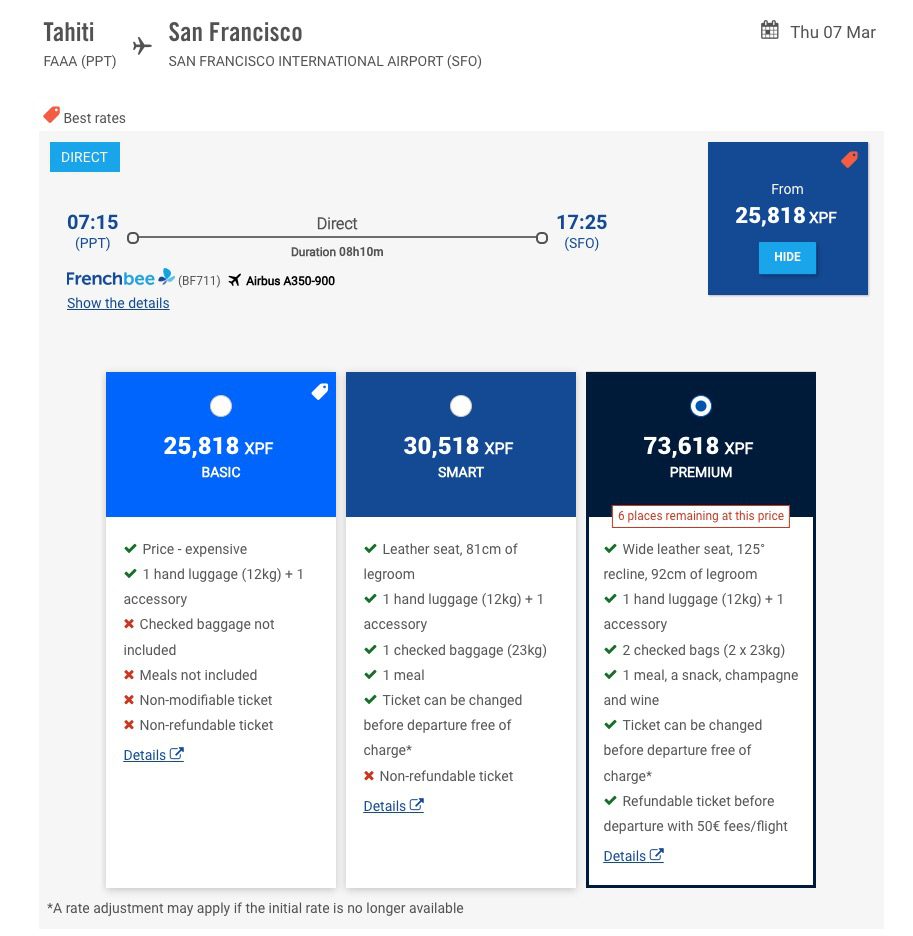 Booking these Premium fares is pretty simple: Unlike French Bee economy tickets, everything is included. You get a carry-on bag, two free checked bags, a meal, and free ticket changes with all French Bee Premium tickets.
The only potential upcharge you can get in the Premium booking process is if you want to sit in the front row of the cabin, where you aren't at risk of someone reclining their seat into your space. Seat selection for the bulkhead front row seats was $85 each.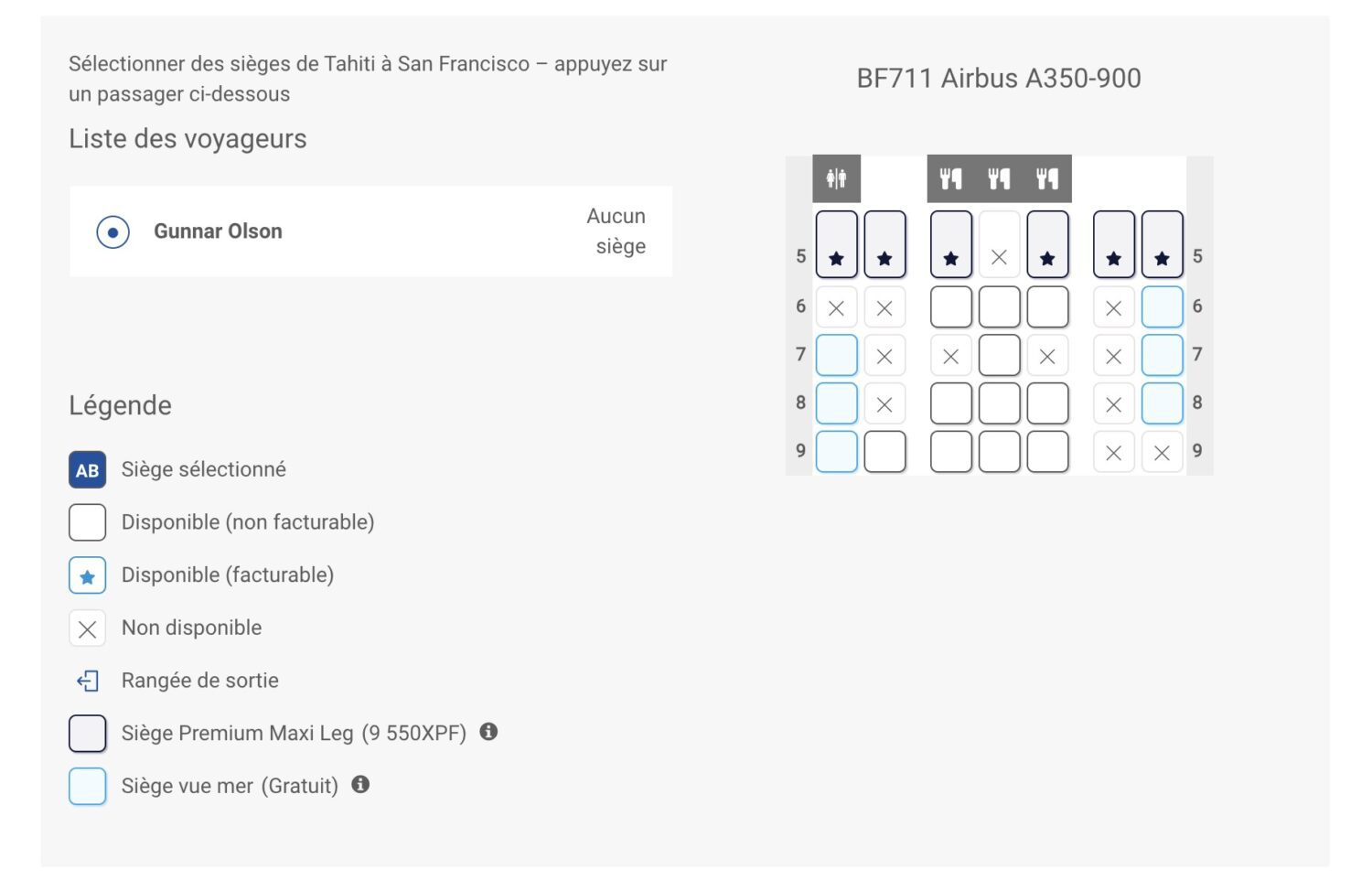 All other seats in the section are free with a Premium ticket – and you can change your seat without repaying a seat selection fee (so long as it's not the front row).
The other way to book French Bee Premium is by using the bidding system for upgrades into its Premium Economy cabin.

A few days before flying, you get an email like this one outlining how the bid system works. It's pretty simple: You offer how much you'd be willing to pay to upgrade, and then the gate agents choose the highest bidders and put them in Premium.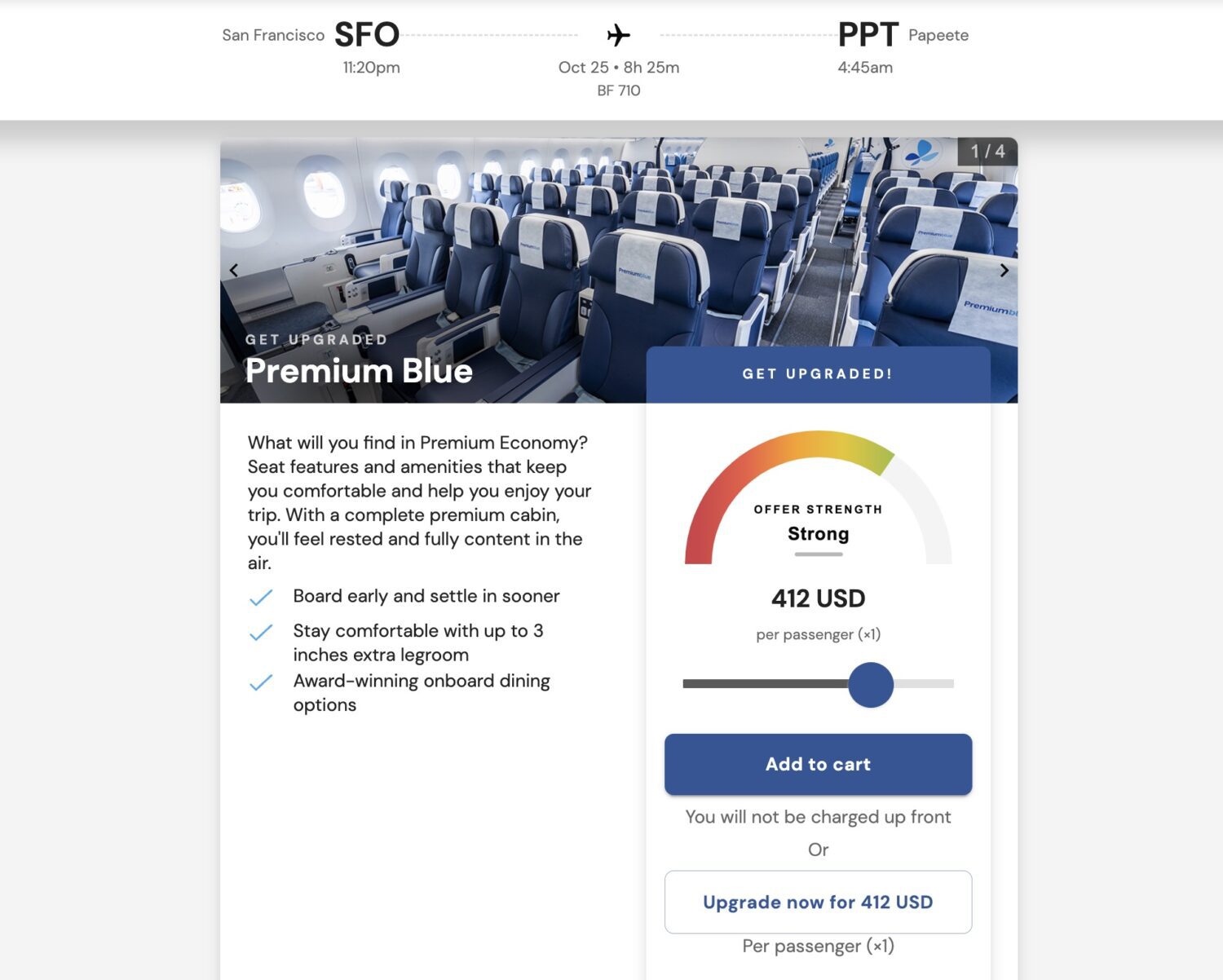 The system helps you understand how strong your offer is. This is unlikely to save you a ton of money unless your flight is pretty empty. But it's worth a shot if you chased down a cheap French Bee economy ticket and are now looking for something more comfortable.
Check-In & Boarding French Bee Premium
The Premium cabin on French Bee's planes contains only 35 or 40 seats, depending on whether you're on an Airbus A350-900 or the larger A350-1000. Either way, that smaller cabin makes checking in for French Bee a breeze thanks to a designated Premium check-in line.
It's clearly noted as "Premiumblue." At both the San Francisco and Tahiti check-in desks, there was only one passenger in line for the French Bee Premium flights. On the San Francisco side, you can also use digital check-in kiosks, so I wouldn't have even needed to see a gate agent before heading to security.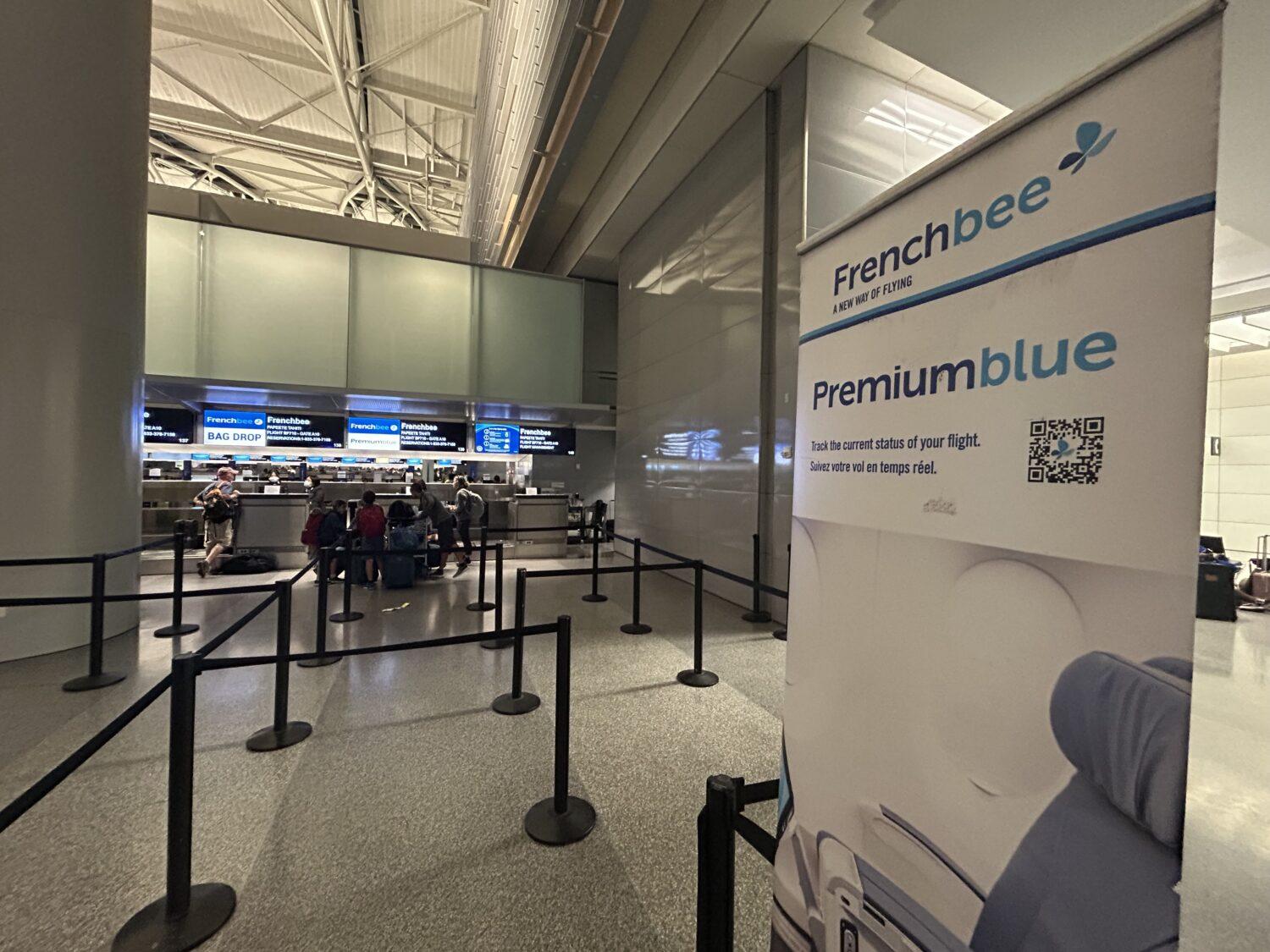 It was especially nice in Tahiti because the 7 a.m. departure time led to a swell of economy passengers in line at 5 a.m. Yet for the Premiumblue check-in process, there was just one family in front of me before my flight.

The gate area in Tahiti was a little chaotic, as the morning departure block is definitely the busiest time of day at the small island airport. An Air France 777 was boarding just a few minutes behind us.
There was no obvious designated Premium lane until a gate agent began yelling out row numbers for people to line up.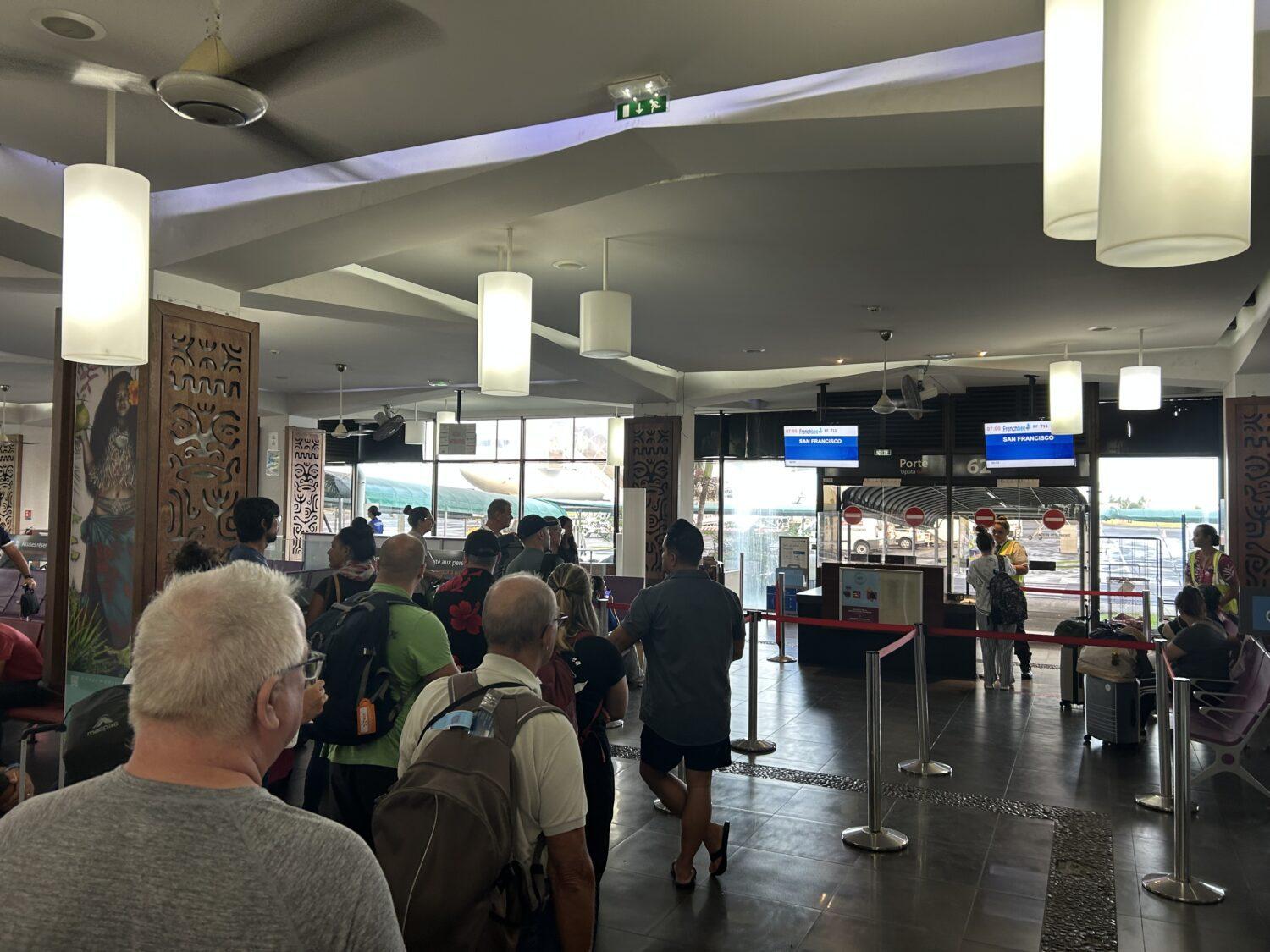 French Bee Premium Seat & Amenities
French Bee Premium's cabin on this A350-900 featured 35 seats set up in a 2-3-2 arrangement.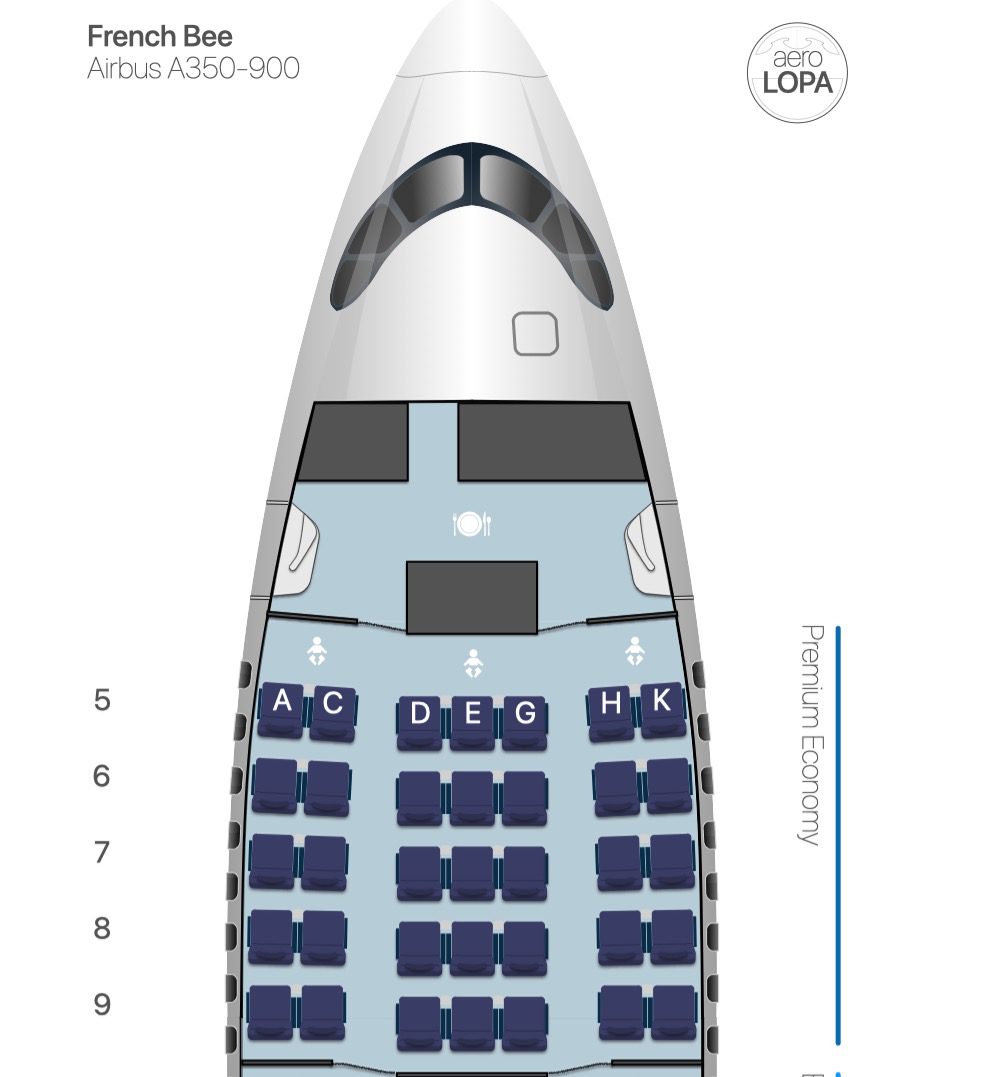 On the Airbus A350-1000, the cabin is in a 2-4-2 format, adding five more total seats to the front cabin. Despite squeezing in another seat in each row, the Premium seats on French Bee's A350-1000's are actually a bit wider than on the smaller A350-900s.
Still, the slightly smaller 35-person cabin on my flight was great, giving more passengers direct aisle access. My seat was in the very back row.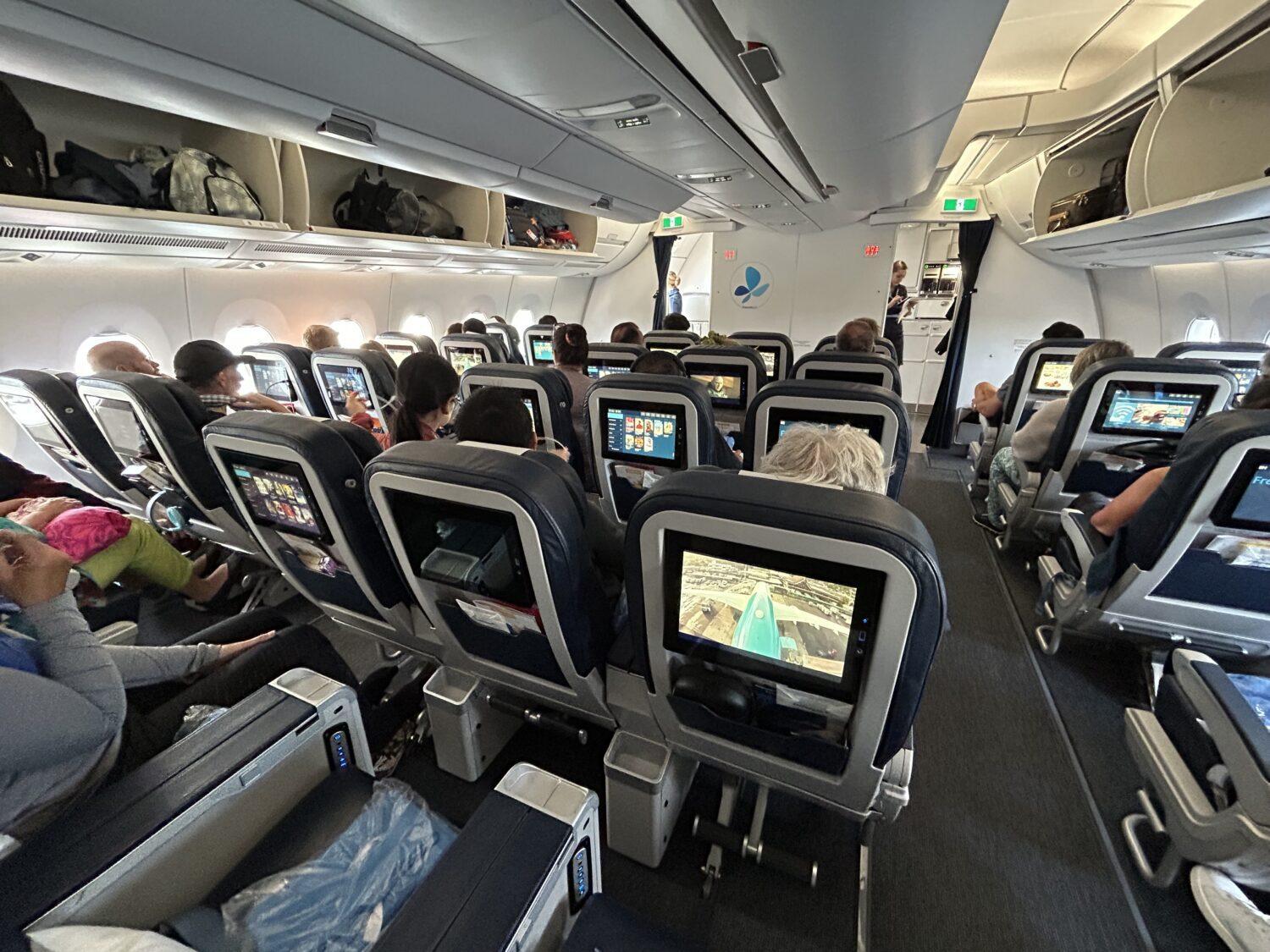 The seats themselves were your pretty standard recliners, much like you'd find in domestic first class when flying within the United States. Each seat on this flight measured in at 18 inches wide – not the widest, but much better than the cramped, 16-inch-wide seats you'll find back in economy.
The seats are well-padded and have flexible headrests. The armrests aren't anything special, but having the extra room between the seats is nice for some elbow room and a spot for a drink.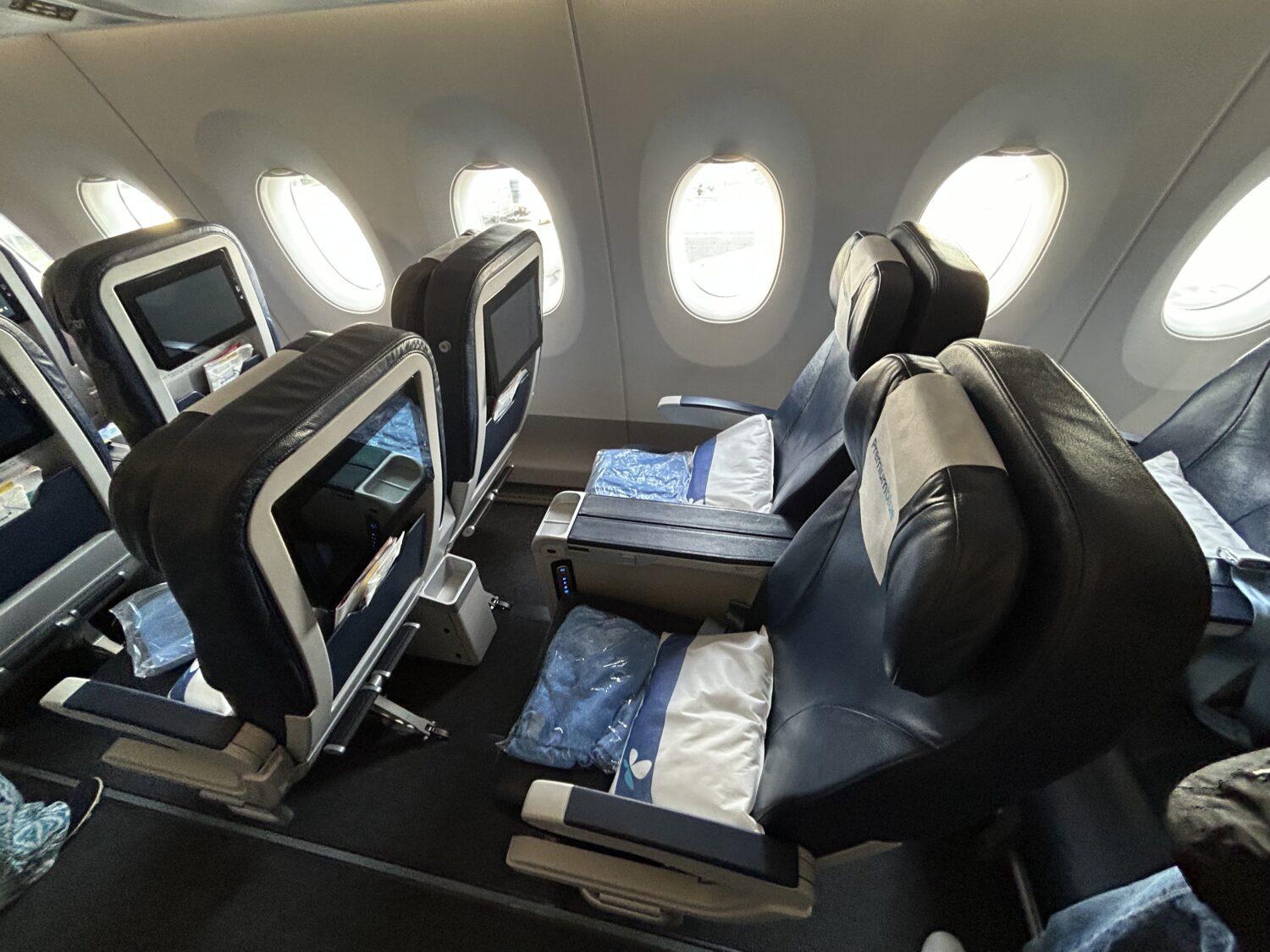 On each seat, a pillow and blanket were waiting for each traveler. The pillow is a nice touch, though the blanket was identical to what you get in economy.

When reclined, the seat becomes pretty comfortable. With just 7 inches of recline, it's nowhere near a lie-flat seat. But depending on how easily you can fall asleep, it's probably more than enough to get a few hours on your way to or from Paris, California, or Tahiti.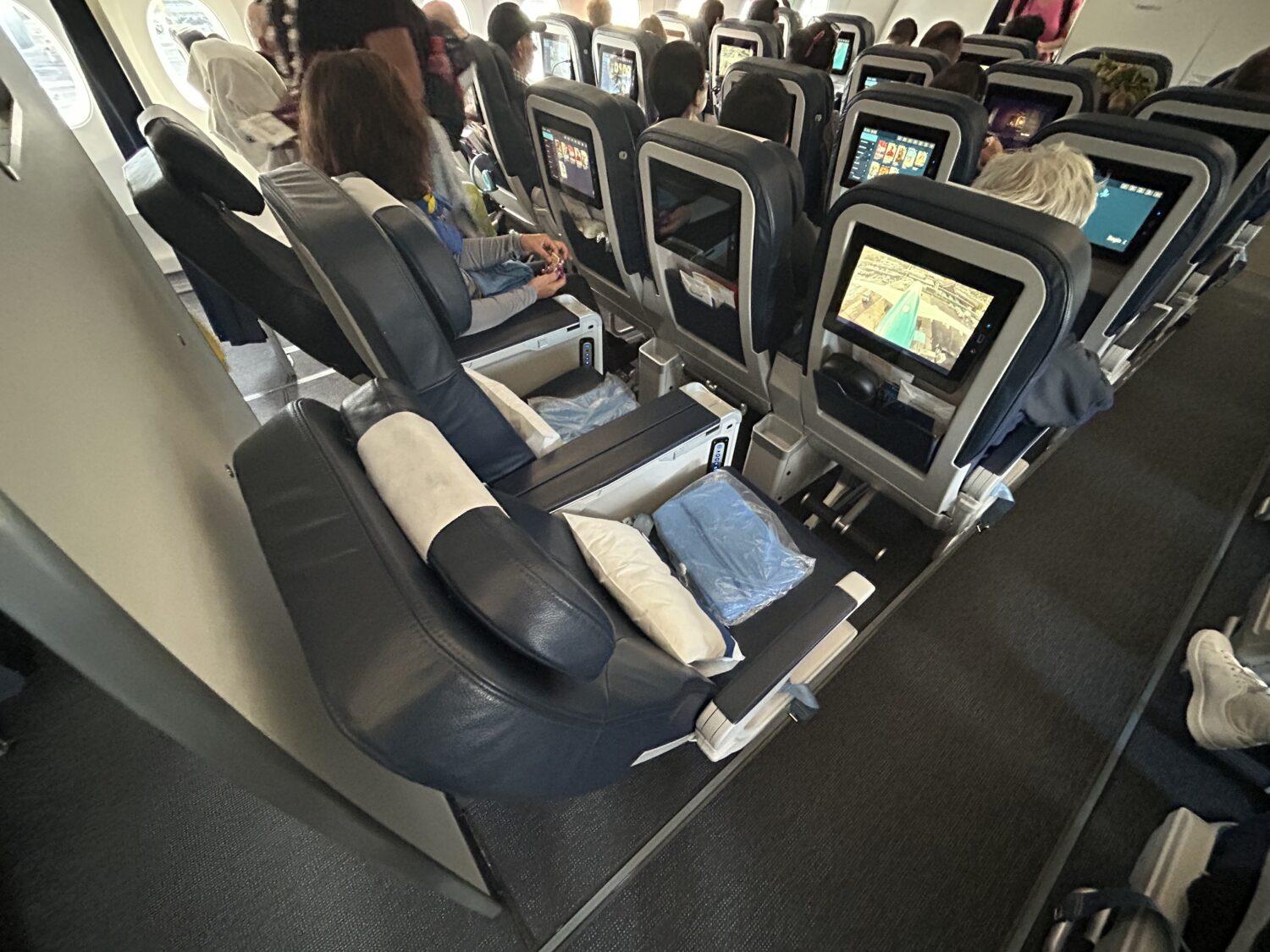 The extra legroom was nice yet still not particularly great, with just 36 inches of pitch – a slight step up from the 32 inches of legroom you get in French Bee economy. That's a far cry from the 43 inches of legroom you get in Norse Atlantic Premium Economy, but closer to the standard 38 inches you get when flying Delta Premium Select.

Still, 36 inches of pitch was still plenty comfortable for my 6-foot-tall frame to stretch out my legs and even cross them for most of the journey.
The retractable footrest was a nice reprieve, too. When I wanted to grab a nap, I pushed it up and extended my legs instead.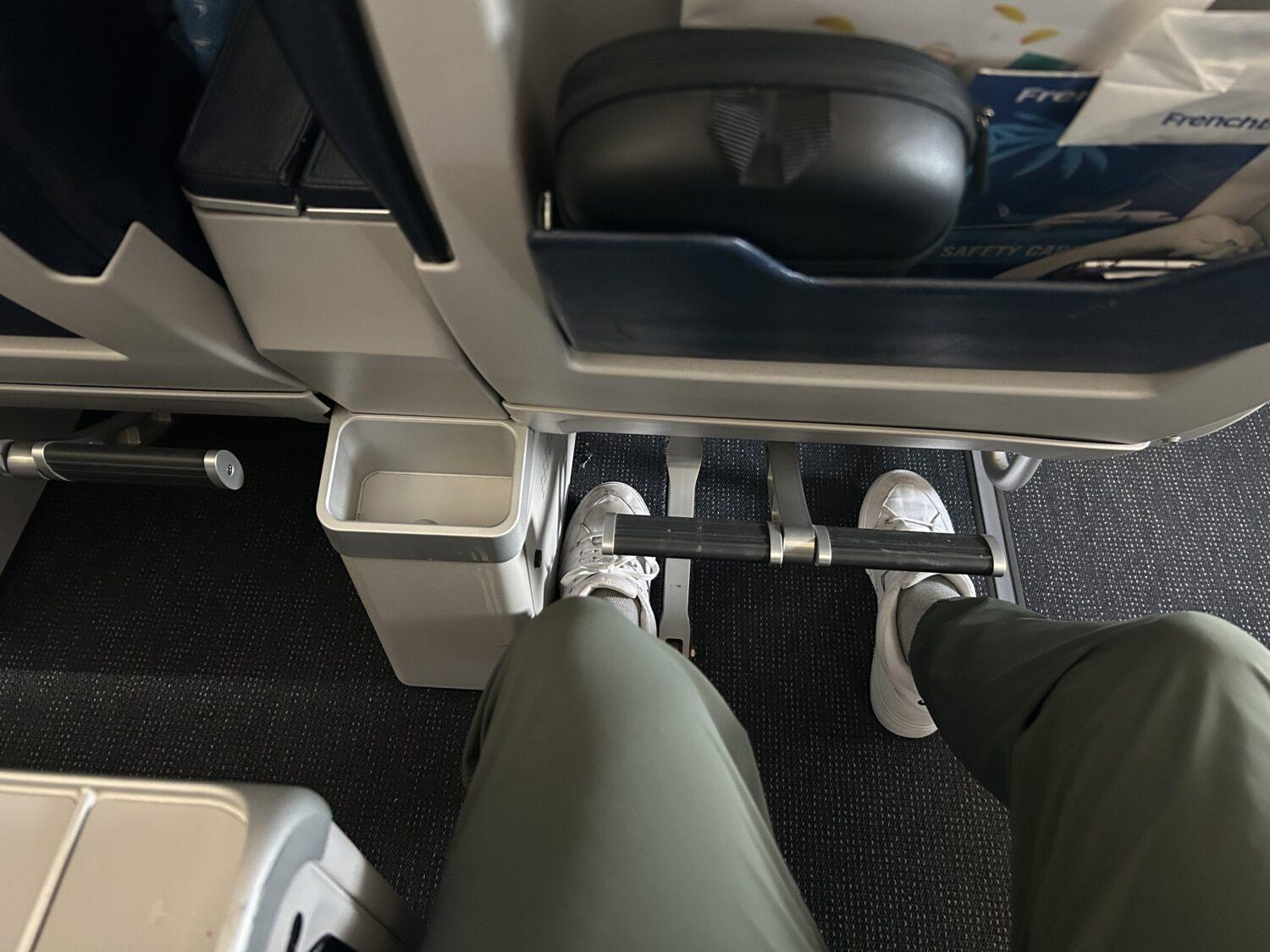 In between each seat you'll find two things. First, there's a water bottle holder – or just call it a storage area. Each traveler in Premium is given a water bottle at the beginning of the flight. My seatmate and I both stored our bottles in this area.
On the seat side of the mini-aisle is a universal power outlet which you need to share with your neighbor.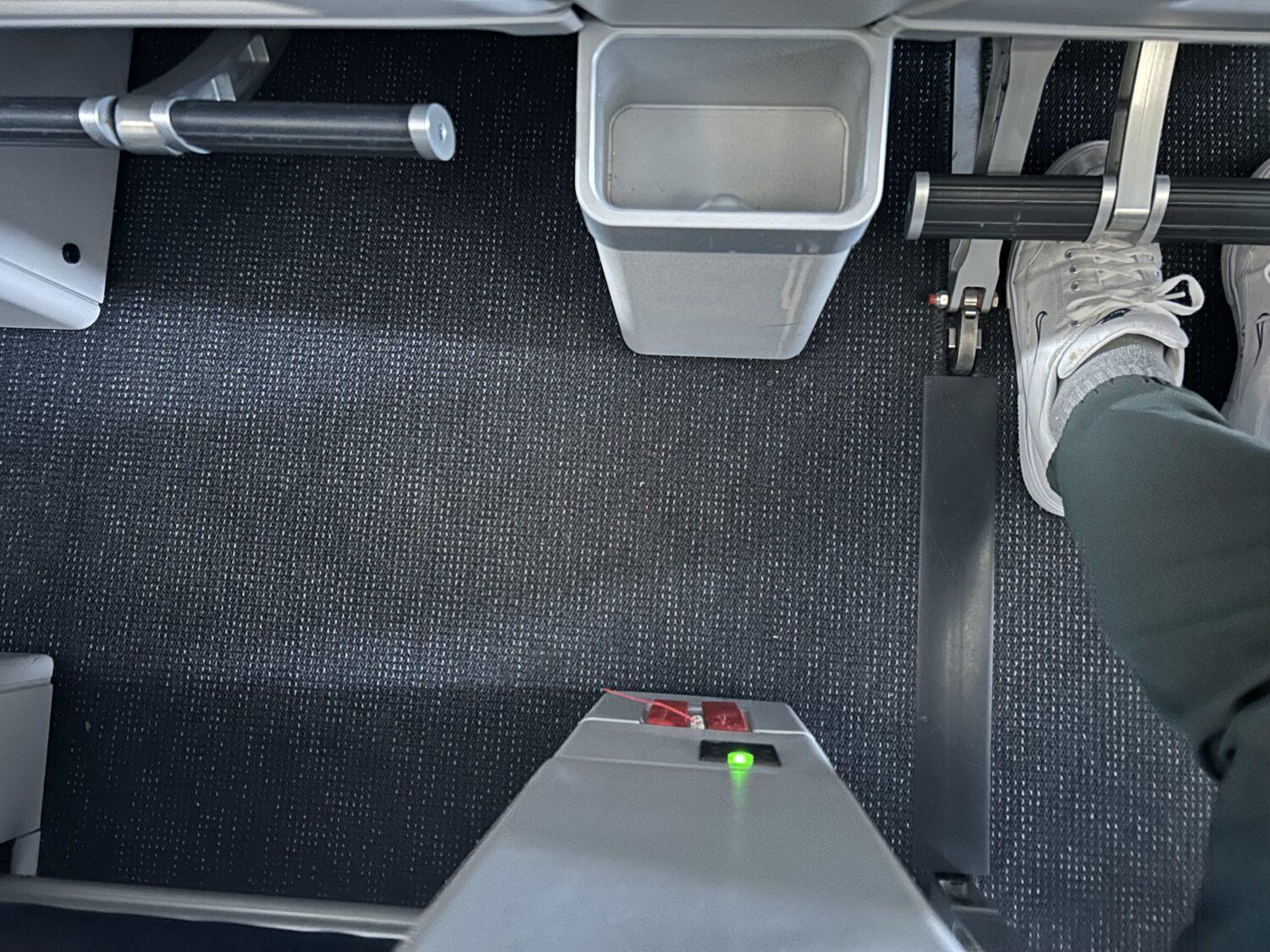 In the middle armrest you'll find the tray table, which you have to lift out and spread out across your lap.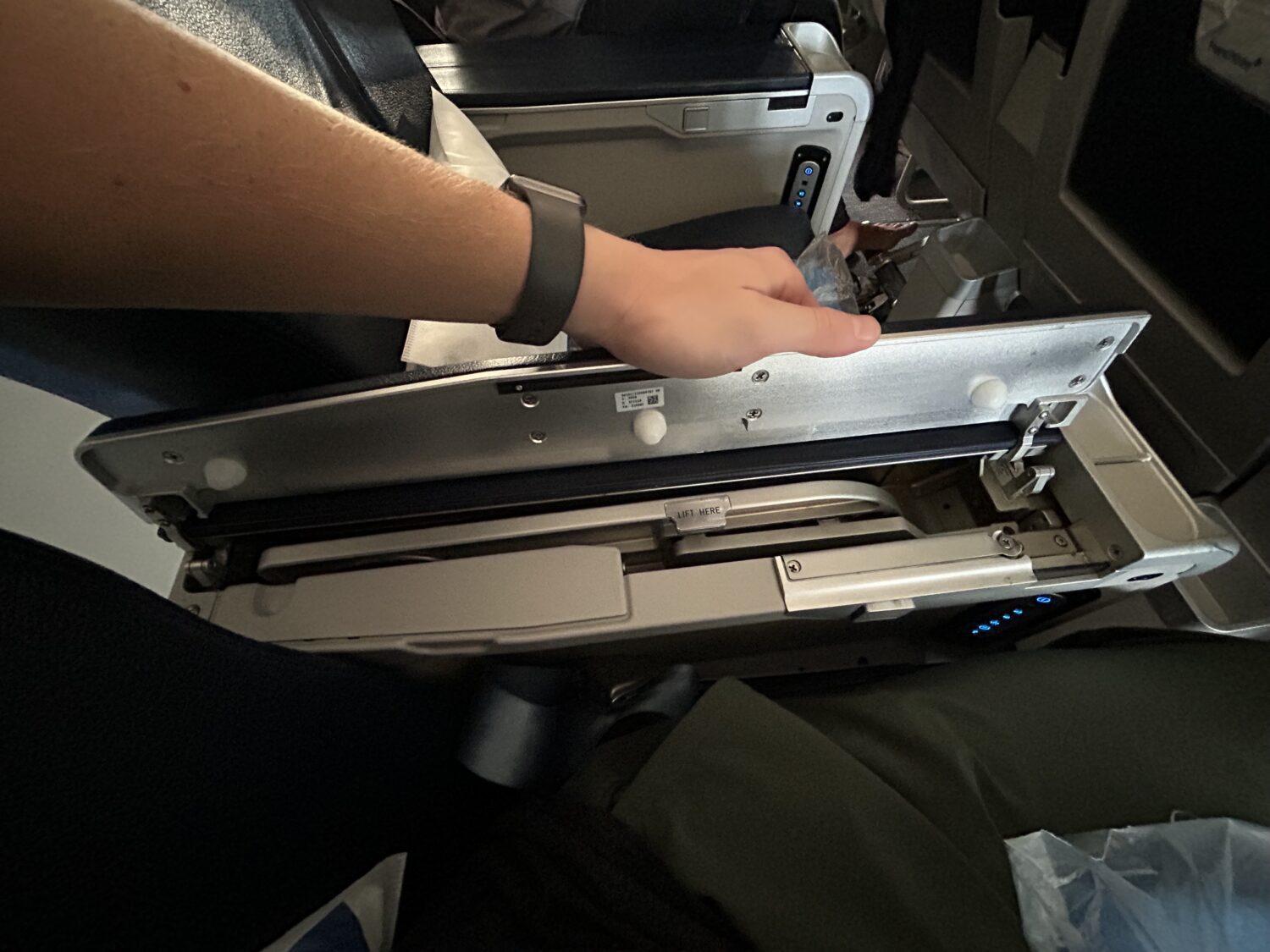 The tray table was nothing special and wasn't particularly big. It fit the meal comfortably and fit my computer comfortably, but certainly not both.

A small remote on the inside of the seat controlled your volume, your screen's power, and your reading light. There's also a flight attendant call button.

The 12-inch seatback screens are plenty big for the size of the seat. That's just an inch smaller than the screens in Delta Comfort Plus.

One of the biggest downsides of these seats is that when the person in front of you reclines, it makes the legroom feel even tighter – and also makes it harder to get a good angle of your seatback screen. Recline your own seat while trying to sleep on an overnight flight, and it's not really an issue. But if you need to pull out your laptop and get some work done, it's a big problem.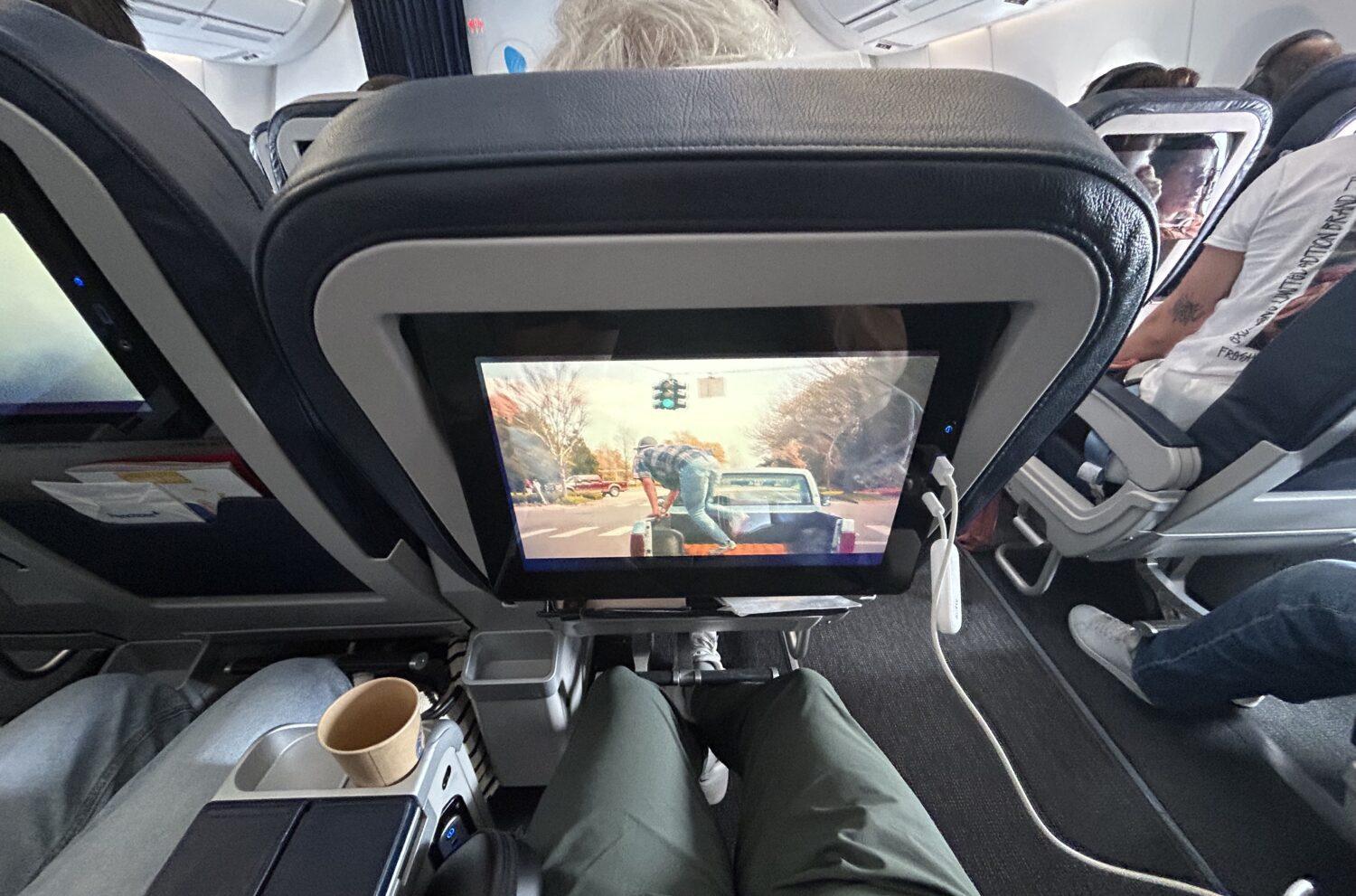 Airbus A350s have tons of huge overhead bins. The bins in the Premium cabin were nowhere near full for this flight. I had both of my bags up top, as the footrest makes it a little tight down below for the personal items.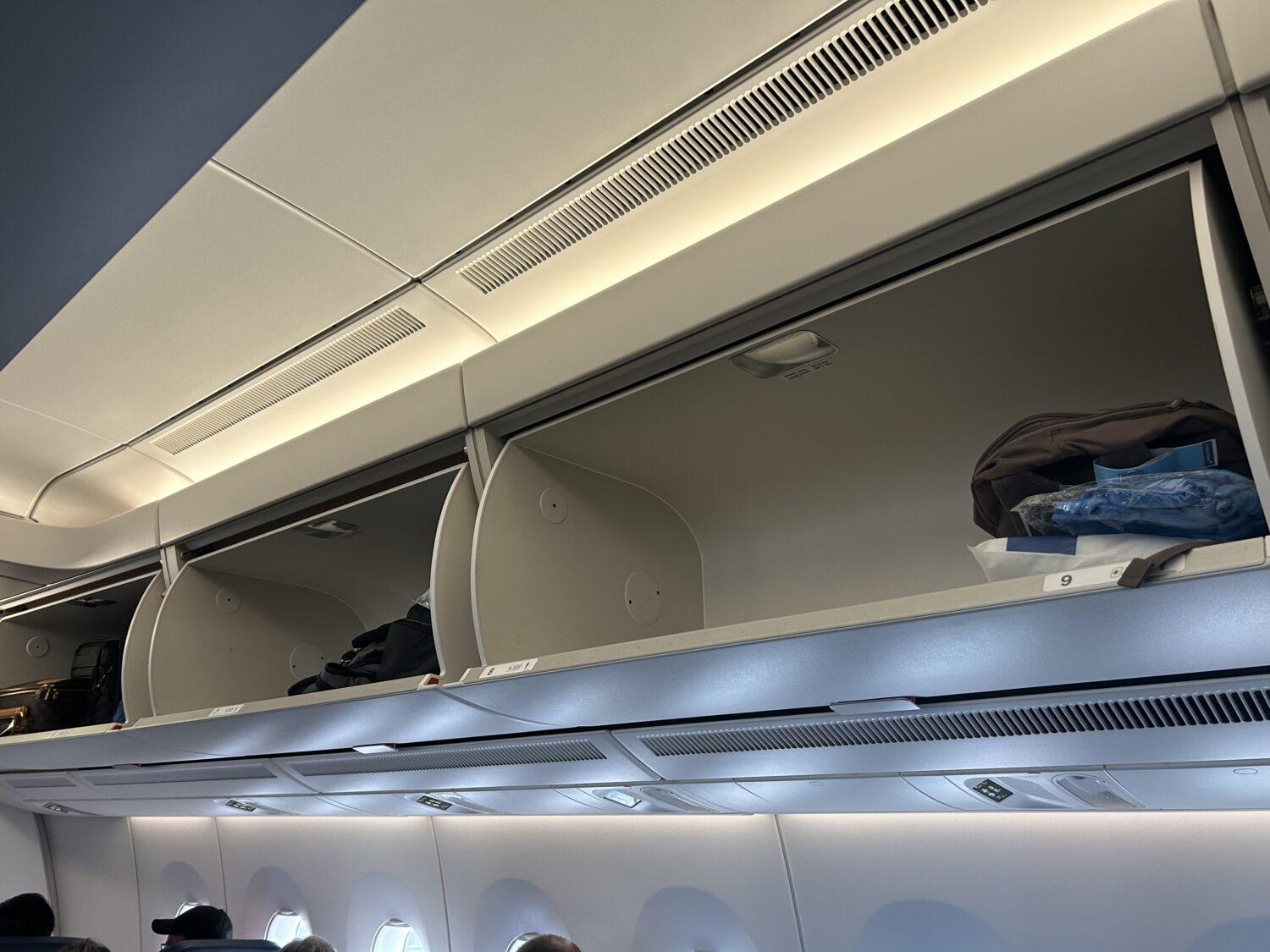 After takeoff, the flight attendants come around and hand out amenity kits, which was a surprise.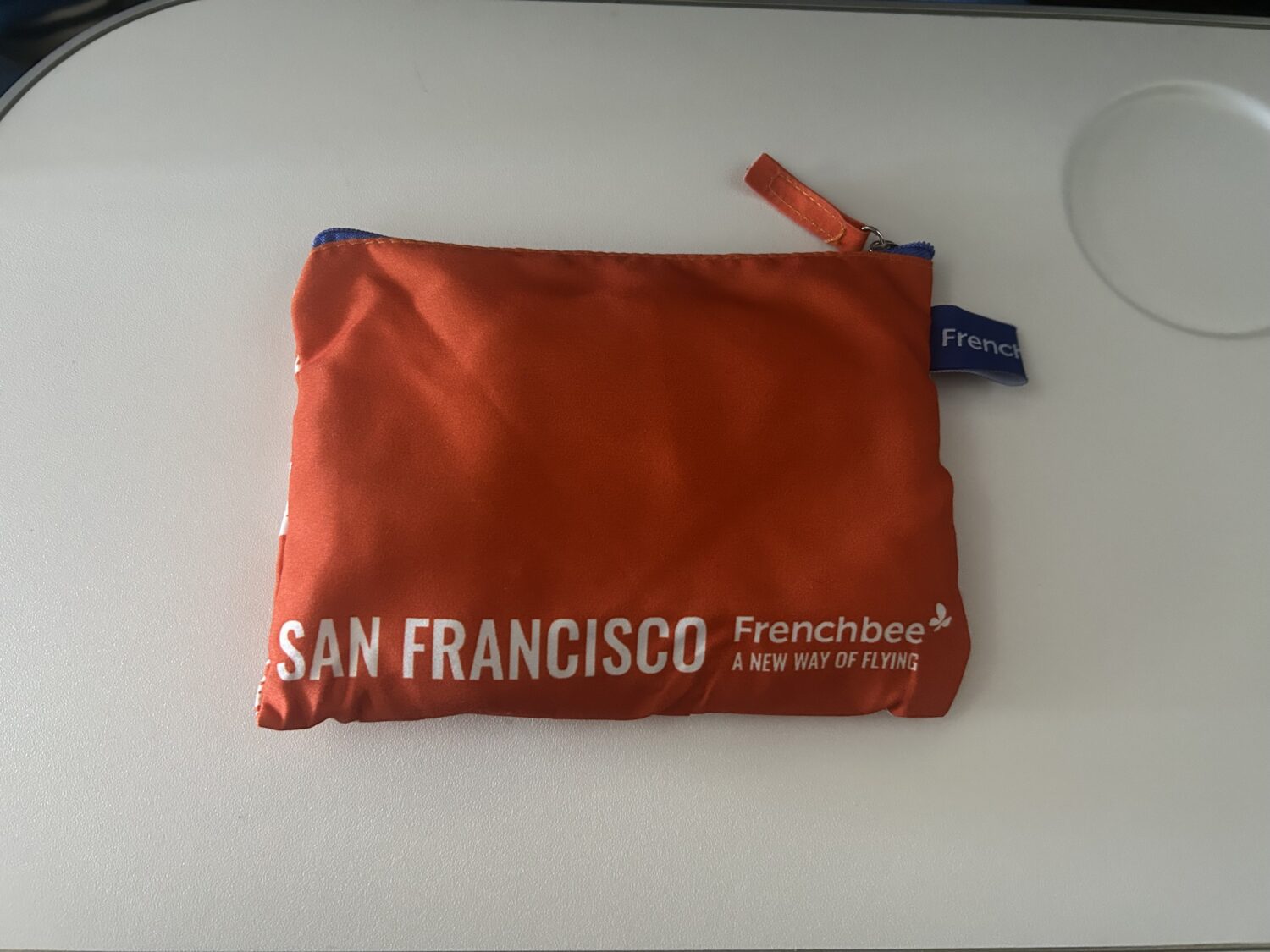 While it wasn't the most amenity-rich kit, it was nice to get an eye mask, a toothbrush and toothpaste, some earbuds, and some earplugs, too. For reference, economy travelers on French Bee also got eye masks on my way down to Tahiti.
Compared to my experience flying Norse Atlantic Premium (where there were no amenity kits) and Delta Premium Select, where flyers get a nearly business class-like amenity kit, it fell directly in the middle. It was nothing special, but nice to have.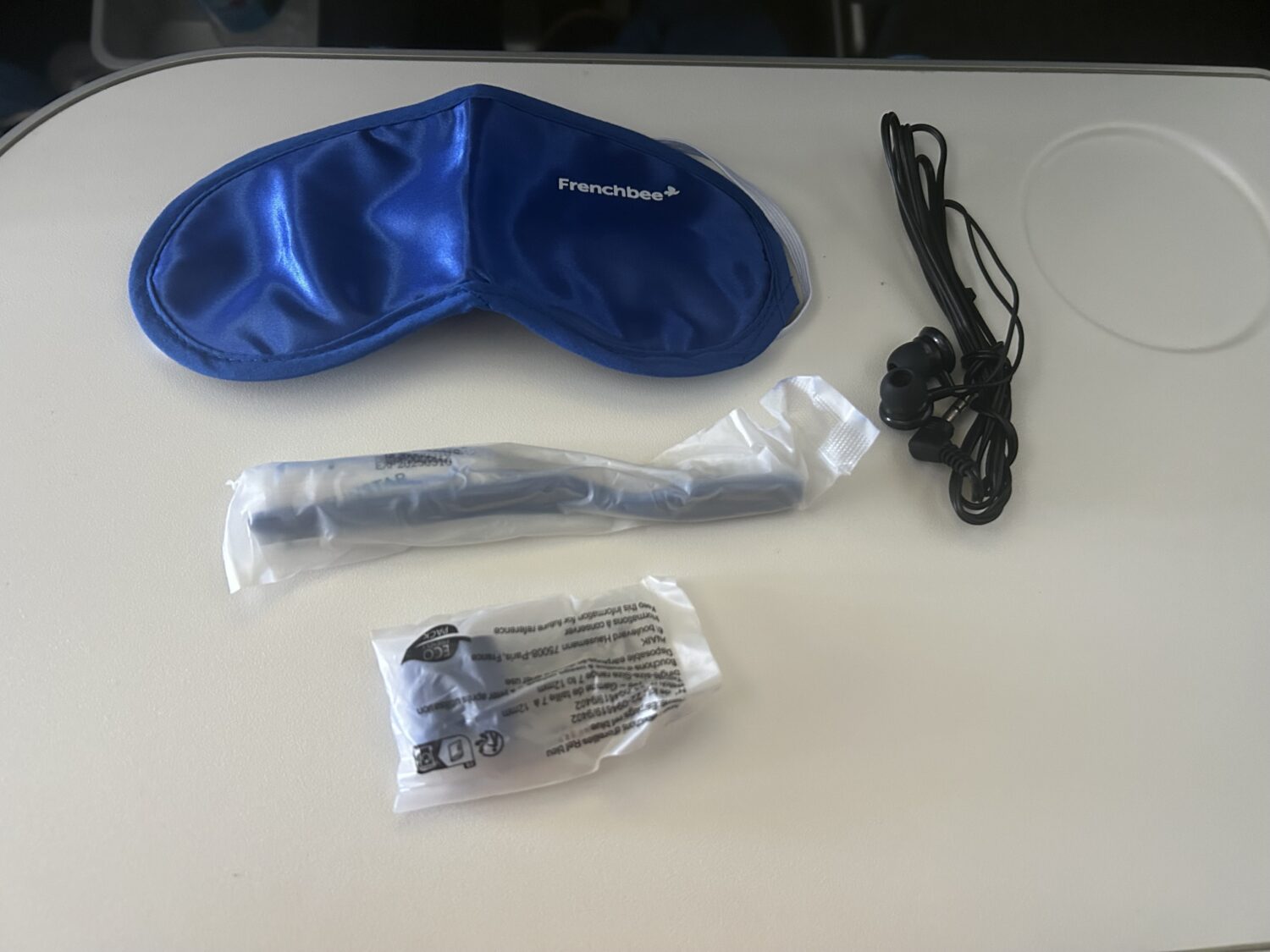 There was one lavatory at the front of the cabin available for Premium passengers to use, as well as others behind the cabin and a few rows of economy seating. This lavatory was nothing to write home about, either – it's about as standard as an airplane restroom gets.

French Bee Premium Food & Drink
The food flying French Bee Premium fell far short of gourmet cuisine, but it was a big step up from economy meals. And overall, it was totally adequate.
Honestly, it felt like a mainline carrier's dining experience in economy with a few extra touches: actual silverware, dedicated service, and a digestif drink, to boot. Here's the menu for the flight departing from Tahiti. For the 7 a.m. takeoff, it all started with a breakfast that was more substantial than I expected.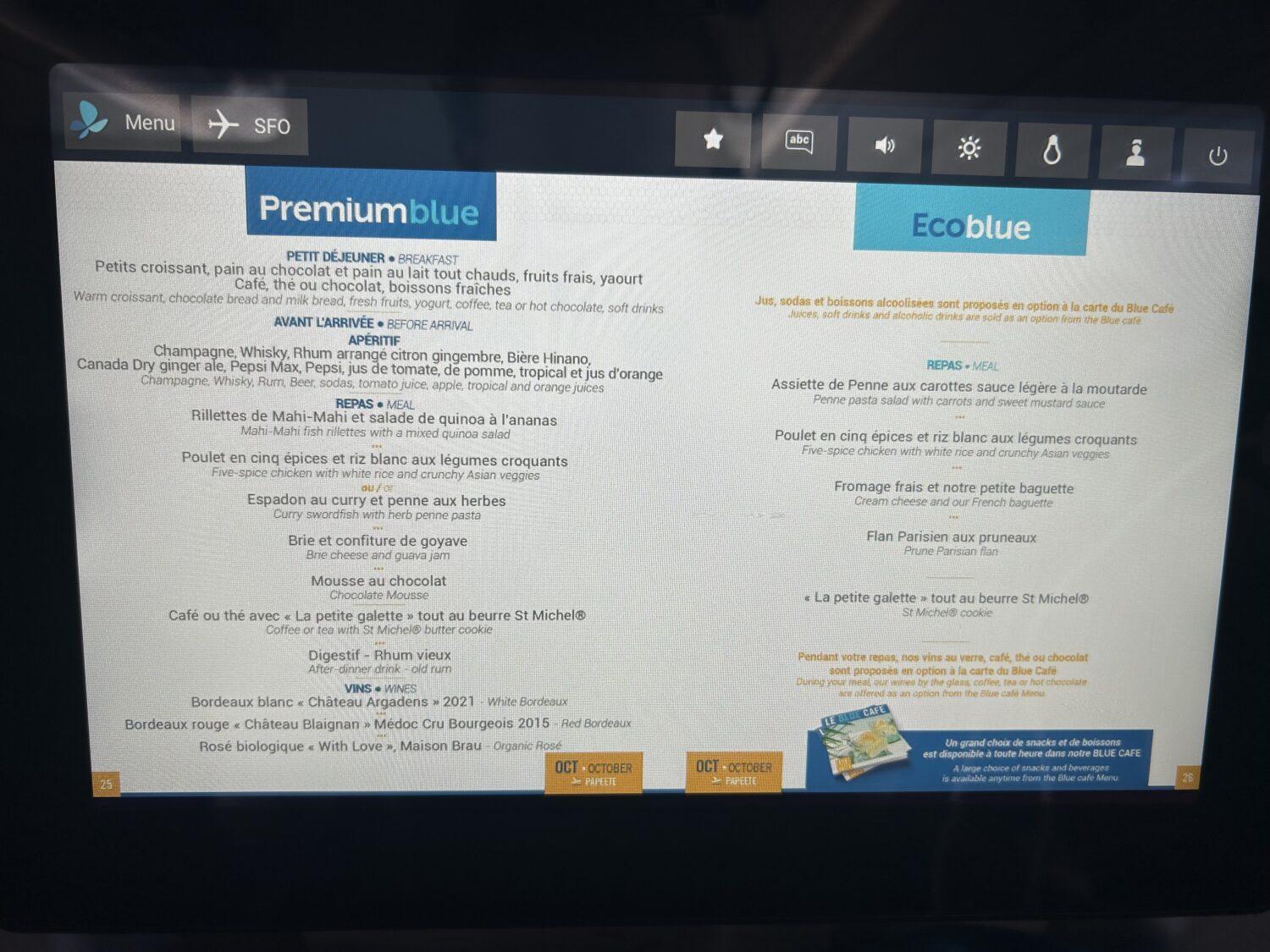 In typical French fashion, the breakfast offerings were bread-heavy. But the tray also featured some fresh cut fruit, a yogurt, coffee, and a juice of your choice.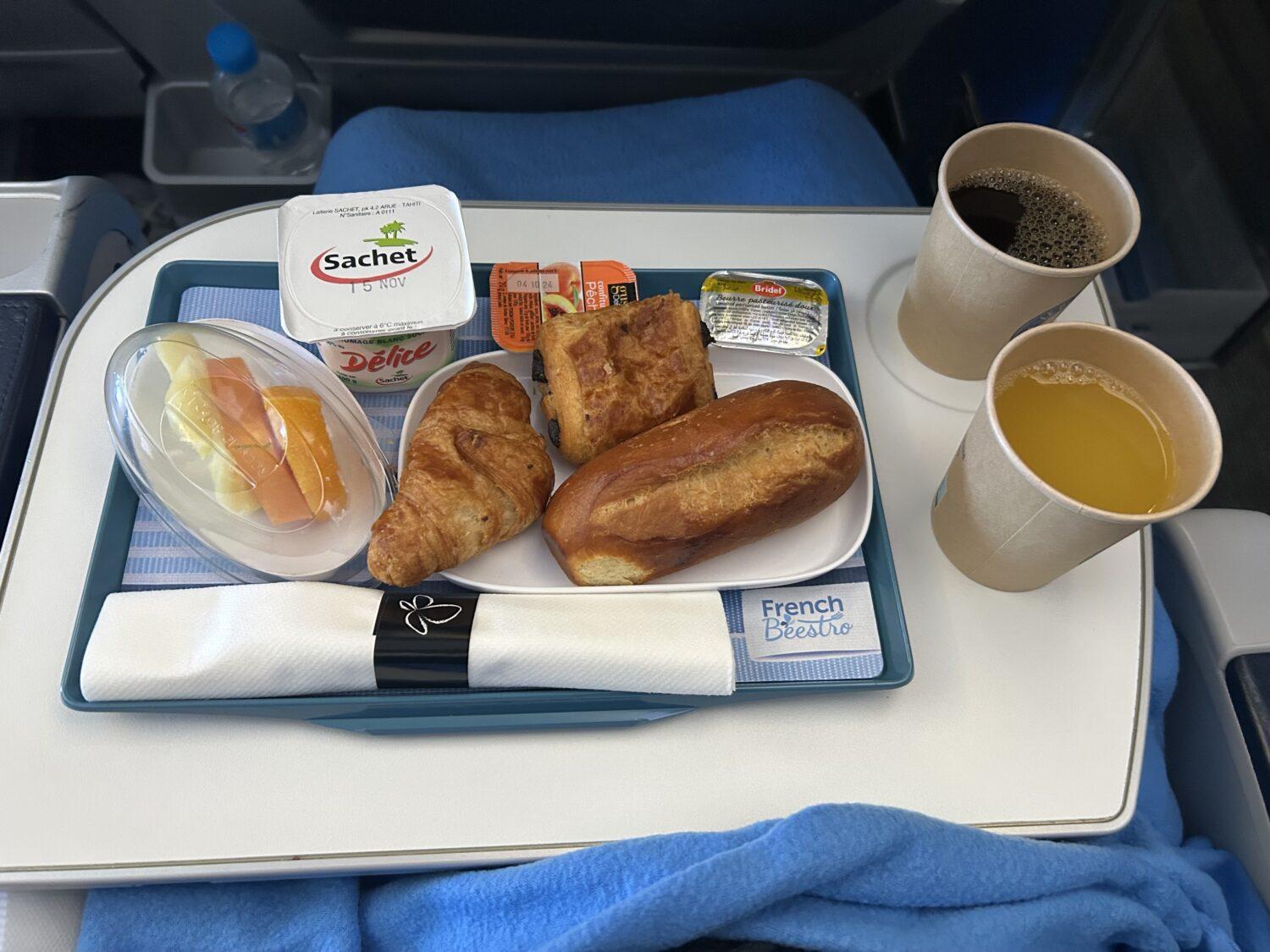 About three hours before landing in San Francisco, this lunch (or was it dinner?) meal was served, along with a drink of my choice.

As is the case of most foods served in a plastic tray, it didn't plate especially well. But this meal actually tasted pretty good – a huge step up from my rough economy meal on French Bee a few days earlier.

It was nice to have an actual glass of wine, too. While only one alcoholic drink was technically included per meal, flight attendants made multiple rounds through the cabin to make sure everyone's glasses were topped off throughout the dinner service and again afterward.

Then, as a fun surprise, the flight attendants offered everyone a digestif: in this case, a hearty pour of rum. The flight attendant giggled as she poured this glass nearly three-quarters full, saying I looked like I needed it. Ouch…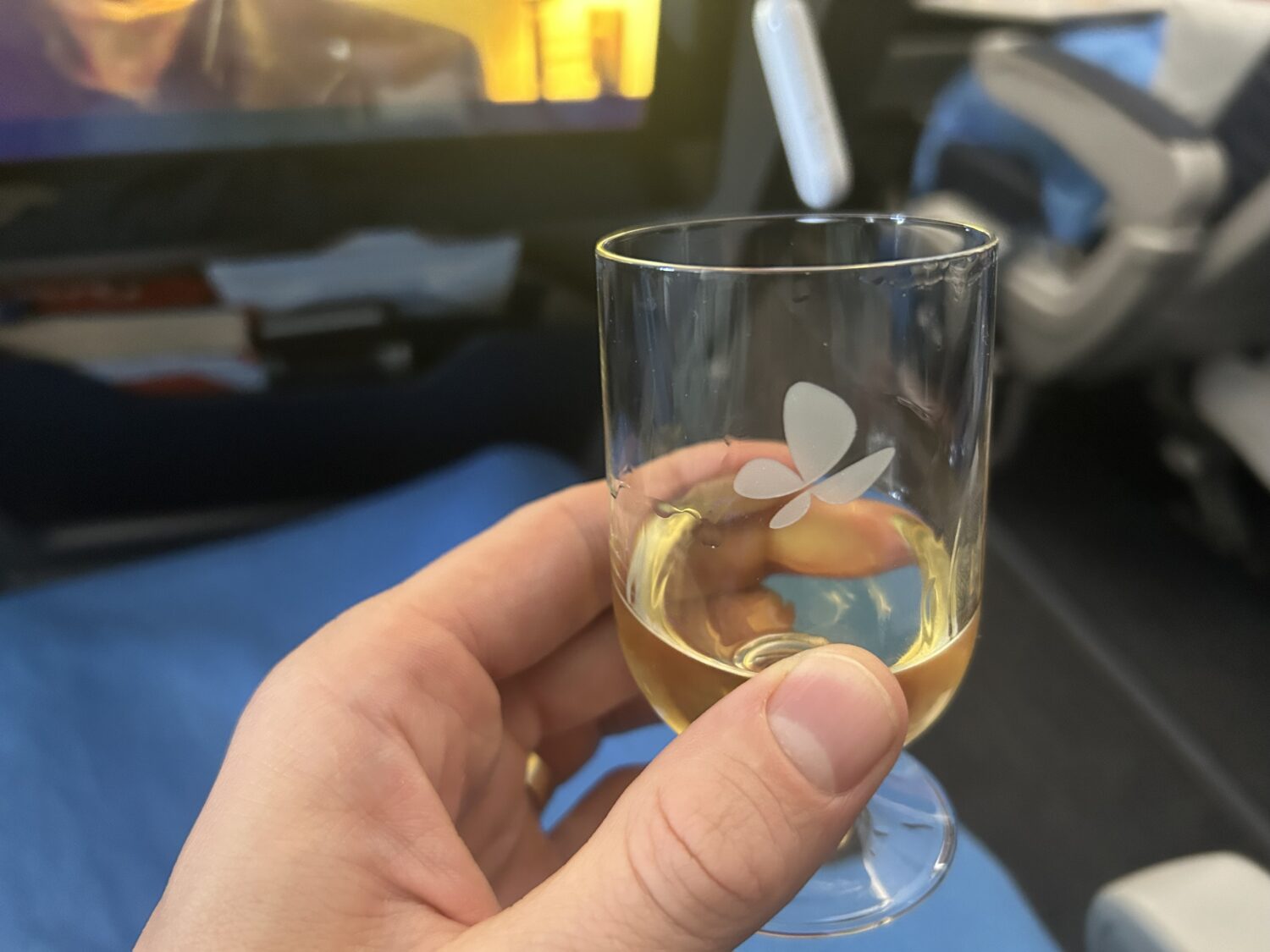 On this journey, I stuck to the included meals. But French Bee also offers a rather affordable a la carte menu, where I could have pieced together a nice drink and snack combo in lieu of the full meal.
Here are some selections of what you can buy onboard and the prices, as of publication:
Soda: ~$3
Tea: ~$2
Espresso/Cappuccino/Hot Cocoa: ~$2.50
Glass of red or white wine: ~$6
Mini bottle of champagne: ~$12
Pre-mixed negroni: ~$6
Beer: ~$4
Mini bottle of whiskey, vodka, or rum: ~$4
Sleeve of 6 Oreo cookies: ~43
Hot croissant: ~$3
Bag of Skittles: ~$2
Pre-packaged sandwich or wrap: ~$7 to $10
Cup of Noodles: ~$6
Can of Pringles or bag of Lays chips: ~$2
French Bee Premium Entertainment & Wi-Fi
One of the best parts about French Bee is that it has seat back entertainment at every seat – save for the bulkhead rows, which have retractable armrest screens.
Entertainment screens are a novelty for most budget carriers. I've personally only seen long-haul carriers Norse Atlantic and now French Bee do it.

The movie selection was nothing special for the U.S. audience. There were a few Hollywood hits on there, for sure, but not a ton of new releases or sought-after titles. There were plenty of French films available, but I wasn't in the mood to read subtitles at 1 a.m. I'm no cinephile, so someone might disagree, but I had a hard time piecing together a few films for the 8-hour journey. Instead, I opted for some downloaded content on my iPad for the home stretch of the flight.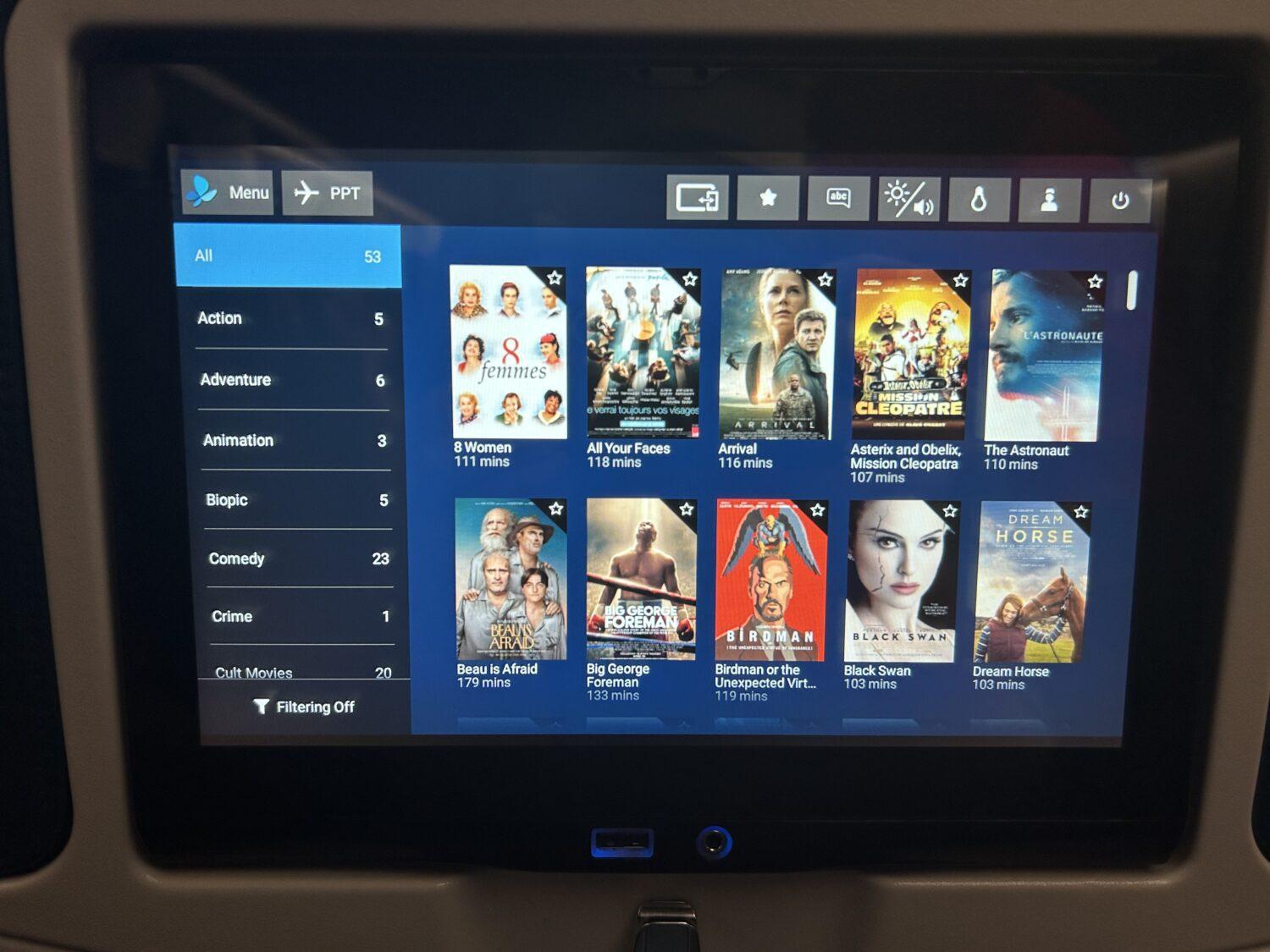 One of the coolest things about being on new planes like this A350 are the exterior view cameras. This tail camera made for some fantastic perspectives during takeoff and landing.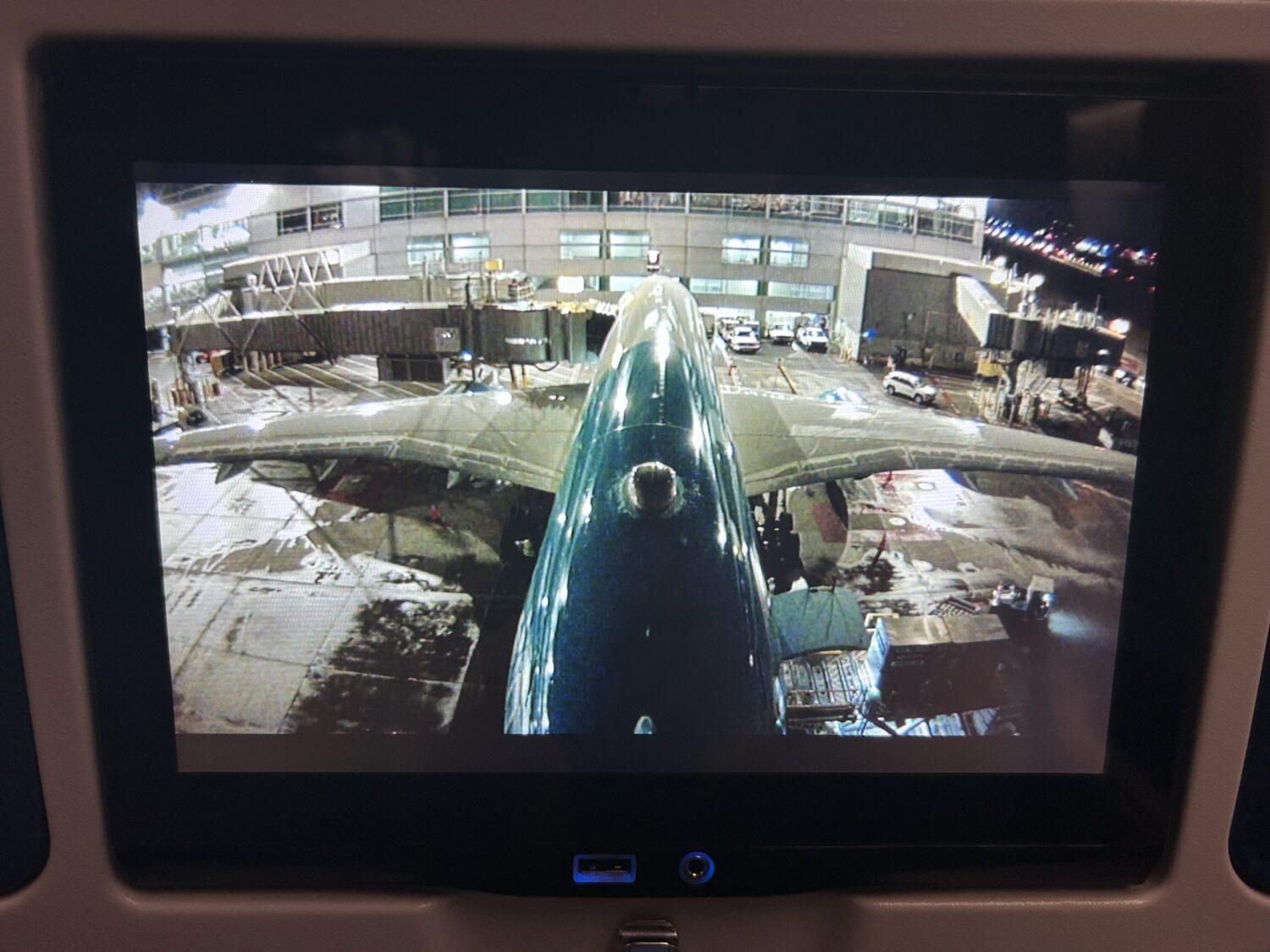 There is, of course, an interactive moving map of the flight path, too.

French Bee also boasts about its midair Wi-Fi. While there is certainly Wi-Fi available, it was not reliable during my attempts and is actually pretty expensive – especially when you're paying by the megabyte, which is a huge bummer.

I grabbed the "Geek" pack for $17, which gave me 120 MB to use on the flight. I connected initially on my laptop.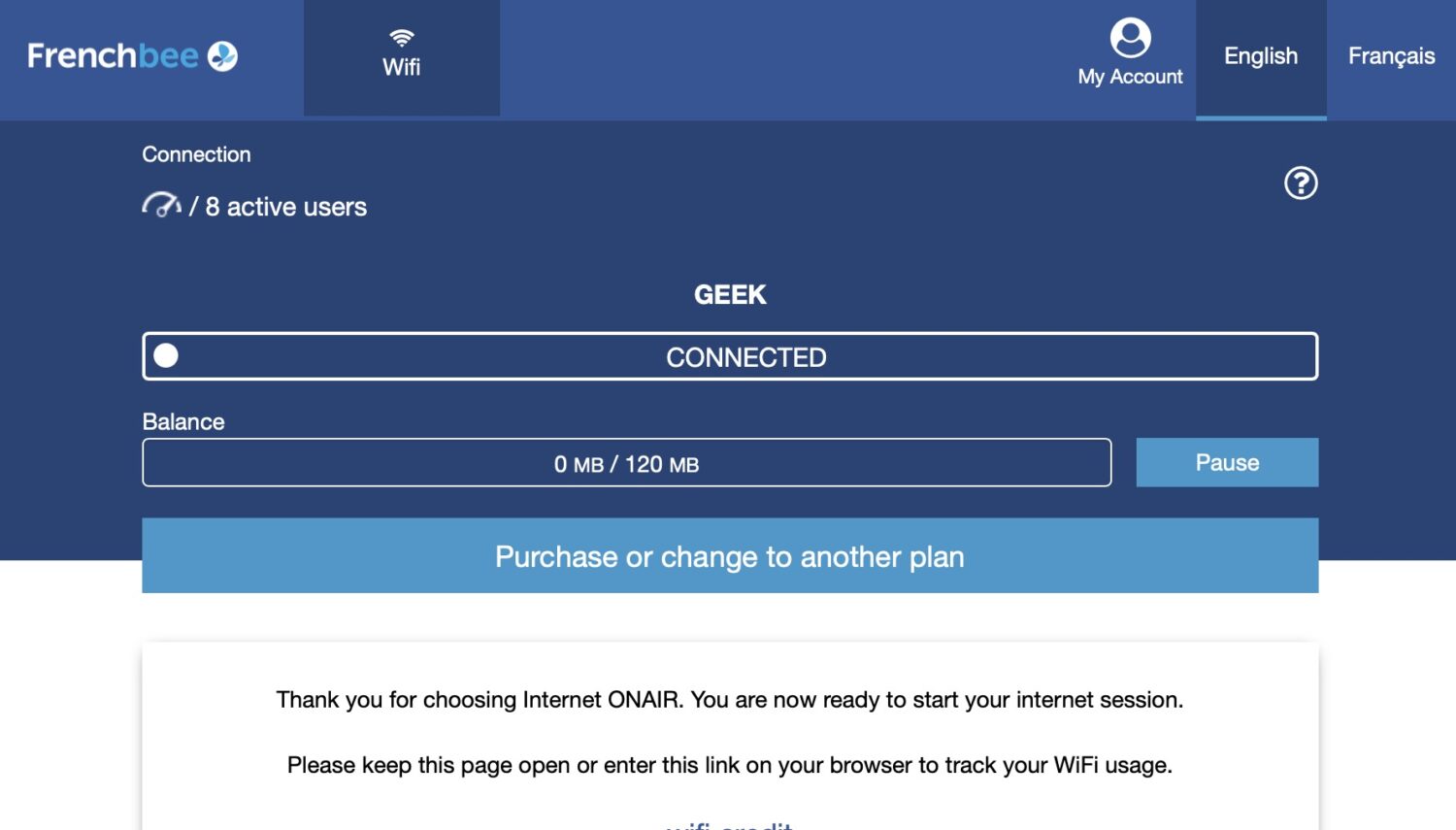 Once you're online, you can sign on and continue using the same connection on another device, which is a nice benefit. I was able to split my data between two devices.

However, the Wi-Fi was…how do I put this? Not just awful, but very awful. I ran this test about two minutes after connecting and I was amazed the test was even completed. This is very, very slow.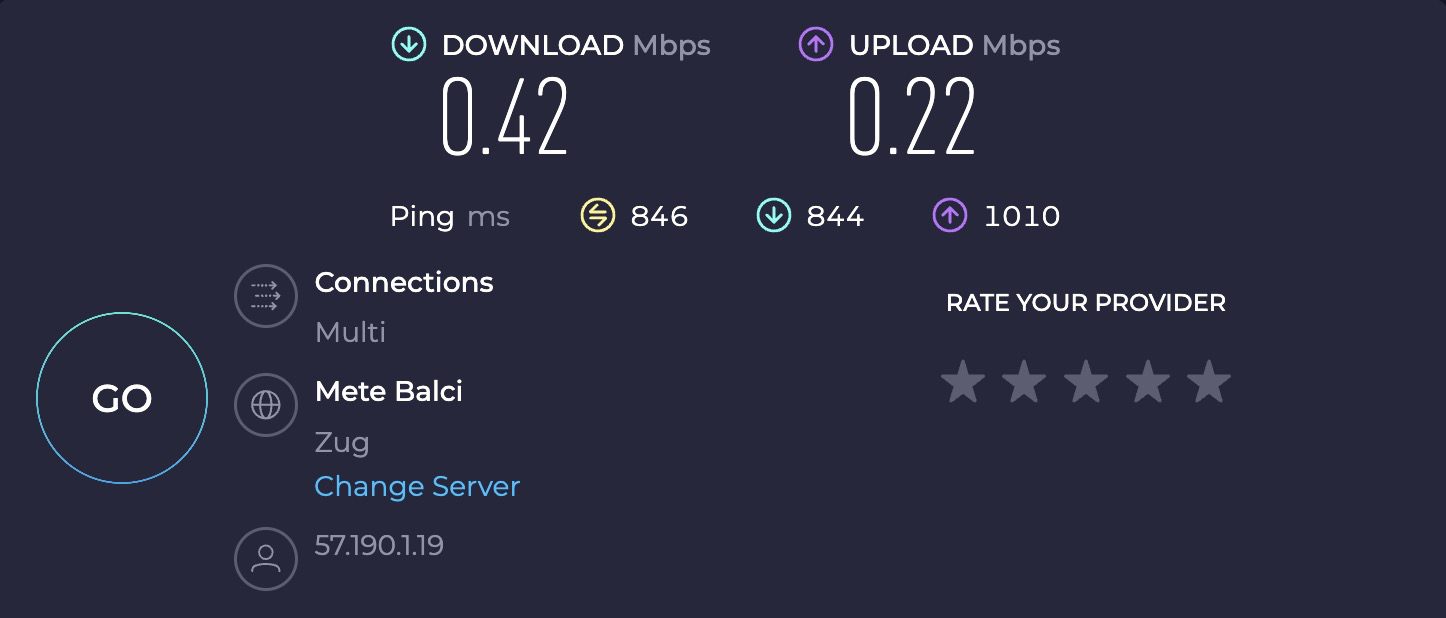 And about two hours into the journey over the Pacific, the Wi-Fi dropped out completely.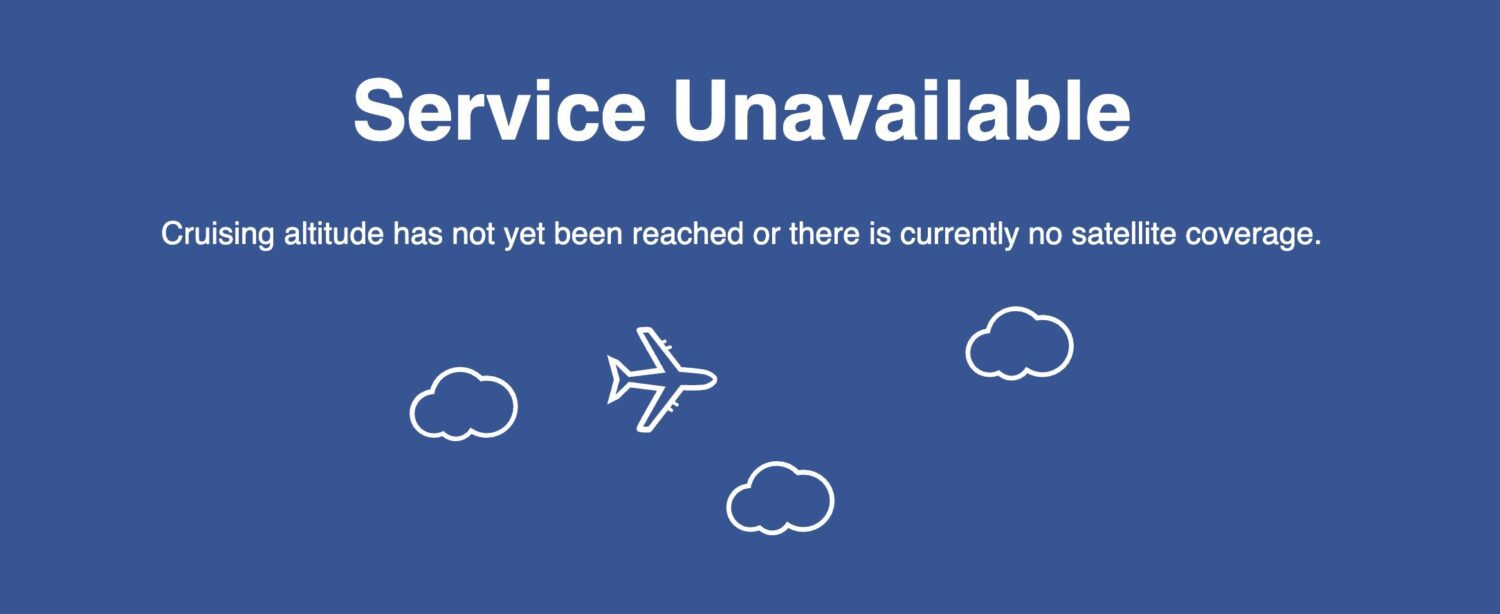 The coverage came back about two hours away from our final destination, but it was not a workable connection for most of the middle of the journey.
Is French Bee Premium Worth It?
At Thrifty Traveler, we've flown Premium Economy on several airlines: Delta Premium Select, Norse Atlantic Premium, and SAS Premium Economy. I can't believe I'm saying this, but the French Bee Premium experience was honestly closer to the major, full-service carriers than with an ultra-low-cost airline.
French Bee Premiumblue far exceeded my expectations. French Bee isn't too far off from Delta Premium Select: While Delta's seats and amenity kits were better, the service and food were almost identical, in my opinion. That might be more of an indictment of Delta than anything, but it was a surprise.

French Bee was far better than Norse Atlantic Premium in terms of service, food and drink, and the experience on the whole. That said, Norse's seat was much more comfortable, with far superior legroom.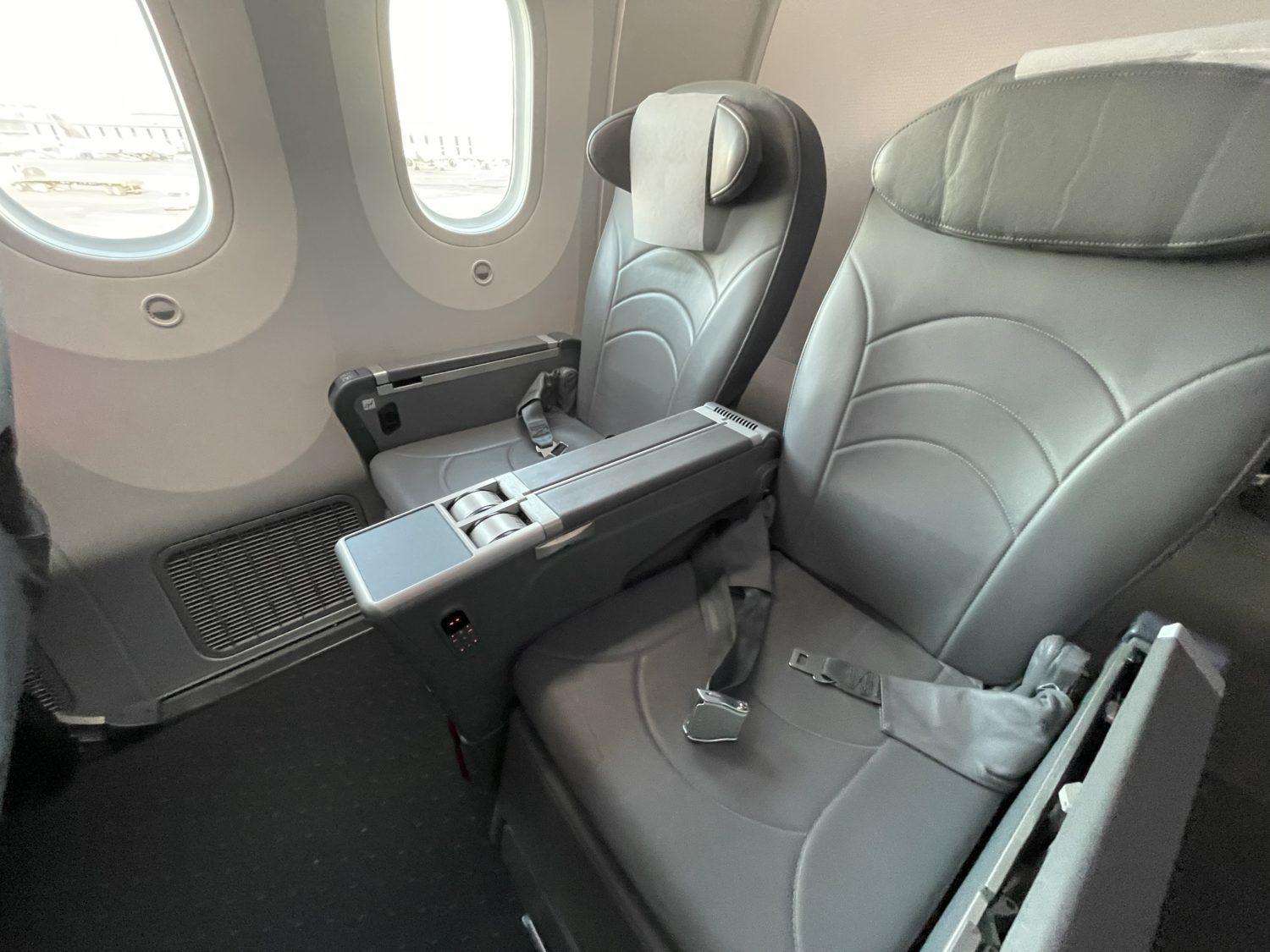 So is French Bee Premium worth the extra cost? While we see other airlines occasionally slash prices for their premium economy seats – think roundtrip flights to Europe under $700, sometimes even in the $500s – we haven't seen French Bee do the same. The best value for French Bee Premium is flying between Newark (EWR) and Paris-Orly (ORY), where you can snag roundtrip tickets for under $1,000 in the off season or shoulder season.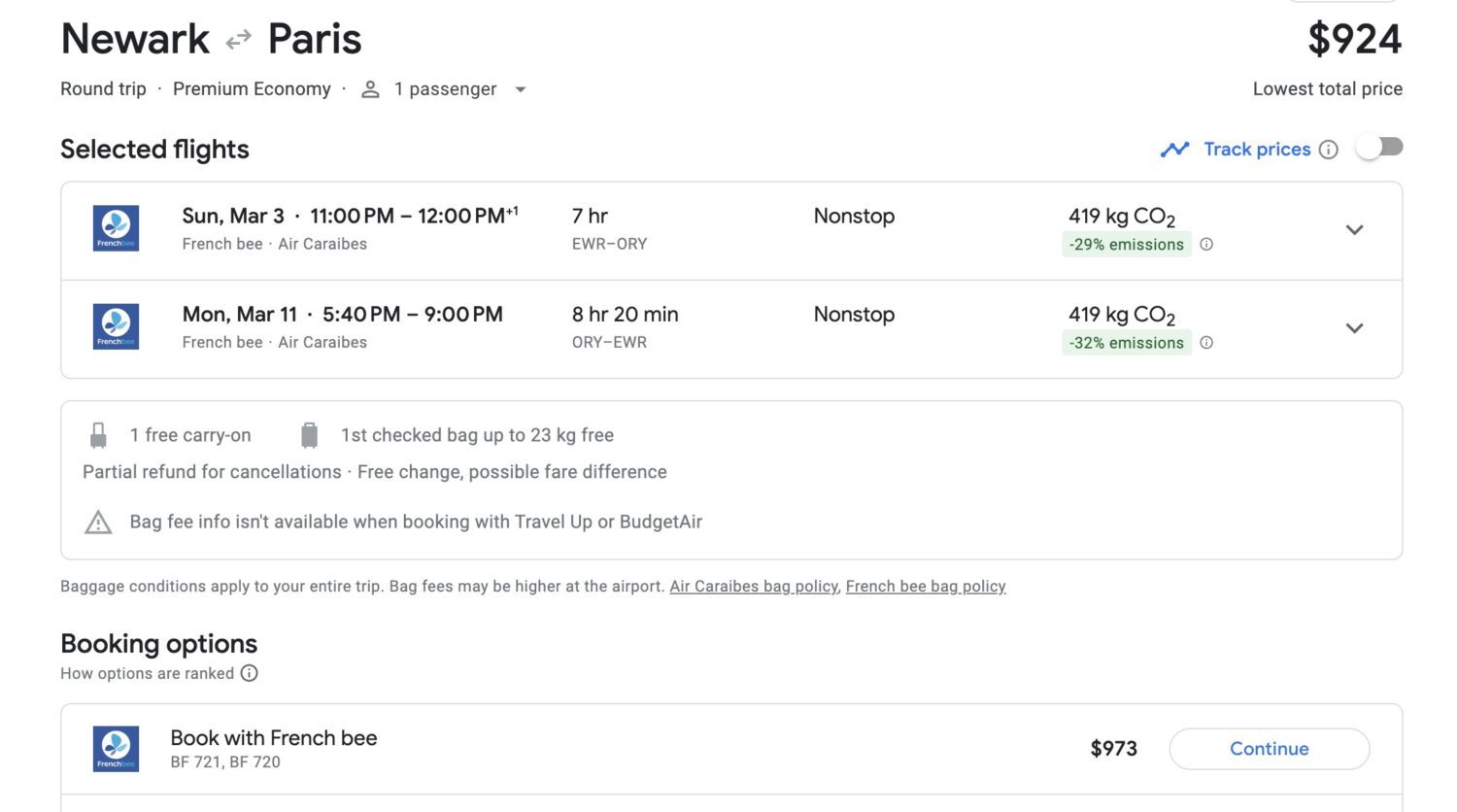 For my money, the best aspect of French Bee Premiumblue is its one-way pricing. Unlike many major airlines, one-way flights with French Bee are almost exactly half the cost of a roundtrip – there's no up-charge for booking one-way fares as you'll see with American, Delta, and United when flying abroad.
Let's say you're planning a trip to Tahiti and booked a one-way business class fare on Air Tahiti Nui, Delta, or Air France using miles … but don't have the points (or can't find the award availability) to get home. The $659 Premiumblue fare I booked is a great option to round out an itinerary. It's plenty comfortable and that one-way rate is a pretty good price!
Bottom Line
Despite being a low-cost carrier – especially back in economy – French Bee offers a surprisingly comfortable Premium Economy experience with French Bee Premium seats.
The seat isn't as fancy with as much legroom as you'll find on other long-haul flights, but it's a big improvement over what you'll get at the back of the plane. And the service, additional amenities, and value of these seats mean travelers looking to get to Tahiti or Paris in some extra comfort should give it a look.