Back in April, Google made a huge improvement to their Google Flights search engine by adding the ability to filter out basic economy fares that don't include a free carry on bag. This has been a game-changer for domestic travel, but they hadn't yet rolled out the functionality on international routes.
Earlier this morning, we noticed the "Bags" filter is now appearing for international airfare searches! The filter allows you to only see fares that include a free carry-on. This is a big development and one that many Google Flights users have demanded since the filter first rolled out.
With the filter for "Overhead bin access", you can now filter out most international Basic Economy fares and only see fares which include carry-on bags in the price. Further, this also works for flights with both an international departure and arrival as is pictured below.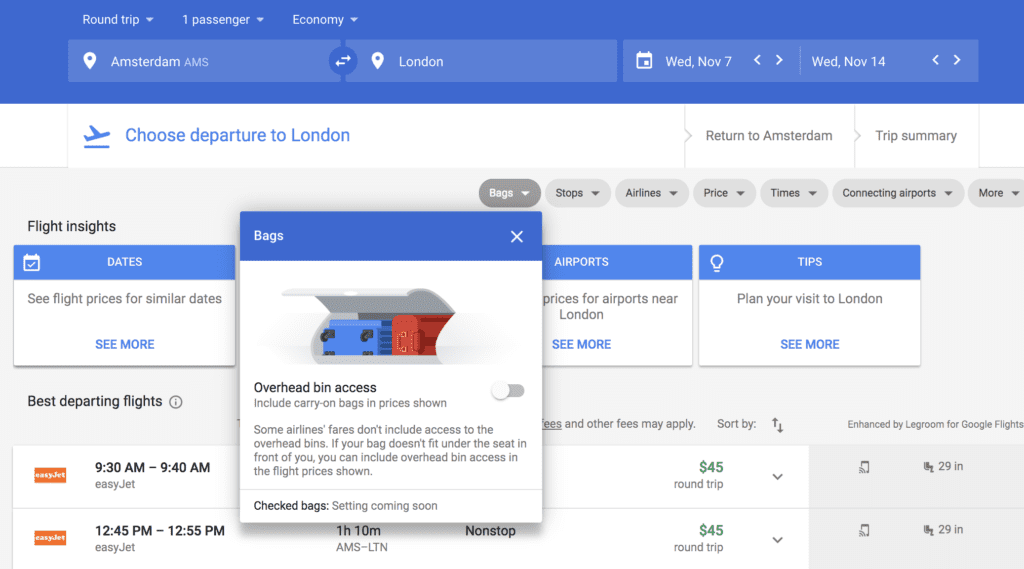 There is also a teaser at the bottom of this feature which says a "Checked bags" filter will be coming soon. No word on when Google will be adding this, but the two of these together are going to make it much easier to find cheap fares without ugly bag fees.
Bottom Line
Although a Basic Economy filter might not seem like a big deal, basic economy fares as a whole are having a big impact on the airline industry. This new feature now allows consumers to bypass these stripped down international fares and find the true pricing which includes carry-on. Great work, Google. The best tool for finding cheap airfare just got even better.