The best search engine for flights just keeps getting better. Stop using Expedia, Kayak or other travel sites: Google Flights beats them all. After constantly improving their service by adding the ability to filter out basic economy fares and track price changes on a flight, the web giant has made more improvements.
The latest features crunch the numbers to help you pinpoint the best time to buy a fare for holiday travel. And the site now helps you identify great deals on Google's fabulous Explore function to find a cheap fare anywhere.
Holiday Travel Help
Traveling for the holidays is never cheap. And whether you're trying to get away for Thanksgiving or winter vacation, working out the best time to book a flight is always a challenge.
One of Google's new features tries to solve both problems. Dubbed Travel Trends, Google did the math on 2017 fares around Thanksgiving, Christmas and December holidays and New Year's Eve. A tidy line graph tracking prices in the 180 days leading up to each holiday can help you pinpoint the right time to buy a ticket.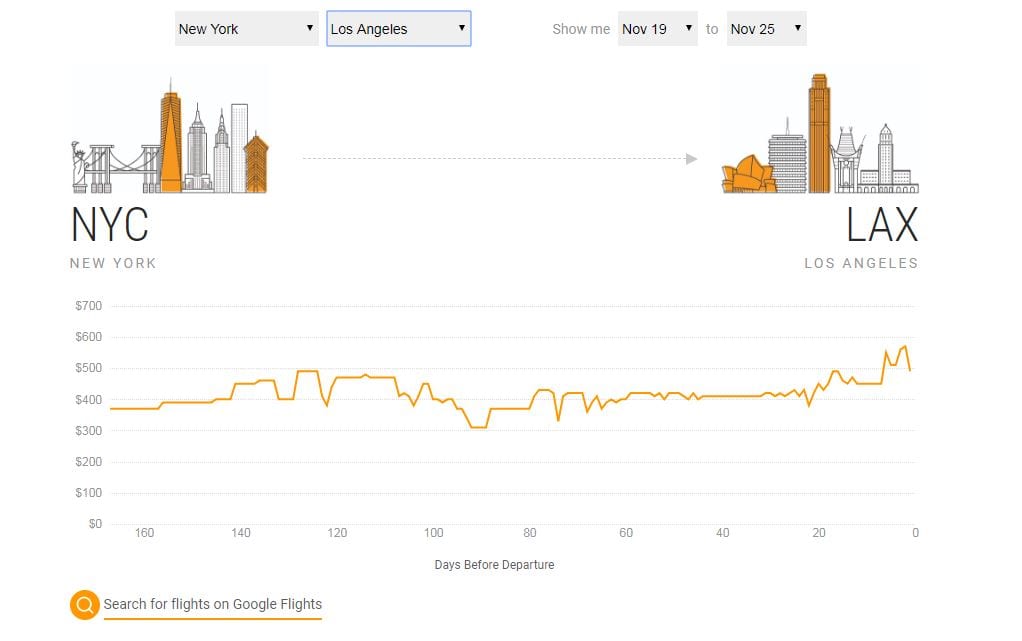 At this point, only a handful of routes from the nation's largest airports – plus London-Heathrow (LHR) – are viewable. Think New York City-JFK (JFK), Los Angeles (LAX), Chicago-O'Hare (ORD) and a few others.
However, even if you're departing from or heading elsewhere, you can zero in on the best window to buy a ticket. Check out Thanksgiving weekend travel from a handful of destinations, and you'll see that 80-100 days before departure is the cheapest you'll find a fare. For the Winter holidays, 100-110 days seems to be the sweet spot.
Google is rolling out a similar feature to its mobile website. When you're searching for holiday travel, Google will now let you know whether a fare is low, typical or high for your date and route based on historical averages. As of right now, this is only available on mobile, but we imagine it will be available on the desktop version soon.

Much More on Explore
We've written before about how much we love Google Flights Explore. If you're willing to let a cheap fare take you anywhere, there's no better way to find some destinations to fly. This newest function will let you know just how good a deal you're getting.
Start by searching for a round-trip flight from your home airport to anywhere on the globe. Make sure to keep your dates flexible to zero in on savings, like a weekend in October or a week in January.
When the results pop up, you'll see Google has started highlighting the flights where you can score a deal. Google highlights these results in green. It can give you a sense of how great the savings are as compared to the standard fare.
Remember: To find Google Flights Explore, simply click the menu tab in the upper left on the Google Flights homepage and select "Explore."
Bottom Line
Serious kudos to Google for continuing to give more power back to flyers to find cheap fares. None of these additions are earth-shattering. But Google Flights just keeps getting better and more powerful.