Google Flights just keeps getting better and better. The search engine mammoth has steadily added features that help you find the cheapest flights, save time and fly more comfortably. But we're convinced this latest addition could be the best yet.
Behold: A baggage allowance filter! This latest search feature, which Google simply calls "Bags," allows travelers to see only the fares that include a certain amount of baggage. Want to make sure your results include at least one checked bag? Done.
We'll show you all about using this latest addition to what we consider the best flight search engine out there. But before we dive in, read up on the other great Google Flights features that make it a mainstay in our flight-searching toolbox.
The Power of Google Flights
Forget Kayak, Expedia or Momondo. The entire Thrifty Traveler team swears by Google Flights. Finding you cheap flights is our life's work, and we're always using Google Flights to do it.
Looking for a general overview? Read our article on how to use Google Flights.
Have specific departure and return dates, but still want to find a great deal? Check out our article on how to monitor airfare pricing with Google Flights.
One of our favorite ways to find the best cheap flights anywhere around the world is to use Google Flights Explore. Read about Explore and how to use it here.
The Google Flights Explore feature even has additional tools to help you find cheap flight deals during the holidays.
Here's our article on how to add a legroom extension to Google Flights so you'll always know how much room you'll have on a flight.
Don't want to even look at layovers over 5 hours? Google Flights' most recent update was adding a filter for layover times. 
Learn About the Baggage Allowance Filter
Now that you're in the loop on all things Google Flights, it's time to learn about this new the baggage allowance filter!
This new Google Flights "Bags" feature is so helpful because you can now filter your flights by baggage allowance, and only see options that allow you to bring the number of bags you want. This new feature was just rolled out this week. If it's not showing up for you, try using your web browser in incognito mode.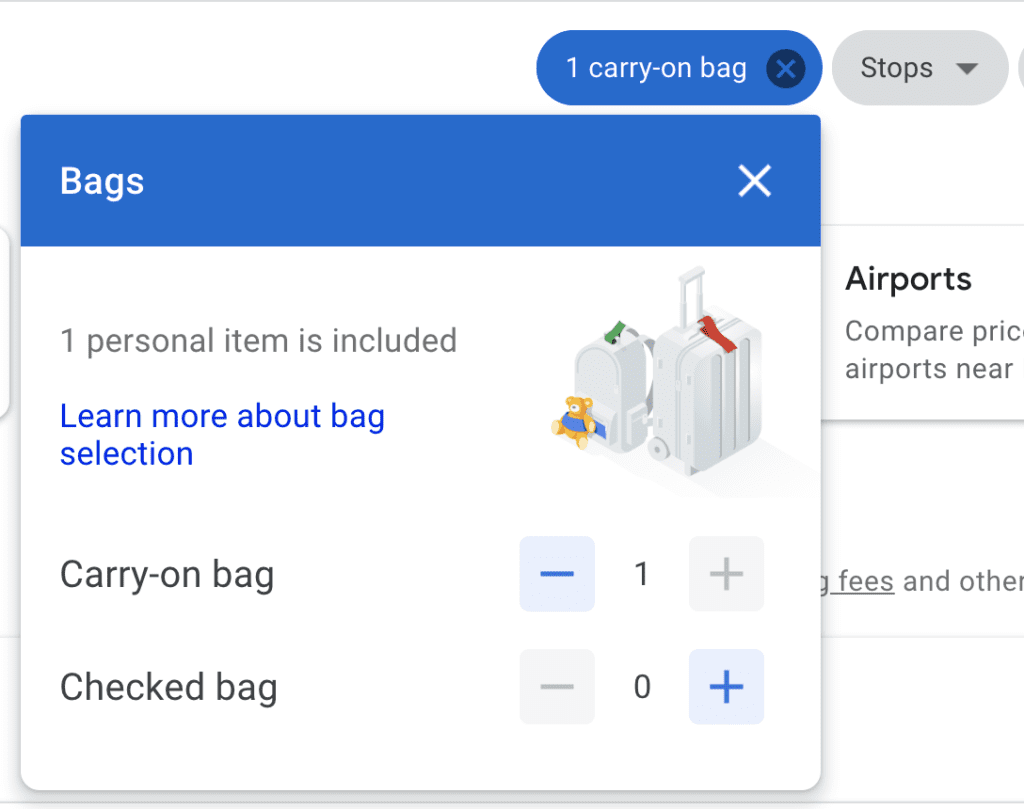 Before this filter, there was only "carry-on bag" option to select. The checked bags option and allotted bags number buttons are completely new! With this change, users can now more clearly select flights that they know will allow the number of bags they'd like to bring on a trip.
In addition to this "Bags" filter, users will now see a small icon of a bag with a slash through it for flights that don't allow carry-on bags. As you can see below, when 0 carry-on bags and 0 checked bags are selected, you'll see the Sun Country flight does not allow access to the overhead bin. The addition of the no carry-on icon should make it easier for users to pick a fare that's right for their baggage needs – and avoid any surprises at the airport.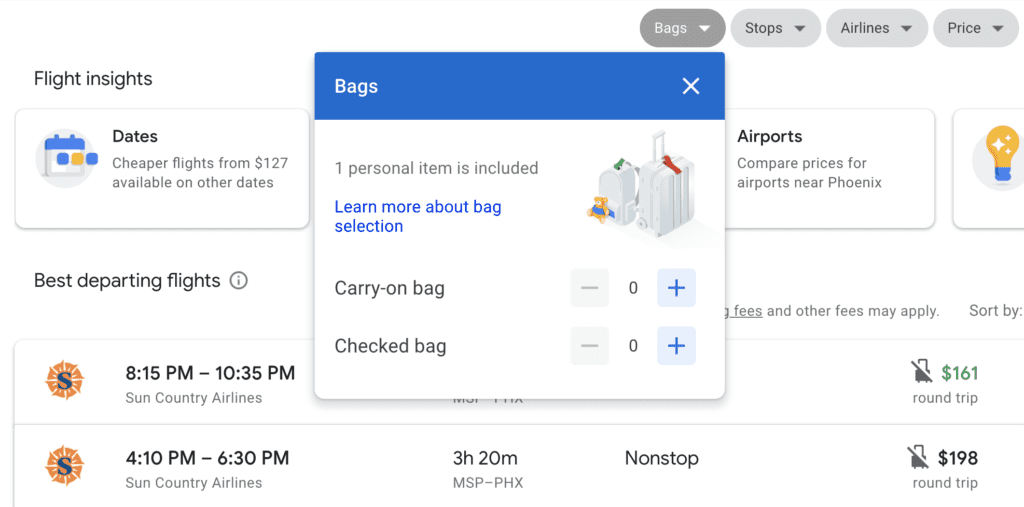 Using the "Bags" Filter for International Flights
Unfortunately, this great new feature isn't available when you're hunting for international flights. That might change, but the spread of basic economy fares for even international travel – and the different ways that airlines allow travelers to add-on a checked bag – likely makes it difficult for Google to track.
While you'll still get a personal item and carry-on bag for Basic Economy international flights on Delta and American (and their partners), checked bags will cost extra. That's part of the reason we tell all travelers to fly with only a carry on. 
If you come across a basic economy fare while searching for international flights, be sure to click the button you see below to get more information on baggage allowance and checked bag prices for Basic Economy fares.

Once you've clicked that button, you'll see more options in regards to your Basic Economy fare. You can upgrade to Economy to get advanced seat selection. At the bottom, you'll also see a note that you will need to purchase checked bags additionally on the airline website, a price estimate, and links to the airline(s) baggage policy.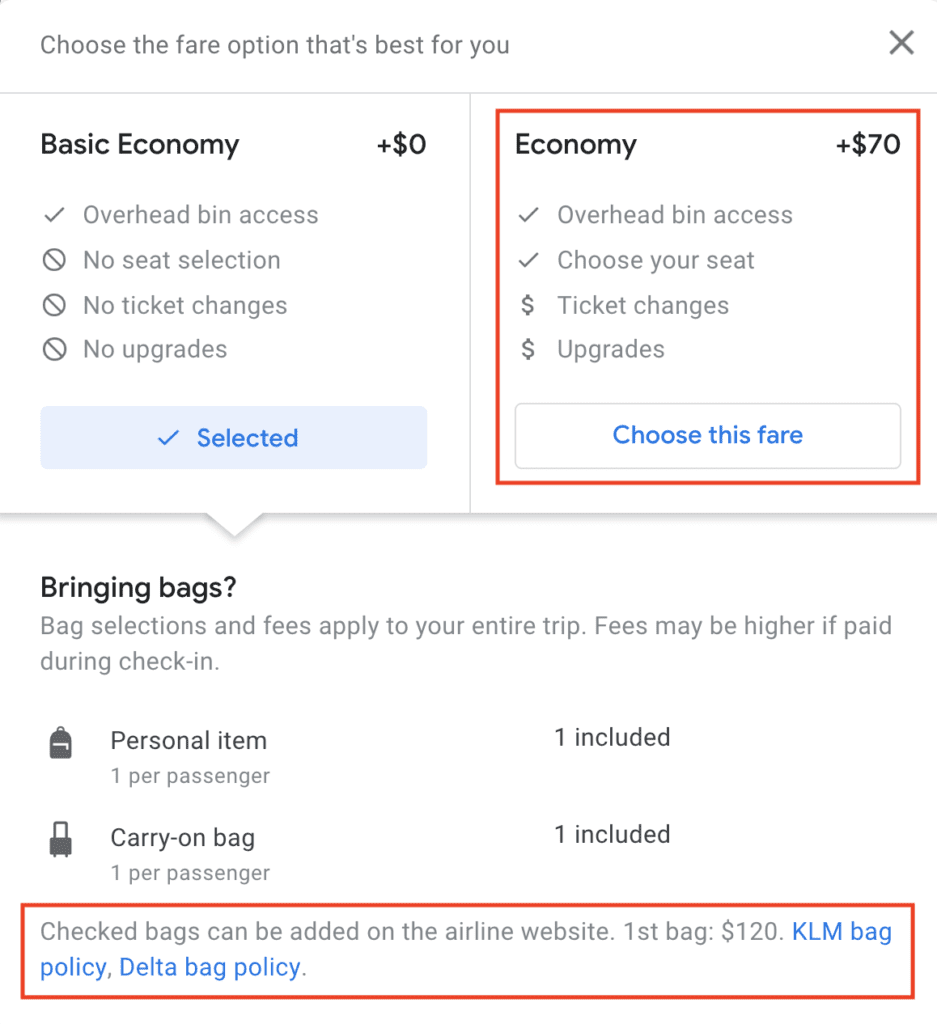 For other international flights, baggage allowances vary. Some include checked bags for free and others don't. Google Flights tries to make this less confusing by providing information on baggage allowances and links to policies whenever possible.
Bottom Line
Using this new Google Flights feature, you can filter out all the flights that don't allow you a carry-on bag (we're looking at you, budget carriers.) And you can tailor your searches to flights that suit your baggage needs best.
We hope more improvements are on the way for international flights, but this is a great addition to the Google Flights search engine. We use Google Flights for all our flight deal searching, and recommend you try out these new filters, too.