American Express recently made some substantial changes to its flagship travel card, *amex platinum card*. And whether you've already got a Platinum Card in your wallet or have been considering it, it's time for many travelers to study up and decide what to do.
These changes include a significant hike to the annual fee for adding authorized user cards, making the card's welcome offer harder to earn by increasing the spending requirement, and adding other limiting terms. While there's still plenty of value to be had, these changes have many current (and prospective) cardholders wondering what to do next. Considering the Platinum Card comes with a hefty $695 annual fee (see rates & fees), it only makes sense to wonder whether or not the card is still worth it.
Read on for full details on these changes and analysis for what they really mean going forward.
Related reading: Why You Should Have The Platinum Card from American Express
What's Changing on the Platinum Card?
There's quite a bit to unpack here. The changes range from "meh" to "ouch" … so let's take a quick moment to recap exactly what changed.
Here's what's new:
The Platinum Card's welcome offer now requires $2,000 more in spending than it did previously. Anyone opening a Platinum Card going forward will need to spend $8,000 in the first six months of card membership in order to earn the 80,000-point welcome offer.
Amex added additional language to the offer terms meant to crack down on earning multiple welcome offers with different co-branded versions of the Platinum Card, including those from Charles Schwab and Morgan Stanley.
Adding authorized users to your account just got a lot more expensive. It used to cost $175 per year for up to three additional users – not cheap, but also not bad. Now the fee is $195 per year for each user.
Amex has rebranded the free version of their authorized user cards (with limited benefits) as "Companion Platinum Cards" – a name change with apparently no other implications.
The audiobook and podcast platform Audible will drop off the list of eligible services to use up to $20 in monthly entertainment credits as of Oct. 2, though Amex is adding the Wall Street Journal as an option effective immediately.
The majority of people should be unmoved by the name change to the free authorized user cards. Honestly, calling them Companion Platinum Cards makes far more sense than the old name – Gold Authorized User Cards, which caused plenty of confusion with the *amex gold card*..
Some travelers will surely be upset by the added restriction of earning additional welcome offers on the co-branded version of the card … but many others likely had no idea those cards even existed. And there will undoubtedly be some people angry about the loss of Audible from the list of eligible entertainment credit options. Still, it's a relatively minor change – especially with the addition of the Wall Street Journal.
But the worst of these changes is the new cost of adding authorized users and the increased spending requirement to earn the welcome offer.
Doing the Math on Authorized Users
Whether you currently hold the Platinum Card or you've been eyeing it for some time, these changes mean you'll need to re-run the numbers in order to ensure it's still a good fit for you and your travel companions.
In the past, it made sense to pay an extra $175 per year to add up to three additional users to an account because it comes with perks like lounge access, hotel elite status, and additional credits for Global Entry or TSA PreCheck. But now with the fee going up to $195 for each additional Platinum Card it's a lot tougher pill to swallow.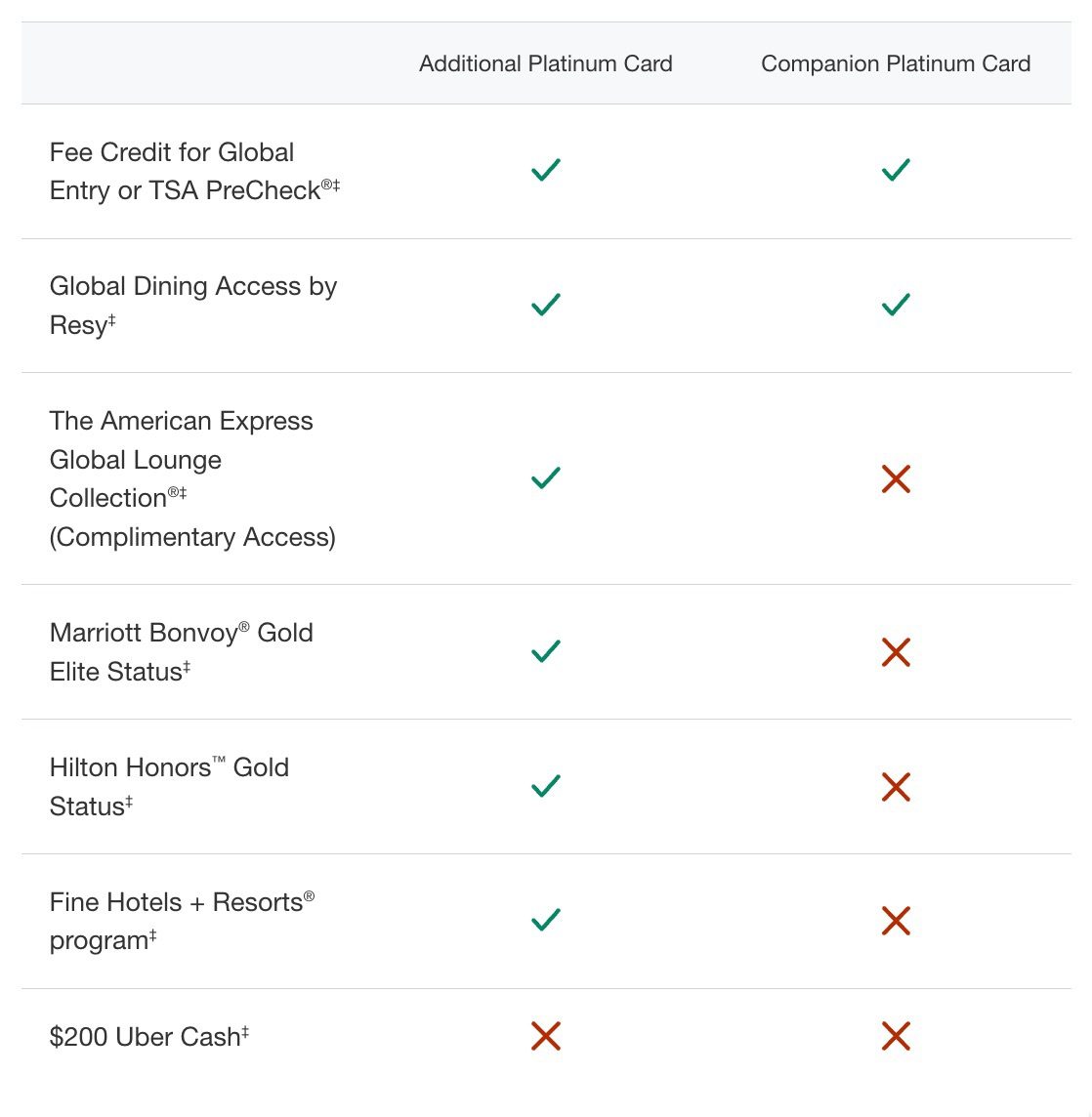 Before, having three authorized users on your account put you on the hook for an extra $175 per year. Now, you're looking at an additional $585 each year – and that's on top of the card's already steep $695 annual fee.
That means those same three authorized users will now cost you an additional $410 each year – without any new perks or benefits. That stings.
Don't have any authorized users on your Platinum Card currently, or maybe just one? This change may not mean much for you: The cost of a single authorized user is going up by $20 a year. But for travelers who have relied on the Amex Platinum's authorized user benefits to share perks with a spouse and several family members or friends, it's a huge hike.
This change will no doubt impact traveling families the most. After Amex took away free guest privileges to its own Amex Centurion Lounges earlier this year, adding authorized users was the cheapest way to bring a spouse or teenage child in with you. It's a bit better for parents – a bit. While most guests will still cost $50, minors accompanying a cardholder will cost just $30. 
This means that, going forward, a couple traveling together would be better off paying the guest fee of $50 per visit if they only stop at Centurion Lounges a few times per year. Anything more than that and it could still be worth the higher $195 fee to make them an authorized user – or skipping it altogether.

It's even worse at Delta Sky Clubs, which charge a flat $50 fee for any guests, regardless of age.
When will those who currently have the card and pay $175 per year for authorized users see their fee go up? Platinum cardholders who opened their account prior to Aug. 17 won't see this fee increase yet. Here's what Amex has to say:
"If you were not notified of a change to the Annual Fee for Additional Platinum Cards, we charge $175 annually for up to three Additional Platinum Cards, and $175 annually for each Additional Platinum Card after the first three. We will notify you if there will be a change to the Annual Fee for Additional Platinum Cards on your account in the future."
This likely means that your fee for the first three authorized users on your account will remain $175 until your card renews.
If you're notified by Amex of the fee increase for your authorized users, your best course of action is to call in (or chat online) and ask for them to be removed from your account – even if you're OK with paying the increased fee. When Amex has made customer unfriendly changes like this in the past, they're often willing to offer retention offers in order to keep cardholders – something @MaxMilesPoints flagged is happening again.
While it's no slam dunk, it wouldn't shock me if Amex were willing to dole out some extra points to keep extra cardholders on the books for another year.
Which Amex Platinum Should You Choose?
You might not have known it until recently, but there are actually three different versions of the Amex Platinum Card,- each with a slightly different set of benefits, features, and welcome offers.
In addition to the original Platinum Card that you know and love, there are also two co-branded Platinum Cards from American Express for investment firms: Charles Schwab and Morgan Stanley. American Express typically restricts customers to earning a welcome bonus once per lifetime on each product … but since these are all technically separate products, some savvy travelers have earned bonuses on all three.
No more. The standard Platinum Card added language to crack down on stacking bonuses between all three cards – and soon after, the Charles Schwab Platinum Card followed suit. Here's a look at the snippet in question from the Schwab Platinum card.

But there's one exception: Despite tweaking many other identical policies, The Morgan Stanley Platinum Card hasn't added similar language on earning a welcome bonus – at least not yet, as of publication. That means current cardholders with a Platinum Card would still be technically eligible for its current bonus of 80,000 Membership Rewards points after spending $6,000 in the first six months.
The Morgan Stanley Platinum Card also comes with all the same benefits and perks that you'll get with the regular Platinum … with one key differentiator. Perhaps the best benefit of this version of the Platinum Card is that it allows you to add your first authorized user for no additional fee. You read that right! Even though Amex increased the fee for additional Platinum Cards to $195 per card, the Morgan Stanley version gives you your first one for free – after that, it's another $195 per card.


Similar to the Schwab version of the Platinum Card, you'll also get the ability to cash out your Membership Rewards by transferring them to an eligible Morgan Stanley brokerage account – although, the rate isn't quite as good as with the Schwab Version. With the Morgan Stanley Platinum, you can move points over at a 1:1 ratio – meaning 50,000 Membership Rewards would get you $500.
You'll need to be a Morgan Stanley client before applying so you should already have an eligible brokerage account in place to make this transfer.
If you don't currently have an Amex Platinum Card, which version should you choose? Starting with the original Platinum Card now still makes the most sense. That way, you could still apply for and earn a bonus on the Morgan Stanley Platinum Card – at least until that card sees a similar policy change.
Current Platinum cardholders, meanwhile, could still earn the bonus on the Morgan Stanley Platinum Card while also getting a free authorized user, making that a compelling option.

Learn more about *amex platinum*.

Read our full review of The Platinum Card here!
Our Analysis
There's no positive way to spin this: These changes will stink for many travelers.
Being able to add up to three authorized users for a total of $175 seems like a bargain now. That fee increase stings the most, but so does having to spend more to earn the bonus – especially since The Platinum Cards aren't particularly rewarding for everyday spending. By stretching the bonus out over a period of six months, Amex is trying to train cardholders to reach for their Platinum Card each and every time the bill arrives.
Plus, it's getting harder for the savvier travelers to stack bonuses on multiple versions of the Platinum Card. While the Morgan Stanley Platinum Card has so far escaped unscathed, it may only be a matter of time before a similar policy is added to that card.
So, what led to these changes? If I had to guess, it has a lot to do with airport lounges.
Amex and their partner Delta Air Lines have been trying to get a handle on their overcrowded lounges for the past few years: The Platinum Card gets cardholders complimentary access to both. And while Delta and Amex have gone through several rounds of policy changes meant to limit crowding, it hasn't moved the needle much compared to the growing ranks of Platinum cardholders.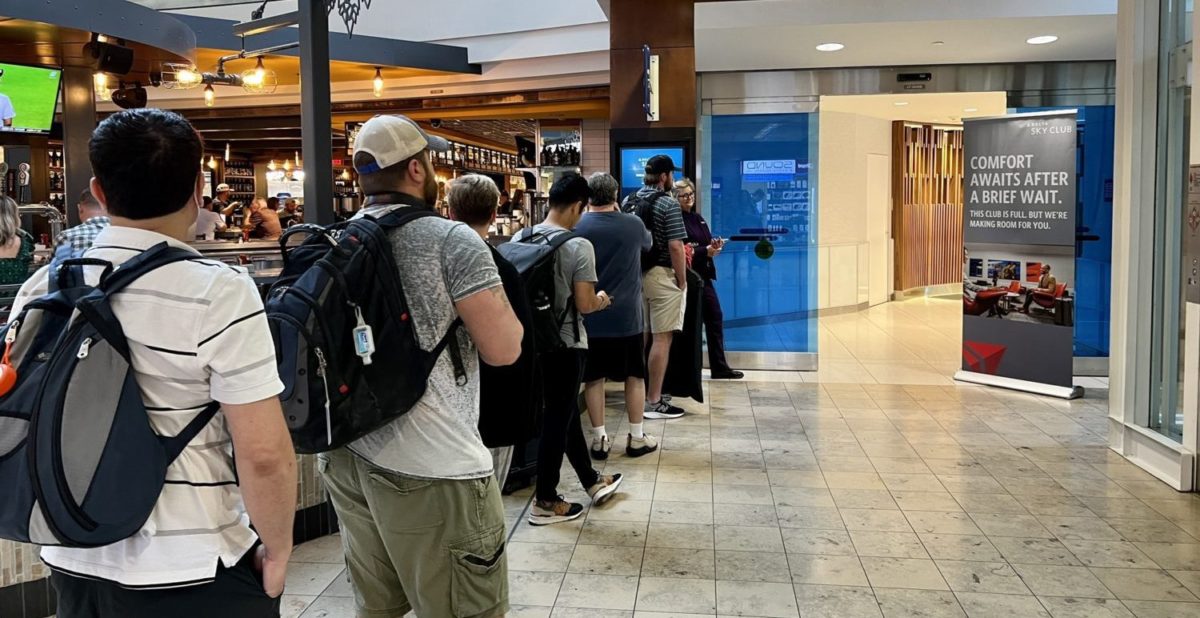 Odds are, they have the data to back up this decision and I'm sure they're hoping that the increased fee for authorized users is enough incentive for additional cardholders to branch out and get their own Platinum Card instead – or for current cardholders to simply dump existing authorized users.
Time will tell whether or not these changes have any real impact on the overcrowding issue or if they just help Amex further pad its balance sheet.
Bottom Line
Amex's overnight changes last week have many current Platinum cardholders doing some mental inventory.
Is paying $195 per person worth giving your loved ones lounge access and other perks? That's a steep price compared to the $175 cost for up to three additional users Amex charged previously. Throw in some minor changes to the card's entertainment credit and other policy tweaks, and there's a lot for current and future customers to consider.