American Express cardholders can now use Amex's "Plan It" payment planning feature to pay for travel booked with Delta Air Lines.
Delta and American Express announced the joint venture Thursday. It will allow Amex customers to break up their Delta purchases into monthly payments for an added fee on the checkout page at Delta.com. 
Plan It is already a feature on American Express personal cards that can be used for many eligible purchases on the American Express website and app, but now it can be used directly with Delta bookings when you use any American Express card, not just Delta SkyMiles American Express cards. This feature is not available on American Express business cards.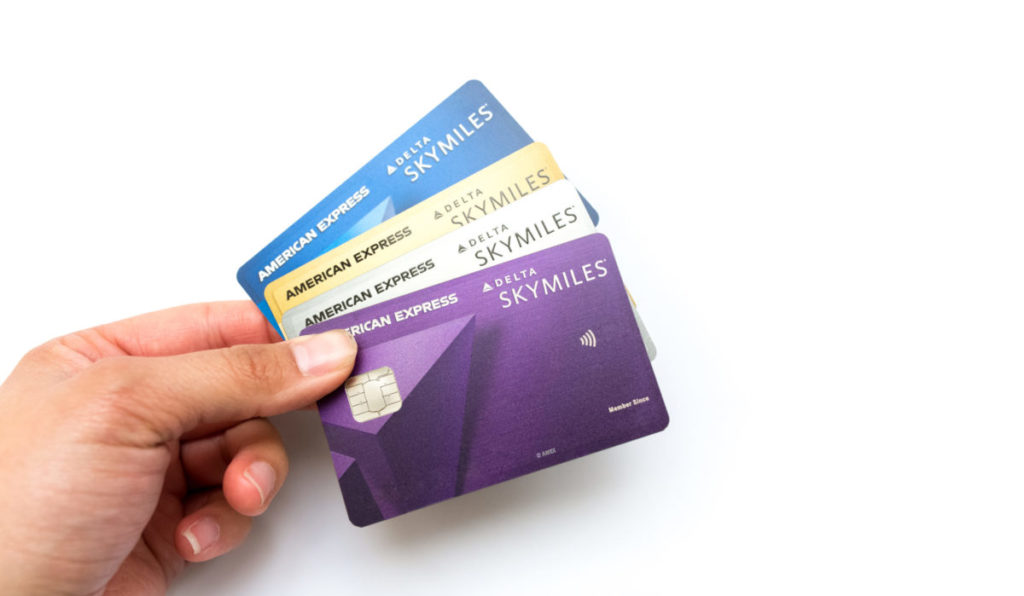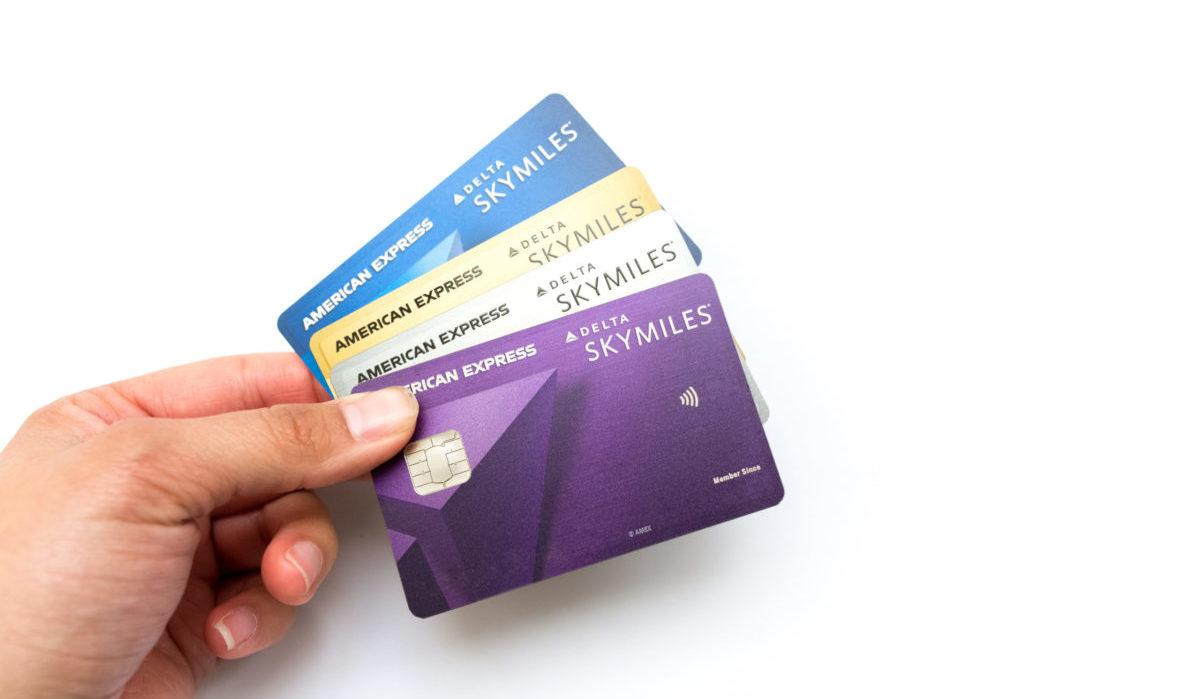 According to American Express, customers can choose to Plan It for any flight of $100 or more and choose a monthly plan duration, although not all purchases are eligible for all monthly plan durations (more on that later).
In the news release, American Express said usage of its Plan It feature doubled among Amex cardholders between 2020 and 2021. The company also pointed to a Morning Consult poll that showed 68% of Gen Z and Millennial travelers would be more likely to take vacations if they knew they could pay for the flights over time.
How to Use the Plan It Feature on Delta Purchases
The Amex Plan It feature is shown between the "Payment" section and the "Add a Delta Gift Card" sections of the checkout page on Delta.com.

If you have an American Express card attached to your account, Plan It will offer a monthly payment estimate in that box in bold. I used a dummy booking from Minneapolis (MSP) to Jackson Hole (JAC) over spring break next month to see what this looks like.
I started with my Delta SkyMiles® Gold American Express Card checked as my payment option. The monthly payment estimate for my $850 flight was $44.45 per month over 24 months. 24 months was the only payment schedule I was offered for this fare. 
The grand total of my payment over two years would be $1,066.68 for the $850 fare using the Plan It feature. That is about a 26% fee over the life of the loan…woof.
However, when I put in The Platinum Card® from American Express as my primary payment method, I was offered a no-fee version of the payment plan that brought my monthly payments down to $35.43 per month for 24 months, with no additional fee.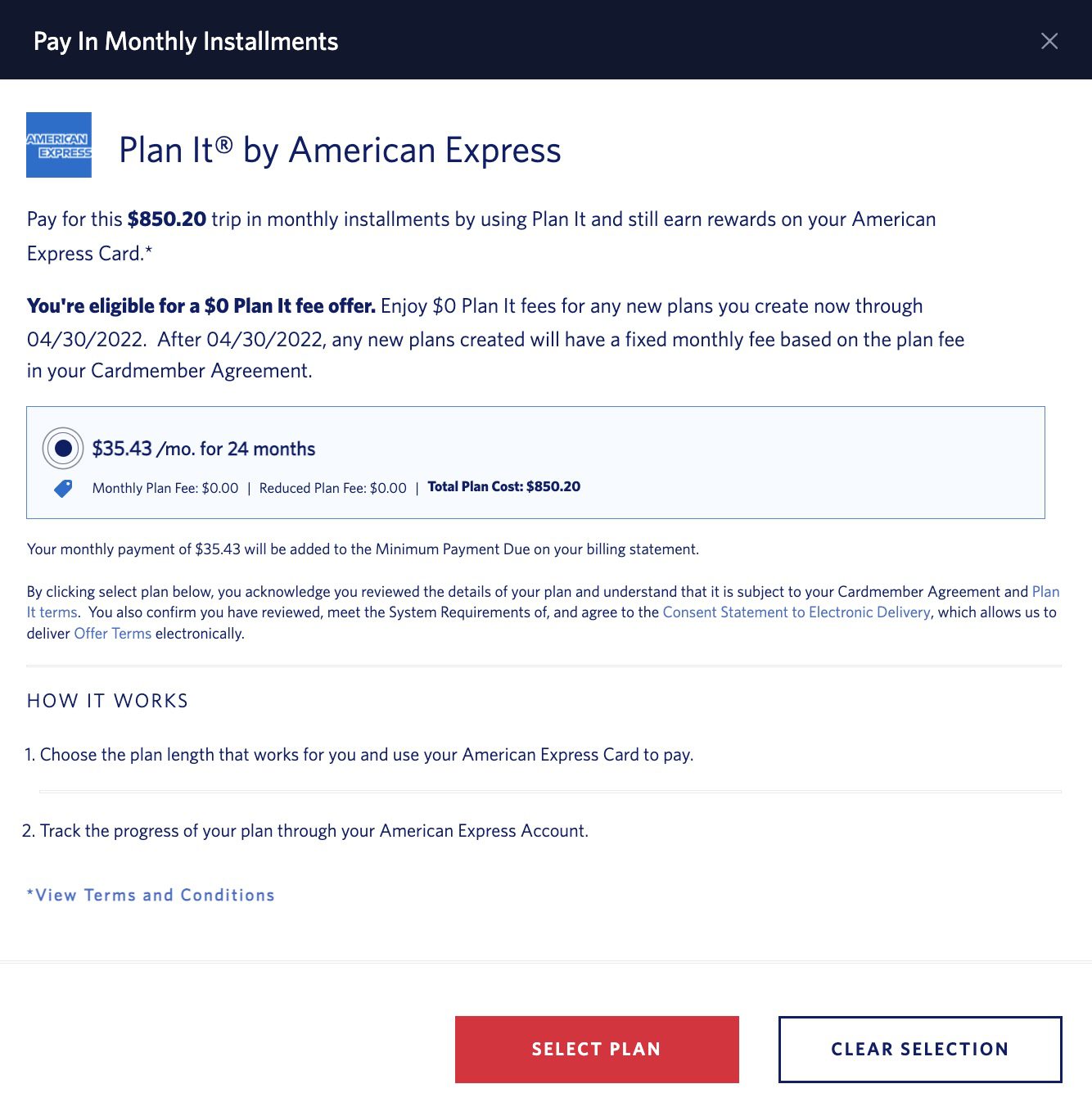 That no-fee offer goes through April 30, 2022, according to the disclosure on the Delta website. It's not entirely clear what triggers the $0 Plan It fee offer, but it may be a benefit for Amex Platinum cardholders (the non-Delta version).
Our Analysis
Pay over time options are seemingly popping up everywhere, and there is no doubt that credit card issuing banks see this as a threat to the revenue they generate from swipe fees – the fees the merchant pays to banks to accept credit cards (usually between 2% to 3% of the purchase price). So it comes as no surprise that American Express is venturing into this space.
Additionally, partnering with Delta doesn't come as much of a surprise either as the two companies have a long time relationship. American Express is the co-branded credit card partner of Delta Air Lines through at least 2029 after a recently extended agreement.
The option to pay over time, especially if you are chosen for the offer to waive the fees, could help people pay for pricier airfare in smaller, monthly installments.
That said, we don't recommend purchasing travel, or anything else you cannot afford. And in the example we tried, the fee was about 26% over the two-year payment plan.
Bottom Line
American Express says its increasingly popular Plan It payment plan tool is now available for all Delta bookings over $100.
While we don't recommend purchasing travel you cannot afford, the option to pay over time, especially if you are chosen for the offer to waive the fees, could help people pay for pricier airfare in smaller, monthly installments.