Bad news spread over the blogging community today that American Express will no longer be offering statement credits as a part of Small Business Saturday this year on November 28th. I've participated in Small Business Saturday over the last three years, and it's made it great to be an American Express cardholder.
If you've never heard of the program it basically offered you free statement credits for purchases at select small businesses. Last year the offer involved three $10 credits per American Express card. I had five Amex cards, last year, and was able to rack up $150 in free items. It was a great deal because I was able to knock out part of my Christmas shopping, while supporting local businesses. It appeared to be a great success and most of the local stores I visited were packed because of it.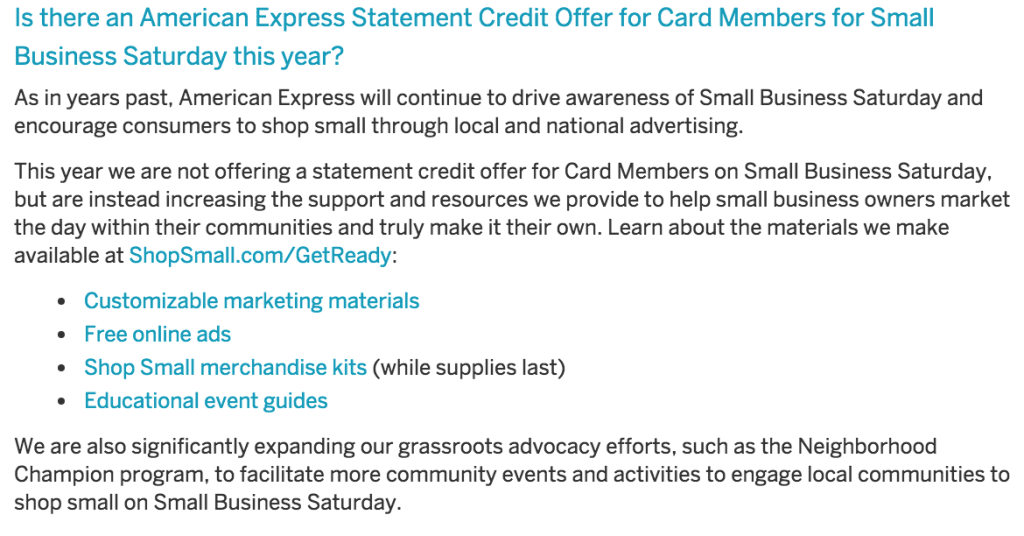 I honestly didn't think the statement credits would disappear this soon. It was a great incentive for small businesses to accept American Express cards, which they typically avoid due to higher transaction fees. Even with the high fees it was worth it for small businesses because of the increased revenue from Small Business Saturday. For 2015, Amex plans to advertise Small Business Saturday only, with no statement credits. I feel that won't bring in much business and many of these small businesses will drop Amex altogether to save money. It seems like a bad deal for everyone involved. Not a smooth move American Express.
Hat tip: Frequent Miler