For many years, *amex platinum card* has earned a reputation as one of the best travel rewards credit cards in the world of points and miles. And rightfully so – there's a lot to love about the card beyond the 80,000-point welcome offer that you can earn when spending $8,000 in the first six months.
It's a card that comes so packed with travel perks that some get overlooked or forgotten altogether. Sure, most people know the card comes with excellent airport lounge access, hotel elite status, and a whole host of statement credits – all of which help offset its premium price tag of $695 per year (see rates & fees).
But did you know that the card also comes with car rental privileges? That's right! If you've got the Amex Platinum card in your wallet, you'll not only get Hertz's top-tier President's Circle elite status for free – but more importantly, you'll also be able to use the Amex Corporate Discount Code to save big on your car rentals.
The perks don't stop there: You'll also get things like upgrades, a grace period for returning your car late, and the ability to skip the long check-in lines to head straight to your rental car.
Let's take a closer look at all the benefits your Amex Platinum Card gets you with Hertz – including the Amex Corporate Discount Code.
Learn more about *amex platinum*.
Amex Platinum Hertz Benefits
So what do all you get with Hertz President's Circle status and these other benefits?
With Hertz's top-tier elite status, you can expect the following:
Earn 50% more points on every rental (1.5 points per dollar spent).
A guaranteed upgrade of at least one class (at participating locations).
You can choose any vehicle in the President's Circle section of the Hertz Ultimate Choice lot at no extra charge.
No additional fee to add an extra driver (spouse or domestic partner) in the U.S.
Skip the line and head straight for your vehicle at over 50 airports.
Access to a dedicated President's Circle call center for expedited customer service issues.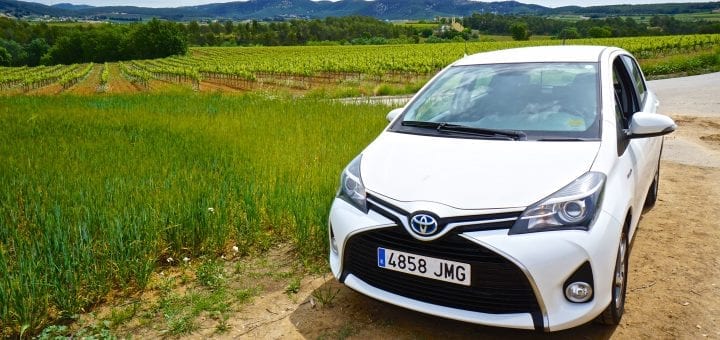 Amex Platinum cardholders also get a four-hour grace period on returns in the U.S. before an extra day is charged. You can build this extra four hours into your rental when booking and all you'll have to pay is a slight up-charge in taxes and fees. This benefit is especially helpful if you're renting a car in Hawaii as most flights arriving from the mainland get to the islands mid-to-late afternoon and departures back home typically take off in the evening. This means that the extra four hours you get for holding the Amex Platinum Card can save you from having to decide whether to pay for an extra day or head to the airport early.
Last but certainly not least, there's the Amex Corporate Discount Code (211762), which can save you up to 20% on the published base rates. In order to take advantage of this discount you'll need to add the discount code before doing your search – or even better yet, add it to your Hertz profile so that it automatically gets applied each time. You'll also need to pay for your rental with your Amex Platinum Card in order for the discount to be applied.
Thrifty Tip: Not only does your Amex Platinum get you Hertz's top-tier President's Circle status, but you'll also get National's Emerald Club Executive Elite® status – as well as Avis Preferred Plus status.
Check out our full review of the Amex Platinum for more info on all the benefits this card has to offer! 
Applying the Amex Platinum Corporate Discount Code
It probably sounds simple enough, but this corporate discount code won't automatically be applied when booking car rentals with your Amex Platinum. Instead, the easiest way to use it is to add it to your Hertz Gold Plus Rewards account profile to ensure you're receiving these better rates each and every time you search.
If you're an existing Hertz Gold Plus Rewards member, you'll start by logging in to your account. If you don't already have an account with Hertz, I'd recommend creating one by first logging into your Amex account and navigating to the "Benefits" page for your Amex Platinum Card.
This page lists many of the benefits you get for being an Amex Platinum Cardholder, so it's a good place to get acquainted with all your card has to offer. Don't be surprised if you have to scroll quite a ways down the page before you find the benefit listing for "Car Rental Privileges" where you can click to learn more.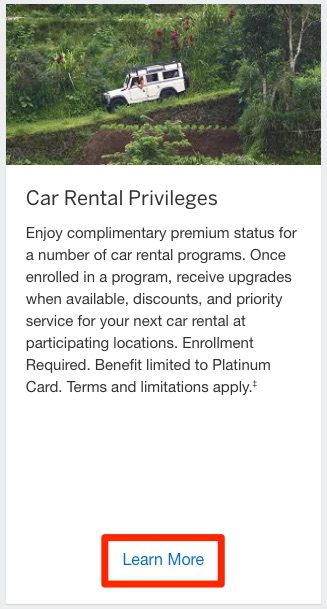 From here, you'll see not only what benefits you get with Hertz, but also those from Avis and National. This is going to be the easiest and most seamless way to enroll in the Hertz Gold Plus Rewards program and ensure you're getting upgraded to President's Circle Status, as well as attaching the Amex Corporate Discount Code (CDP) to your account.
You can also see the corporate discount code highlighted here so if you already have an account with Hertz this is where you can get the code to add it to your profile. On that note, let's take a look at the steps for adding the CDP to an existing account.
Once you log in to your Hertz account you can click on your name in the upper right corner and then navigate to "My Profile" and click the "Edit" button by your personal details.
This brings you to a new page where you can edit your personal information and more importantly – add your Amex Corporate Discount Code. You'll see that if you already have another discount code applied from a different credit card, like the *venture x* or from your employer, it will also show up here. This is where you'll put in the code found on the Amex "Car Rental Privileges" page.
Put in the CDP, hit update, and it will save to your profile. If you make it your preferred code, it will be automatically applied when searching for rentals.
It's worth noting that because you need to pay for your Hertz rental with your Amex Platinum card when using the Amex CDP, you're making a bit of a tradeoff. The Amex Platinum Card provides secondary car rental insurance unlike other cards like the Venture X and *chase sapphire preferred*, which offer primary coverage. That just means you'll need to run any claims through your own insurance first, whereas primary car rental insurance takes the place of your personal insurance.
If you book a rental car and opt to pay at the counter, you may be able to use another card and still get the Amex pricing, but there's no guarantee that will work. Depending on the amount you're saving with this discount code, it may or may not be worth sacrificing the primary rental car insurance offered on other cars.
But so long as you hold the Amex Platinum card and enroll in the Hertz rewards program, you'll have access to President's Circle status perks – regardless of which card you pay for your car rental with.
Read more: The 4 Best Cards with Travel Insurance
How Much Can You Save?
Now that you've got the CDP attached to your account, you can start searching for rental cars and see what kind of savings you'll get. So long as you made the Amex CDP your preferred program it will be applied automatically. If you only have the Amex CDP attached to your account it will be preferred by default.
To get a sense of how much you can save with this corporate discount program, I searched for a week-long rental in a popular tourist spot: Orlando. The cheapest "Pay Later," fully refundable rate for a week in January clocks in at $666. But with the Amex CDP, that price drops to $543.
That's $123 in savings – a nearly 20% discount! That's close to the maximum discount Amex says you can get through their code. Although the total cost of a car rental will vary by location, time of year, and overall demand – the percentage you can save stayed pretty consistent across all the searches that I ran, making this an excellent deal no matter where you're headed.

This corporate discount code can help you save big when renting a car with the Amex Platinum Card, but when you add in the other perks that come with President's Circle status and the four-hour grace period it gets even better.
The car rental privileges available through Amex are just one of the many reasons we think that even after recent changes to the Amex Platinum Card, it still deserves a place in most travelers' wallets.
Check to see if you're targeted for the Amex Platinum's 150,000 point welcome offer! 
Bottom Line
The Amex Platinum is one of the best travel rewards credit cards on the market and it comes so packed with benefits that some of the card's travel perks are often overlooked. The Amex Corporate Discount Code and Hertz President's Circle elite status are one such benefit – but it's time to change that.
If you have the Platinum Card in your wallet, be sure to put these benefits to use the next time you're renting from Hertz.
Learn more about *amex platinum*.