With lofty flying thresholds and annual spending requirements of $3,000 or more a year, earning Delta Medallion Status isn't right for everyone. But, a brand new promotion from Delta could make the second half of that equation easier.
For a limited time, booking rental cars and hotels through Delta's dedicated travel site will add to your balance of Medallion Qualifying Dollars (MQDs), the crucial spending requirement you need to hit on top of miles flown to earn or requalify for status with the Atlanta-based airline. Each $1 you spend on rental cars or lodging gets you 1 MQD.
That means a $600 in hotel rates adds 600 MQDs to your status tracker. You'll also earn 2x SkyMiles per $1 you spend, adding another 1,200 redeemable SkyMiles in this example – or even more when renting through Hertz.
This could give travelers a serious leg up on earning or keeping Delta status, but it's not a free-for-all. Here's what you need to keep in mind:
You must book at Delta's Travel Extras site by March 31
Only rental cars and hotel reservations completed by September 4, 2023 qualify to earn MQDs
Taxes, fees, and other charges (like room service, for example) don't count
Travelers must pay with a credit card that matches their name on the reservation to earn bonus MQDs – though there's no requirement to pay with a Delta Amex credit card
It could take up to eight weeks after completing travel for MQDs to hit your account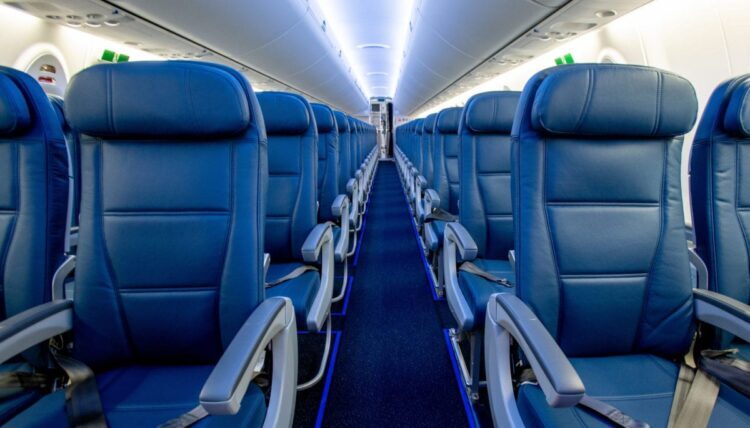 Not sure what this status talk is all about? Go back to basics with our Delta Medallion Status guide! 
Anything that makes it easier to pile up more MQDs is likely welcome news to loyal Delta flyers. Earn status by flying in 2023, and you'll get your Medallion benefits for the rest of the year, all of 2024, and into early 2025.
It could help take the sting out of some major changes to earning Medallion status put in place for this year, including some hefty increases to annual spending requirements that hit all of Delta's tiers except entry-level Silver status.
Here's a look at the new requirements in place as of Jan. 1, 2023:
Silver Medallion Status: 25,000 Medallion Qualifying Miles (MQMs) OR 30 Medallion Qualifying Segments (MQSs) AND $3,000 in spending on Delta or partner flights
Gold Medallion Status: 50,000 MQMs OR 60 MQSs AND $8,000 in spending on Delta or partner flights (up from $6,000)
Platinum Medallion Status: 75,000 MQMs OR 100 MQSs AND $12,000 in spending on Delta or partner flights (up from $9,000)
Diamond Medallion Status: 125,000 MQMs OR 140 MQSs AND $20,000 in spending on Delta or partner flights (up from $15,000)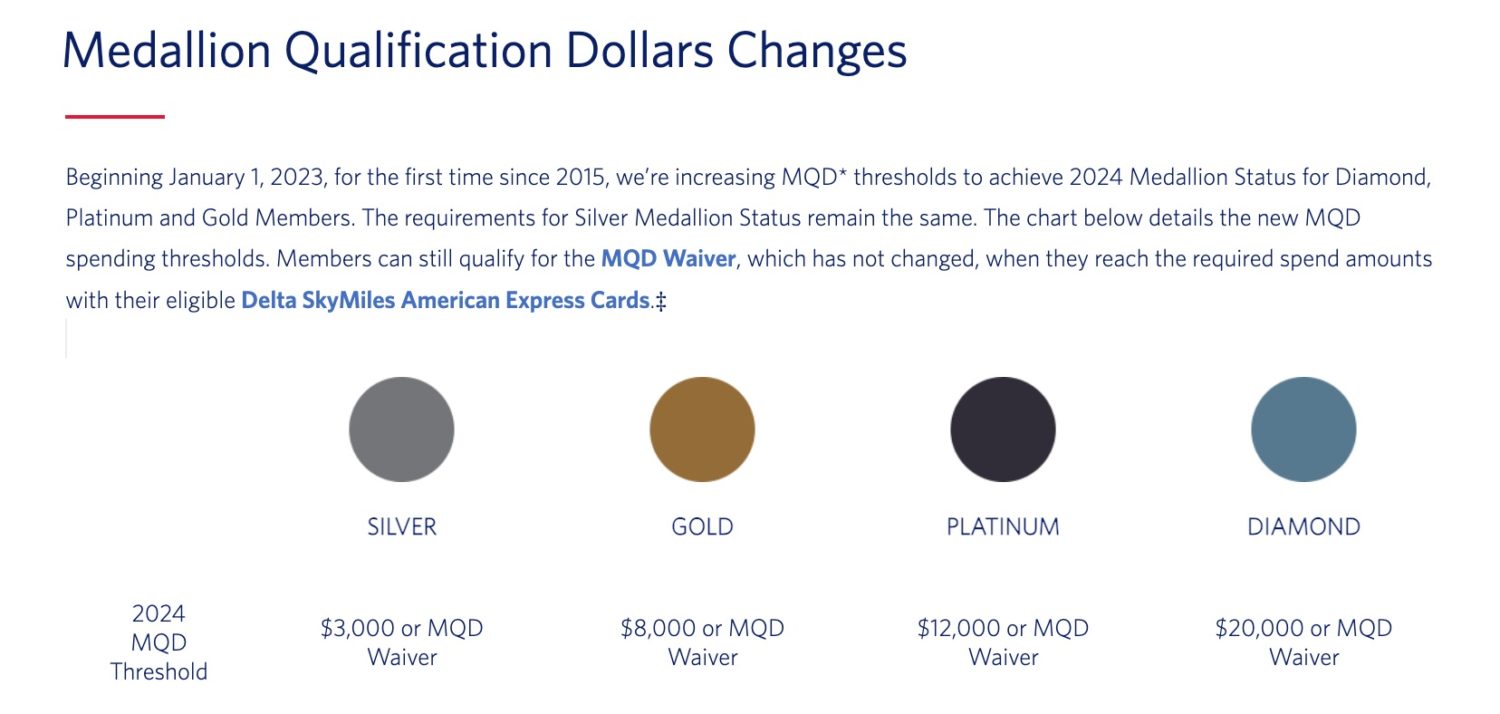 On the top end, hitting Delta Diamond Status now requires spending a whopping $20,000 each year on flights with Delta or select partner airlines – a $5,000 increase from just a year ago.
Of course, neither those changes nor this new promo affects a nice workaround for meeting spending requirements with Delta called an MQD Waiver. You can keep putting $25,000 on either your Delta SkyMiles® Platinum American Express Card and the Delta SkyMiles® Reserve American Express Card in a year, and Delta will waive the MQD requirements for your status. That works for all but Delta Diamond Medallion Status, which still requires an absurd $250,000 in card spend to get the waiver.
Delta recently made it much easier to monitor your progress toward Medallion Status by rolling out a brand new SkyMiles dashboard, which tallies up both previous and upcoming flights to track your MQDs as well as Medallion Qualifying Miles (MQMs). But we wouldn't expect hotel reservations or car rentals booked through this promo to show up…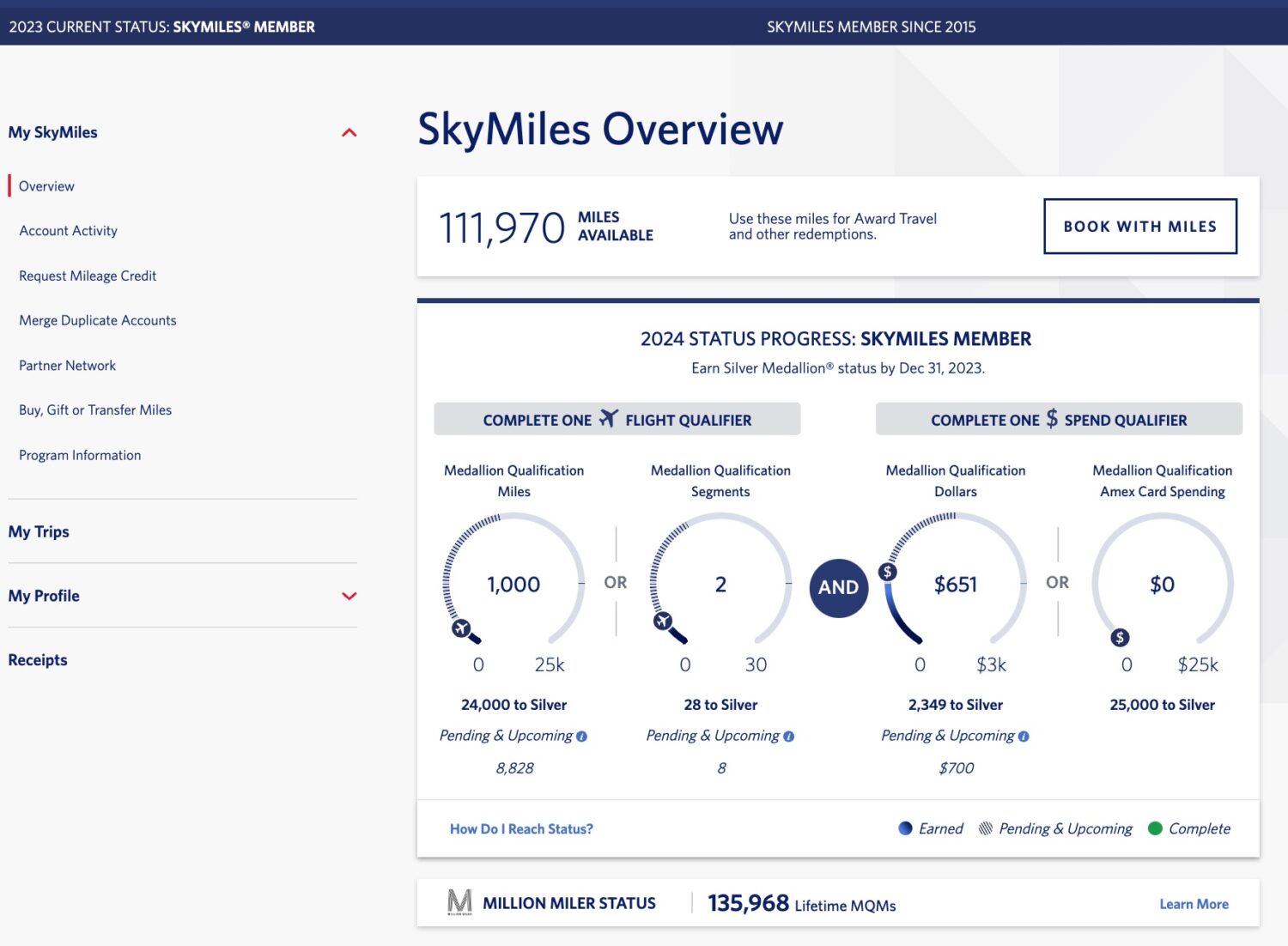 Bottom Line
This could be a crafty way to make it easier to earn, keep, or level up your Delta status this year.
Book a rental car or hotel reservation through Delta's dedicated travel booking site and you can add to your balance of Medallion Qualifying Dollars (MQDs), potentially making it easier to hit Delta's spending requirements for status. Just keep in mind you have to book by March 31 – and only trips completed by September 4, 2023, will count.