Delta is ready to open its brand-new Sky Club at New York (JFK) on Tuesday, July 25 – its second lounge at JFK and some much-needed lounge capacity at one of the airline's busiest hubs, where lines at the longtime Sky Club have regularly stretched out the door.
Located in Concourse A in Delta's busy Terminal 4, this new Sky Club clocks in at nearly 14,000 square feet with seats for more than 250 guests at a time, according to a news release from Delta. Together with the existing Sky Club on Concourse B, Delta will have the capacity for over 800 guests at JFK.
It's located near Gate A7 in Concourse A, on the opposite end of the terminal as most Delta gates. It opens Tuesday at 10 a.m., but normal operating hours will be from 5 a.m. to 10:30 p.m. daily.
We haven't visited ourselves yet, but photos from Delta suggest the airline has matched the elevated experience at other new Sky Club openings in Minneapolis-St. Paul (MSP), New York City-La Guardia (LGA), Salt Lake City (SLC) and others. There's plenty of local design flair, better food options, and additional amenities like soundproof booths for working.
Delta said the lounge design "takes inspiration from New York City itself" with a cozy fireplace lounge and a seating nook meant to evoke a classic speakeasy. A 360-degree, full-service bar serves as the lounge's focal point.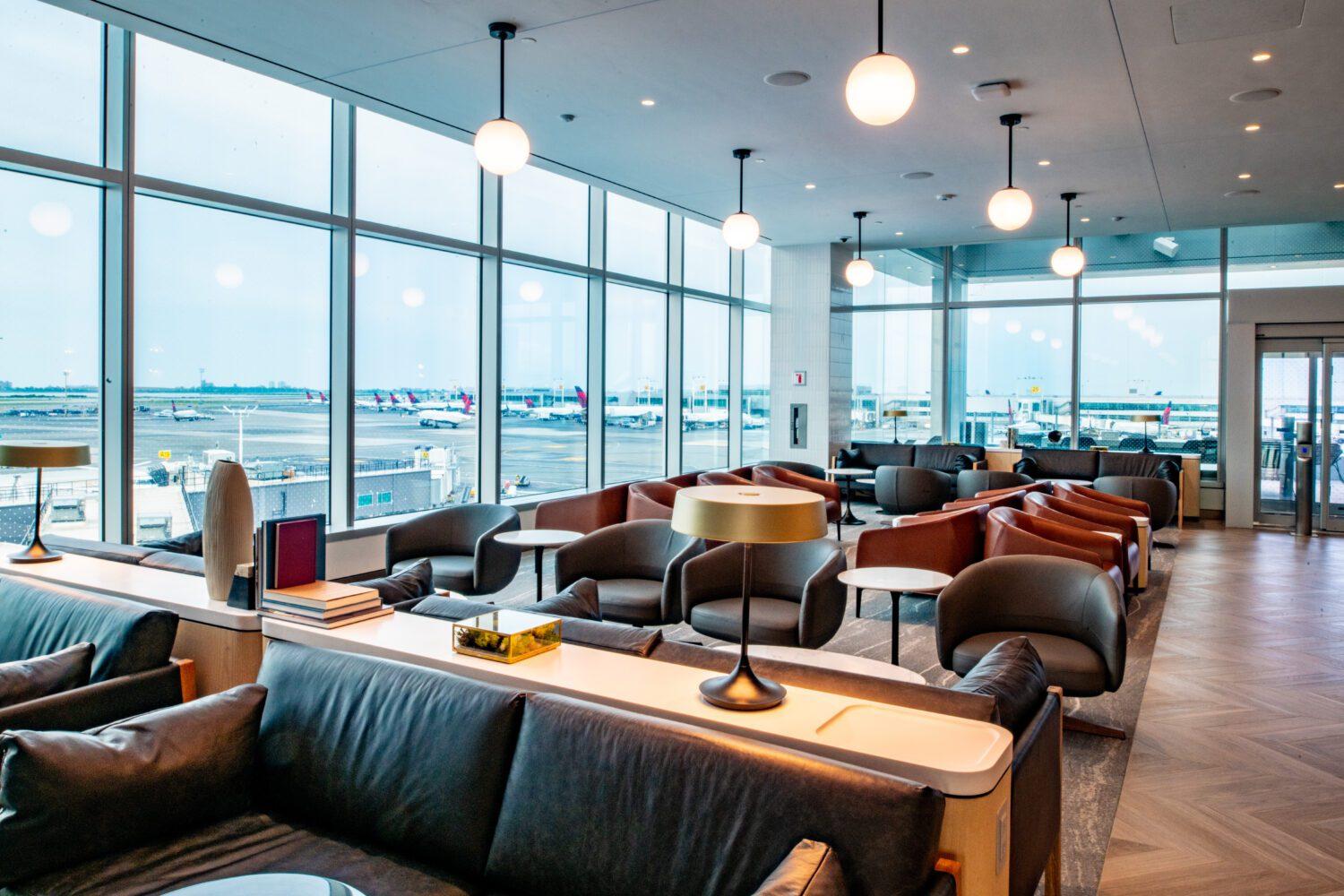 Want to get into a Delta lounge before your next flight? Read our full guide to Delta Sky Club access!
Like the latest Minneapolis Sky Club, this new lounge in New York also includes a Sky Deck: a covered outdoor space where travelers can enjoy some fresh air and views of the tarmac. Delta's existing club in Concourse B also has a Sky Deck.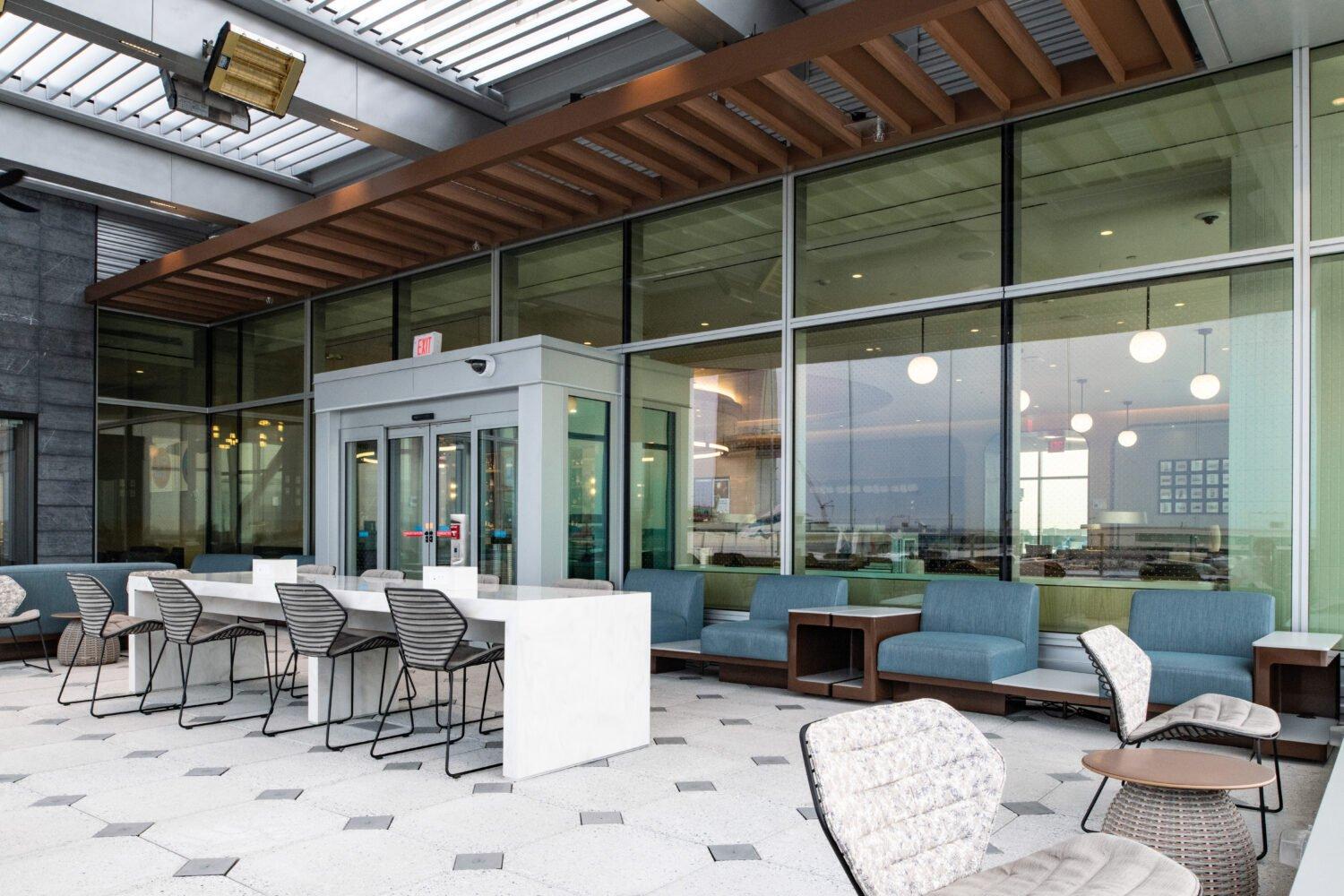 New Sky Clubs often get some special treatment for food and beverages, too, and the new JFK Sky Club isn't missing out. The new Sky Club will initially feature dishes and drinks by Elysa Heller of Edith's Eatery & Grocery in Brooklyn. That includes her takes on Jewish deli staples like brisket hash sandwich, vegetarian latkes and labneh parfait, and even an Iced Café Slushie – a vegan-friendly blend of cold brew, tahini, oat milk and simple syrup.
While this new club was under construction, Delta had been operating a Delta Sky Club Express at its existing Sky Club on Concourse B – an alternative to the full lounge experience, providing grab-and-go options for flyers with Sky Club access when the club was full. It's unclear whether the Delta Sky Club Express will remain open.
The A Concourse Sky Club at JFK is just the latest in a slew of new and expanded clubs – a key piece of how the airline hopes to combat lounge overcrowding in addition to several access policy changes.
The airline is planning to open additional lounges in Boston (BOS), and Newark (EWR )in addition to expanding existing clubs in Miami (MIA), Fort Lauderdale (FLL), and Atlanta (ATL) later this year. Delta is also working to build exclusive Delta One lounges for business class passengers, including a massive, 36,000-square-foot lounge at JFK sometime this year or next.
Bottom Line
Delta's second Sky Club at JFK opens on Tuesday, July 25. By the looks of it, this new Sky Club will have many of the same design and decor elements as other recent Sky Club additions, including some local flair and a covered outdoor Sky Deck.
But with seating for another 250-plus guests, it'll provide some critical additional capacity at JFK's busy terminal 4, hopefully alleviating some of the long lines that have become a fixture at Delta's existing Sky Club and others around the country.
All photos courtesy of Delta