Struggle to sleep in economy seats? Dreading a sleepless long-haul flight – so much so that you put off that 12-hour flight? You're not alone.
This week, Air New Zealand unveiled something we've only really ever see in sketches and concepts: A real, honest-to-god bed for economy passengers to get some sleep during the flight. In fact, there are six of them. And the Kiwi airline plans to start flying planes equipped with these Skynest pods starting in 2024.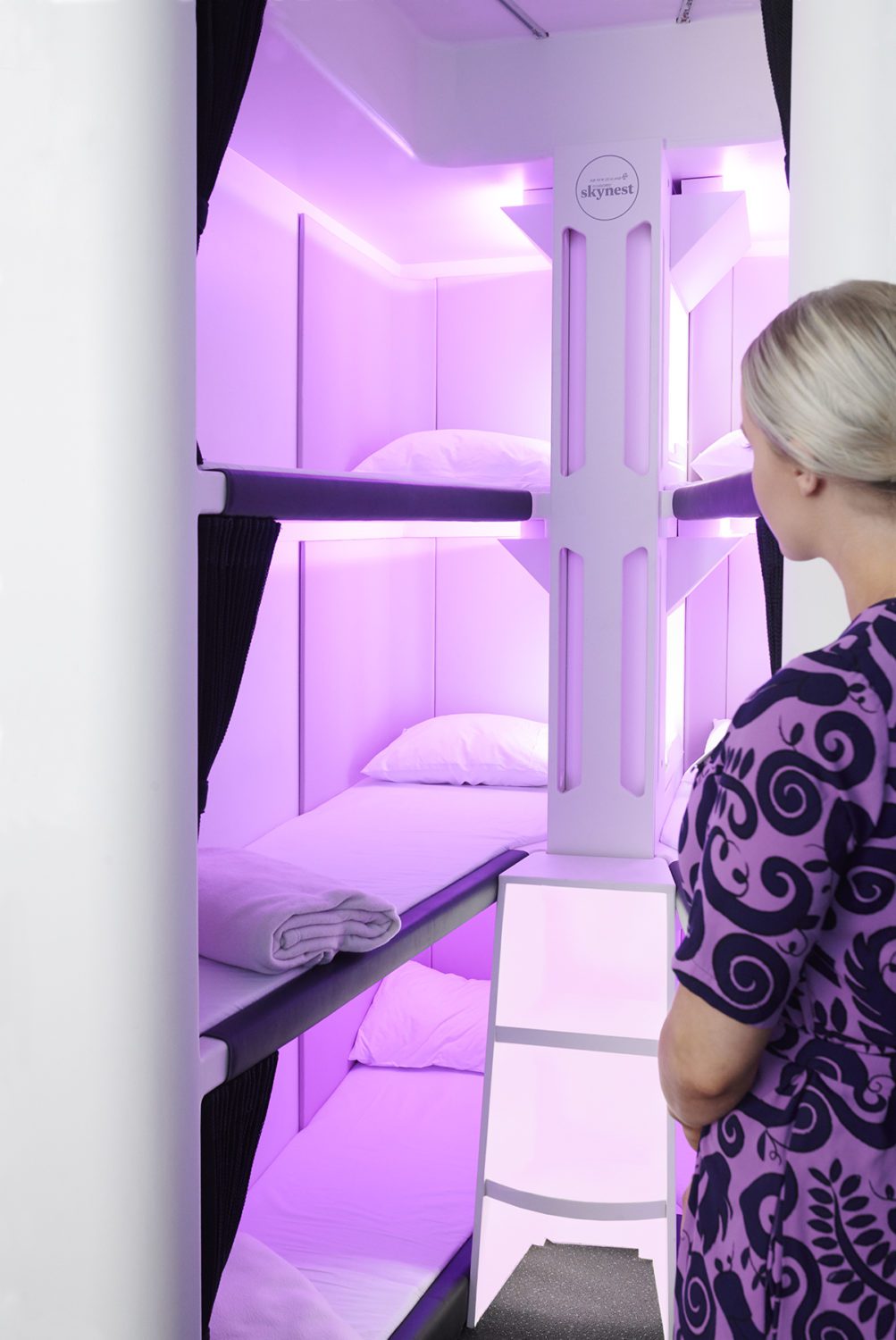 Air New Zealand is planning to equip its new deliveries of Boeing 787s with these new Skynests, a bay with six bunk beds that passengers can reserve. Just how much extra flyers will have to pay remains unclear, but this sleeping space will come in handy on some of the long flights to New Zealand – especially the upcoming service between New York City (JFK) and Auckland (AKL), which clocks in at as much as 17 1/2 hours.
"New Zealand's location puts us in a unique position to lead on the ultra-longhaul travel experience. We have zeroed in on sleep, comfort, and wellness because we know how important it is for our customers to arrive well-rested," CEO Greg Foran said in a statement. "We wanted to offer our Economy customers a lie-flat option and that's how Skynest was born. It's going to be a real game changer for the economy travel experience."
All About Air New Zealand Skynests
Air New Zealand first started talking about providing a lie-flat sleeping surface for economy passengers on its longest flights way back in early 2020. Pandemic or not, it's becoming a reality.
Eventually, you'll find these Skynest sleeping pods on new deliveries of Boeing 787 Dreamliners starting sometime in 2024, barring any delays. The airline also plans to retrofit many of its existing Dreamliners from 2024 through 2026. Still, you may not see it on each and every Air New Zealand long-haul flight – the airline doesn't plan to outfit its Boeing 777s with these sleeping pods.
This Skynest pod will be located at the front of the economy cabin on these planes, offering six total sleeping surfaces: three stacked on top of one another. Beyond that, Air New Zealand hasn't coughed up a ton of details but One Mile at a Time was able to gather some great information:
The beds: Each bed measures in at 80 inches long to 23 inches wide – comparable to some of the biggest business class lie-flat seats you'll find. Each sleeping bunk will have bedding changed between each guest, as well as a privacy curtain, USB charging and storage space. Each bunk is limited to one guest at a time.
The time: Passengers can reserve a Skynest bunk for a period of four hours.
The cost: We just don't know yet. Air New Zealand hasn't said anything beyond Foran's remarks saying, "A lot of customers will say: 'For a little bit extra, I'm happy to sit down in the back as long as I know I can get a few hours sleep.'"
Reserving a Skynest: It's also unclear whether getting a sleeping bunk will work through a one-off additional fee or if the airline will sell fares that specifically come with a sleeping pod during the flight.
What's Air New Zealand Up To?
The introduction of Skynest sleep pods is part of a broader cabin overhaul in the works for the Kiwi carrier.
Air New Zealand is also planning to introduce a brand new business class seat, including a "Business Premier Luxe" option – a hybrid between business class and first class, with fully closing doors, additional space, and an ottoman for a guest to join for a meal. Even the new standard business class seats look spectacular compared to the airline's current offering.

Airlines are constantly reworking their seating, and the focus is almost always on those high-paying customers flying up front. They're always trying to one-up each other with splashy new offerings like double beds, fully enclosed suites, and unreal amenities like onboard bars and even showers in the sky.
But for the rest of us, few airlines have pushed the envelope as much as Air New Zealand. A few years ago, the airline introduced what it calls "SkyCouch" – the ability to block out a whole row of economy and add some additional sleeping surface for long flights over the Pacific Ocean. While by no means massive, it's a great middle-ground between business class and economy for travelers and families who want more room to stretch out or sleep.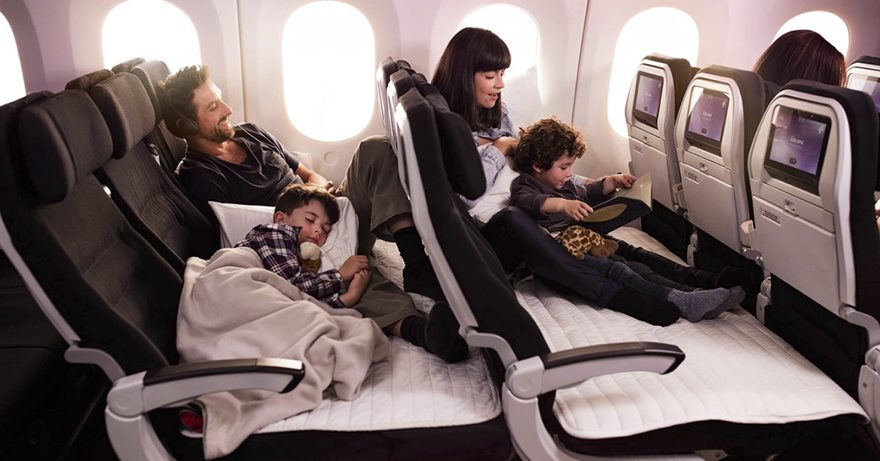 Bottom Line
A genuine, lie-flat sleeping surface for flyers in the back of the plane? We never thought we'd see the day, but Air New Zealand is making it a reality with this Skynest concept.
We won't see these bunk beds fly for Air New Zealand until sometime in 2024 at the earliest – and even then, it's unclear how much it will cost travelers to reserve a four-hour sleeping block. But no matter what, this is an excellent evolution for economy flyers.
All images courtesy of Air New Zealand