Picture this: You step off the plane in Naples (NAP) and head into town for the world's best pizza before hopping in a car and driving through the shadow of Mount Vesuvius before plopping down on the picturesque Amalfi Coast. Delta's ready to make that a reality next summer.
The Atlanta-based airline announced Friday it's launching its first-ever nonstop service to Naples from New York City (JFK), the headliner in a slew of new or resuming summer seasonal routes to Europe from its hubs in New York City and Atlanta next year. There'll be another way to get straight to the beer-drinking mecca of Munich (MUC) in summer and all the way through Oktoberfest 2024. Delta is also bringing back additional nonstop flights to Zurich (ZRH) and Shannon (SNN) on Ireland's western coast while adding additional weekly flights to tried-and-true destinations like Paris-Charles de Gaulle (CDG), Venice (VCE), and Barcelona (BCN).
That's all on top of expansions Delta has previously spelled out, including the airline's upcoming Minneapolis-St. Paul (MSP) to Dublin (DUB) service for next year.
"There's never been a better time to explore Europe on Delta," Joe Esposito, Delta's senior vice president of network planning said in a statement. "And customers looking ahead to summer adventures abroad will find plenty of inspiring options – coupled with the premium services and amenities we know Delta customers anticipate and enjoy."
But it's not just Europe getting in the action. After a long pandemic freeze, Delta is planning to ramp up its flights to China next year. And before the first flight has even lifted off, the airline is boosting its upcoming service from Los Angeles (LAX) to Auckland (AKL).
All these new and returning routes are expected to go on sale over the weekend. Here's an in-depth look at what Delta has planned for next summer.
New & Resuming Flights to Europe
Summer 2023 was all about Europe – it was Delta's (and many airlines') largest summer of transatlantic flights, period. By the looks of it, summer 2024 will be no different.
It starts with a solid set of new routes for the summer season. There's a brand new destination in southern Italy, resuming routes to Ireland and Switzerland, and another way to get to southern Germany. All these routes are seasonal: They'll start in April or May and run until at least September, in some cases extended.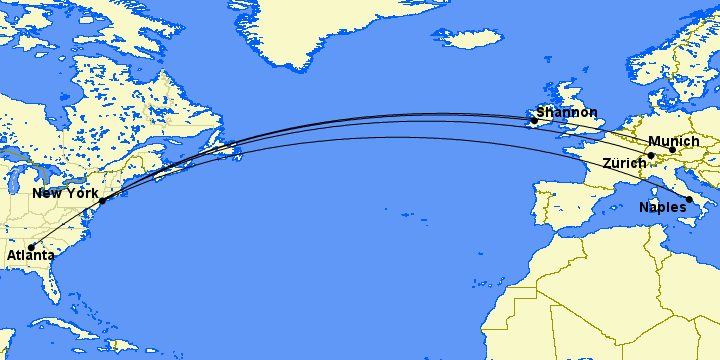 Let's start in Naples (NAP), a criminally underrated city that Delta is putting on its network map for the first time ever. Delta will fly from New York City (JFK) to Naples once a day, starting May 23, 2024, and running all the way through Oct. 25. The airline plans to fly one of its older Boeing 767-300s on the route, with an outdated Delta One business class cabin and no Delta Premium Select seats onboard.
The Atlanta-based airline will have some competition. Both American Airlines and United will fly to Naples next summer from their hubs in Philadelphia (PHL) and Newark (EWR), respectively.
The airline is also making its return to Shannon (SNN), a stone's throw from Ireland's iconic Cliffs of Moher. Delta last flew nonstop to Shannon before the pandemic, but service will resume on May 23, 2024, and run through Oct. 6.
Delta is flying a Boeing 757 to Ireland's third-largest airport next summer.

Delta already flies nonstop to Munich (MUC) year-round from Atlanta (ATL) as well as Detroit (DTW) in the summer, but a third route is joining the fold. The airline will commence nonstop flights from New York to Munich on April 9, running all the way through Oct. 24 – plenty long enough to get to Germany for Oktoberfest and back next year.
Delta plans to fly its shiny, refurbished Boeing 767-400 to Munich, meaning passengers will have snazzier Delta One seats to pick from, Delta Premium Select, Delta Comfort Plus, and standard economy seating.

Read more: The Best & Worst Planes for Delta One Business Class
Finally, Delta is also bringing back nonstop service from Atlanta (ATL) to Zurich (ZRH) – the popular Swiss city Delta already flies to from New York. Nonstop service on a retrofitted Boeing 767-300ER equipped with Delta Premium Select kicks off May 31, 2024, running through Sept. 8.
But it's not just new (or returning) routes that Delta is bringing to the table the next summer. It's also beefing up much of its longstanding service to meet transatlantic travel demand with more daily departures, including:
Flying from Atlanta (ATL) to Paris-Charles de Gaulle (CDG) 21 times a week through the summer
Flights from Atlanta (ATL) to Venice (VCE) will operate 10 times a week in summer 2024, up from the usual daily departures
There'll be more nonstop flights to Athens (ATH) as Delta increases nonstop flights from Boston (BOS) to daily service for summer 2024
Double the flights to Barcelona (BCN), anyone? Delta will offer two nonstop flights a day from New York City (JFK) to Barcelona – up from the usual daily service
Same goes for flights between Detroit (DTW) and Paris-Charles de Gaulle (CDG)
Unfortunately, it comes at a slight cost. Delta plans to end its nonstop service between Atlanta (ATL) and Dusseldorf (DUS), according to Ishiron Aviation.
Delta's Nonstop to Auckland Gets a Boost
Delta delighted loyal flyers with the news this year it'll fly Auckland (AKL) nonstop for the first time ever – especially when it followed up with an incredible SkyMiles flash sale to get to New Zealand for under 40,000 miles roundtrip.
The first-ever Delta flights to visit the Kiwis won't take off until late October, but the route is already getting an upgrade – and, depending on when you go, you'll get a better aircraft, too. Originally set to be a winter seasonal route that ran just from October through March, Delta announced Friday it now plans to fly the route year-round from Los Angeles (LAX). 
The flights from California to Auckland will fly daily from October through late March and will operate three times a week from March 31, 2024, onward. That means more chances to get to the land down under next year.
And more comfort, too … especially if you're flying up front.
Through March, Delta is flying one of its quirky Airbus A350s acquired from another airline with business class seats in a 2-2-2 configuration. But come March 31, Delta is planning to sub in one of its marquee Airbus 350s equipped with Delta One Suites at the front of the plane.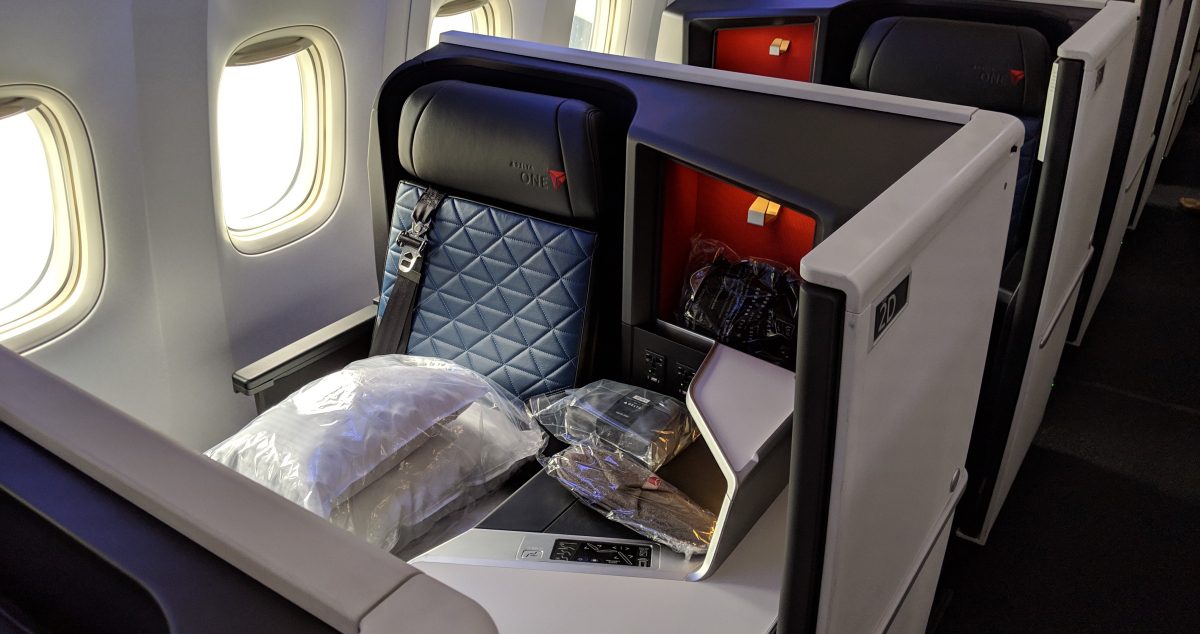 Read our full review of flying Delta One Suites!
These planes are also equipped with Delta Premium Select and Delta Comfort Plus seats.
Flights to China Make a Comeback
With the go-ahead from both governments, U.S. airlines are slowly adding back flights to mainland China. Next up for Delta? Los Angeles (LAX).
Delta plans to resume nonstop flights from Los Angeles to Shanghai (PVG) as of March 31, 2024, starting with four flights a week. That's in addition to the flights to Shanghai from both Seattle (SEA) and Detroit (DTW), which are scheduled to lift off in late October.
Bottom Line
Summer is just ending, but Delta is already mapping out its plans for summer 2024.
The airline will launch its very first nonstop service to Naples (NAP) in Italy next summer while adding new ways to get to Ireland, Munich, and Switzerland. And Delta's long-awaited nonstop flights to Auckland are getting a big boost, too.