Thanks to a slew of insane flight deals, it's cheaper than ever to get to Europe. And even notoriously spendy Switzerland is within reach for under $300 round-trip.
But it's another thing to spend a few days or weeks in one of the most expensive countries in the world. Lodging, food, and transportation can quickly add up, eating away at all the money you saved on that cheap flight.
Here are some of our favorite tips and tricks to keep your costs down when traveling through Switzerland.
Get Hilton Status
Status with Hilton can come in handy no matter where you're staying, but the savings from status in Switzerland are undeniable.
Even with relatively low-level Hilton Gold status, you get free breakfast for two at almost any Hilton property in the world. Free breakfast is key when traveling to expensive countries. If you eat right you can skip right through lunch with just a snack. That can potentially save you hundreds of dollars.
The best part? Getting Hilton Gold status is shockingly easy. You don't need to spend dozens of nights in Hilton hotel rooms every year.
Just by holding the Platinum Card® from American Express, the Hilton Honors American Express Business Card, or the Hilton Honors American Express Surpass card, you earn Hilton Honors Gold Status.
With Gold Status, you will also get the fifth night free when booking hotel stays with points and a handful of other great perks. There are two Hiltons in Zurich and one in Davos, or you could head across the Italian border and take advantage of your status at the Hilton Lake Como.
Stay at an Airbnb
Airbnb is essential for Switzerland.
That's especially true if you're traveling with a larger group. Splitting the cost of an Airbnb can be drastically cheaper than getting several hotel rooms. And you'll have a kitchen to cook in – a great way to cut down on restaurant bills. Find the best Airbnb you can with a view of mountains or a lake with some outdoor space and you won't even miss eating in a restaurant.
The Airbnb pictured below has three bedrooms and two and a half baths and is only $151 a night! It's a little off the beaten path and not near a major city which is part of why it is so reasonable. But there's no better way to see Switzerland than to dive deep into nature.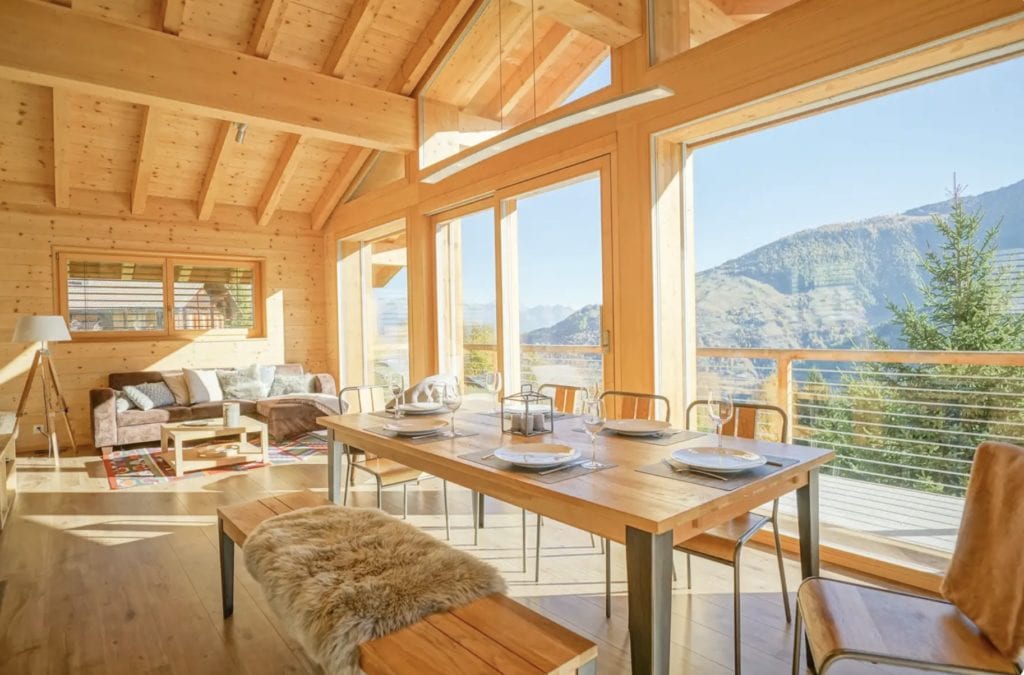 Thrifty Tip: New To Airbnb? Sign up using our link and you will receive $40 towards your first stay (we will get $20 as well).
Use Hotel Free Nights & Points
Form a strategy to get hotel free night certificates and points to get the most value in Switzerland.
Just holding a Marriott branded credit card gets you a free night certificate. Use it at a dozen different Marriot properties Category 5 or under including the HUUS Hotel which normally costs $250-$400 a night!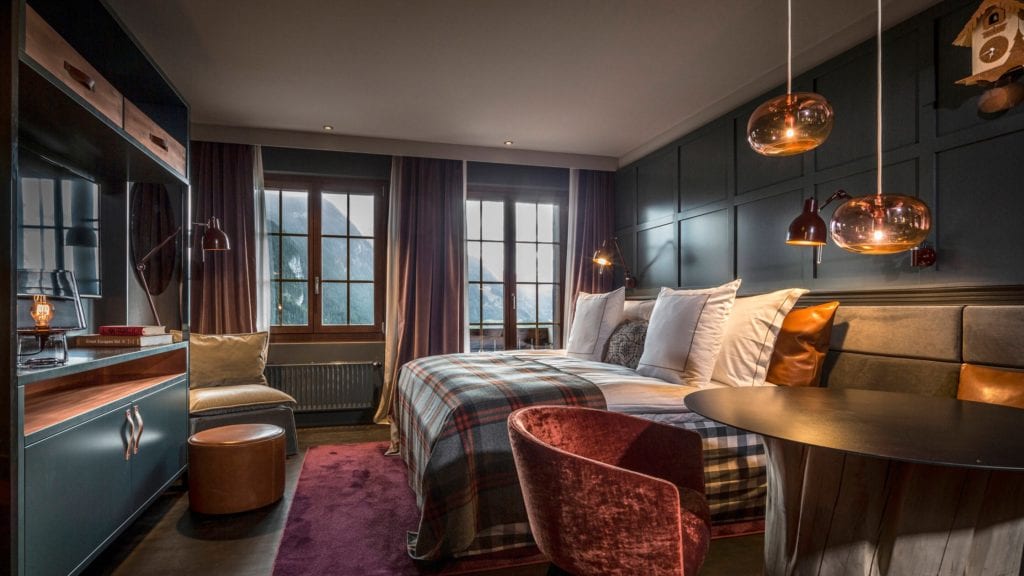 There are also five IHG (Holiday Inn and Crowne Plazas) properties in Zurich, Lucerne, and Schindellegi where you can use a free IHG Anniversary Night certificate. You can earn the certificate just for holding the IHG Rewards Club Premier Card and paying the $89 annual fee.
On top of free night certificates, Switzerland is a great place to cash in your hard-earned hotel points. For example, both the Crowne Plaza and Holiday Inn properties in Zurich can be booked for 30,000 points each night. Combining 60,000 points from the IHG card's welcome bonus offer mentioned above with a free night certificate can get you three free nights at either property.
And while they might not be the fanciest of accommodations in Zurich, there is no denying the value.
Go on Picnics
Food + nature, what more could you want?
Packing up a picnic and going on a hike is a great way to save on food and enjoy the beauty of Switzerland. Head to a supermarket for some delicious Swiss cheese, meats, and chocolate (of course). Skip the wine and grab a bottle or two of beer to share, as it's far less expensive. Then find a perfect spot overlooking a valley of mountains or stream and enjoy your lunch or dinner.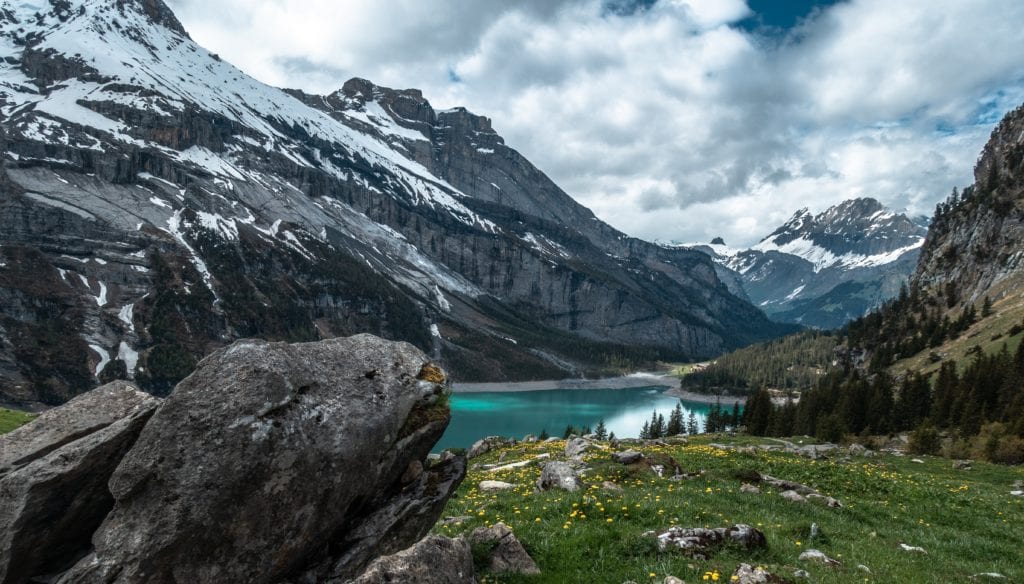 Thrifty Tip: Don't skip the restaurant scene entirely. Use The Fork app to save 20%-50% off your meal in several Swiss cities.
Limit Car Rental Days
Renting a car can be a big expense on a trip, but it's a necessity.
You will probably want the freedom that comes with a car for at least part of your trip. But before booking a car for your entire stay in Switzerland, check out alternative transportation.
Hello Switzerland gives a great rundown of public transportation available in every region of the country. Buses, trains, and even boats might be great options for where you need to go. Compare prices before you commit. Taking a train or bus for one leg or two of your trip might end up being cheaper than renting a car for the whole trip.
If you go for a car, remember to take the smallest car possible. Fuel is pricey at $4 to $6 a gallon. And although gas is expensive, the infrastructure is impressive: Switzerland has some of the longest tunnels in the world.
If you go by train, plan ahead and get yourself a travel pass. The most common – and usually the best option – is the Swiss Travel Pass. But be sure to crunch the numbers and see if it's a good fit. If you only need a few tickets, book through Rail Europe, which will mail you your tickets in advance.
Thrifty Tip: Avoid taxis! A short, 15-minute ride to the airport can easily cost you $50 or more. Use public transportation or Uber, which is available in select Swiss cities.
The Scenery is Free!
Above all else, you go to Switzerland for the scenery. And it's free.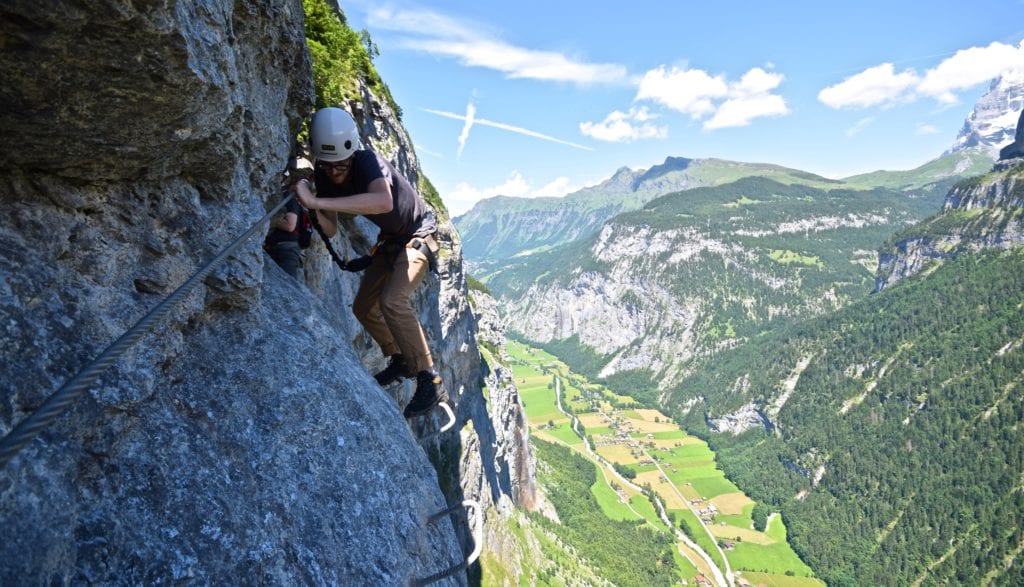 Despite all the amazing outdoor activities Switzerland boasts, many like paragliding and helicopter rides are prohibitively expensive. Instead of forking out your whole vacation budget on just one activity, take advantage of the scenery! Use public transportation for an outing by boat on the big lakes, Lake Geneva, Lake Lucerne, Lake Zurich. Go for hikes on routes like the Via Ferrata near Murren. Or just head out for a leisurely walk.
No matter what town, mountain, or lake you're near, the view will never get old in Switzerland.
Save By Seeing More of Europe
OK, this one might be cheating. But we had to include it.
The hard part is getting to Europe. Once you're there, it's so easy to hop on a short one of Europe's many budget carriers or a take a train ride.
Switzerland's centralized location means you're just hours from France, Itay, Germany, and Austria. Take advantage of your location and save some money by visiting a less-expensive country for a few days, rather than spending your whole trip in Switzerland.
Bottom Line
Switzerland is expensive, but it doesn't have to be. Use a mix of points and miles, hotel status perks, money-saving strategies, and your imagination, and you'll find that Switzerland can be done for cheap!