Known as the home to The Sound of Music, Salzburg is an absolute gem nestled in the Bavarian Alps. There is so much to see and do in and around Salzburg; we were glad we had 4 days here to take it all in.
We stayed at the Yoho International Youth Hostel right in town. This was your average hostel with the basic amenities: a bar and restaurant on the main floor, reception, tour pamphlets, and a communal kitchen and lounge room. In addition, this hostel does a showing of The Sound of Music at 8pm every single night. We watched the movie with fellow travelers on our first night, and it was a great way to connect scenes in the movie with different spots around the city. Staying at this hostel cost us just $29 per person per night.
We got to and from Salzburg with the Busabout Hop On Hop Off service through Europe. We had just come from Munich and were on to Vienna next. Read more about what Busabout is, and check out our promo code to save on a trip of your own.
Thrifty Tip #1: We purchased 72-hour Salzburg Cards to see as much of the city as we could. This one-time purchase granted us access into all of the attractions below for free. Learn more about the Salzburg Card here.
Day 1
This morning, we started our day with a visit to Mozart's Birthplace. When in Salzburg, it's a must to pay tribute to Mozart with a trip to his birthplace! Not to mention, you receive free entry with the Salzburg Card discussed above. There were lots of opportunities to listen to his music with headphones throughout the museum.
We then headed to the base of the cable railway and took it up to the Salzburg Fortress (both free with the Salzburg Card). At the top, we enjoyed the spectacular view and took some photos, toured the fortress grounds, and checked out the museum inside. The museum inside the fortress was surprisingly quirky and fun. There is also a restaurant up near the fortress that you can dine at and listen to an orchestra for dinner, but we opted for a less expensive option.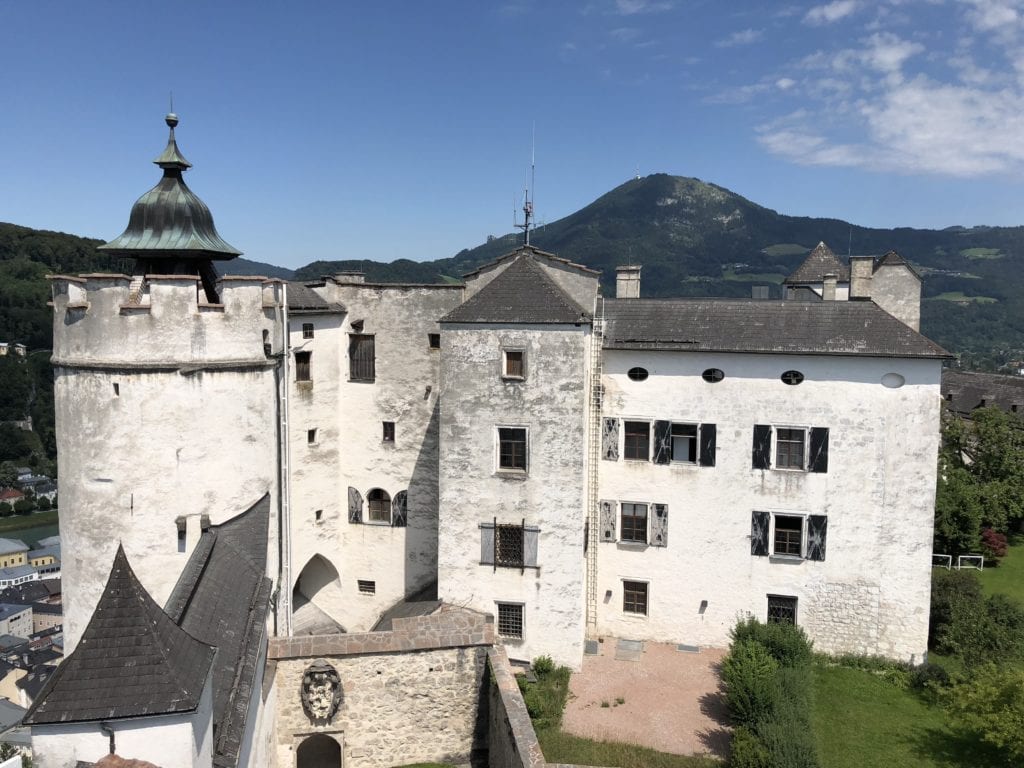 After our descent on the tram, we checked out St. Peter's Cemetery and Catacombs. The catacombs are a must for Sound of Music fans, as this is where the family hid during the last scene! The cemetery grounds were full of gorgeous flowers, making for a beautiful walk.
Finally, we capped the evening with a river cruise. This 45-minute cruise was included with our Salzburg Card, so we couldn't pass it up. The river isn't the most beautiful of all the European cities we visited, but it was a fun way to hear about Salzburg history and landmarks from a local driver, and see the city from a different perspective. They play fun Mozart music, and even do a special boat trick at the end!
Day 2
On our second day, we started off by visiting Mozart's Residence. There are so many Mozart things to do in Salzburg, but his birthplace and residence are two must-see museums that tell the story of his life and showcase some of his possessions. The two are pretty similar, so if you're short on time or not a huge Mozart fan, pick one of the two.
Next, we visited the DomQuartier and cathedral for a history lesson on the city. The entrance fee was included with our Salzburg Cards. The DomQuartier is massive, so make sure to check your watch if you've got other things to do that day. We got lucky and caught a touring chorus singing in the cathedral attached to the DomQuartier.
At 3 pm, we headed to the Stiegl Brewery for a free guided tour of the brewery, included with our Salzburg Card. We learned so much, and even got a free souvenir and complimentary beer to enjoy in their beer garden at the end! It was fun to tour one of the big names in European beer while in Salzburg.
Finally, we ended the evening by taking the Monchsberg Lift to the top of this cliff, where we got the most beautiful view of the city. To be honest, the view from the top of this vantage point was better than the one atop the fortress. Here, you can see the city with its multicolored buildings, the fortress, and the mountains all in one shot! There's also a cafe and a museum for modern art at the top of this point, so if you've got some free time, be sure to check those out, too.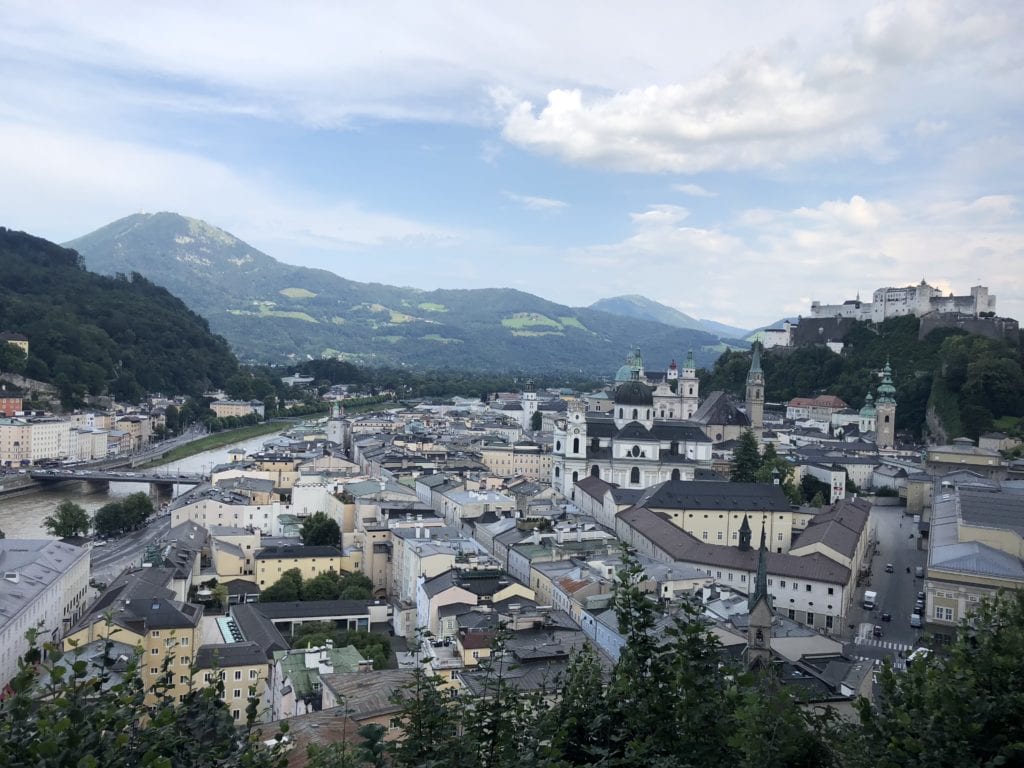 Day 3
On this day, we used the free public transportation included in our Salzburg Card to get to Berchtesgaden National Park. While there are many different lakes and areas to visit within Berchtesgaden, we opted to visit Konigsee (King's Lake). It's an hour-long bus ride (the national park is technically in Germany) but we saved so much by taking free public transit with our Salzburg Card rather than buying a tour. The views didn't disappoint. A boat ride along the lake and two different areas to stop off and explore absolutely wowed us.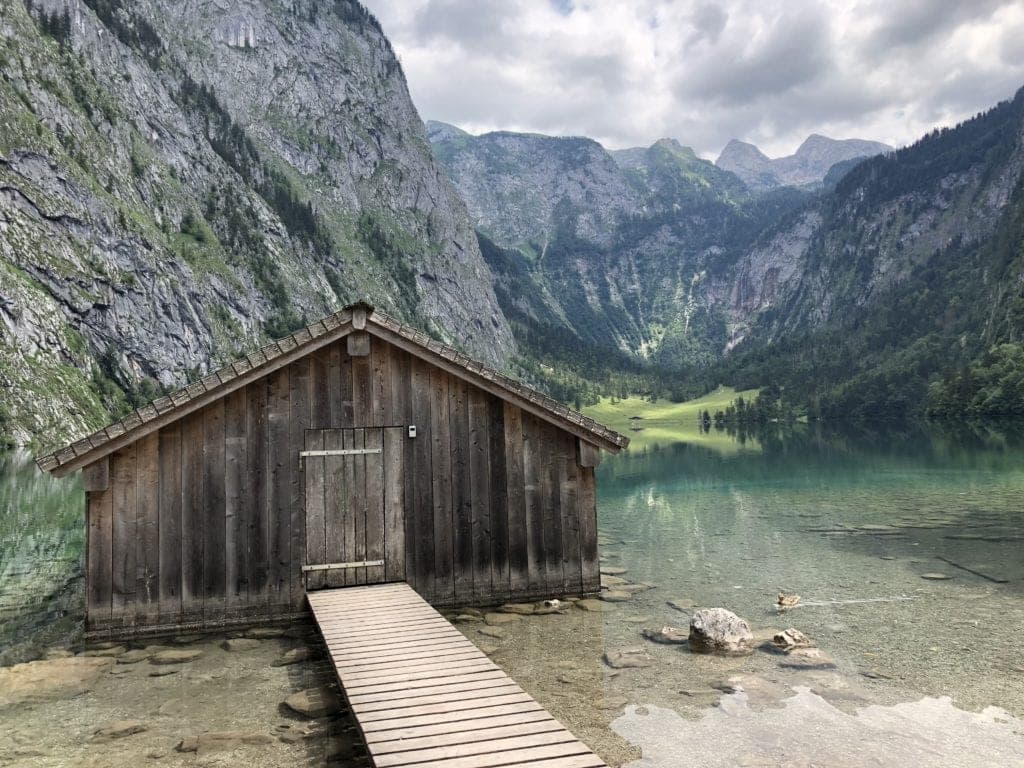 Day 4
Today, we began the day by visiting the Hellbrunn Palace and Trick Fountains. Trick fountains built hundreds of years ago will make you jump and laugh throughout the gardens. This tour was so much fun no matter your age! Free admission to the guided tour of the trick fountains and museum in the palace was included with our Salzburg Cards. You can also find the "I am 16 Going On 17" glass gazebo from The Sound of Music at Hellbrunn Palace.
Then, we took the free public transit with our Salzburg Card out to Berchtesgaden Salt Mine. We got a sweet discount on our entrance tickets with our card and had way more fun than we were expecting on the tour! You get to dress up like a miner, take a train into the heart of the salt mine, and learn all about how salt is mined. There are more fun experiences on the tour, like sliding down a mine slide and riding a boat across a mine lake.
In the early evening, we took a stroll through the Mirabell Gardens. This is another famous attraction highlighted in The Sound of Music movie, these gorgeous gardens are intricately planted with flowers of numerous types and colors.
Bottom Line
As you can see, there is so much to do in Salzburg. We had so much fun exploring the city and doing everything possible with our Salzburg Cards. If you've got more than a few days in Salzburg, make sure to get out of the city and visit Berchtesgaden National Park and the Salt Mine. They were some of the top highlights of our time in Bavaria!
Subscribe to our Newsletter, like us on Facebook, and follow us on Twitter & Instagram

Editorial Note: Any opinions, analyses, reviews, or recommendations expressed in this article are those of the author's alone, and have not been reviewed, approved, or otherwise endorsed by any card issuer.