Last year, the travel world was entering hibernation. With travel demand at rock bottom as Americans stayed home, airlines slashed fares to record lows throughout much of the pandemic. But when travel started making its comeback in 2021, airfare crept up again.
But the comeback has not been a straight line. As travelers' trepidation returned with the rise of the Delta variant, some countries are tightening entry restrictions. The familiar uncertainty has a silver lining: Rock-bottom fares, especially on flights to Europe.
Still, the brunt of the pandemic appears to be over. So what happens to those bargain flight deals like $50 domestic fares or $200 roundtrip fares to Hawaii or flights to Japan for less than $300? Will airlines raise prices as Americans come out of the woodwork to return to the skies?
Maybe. But not in the way that you think. And the unbelievably cheap flights are still out there.
Supply and Demand
One thing is clear: Demand for travel isn't going anywhere.
As with all things, one of the biggest factors behind flight prices is the simple law of supply and demand. Demand disappeared as the pandemic first struck last year, forcing airlines to cut the supply of flights until it returned. Airlines dropped routes and cut frequencies, running just 20% of their normal operations – or less.
With next to no appetite for travel, they slashed fares to unthinkable lows to generate whatever sales they could.


We're betting on more flight deals like this one. Get them by trying Thrifty Traveler Premium today for $7.99 a month!
Summer travel surged, but things aren't quite back to normal yet. It will still take years for travel to return to its pre-pandemic levels. Business travel has been critical for airlines to churn out record profits, but it may never fully return.
Critically, airlines still have some planes in storage that they can bring back as we continue on the path back to normal. They should be able to slowly ramp back up the supply of flights as travel continues to recover.
But one thing was made clear this summer: Airfare is on the way up, especially domestically. Fares that were once under $100 (or less) are on the rise as Americans who were stuck at home for the last year get back out into the world.
Beyond that? There's no clear trend line. Cheap fares are still prevalent for this fall, winter, and even out into 2022 – but it depends on where you're going. Domestically, airlines are only discounting fares through the end of 2021, clearly hoping things have stabilized by the New Year. But heading abroad, we're finding rock-bottom prices heading to Europe into the spring of 2022.
So despite all the talk about flight prices skyrocketing, we're still finding some of the cheapest flights for future travel – in some cases, cheaper than anything we'd seen throughout the worst of the pandemic.


Read up on the return of cheap flights to Europe – and how you can snag fares to Madrid, Paris, Zurich and beyond under $300!
In short: Cheap flight deals aren't going anywhere. When the pandemic first upended travel, we saw airlines slash fares to get more travelers on planes. They're still doing so today as a way to scrape up whatever ticket sales they can find.
And it's safe to assume they'll do the same once it's over. That means we think you can count on some astonishing sales for the foreseeable future.
Competition Will Drive Flight Prices (Likely Down)
If supply and demand is the principle behind airfare, competition between airlines is the gamechanger.
The airline industry is cutthroat. Every year, we see new players enter and exit the game. Even in the midst of the worst year for the airline industry, not one but two new U.S. carriers start up recently: Avelo Airlines and Breeze Airways.
And in the meantime, airlines are constantly targeting their competitors, offering dirt-cheap prices to undercut each other in hopes of winning more customers. The connection between competition and price is undeniable. And we've seen that competition take off lately.
Lately, Thrifty Traveler Premium subscribers may have been blessed with some of the cheapest fares to Europe we've ever seen. That's because the airlines are competing to fill their seats heading across the Atlantic. And as European travel restrictions scare off some travelers from a trip abroad, airlines are scrambling to sell tickets.
After airlines began discounting transatlantic fares to $400 or less late last month, prices keep dropping. Just last week, we found fares to Madrid (MAD) from nearly every U.S. airport, flying American Airlines for under $300 roundtrip.

And it's not just Europe. Earlier this year, we saw Alaska Airlines and Delta battle it out for fares to Anchorage and Fairbanks. The two went back and forth for months with dirt-cheap fares and even a Delta SkyMiles flash sale with roundtrip flights to Alaska from just 5,000 SkyMiles.


Want flight deals like this one sent to your inbox? Sign up for Thrifty Traveler Premium! 
Critically, the major carriers like Delta, American, and United aren't just fighting with each other anymore. With business travel out and leisure travel roaring, even the biggest airlines have to compete with low-cost budget carriers like Spirit, Frontier, and Sun Country. That's a recipe for some low fares for the foreseeable future.
Unfortunately, it's not all good news – especially when it comes to international travel. Many of the budget airlines flying to Europe have disappeared.
WOW Air came out of the gates hot with some of the lowest pricing to fly between the U.S. and Iceland, with flights under $50 each way. Norwegian Air and TAP Air Portugal have made their name with low fares across the Atlantic but continue to struggle. And the list goes on.
WOW Air collapsed a year ago. Primera Air went kaput in 2018. And now, Norwegian has stopped flying between the U.S. and Europe altogether.
These budget carriers have driven flight prices to Europe down to record lows in recent years – as low as $300 round-trip (or even less.) Sure, you can snag a cheap flight on one of these barebones airlines. But they've also forced major airlines like Delta, American, United, and their international partners to compete on price, too. And that's a win for consumers. Without that competition from the likes of Norwegian, the pressure on those bigger carriers is gone.
Fortunately, there's reason for optimism: Those budget carriers are making a comeback … under a different name. Two officials from WOW started PLAY airlines, with plans to start flights to the U.S. next summer. Norse Atlantic Airways – founded by Norwegian's creator – has similar plans.
For now, we're still finding dirt-cheap fares to Europe. But the future of cheap flights hinges on that competition staying strong.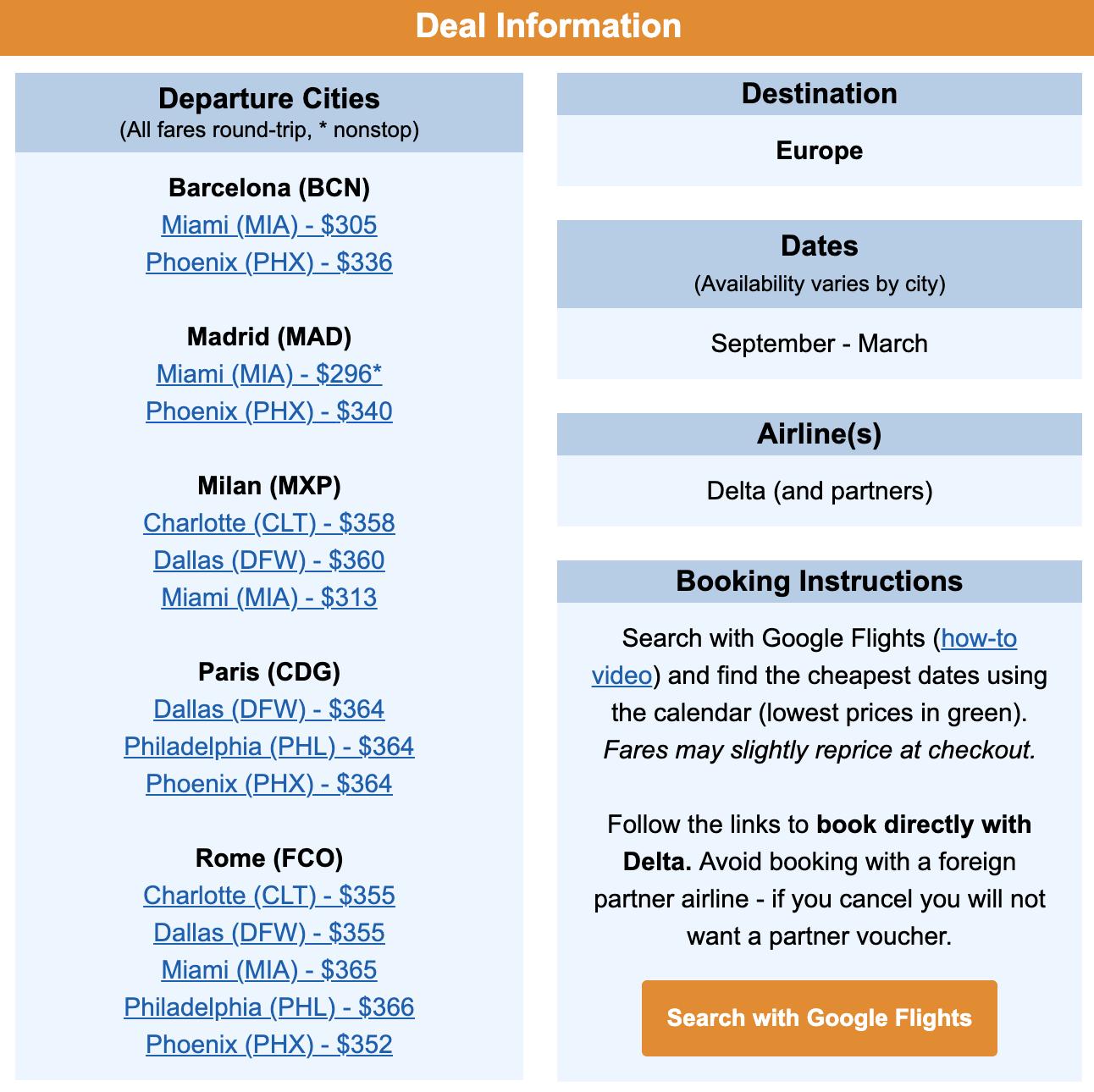 Airlines Costs Are a Mixed Bag
Running an airline is an expensive business, and you can sometimes see that in your ticket prices. Two costs stick out more than others: Oil and employee salaries. And on that front, it's a mixed bag.
Here's the good news: Thanks to the last financial rescue package from Congress, U.S. airlines' salaries are completely covered through the end of this month. That should give airlines a lot of extra breathing room to keep fares lower throughout the summer and into the fall as travel continues to recover.

Jet fuel, on the other hand, is one of the biggest costs for each and every airline. It's another huge factor in the price of travel. And while it dropped like a rock in 2020, it has slowly climbed back to pretty normal prices – if not a bit higher.

Watch the price of oil in the coming weeks and months. If it continues to climb, that could cause some trouble for flight prices. But if these prices hold or dip again, it's a potential catalyst that will pull down airfare with it. 
Bottom Line
Predicting airfare is more art than science. It can be unpredictable, given the puzzling sales we see from airlines day after day, year after year. Cash grabs, mistake fares, flash sales, and fare wars can spring up at any moment.
There are still bargains to be had now for future travel. Despite a recent uptick in summer flight prices, we're still bullish on the future of cheap flights as we all return to the skies.
Take advantage of these crazy deals in 2021, 2022 and beyond: Try Thrifty Traveler Premium today!