Too old for trick-or-treating? Been through the haunted houses in your town? Take a spooky getaway for Halloween next year to one of these haunted places in the U.S. for a scary good time.
Cemeteries and Ghosts in Savannah, Oh My!
Savannah is known nationwide as one of the most haunted cities in the U.S., and the city embraces it. Its tourism website even highlights the most haunted places to visit on your next trip!
Don't miss Hamilton-Turner Inn from the book Midnight in the Garden of Good and Evil, a personal favorite of mine. Visit the Marshall House, a hotel that was used as a hospital, and eat at The Pirates' House restaurant. The most haunted place in Savannah just might be Moon River Brewing Co., but you'll have to see for yourself.
Want to learn more about Savannah's haunted history and explore the city while you do? The best way to learn and explore is on a walking tour with a local guide. Here are some of the top-rated Airbnb Experiences in Savannah for ghost tours:
Want some spooky accommodations? Stay at the Kehoe House. Once a funeral home, it is now a famous bed-and-breakfast with a spooky history. Don't stay in room #203 if you're easily frightened…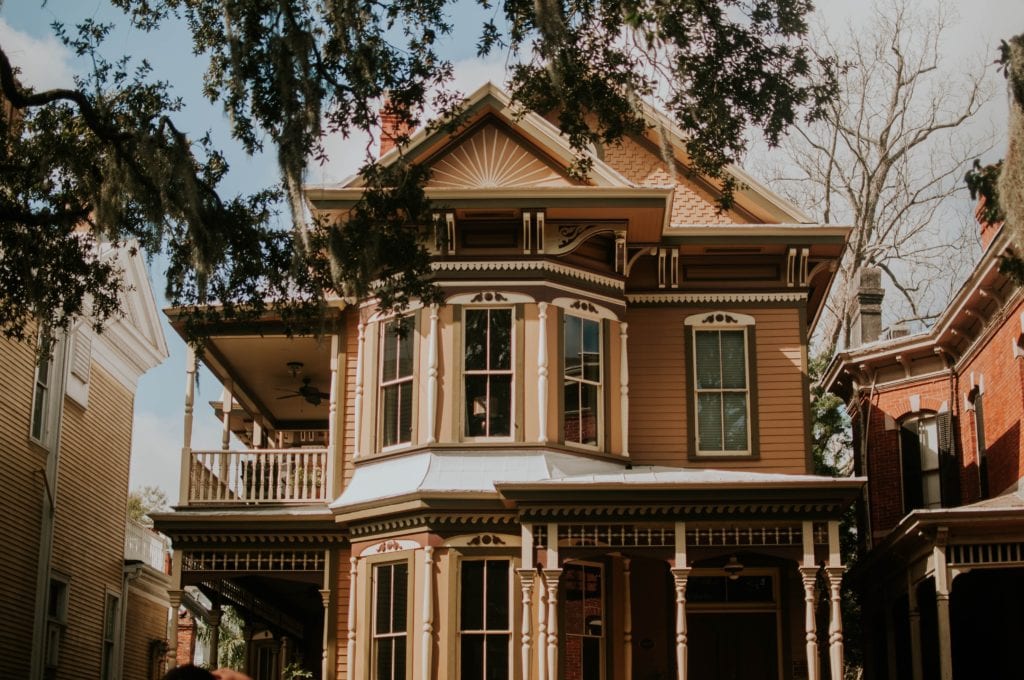 Want to see Savannah beyond the spooky? Check out our full guide to exploring Savannah!
Do Voodoo in New Orleans
New Orleans has been home to voodoo history and traditions since the 1700s. So if you're looking for a spooky time, head this way. There's no shortage of history to learn, haunted tours to take, and festivals to partake in during this haunted holiday.
Of course, if you're going to NoLa for Halloween weekend, you can't miss Voodoo Festival. Come in costume for this massive music festival in beautiful City Park, complete with haunted houses and spooky decor. Haven't made it to Mardi Gras yet? Get a taste of the fun in October with Krewe of Boo. This is a kid-friendly parade with spooky costumes and awesome trinkets tossed out to the crowds.
There's no shortage of voodoo history walks and tours in New Orleans. Here are a few Airbnb Experiences to get your search started:
Whichever tour you choose, make sure you get a chance to go in the LaLaurie mansion, which was home to the infamous serial killer Madame LaLaurie. Check out the New Orleans Historic Voodoo Museum for more voodoo history.
Stay fueled up in New Orleans at some of our favorite spots to eat in the city.
Witch Haunts in Salem
We can't talk spooky U.S. destinations without mentioning Salem, Massachusetts. It's the home of the Salem Witch Trials, and this town has fully embraced its haunted past.
In fact, they have a whole calendar of events to celebrate the spooky season in October. Check out the Haunted Happenings festival: take the Ghosts & Legends Trolley, visit haunted houses, watch live music and spooky theatrical performances, and so much more. Haunted Happenings brings more than 250,000 people to Salem each year. Salem also hosts Festival of the Dead, with psychic readings and Halloween balls galore.
To revisit what you learned in middle school U.S. History class, head to the Salem Witch Trials museum. If you're looking for more folklore, join this Airbnb Experience for a history walk: History and hauntings with a local.
And if you're flying in and out of Boston, there's more haunted fun to be had. Join this tour to cap off your spooky trip: Harvard Square ghost tour.
Stay at the Omni Parker House, the oldest continuously operated hotel in the country (and plenty haunted). Boston's oldest cemetery is just across the street. Stay the night at your own risk, but you won't be able to stay in room #303: it was turned into a storage closet due to haunting complaints from guests.
Make a long weekend out of your Halloween visit by spending some time in Boston, just an hour south.
Bottom Line
Have we completely creeped you out yet? If you made it this far, you're likely a fellow scary movie fanatic and haunted house goer. Make your next Halloween (or any time of the year!) extra memorable and visit one of these haunted places in the U.S.
Want the best flight deals and travel tips delivered to your inbox?
Sign up for Thrifty Traveler, and like us on Facebook or follow us on Twitter & Instagram

Editorial Note: Any opinions, analyses, reviews, or recommendations expressed in this article are those of the author's alone, and have not been reviewed, approved, or otherwise endorsed by any card issuer.