Banff looks like a storybook. Nestled between picturesque, snow-capped mountains with ultra-blue lakes as still as glass. This Alberta resort town west of Calgary has unbeatable hiking, dining, and a seemingly endless list of things to explore.
So it's no wonder you want to get here. But when you add up international airfare, car rentals, hotels, food, and more, it can get expensive quick. With a family of four, a four-night trip could have blown our budget before even leaving the house. Every penny counts, and every credit card point can make a huge difference. 
So we decided to put a stash of 100,000 points earned from the Chase Sapphire Preferred to use. Check out how we pulled off an amazing family vacation to a bucket list spot for cheap. 
Challenge #1: Airfare
To get to Banff, you need to fly into Calgary (YYC). And even the shortest flights across the northern border can be expensive.
Case in point: Flights from our hometown airport in Fargo (FAR) were roughly $500 per person. Luckily, Winnipeg (YWG) is just a three-hour drive away, with plenty of Air Canada and WestJet flights available. As a plus, the Winnipeg airport is amazing, as it's both clean and feels nearly empty compared to the major U.S. airports.
But more importantly, flights within Canada are much cheaper. By making the three-hour drive north, our airfare dropped to $186 per person. Don't be afraid to look for positioning flights – or in our case, we used a positioning drive to save on flights.
We booked our four tickets (two adults, one child, and one lap child) with Chase Ultimate Rewards points. With the 1.25 cents per point you get from points on the Chase Sapphire Preferred, we needed just 44,480 points to cover airfare for our entire family.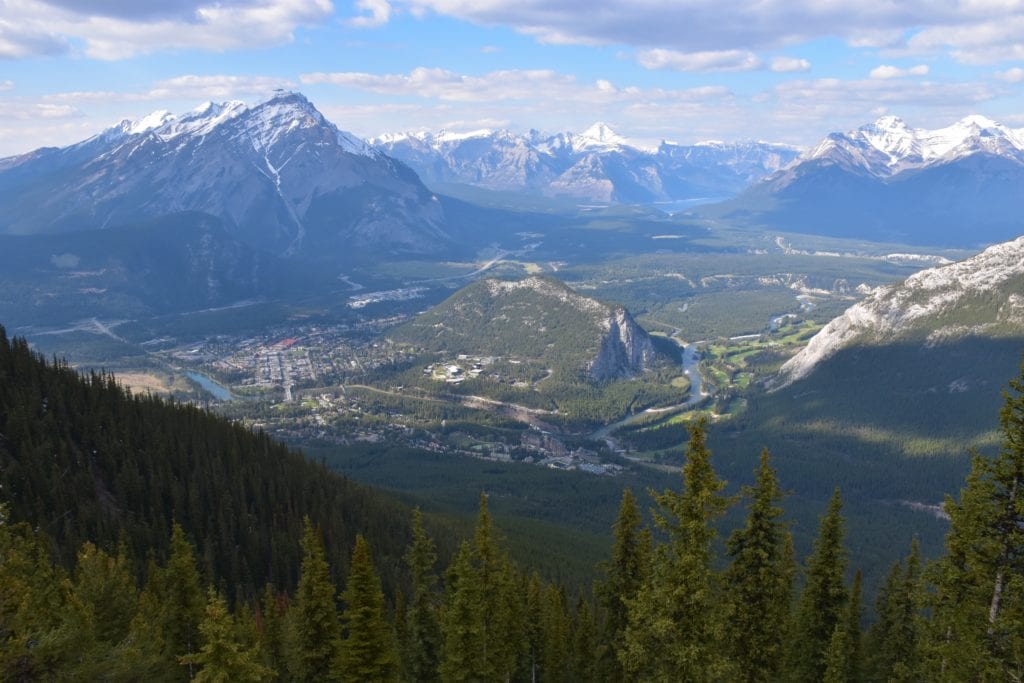 Thrifty Tip #1:  You can still earn miles when booking directly with points from Chase and other banks, unlike when you use airline miles. Also, most WestJet fares give you credits toward Delta Medallion status.
Total Savings: $556 – and much more if you factor in the positioning drive 
Challenge #2: Lodging
Due to flight times, we wanted to be near the airport in Calgary for our first and last night.
The Holiday Inn Express & Suites Airport-Calgary offered great accommodations for our quick overnights, with easy access to the airport. It's in a nice area with plenty of restaurants and, bonus for the kiddos: a good, warm pool with a fantastic water slide.
Once again, we booked our two nights with points from the Chase Sapphire Preferred. The $190 total worked out to 15,200 Chase Ultimate Rewards points.
Total Savings: $746.
For our stay in Banff, we chose the Banff Ptarmigan Inn. And it was ideal for a family. The rooms were beautiful, complete with a balcony that allowed us to soak in the stunning setting in the mountains when the girls went to bed early. A refrigerator in each room allowed us to buy groceries and save more. And rather than a desk, it had a cafe table where we could enjoy games, downtime, and meals together.
To top it all off, the Ptarmigan Inn sits in the heart of Banff, surrounded by the city's quaint downtown. Perfect location!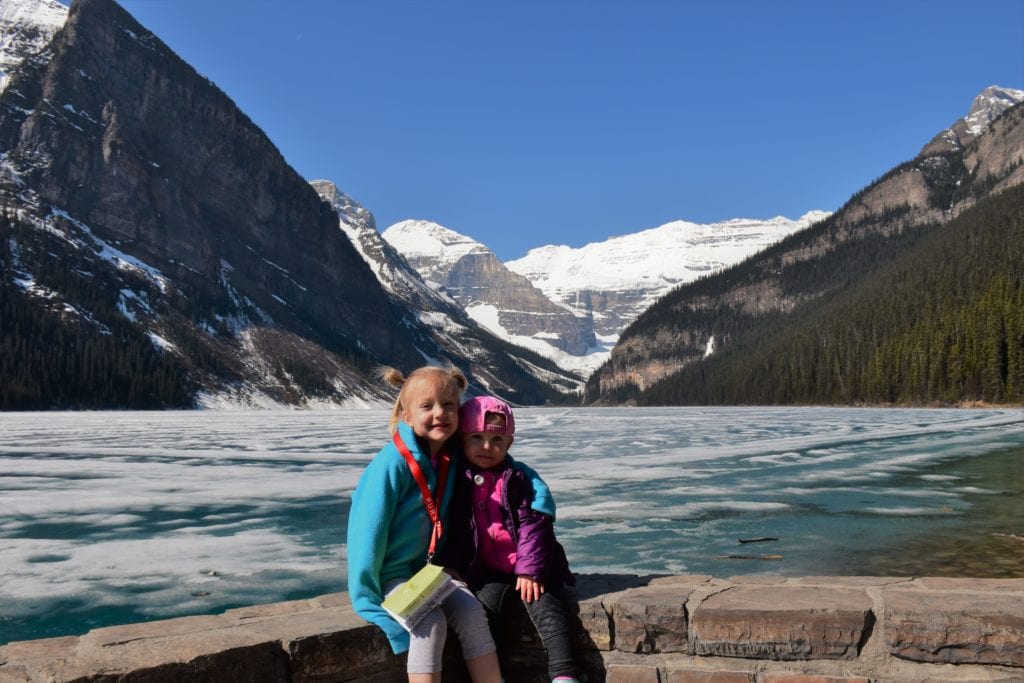 Our two-night stay would have cost $325. But we wiped out that cost once again using just 26,000 Chase points.
Total Savings: $1,071
Thrifty Tip #2: Always pay attention to amenities at various hotels. A decent breakfast option may surprise you at one hotel, and save you upwards of $25 per person every day. If Hilton is an option, the Hilton Gold status you get automatically from the Platinum Card from American Express can get you and one guest free breakfast every day!
Challenge #3: Transportation
Calgary is beautifully situated being just over an hour from the Canadian Rockies, and it neighbors some of the most beautiful national parks in the world like Jasper, YoHo, Glacier and, of course, Banff. So we needed a four-day car rental to explore.
We used Alamo when we found an amazing deal. With some good manners and a little North Dakota Nice, the salesman even upgraded us to an SUV at no charge!
The four-day rental car was a base price of $82.98 with an additional $50 for car seat rentals. We used our Chase Sapphire Preferred points to cover the base rental price for 6,638 points instead of paying cash.
Thrifty Tip #3: Airlines might let you check a car seat for free, but hauling around a seat while juggling kids and luggage is not fun. We recommend renting a car seat – or check out car rental companies like Silvercar that will give you a car seat for free!
Total Savings: $1,154
Challenge #4: Food
A good meal will get us to splurge every single time, but traveling on a budget means sacrifices. 
To save money, we chose only hotels that included breakfast for free. While it's tempting to skip those money-saving opportunities for something more local and authentic, it can make a huge difference.
And we were impressed with the offerings at the Ptarmigan Inn in Banff, it included different dishes on their hot and cold stations each morning as well as made-to-order omelets. It saved us not just money, but time – an easy breakfast helped get the kiddos out the door faster to start exploring. 
We allowed ourselves just one meal out per day – the rest came from the grocery store. And we were in luck again, as a fantastic supermarket down the street from the inn had everything we needed: rotisserie chicken, pot pies, fresh veggies, and fruit. It helped us save more money, sure, but it was also fun. There are great city parks all around Banff, perfect spots to enjoy the scenery over a picnic. 
If you're looking for a place to grab a bite to eat in town, The Block Restaurant Banff is a unique spot. Whether you're looking for a drink, small plate or full-on entree, they've got a globally inspired menu with great ambiance and some amazing dishes.
Cost: Four days of breakfast for free, $170 (USD) for four days of lunch and snacks, and $75 for dinner (mostly groceries)
Challenge #5: Experiences
You don't go to Banff to sit in a hotel room. This town has so much to see and explore. 
Unfortunately, some of those activities can break the bank – while others (like the unbeatable views) are completely free. We chose two activities to splurge on, and then kept our wallets in our pockets for the rest.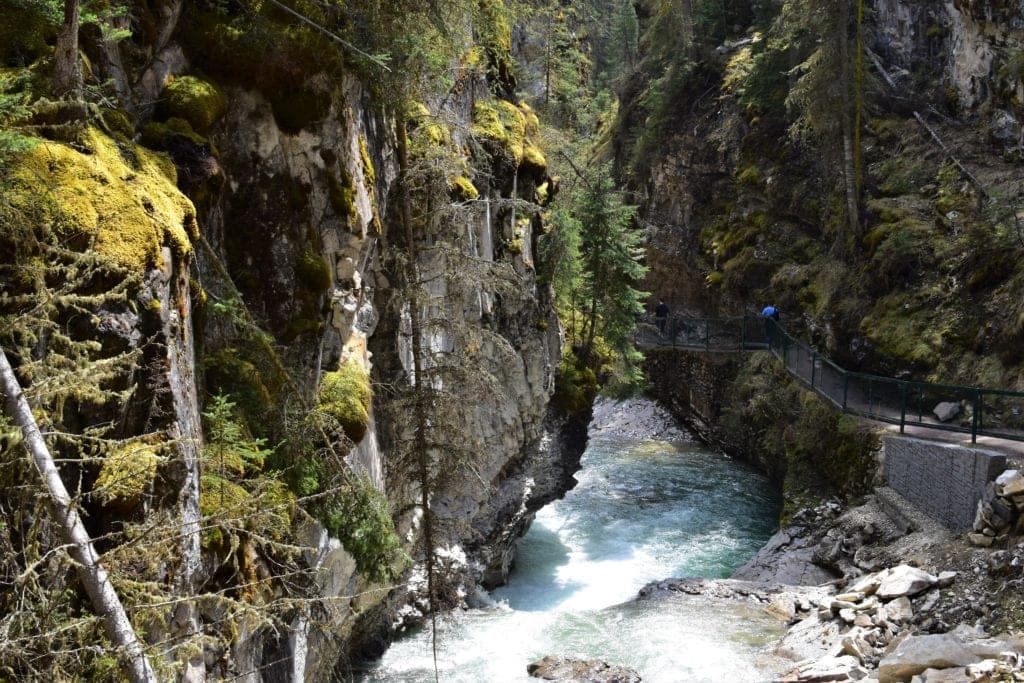 Hiking
Bear country is a real thing around here! Fortunately, there are a lot of tourists, and many beautiful options to hike that don't take you too far out. And best of all, it's free!
Our family explored the Johnston Canyon hike, which was a five-mile circuit hike. Our five-year-old tackled it with ease, and our nearly two-year-old was just as excited in her carrier. It was an amazing nature adventure for them with zero complaining! There's even a great little ice cream stand at the end of the trail for a celebratory treat.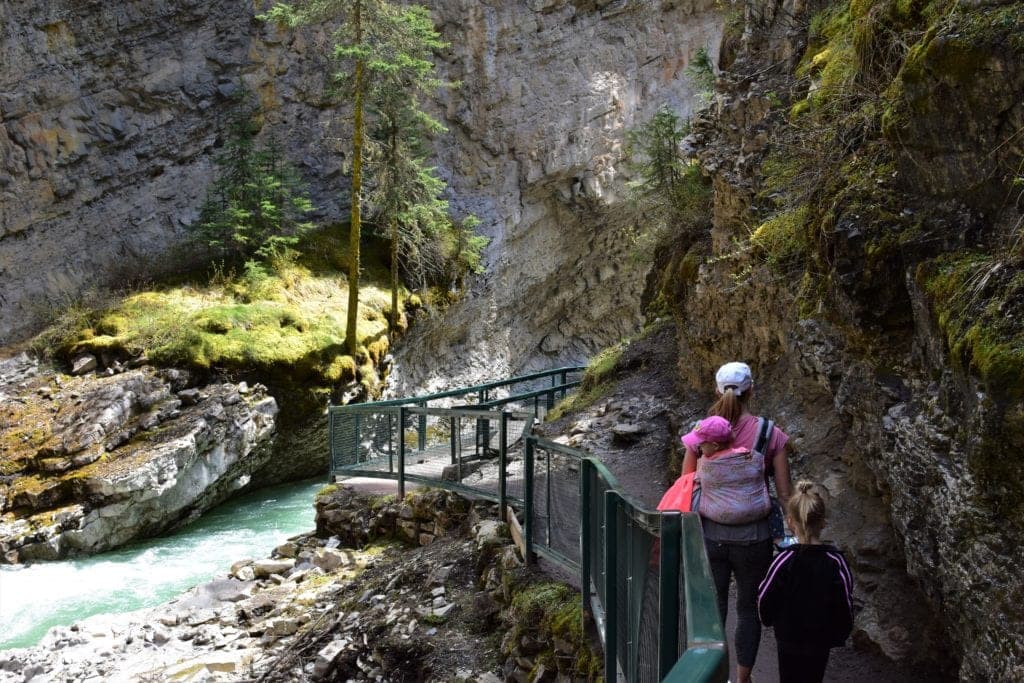 Banff Gondola
The ride up the mountain on the Banff Gondola was one of our splurges. And the costs were still fairly low, as both kids were under the age limit (five and under) and went for free.
To keep our spending down, we brought our own supper and ate with an amazing view on the rooftop decks. You can explore the boardwalks or check out the museum as well.
Thrifty Tip #4: Prices vary each day based on demand, so book tickets ahead of time online to get the best price.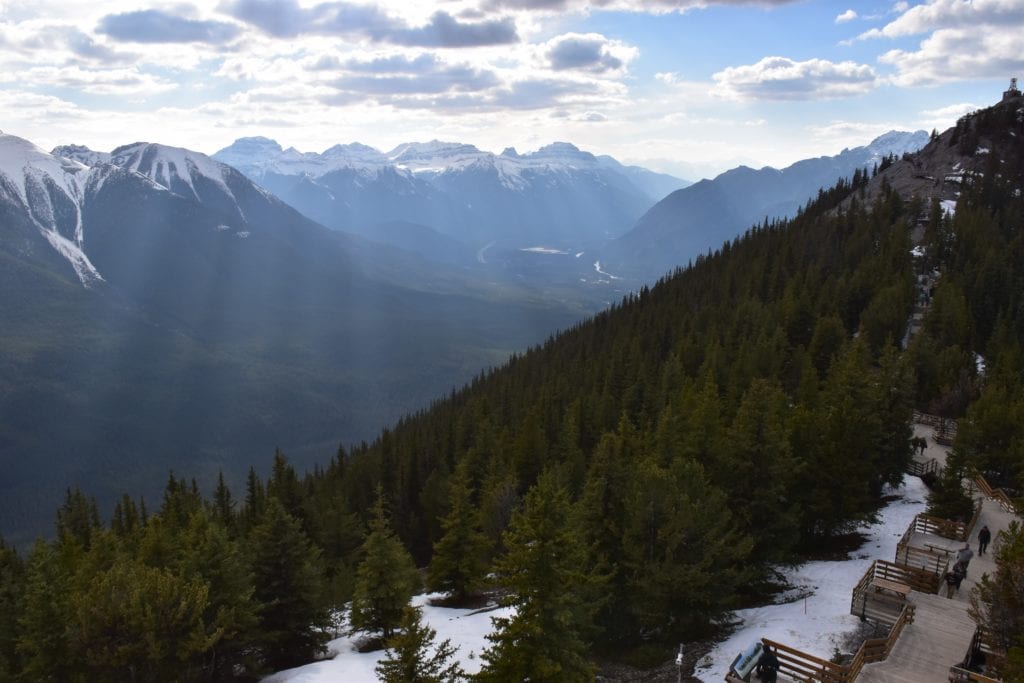 Once there, it's roughly a mile hike around wooden platformed patios and staircases to a neighboring peak. The views were to die for! Surprisingly, our children were overjoyed with the stairs! We carried our youngest up to the peak, but she insisted on marching those little legs down every single stair back to the museum. The whole experience was one of our family favorites.
Cost: $75 (USD) for two adults; free for kids
Lake Moraine, Lake Louise, and Emerald Lake
If you don't visit the famous lakes around Banff, did you even go? 
The beautiful views around Lake Moraine, Lake Louise, and Emerald Lake are unbelievable. Whether you want to just soak in the unbelievable landscape, hike your way through the network of trails, or check out the nearby cafes, the opportunities – and views – are endless. Make sure you get out early in the morning because parking lots fill up immediately. But if you don't find a parking spot, don't worry. They post signs directing you to shuttle locations you as the lots reach capacity. However, they do have a small charge.
Calgary Zoo
We finished our adventure a final splurge, an afternoon at the Calgary Zoo. And after taking our two animal lovers to many zoos, Calgary did not disappoint. 
You can have up-close-and-personal encounters with wildlife all over the zoo. The lemurs and penguins were our favorites. 
Cost: $85 (USD) for two adult tickets and one child ticket; one free child
Challenge Completed
So how'd we do? Add it all up, and here's what the entire trip cost us.
92,318 Chase Ultimate Rewards points and $455 cash.
Bottom Line
In all, a four-night trip to one of the most beautiful spots in North America clocked in at roughly $125 per person and just over one credit card bonus. Covering core expenses like airfare and lodging with points from the Chase Sapphire Preferred helped make this trip a reality. Being smart about eating out and splurging on experiences made it even cheaper. 
The key to staying on budget even in a place like Banff is preparation. Don't cut out luxuries – just keep a little set aside for surprise or unplanned expenses, and plan your splurges as best you can. With a mix of these money-saving tips and points and miles, it can definitely be done!