Renting a car is generally a pretty dull part of any trip. You book a cheap sedan, you wait in line for ages to pick it up, and finally, drive off from the car rental center.
Silvercar does things differently. For starters, it's owned by the luxury carmaker Audi, so every car they rent is an Audi. From the cars themselves to the reservation to pick up, this is not your typical car rental agency.
Last week, I traveled to Augusta, Georgia for a bucket-list trip to the 2019 Masters golf tournament. And by flying into Charlotte (CLT) and making the drive south, I finally had a chance to give Silvercar a spin.
Read on to see what it's like, why it's now one of my favorite car rental options, and how to save money on your first rental.
What is Silvercar by Audi?
Silvercar is a car rental service founded in 2012 which immediately disrupted the car rental industry by only renting Audi A4s and providing a quick and seamless app-based rental car experience for its customers. Audi, the German car manufacturer, took notice and purchased the company back in 2017.
At the time, Silvercar by Audi was only operating out of a handful of U.S. airports, but this list is quickly growing. You can now choose Silvercar by Audi for your car rental needs at all of the following U.S. airports and in town rental locations.
Austin, TX (AUS)
Boston, MA (BOS)
Charlotte, NC (CLT)
Chicago, IL (ORD)
Dallas, TX (DFW)
Denver, CO (DEN)
Fort Lauderdale (FLL)
Las Vegas, NV (LAS)
Los Angeles, CA (LAX)
Miami, FL (MIA)
Newark, NJ (EWR)
Orange County, CA (SNA)
Orlando, FL (MCO)
Phoenix, AZ (PHX)
Salt Lake City, UT (SLC)
San Diego, CA (SAN)
San Fransico, CA (SFO)
Seattle, WA (SEA)
Tampa, FL (TPA)
Washington Dulles (IAD)
In-town Rental Locations
Miami, FL: South Beach
New York City: Brooklyn Downtown
New York City: Brooklyn Williamsburg
New York City: Columbus Circle
New York City: Manhattan W 42nd
San Francisco: Union Square
Unfortunately, Audi by Silvercar is not currently operating out of any international airports.
My Booking Experience with Silvercar by Audi
While there were some cheaper options through the likes of National, Hertz and many others, I hadn't yet tried Silvercar. One of my favorite parts of the service is that each rental includes navigation, WiFi, Bluetooth, Sirius Radio, Apple CarPlay, Android Auto, child seats, and ski racks at no extra cost. So if you are planning on adding any of these additions, Silvercar may be a more affordable option.
On top of that, just for holding the Chase Sapphire Reserve credit card, you will get up to 30% off of your Silvercar rental of two days or more. All told, we paid $ 219.24, including tax, for a three-day rental of an Audi A4 ($73.08 each day). We spent a lot of time in the car on our trip so the navigation, WiFi hotspot and the satellite radio were nice to have.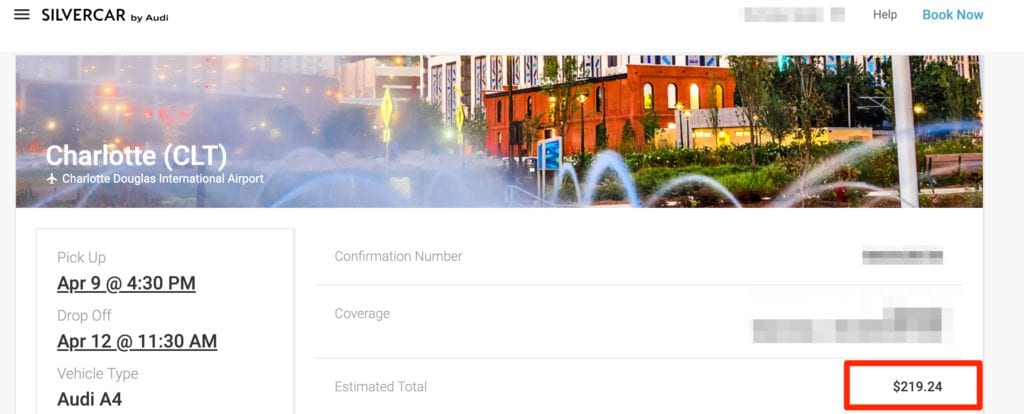 Thrifty Tip: New to Silvercar? Sign-up for the service here and enter promo code XTHPAORG in the referral code section of your account. We will both earn $25 after you complete your first rental.
Our Arrival in Charlotte
Upon landing in Charlotte, I opened the Silvercar mobile app which prompted me to send an automated text message including my reservation number to Silvercar alerting them of my arrival.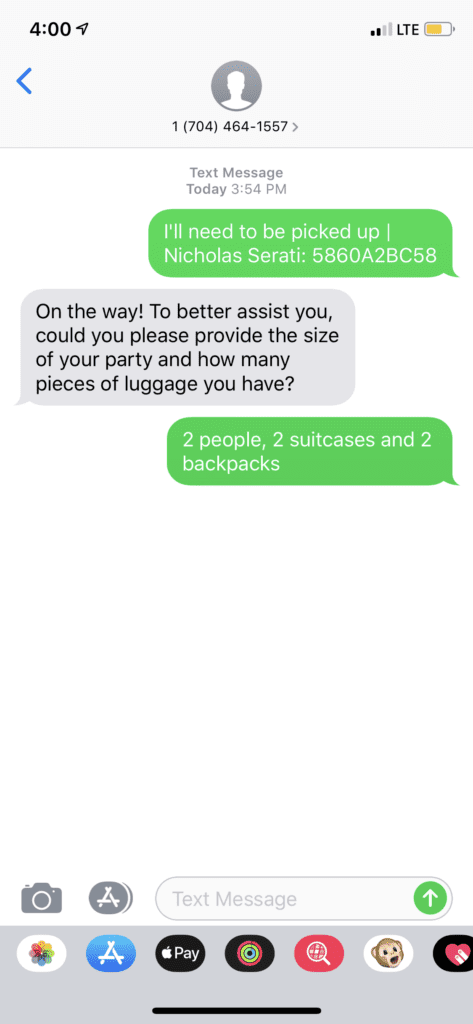 Within 10 minutes of getting a response, we were picked up by the Silvercar by Audi shuttle to bring us to the offsite Silvercar location. The location was about a 10-minute drive from the airport.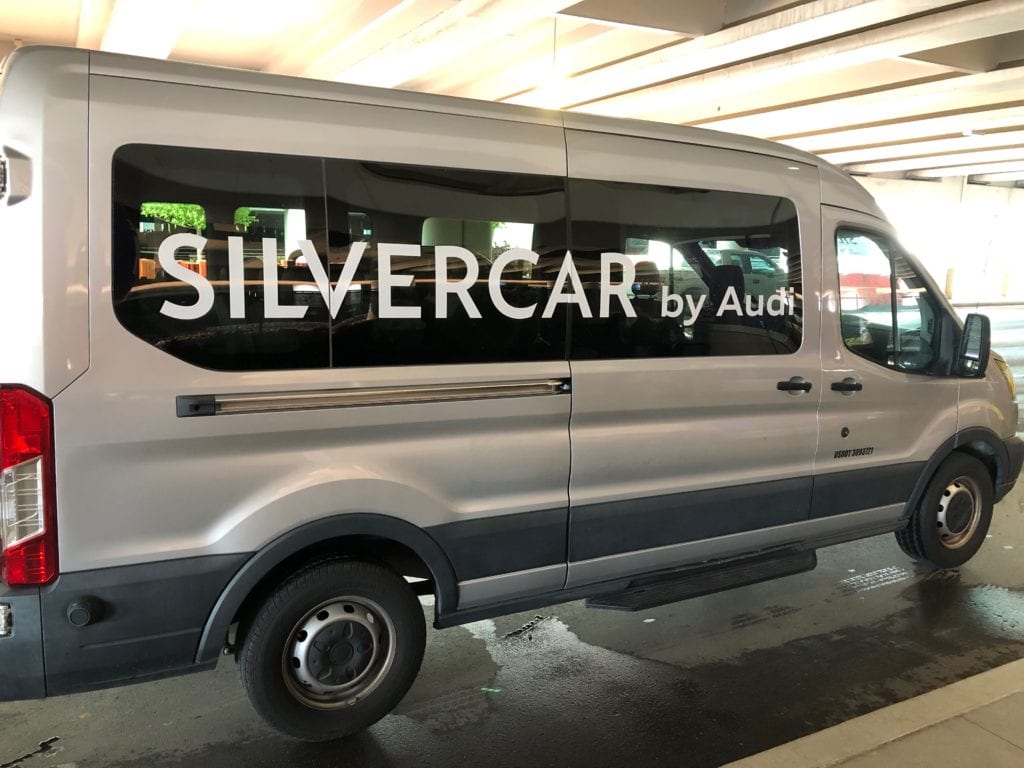 After arriving at the offsite location, our Silver Audi A4 was waiting for us. The attendant instructed me to open the Silvercar by Audi app and scan the barcode on the vehicle's windshield. Doing this pulled up our reservation on their end, and unlocked the car doors. It was incredibly slick and efficient, and we were on our way within minutes.
There was no additional paperwork to fill out, or lines to stand in: two of my least favorite things about the car rental process.
Returning Our Vehicle to Silvercar by Audi
At the end of our trip,  it was time to return our car to the Silvercar by Audi rental car lot. I had indicated on our original reservation that we would be dropping the car off at 11:30 a.m. The night before, I received a text message from Silvercar confirming our drop off time.
I also inquired about gas as we had used the majority of the full tank of gas we received on pickup. As is indicated in the text message above, you can bring it back empty but they will charge you a service fee of $9.95 on top of the price of gas at the pump. Luckily, there was a gas station right next to the Silvercar lot, so I filled the tank up myself before returning the vehicle and saved $10.
After getting back to the lot, the Silvercar attendant actually just got into our vehicle and told us to drive to the airport. Upon arrival, we got out of the car, gave him the keys, and he emailed my receipt. Again, the whole drop off process was easy, efficient, and impressive.
My Final Thoughts on Silvercar
Could I have rented a car for less than $73 a day? Absolutely. However, there is something to be said for driving a brand new Audi A4 with navigation, satellite radio, and a WiFi hotspot at no extra cost. We drove through plenty of rural areas on our trip so the satellite radio was very nice to have.
While we didn't travel with our daughter on this trip, not having to pay extra for a car seat through Silvercar by Audi is a great perk that I will definitely take advantage of in the future. Many rental companies charge up to $30 extra each day if you want to rent a car seat, which can add up quickly.
At the end of the day, I am also willing to pay for convenience and Silvercar by Audi is about as convenient as it gets. Or at least it was in Charlotte. There were no lines, paperwork or anything holding us up from getting our car or returning it quickly at the end of our trip.
Also, if you hold the Chase Sapphire Reserve credit card, you will get up to 30% off of your Silvercar rental of two days or more. Simply log into your Chase account and you will be redirected to Silvercar. You will need to enter in your Chase credit card number and it will generate a promo code you can use at checkout.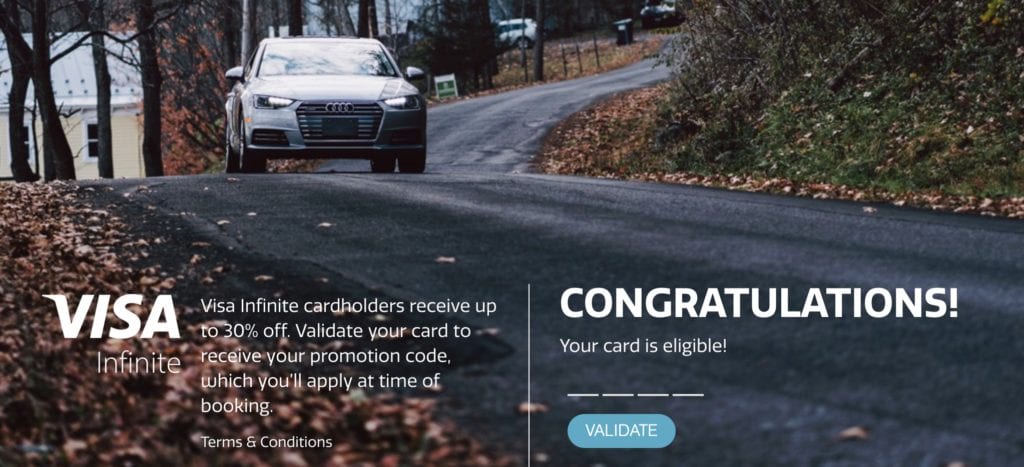 Bottom Line
Make sure and check the list of cities where Silvercar is available before your next domestic trip in which you need to rent a car. I found the process to be quick and easy and the price to be very reasonable.
If you are new to Silvercar by Audi, Sign-up for the service here and enter promo code XTHPAORG in the referral code section of your account. We will both earn $25 after you complete your first rental.
Lead photo credit of Silvercar by Audi