Travel is coming back – and bigger than ever! And there's no question that gadgets, accessories and other travel must-haves will be at the top of holiday wishlists this year.
Stressing over what to buy your jet-setting friends or globetrotting family members this holiday season? Don't worry, we got you.
Behold, our annual Holiday Gift Guide. We've rounded up our favorite travel gear, technology, and wanderlust-worthy gifts for travelers that will improve anyone's adventures. Gift the gift of better travel at any price point with these favorites, spanning from under $10 to $350.
We've tried almost every single product below – and in many cases, we use them on each trip we take. We've divvied up our master shopping list into these categories:
Keep in mind that prices and availability may change slightly over time! All deals and prices were current as of publication.
Give the Gift of Travel: Cheap Flight Alerts
We saved the best for first.
Sure, you could give your favorite travel companion some luggage or travel gear this year. But why not give the travelers in your life the gift of cheap travels next year with Thrifty Traveler Premium, our flight deal alert service? We'll send them alerts for the cheapest domestic and international fares for 2023 and beyond straight to their inbox – with up to $250 or much more off normal prices on each and every flight! It's the best way to travel more for even less.
With our Thrifty Traveler Gift Cards, you can gift your favorite traveler a year of cheap flight alerts … or get a discount by gifting them two years! Give your favorite traveler the gift of cheaper flights and more travel next year – even if that favorite traveler is yourself!
You've got two options:
Give them the best with Thrifty Traveler Premium+, our top-of-the-line service with all our cheapest deals, discounted business and first class tickets, and award alerts to use points and miles, too!
Only want cheap economy domestic and international fares? Go for a standard Thrifty Traveler Premium gift card.
Luggage, Bags, and Gear for the Frequent Flyer
Away Carry-On Luggage
Nearly every member of the Thrifty Traveler team is a proud owner of an Away carry-on bag. Away luggage is sleek, durable and functional. It comes with a built-in battery to keep your phone and other devices charged. These carry-ons have an unbreakable polycarbonate shell, a TSA-approved combination lock, and a hidden laundry bag.
Pick from the Carry-On, the Bigger Carry-On, the Expandable Bigger Carry-On, and more. Select from several classic and sleek limited edition colors. Away allows you to test the piece for up to 100 days with a money-back guarantee. And best of all, the bags have a lifetime warranty. If you're looking for a big-ticket item for a loved one this year, make it an Away bag!
Buy one from Away from $295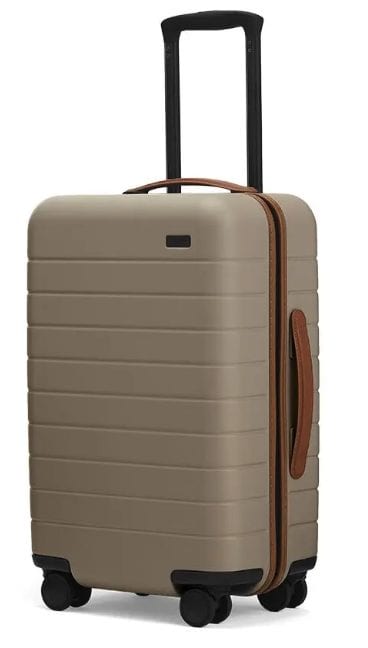 Calpak Ambeur Carry-On Luggage
Calpak may not have the same explosive brand power as Away, but their luggage is just as stylish and sturdy. The internal organizing system is perfect for any trip, the wheels glide like butter, and the four aluminum corners on the suitcase make it look far more pricey than its actual cost. The Ambeur carry-on comes in four colors: Rose Gold, Gold, Silver, and Black.
Buy it from Calpak for $195

Delsey Aero 25" Expandable Rolling Luggage
We encourage all travelers to fly with just a carry-on bag, but sometimes you just need some checked luggage. The Aero 25" Expandable Roller is made from 100% polycarbonate which makes it lightweight yet durable. Within the suitcase, there are two full packing compartments with a handy divider to avoid your items moving around. There are also tie-down straps and a smaller pocket for safe storage of your accessories.
This is the only checked bag my wife and I ever use, and it's held up great through a few transatlantic trips.
Buy it on Amazon from $199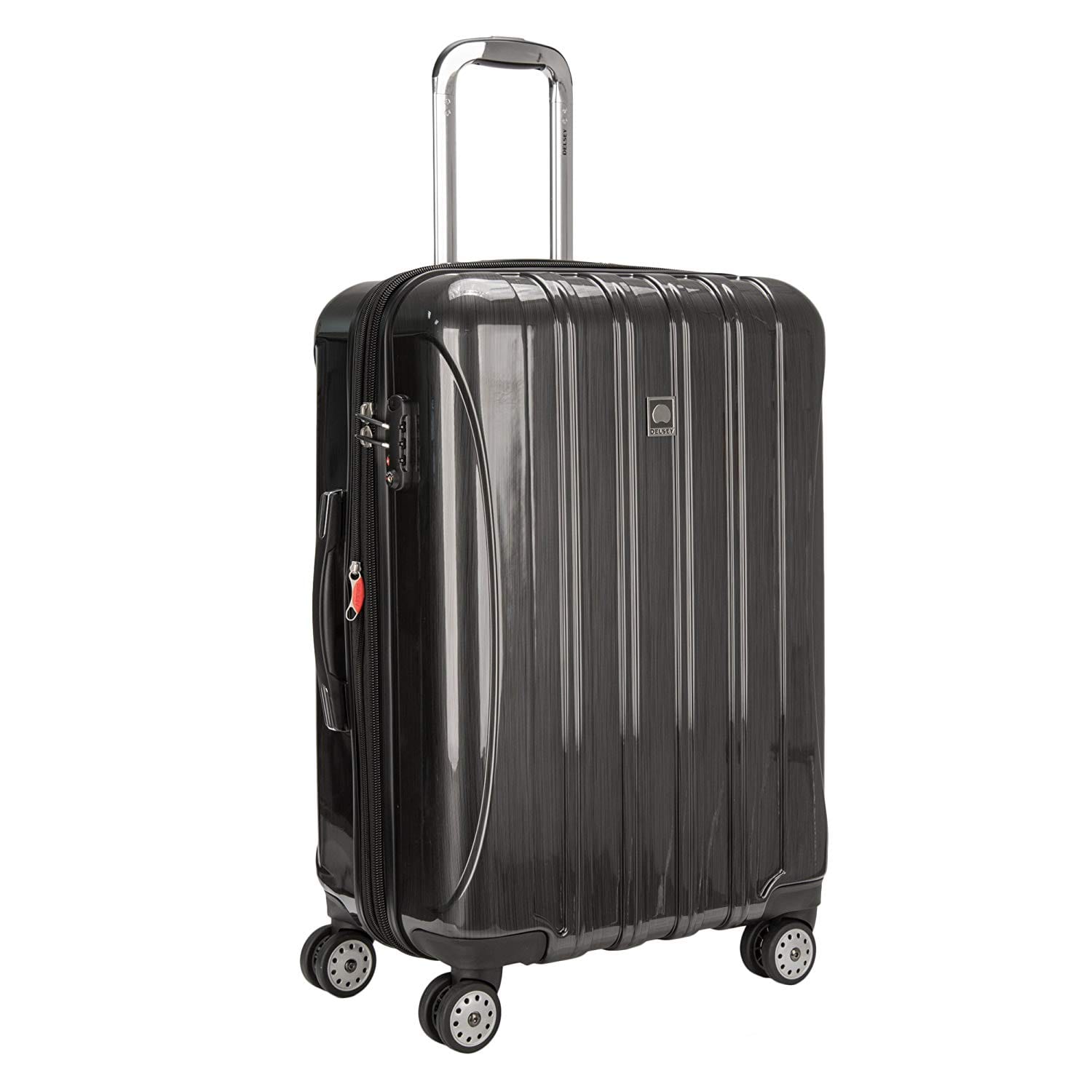 eBags Mother Lode Weekender Convertible Backpack
Looking for a backpack that can fit a week's worth of travel necessities, but doesn't look it? This backpack can do it all: pack a ton while carrying with ease (and can even sneak through as a personal item!) Enter promo code GIFT at checkout to 
 If you prefer to travel with a backpack and don't need a three-month backpacking behemoth, this is a perfect fit. For a smaller version, get the Mother Lode Junior.
Buy it on eBags for $83.99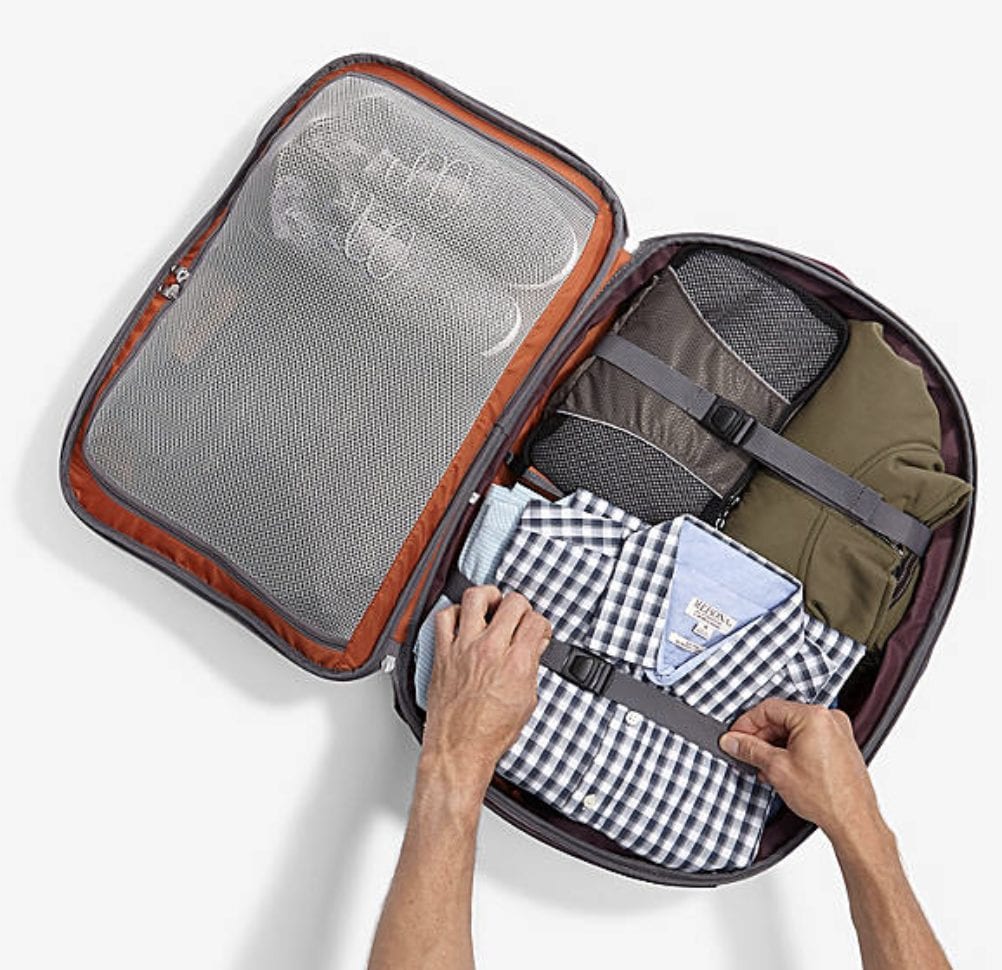 eBags Professional Slim Laptop Backpack
This bag is officially Thrifty Traveler approved! Most members of our team use it for work and travel.
It's got a dedicated sleeve for a laptop, another spot for a tablet, and room for whatever clothes or accessories you need. A zip-up front flap is perfect for your passport, paperwork, pen, and anything you can imagine. We've even used it as a weekend bag in a pinch. All this in a compact bag that can fit underneath the plane seat in front of you.
Enter promo code GIFT at checkout to reduce the price to $69.99!
Buy it on eBags for $69.99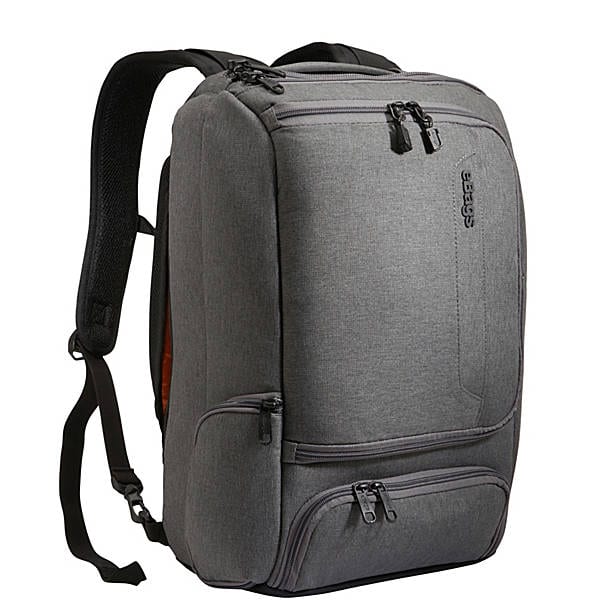 eBags Classic Packing Cubes
Once you use packing cubes, you never go back. This set of six packing cubes from eBags are the perfect way for travelers to stay organized without adding bulk or weight.
Enter promo code GIFT at checkout to save 30%!
Buy them on eBags from $34.99. 

Away Packable Backpack
Our co-founder Nick swears by this bag. Sure, you've got your luggage and a personal item, but a daypack will come in handy for hiking, day trips, and exploring.
This chic-looking daypack can fit everything you need for a day trip, but easily folds into a small pouch for when you don't need it. It's available in four colors: Black, Navy Blue, Pacific Blue, and Teal.
Buy it on Away for $56

4monster Packable Daypack
This packable bag from 4monster is another perfect way to bring the necessities without weighing you down at a much cheaper pricepoint.
This 4monster Packable DayPack is made of some magical, stretchy and water-resistant fabric that is up for any job. But the best part is that it folds into itself, stuffing into a tiny, fist-sized pouch. That means you or your favorite traveler can throw it into your luggage and break it out only when you need it. It's available in two sizes and many colors.
Buy it on Amazon from $16.99

BagSmart Electronics Cable Organizer
Nothing clutters up luggage quite like a tangled mess of cords. This bag is the perfect stocking stuffer and helps travelers keep their electronic chargers and cords organized. It comes in five colors and can hold just about any cord, battery or electronic accessory you can think of. 
Buy it on Amazon for $18.99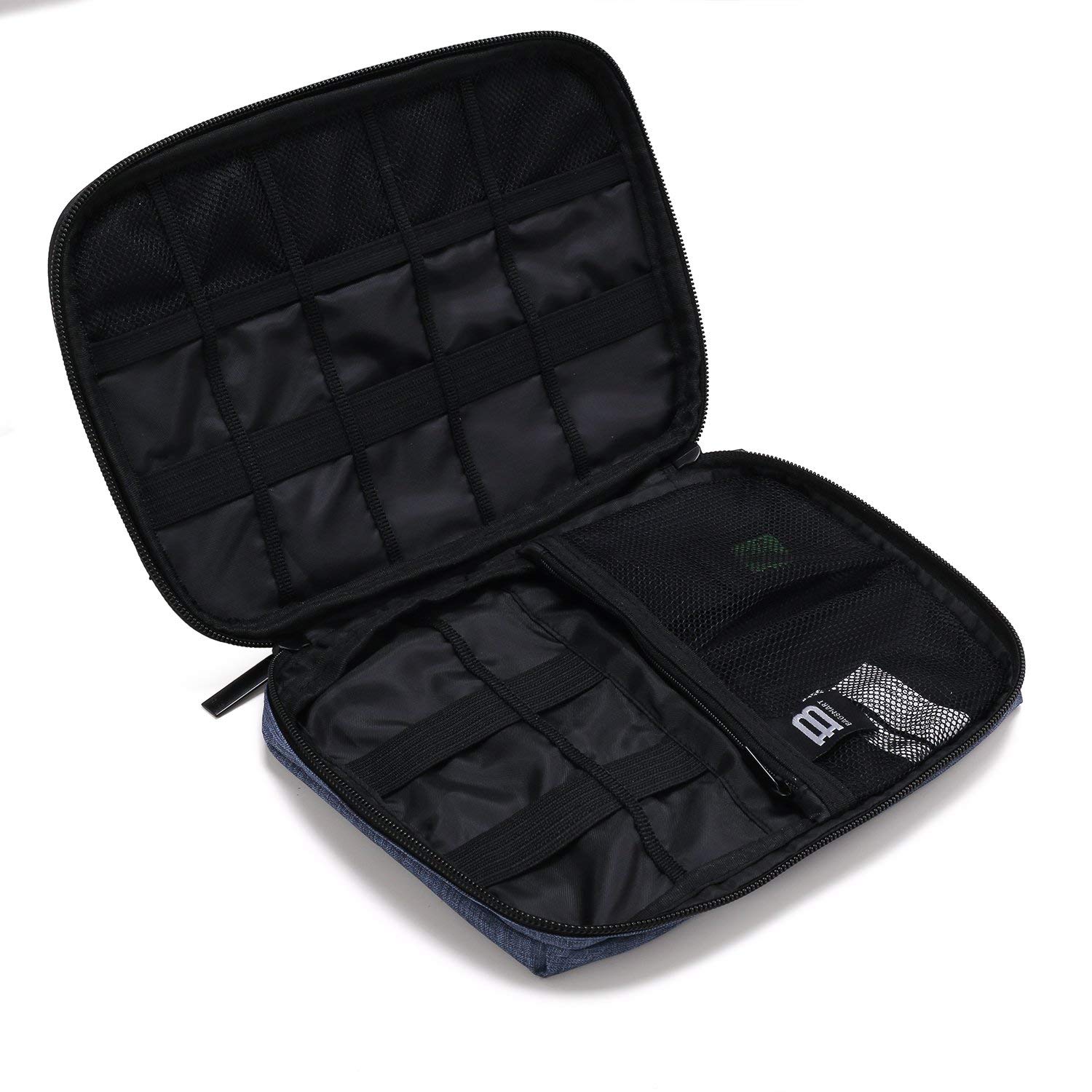 Electronics and Gadgets for Techy Travelers
Anker PowerCore Ultra Slim Portable Charger
Talk to any frequent traveler, and odds are they have an Anker portable charger – or need one. Anker portable chargers are a lifesaver and a mainstay in all of our backpacks. This model will provide 2.25 charges for iPhone 12, 1.6 full charges for Galaxy S20, and 1.2 charges for iPad mini 5 before it needs to be recharged.
Be sure to click the 20% off coupon before adding it to your cart to save even more!
Buy it on Amazon for $17.59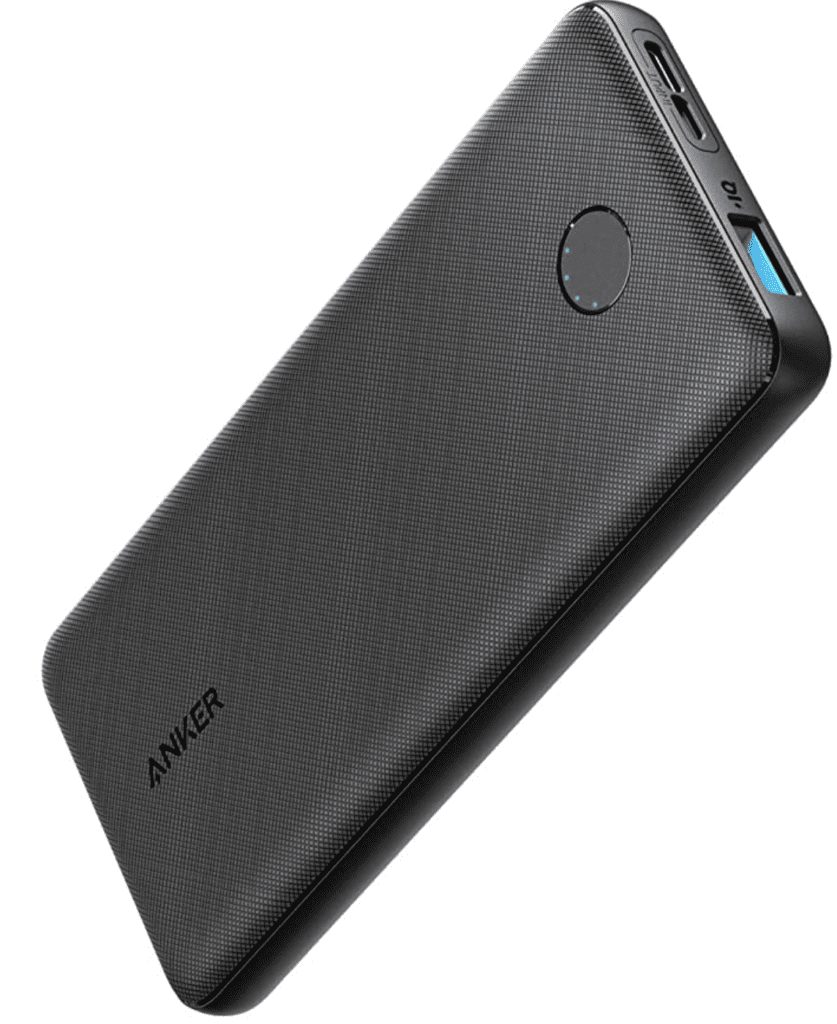 Anker USB-C Charger
Want to charge your phone or tablet freaky fast? Our team swears by these Anker USB-C Charger plugs, which live up to the hype: They can get you to a 50% charge in under a half-hour – three times faster than your typical charger. Just keep in mind you'll need your own USB-C cord.
Be sure to click the coupon before adding it to your cart to get another 25% off!
Buy it on Amazon for $12.75

Kindle Paperwhite
Even book lovers have to admit it's not always practical to schlep around books in your suitcase. The Kindle is the perfect solution. And the Paperwhite is the best, as the adjustable backlight allows you to read in any condition. This version is waterproof and comes with at least 8GB of storage. 
Buy it on Amazon for $139.99

Apple AirPods Pro
AirPods will definitely be one of the big items under the tree this year, and it's likely the traveler in your life wants some… bad.
These second-generation AirPod Pros for just $199.99 feature newer noise-canceling to make tuning out during travels a breeze. A few TT team members have these and swear by them!
Buy them on Amazon from $199.99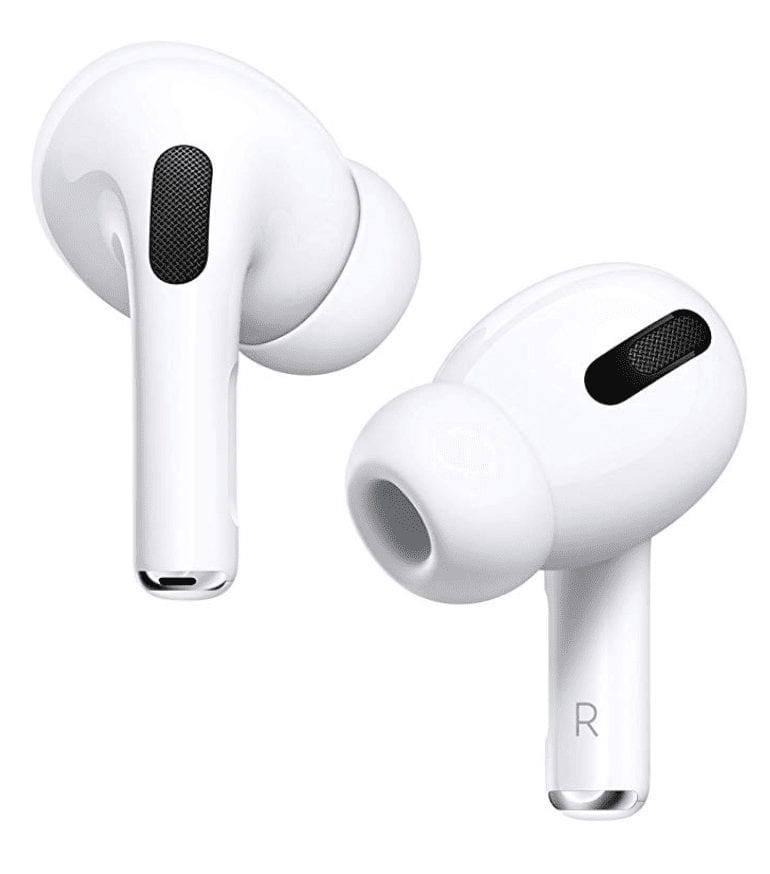 Bose QC45 Wireless Noise-Cancelling Headphones
There's simply no better travel accessory than a good pair of noise-canceling headphones. And for over-ear headphones, nobody does it better than Bose. These are perfect to shut out the world – and drown out engine noise – during a long-haul flight. At nearly $250, they're not cheap – but that's down from the normal price of $329. And what a gift this would be for the favorite traveler in your life. 
Buy them on Amazon for $249.00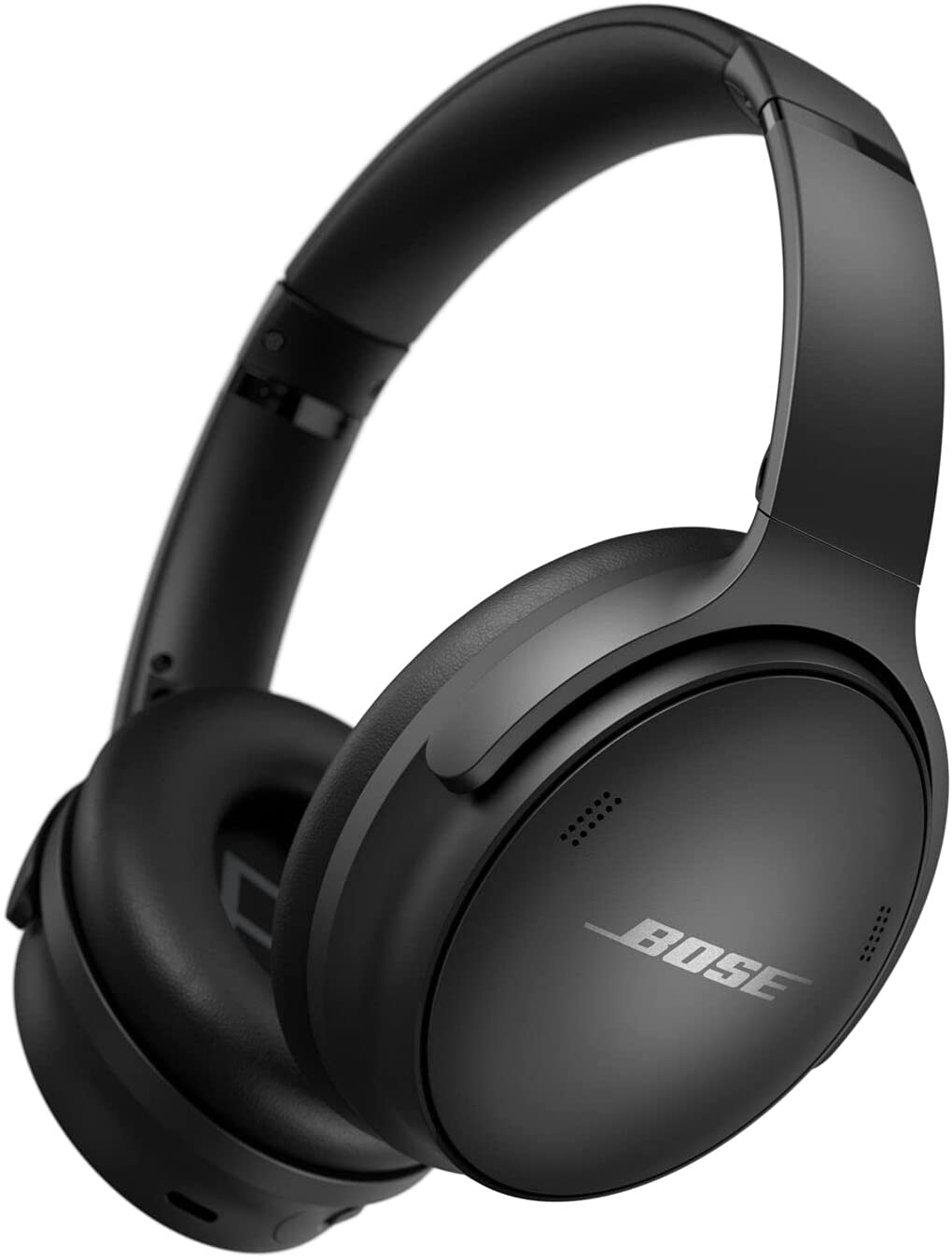 Bluetooth Transmitter for Wireless Headphones
Want to use those new Bluetooth headphones on the plane? Here's the solution. Twelve South's AirFly Pro will allow you to connect up to two Bluetooth headphones to the seatback entertainment.
Buy it on Amazon from $54.99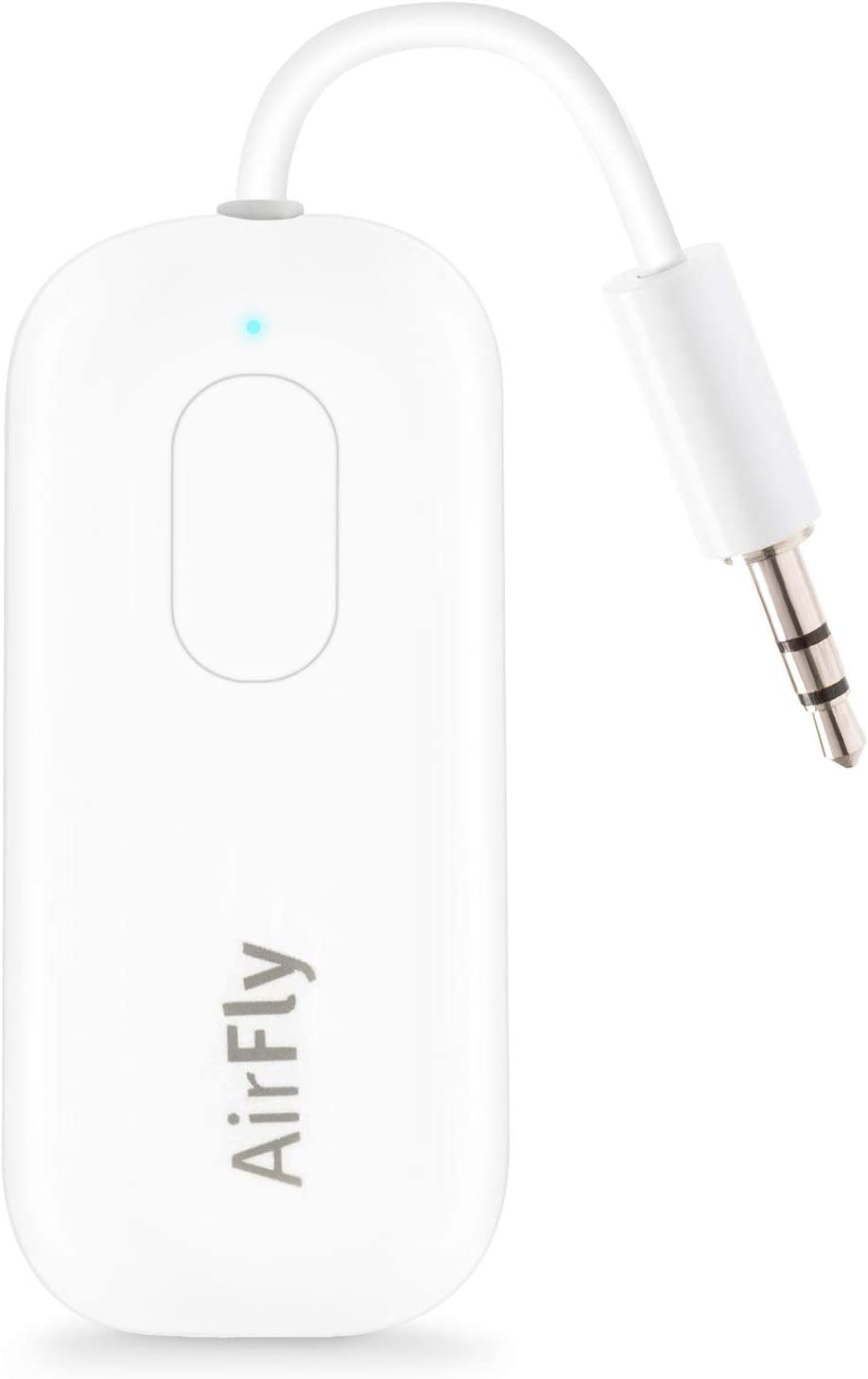 Bose Soundlink Micro Bluetooth Speaker
This great little Bluetooth speaker is perfect for travel. It is fully waterproof with a rugged exterior that resists dents, cracks, and scratches. That makes it the perfect speaker to throw in your bag for a day at the beach or at the pool. Oh yeah, and it sounds great, too!
Buy it on Amazon for $99.00

EPICKA Universal Power Travel Adapter
Long gone are the days when you needed a four-piece system to stay plugged in across the globe. There are plenty of single-unit options that allow you to charge your devices no matter where you rest your head. Our favorite is the EPICKA Universal Power Travel adapter, a compact cube that offers not just a power port, but four USB ports as well – plus even a fast-charging USB-C slot.
Unless if you're traveling with heavy-duty electronics, this can be the one-and-done solution for staying powered up on international travels. It's the one I have in my bag at all times.
Buy it on Amazon from $21.99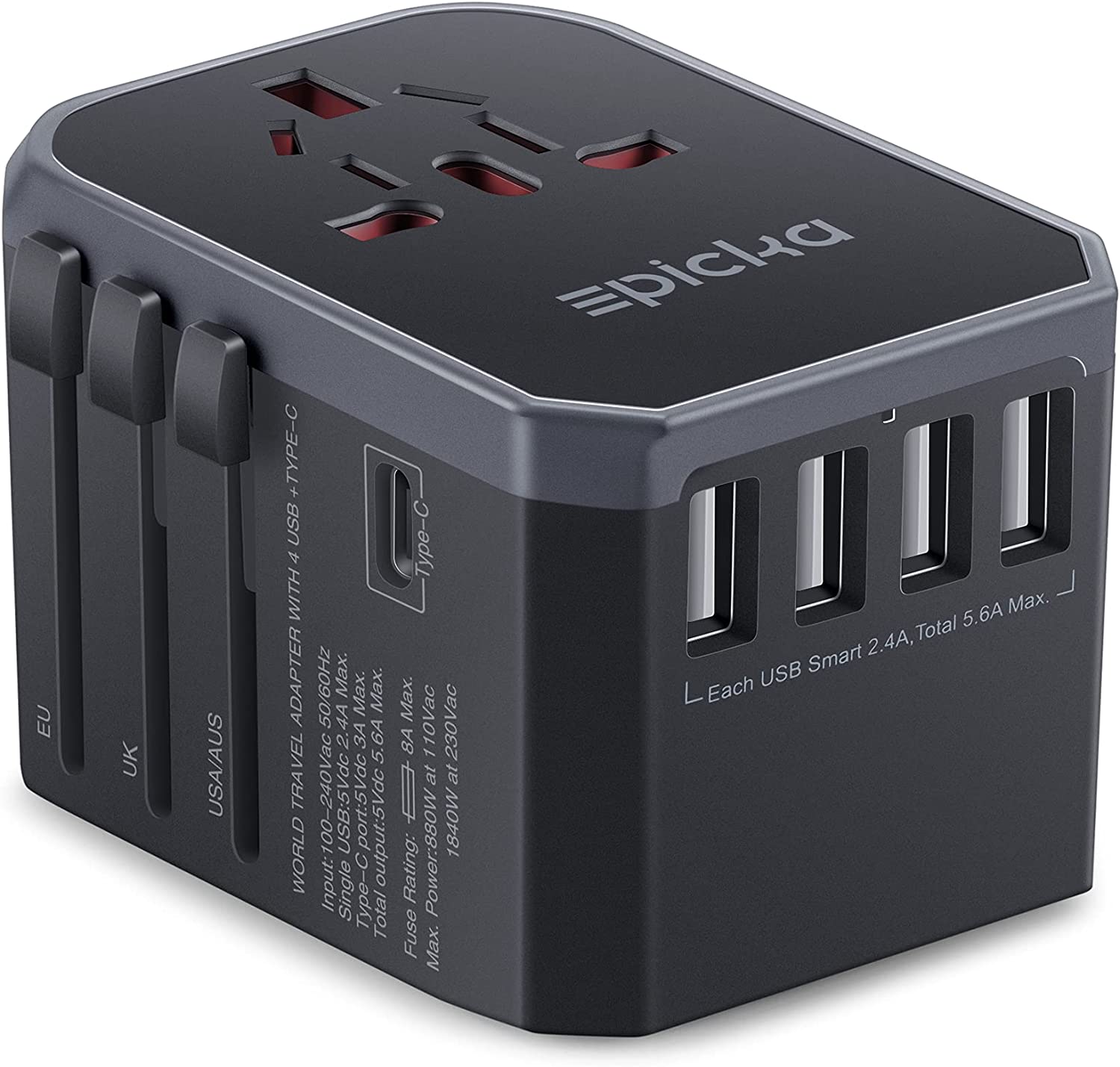 Family Travel Essentials
Pockit Lightweight Stroller
Preparing someone for the wild world of family travel?
What better way to show the new parents in your life that their days of travel don't need to be over than giving them this ultra-compact stroller? Thrifty Traveler co-founder and girl-dad Nick Serati uses this one and swears by it.
Buy it on Amazon for $199.99

J.L. Childress Ultimate Backpack Padded Car Seat Travel Bag
Here's another favorite for the traveling parents out there. It's no breeze bringing a car seat with on your travels, but this bag makes it easier. When it comes time to haul the seat around or check it, this bag is a lifesaver.
Buy it on Amazon for $49.99

Apple iPad
You can never count on having movies to watch on your flight. As more and more airlines are pulling seatback entertainment out of their planes, it pays to bring your own device.
Snag an iPad for $399 for a 64GB model. That should be plenty to save a few shows or movies on Netflix to watch during your next trip. Traveling with kids? Get them an easy-to-carry case (pictured) and provide hours of entertainment on travel days.
Buy it on Amazon starting at $399.99

Must-Haves for the Adventurer
Wacaco Nanopresso Portable Espresso Maker
Okay, this is a fun one! Get the most packable little espresso maker for that loved one on the go.
This is perfect for campers and off-the-grid travelers who love their morning routine. No battery or plug-in needed: this bad boy is manually operated! Yes, you can expect a hot shot with a crema top from it. This hot new item is sure to wow your gift recipient!
Get it on Amazon for $69.90

Xenvo SquidGrip Flexible Tripod
You don't need to be a professional to put this gadget to use! Use this tripod to mount any iPhone, Android, Samsung, Pixel, Huawei phone or GoPro for the best shot.
Mold these strange-looking but oddly-effective textured gripping legs into any formation you need: stand them straight, bend them into octopus tentacles, wrap them around a chair or a tree. There are no limits to the angles you can get! This is the perfect gift for the unofficial travel photographer in your group.
Buy it on Amazon for $39.99
Solid Shampoo Bars
Now this is something campers, backpackers, and everyday travelers can all put to use. With solid shampoo, they'll never have to worry about their carry-on liquids again! These bars of solid shampoo avoid plastic packaging and last a sneaky long time.
This comes as a 4-pack of 100% organic shampoo bars with different essential oil scents and biodegradable packaging. These make for great stocking stuffers!
Get them on Amazon for $24.97
Our Favorite Trip Accessories
TRTL Travel Pillow
This goofy travel pillow might look more like a turtleneck or neck brace, but it's truly a godsend. There's no better way to help someone survive a long flight in economy than this travel pillow, which the Thrifty Traveler team swears by. In our minds, no other travel pillow comes even close.
Buy it on Amazon for $49.99

Huzi Infinity Travel Pillow
Not everyone can get behind the Trtl trend. Another go-to travel pillow is actually this infinity pillow. It's made of bamboo fabric that somehow stays cool and fresh even when it's a bit too warm on the plane. You can fanagle this loop pillow into so many configurations: figure eight for your arms, double up for a supportive neck pillow, around the ears to cancel out noise, and more. Unlike most other travel pillows, you can support your arms with it. Oh, and it's machine washable!
Some travelers I know are hooked on this pillow. Trust me: It won't disappoint!
Buy it on Amazon for $44.99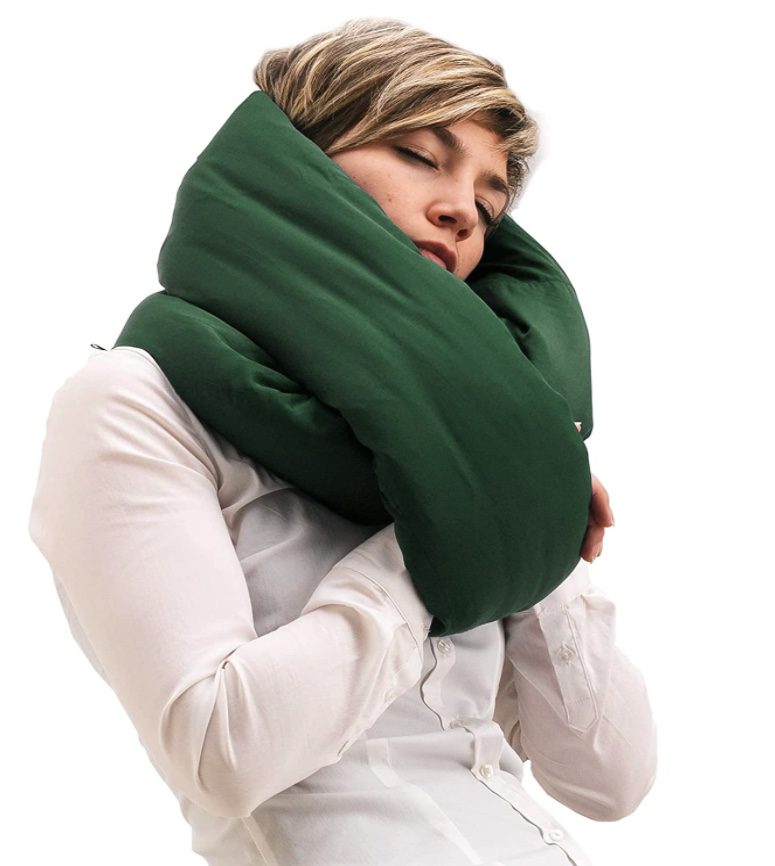 Portable Travel Footrest
We haven't tried this ourselves, but some people swear by it! This packable foot rest could be the gag gift they actually use. Attach the adjustable straps to the back of a plane, bus or train seat and you've got a built-in footrest. This contraption is memory foam lined for peak comfort.
And while it may look a little funny, this could be a life-saver for those long-haul international flights in economy.
Buy it on Amazon for $22.99

Collapsible Travel Water Bottle
Just because you can't get water through airport security doesn't mean your reusable water bottle should stay at home. This versatile travel water bottle scrunches up into a fraction of the size. Help the traveler in your life save on space and stay hydrated without purchasing single-use plastic bottles. This 20-ounce silicone bottle come is several different colors.
Be sure to click the coupon before adding it to your cart to save $3!
Buy it on Amazon for $9.98

GoToob Reusable 3.4-oz Bottles
Never have a bottle of shampoo or body wash leak in a bag again. I've got these and will never go back to those cheap 99-cent ones. Rather than hard plastic that cracks, these rubbery silicon toiletry tubes will withstand whatever you throw at them. Plus, these 3oz bottles are well under the TSA carry-on requirements, so you'll be set.
Buy a set on Amazon from $18.80

Travel Pill Case
Whether you've got prescriptions to bring on the road or just want to be prepared with a mini-emergency kit of painkillers and antacid, you shouldn't be bringing full medicine bottles on your trip. These travel cases are perfect because they're compact yet have 10 separate compartments to store your pills.
Buy it on Amazon for $6.69

WiseOwl Travel Towel
Packing a full-size towel is a traveling sin. Your favorite traveler needs a compact microfiber towel instead.
The WiseOwl Travel towel folds up into a hand-size pouch but will dry you off like the plushest hotel towel you've ever used. Plus, these travel towels dry fast, too. It's the perfect solution for travel when you can't count on having a towel readily available, like camping and impromptu trips to the beach. The WiseOwl Travel towels come in several packages: Large (think bath towel size) and Extra Large (beach towel size), plus each one comes with a washcloth.
Buy it on Amazon starting at $10.95

Mack's Ultra Soft Earplugs
A good pair of earplugs is a must for any long-haul flight. Planes are loud, neighbors can be louder. We've found none better than the Mack's Ultra Soft Foam Earplugs, which are insanely comfortable while remaining effective at cutting out excess noise. A container of 50 will last any traveler a while. I always bring a few pairs for my flights and hotel or Airbnb stays – you never know when you'll need them!
Buy them on Amazon for $8.99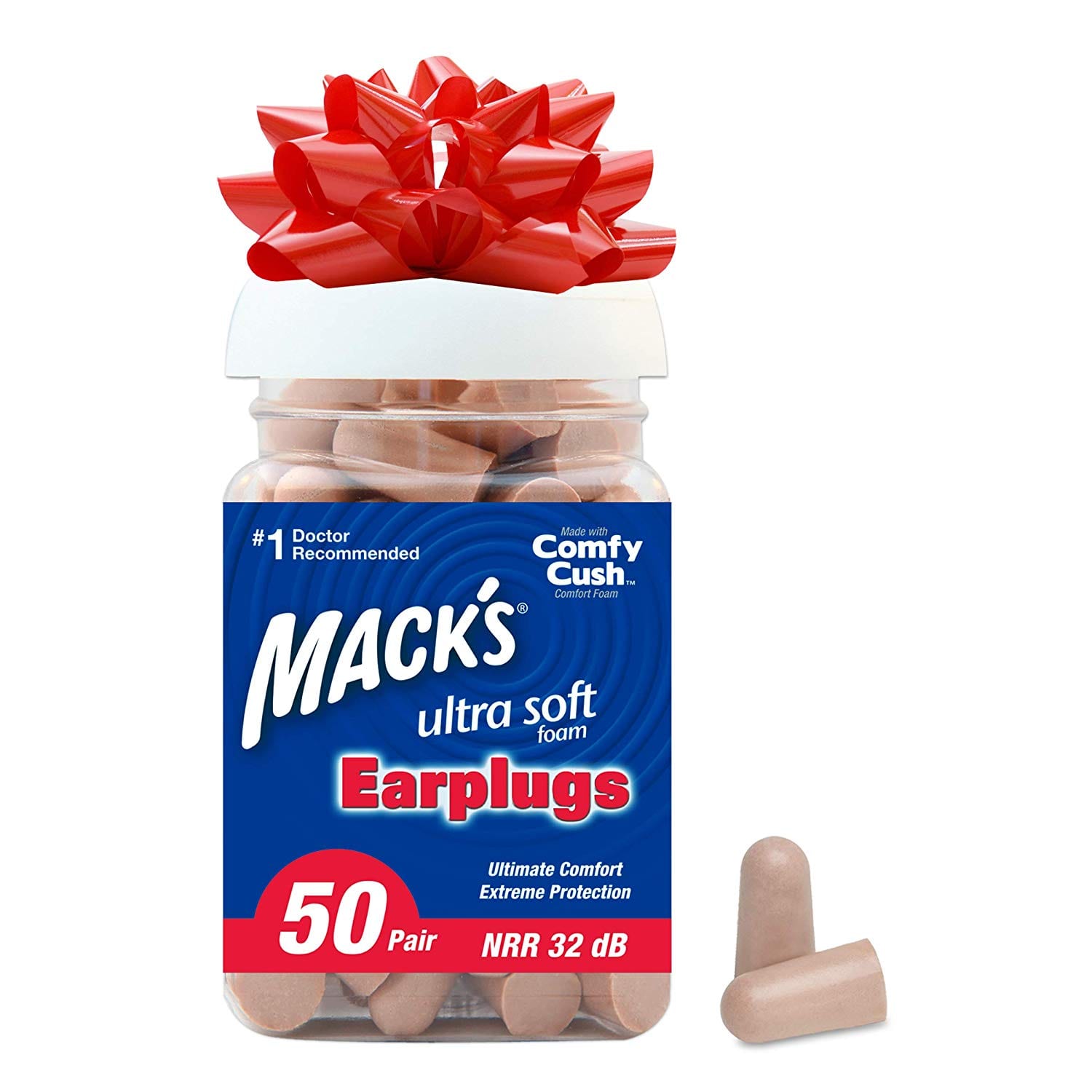 JOTO Waterproof Underwater Phone Case
Your travel buddy will thank you for saving him or her from having to buy a new cell phone. This pouch from JOTO comes in several colors and seals watertight. You can even take underwater photos and videos with this case: it's that good. Perfect for the clumsy friend in your life with some wanderlust and a beach, pool, or boat in their future.
Buy it on Amazon starting at $6.74

Memberships & Experiences
TSA PreCheck or Global Entry
Tired of waiting for your travel buddy on the other side of security? Or just want to improve the airport experience for a loved one?
There's truly no better gift than speeding through airport security. And while there's no "formal" way to gift this, you could offer to pay for a loved one's TSA PreCheck for $78 or Global Entry for $100 (which includes PreCheck). Or better yet, use one of your travel rewards credit card perks for it and don't pay a dime! Here's how to use your credit on someone else.
This gift keeps on giving for years! Once you've got PreCheck or Global Entry, it's good for five years.
CLEAR
Have a frequent traveler that's already got Global Entry or PreCheck, and want to make their airport time even smoother? Get them a year of CLEAR to speed through airport security!
It's much more spendy at $189 a year and isn't available in as many airports, but can be a huge time-saver when paired with PreCheck. Plus, there's an easy way to drop that cost to just $119: Anyone with a United MileagePlus or Delta SkyMiles account can get that price!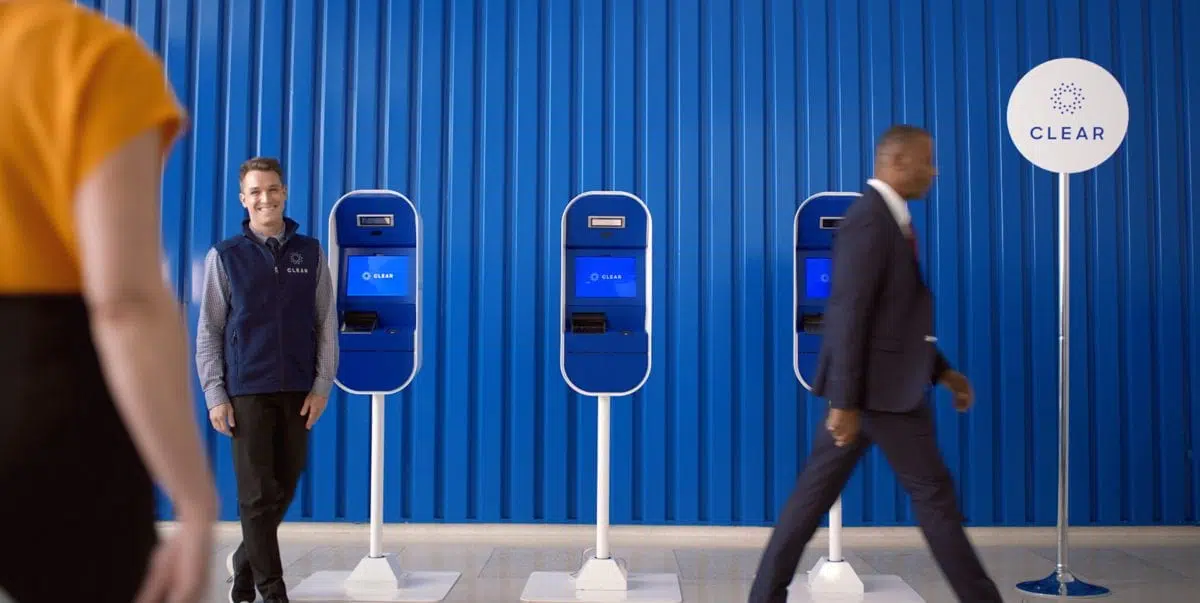 Read our full review of CLEAR!
Airline & Airbnb Gift Cards
If you know someone in your life is planning a big trip in the coming year, there's no better gift than to contribute to those travel costs. If you know what airline they plan to – or always – fly, an airline gift card can be a welcome surprise for the holidays. Or, send them an Airbnb gift card for a trip or staycation!
Not only are gift cards easy and always in stock (no shipping delays here!), but they can help you meet a minimum spend requirement on a new travel credit card, too.
Airbnb Experience
If you have a trip coming up with a partner, family or friends, why not surprise them with a fun excursion? Airbnb Experiences are a great way to book a day trip, tour, and pretty much any activity you can imagine in your destination. They've got everything from walking tours to tea tastings to cliff jumping.
Apart for the holidays this year? Come together for a cooking class, magic show, or cocktail making class on Airbnb Online Experiences. It's a great way to learn something new, support hosts worldwide, and get together even if you're physically apart.
Memorabilia for Your Travel Buddy
Personalized Adventure Map Print
How stunning is this?! There's no better way to memorialize an epic trip (and remember it) than a thoughtful, personalized map print like this. Pick 3-8 maps to include, and your "mountains" will be on display as a memory of that adventure! Perfect for your favorite travel buddy.
Buy it on Etsy from $45.00

500-Piece National Parks Jigsaw Puzzle
If you're spending this winter dreaming of travel – rather than actually doing it – do some day-dreaming in puzzle form. Some of the best U.S. national parks are highlighted in this stunner. This is the perfect present for the jigsaw junkie in your family that misses travel (it's on our list!). 
Buy it on Amazon for $18.95

Carry-On Cocktail Kits
Some people just need a stiff drink at 35,000 feet. These cocktail kits help travelers make it a good one. From a simple Gin and Tonic to an Old Fashioned and even a Bloody Mary, these little kits make the perfect stocking stuffer for travelers.
Buy them on Amazon starting at $17.97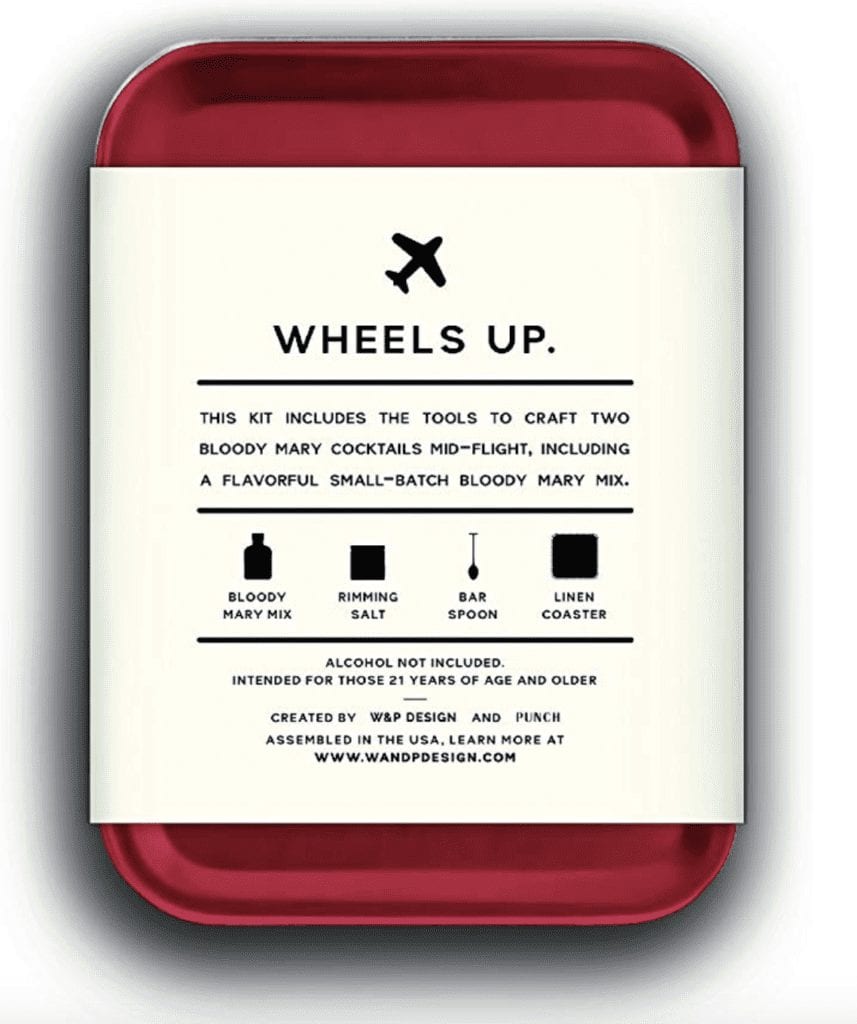 5 Pairs of Sushi Socks
Yes, you read that right: Sushi socks! This pack of sushi is actually five pairs of socks. If your loved one is missing Japan – and sushi trains – this year, this is a must-get.
Buy it on Amazon for $28.99

Anywhere Travel Guide Cards
These travel cards are the cutest way to enhance a fellow traveler's next trip! Pull out a card during your travels and do or ponder what the prompt suggests. Step outside your typical travel ways and make lasting memories with these fun and thought-provoking suggestions.
Buy it on Amazon for $12.95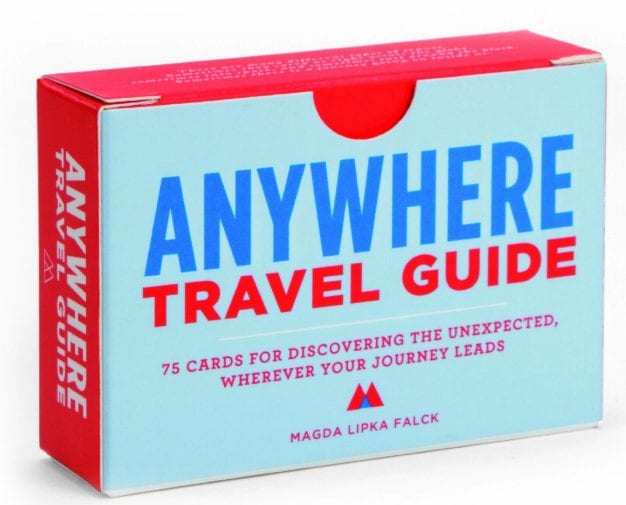 50 States Photo Map Collage
Reminiscing about road trips with loved ones? Have you crossed all 50 states off your bucket list? Fill in the blanks with this layered photo map collage.
Buy on Etsy from $74

City Map Coasters
Celebrate your favorite city with these impeccably designed coasters. Each set of coasters is made of Sapele wood. Pick from hundreds of cities around the country and the world. From Montreal to Moscow, there are plenty of cities to choose from!
Buy them on Etsy from $22.90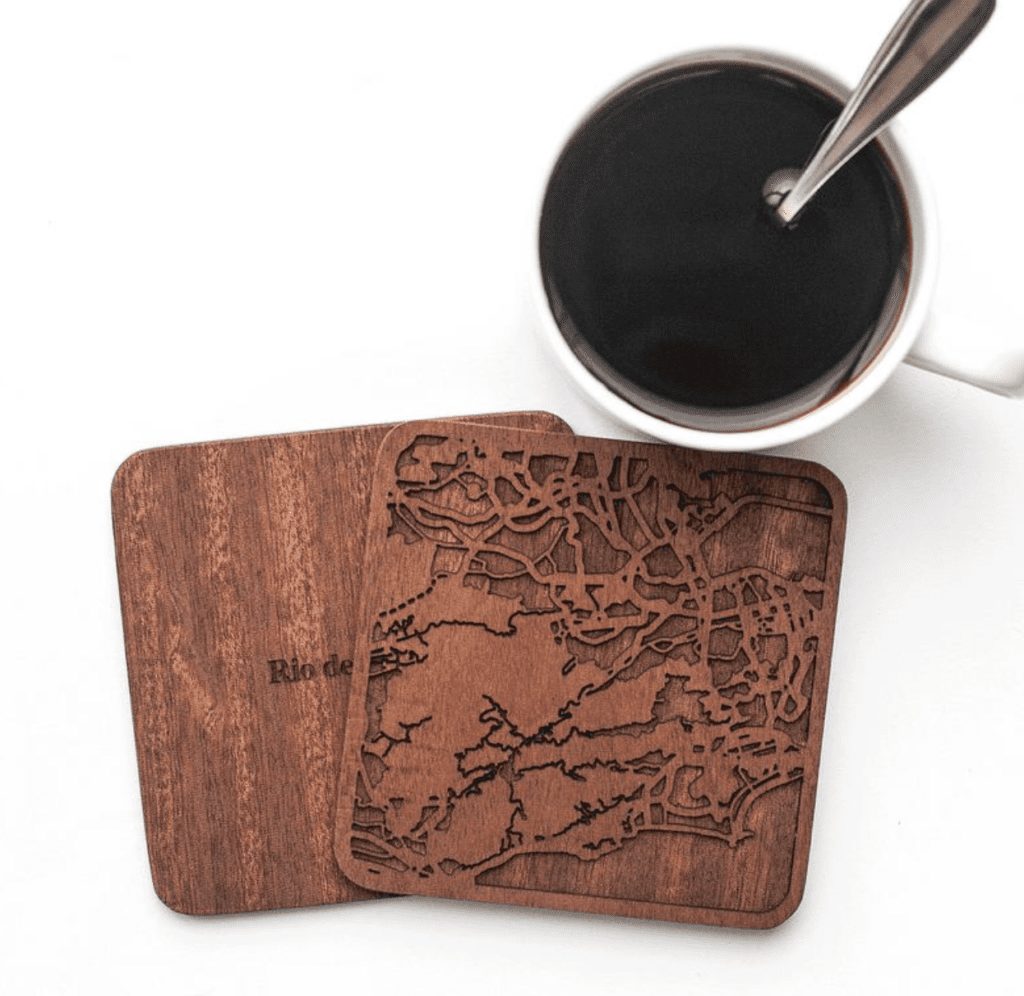 World Bucket List Scratch-Off Print
Which of these have you crossed off your bucket list? This hands-on activity will have the fellow travel-lover in your life "itching" to scratch off the next one in 2023. Make this a couples or family bucket list!
Buy on Etsy from $33.30

Travel Buddy Airplane Necklace
Let's recognize those travel buddies that have been there for us – and with us – on all the adventures. Available in 16K gold, rose gold, or rhodium plated with cubic zirconia. This sweet and simple "Travel Buddy" airplane necklace is the sweetest thing to give to your favorite travel companion.
Buy on Etsy from $36.55

Airport Map Wall Art
There are plenty of airport map manufacturers out there, but these from Etsy are our favorite. Whether it's a home base or a favorite destination, help the traveler in your life commemorate their favorite airport. There are multiple sizes and several dozen airports in the U.S. and abroad to choose from.
Buy them on Etsy starting at $15

Bottom Line
Get the traveler in your life these fun travel essentials for the holidays. What travel gifts are at the top of your wish list this year? We want to know!