Hyatt has been on a tear over the last year adding to its portfolio of excellent all-inclusive resorts throughout Mexico, the Caribbean, and even Europe. One of the latest additions is in familiar territory: The Hyatt Zilara Riviera Maya, located south of Cancún.
Word of this latest Hyatt Zilara, adults-only property first broke last June as Hyatt took over the former Secrets Capri Riviera Cancún, just north of Playa del Carmen. After two years of renovations, it officially opened to guests on Dec. 1, 2022.
I headed there earlier this month, hoping that the resort would be able to work out the kinks that are common with brand-new properties and that this latest Zilara location would live up to the standard they've set throughout Mexico and the Caribbean. It did … until it didn't.
While the property is physically beautiful with tasteful updates, the food and service fell quite a bit short of what I've come to expect after visiting many of Hyatt's other flagship resorts.
Read on for a full review of my recent stay at the Hyatt Zilara Riviera Maya.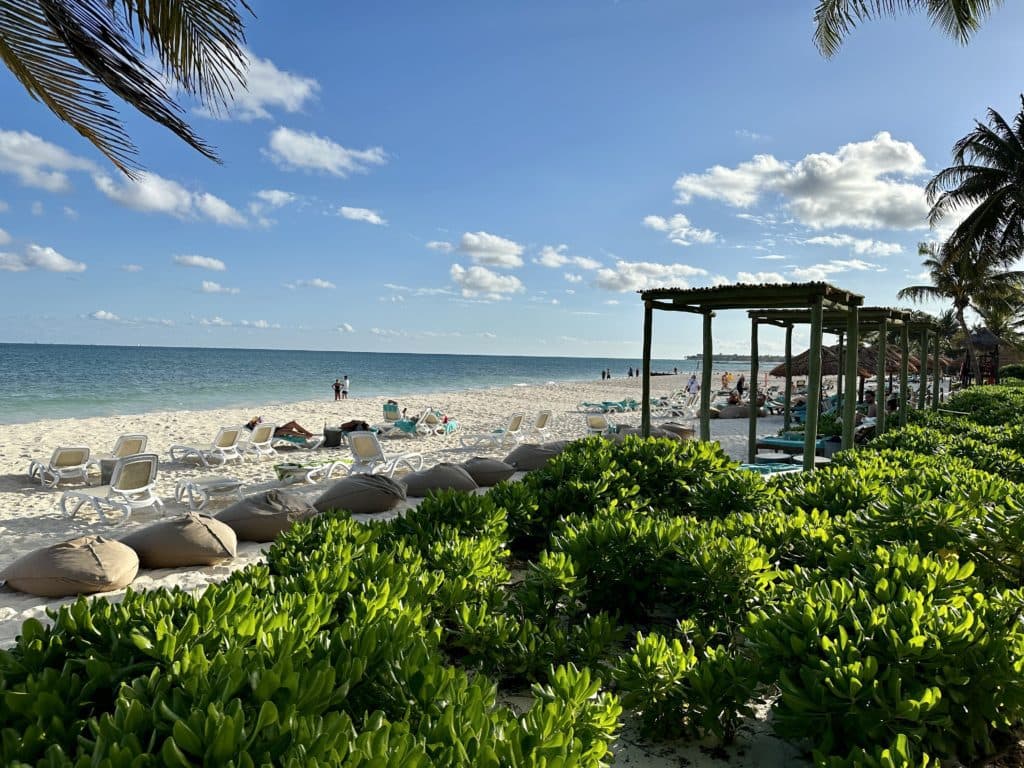 Booking the Hyatt Zilara Riviera Maya
When the new Zilara Riviera Maya was first announced early last year, they tried to make a splash with dirt-cheap rates of $149 per night, per person. But to get that rate you had to book for two people, bringing the total to $299 per night for a stay between Dec. 1 and Jan. 31, 2023.
Considering that rate included lodging, food, drinks, and everything else at the resort, it was a pretty fantastic deal and seemed like a perfect opportunity to book it and take this new property for a spin. Our founder and CEO Jared and I headed down for a three-night stay earlier this month.
That rate is long gone, but one of the best things about Hyatt's all-inclusive resorts is that you can book them with World of Hyatt points. Better yet, the rates are very reasonable.
If you plan to use points, It will generally cost just 25,000 World of Hyatt points each night since the property is a category C all-inclusive resort.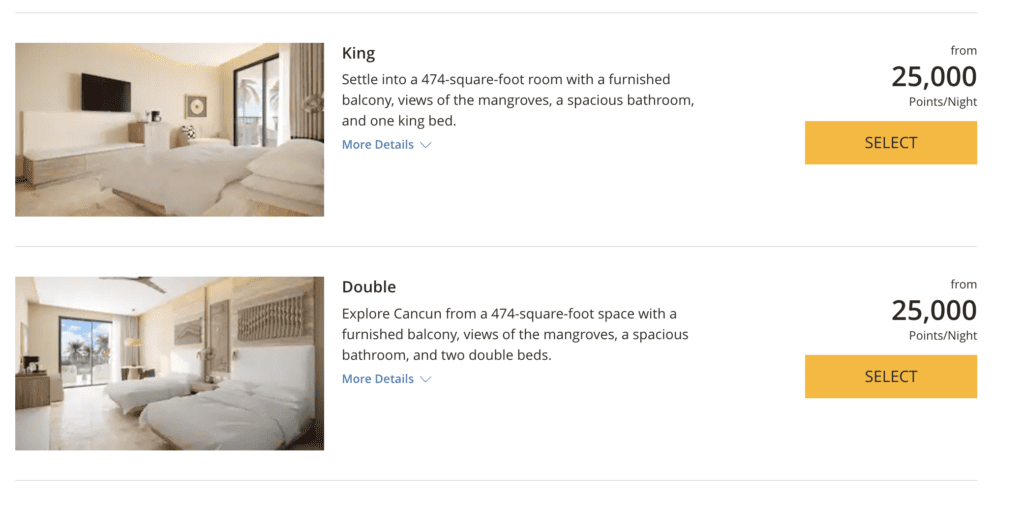 Now that Hyatt has implemented peak and off-peak award pricing for stays, it could cost more (or fewer) points depending on the time of your stay. Expect to pay as much as 29,000 points a night during peak times – or as few as 21,000 points per night during off-peak times.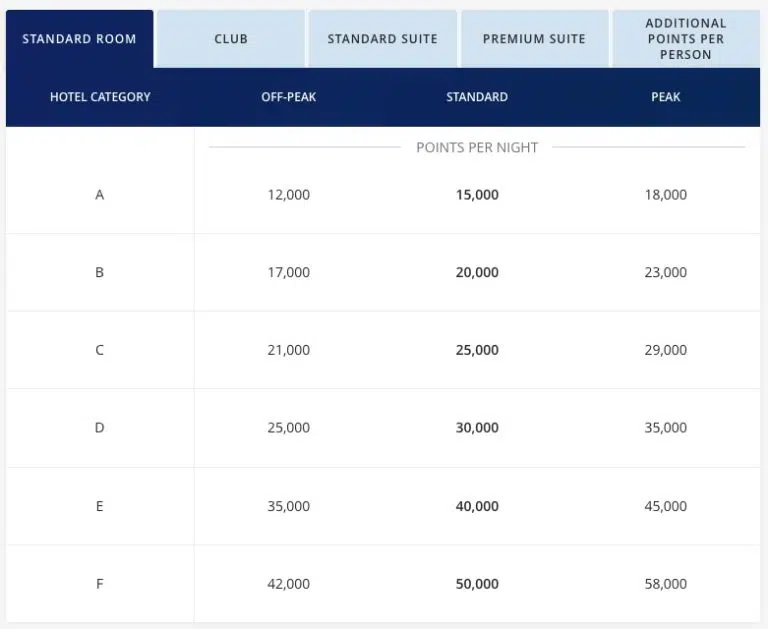 If you're booking with World of Hyatt points, those rates will cover up to two people per room, making it a phenomenal deal compared to the typical cash price of $400 to $600. Adding additional guests to the room (capped at 4) requires more points.
But that rate includes pretty much everything: Your lodging, all your food, drinks, and most of the amenities the resort has to offer. The one hitch is that when you are booking with World of Hyatt points, not all dates will be available – it hinges on award availability.
If you don't have World of Hyatt points in your account already, Hyatt is one of the best Chase transfer partners. A stash of 60,000 Chase Ultimate Rewards points gets you 60,000 Hyatt points: More than enough for two free nights at the property.
Read More: How to Book Hyatt's Incredible All-Inclusive Resorts with Points
If you don't have World of Hyatt points, cash rates appear to be pretty reasonable as well. Depending on the time of your stay, you can expect to pay anywhere from $400 to $600 a night for a stay at the property. Again, this bill includes your room rate, all your food and drinks, and most of the amenities at the property.
As you add more than two people to the room, rates will scale up.
At Thrifty Traveler, we don't accept freebies. We use our own points, miles, or cash to pay for every single flight or hotel you see reviewed here – including this one!
Hyatt Zilara Riviera Maya Location
The Hyatt Zilara Riviera Maya is located about seven miles north of the heart of Playa del Carmen and about 30 miles south of Cancún International Airport (CUN). Expect a roughly 35- to 45-minute drive south from the Cancún airport, depending on traffic.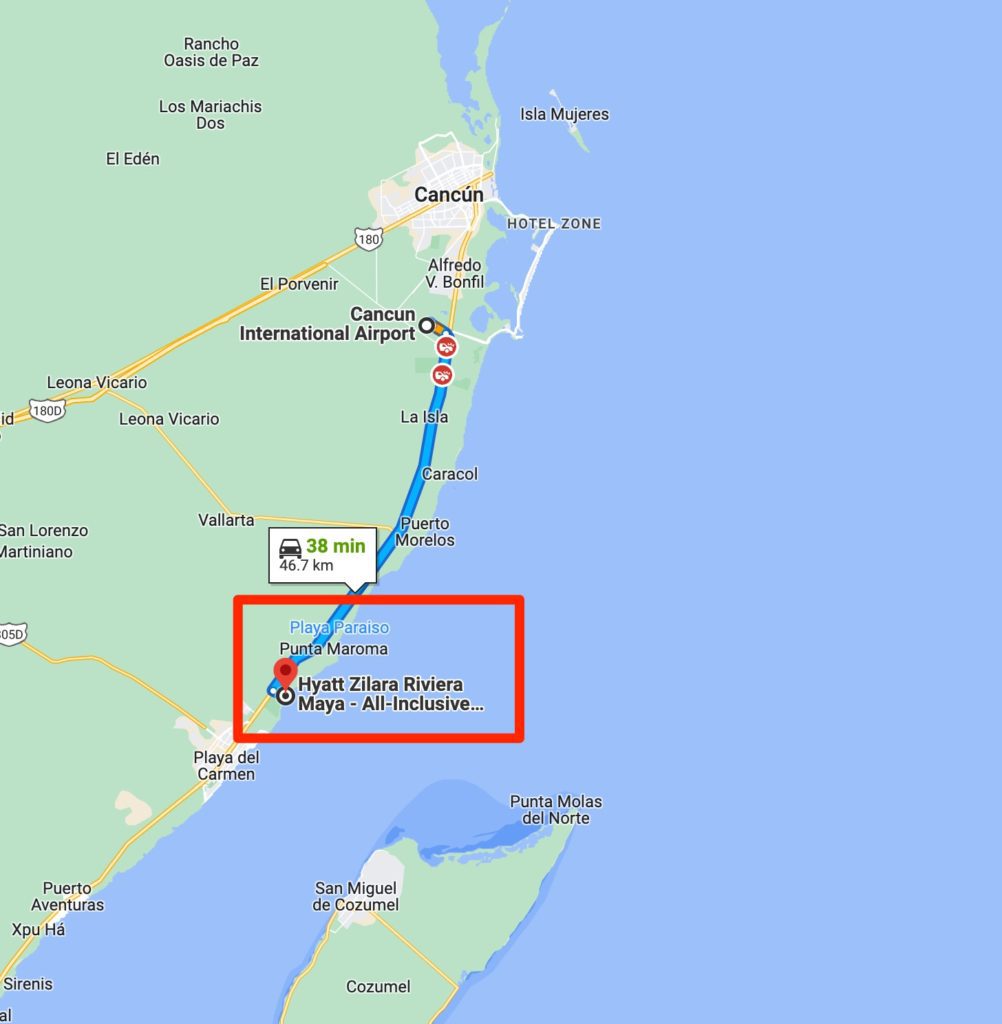 It's an adults-only resort, but don't confuse it with the Hyatt Zilara Cancún located in the Cancún hotel zone. Thanks to its location, it has a much more laid-back vibe.
If you're looking to bring the family along, The Hyatt Ziva Riviera Cancún near Puerto Morelos or the Hyatt Ziva Cancún in the hotel zone should be your choice.
Hyatt Zilara Riviera Maya Airport Transportation
As with most properties in the Cancún area, you won't have too long of a drive from the airport. When it comes to booking your transportation, you'll have a few options via private transfer or even taking a taxi. Both are fairly easy and fairly cheap.
I have used USA Transfers on a number of recent trips to Cancún and have always had a great experience. Whether you have one person or up to seven, you can book a round-trip transfer to the resort for $120.
These rates are pretty comparable to standard taxis – plus it's a lot less hectic once you arrive in Cancún. There are other transfer services but you can't go wrong with USA Transfers. We aren't paid to promote them and there's nothing in it for us: It's just a service that we trust.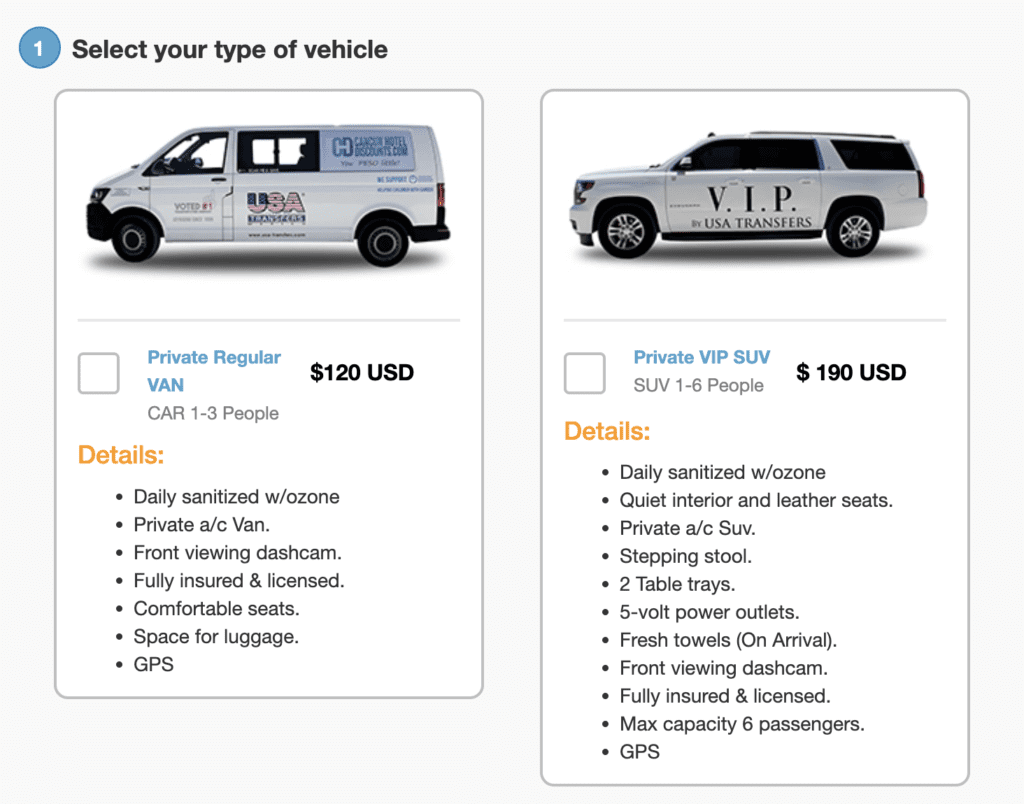 Lobby & Checking-In
Upon arriving at the resort, we were warmly greeted by the staff who promptly took our luggage and ushered us into the open-air lobby and the dedicated check-in area.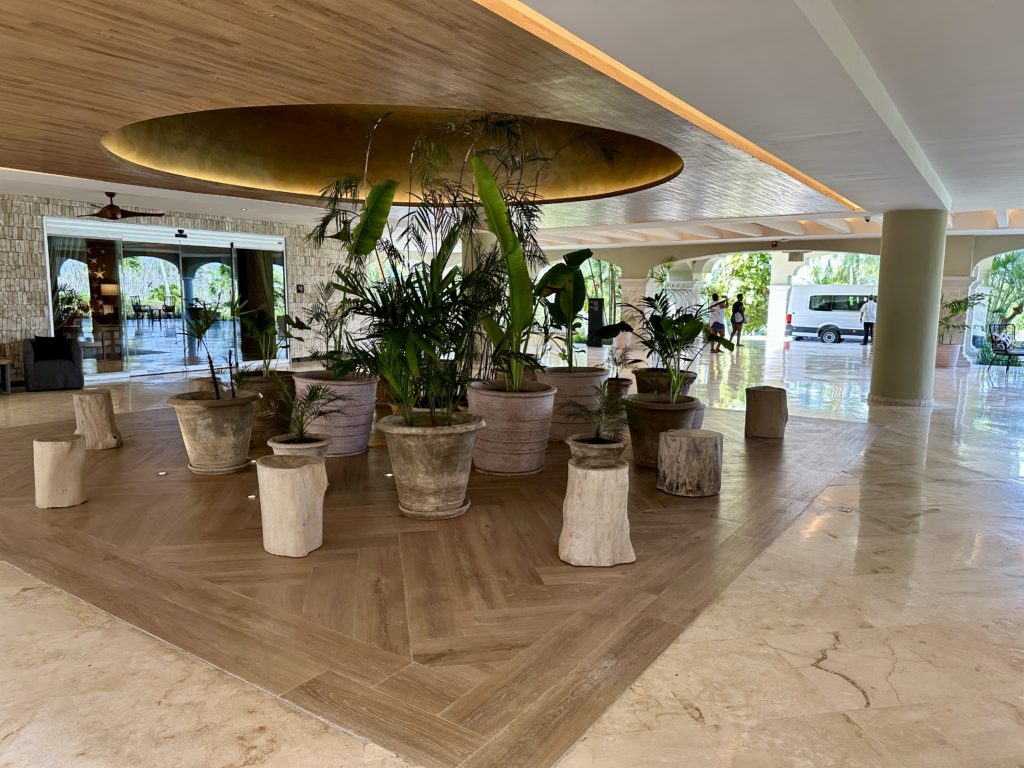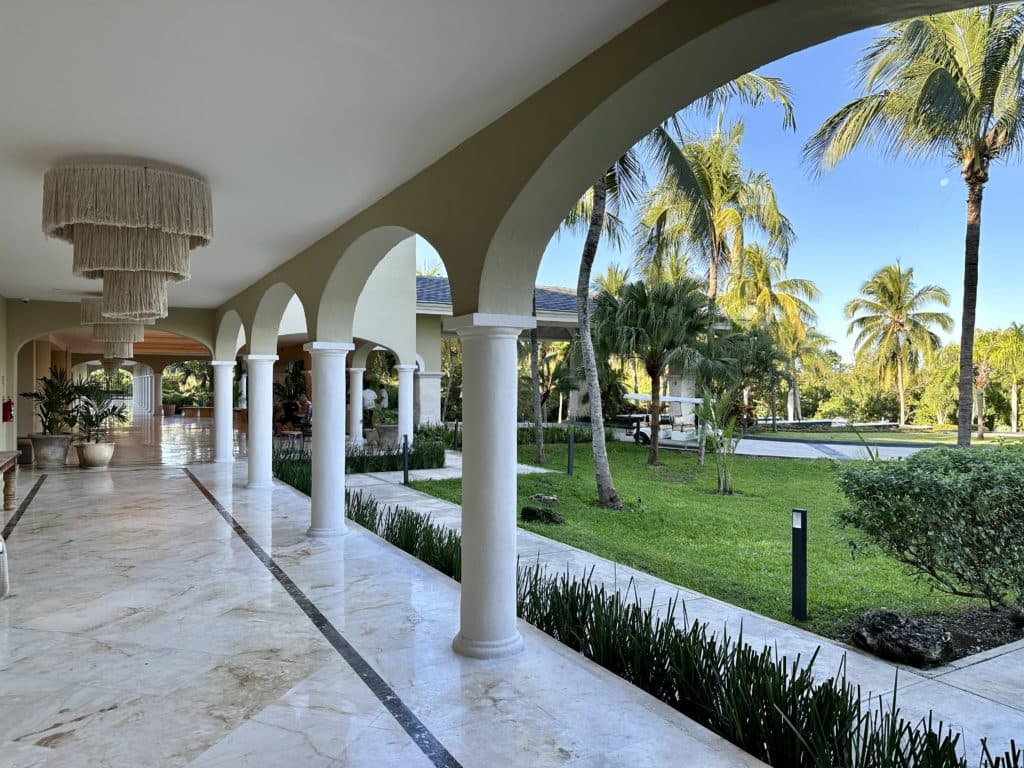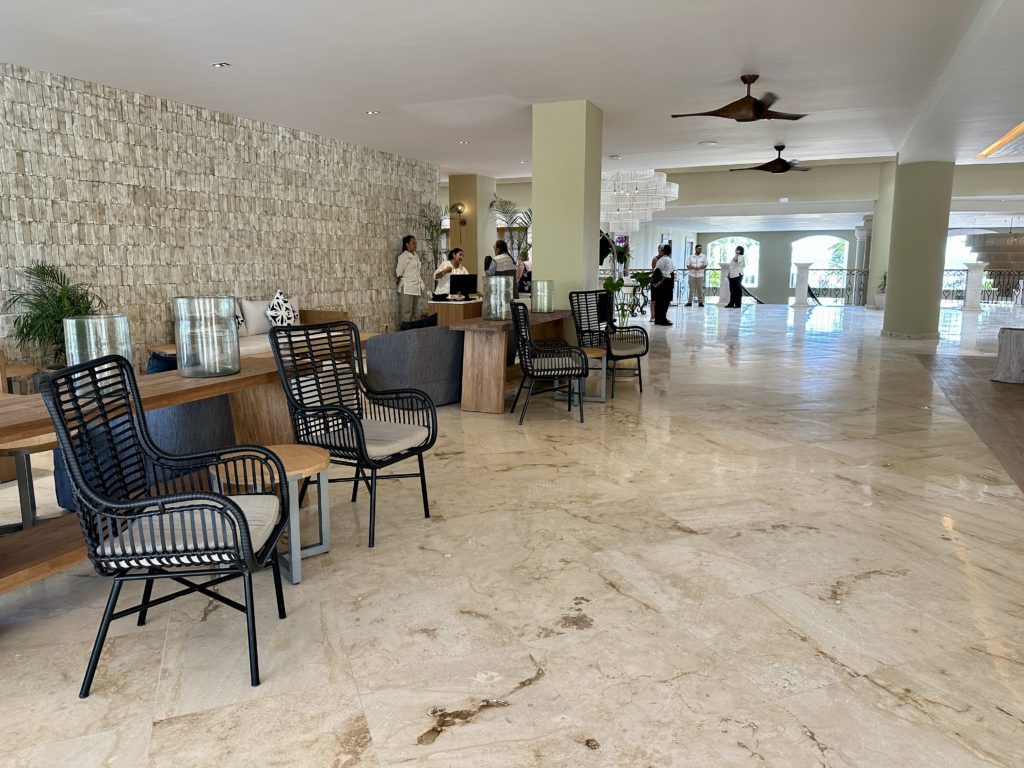 Through a set of sliding doors off the right of where you enter the property, you'll find the main check-in area.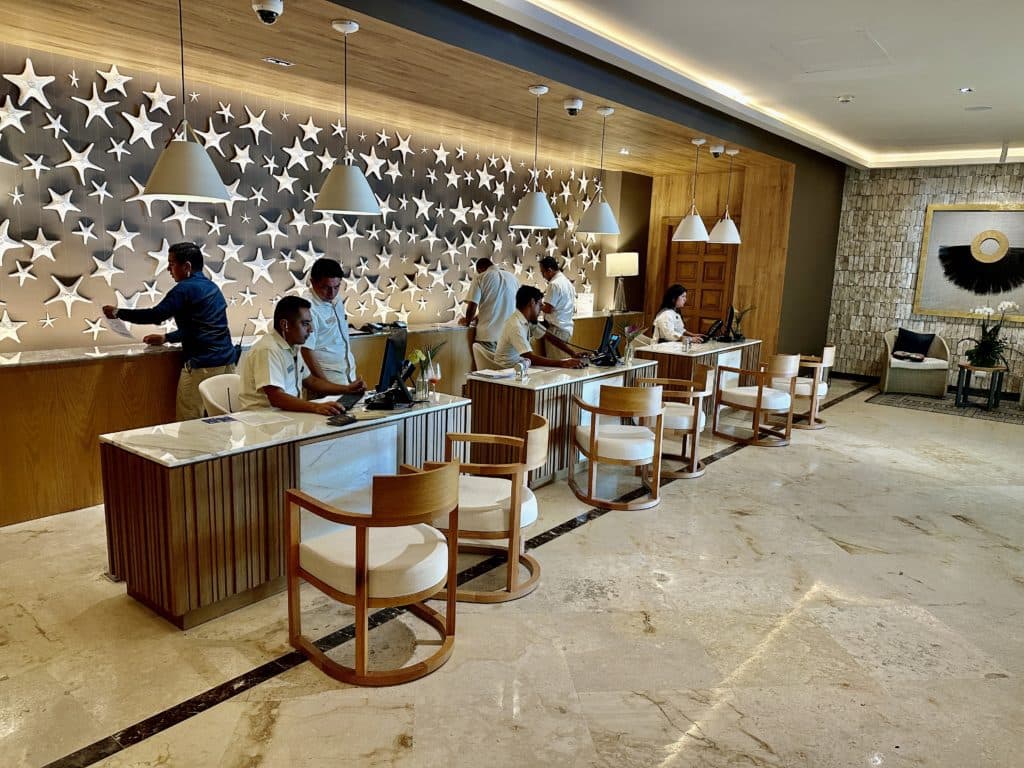 There are three dedicated desks and another desk specifically for World of Hyatt program members, which is where we were invited to check in.
We booked a standard double room but thanks to our World of Hyatt Globalist status, we were upgraded to an oceanview suite and informed that these oceanview suites included butler service. Even with top Hyatt status, these kinds of upgrades at all-inclusive properties seem to be rare, so we got lucky.
David checked us in and informed us that he would be our butler, taking care of anything we needed during our stay. He even set up a WhatsApp chat thread with both of us and consistently checked in with us to see if there was anything we needed. Overall, David was great and very attentive in making sure our stay was going well.
Just past the main lobby you'll find a double staircase that leads you down to the rest of the resort. This is where you'll find some of the restaurants and how you get to the main pool area.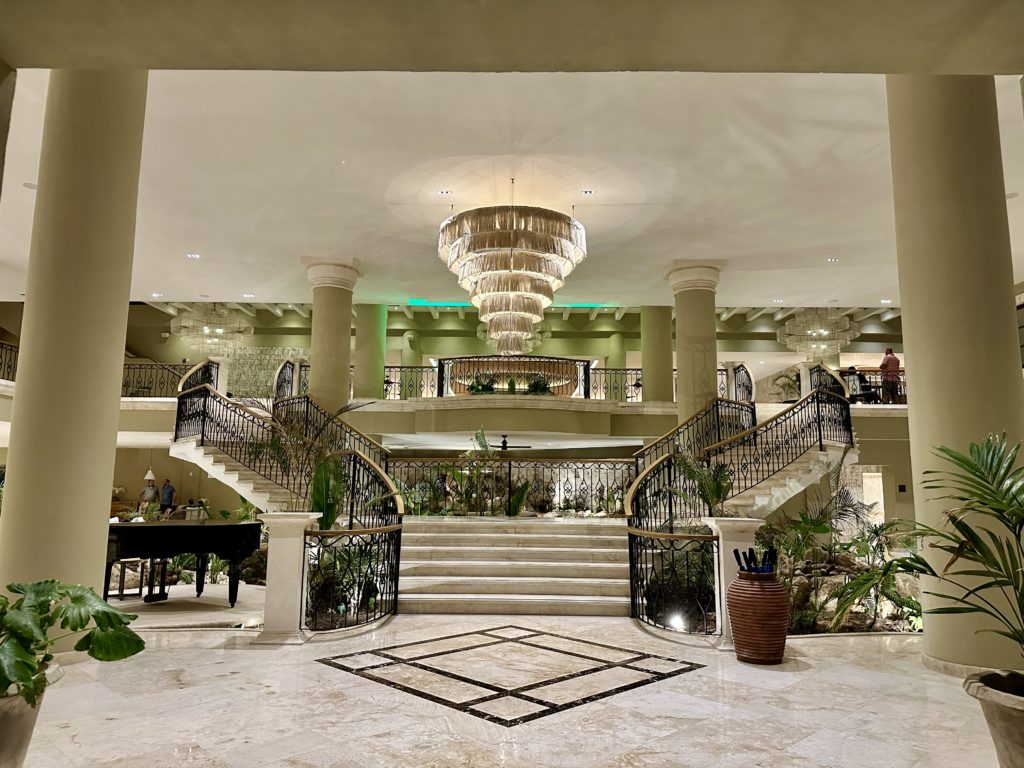 Hyatt Zilara Riviera Maya Rooms
In total, the property has 291 guestrooms. That's on the smaller side for these all-inclusive properties, giving it a more intimate feel. If a quaint setting is your thing, that's a huge plus.
Every room on the property features a furnished patio or balcony, marble bathrooms, and double vanities. After a short walk through the open-air building and up a flight of stairs, we found our room.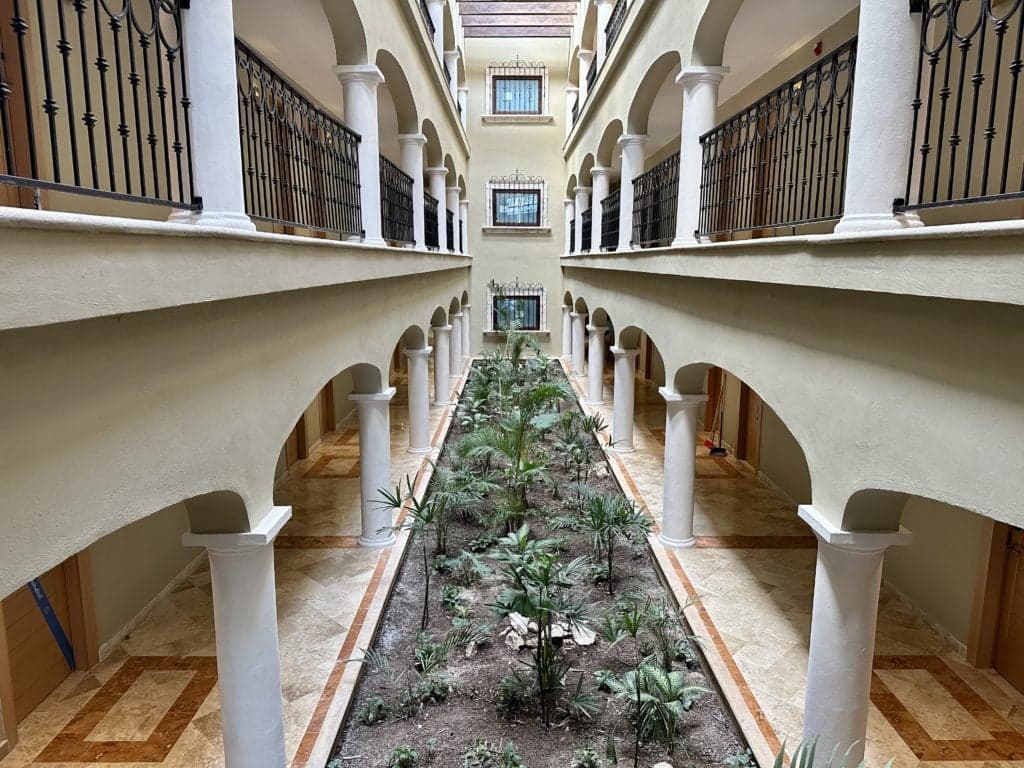 We stayed in room 255, an oceanview master suite. Upon arriving at our room, we found a blue banner recognizing our Hyatt Globalist status. We saw a few other similar banners for guests celebrating birthdays and anniversaries.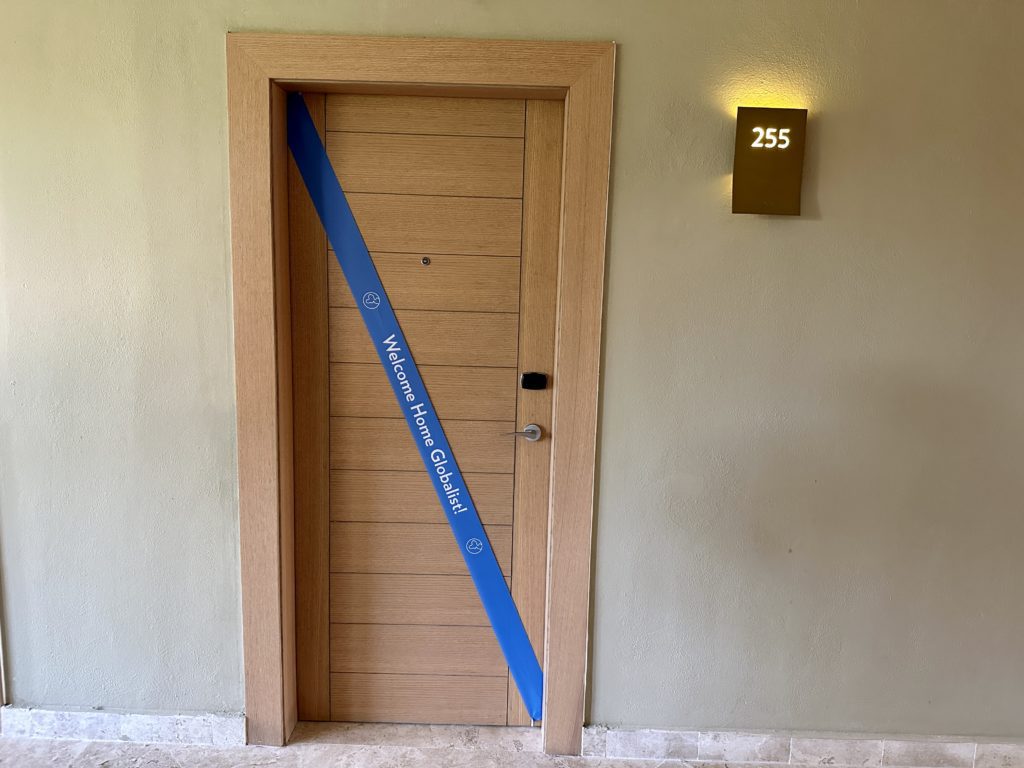 Outside of the room upgrade and banner on the door, don't expect much else from your Hyatt status – that's more or less par for the course at Hyatt's resorts.
The room itself was very nice. But since we originally booked a double room, they brought in a rollaway bed since our upgrade was to a king bedroom. The suites are listed at a bit over 1,000 square feet, more than double the size of a standard room.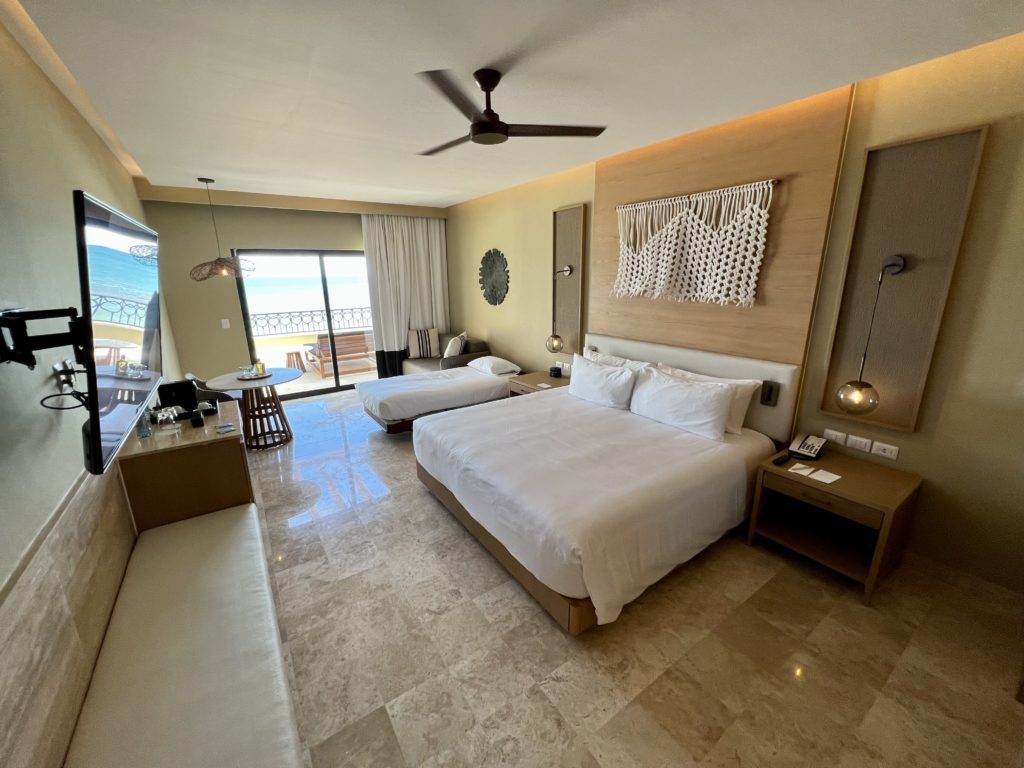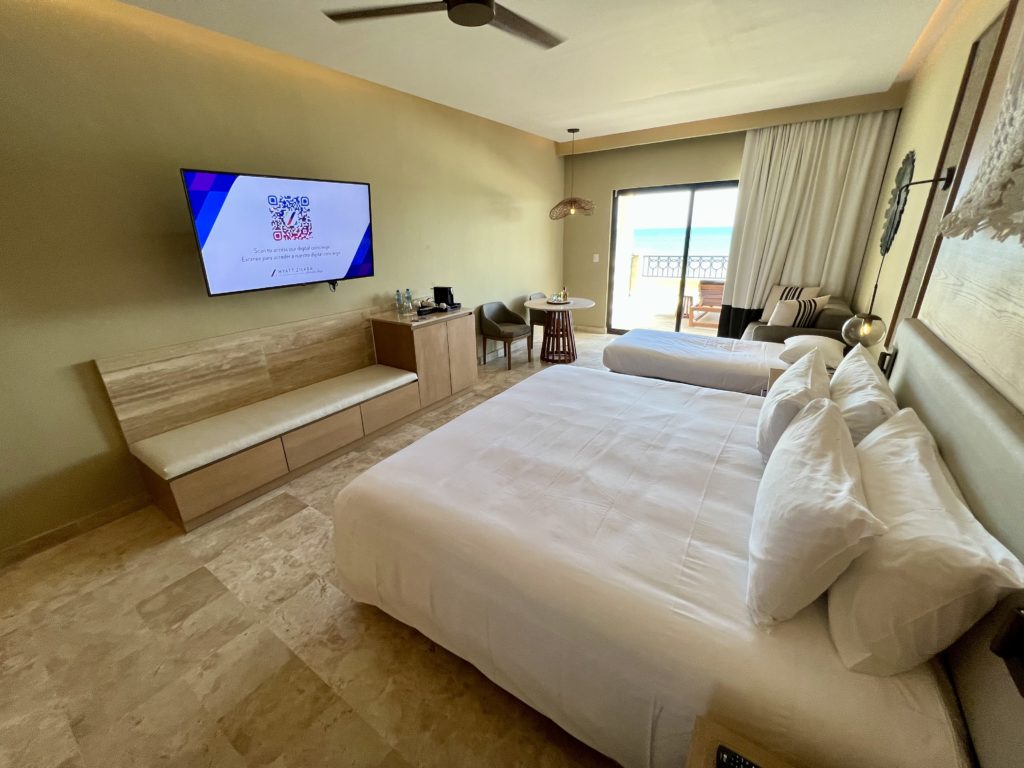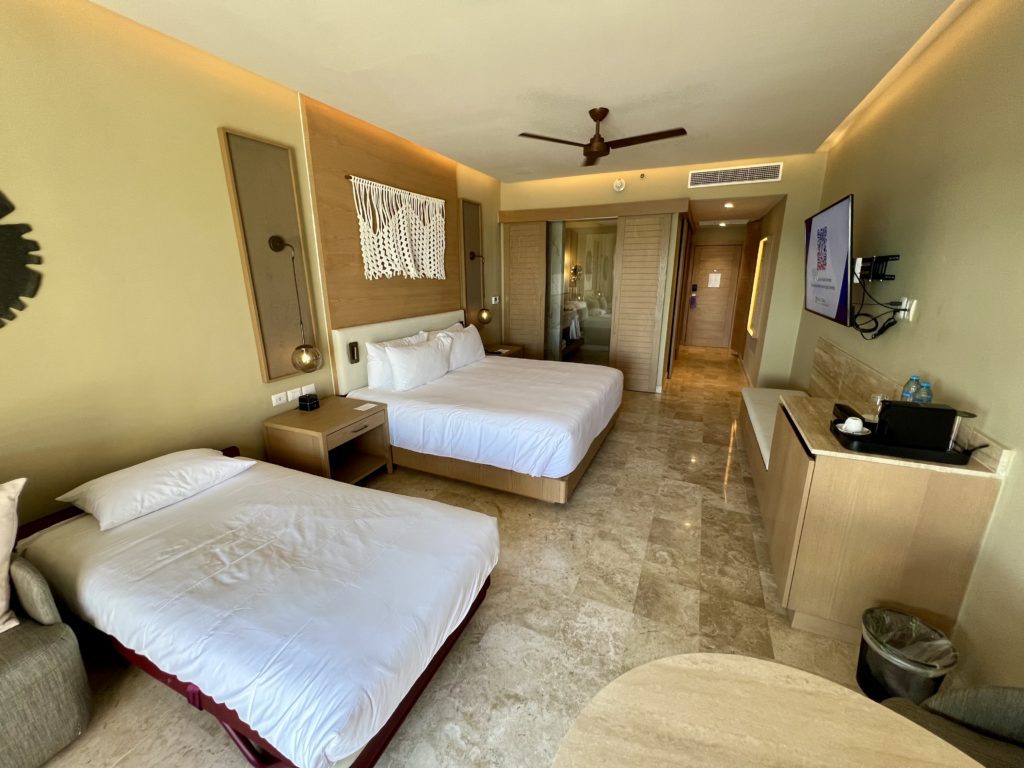 Waiting on the table in our room was a bottle of Herradura reposado tequila with limes, salt, and worm salt as a welcome gift. It was a nice touch.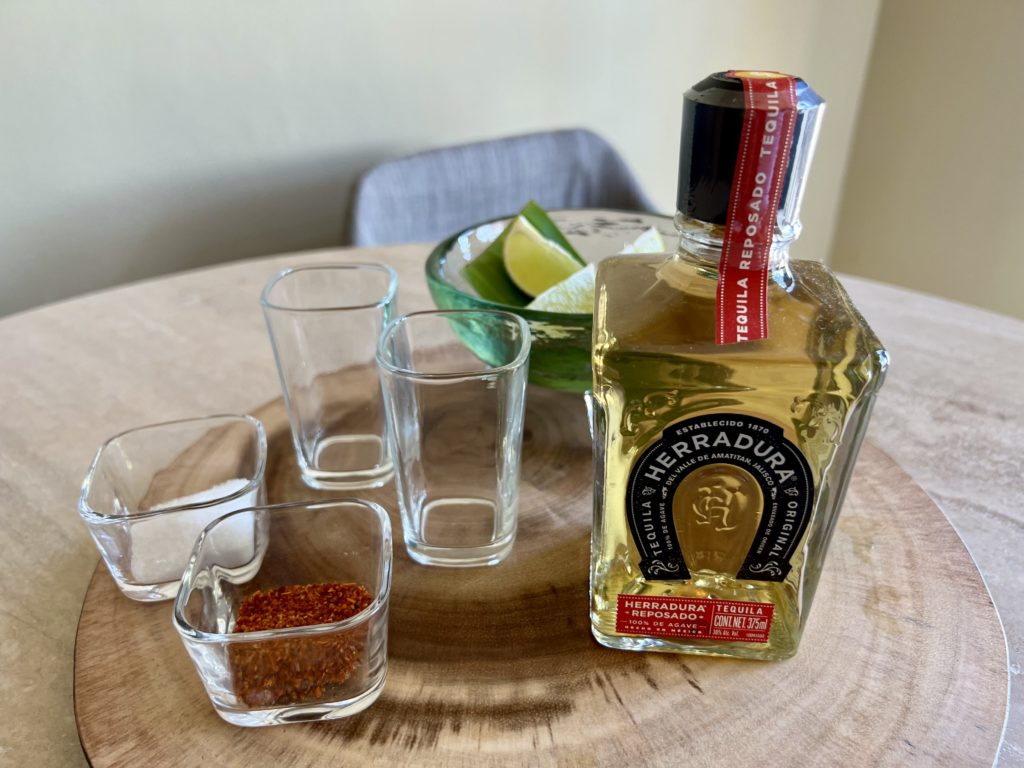 The room also had a minibar and was stocked with beer, soda, and water. After showing us around the room, our butler David brought up another six-pack of Corona for us, another nice touch.
On top of the minibar is a coffee machine and water – both of which were restocked daily.
The bathroom was also very nice – complete with a double vanity and a beautiful marble shower with a rainfall shower head. The shower had great pressure. No complaints here.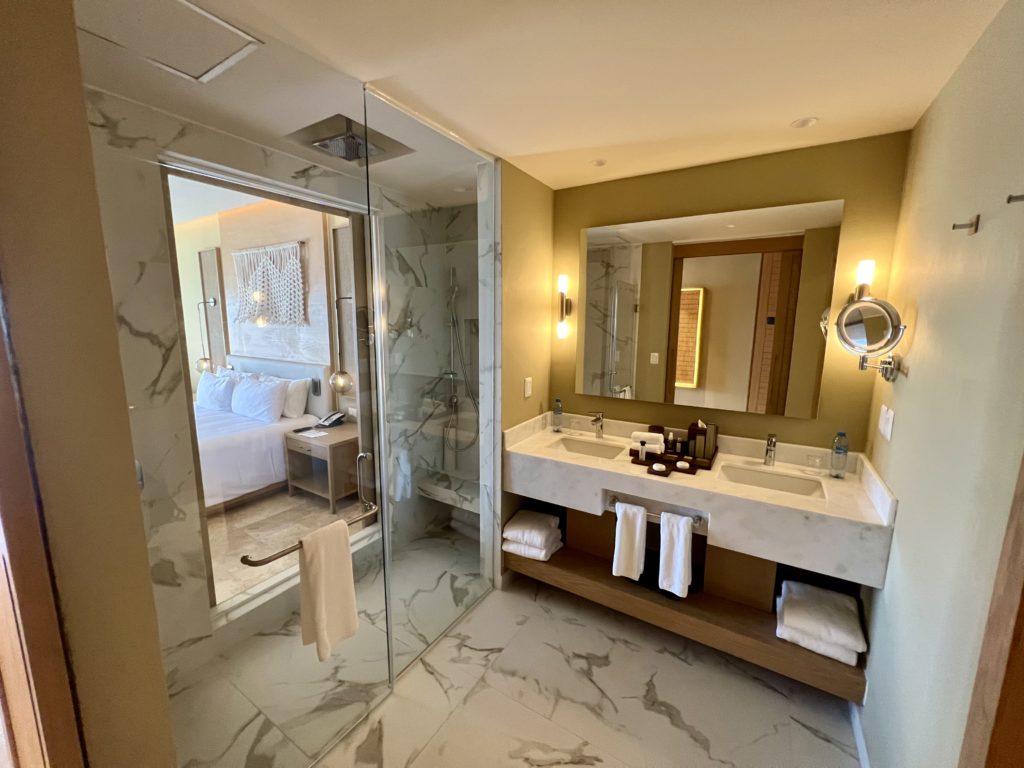 The upgraded room types at the Zilara Riviera Maya contain Salvatore Ferragamo toiletries, which are higher quality than you can expect at almost any all-inclusive resort.
Out the sliding glass doors was a patio with a table and a double bed lounger. While it was a nice setup, the half wall between our balcony and the neighbors was a little odd. When we were out there at the same time, it felt like we were sitting together and didn't provide much privacy at all.
It wasn't a huge deal, but it's something to be aware of.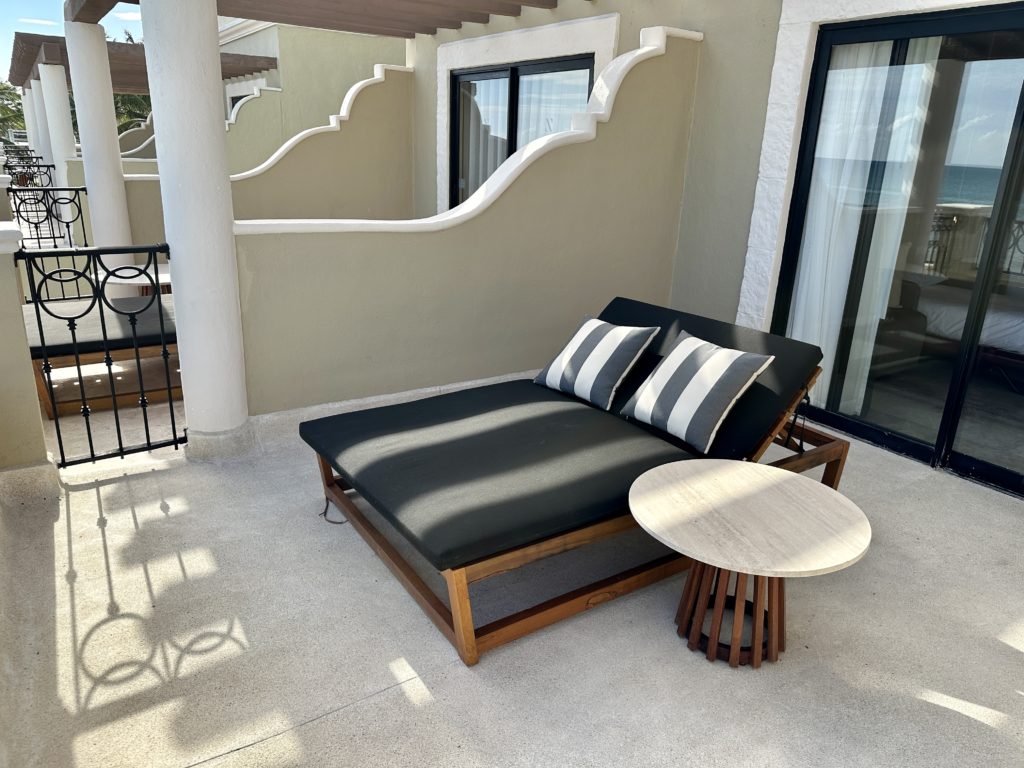 That said, it offered a great view of the ocean. When it was clear enough (and at night), we could see the skyline of Cozumel island from our balcony.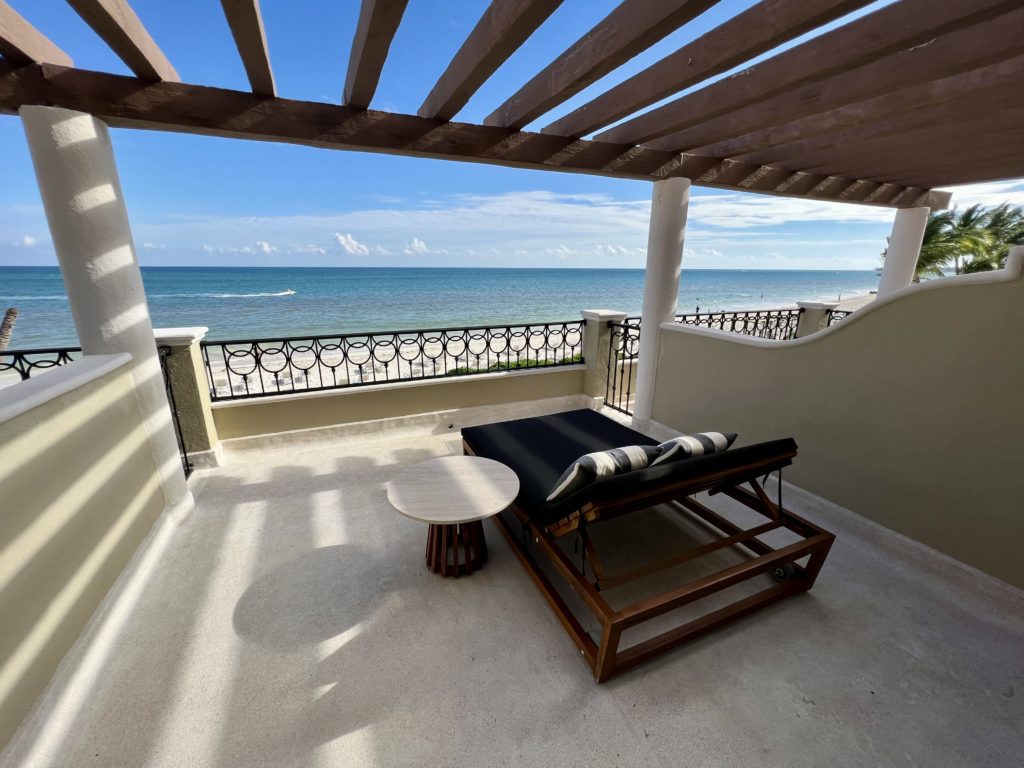 Hyatt Zilara Riviera Maya Rooms: Final Thoughts
Overall our room was very nice and the renovations were well done.
The renovated bathrooms – specifically, the rainfall shower – were fantastic.
The mattress was a bit on the firm-to-hard side which I personally don't mind, but it's something to note.
Most of the standard rooms will face the main pool area. While these aren't listed as ocean views, you should have at least a partial ocean view.
The resort-view swim-up rooms don't get a lot of sun throughout the day. If this is important to you, you may want to consider a different room type.
Hyatt Zilara Riviera Maya Facilities and Amenities
Hyatt Zilara Riviera Maya Pool
Due to the smaller nature of the resort, there is only one pool at the Zilara Riviera Maya. It's quite large and separated by a walking bridge that separates the beach side of the resort from the main building.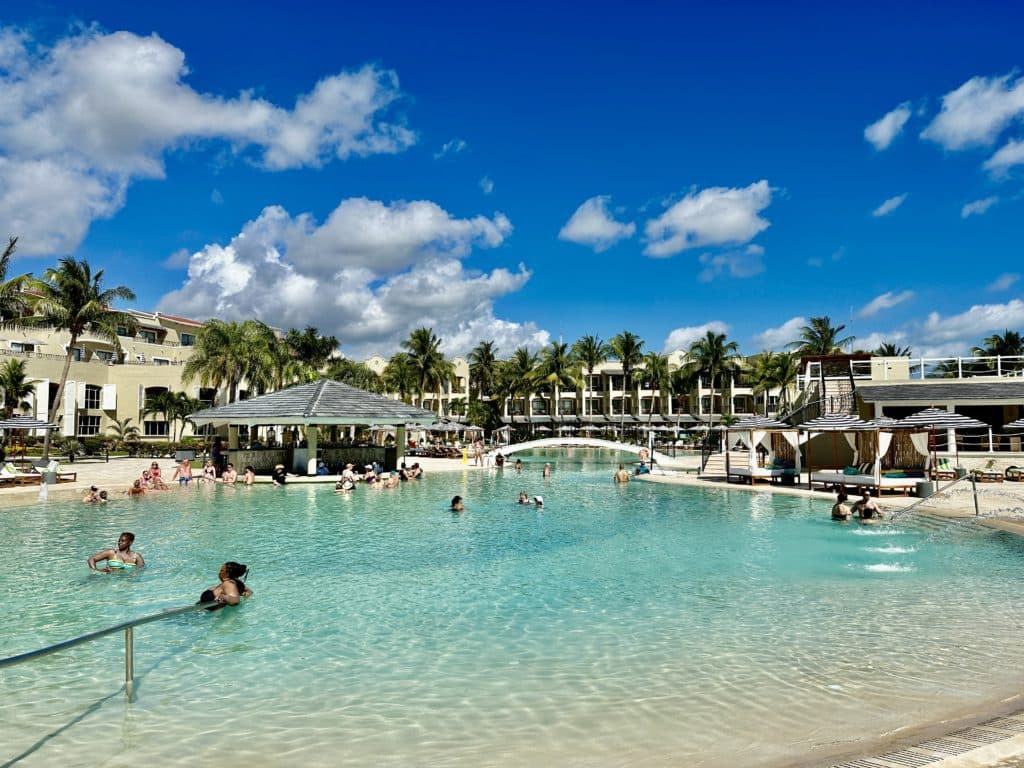 The main area on the south side of the bridge has a swim-up bar and generally was more lively during our stay. This is where you will hear the music playing and also the different activities that the resort has planned in the pool each day (water aerobics, games, and more).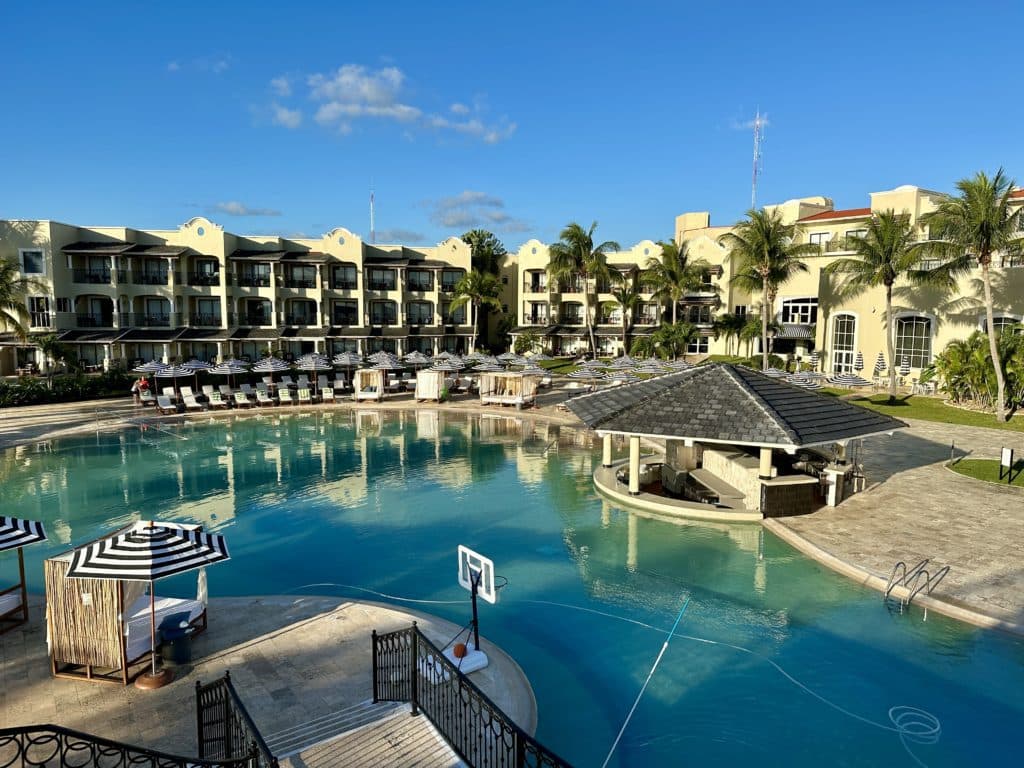 The pool area on the north side of the bridge had a volleyball net set up, and other than a few games throughout the day, the vibe here is pretty relaxed with far fewer people.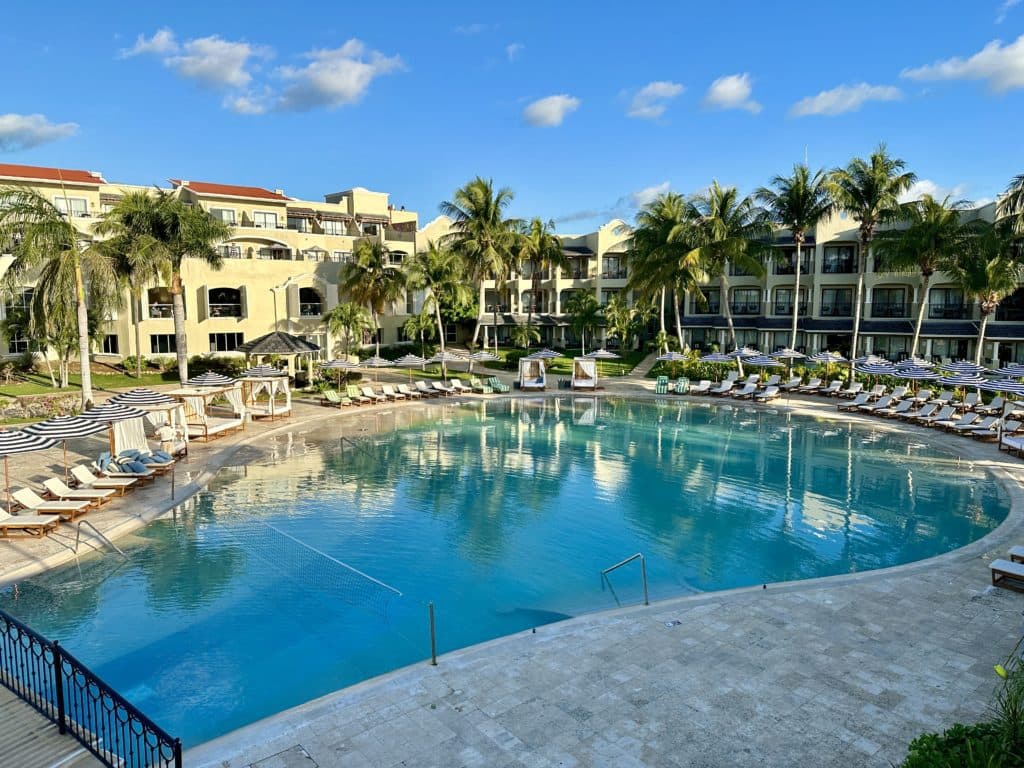 Just outside the Lola Beach restaurant and closer to the beach from the main pool area, you'll also find a hot tub.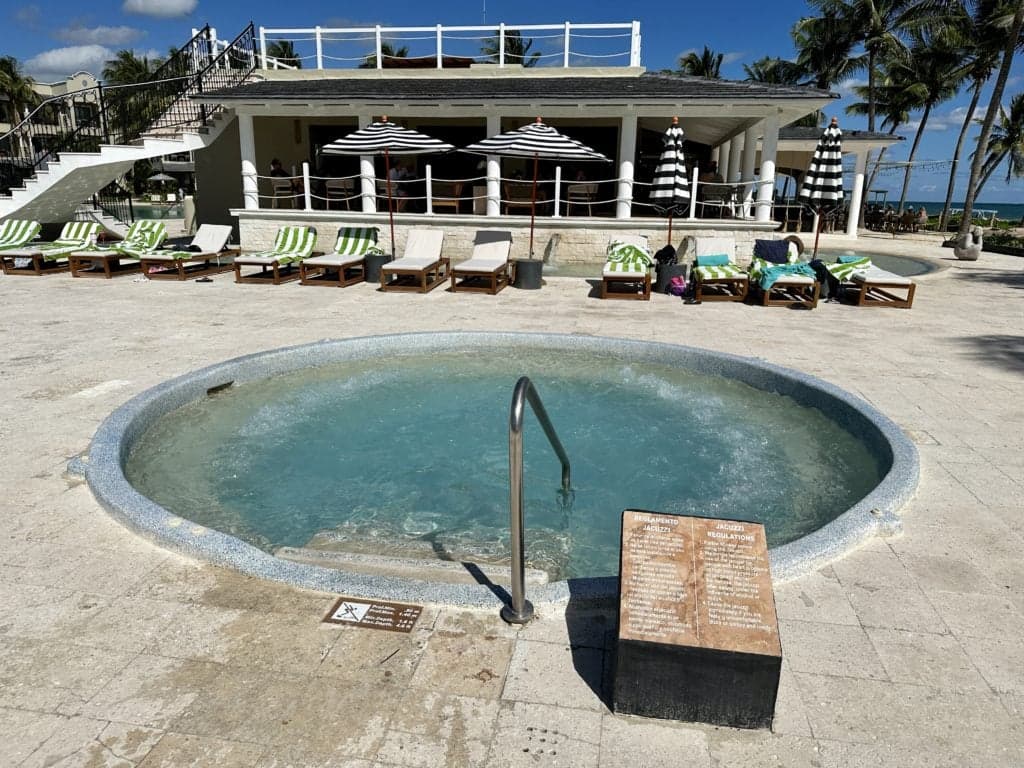 While there is only one pool, we found it to be plenty big enough for the resort's size. It never felt crowded.
The Zilara Riviera Maya Fitness Center
While working out might not be at the top of your mind for a relaxing tropical vacation, the Hyatt Zilara Riviera Maya does have the facility to make it happen.
The gym is equipped with plenty of cardio machines, free weights, cable machines, and there was plenty of space.
It wasn't as impressive as the fitness center at the Hyatt Ziva and Zilara Cap Cana in the Dominican Republic, but it was more than adequate for our needs to get a quick workout in each morning.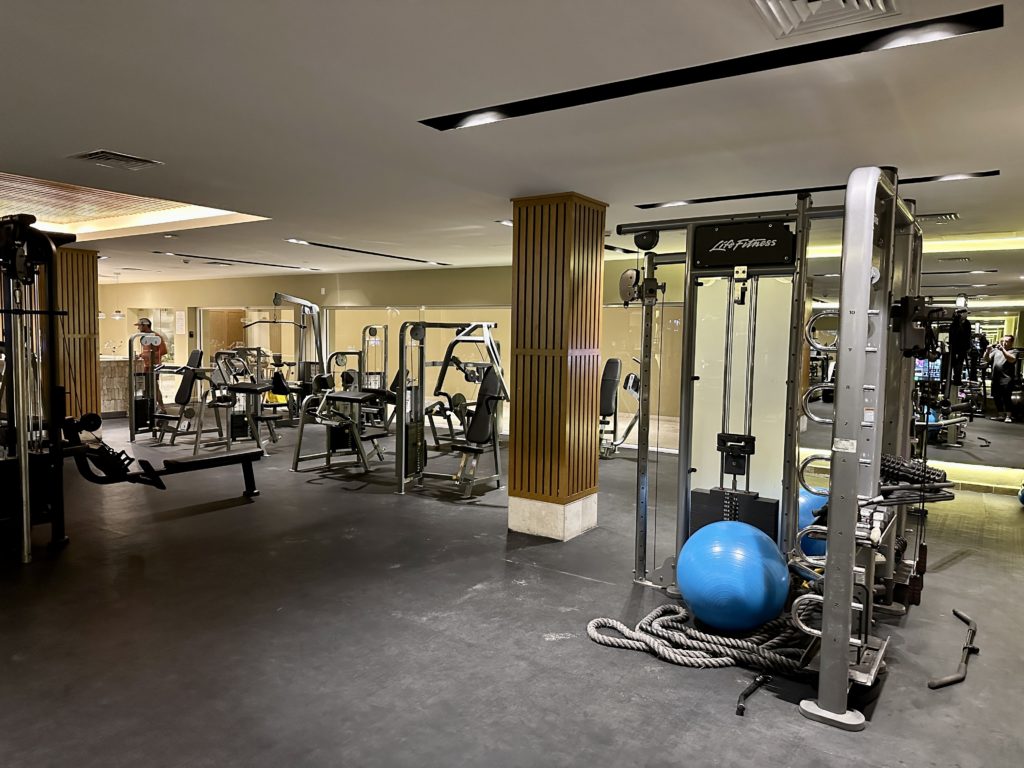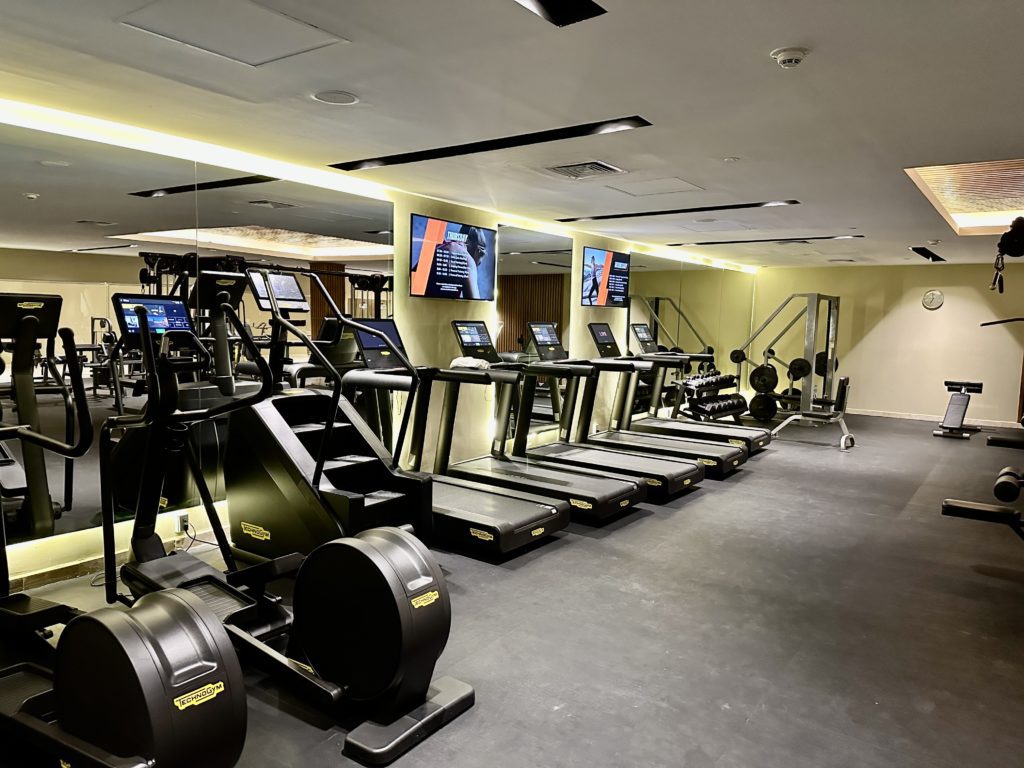 The Hyatt Zilara Riviera Maya Zen Spa
The Zen Spa is open daily from 9 a.m. to 8 p.m. and offers plenty of standard spa treatments.
We didn't use the spa during our stay. If you want to book a treatment, you shouldn't have any issues getting in.
You should be able to book a treatment before your arrival by emailing zenspa.hzr[email protected] if that is something you are interested in.
The Amiani Gift Shop
Just around the corner from the Social Mixology Lounge on the main lobby level, you'll find the Amiani gift shop. Here you'll find sunglasses, some clothing items, sunscreen, medication, souvenirs, and more.
Prices are certainly not cheap for the basics. If you can avoid it, you'll be better off buying things like medicine and sunscreen elsewhere.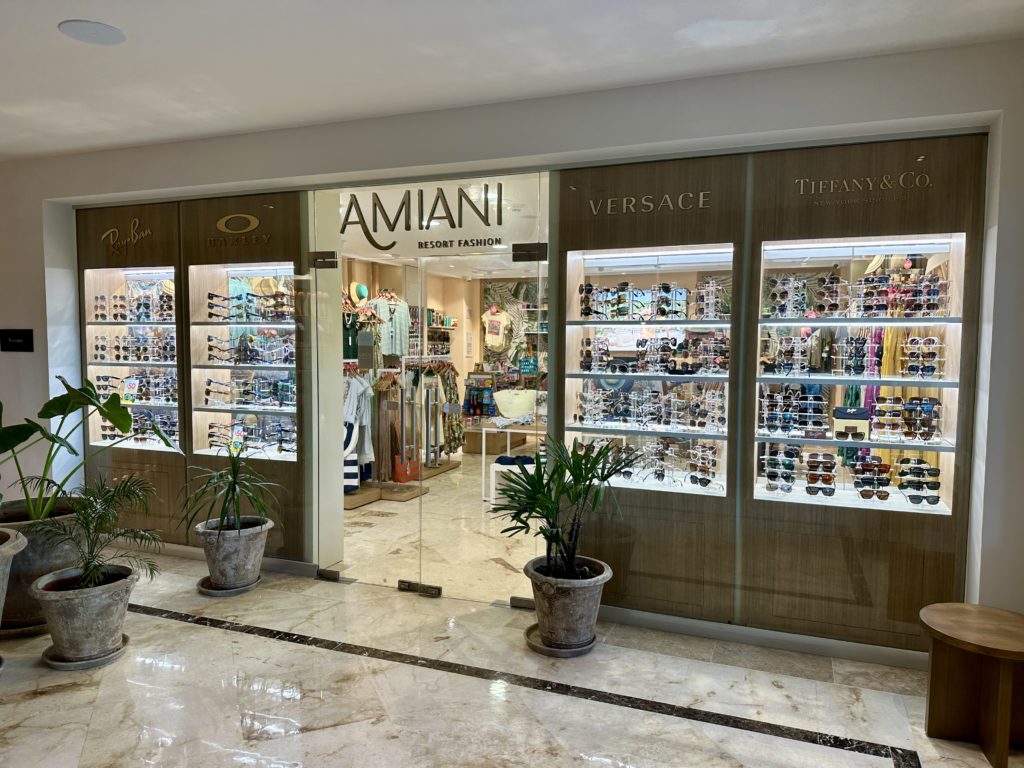 Hyatt Zilara Riviera Maya Restaurants
In total, the resort has three dedicated restaurants and a buffet that is open daily for breakfast lunch, and dinner. During our three-night stay, we got to experience all of them.
Here is our review of each restaurant, including the food we ate at each of them.
Lola Beach
Lola beach is located just off of the main pool area and is open daily for breakfast, lunch, and dinner during the following times:
Breakfast: 7 a.m. – 10:30 a.m.
Lunch: 12 p.m. – 5 p.m.
Dinner: 6 p.m. to 10 p.m.
You can find the full restaurant menu here!
The resort describes Lola beach club as a spot where "bartenders serve tequila and mezcal cocktails and the restaurant prepares tasty seafood with Latin flavors."
During our stay, we ate both breakfast and lunch here twice. You'll find plenty of open-air seating inside the restaurant.
There are also some great spots just outside the covered area of the restaurant with great views of the ocean.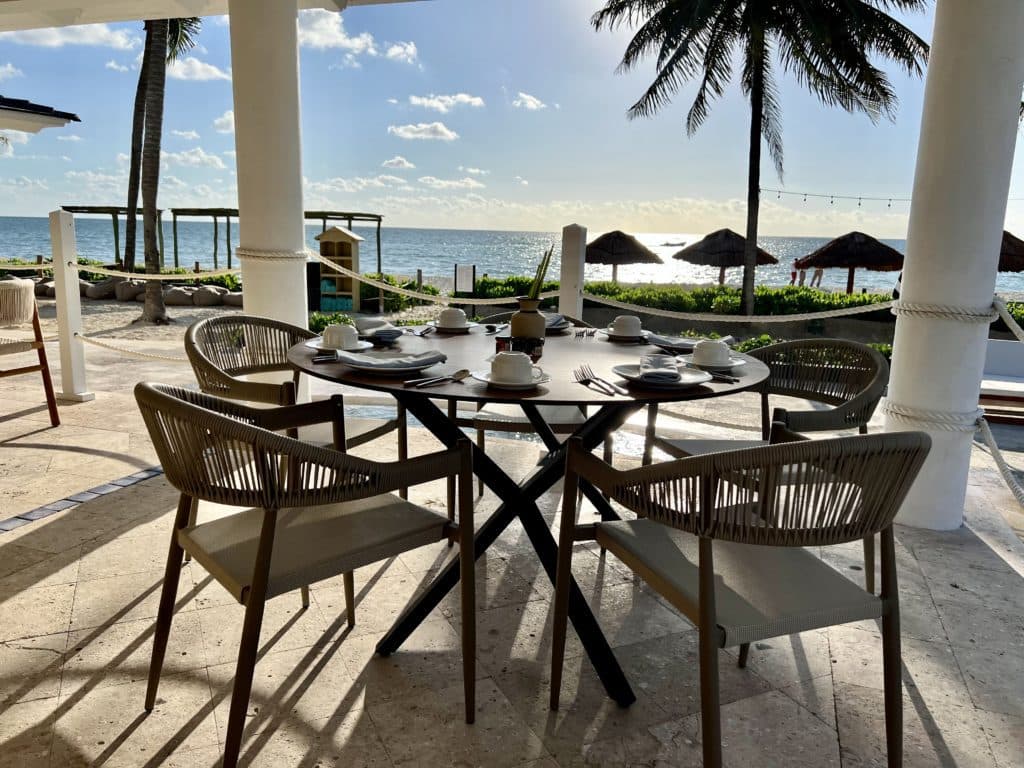 The first morning we ate breakfast here, we both had the gran chaparral scrambled eggs served with chorizo, tortillas, sausage, bacon, and potatoes and along with coffee and energizing mixed juice.
The eggs were great but both the sausage and the bacon were ice cold and sub-par at best.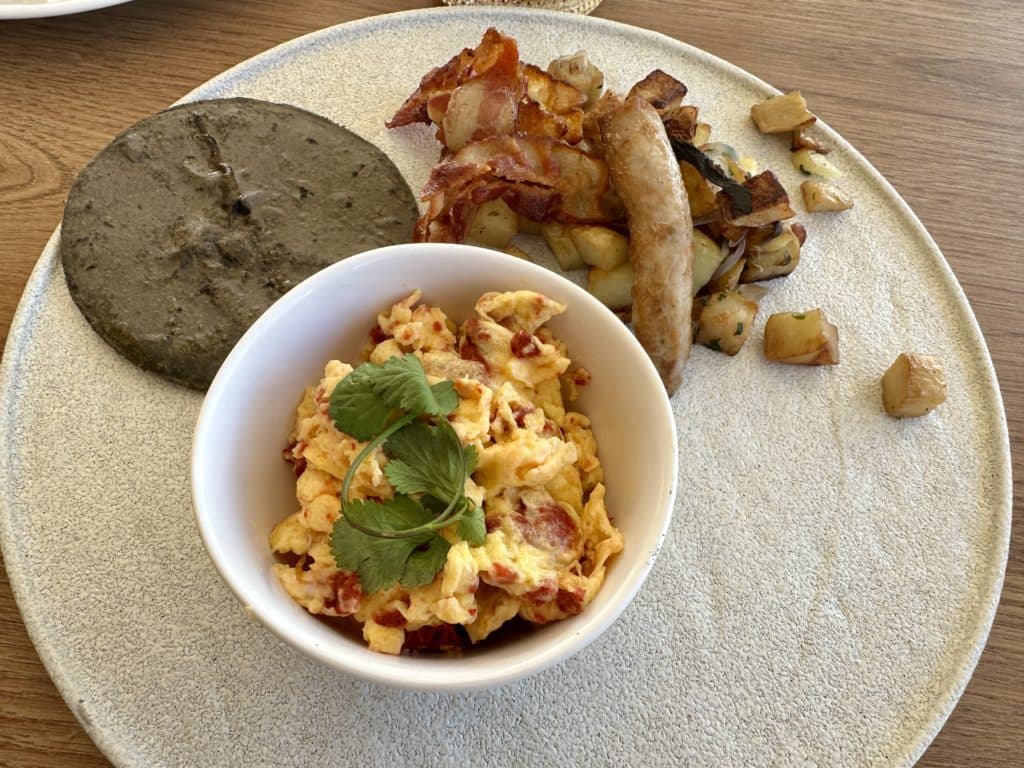 The other morning we ate breakfast here, we went with the Mexican benedict which was a poached egg with bearnaise sauce served over a tamale. It was my favorite breakfast item at Lola Beach.
We also tried the breakfast torta which was a sandwich with a fried egg, smoked beef brisket, Oaxacan cheese, lettuce, tomatoes, avocado, and aioli. The piece of beef brisket was almost all fat and really chewy. This was by far the worst breakfast item we ordered at Lola beach – you might want to skip it.
For lunch, we started with an order of tortilla chips which were served with guacamole and a few different salsas.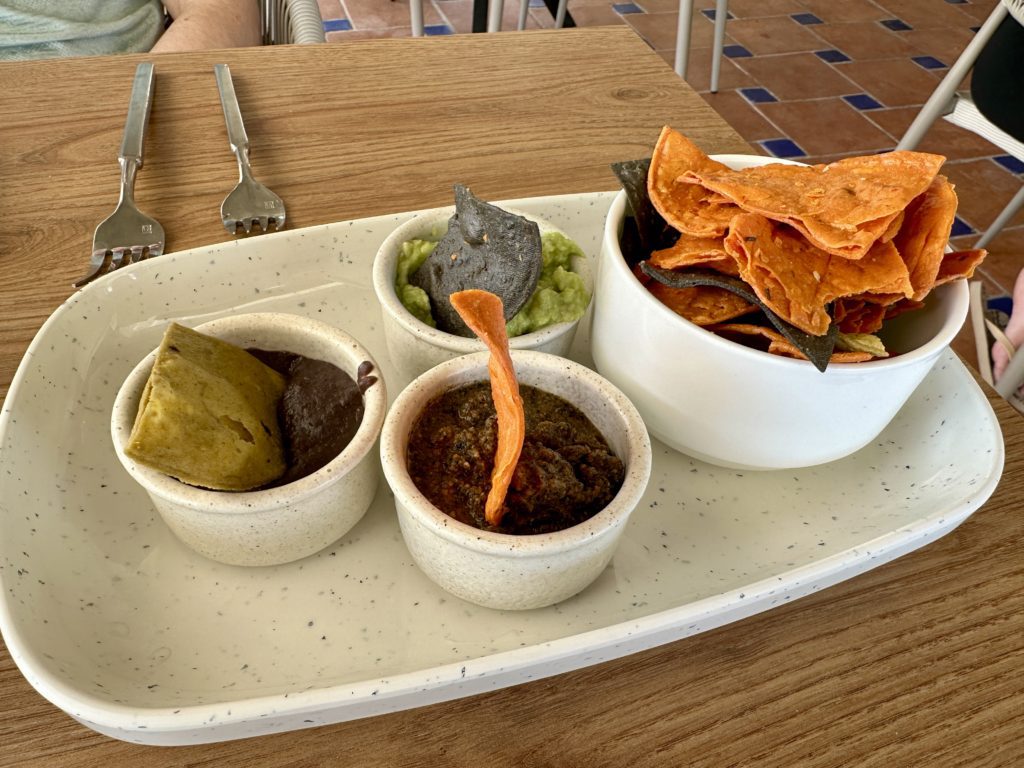 We had an order of the Viva Mexico Aguachile served with shrimp, cucumber, serrano pepper, and coriander.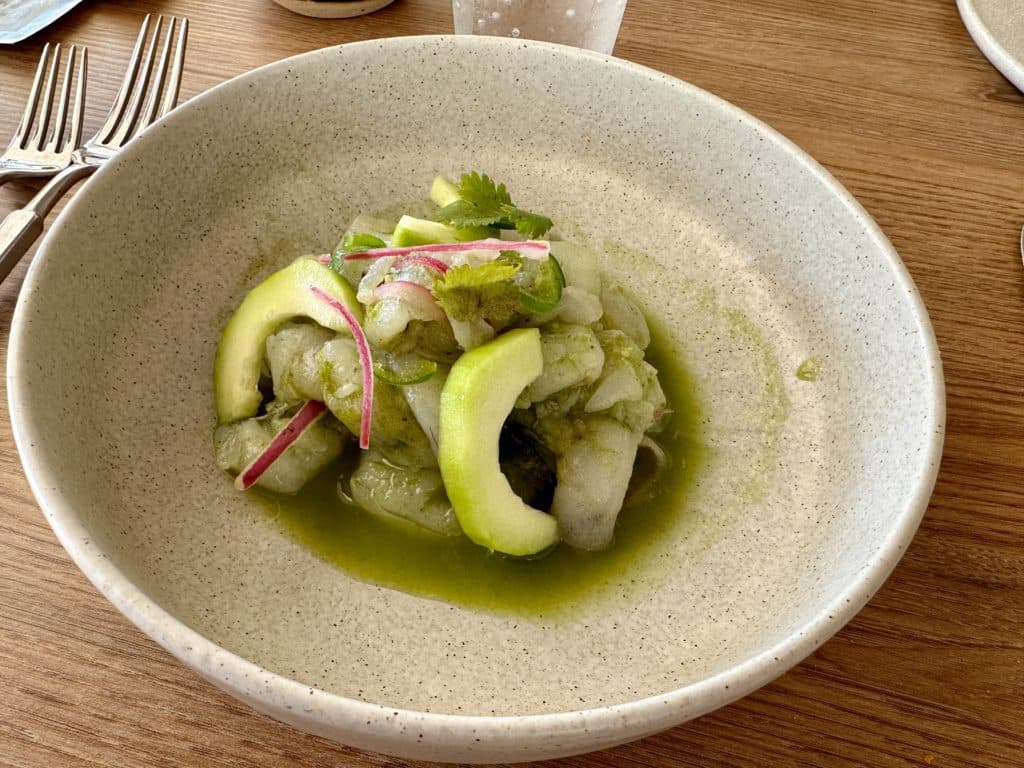 We also ordered the Lola Ceviche which had white fish, onion, lemon, corn, and sweet potatoes. Both of these dishes were great.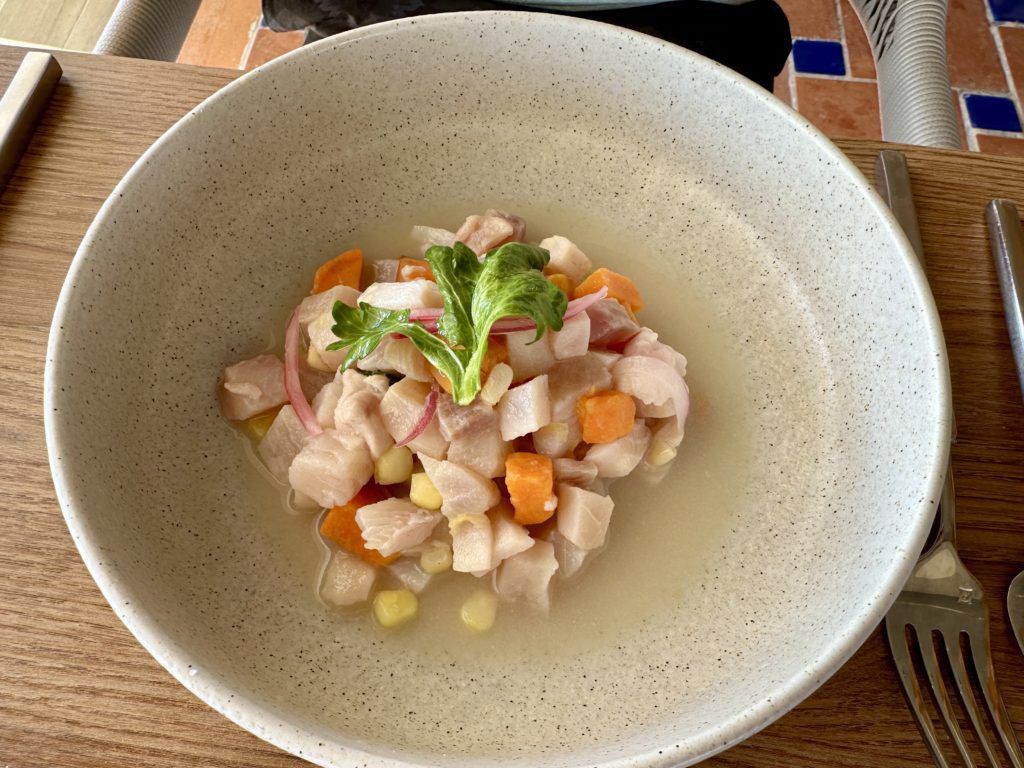 With our main course, we put in an order of the Choriqueso which was Oaxacan cheese, onions, and smoked chorizo served with a side of tortillas. This was also quite tasty.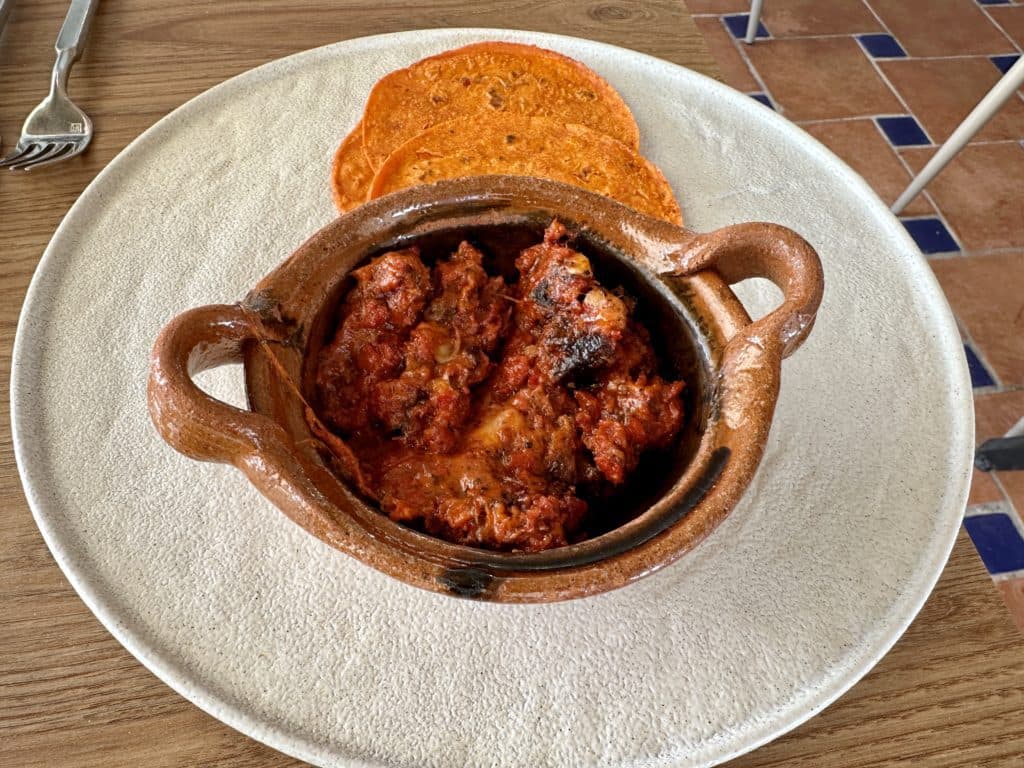 Both days we ate here for lunch, we opted for the crunchy fish tacos which were served with a guajillo sauce and a smoked cabbage.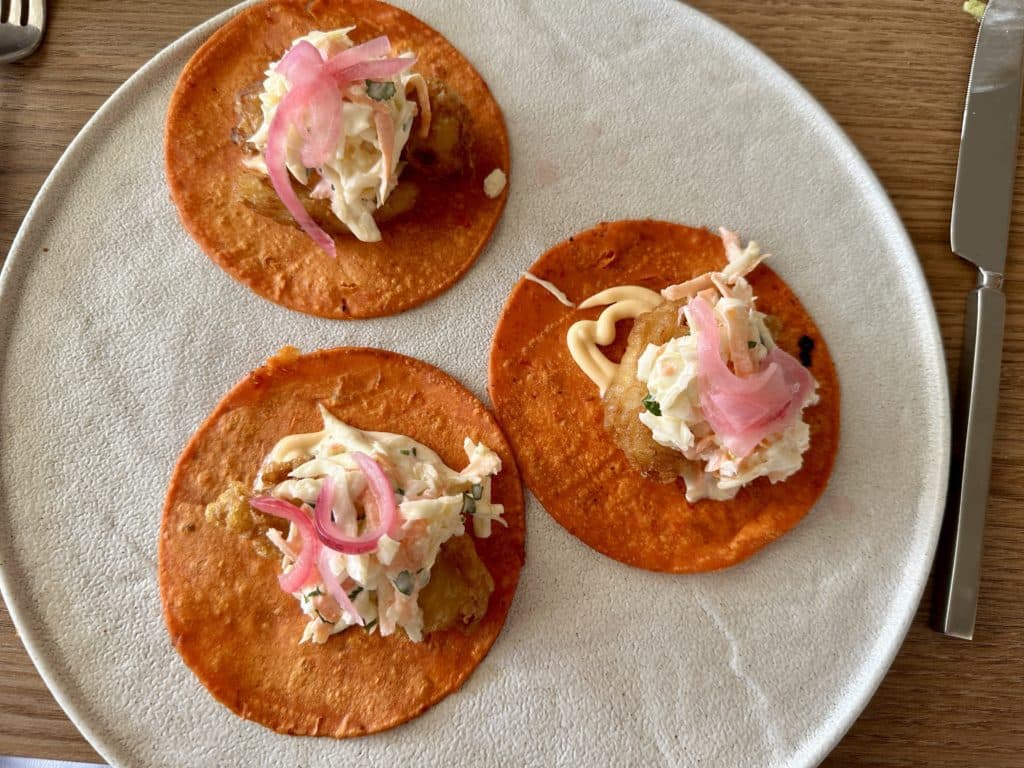 We washed lunch down with a few mezcal margaritas. One standard margarita and one mango margarita. The standard margarita was just ok, while the mango one shown below was pretty tasty.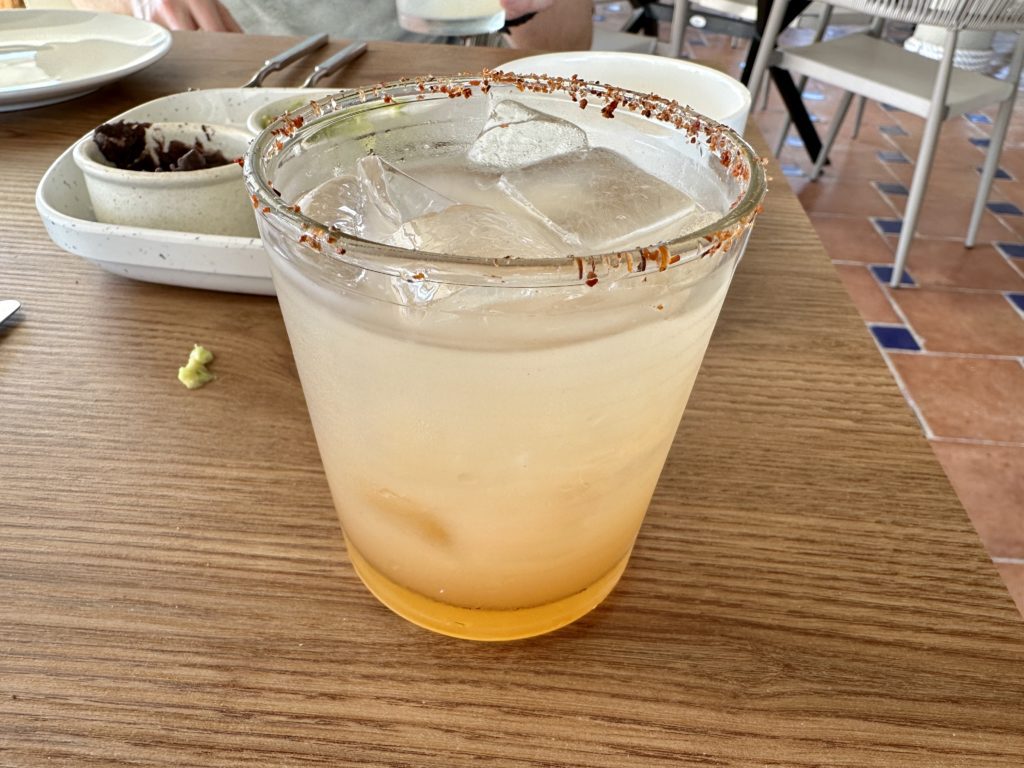 We didn't eat dinner at Lola beach. But after two breakfasts and two lunches, I can say it's a good option. If nothing else, it's a nice change of pace from the breakfast buffet as well.
The service was a little slow, mostly due to the resort being short staffed. That's an issue that came up again and again throughout our stay. Case in point: On multiple occasions, we waited almost 10 minutes for a server to come to our table to take our order after being seated.
Lola Beach Snack Bar
On the backside of Lola Beach closer to the ocean, you'll find the Lola Beach Snack Bar which is open for lunch and cocktails daily from 11 a.m. to 6:30 p.m.
You can find the full restaurant menu here.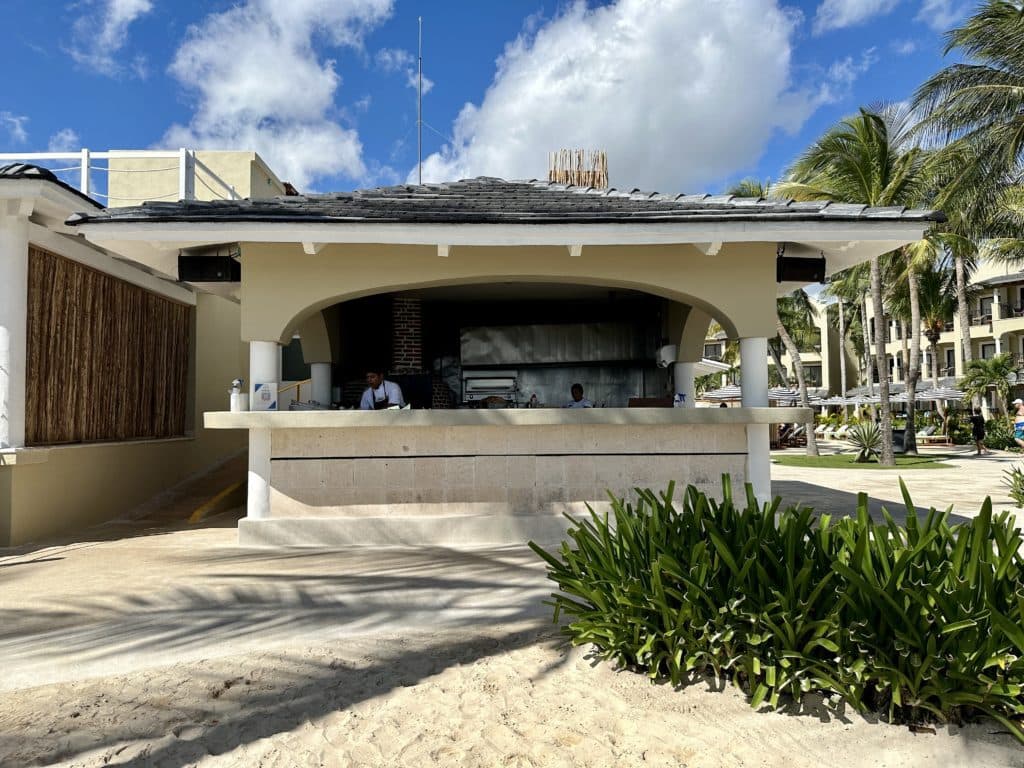 There is a great seating area that is right on the water and is a pretty enjoyable place to have lunch. The vibe here is also a lot more casual, which makes it easy to come straight from the pool area while still wearing a swimming suit.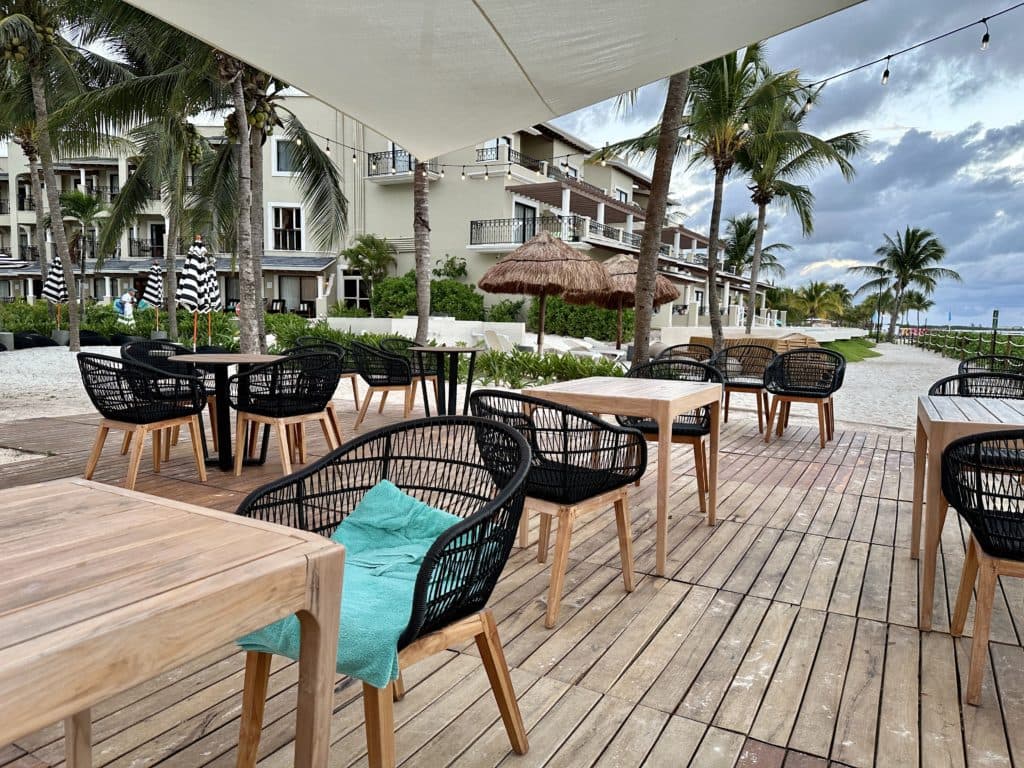 We ordered both the chorizo flatbread with chili, red onion, and oregano and the pastor-style flatbread with pork, Oaxacan cheese, and pineapples.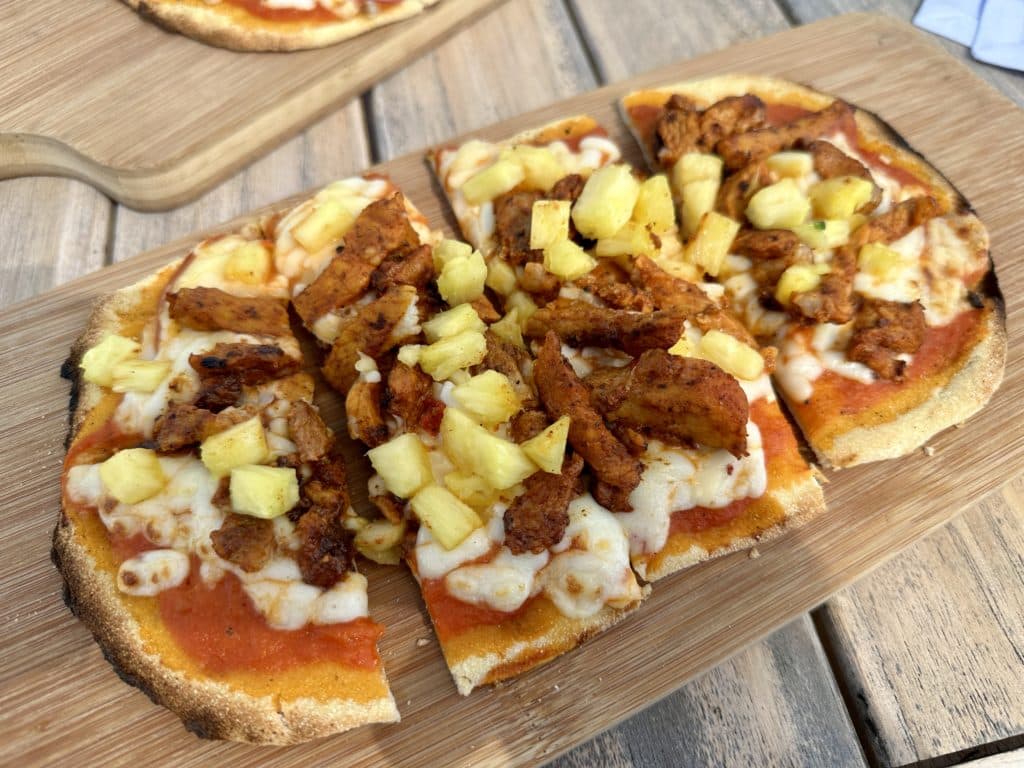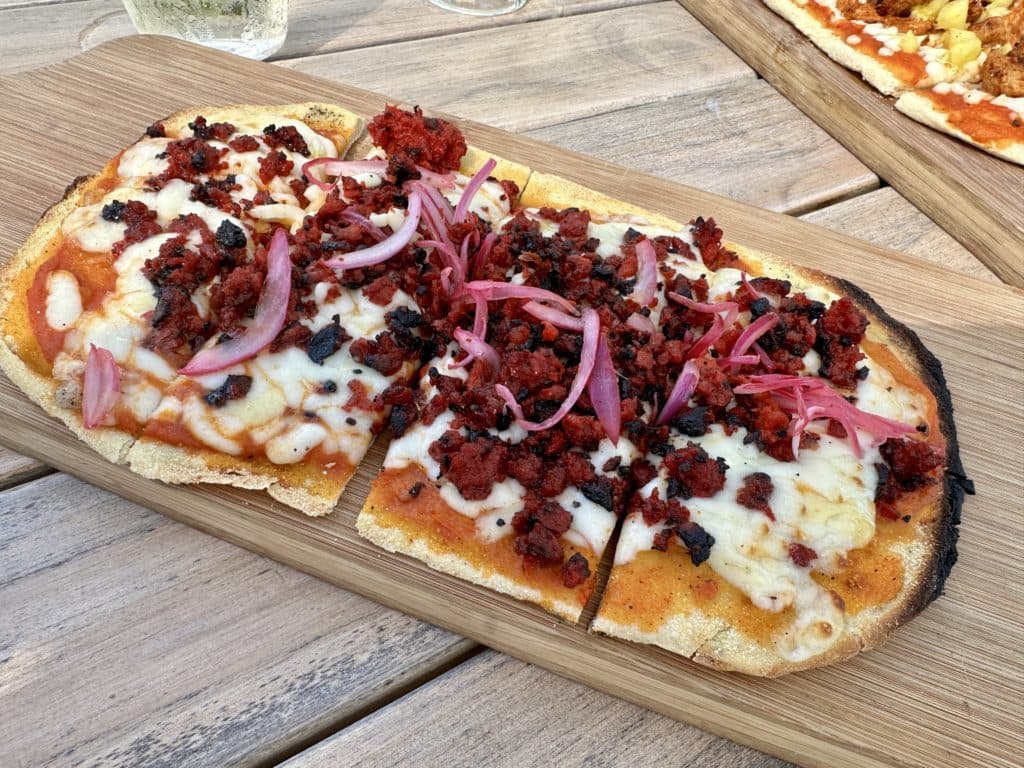 Both of the flatbreads were delicious. Yet again, the service was a bit of an issue here. The seating area was completely full and there was only one server and one person taking drink orders. They were both working very hard – they simply needed more help.
It was a bit chaotic and the wrong items were brought to our table on two different occasions.
Capri Grille
Capri Grille is located in the main lobby building just down the main staircase.
It's open daily for dinner from 5 p.m. to 11 p.m. The resort describes the restaurant as serving "coastal Italian dishes amid chic surroundings where you can enjoy rustic favorites alongside grilled entrees and pasta."
You can find the full restaurant menu here. 
The dress code for Capri Grille is listed as "smart casual." We both wore collared shirts and long pants with flip-flop sandals and didn't have any issues.
We headed here for dinner on our second night at the resort at about 6:30 p.m. and were told it would be over an hour wait, so we got a pager and headed to the sports bar for a few drinks to kill some time. Once again, it seemed to be an issue of being short staffed rather than being too busy.
As you can see, there were plenty of open tables once we were finally seated.
We started our meal with the clams served with chili, guajillo butter, parsley, garlic, and white wine, and also a Caprese salad with tomatoes, mozzarella mousse, balsamic pearls, and basil oil.
Both appetizers were very good.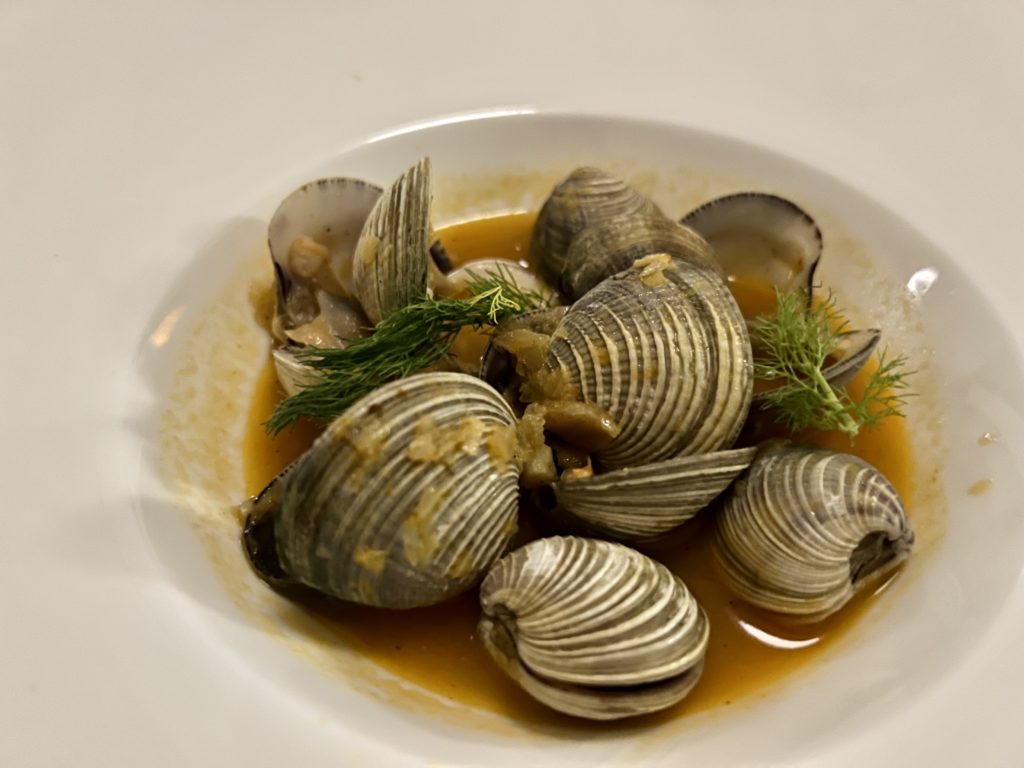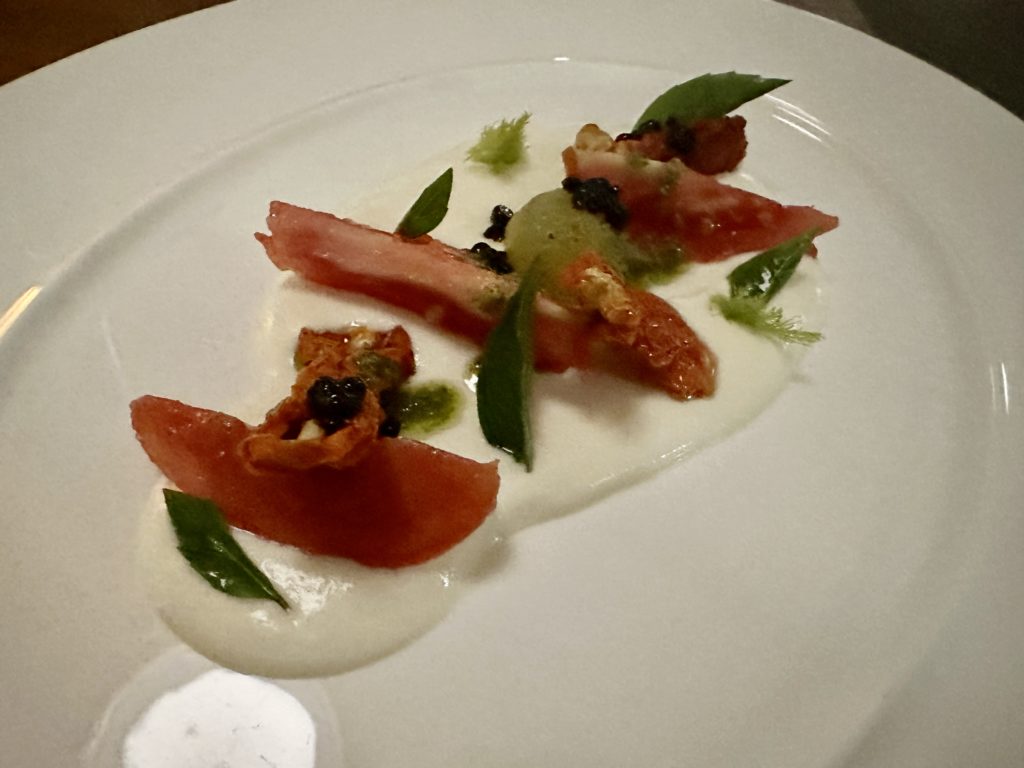 For our main course, we had an order of shrimp fettuccine with arrabiatta, basil, olives, capers and also an order of the spaghetti capri served with guanciale, carbonara sauce, pecorino cheese, and parmesan cheese. Both dishes were delicious, and the shrimp fettuccine even had a nice kick of spice – an unexpected but nice touch.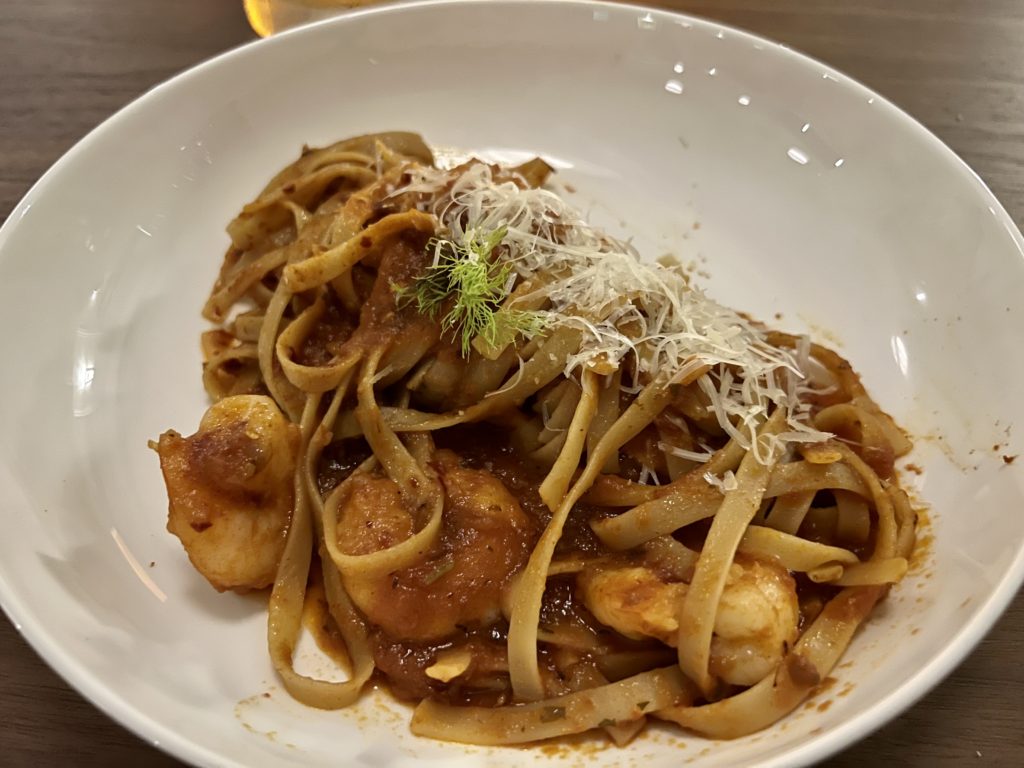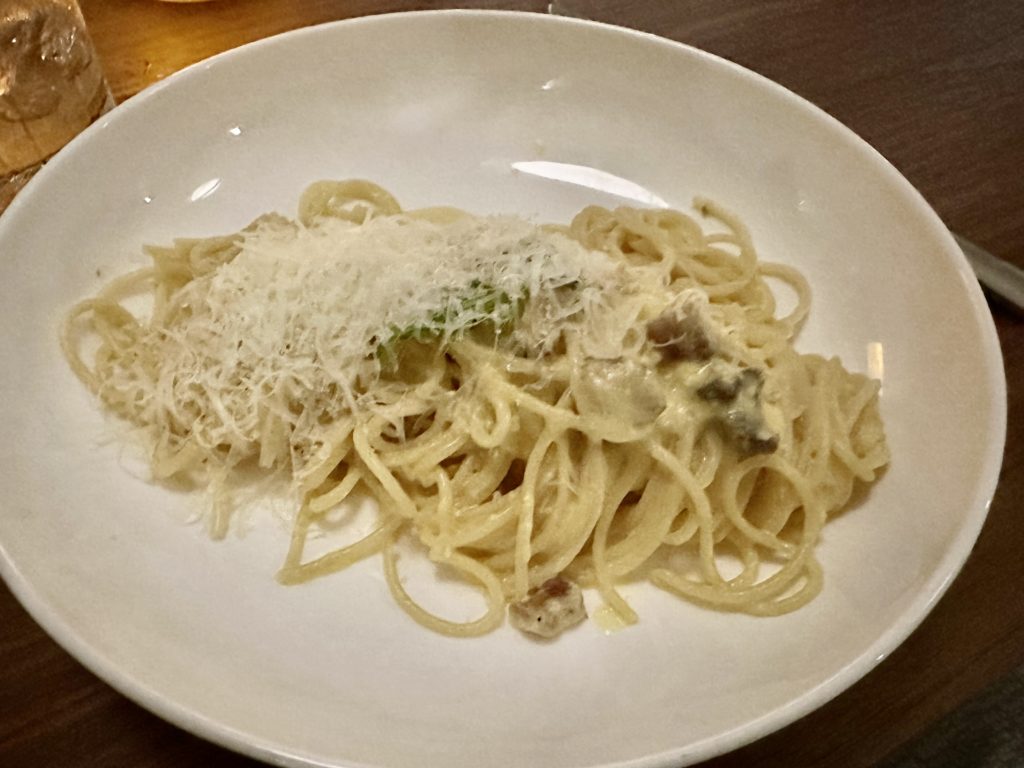 To drink, we tried the Dionisius cocktail which had gin, Xtabentun Mayan herb liquor, and a honey syrup. We both agreed that this was the best cocktail we had during our entire stay.
Once we were seated, we had a great experience and the service was wonderful. It just seemed like they just didn't have enough servers to operate the restaurant at full capacity.
Tempest
Tempest is located in the main building just off the main lobby and is open daily for dinner from 5 p.m. to 11 p.m.
The resort describes Tempest as the place "where you'll find both sushi chefs and teppan tables, all creating inventive Asian cuisine that blends classic styles and modern influences."
Like the Capri Grille, the dress code for Tempest is listed as "smart casual." Again, we both wore collared shirts and long pants with flip-flop sandals and didn't have any issues.
One thing to note is that you'll need a reservation if you want to sit at the sushi bar or the teppanyaki bar. However, they do have tables available for walk-in seating. That's the route we took.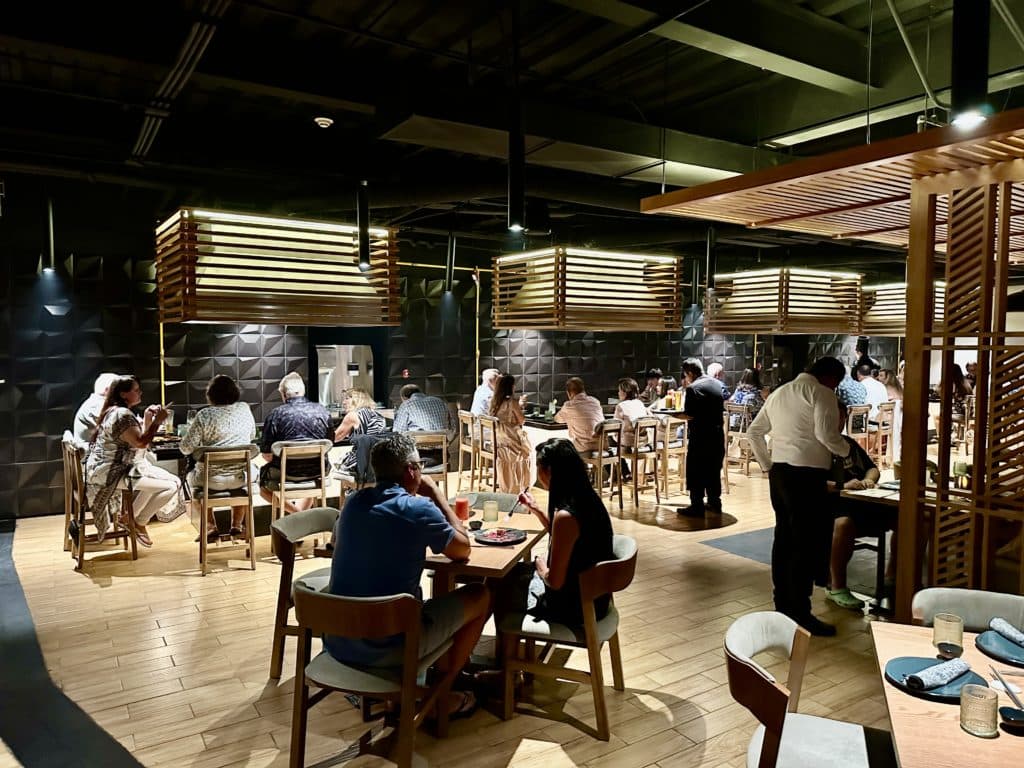 When we headed to Tempest for dinner, we were immediately seated at one of the walk-in tables but noticed there were only six seats set up at the sushi bar which explained the lack of reservations. We assumed this was, yet again, related to not having enough staff.
Unfortunately, you won't be able to order sushi from the a la carte menu so we didn't get to try it.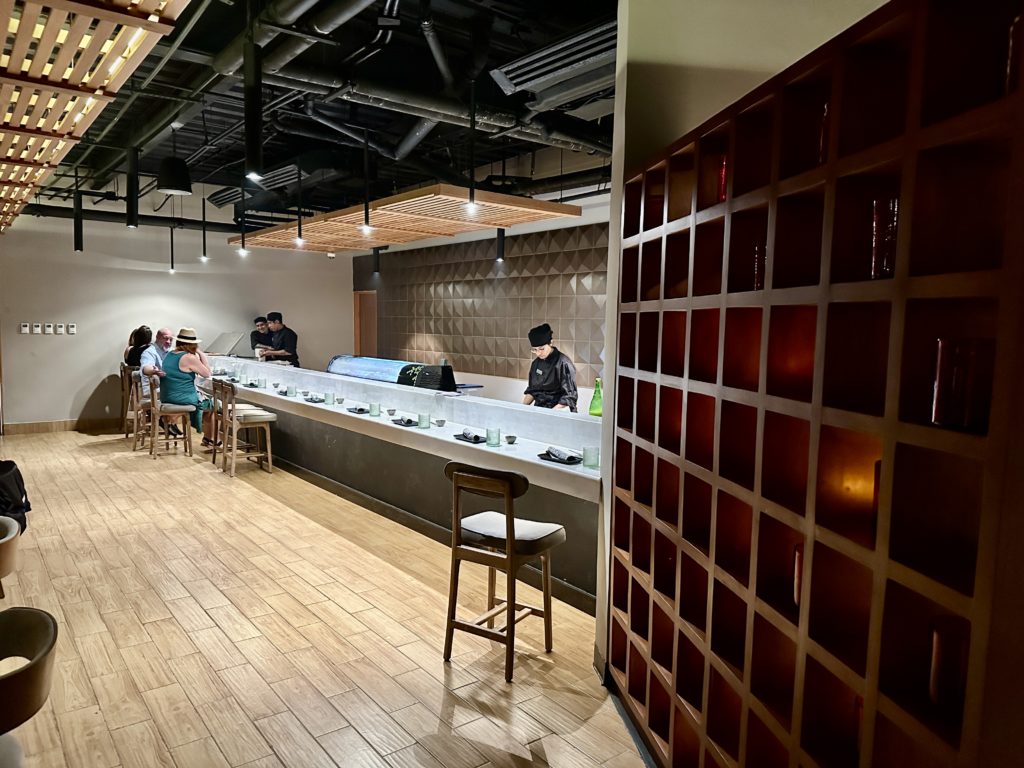 That said, the food we did eat at Tempest was very good. We each started with a pork and lemongrass spring roll, which was quite tasty.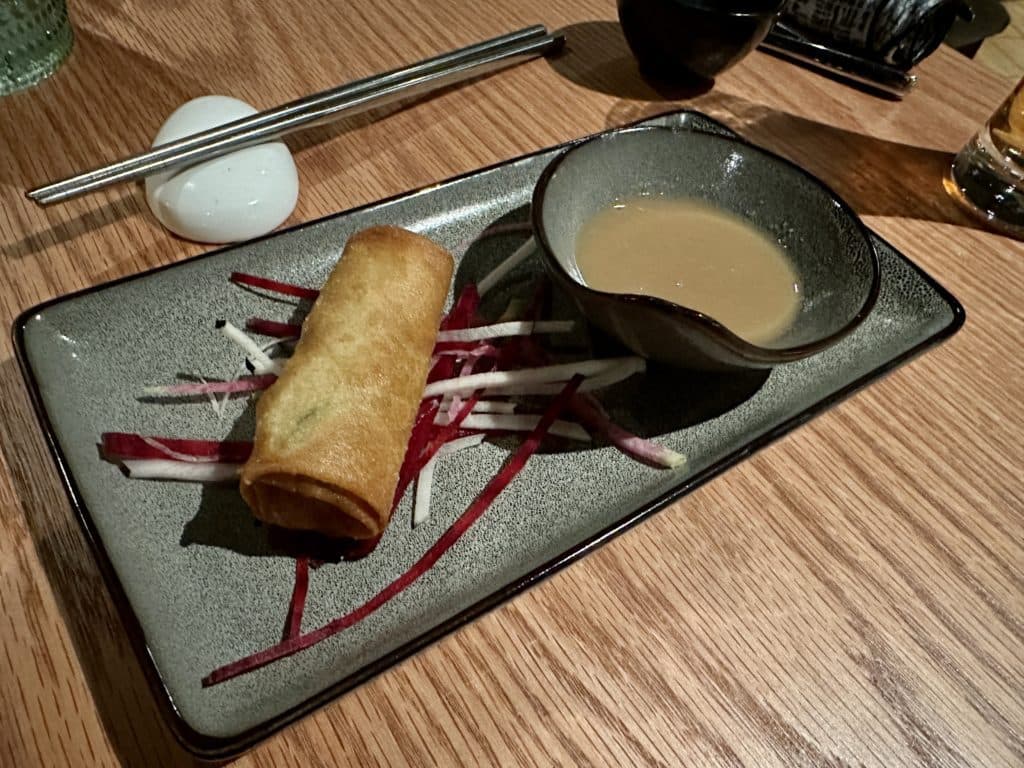 For our main course, we each got an order of steamed buns with pork belly.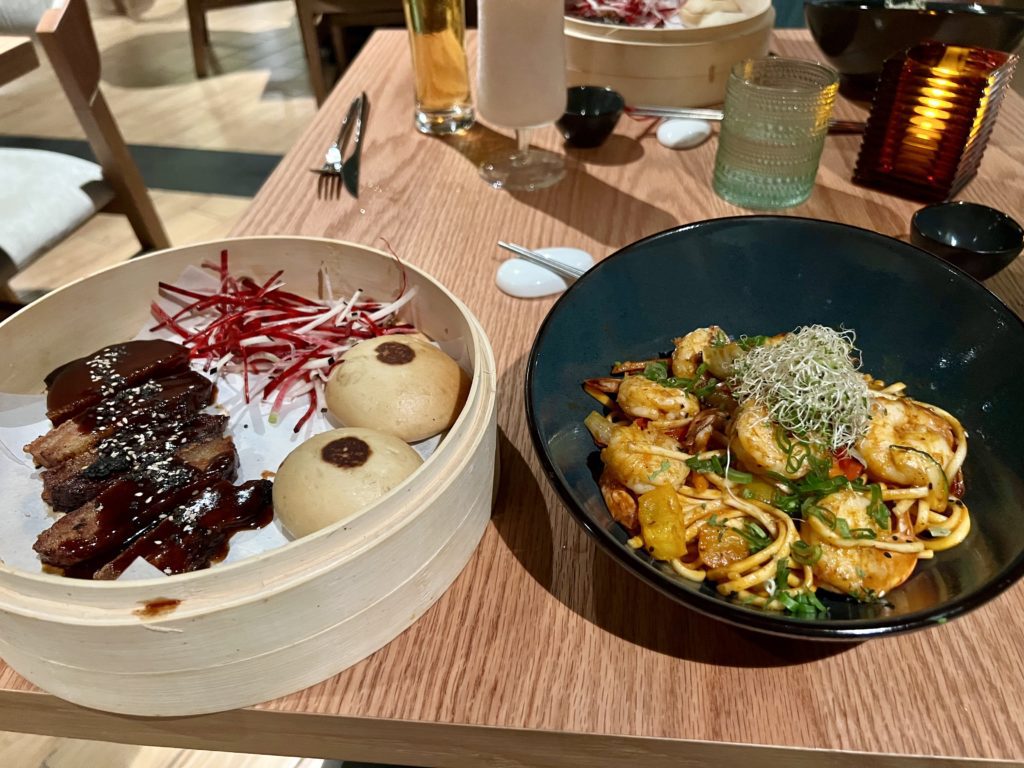 We also got an order of the red curry noodles with shrimp and the flank steak lo mein noodles.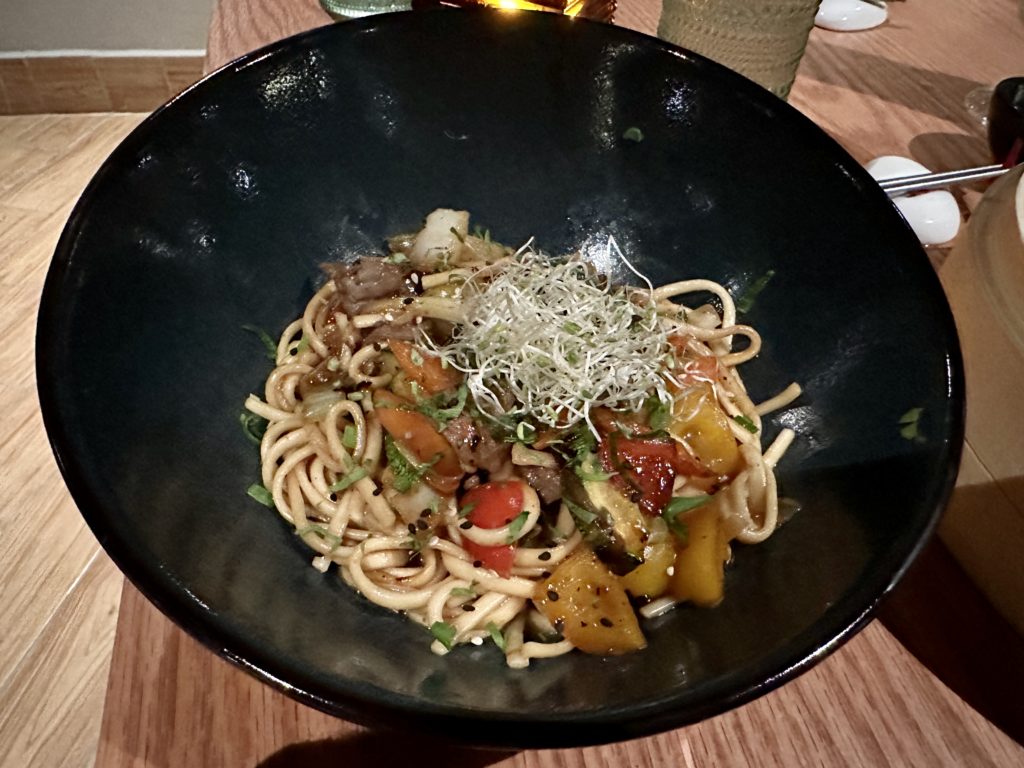 The food and service were wonderful at Tempest. In fact, it was one of our favorite meals during our stay. If you are interested in the sushi or teppanyaki bar, I would recommend making a reservation right away when you check in as they appear to fill up fast.
El Comedor
El Comedor is the main buffet at the resort, open daily for breakfast, lunch, and dinner at the following times:
Breakfast: 7 a.m. – 11:30 a.m.
Lunch: 12:30 p.m. – 4 p.m.
Dinner: 6 p.m – 10:30 p.m.
The buffet menu will rotate on a daily basis. And while you won't find a dedicated Mexican restaurant on the property, we found there to be plenty of Mexican food options available if that is what you're after.
We ate breakfast here on our first morning at the resort, and while the spread isn't massive, it has everything you could want and then some.
There were plenty of pastries, cheeses, meats, cereal, yogurt, fruit, and more.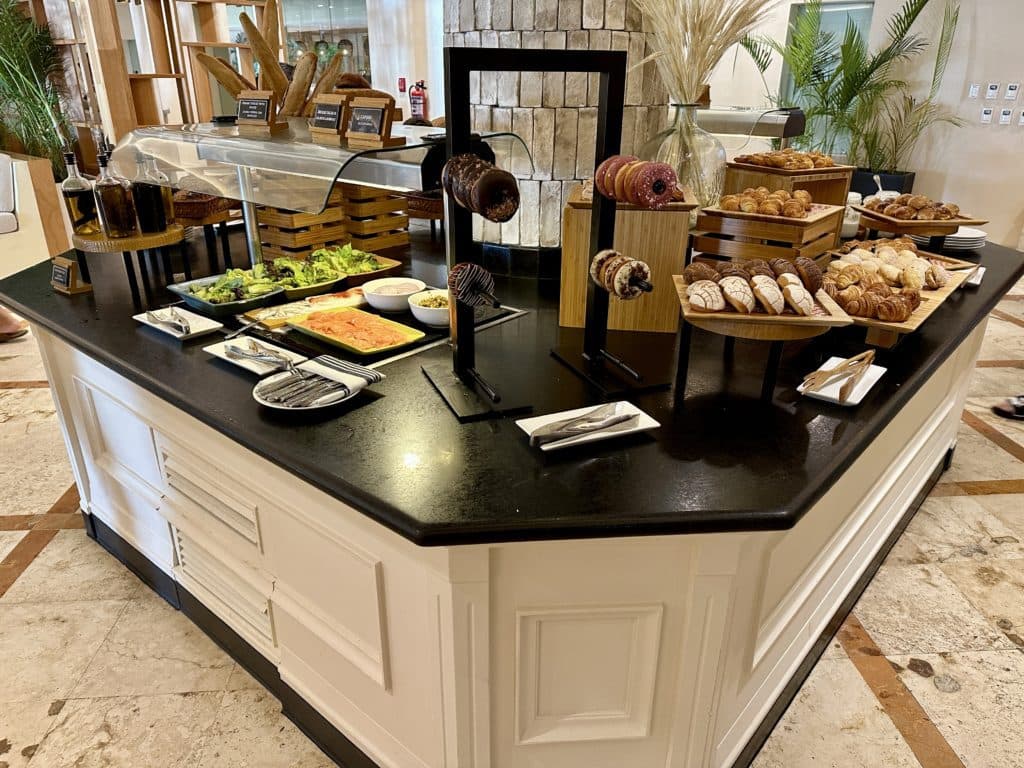 There was also a "prepare your own chilaquiles" station.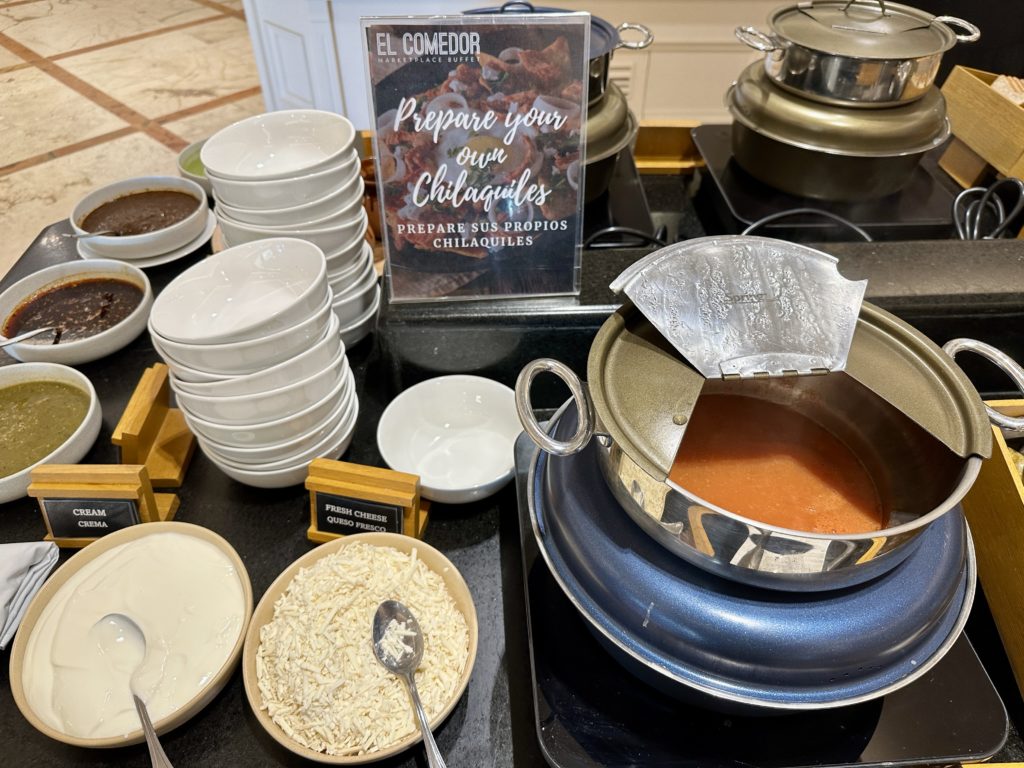 We both opted for the omelet station which are made to order and delicious.
El Comedor has both indoor seating and seating on an outdoor terrace.
The views from the terrace lead out to the main pool area and offered a lot of great natural light in the mornings. If you can, I'd highly recommend asking to sit out here.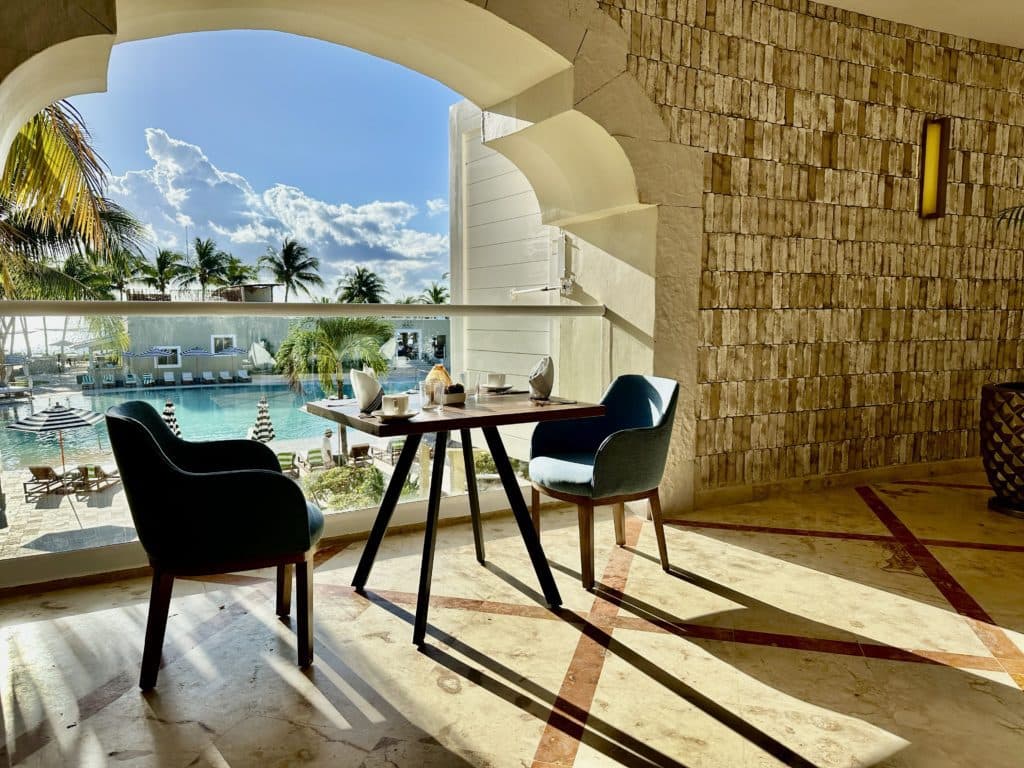 Coffee Republic
Just opposite the Amiani gift shop and the Social Mixology lounge in the main lobby area, you'll find the resort's coffee shop: Coffee Republic. It's open daily from 6 a.m. to 11 p.m.
You'll find all of the coffee shop classics as well as a number of pastries, drinks, and gelato.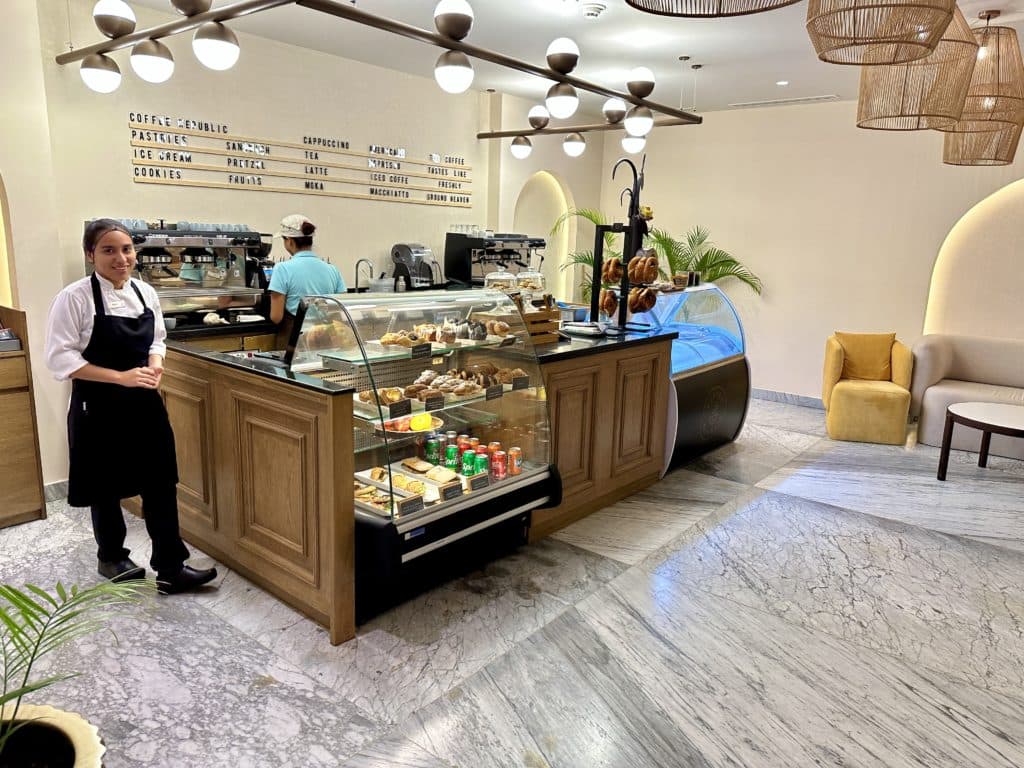 There is also a quant little seating area which was a great place to do a bit of work each morning during our stay.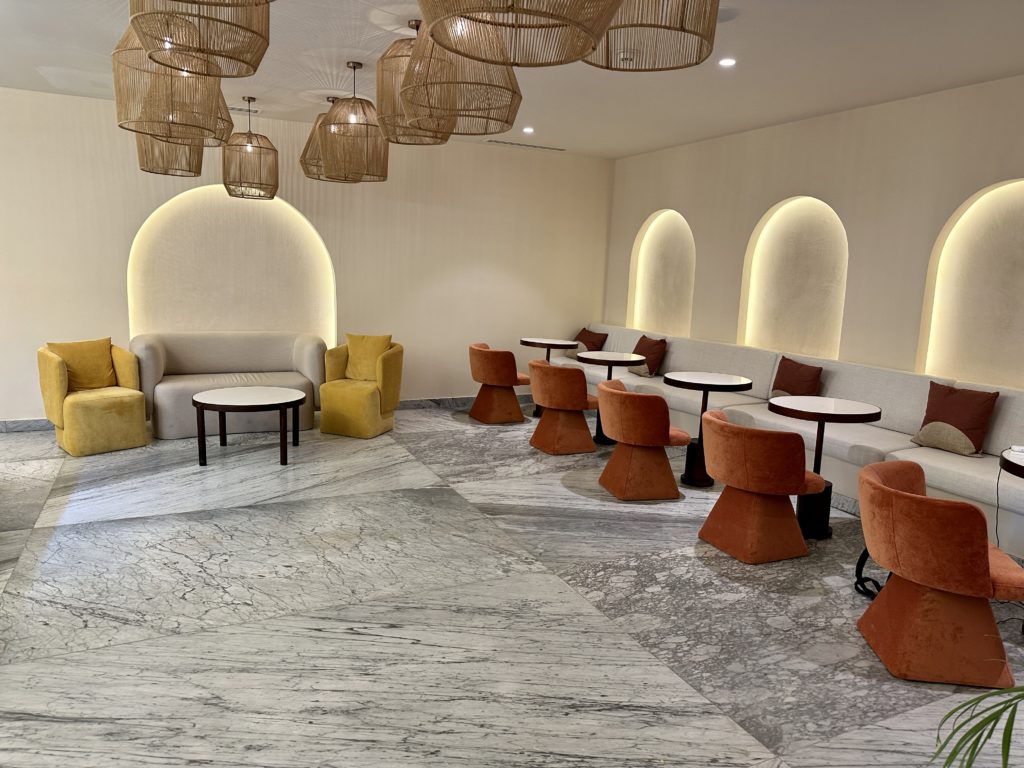 In the pastry case, you'll find a number of pastries, sandwiches, croissants, and more.
Starting early each afternoon, Coffee Republic serves gelato. You'll have seven or eight different options to choose from making it a popular place for a late-night snack.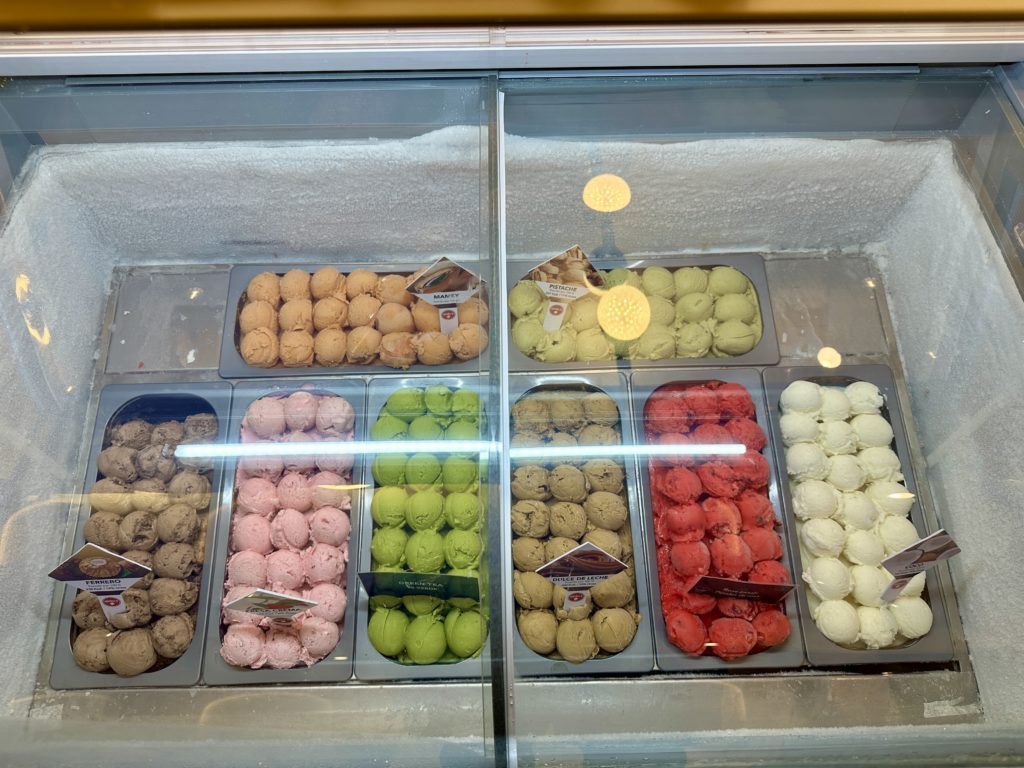 Hyatt Riviera Food & Restaurants Final Thoughts
We had some great food and some not-so-great food. If there is one word to summarize the experience, it would be inconsistent.
While everybody we interacted with was working hard and doing their best, it was clear they just don't yet have enough staff to offer the level of service we've seen at Hyatt's other all-inclusive resorts. Food and beverage are where this seemed to be the biggest issue.
There is a full room service dining menu that is available 24 hours a day. You can check out the full menu here.
If you are staying for more than five nights, it might be a good idea to take a taxi into Playa del Carmen for dinner one night which is what we did. With the limited number of restaurants, you'll simply be eating at the same places multiple times otherwise. Playa is about a 10 to 15-minute ride away.
Hyatt Zilara Riviera Maya Bars
In addition to the restaurants onsite at the Zilara Riviera Maya, there are also a few bars.
Legend Sports Bar
Legend Sports Bar is located just down the main staircase in the main lobby building directly across from the Capri Grille. It's open daily for drinks from 11 a.m. to 1 am. You can also get food at Legend from 12 p.m. until 11 p.m.
The resort describes the bar as a "classic sports bar, where you can order bar bites and beers from a sprawling drink menu as you watch the game."
Our stay was during the college football national championship game between Georgia and TCU. It was a fun place to watch the game for a bit.
Legend also has a pool table, a foosball table, and plenty of space to relax and watch sporting events.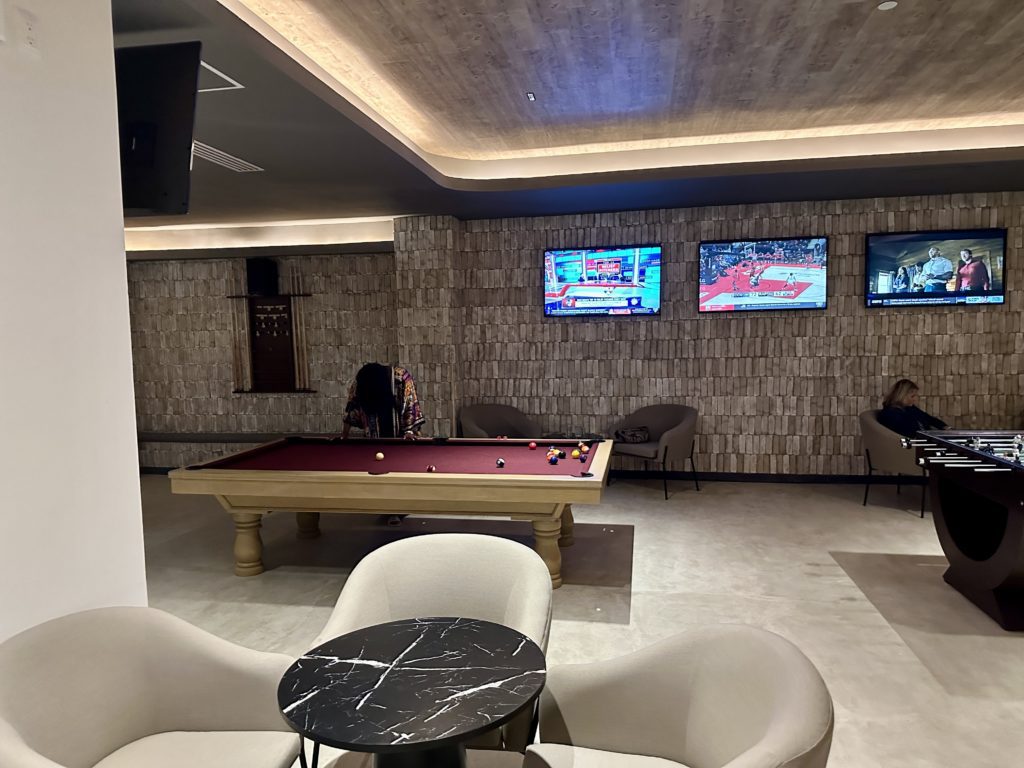 Social Mixology Lounge
Right off of the main lobby, you'll find the Social Mixology Lounge which is open daily from 7 a.m. to 11 p.m.
In the morning, the bar serves up a number of different healthy smoothie options that were quite tasty. Alcoholic beverages are served starting at 10 a.m.
There are a number of cocktails that are included as a part of the all-inclusive rate and a handful that cost extra with more premium ingredients.
You can see the full menu here.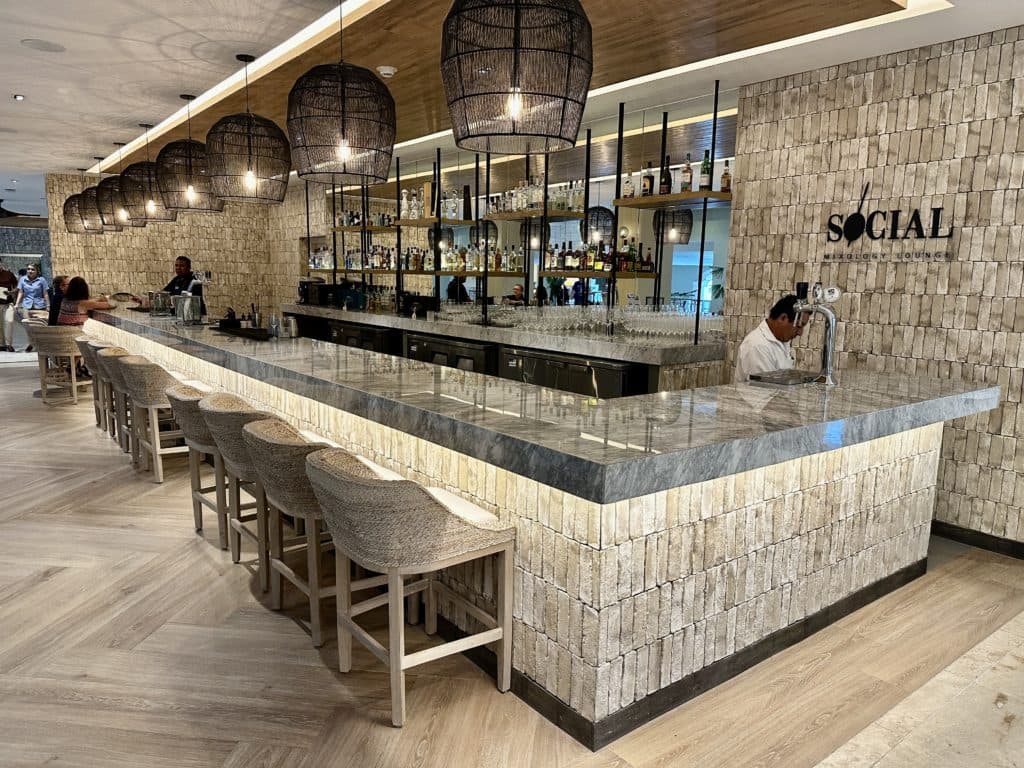 There is also plenty of great seating just behind the bar to enjoy your drinks.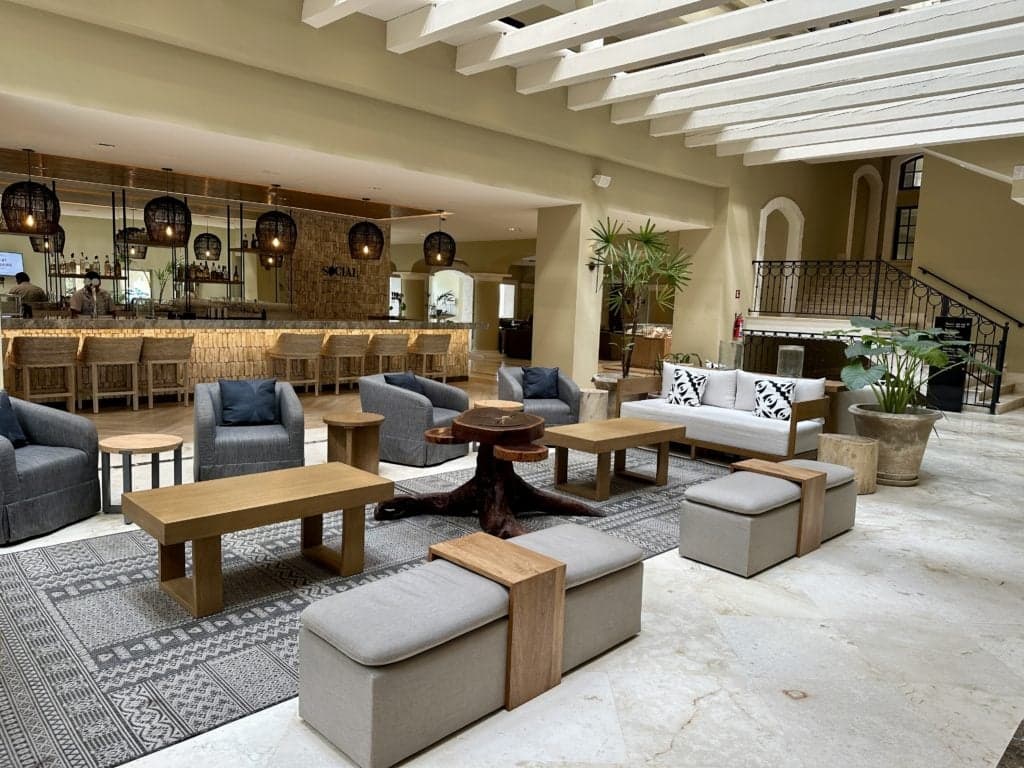 We had a few drinks here on our last night, including these smoked mezcal margaritas from the head mixologist. It was a fun presentation and the drinks were pretty solid for being free.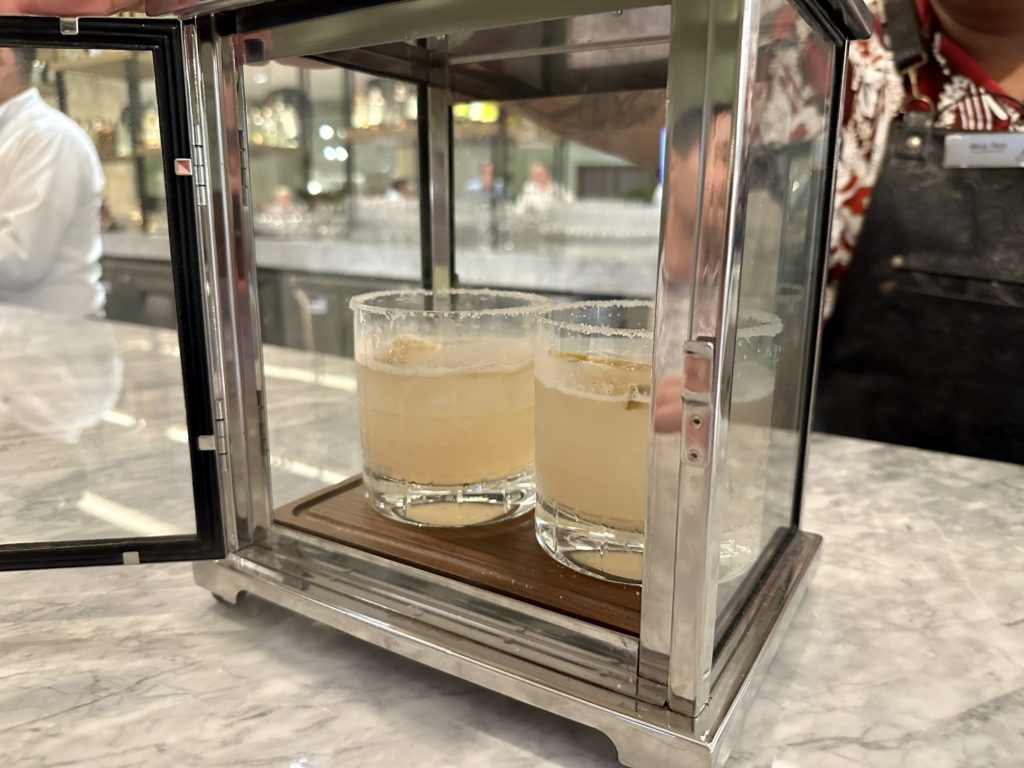 Olas Bar
Olas is the swim-up bar which is open daily from 10 a.m. to 6 p.m. On the backside of the swim-up bar, you'll find a handful of swinging bar seats which was a popular place to grab a drink in the later part of the afternoon.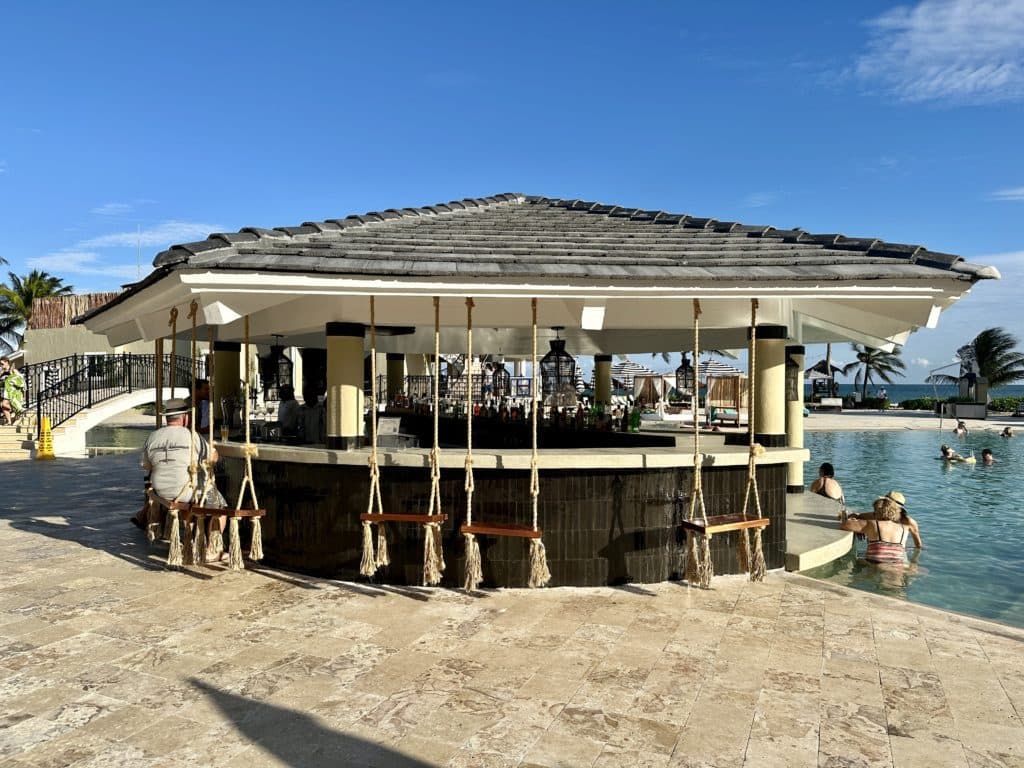 Lola Beach Bar
Finally, on the back side of Lola Beach, right next to the snack bar there is another bar that is open daily and where the drinks you can order from the Lola Beach snack bar come from.
No matter which bar you are at, they can make all the classics as well as the drinks on a set menu.
Hyatt Zilara Riviera Maya Beach
If having a nice beach area is an important part of your stay at a resort, the Hyatt Zilara Riviera Maya won't disappoint.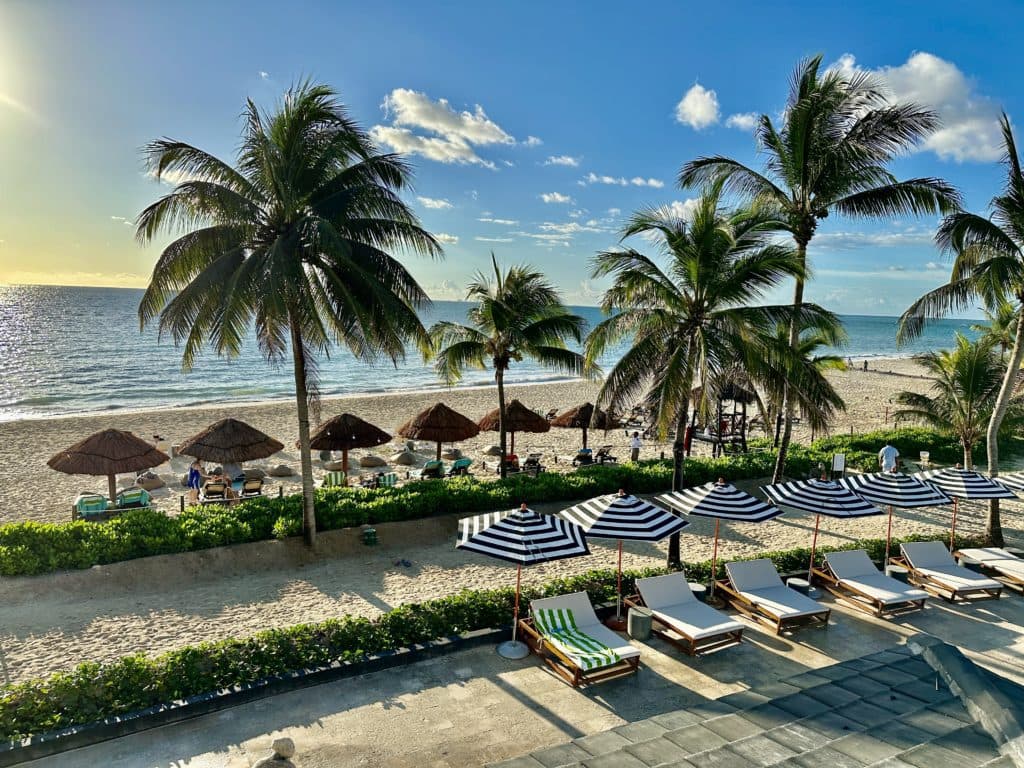 The beach area is pretty massive and well-kept, with plenty of covered and non-covered seating. There are also servers who can bring drinks out to this area.
We never found the beach area to be too busy, but if you want the spots with sun protection, I would suggest getting down to the beach early as those spots seemed to fill up much faster.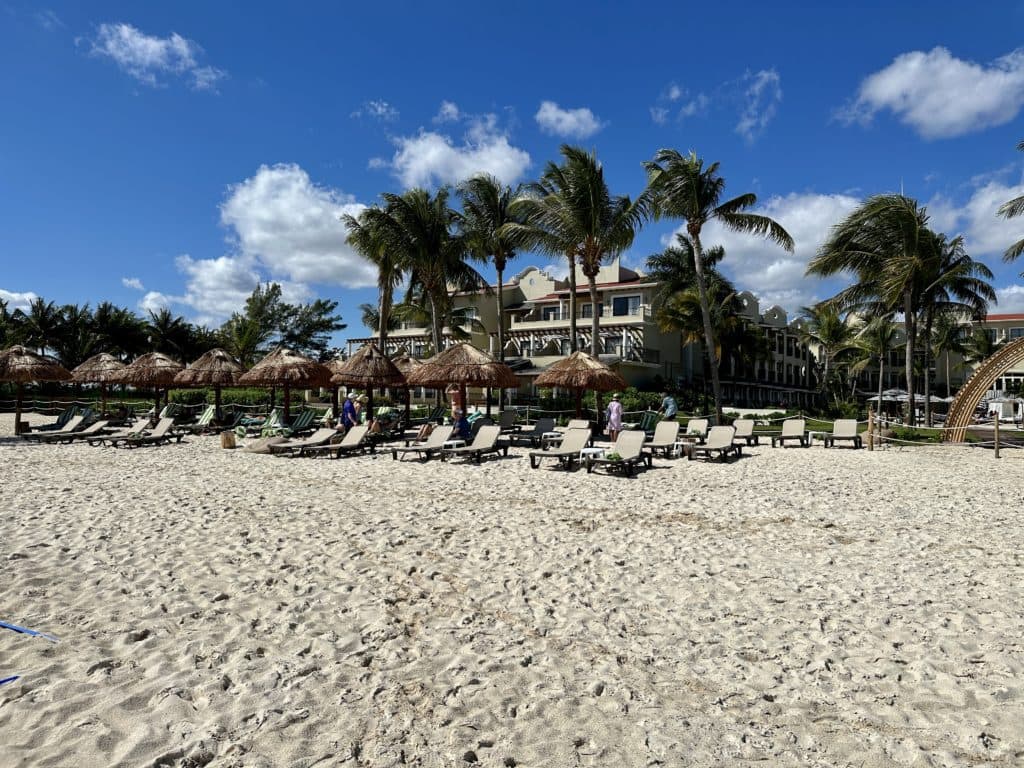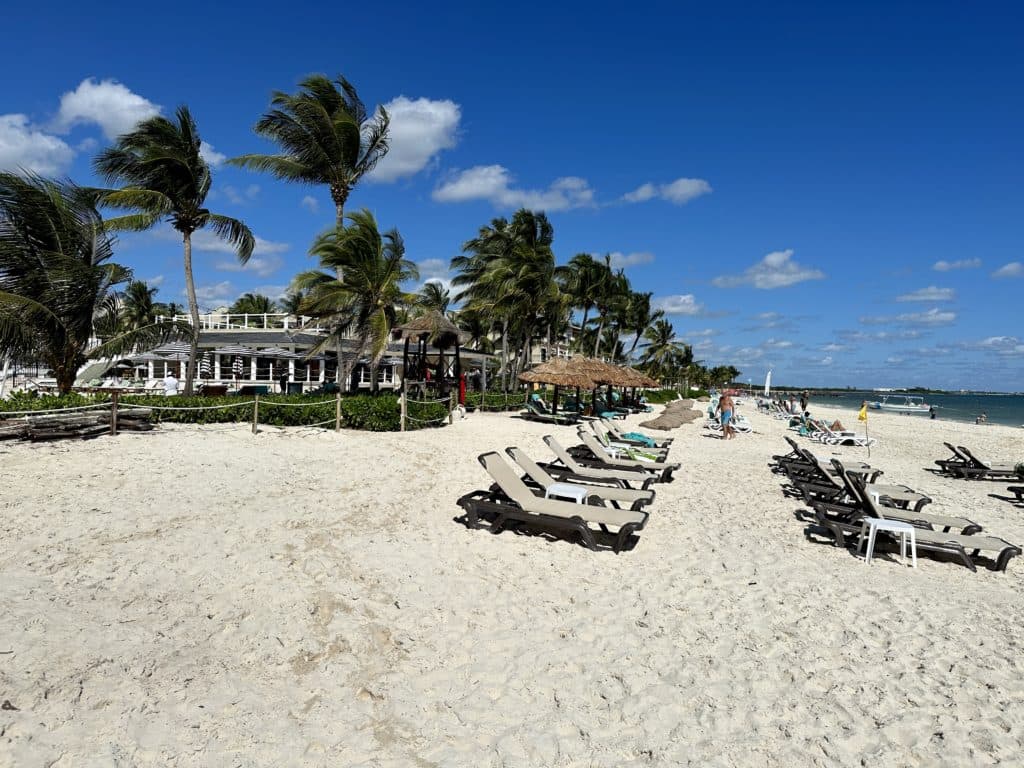 We didn't notice much sargassum on the beach during our stay, which can be a problem at resorts in the Cancún area depending on when you're visiting.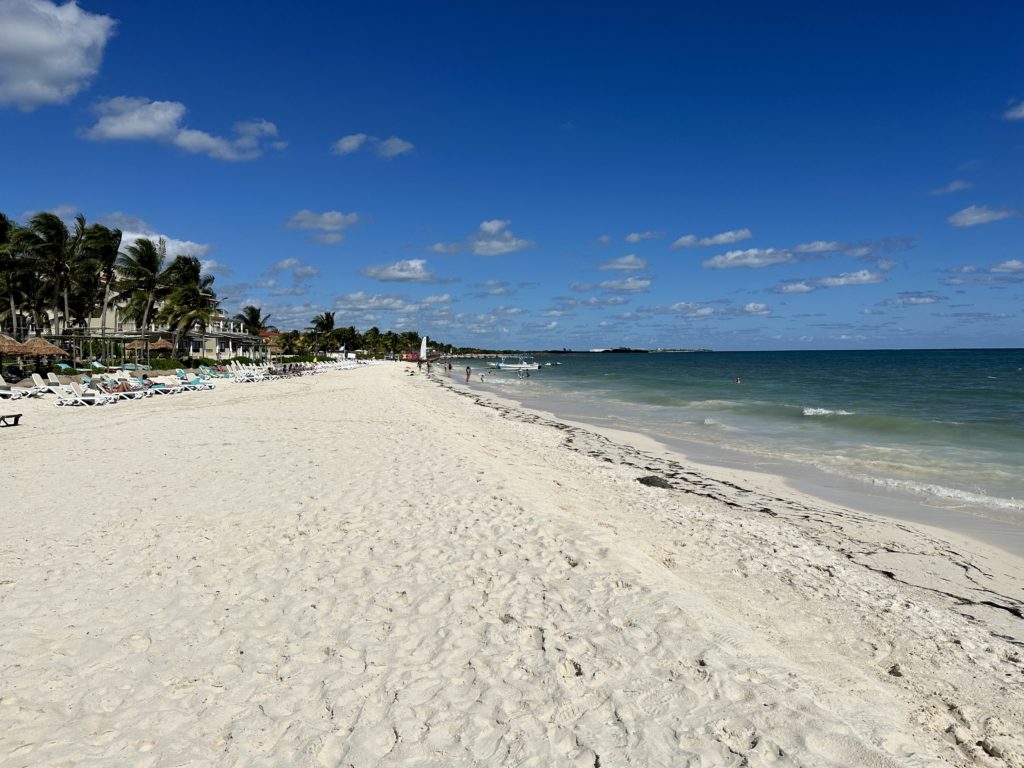 That said, the resort did a good job of mostly taking care of it. Each morning of our stay there were staff members on the beach collecting it and taking it away in wheelbarrows.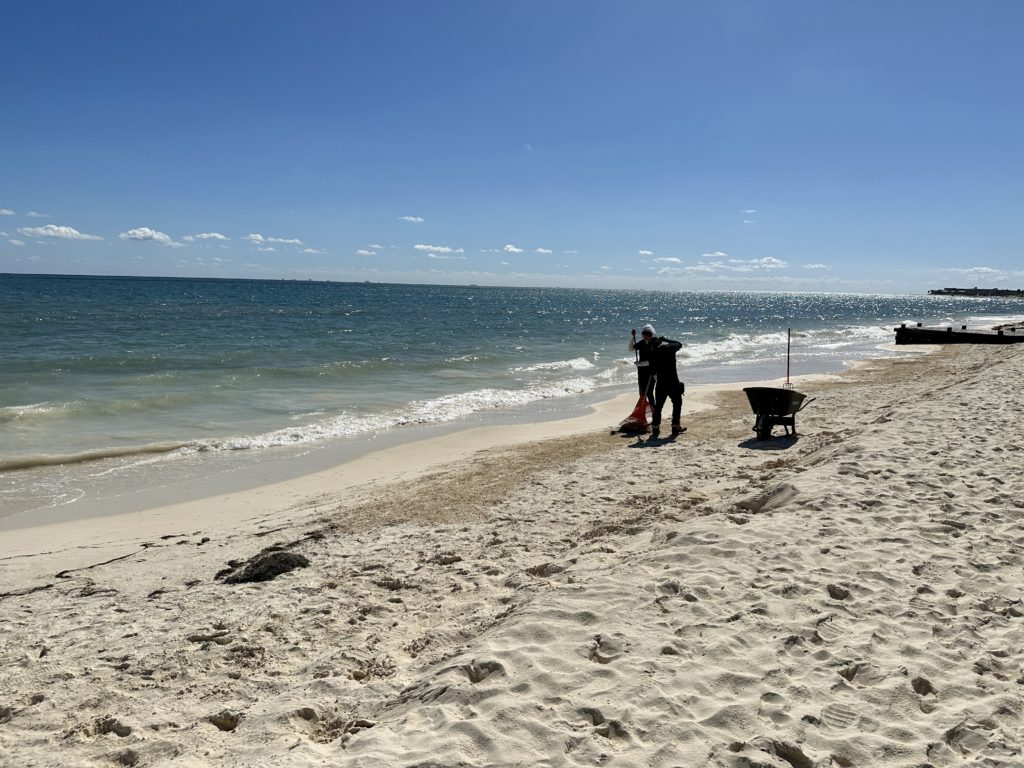 Hyatt Zilara Riviera Maya Service
Overall, the staff we interacted with at the resort were kind, welcoming, and more than willing to help with anything we needed. But it became clear by the second day that there just weren't enough people to keep up.
The staff members were working hard and doing their best, but it was evident that the resort is still working through some of the issues that come along with opening a new resort. As I mentioned, most of the service issues cropped up at restaurants and bars.
It wasn't just us, either. The day we ate lunch at the Lola Beach snack bar, the guests at the table next to us complained that they had been sitting for 15 minutes and nobody had come to take their order. When they did finally come, it was to deliver drinks that they hadn't ordered and were clearly for another table.
Having stayed at most of the Ziva and Zilara resorts in the Hyatt portfolio, this was the exception – not the norm. As the property works out the kinks and hires more staff, I'm hopeful they can work out these issues.
Regardless, make sure to tip your servers, bartenders, and housekeepers. Not only is it the right thing to do, but generally speaking, you'll get a better level of service – especially as they are shorthanded.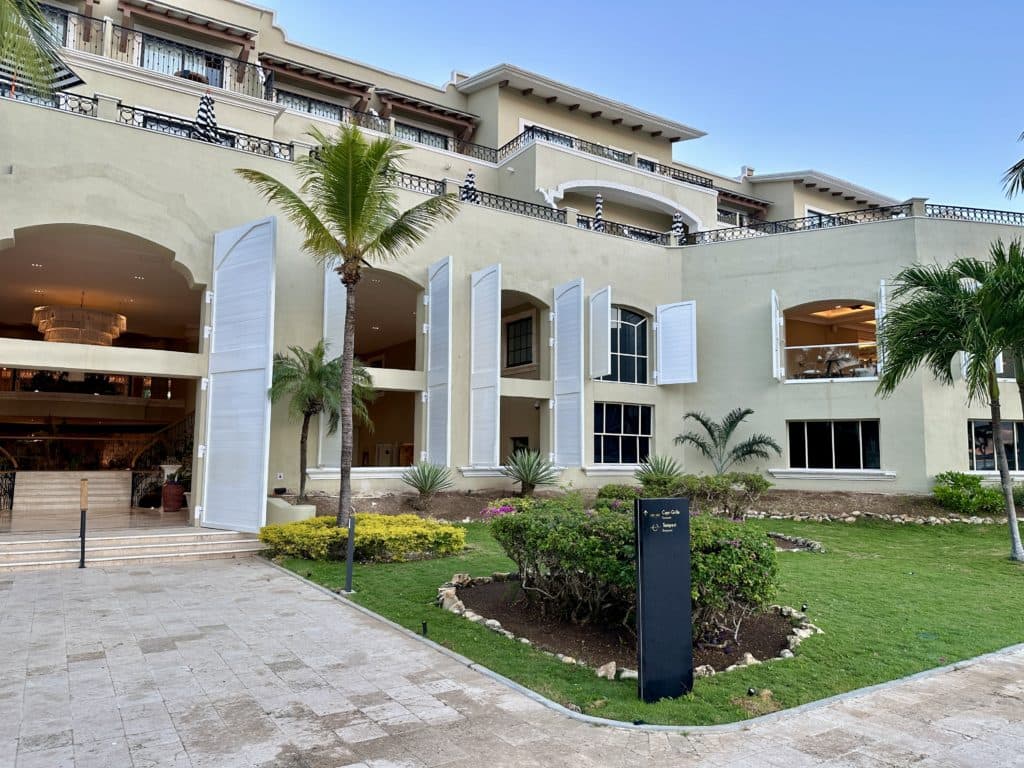 How to Earn World of Hyatt Points
While you can obviously pay with cash, the best value for booking the Hyatt Zilara Riviera Maya is by using World of Hyatt points. And you don't need to be a road warrior to rack up enough points for a stay.
There are a few different credit cards that make earning Hyatt points relatively simple and straightforward.
First, you can earn World of Hyatt points by transferring Chase Ultimate Rewards points to your Hyatt account. Because Hyatt is one of the airline and hotel transfer partners of Chase's Ultimate Rewards program, you can transfer Ultimate Rewards points into your World of Hyatt account at a 1:1 ratio – 1,000 Chase points gets you 1,000 Hyatt points.
And if you don't have Chase Ultimate Rewards points, they can be earned from a number of personal and business credit cards. Our favorite option: The Chase Sapphire Preferred® Card, which is currently offering a welcome offer bonus of 60,000 points after spending $4,000 in the first three months of card membership. That's enough for another two free nights at the Hyatt Ziva Cancún resort, with some points left over.
This card also has an annual fee of $95 which is not waived in the first year of card membership. However, the welcome offer bonus alone is worth at least $750, and oftentimes much more. If you book two nights at one of these Hyatt all-inclusive properties, you could easily get more than $750 out of these points – especially when you consider that it includes all of your food and drinks.
Read More: How to Book Hyatt's Incredible All-Inclusive Resorts for Free with Points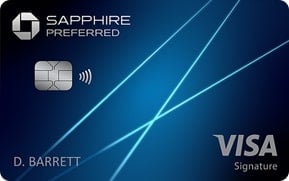 Click Here to learn more about the Chase Sapphire Preferred Card. 
Then there is the World of Hyatt Credit Card. Just for opening the card and spending $3,000 in the first three months of card membership, you will receive 30,000 World of Hyatt points. You'll also earn 2x points per dollar spent on up to $15,000 of spending in the first 6 months of card membership. That's 60,000 points total – enough for two free nights at any of the Zilara and Ziva properties, including the Hyatt Ziva Cancún.
The card has a $95 annual fee which is not waived for the first year of card membership. But starting in year two, it offers an annual free night certificate to be used at any Hyatt category 1-4 property. Unfortunately, none of the Ziva and Zilara hotels are eligible for the free night certificate. Still, it's reason enough to justify the annual fee.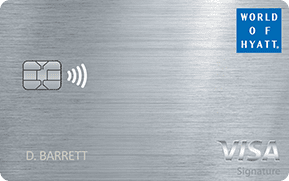 Click Here to learn more about the World of Hyatt Credit Card.
There is even a World of Hyatt Business Credit Card that allows you to earn bonus_miles_full
Click Here to learn more about the World of Hyatt Business Credit Card.
Bottom Line
Overall, Hyatt has done a great job with the renovations of the property. I never stayed at Secrets Capri but I have to imagine it's a nice upgrade.
This is a beautiful property with great rooms and amenities, all in a more intimate setting than you'll have at many of Hyatt's other, larger resorts. But the service issues throughout our stay were undeniable, as the staff on the property were clearly outmatched by the number of guests.
Here's hoping they can hire more staff soon and reach the standard we've come to love at many of Hyatt's other Ziva and Zilara locations.